ARCTIC EXPEDITION
Arctic Expedition crew post their own Spitsbergen story and images. bikenfly.org/arctic.htm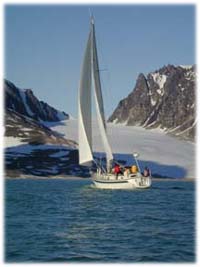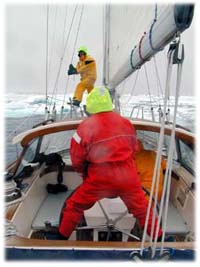 Click here for great map of Svalbard

June 21, 2001 1700 72.59N, 19.31E Log: 43,327 Baro: 1018-
Broadreaching @ 7-8 kts, ESE winds @ 18-24 kts Clear skies!
We're 80 miles south of Bear Island and 230 miles south of Spitsbergen with great conditions. The passage from Tromso to Svalbard (Spitsbergen to non-Norwegians) is higher latitude sailing than Cape Horn to Antarctica with the same potential for serious weather conditions. However, it looks like the Weather Goddess has smiled on Mahina Tiare!
Our Leg 2 crew joined us Tuesday noon and by 1500 we were underway for a favorite anchorage.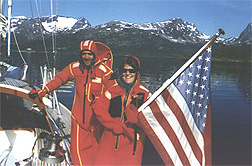 Liz and Sergio model survival suits. (Click on image to enlarge)

Yesterday we practised Lifesling overboard procedures on our way to a final stop for fuel and a hike at Vannag, before sailing to Spitsbergen. We had the best of summer's day to date, although a cold front will be blowing through tomorrow night bringing rain and a wind shift.
The discussion of sailing to Spitsbergen arose in 1996 during our Antartica expedition, at the suggestion of crew. Now five years later 2 Antarctica crew are joining us, Al Maher on this leg and Bob Franke on the return trip to Tromso. Only a handful of sailboats receive permission from the govenor to sail to Spitsbergen during the six-week window. Expensive Search and Rescue insurance is required and the govenor requires that anyone venturing ashore outside the settlements carry a large caliber rifle for protection against polar bear attacks. (Polar bears killed and ate two people last summer.) We rented two 30.06 WWII Mausers from a sports store in Tromso and have our permission papers from the govenor onboard. Ice conditions are a constant concern, and when we left Gothenburg the ice charts displayed thick ice extending to Bear Island, 150 miles south of Spitsbergen. Light northerly winds over the past few months have pushed more ice south but this past week the winds switched to southerly and the ice situation (according to the Norwegian forecasters) appears better.
Two nights before leaving Tromso, we admired a female Eider duck passing by with four tiny ducklings in tow. A minute later there were only three, then a tiny duckling, barely able to swim, floated between Mahina Tiare and the Canadian yacht Taonui that we were rafted to. Tony from Taonui scooped the duckling up in a bucket and we went looking for its mother, who had disappeared under the dock. No luck on finding mum and the duckling seemed on its last legs as it was smoothered in diesel oil from one of the many slicks in the harbor.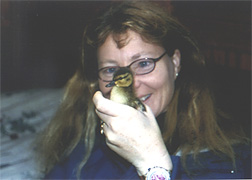 Duckling Tromso after cleaning. (Click on image to enlarge)
Amanda washed him in warm water and set him to dry on a towel in front of the heater. Within 20 minutes Tromso (Amanda rejected my suggestion of naming him "Diesel" in favor of "Tromso") had warmed up enough to open his eyes, raise his tiny fuzzy yellow and black head and make feeble squeaks. That night Amanda lined a plastic case with a towel, put in a hot water bottle and kept Tromso next to her in bed. In the morning when I opened the box Tromso took off, tearing up and down the length of the boat, peeping excitedly and occasionally tripping over his big feet, exploring every cabin. We never found the mother, but a pet store near the harbor said they would try and find a home for him, which they did that afternoon. We sure miss the little guy and hope he does OK.
An introduction to our high latitude adventures crew:
Al Maher, 55 has sailed with us nearly every year for the past ten years is a commercial property manager who sails on San Francisco Bay.
Liz McLoughlin, 60 is an ex-Catholic nun who is now an injury prevention researcher. She recently bicycled & camped 3,900 miles from Boston to San Francisco with her 22 & 24 yr old niece and nephew. She and her husband
Tom Hall, 70 took our weekend Offshore Cruising Seminar in 1983 and then sailed their Downeaster 38 from Seattle to New Zealand. They also sailed to Cape Horn with us in 1995 and Tom, an international health planner sailed with us to Pitcain Is. As soon as they return from Norway they take delivery of their new Nordhaven 40 long-range power cruising boat and proceed from Dana Pt, CA to Alaska.
Richard Ressman, 59 is an orthopedic surgeon from Chicago who sails on the Great Lakes and is looking forward to more sailing after he retires next year.
Larry Avins, 54 is a retina surgeon from St. Louis who recently sold his Swan 43 that he enjoyed extensively cruising the Caribbean aboard.
Sergio Aquino, 31 is an economist from Brazil who is presently living in the San Francisco area and may circumnavigate Vancouver Island this summer.
These folks make an eager & cohesive crew for this potentially challenging expedition. One of the real benefits of high latitudes in mid-summer (today is the summer solstice!) is that the sun never sets. In fact it never even got close to the horizon last night. It sure makes landfall and ice navigation easier.
June 25, 2001 0200 77.41N, 12.59E Log: 43,680 Baro: 1020-
Broadreaching @ 5kts in 9kt SW winds, 1 mi visibility in fog & drizzle
June 21, Summer Solstice, Thursday
Amanda:
11pm and we are puzzling at how the western sun will journey across sky to rise again in the east…by midnight the sun is on it's way east, a bright orb floating across the cloudless sky 15 degress above the horzion and by 4am it's nearly reached the east to rise on it's daily journey.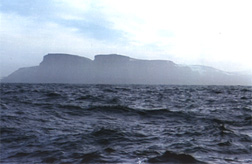 Bear Island through the mist. (Click on image to enlarge)
By 6am the sky becomes cloudy as Bear Island looms into view and as we cruise down the west coast large swells and fog force us to keep a safe distance offshore. Weather conditions are too unstettled to think of landing and since we're expecting the wind to switch further to the north we'd best press on 170 miles for Hornsund on the SE tip of Spitsbergen. Birds by the hundreds keep us company in the light SW winds and whales and dolphins appear briefly, welcoming us to the arctic.
Excitment builds onboard as crew settle onto sea life rhythm and Spitsbergen draws closer. At 9am, 9 miles from Hornsund we sight our first piece of ice and began a game of ice dodgums. The wind dies and we motor through ice lumps that grow in size and numbers, their frozen white and compressed blue sigh and breathe in the grey swells like sleeping whales. Soon ice thickens and we are forced to cross a wide band, the large swell jostling and manipulating Mahina Tiare along with the ice. We scramble to assemble our 12′ long carbon fiber bergy poles then push lumps away as we twist and shunt our way through.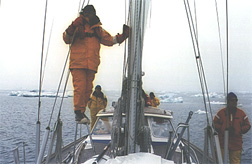 Entering Hornsund before the ice became thick. (Click on image to enlarge)
Sergio stands on the mast pulpit, looking for clear leads through the intensifying ice. Eventually he calls down that he doesn't see any more leads. We are beset seven miles from the entrance to Hornsund, stuck in heavy ice which is crashing and undulating in the ocean swell. These aren't little bergy bits that we just deflect off the bow, but huge, heavy plates of ice, some much larger than Mahina Tiare.
John takes the wheel, puting the engine in gear. When nothing happens he says, "Oh no, we're not moving, I hope we haven't lost the propellor!" He then learns that it is the pressure of the surrounding ice that's preventing the boat from moving forward. Al and I do some massive shoving of bergs from the bow with the poles and manage to open a gap for us to power slowly into, while Sergio stands aft, fending the largest pieces away from the prop with the boat hook. Once we're slowly moving, John calls the Polish Research Station. On VHF Ch 16, enquiring about ice conditions in their bay. They reply that the bay directly in front of the base is ice free, but that fog prevents them from seeing further.
The minute John's done talking with the Polish Base, Catherine on Trait d'Union, a 35′ steel French sloop we had met in Tromso calls us to say they were stuck in heavy ice, four miles north of us. There is no panic, but a lot of anxiety in her voice as she says this is their first experience in ice and that neither she nor her husband Daniel know what to do. John tells her that we are moving and can see some leads in the ice ahead, so she says they will try and push south through the pack to join us in Hornsund.
Suddenly through patchy fog we see clear water ahead and call Trait d'Union to tell them the great news! Instead of creeping along at half a knot, we're flying at 7.5 knots, and in less than an hour mountains of ice and rock loom out high in the fog and soon a shoreline with builings appears. We anchor in the ice free bay and after lunch visit ashore. Our friends on Trait d'Union and Taonui from Victoria arrive and join us ashore.
The Polish staff of eight scientists are welcoming and show us their humble scientific working facilites of four seismic recording machine, and two small labratories. We chat with Lisa, a grad student from UC Irvine who has recently arrived to study little auks, a trek every 6 hours to a marked nesting site for observations on numbers and feeding patterns. She says that the constant threat of polar bear attack means that for each trip another scientist has to accompany her, keeping watch with a high-powered rifle as she does her bird counting. Over 900 polar bears walked past the base this past winter, and one of the three base watch dogs was killed by a bear.
When we asked the base staff if we can hike out to the bay entrance, they say, "Not without rifles!" We have brought the two 30.06 guns that we rented in Tromso ashore with us, so we go exploring. On our way back by the base, we are invited to a shore side evening beach campfire, but exhausted, we decline.
Sunday
A leisurely start to a day surronded by fog. For morning class we discuss ice tactics and look over the charts and weatherfaxes. We cruise further into Hornsound and visit an old bear trappers cabin ashore. We each take a turn shooting the rifles and stick together like glue as we wander the stony beach and sloping hillside carpeted with purple flowering saxifrage and moss, we gaze about in wonder of this arctic paradise. The bay entrance looks fairly clear of ice, and SW winds are forecast which would give us a broad reach for the 115 mile passage to Longyearbyen, so we decide to set sail.
If you'd like to learn more about Svalbard (Spitsbergen), check out these sites:
www.svalbard.com
www.svalbard.net/arktperl.htm (Info Svalbard)
www.sysselmannen.svalbard.no (Svalbard Govenor's office)
www.npolar.no (Norwegian Polar Institute-Research)
www.polar-quest.com (the site of our friends who arranged for our permits and gun rental)
July 2, 2001 0945 78.07N 13.55E
Log: 44,197 Baro: 1013+ Beam reaching at 6.8 kts in 15 kt SSW winds, with overcast and mist
A new arctic vocabulary reels off our toungues, Viroghamma, toothwalker, ammonite, Sysselmannen, shelfshot, Blubbertown and isbjorn. Ice, which was to be our biggest threat to exploration, is nonexistent and light winds and sunny skies with the odd cloudy period have enhanced the following adventures.
Monday June 25 – Longyearbyen An afternoon stop in Longyearbyen allows time for exploration in this colorful town, bulging with the arrival of two cruise ships. We visit the Sysselmannens (Governor's) office and complete the necessary forms for travel outside the settlements, having already proven that we have the necessary $15,000 insurance required for emergency rescue. Our quick wander around the capital of 1,400 people involved in government, tourism and coal mining is intriguing. Due to the permafrost all buildings and amenities are above ground. The winter snow has melted and flashy snowmobiles sit abandoned; short-legged reindeer nibble on the young tundra while the place hums with a frontier feeling. But it is wilderness we're after so as quickly as possible we depart for Moffen Island, 210 miles north at the top Spitsbergen.
Tuesday 0200 When exiting Isfjorden we encounter 18 knot head winds so we turn and run downwind to the glacial bay of Ymerbukta on the north of the fjord entrance. We sleep late despite a sun filled night and after breakfast and medical class we dinghy ashore in search of ammonite fossils. Not knowing what to look for in the glacier melt-water we take a few minutes to discover the light brown rocks reveal fossilized worm and shell-like creatures.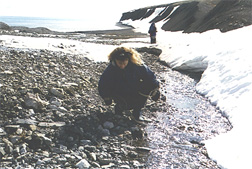 Hunting for fossils in Yumerbukta. (Click on image to enlarge)
As the sun climbs higher we are kept in awe of our surroundings. Our east view reveals grassy trunda with grazing reindeer and nesting barnacle geese sloping to steep snow covered mountains. Rocky hills to the north lead to a tidal glacier that stretches across the bay and the far east side contains ice floes with basking seals, beyond which the fjord sparkles to the south against layers of sedimentary strata producing mountains separated from one another by broad valleys. Sadly our time is up and we set sail for Moffen after a combined lunch/dinner.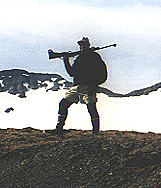 Al on Polar Bear lookout in Yumerbukta. (Click on image to enlarge)
Wednesday June 26 – 80 Degrees North Latitude! We press north under grey skies, sighting looming mountains and gleaming glaciers.
By 1200 we round Spitsbergen's NW corner expecting to encounter heavy concentrations of ice but surprisingly, the waters are ice-free and we race across the top of Spitsbergen to arrive at the sandy atoll island of Moffen by 1830. Success! 80 degrees north!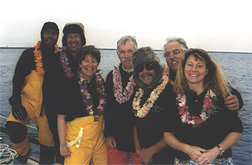 80 º North party anchored off Moffen Island! (Click on image to enlarge)
We celebrate with dinner at anchor, watching 40 walruses wallow on the beach and frolic in the waves. We use the range ring on our Raytheon radar to check that we stay the minimum 300 meters off the island.
Decimated by hunting for their hides, tusks and blubber, only 37 were sighted in 1964. Now their population is around 1,000 and these Obebenus rosmarus "toothwalking" animals are an unusual sight. We raise anchor at 2130 in search of a calmer evening anchorage.
Thursday The vast expanse of Liefdedjorden to the south of Moffen greets us with a still calm in the wee hours of the morning. Light descends through grey clouds and bounces off snowy mountains, glaciers and bergy bits through a pink haze that hangs in the cold air. We weave through the Andyoyane islands, low covered tundra mounds, and spot what we were in search of….an ice bear (polar bear) wandering across the beach. He strolls in to the water and sets off swimming for the far shore. We ghost along…watching. Once anchored at 0400 we take a dinghy trip and spot a mum and cub snoozing on the hilltop. Mum is not interested but the little guy keeps popping up his head, inquisitive as to what we are. These are so called fjord-polar bears who do not follow the pack ice but stay behind in the summer eating birds eggs, berries and moss. Before leaving Andoyane after a few hours of sleep we have eight polar bear sightings. Impressive! Our next anchorage is the protected glacier of Holmiab on the NW corner, a long, snowy and grey 50-mile motor sail to arrive at 2300.
Friday Inspecting the glacier wall by dinghy in the morning we are daunted by it's size…it didn't look that big from the anchorage!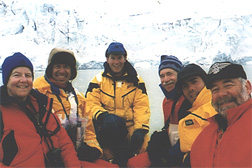 Exploring Holmiab Glacier. (Click on image to enlarge)
We swing by a hut at the bay entrance and noticing a zodiac tied to shore stop for a visit with the two Sysselmannen rangers based here to report weather, wildlife and tourist activity.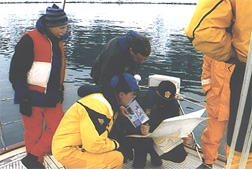 Sysselmannen patrol showing us their polar bear sightings. (Click on image to enlarge)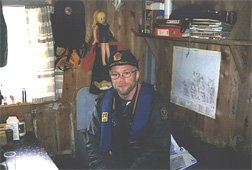 Interior of historic trapers cabin now used by Sysselmannen patrol. (Click on image to enlarge)
In exchange for a hot shower aboard they provided answers to our many questions and a guided tour of the whaling site containing stone walls for the blubberpots and whalers graves with protruding bones.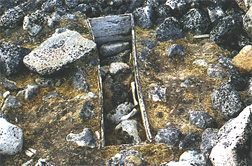 Whalers grave near Holmiab. (Click on image to enlarge)
We sail on for Virgohamna, Danskoya Island to view the remains of many attempts in the late 1800's, by balloon, to reach the North Pole.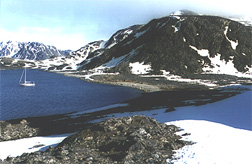 Anchored at the historic balloonsite of Virgohamna. (Click on image to enlarge)
Ashore guided by a map we identify the pieces of strewn hodgepodge; wood, wire, rust and pipes become the framework of buildings and technical equipment needed to fly the giant airships of Andree and Wellman. Remains of a Dutch whaling settlement are situated in the center, an overflow town from Smeerengurg (blubbertown)on the far shore. Continuing on for the day we anchor late in the evening at Magdalena fjorden, enjoying a short night surrounded by glaciers and high mountains.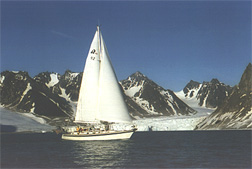 Mahina Tiare sails into Magdalena Fjord. (Click on image to enlarge)
Saturday June 30 – Ny Alesund A morning wake up call from Hans, the Magdalena Bay policeman, had us scrambling out of bed and whipping up pancakes. It's fun for us to chat with these guys, stationed here for just eight weeks and hear their stories. Hans' normal job is in state security, similar to the FBI, and he lives in Kristiansund, where he enjoys sailing his folkboat with his wife and girls. He has long dreamed of owning a Hallberg-Rassy boat, so we leave him with a poster of the HR 31.
Ny Alesund is our next port and we arrive in early evening and tie dockside obtaining fuel and water. We invite Paul, the powerplant engineer who sells of diesel fuel aboard for dinner and are fascinated that he is the third generation of his family to work and live on Spitsbergen. His grandparents were hunters and trappers, and his parents were captured when the Germans seized Spitsbergen during the war. Now Paul and his wife have the only child in Ny Alesund, an 18 month old baby girl who is well doted on by the community of 80.
Sunday Ny Alesund is a modern research station with scientific bases from 17 nations studying radiation, magnetism, meteorological, geophysical and seismology observations year round, while in summer fieldwork such as glaciology, botany and zoology is undertaken. We explored town, chatted with few scientist and maintenance crew, stocked up on souvenirs before heading south to a quiet anchorage on the SE side of Forlandsundet.
Monday June 2 – Barentsburg We're beam reaching at 6.8 knots for the Russian coal mining town of Barentsburg, 40 miles to the West of Longyearbyen in Isfjorden and from all accounts this working settlement of 800 people should prove an fascinating stop.
As we won't have satellite reception once in Isforden we will have to end our log entries for this leg here. It's been a fabulous two weeks with a crew that have risen with eager smiles to all events and adventures, the scenery continues to astound us and we are keen to undertake more adventures on the next leg, sailing north again, then back to Tromso.