Leg 0, 2020, Update 1
Salish Sea and Open Pacific Ocean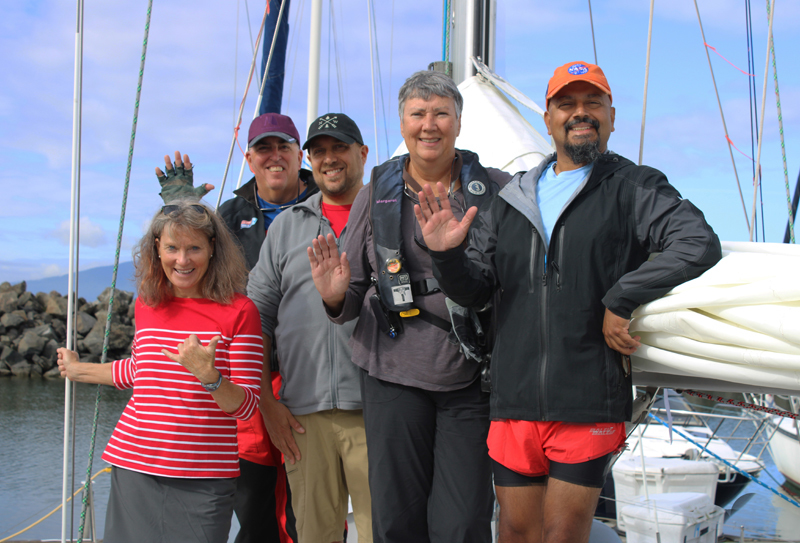 Leg 0 Crew – Amanda, Rick, Dave, Margaret and Ram, with John taking the photo.
August 9, 2020 1700 hrs, 48.22N, 124.36W Log: 1097 miles
At anchor, Neah Bay, Washington
Baro: 30.2, Cabin Temp: 65 F, Sea Water: Ch-ch-chilly!
This is an entire new and exciting experience for us. Due to COVID, we're unable to easily return to Auckland, New Zealand, to launch Mahina Tiare for our 31st year of sail-training in the South Pacific – so…we decided to conduct 7-day sail-training expeditions from Bellingham, WA, through the San Juan Islands, out the Straits of Juan de Fuca into the Pacific Ocean, using a Jeanneau 45 charter boat from San Juan Sailing. This is our first of four expeditions, and we're delighted and honored to have such a keen and hearty crew.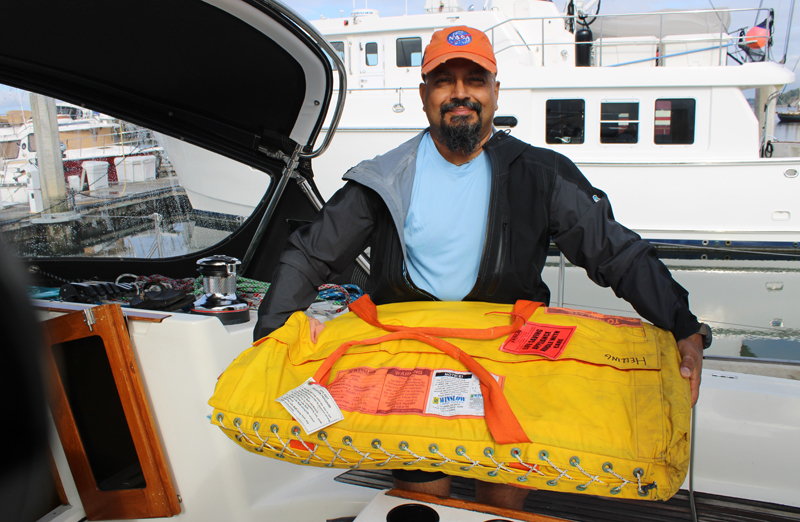 Ram kindly bought the liferaft up from Seattle – on loan from Ryan Helling of Swiftsure Yachts.
Our four expedition members joined us aboard Friday night in Bellingham, and after a good sleep we completed orientation and set sail 40 miles through the San Juan Islands on a brilliantly sunny, if mostly windless day to Henry Island, one of our favorite kayak destinations from our home base at Roche Harbor, San Juan Island. Open Bay is totally wide open to the south, but it allows a clear and straight exit for a 0300 departure to enable us to sail 120 miles out the Straits of Juan de Fuca and into the Pacific.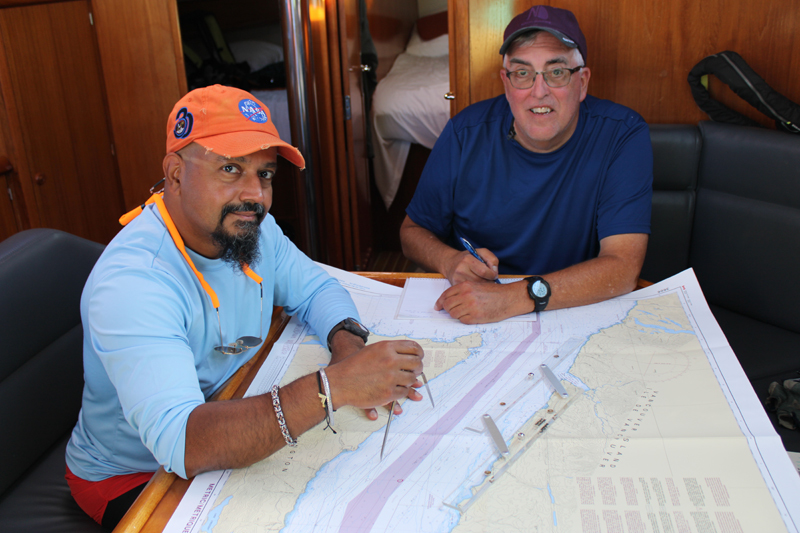 Ram and Rick work on the navigation for our Ocean passage
After enjoying a salmon dinner in the cockpit, we relished the calm anchorage and awoke at 0300 to a half-moon lighting up the shoreline and islands. By the time we passed False Bay on San Juan Island the first rays of the morning were silhouetting snow-capped Mt. Baker to the east.
Our navigator diligently detoured from the rumbline to avoid straying into Canadian waters which are strictly forbidden to non-Canadian pleasure vessels. To avoid the busy Vessel Traffic System (VTS) Control lanes of freighter traffic we crossed at nearly a right angle, then fairly hugged the Washington coastline, passing Port Angeles and Sekiu, motorsailing into light headwinds.
The prevailing summer winds in this area are light inflow NW and W winds except in the afternoon when they often rise to gale force. The exception is when a frontal passage occurs which bring outflow winds.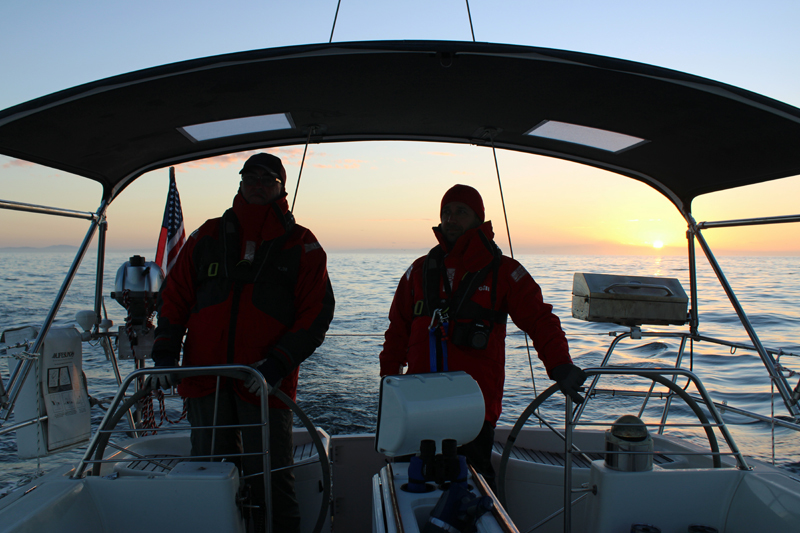 Early morning watch
Amanda taught single-line reefing (kind of new to us, as we'd only sailed Misty once a couple months ago) and later I taught marine weather as we charged along in the sunshine, dodging many small fishing boats.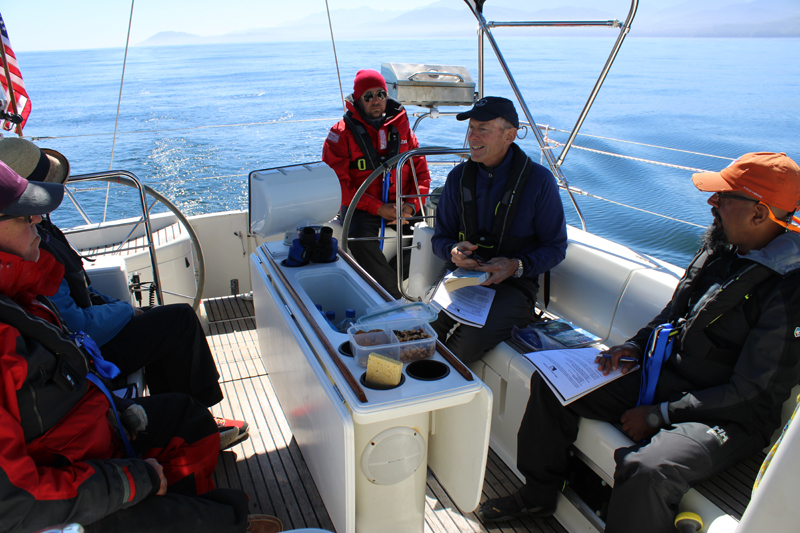 John teaching Marine Weather underway
Our plan was to pass Neah Bay, the Makah Indian village at the far NW corner of continental North America, turn W or SW and sail as far as our crew wanted before turning around and sailing back down the Straits. However, just a few miles before Neah Bay we saw a thick grey band of fog directly ahead of us, and in minutes our visibility dropped to less than ¼ mile. Radar and running lights on, lookouts posted and just as we crept through the entrance into Neah Bay, the fog started lifting in patches.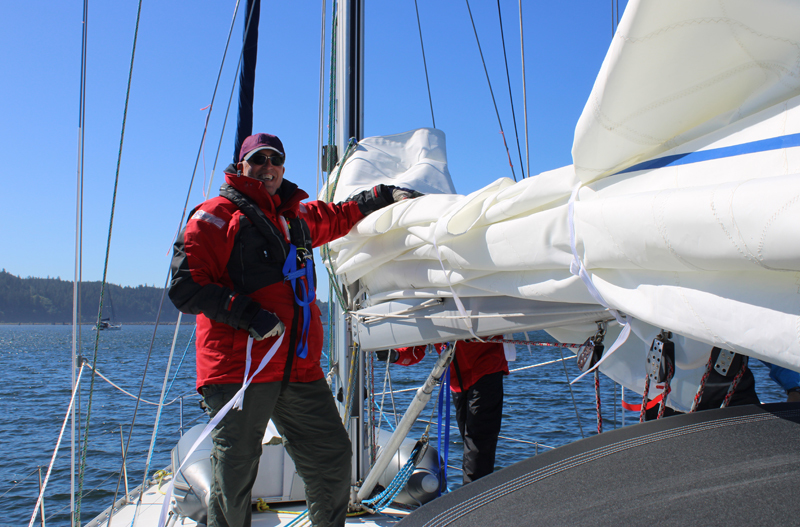 Rick squares away the mainsail
Two cruising boats were anchored in the bay, waiting for a good weather window to head south to Mexico, and across the water we chatted with Doug and Mary on Cassiopeia (http://asailof2hearts.com/) – who had attended our Offshore Cruising Seminar at the Anacortes Marine Tech Center last year. They were happy and proud to have cut the dock lines and set sail on their dream cruise!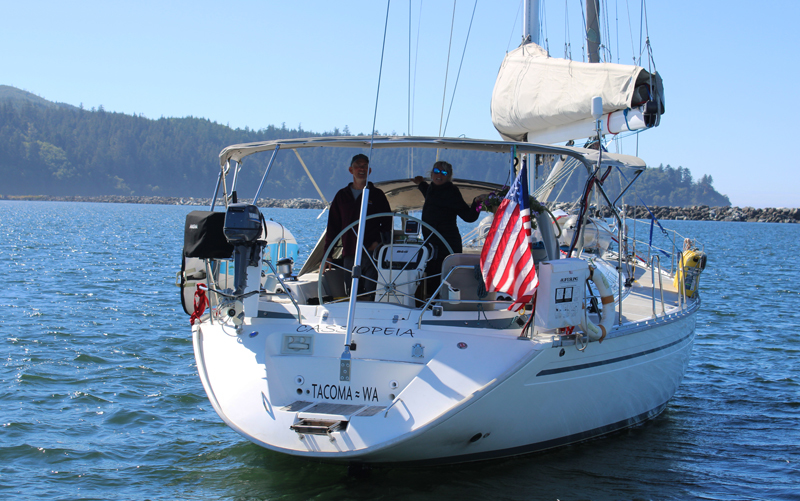 Doug and Mary on Cassiopeia
Fairly rambunctious NW winds and seas forecasted for tonight, with small craft advisories or gale warnings for most areas. Our plan is to have dinner, raise anchor and set off in an hour or so with the goal of gaining offshore experience.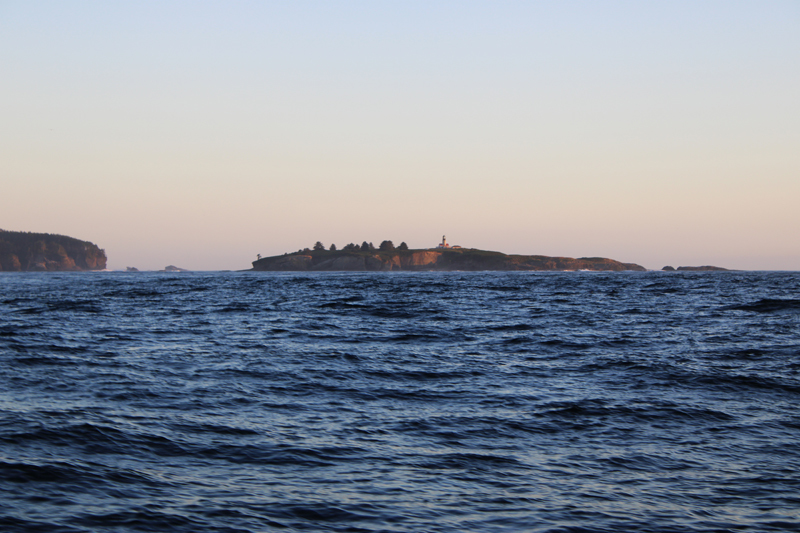 Calm and clear conditions as we pass Tatoosh Island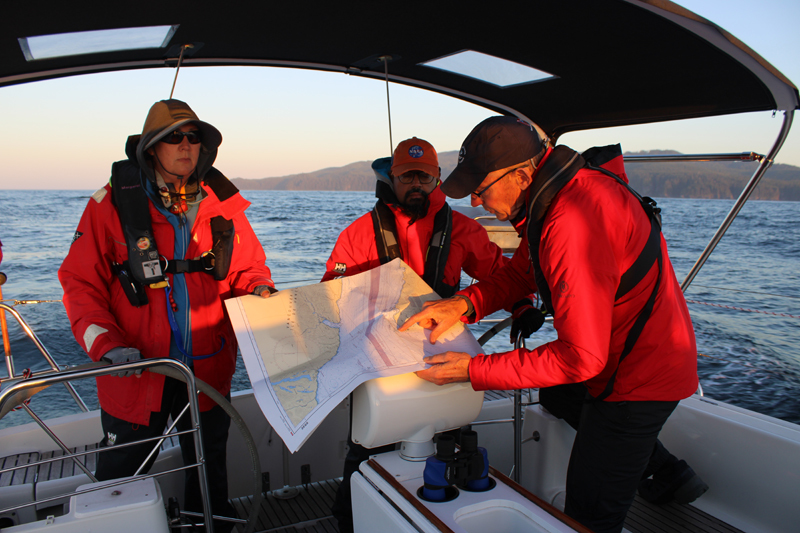 Checking the shipping lanes as to a good course to make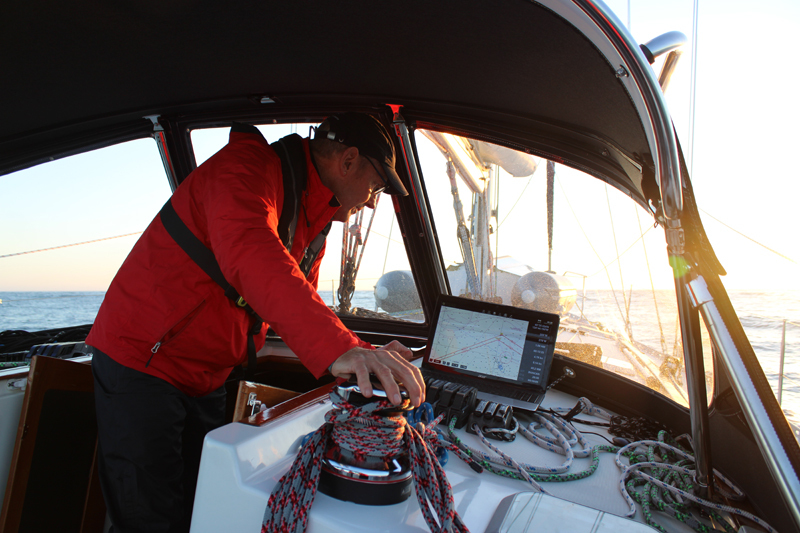 We're also running Rose Point Coastal Explorer charting on the laptop, the vessel's Garmin MFD plus Margaret keeps track of our position on her i-phone with a Navionics app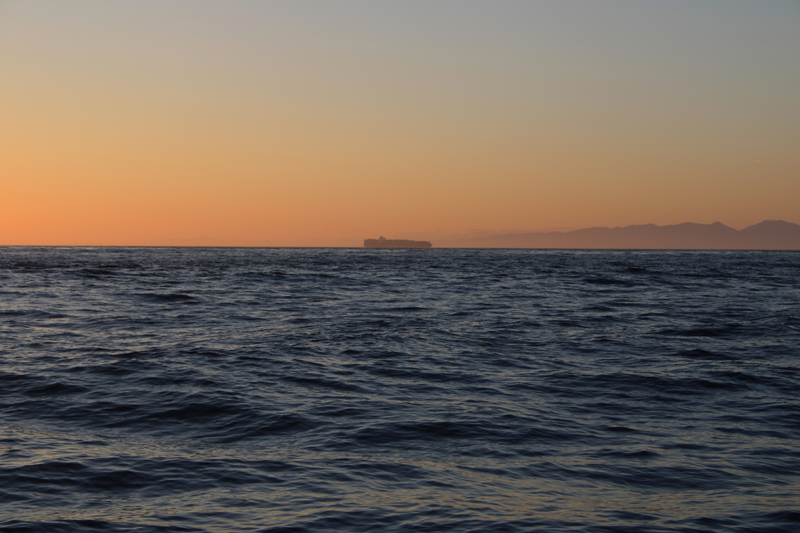 This ship entering the Straits is just one of constant procession in both directions
By the time we finished dinner the fog had mostly lifted and at 1900 we set sail, rounding Tatoosh Island, on a course slightly S of W. The seas became more and more confused and at 2200 a thick cold fog descended upon us. At the change of watch we discussed our situation with all the crew and based on the sea conditions and the shipping in the area that we were following on radar and AIS the decision was made that it would be prudent to turn around and head back into the straits. As we closed on Neah Bay again, we got occasional glimpses of the village streetlights, but we never saw the powerful Tatoosh Island light, only four miles away. At 0130 Sunday we re-anchored, enjoyed a cup of hot tea and biscotti and all instantly fell asleep in the calm anchorage protected by the breakwater attached to Waddah Island.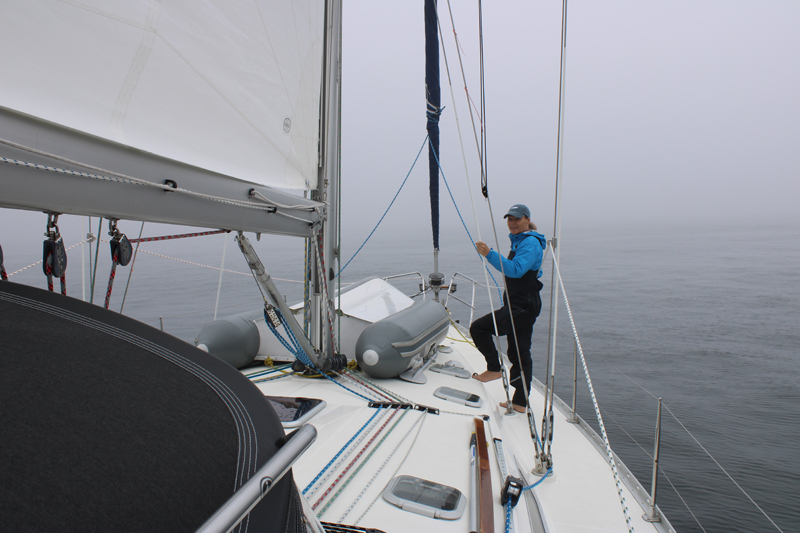 By 0900 we'd set off again, in light downwind conditions, and encountered fog patches off and on all day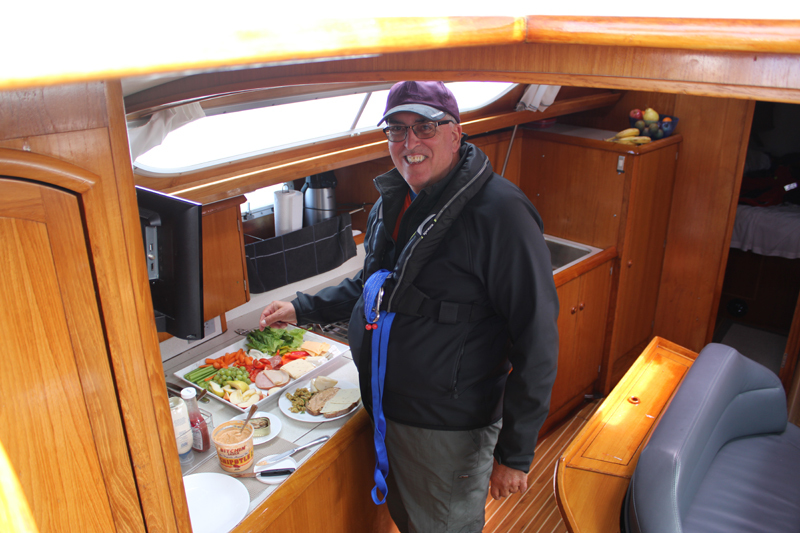 Rick making his lunch for the daily lunch spread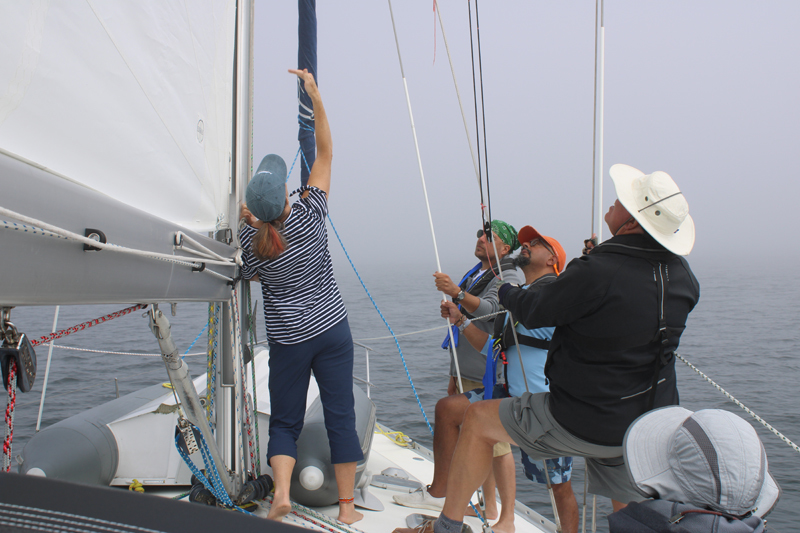 Foggy conditions prevail, but they don't hold up rig check class
We arrived at 1610 in Crescent Bay and with gale force NW-W winds forecasted for the night, we tucked in close behind the headland, nearly completely protected from the wind, but not the swell. In fact, Dave, a long-time surfer pointed out several surfers riding the waves on the eastern shore of the bay, astern of us. 24 years ago, we'd briefly stopped in Crescent Bay for dinghy fuel on our way back from Cape Horn and Antarctica aboard MT II, but now the only sign of the resort was some pilings and a large A-frame lodge ashore. When we headed ashore in the dinghy a guy was standing on the beach in front of the lodge and informed us that the shoreline was private but we were free to land at the state park where the surfers were enjoying the shore break.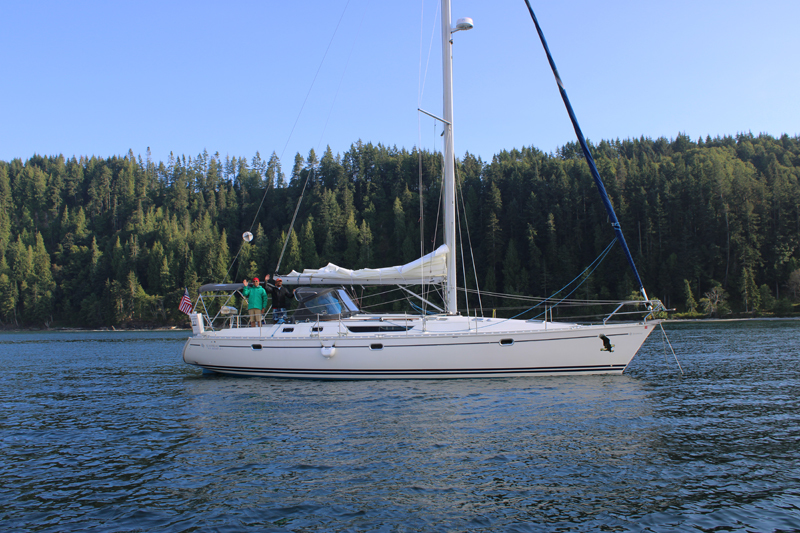 Our evening anchorage
So – we focused on navigation for the following day and getting caught up on sleep which proved challenging, given the frequent rolling motion. Next visit, we'll be setting a stern anchor to keep Misty's bow pointed into the swell that wraps around the headland.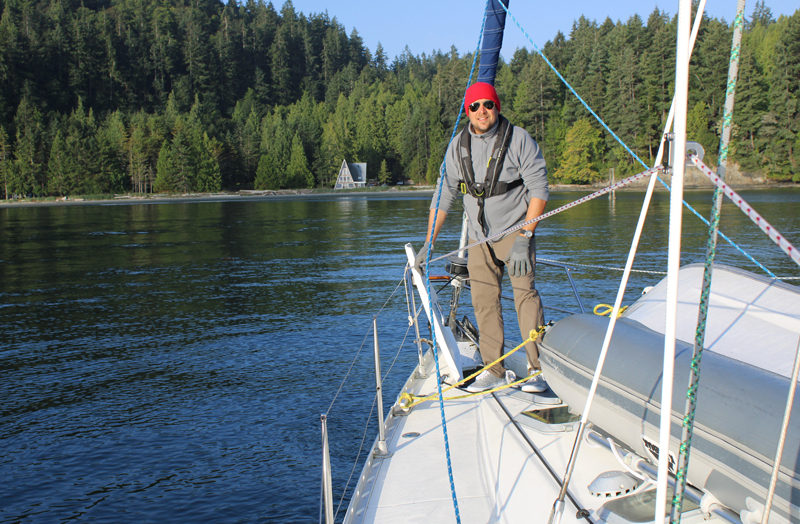 Dave is anchor master today as we get underway from Crescent Bay
We were underway by Tuesday and looked forward to anchoring behind the breakwater at tiny Sekiu, home to four salmon fishing docks/campgrounds. Rich called his friends ashore whom we'd hoped to visit but they said the fog was as thick ashore as it was with us out in the strait so we motored by with light following winds, eyes glued to the radar, chart plotter, navigational computer and paper charts.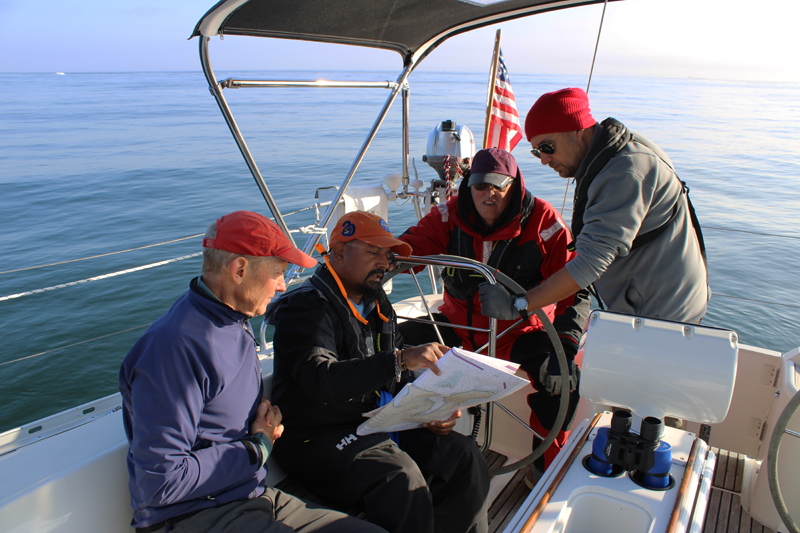 Navigation briefing for the entering Port Angeles
By 1100 the fog had disappeared, and we decided to stop in Port Angeles to top up water tanks, enjoy showers and lunch ashore. Ram called the harbormaster who requested that we tie up on the registration dock in front of his office, which we did. When I explained that we planned to stay a couple hours and asked if they had a day rate the cheerful harbormaster Erik Widsteen, said, "Just stay where you are, and there won't be any charge!" It had been five years since we last visited aboard Mahina Tiare, and when I asked if Safeway was still located on the far side of town, Erik, who looked like the quintessential logger/fisherman said, "Forget Safeway! We've got the most incredible health food store called Country Aire. They'll have everything you need and more plus it's much closer".
Our crew headed for showers and lunch ashore, and Amanda and I, curious to check out this new store headed the mile or so to town. Country Aire had taken over the old JC Penny's store that covered half a city block and what a shocker it was! A huge deli section dominated the middle of the store and an entire wall housed glass containers of bulk herbs, spices and teas.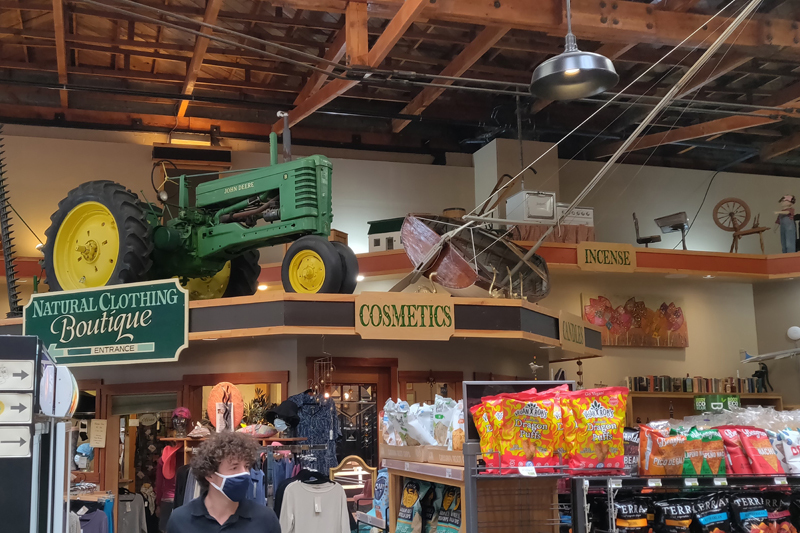 Two LARGE tractors, a John Deere and McCormick plus a lovely wooden boat with mast, and all kinds of farming and logging implements decorated the space above and around the food shelves.
I couldn't resist asking the herb & spices woman what the scoop was, and she said the store was started by John and Robyn Miletich, a 24-year-old local couple 45 years ago, moving into the current building eight years ago. She said the owners had done nearly all the remodel themselves, and that the staff loved working there which was obvious by the smiles and cheerful greetings of everyone we spoke with.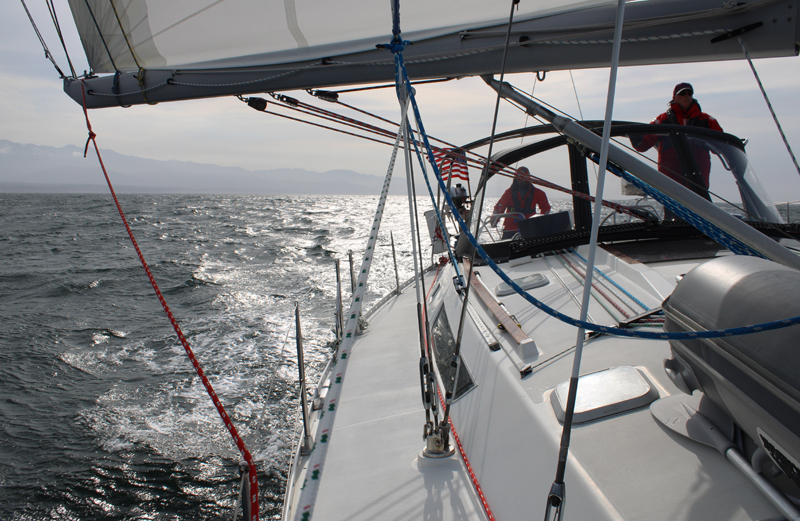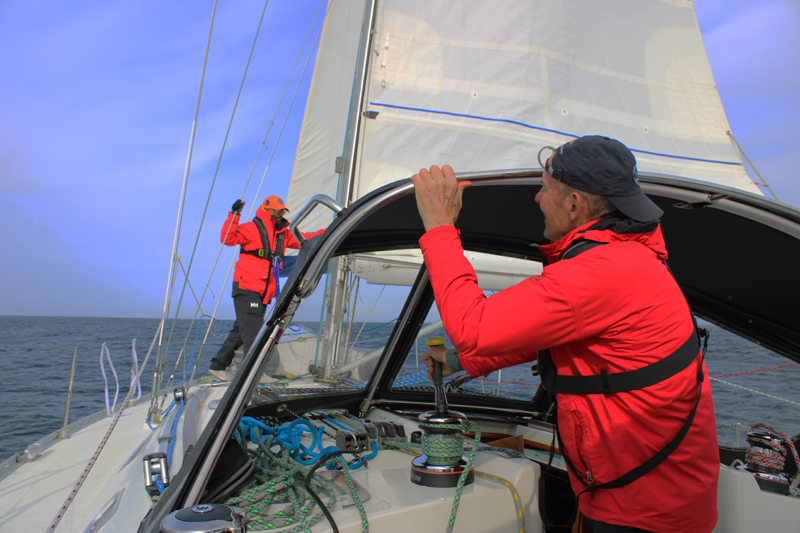 Finally, on our sail from Port Angeles to Dungeness Spit, the winds filled in, and kept filling in until we were reefing (not for practice, for real!), learning how to run the preventer and starting to surf!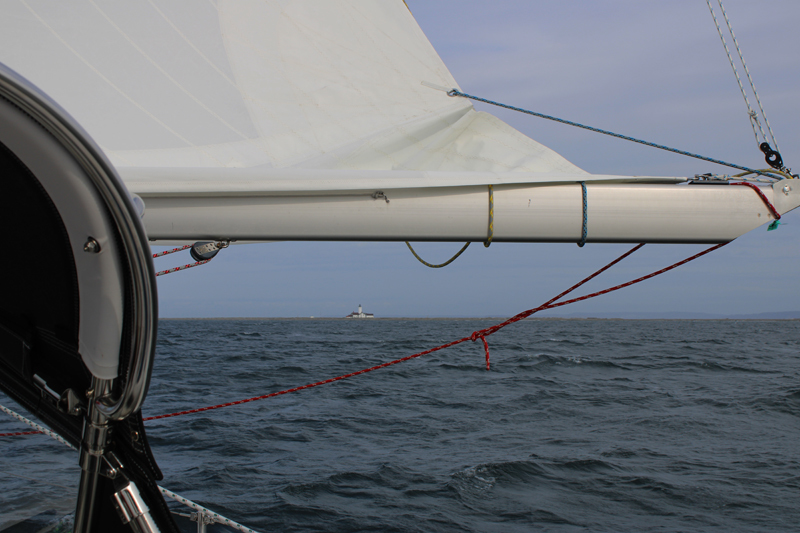 Approaching Dungeness lighthouse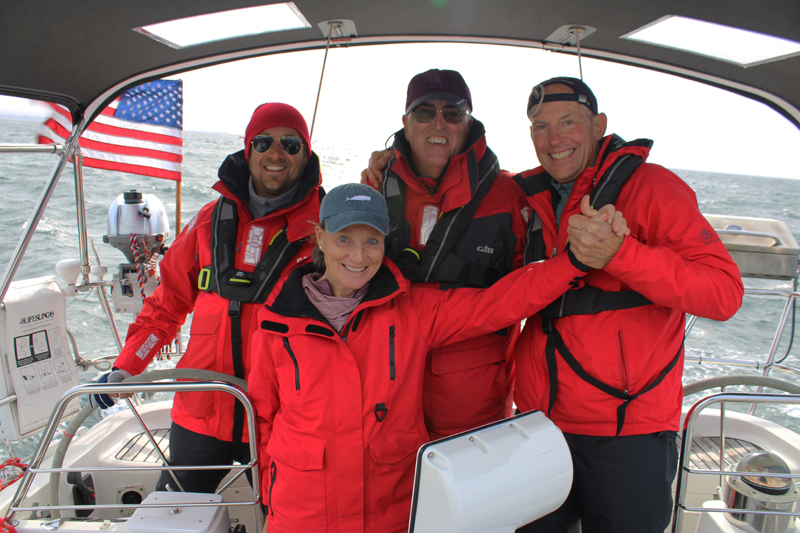 Happy sailing crew
Ram clocked the highest boat speed of the afternoon, accompanied by much whooping and hollering, and before we rounded the iconic Dungeness lighthouse, we reefed down some more.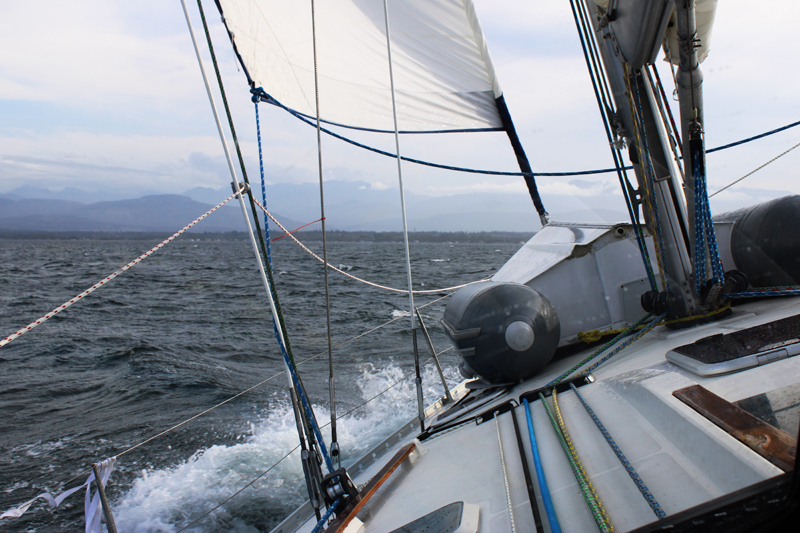 Spray was flying as we charged along the inside of the Spit
With near-gale force winds forecasted for the night (calm in the day, windy at night!) we carefully laid out all 200' of 3/8" chain with a depth of 13' (Misty must be the only bareboat charter boat in the world with so much chain which we are grateful for) and very carefully set the anchor.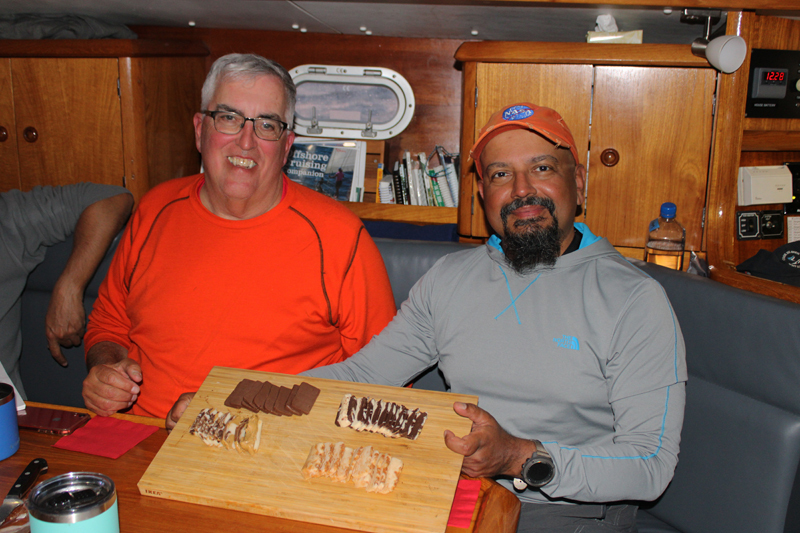 Time to celebrate and Ram had generously bought an assortment of treats at NW Fudge in Port Angeles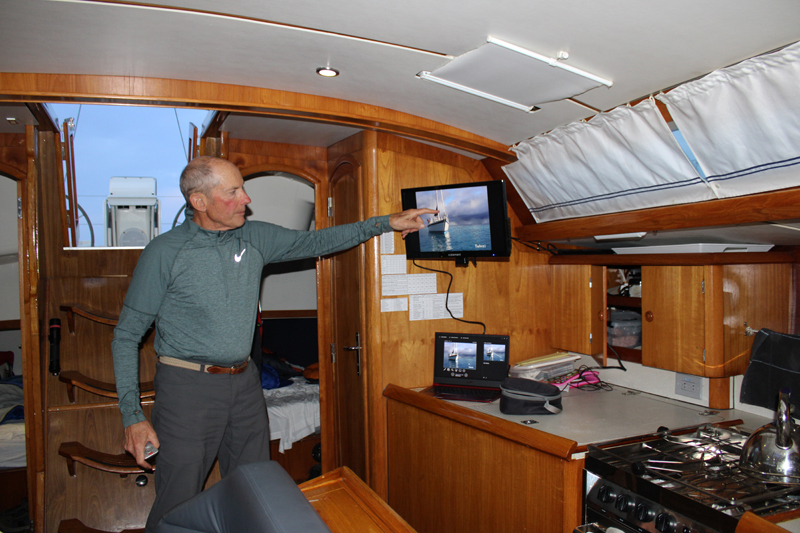 It's great to be able to present our PowerPoint shows on the boat monitor
It did blow that night, and someone got up to check, but we never budged, pitched or rolled…..thank goodness, and true to www.windy.com's ECMWF forecast, the wind died at 0200.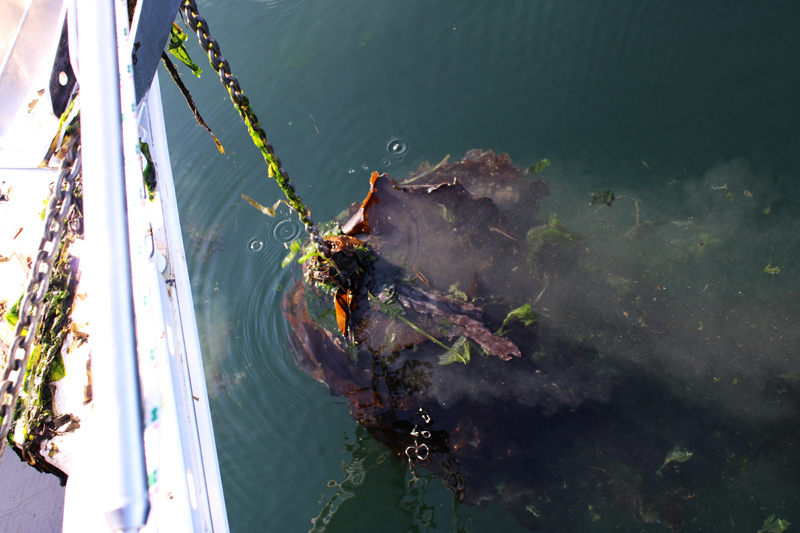 Summertime Pacific NW cruising brings KELP!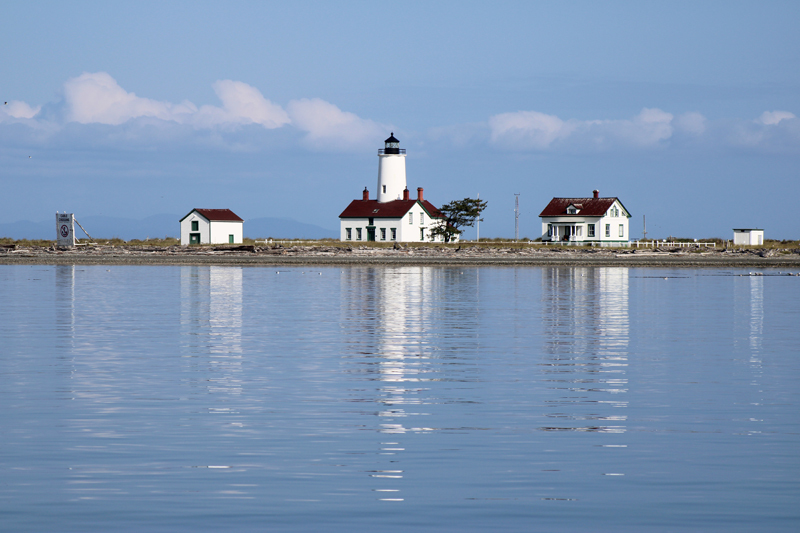 Dungeness lighthouse looked very inviting on a still sunny morning
We decided to have splicing class underway and set sail at 0930, and by then the fog had burned off, winds filled in and we were off on a GLORIOUS broad reach, across the Straits of Juan de Fuca. What a perfect time to teach celestial navigation! The sky was cloudless, the horizon clearly visible and the students keen to try out Pete McGonagle's Cassens & Plath sextant while taking a Latitude by Noonsite shot.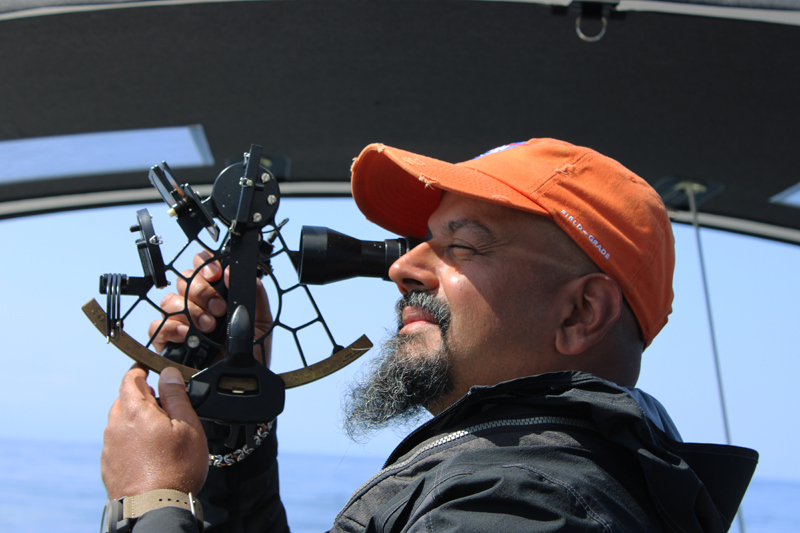 Ram takes a sun sight
Margaret, the navigator of the day, chose a course to take us at near right-angles across the busy shipping lanes and suggested we stop at Watmough Bay for lunch, mentioning there were five mooring balls there, in case we didn't want to bother anchoring. Upon arrival Margaret was shocked to count 23 boats in the bay, so many we couldn't even see the moorings. No matter, as the bottom slope was very gradual, we anchored well outside of the other boats, enjoyed lunch in the cockpit (actually – we had every single meal of the expedition in the cockpit) and then set sail for Cap Sante Marina in Anacortes.
It felt so strange to pass the Anacortes ferry dock where our San Juan Island ferry docks and continue on into downtown Anacortes. We've checked out boats for clients in Cap Sante Marina in the past but have never been a moorage customer before so, it was all rather new to arrive by water. We'd earlier made reservations, and as the marina office was closed because of COVID, everything was done over the phone. With a free night from class our crew raved about their dinner ashore at Anthony's, adjacent to the marina.
By 0730 Thursday we were headed a couple blocks away to Skagit Valley College's legendary Marine Tech Center, finding director Mike Beemer plus instructor Art were waiting for us. Mike showed us the very latest in Li-ion batteries and charging systems, had crew test electrical systems and then switched to diesel engines. Mike has ten marine diesels of varying horsepower on roller stands, each operational. For this class he chose a new Yanmar, demonstrating fuel and cooling systems. We also got to tour the Westsail 39 that the college recently purchased as an instructional rebuild/refit project.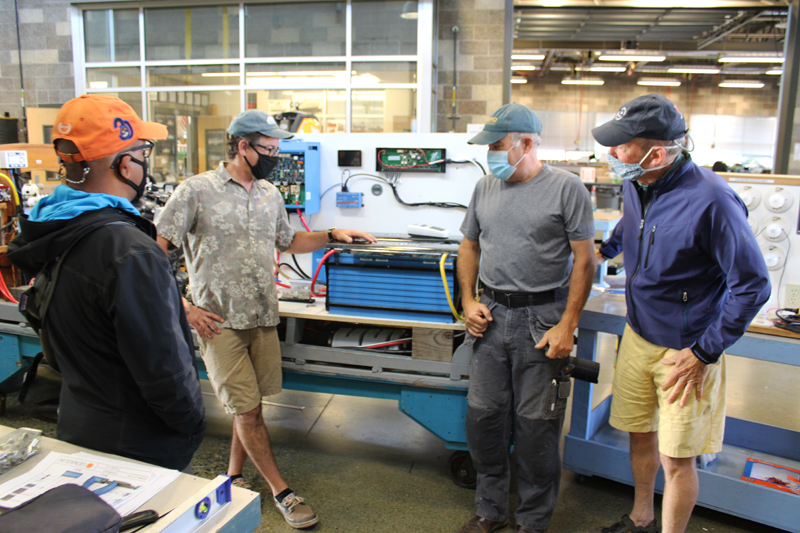 Mike and Art explain the latest battery systems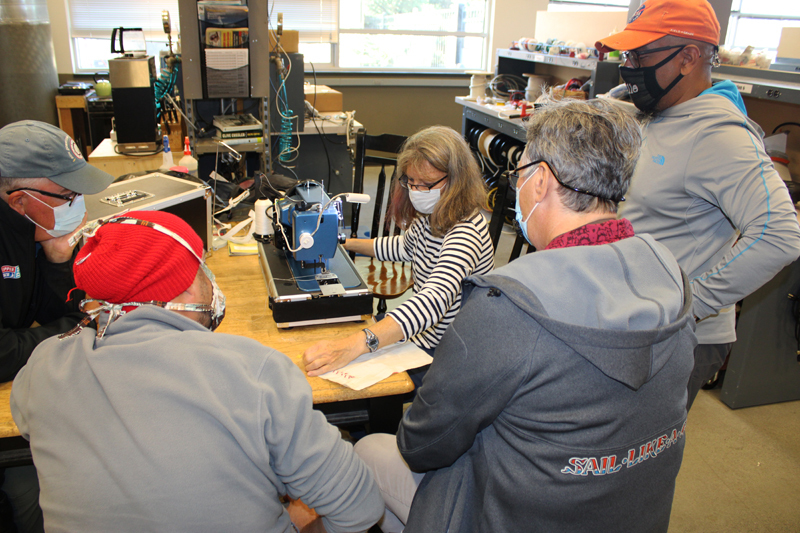 Our last class at the college was sail repair, utilizing one of the college's several Sailrite sewing machines.
By then it was time to fuel up, pump out, and set sail for Bellingham, 23 miles away.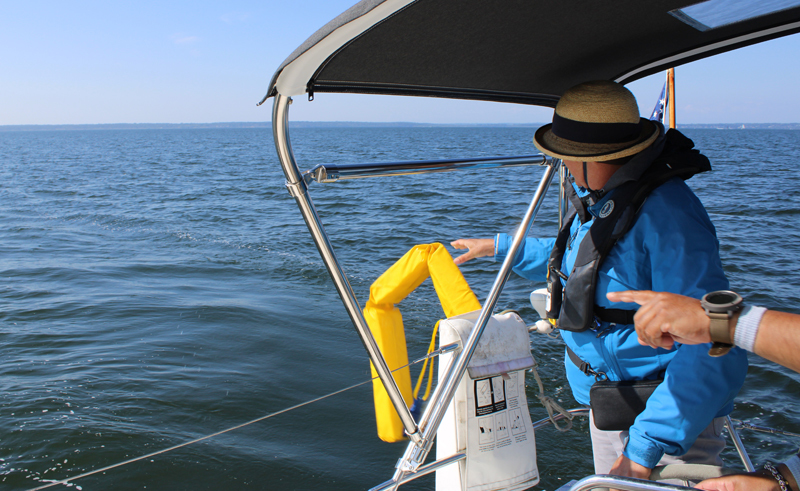 Again, the wind filled in, giving us an excellent opportunity to practice heaving to and Lifesling overboard rescue.
Each of our crew nailed the MOB "rescue" of a newspaper head, and after dodging a tug and barge it was time to drop sail and return to Squalicum Harbor.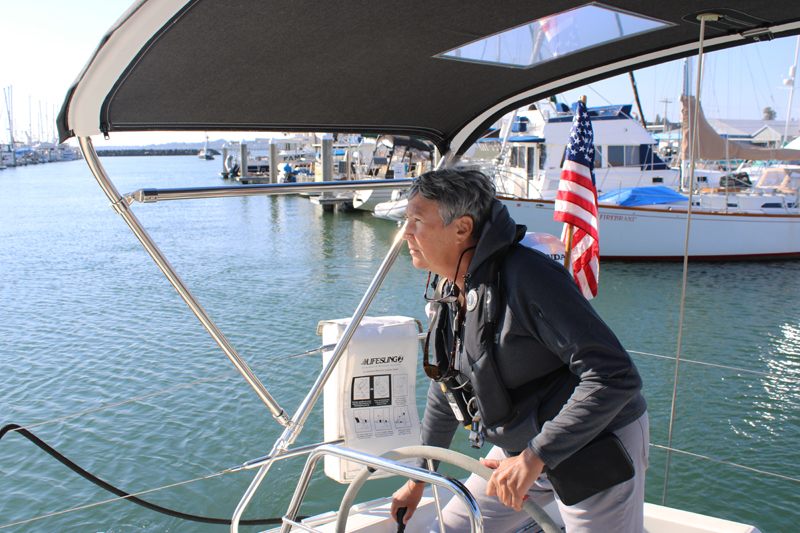 Amanda and I welcomed Margaret's conscientious and sound advice and she demonstrated superb docking skills getting Misty back into her berth.
August 14, 2020 1100 hrs, 48.41N, 122.32W
Squalicum Harbor, Bellingham
Baro: 1023, SUNNY and warm already!
We tidied Misty up, then our crew asked if we could point out boat features from our "Selecting an Offshore Cruising Boat" PowerPoint seminar so after dinner we walked most of the docks in the marina, pointing out good and bad options for the three of them that are in the market for cruising boats.
Friday morning was a blur of packing – and then it was over.
Wow – we've never had a week fly by so quickly!
Here's our hardy Leg 0 Expedition Members:
Dave, 47 from Vancouver, WA
I've been a livelong dreamer of sailing and have enjoyed daysails through the years and taken a few ASA courses, but nothing of this magnitude. It was an amazing experience and I wasn't ready for it to end. I met amazing people, learned an incredible amount, and had a wonderful time doing it. It was absolutely fulfilling.
Ram, 49
After a 20-year hiatus from sailing on the Chesapeake, this instruction and experience kickstarted this Washington DC's transplant's exploration of Puget Sound, West Coast, Hawaii and eventually…everywhere!
Margaret, 59
I've been a sailor since I was a teenager. Now I work as a sailing instructor in the Pacific NW. I am quite happy to sail here and also enjoy going offshore. This was a great opportunity to learn from two legends in offshore sailing instruction. Amazing stories, great insights and loads of inspiration as well as all the learning. (Margaret is an ASA and US Sailing Instructor Evaluator, plus an instructor at the SVC Marine Tech Center).
Rick, 67
I'm a retired communications consultant who signed up for some of the Clipper Challenge around the world legs upon retirement. I grew up sailing around Puget Sound on a variety of boats, and most recently enjoyed a long ownership of a Catalina 320.
Our September Legs 1, 2 & 3 are all filled.
2021 Expeditions
Assuming we're unable to return to Auckland in April we're in the process of contracting for six expeditions out of Bellingham starting April 2021. 2021 training expeditions will be nine days (instead of seven) which should allow us time to reach Barkley Sound on the west coast of Vancouver Island, if allowed.
Assuming Canada reopens her borders by next August-September we're considering circumnavigating Vancouver Island with two 12-day expeditions. Please let us know if you're interested in either or both of these expeditions.
2020 Annapolis Boat Show – October 8-12
We're excited to be presenting in person at this show. If you're attending there's plenty of options for presentations of which some will also be online.
Here's what we're currently presenting Mahina all-day Offshore Cruising Seminar, hosting Take the Wheel seminars, and three 90-minute seminars at Cruisers University. We're also arriving early and staying late at the show, planning to have plenty of time to answer questions personally when not presenting. Hope to see you at the show!
COVID RISK MITIGATION PROTOCOL
1. We have just ordered and ask all expedition members to order and complete a COVID-19 test shortly before their expedition.
Our SJ County Health Dept. recommended: https://www.pixel.labcorp.com/covid-19 which we have ordered and will take before the expeditions. $119 covers FedEx with a 3-day turn-around. Your insurance may cover the cost.
2. We send pulse/oximeters to all expedition members, asking them to record oxygen and temperature for the two weeks prior to their expedition: http://www.mahina.com/forms/Mahina%20COVID%20Protocol%202020.pdfhttps://www.nytimes.com/2020/04/20/opinion/sunday/coronavirus-testing-pneumonia.html
3. We also ask each expedition member to complete a COVID Self-Assessment before arriving aboard: http://www.mahina.com/forms/Mahina%20Expeditions%20COVID%20Self-Assessment-converted.pdf
4. We ask all expedition members to be VERY conscientious about wearing face masks and washing hands whenever they are out in public. We absolutely do the same. If you can think of any additional steps we can take for the safety of our crews, please advise.
Leg 0 Itinerary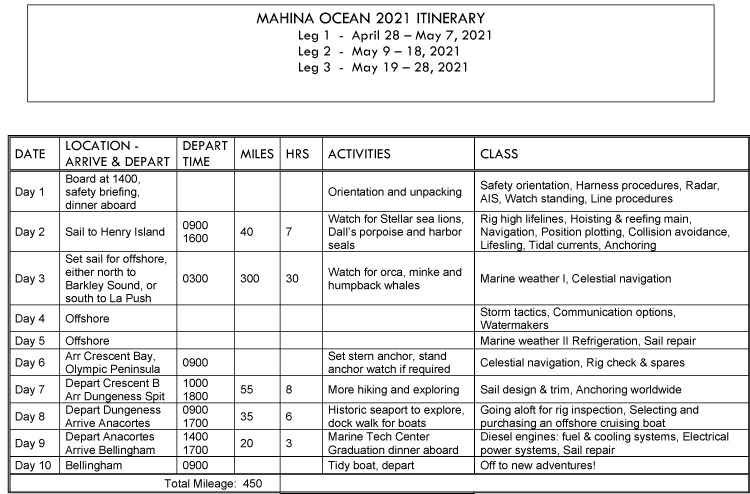 ---