June 6, 1997
Latitude: 32.44 North Longitude: 131.33 West Water Temp. 71 F 1483 miles to Hilo, Hawaii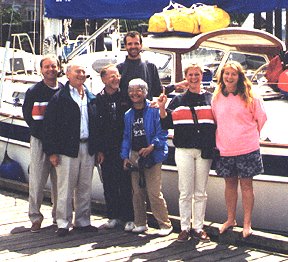 Mahina Tiare III's first crew, Leg 1, 1997 arriving in Victoria, B.C. May 26, 1997.
Now we're finally really sailing!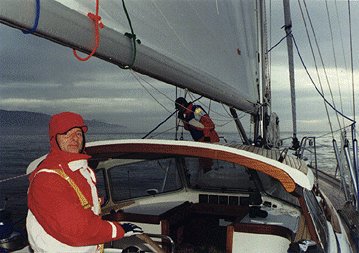 Leo Volkert at the helm of Mahina Tiare III in calm seas off Cape Flattery, Washington coast. May 27, 1997.
Mahina Tiare III, a brand new Hallberg-Rassy 46 departed Victoria, B.C., Canada on May 27 on her maiden voyage to Hilo, Hawaii with overcast skies and very light headwinds. On May 30 with a forecast of 30 knot southerly headwinds, we ducked into Coos Bay, Oregon to let a very active cold front pass. The following afternoon most of the front had passed and we set south into very light variable winds. After two days of mostly motorsailing in light winds we decided for one last fuel stop and spent two hours in Fort Bragg topping up diesel and buying fresh fruit and vegetables. The southerly gale forecast for the night of June 2nd didn't reach us [phew] as we passed Pt. Arena and watched the California coast fade away. By the evening of June 3rd northwesterly winds started filling in and have been with us ever since.
Amanda's fish line has hooked two tuna,one which Jim nearly landed and the other a large fish that escaped with her favorite lure. We sighted a couple of whales today one a breaching minke the other a small sperm, unfortunately wrapped in net, made us all feel rather sad.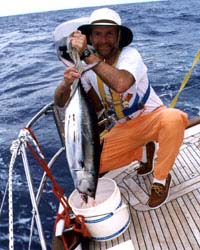 Leo Volkert lands another tuna!
Presently we have NW winds of 19-23 knots and are close reaching at 7.2 knots. The tail of a warm front passed us last night with intermittent squalls and rain. Our new Furuno weatherfax machine has provided us with detailed weather charts several times a day which we use in determining the best course to set. The jet stream has been several hundred miles south of it's normal summertime postilion and the result has been that one low and cold front after another has battered the west coast frequently producing gale force southerly winds. Now we are well out of that system and expect the winds to swing around to northeast tradewinds shortly.
The improvement in sailing performance between Mahina Tiare II, a Hallberg-Rassy 42 and MT III a new, Frers design which is 48.5′ on deck and has considerably longer waterline is unmistakable. We estimate our speed to average more than one knot faster on all points of sail! So far all systems including the sails, rigging, Volvo diesel engine, Balmar high output alternator and inverter, PUR Endurance 160gpd watermaker are working perfectly. In a future entry I'll detail my reasoning in choosing the specific gear aboard Mahina Tiare III. But now, there's just time for a quick hot shower before I'm due on watch – so Aloha till the next update from Paradise…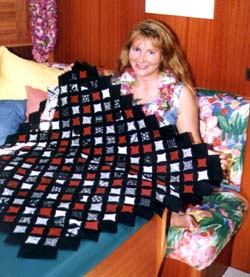 Amanda's award-winning cathedral windows quilt completed on leg 1.