April 26, 1998 1600
SOUTH SEAS ADVENTURES, Log 1-98. Leg 1
36.47S, 174.53E Log: 11,002 miles Water: 67 F, Air: 76 F
At anchor, Rangitoto Is., New Zealand
I can't believe that just six days ago we stepped off the plane in Auckland,
surrounded by six bags of boat supplies!
"We were delighted to find Mahina Tiare III in good shape, just a little dusty from her four months alone in the boatyard."
Within 50 hours of arriving we were back in the water, having had the bottom painted, topsides compounded and waxed, serviced the Max prop, replaced zincs and engine checked. While we were away the capable crew of Halfmoon Bay Marina had installed the aft cabin stereo and cockpit speakers we never got around to last year and sanded the bottom.
The last three days have been what we work so hard for: a peaceful, exotic anchorage, warm (nearly!) water, and great hiking ashore. Rangitoto is a recent volcano and a park with protected anchorages, just a two hour sail from downtown Auckland.
May 11, 1998 2300
SOUTH SEAS ADVENTURES, Log 2-98, Leg 1
Westhaven Marina, Auckland, New Zealand
Our Leg 1 crew are aboard, cooling down after an excellent meal at a tiny
Indian restaurant in Ponsonby. Today was a whirlwind, completing a few last minute provisioning jobs, getting everyone moved aboard, starting our orientation check-out of safety systems.
This afternoon we had an in-depth weather briefing at the MetService office by Bob McDavitt, known as the "Weather Ambassador", author of the weather book we teach from and consultant to America's Cup, Whitbread & cruising sailors.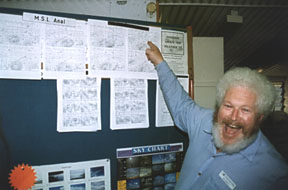 Bob Mc Davitt, MetService New Zealand
at our Auckland weather briefing.
Bob gave us computer-generated weather charts going out 168 hours, as well as real-time satellite imagery of weather around New Zealand. He said tomorrow would be an excellent time to depart, on the backside of a cold front that is just moving through. His advice was to sail an "S" course to Raivavae, staying south of the direct course line to start with in order to avoid easterly headwinds as we get further north and to expect strong winds this Thursday, in the 35-40 knot range.
"Everyone is anxious to set sail, so as soon as we have completed orientation and cleared customs tomorrow, we'll be underway!"
Our Leg 1 crew:
Brian Knowles, 49 from Santa Cruz, CA, originally from England. Brian sails his Cal 27 with wife Judy out of Santa Cruz when not working in Silicone Valley and is considering extended cruising in the future.
Michel Garcia, 53, an MD from Montreal, originally from France who is planning a world circumnavigation with his companion Danielle in the next four years. Michel sails a 8.2m Edel on a lake near Montreal.
Neil Smith, 37, ex-Microsoft from Bellevue recently bought a Nordhaven 46 trawler yacht which he plans to take up the West Coast of Vancouver Island this summer. Neil's previous seatime was as OD on a nuclear sub.
Dorothy Darden, 55 from Russell, Bay of Islands, NZ previously took our weekend seminar four years ago when she and husband Steve were still living in San Francisco. Since then they have immigrated to NZ are nearing completion of a custom 52′ catamaran on which they plan a 10 yr world circumnavigation.
Carolyn Aaronson, 32 from Richmond, Virginia grew up cruising on the Chesapeake Bay with her family. Now she races her own J22, and several other keel boats in the Southern Chesapeake Bay. She's done several east coast deliveries and hopes the experience of an ocean passage will give her more opportunities for long-haul deliveries.
Amanda has done a major revision and doubled the size of our expedition handbook and I've been organizing a list of every chart from the West Coast to New Zealand for Maptech to use in their next electronic chart portfolio, as well as some boat projects.
In a couple of minutes we'll hoist anchor and motor (we haven't put the sails back on yet) to Westhaven Marina, where we will be anxiously looking forward to arrival of our Leg 1 crew, noon on Monday, May 11 at berth C-39.
El Nino has cooled down, weather patterns are getting back to normal in the South Pacific, and we're excited about a new year with new expedition members and several islands and countries we've never visited before.
We hope to do updates at least every two weeks. It would be fun to do them more frequently, but the $150 per update cost is the limiting factor!
"Stay tuned for more adventures from the South Pacific!"
John Neal
May 14, 1998 19:54
SOUTH SEAS ADVENTURES, Log 3-98, Leg 1
32.47S, 177.53W, Log 11,5521, Barometer 1005
Enroute Auckland, New Zealand to Raivavae, Austral Islands
Winds S 35-40, gusts 47, broad reaching @ 7 knots
Carolyn,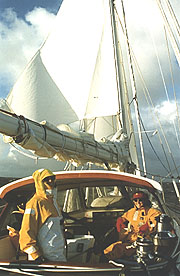 We crossed the international dateline this afternoon.
"The wind has been
building all day."
When it got up to 47 Knots, we took the main all the way down and sailed under reefed jib only. Bob McDavitt (MetService forecaster in Auckland) was correct in predicting that our roughest day would be Thursday.
The SW wind had us on a broad reach all day with winds 25-30. But by sunset the wind increased to 35-40 and we put up the storm trysail and the storm staysail which sets on a removable inner stay.
Down to only storm trysail and staysail with gusts to 67 knots,
Dorothy and Carolyn are still loving it!
May 14, 1998 0715
33.58S, 178.44W, Log 11,449, Barometer 1010
Winds S 45-55, gusts 67 knots, running @ 7 kts, surfing to 12 occasionally
Carolyn,
It's Thursday again because of the dateline. Wind as increased to 45-55 knots. After 0200 we took the storm staysail down and sailed under trysail only.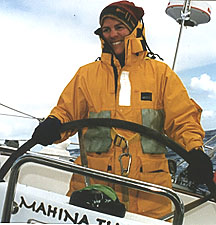 Carolyn enjoying surfing action down 30′ seas in the Southern Ocean.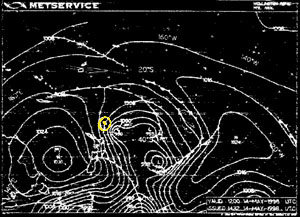 MetService New Zealand weather fax chart for May 14 showing complex low pressure centers of 986. 993 and 990m SE of MT's position (circled) with 1030 mb high pressure pushing in from the west.
"The waves are mammoth…liquid Himalaya's!"
The peak wind was recorded at 67 knots. Being at the helm is like skiing a mogul hill at A-basin!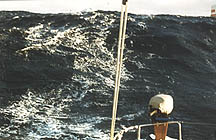 May 14 , 1998 1830
32.58S, 178.W, Log 11521, Baro 1015
Winds S 35, broad reaching @ 7.2 kts
Carolyn,
Strong gale conditions all day today. Headed further north than expected to avoid the intense low that is to the south of us. We couldn't head too far north on that tack because we were approaching the Kermadec Islands, so we gybed over.
"Today was sunny and beautiful."
The wind had calmed a little, but the waves were still huge. The albatross and sheerwaters are in abundance.
May 23, 1998 1400
SOUTH SEAS ADVENTURES, Log 4-98, Leg 1
27.59S, 154.06W, Log 12,952, Baro 1021
Winds: NE @ 7kts, motorsailing @ 6 kts
Dorothy,
Four hundred miles from our destination, and all the crew but me are overboard — in the water. But not to worry, twenty minutes earlier we successfully practiced man overboard rescue with an egg carton. I lock the helm hard to port — hove to — and grab two cameras to record the fun: cannonballs, laps swum 'round the boat, saltwater shampoo lathering. John comes back aboard and I dive below to change into my swimsuit (ignore the heavy weather bruises). A dive from the transom pierces the rippling cellophane surface of the sea which has borne us so far.
"A crawl stroke to catch up with the boat,
a backstroke to see the sky."
Hold on to the Lifesling line for a saltwater massage. Surprisingly exhilarating, this man overboard water sport. Yet another fear subdued.
May 30, 1998, 0400
SOUTH SEAS ADVENTURES, Log 5-98, Leg 1
23.27S, 154.06W, Log 13,521, Water 77, Air 79, Baro 1018
Winds NE @ 9kts, motorsailing @ 6kts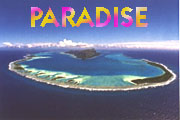 Paradise Found: Raivavae Island.
Imagine a South Pacific island, remote, totally untouched by tourism, unreachable except by the dozen or so private yachts who visit annually, and a monthly supply boat from Tahiti, far off the normal sailing and shipping lanes.
Leg 1-98 crew with ancient stone tiki.. Raivavae, Austral Islands.
A rugged sub-tropical volcanic island, surrounded by a protective barrier reef which includes 20 palm-studded islets and a brilliant turquoise lagoon. On this island everyone smiles, subtlety raise their eyebrows with a nod and say Iorana! (hello in Tahitian) when they pass.
"At dawn roosters crow and the inhabitants rise early to tend their lush tropical flower gardens which surround their houses and border the island's single road."
The canoes pulled up on the white sandy beaches are of a sewn-plank design seen only in the museum nowdays and intricate Polynesian tifaifai' (hand-made quilts and pillows) are displayed in living rooms for passers-by to notice.
The children rowdily play soccer in the street where the occasional bicycle passes, but are shy and polite when they come to the wharf to gaze at the yacht tied to the quayside.
Branches heavy with juicy pamplemouse, papaya, bananas and oranges line the road, and payment is always refused when we ask if we can purchase some fruit. The baker and his daughter deliver fresh baguettes to the wharf at 7 each morning.
This island still retains it's language (similar to Tahitian) and has repeatedly turned down offers from France to build a airport. Instead of tourism, subsistence farming and fishing are the norm. The only non-Polynesians in the population of 1400 are the Gendarme who takes great delight in showing us the fish he catches, the doctor who never wants to leave, and a talkative Frenchman who settled here 30 years ago and now sells vegetables from his verdant gardens.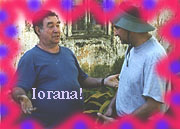 "On this island there are no restaurants or bars and the majority of the population have voted for this to be a "dry" island, resulting in better overall health of the islanders."
On many nights the sounds of slit drums, guitars, ukuleles and laughter echo across the lagoon as different traditional Polynesian dance teams prepare for the competitions of the Fete Festival of July.
The island is Raivavae, 400 miles SE of Tahiti in the Austral group and we feel so fortunate to have been able to stop here on our passage from New Zealand to Tahiti.
Our three-day visit passed in a blur of making new friends, teaching (going aloft, servicing winches, anchoring), boat maintenance (mainsail repairs, replacing the 12 volt alternator), hiking across the island, snorkeling in the turquoise lagoon and exploring one of the barrier reef islets.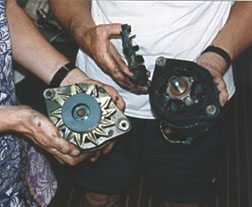 "We now expect to see Tubuai's rugged profile on the horizon at dawn and to be securely anchored in her lagoon before noon."
After a few days exploring and renewing old friendships there, we will sail 360 miles north to Tahiti, and after clearing customs and some grocery shopping will sail west to Moorea for the last few days of Leg 1.
For the past week a huge stationary area of high pressure has stretched across the Pacific from Australia to Chile resulting in very light winds and brilliantly sunny days and nights where the stars are so bright they reflect off the ocean. We're hoping the SE trades will return for a fast reach up to Tahiti!
June 2, 1998 2130
SOUTH SEAS ADVENTURES, Leg 1-98, Log 6
20.27S, 154.06W, Log 13,766, Baro 1019, Air 82, Water 78
Winds ESE 25-30, Broadreaching at 7.5 – 8.5kts, 159 mi to Tahiti!
Mahina Tiare Crew Turns in Awesome Performance in Tubuai Is.
"Triathalon Tubuai in the Austral Islands has been a favorite of mine since 1989" when I met Don Travers in the Papeete post office. While waiting in line, Don invited me to sail 360 miles south of Tahiti to the island he had fallen in love with, to meet his family. Don had sailed to Tubuai several years earlier on his homebuilt 35′ trimaran, married Miss Tubuai and was pursuing his photography business while he and Jeanette raised their beautiful daughters.
I did sail down to Tubuai, actually six times over the past 18 years. The last visit had been in 1994 on our way to Chile and Antarctica, so we had a lot of catching up to do.
Once ashore, Don told me Mahina Tiare III was the first boat to stop this year and that even fewer yachts, only 4 or 5 now visit Tubuai annually. Jeanette said it was quieter now that both daughters were living in Tahiti while going to college, and we invited them out to the boat for a barbecue.
The hand-drawn posters advertising Tubuai's first triathalon were impossible to miss when we went ashore. They were posted on the front door of both Chinese grocery stores, the Gendarmerie, post office, telephone booth, and even stapled to tree trunks in front of the mayor's office.
It all started as a joke – someone said, "I've signed us up for the triathalon team relay, we need to be at the mayor's office Mon. at 9:30 wearing matching t-shirts".
"Slowly the crew got into the idea, to the point that all seven of us rented bikes and covered 20-40 km on Sunday, and Carolyn and Amanda swam nearly to the sunset and back."
The race was a relay, with 500 meter swimming, followed by 5km mountain biking, followed by 20km biking on the road, then two 5km running races. When we showed up Monday morning we surprised to see high-tech French bikes ridden by French schoolteachers that looked like they were ready for the Tour Du France, Tahitian swimmers that all looked like body builders and runners that all looked like marathoners.
"We could tell that some of our competition had been cross training by their glistening, rippling bronze shoulders festooned with carved bone necklaces and heavy tattooed forearms ."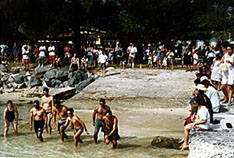 Carolyn (far left) at the start of the Tubuai Triathalon.
The rules stipulated three men and two women per team so one member would have to compete in two events.
The swim competition was first, and Carolyn elected to swim both 250 meter legs back to back! The start was a run down the beach followed by a swim through the coral-flanked breakers, out around a mark and back to the beach.
Carolyn couldn't have weighed more than half of any of the powerful, tanned, Adonis-like Tahitian young men but by the mark she was in fourth place, and on return to the beach she was in third place. The other teams all had fresh and powerful swimmers for the second leg, but Carolyn doggedly charged through the breakers, returning in second place.
Neil was our mountain biker, took off like a shot, only to have the chain on the borrowed rusty derelict off-road bike jam. Brian quickly gave Neil the 10-speed road bike (only 3 speeds worked) and Neil took off on the hellaciously rough course through the back country. He returned in a blaze, bloodied by a couple of falls, but well ahead of several teams.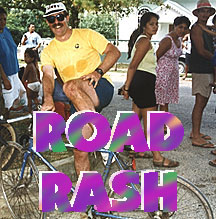 Our ace cyclist Brian had meanwhile repaired the mountain bike and took off on the road race on the very dilapidated borrowed mountain bike. He was up against state-of-the-art equipment and athletes who looked as though they would put Greg Lemond to shame. Against all odds, he turned in an excellent performance.
Neil showing off his crash injuries,
Tubuai Triathalon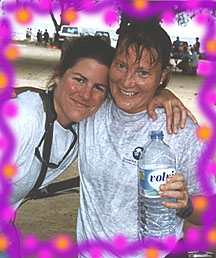 The two running legs were last, with Amanda and Michel primed & pumped.
Amanda took off like a flash and slowly made up a 1 km gap from the 17 yr old in front of her. Just before the halfway mark the barefoot Tahitian girl in front turned and saw Amanda gaining (and no doubt heard her bike-mounted cheering and water crew) and quickly picked up the pace with a blistering sprint. Amanda kept hard on the girls heels until the girl hit the wall, having to walk the last thousand meters. Amanda blazed on, gaining nearly a kilometer on the leg.
"Before the finish line, ex-marathoner Michel was on the road, running ahead of Amanda to warm up. Upon Amanda's finish, Michel took off at a grueling pace in the 85 degree, 85% humidity slowly gaining on the runners ahead, some of whom were barefoot, and finishing to the roar of the crowd and congratulations of the few runners who had already finished."
Dorothy, equipped with everything except a PRESS card in her lei-wreathed Tahitian straw hat, captured the activities in detail, even mastering the skill of taking still photos with her left hand while continuing to video with her right hand. The marathon coverage effort included personal interviews with each team member both before and after their event. She's talking to ESPN already and is working on a press conference upon our arrival in Tahiti.
Soon after the final team finished we were enjoying the lunch specials that had been set up in temporary stands when the organizers told us our team had finished fourth and they were having special awards ceremony early as they had heard we were trying to sail before dark.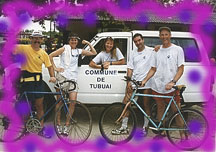 "Team Mahina Tiare were awarded t-shirts and hats, which were greatly appreciated, especially by those short on clean clothes."
Now that we have competed internationally, we think we're ready for the Iron Man Triathalon in Hawaii.
MT's triathalon team.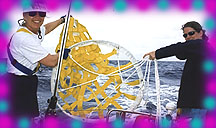 That was yesterday. We did manage to clear the reef pass in daylight, to set sail on one of our best sails of this leg, surfing at up to 9.4 knots.
We have an excellent shot at breaking the 200 mile per day barrier, even though we practiced slowing the boat down towing warps and setting the Galerider drogue. Retrieving the Galerider in 25-30 knot winds and 8′-10′ seas was accomplished by dropping all sail, heading up into the wind and winching it in on the big Lewmar 66 genoa winch.
Dorothy and Carolyn deploying Galerider drogue.
Tahiti lies ahead and at our current speed we might make it for a late dinner on the wharf at Le Trucks!
June 9, 1998 0930
SOUTH SEAS ADVENTURES, Leg 1-98, Log 7
At Anchor, Cook's Bay, Moorea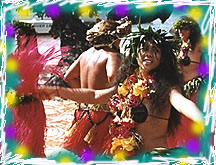 Tahitian dancers on the beach in Moorea.
17.28S, 149.48W, Log 13,981, Baro 1014, Air 79, Water 80 and 9′ deep
Hitting the big city neon lights we anchored in Papeete at 2230, quickly launching the dinghy we boogied over for ice cream desert at "Le Trucks", Tahiti's colorful mobile restaurants.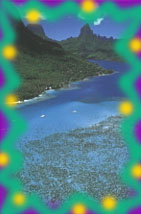 When everyone had reconfirmed tickets and done some shopping we sailed the 20 miles across the Sea of the Moon to Moorea. Michel hit 8.3 knots as we surfed along Moorea's north shore past the stunning volcanic valleys with rugged ridges on a sail that none of us wanted to end.
Saturday was a vacation from teaching, only the second day missed, so crew could circumnavigate Moorea on bicycles.
Sunday was busy with a second round of splicing and final celestial navigation practice including working out previous sun shots. Carolyn's first latitude by Noonsite was within two miles, not bad!
Mahina Tiare's anchorage in Moorea between legs 1 & 2.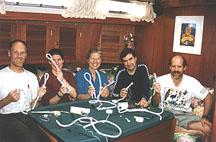 Splicing in the Southern Ocean.
Early afternoon we headed to the beach to watch a Tahitian tamure dance show, then drift-snorkeled out the pass into the open ocean. All too soon it seemed, Leg 1-98 was over and I was dropping people on the dock to catch the ferry back to Tahiti. Working closely together for 28 days in conditions that included a full gale with gusts to 67 knots and seas to 30′, this team kept it's sense of humor and perspective with not one cross or negative word.
"I feel fortunate we were able to share the
passage with such a strong, diverse and interesting crew."