May 7, 1999 1200 33.44 S, 174.46 W (550 mi ENE of Auckland)
Log: 20,638 miles Baro: 1011 Air: 71F Water: 65.7F
Broad reaching @ 8kts w/storm staysail and triple reefed main
Winds SSE @ 28kts, seas 12′-15′, down from 66 kts & 35′ seas
Welcome to a new season of satellite log updates from Mahina Tiare!
| | |
| --- | --- |
| Using Nova Lift to lift bags of boatgear aboard. Auckland | Relaunching Mahina Tiare Halfmoon Bay, Auckland |
| | |
| Liferaft repacking orientation before Leg 1-99, Auckland | Robert, Amanda and Lesley Swan ready for Scottish Country Dancing |
| | |
| Amanda preparing to freeze ziploc bags with seafood chowder mix. | Fresh fish, mussels and scallops, ready to freeze for delicious seafood chowder. |
We left Auckland four days ago with our first expedition crew of the year, smack right into the Roaring Forties! Our crew joined us on Monday and we had our traditional weather briefing by MetService forecaster, Bob McDavitt, before sailing out of Auckland Harbor Tues. noon with following winds to 37 knots.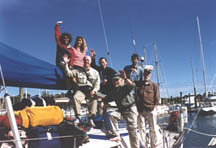 Leg 1-99 crew arriving in Auckland. Ready for the Roaring 40's!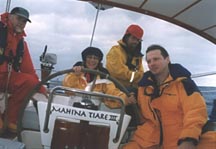 All smiles setting sail from Auckland.
In our weather briefing the forecaster mentioned that our strongest winds should be Thursday, and to expect 35 kts southerly winds with substantial southerly swells. As winds had been easterly (which would mean headwinds when sailing toward Tahiti) most of the time since we arrived in Auckland April 17, the forecast of southwest and southerly winds was excellent news.

Bob McDavitt giving leg 1 crew weather briefing in Auckland.

By 1800 Wednesday winds were SW at 38, gusting 45 so we set the storm trysail and storm staysail before dark. At first light Thurs. morning winds were 45 gusting 51 but the top of the seas were breaking heavily, so we tried heaving-to under storm trysail and staysail. We have practiced heaving-to on every expedition since 1990, often in winds to 35 knots, but we found the breaking seas, noise, vibration and movement hove to in 45-50 knots much less comfortable. At least the person on the helm didn't have to worry about being lined up and surfing down the front of large breaking seas!

At 0900 Thursday we gybed around and hove-to on the opposite tack so that we were drifting east at .5 knot instead of west, back toward New Zealand.

By 1100 we tired of the heeling and vibration from the occasionally luffing storm staysail, so we dropped it, and found that heaving-to under storm trysail alone was considerably more comfortable. As the winds had dropped to 35-40, we turned and ran downwind under the trysail alone. The winds weren't a problem, but the large following seas meant that it was essential to keep the stern squared-off to the seas.

The bottom depth contours on our navigation chart showed us the reason for seas much larger than the winds would normally generate. Our 1200 position of 36.24S, 179.6E placed us 20 miles N of a 960 meter deep seamount and 60 miles ESE of the 119 meter deep Rumble III seamount and only 95 miles W of the 7,000 meter depth contour line of the Kermadec Trench. We were essentially sailing between two submarine mountains and on the edge of a deep abyss. Any abrupt changes in depths in a coastal situation usually result in larger sea conditions.

The Metservice NZ 0000Z weatherfax told the story. A strong 1039 mb high pressure cell was pushing against a complex low with center pressures of 989 and 992 and we were in the middle of a classic "Squash Zone" where the closely-spaced isobars (lines of equal barometric pressure).

In our twice-daily radio skeds with Des Renner at Russell Radio, Opua, New Zealand, he repeatedly said, "Sorry it doesn't look like much change, continued very strong southerly winds, just do the best you can".

At 1400 on Thursday the barometer had dropped to 1006 and a very intense cold front passed over us, with an astounding lightning and hail storm and winds of 50 knots, gusting to 66 knots. On one super-intensive blast Mahina Tiare hit 14.1 knots racing down the face of a wave with a bow wave thrown high on either side.

49 Knots, gusts 66 Knots

By 1300 the following day (Thurs. May 6 again as we had crossed the Date Line) the barometer bottomed-out at 1002 and winds started dropping from the 40 knot range into the mid-30's. At 2300 we hoisted the staysail which reduced the rolling. We were able to maintain 6-7.5 knots comfortably, and the barometer really started climbing.

On Friday morning we finally were able to drop the storm trysail and set the triple-reefed main as winds were down to 30 knots, seas were smoother and we were starting to see some welcome patches of blue sky! That evening Amanda rustled up a great dinner of pressure-cooked potatoes, kumera, carrots and onions – simple, nutritious and easy to keep down.

Oh, I forgot to mention seasickness. By the time the worst of the weather had passed, all of our crew had recovered from seasickness. A combination of the unbeatable Compazine suppositories, lots of hydration with water, Gatorade & Tang and plenty of apples, crackers and hard candies seemed to do the trick. With this crew only half experienced seasickness, even in storm force conditions.

Our long-term survey of seasickness is holding to an average of 20% of sailors on their first ocean passages not experiencing seasickness, and 20% are chronically seasick. The majority (60%) of sailors making their first ocean passage are over seasickness in 3-4 days providing they take care of themselves.
May 9 0800 31.59S, 169.33W
Log: 20,938 Baro: 1019 Air: 68F Water: 62F
Winds: ESE @ 16kts, seas 6′. Close-reaching @ 6.7kts
Gorgeous morning, incredible sunrise accompanied by soaring albatross. Time to make banana pancakes as bananas are all ripening. Seas are calm enough to heave-to for a swim and hot shower this morning, something everyone is looking forward to. Our barometer has climbed to 1019 as the high from Australia is slowly catching up with us. We are nearing the halfway point as Tubuai, the closest of the Austral Islands is only 1185 miles away.


A Gauguin painting 1893 titled "Where are you going?".
May 10 1030 31.33S, 167.50W
Log: 21,073 Baro: 1022 Air 74F, Water 66F
Winds: ESE @ 15, seas 4′, close-hauled @ 6.8kts
The swim yesterday was bracing and left us all feeling (and smelling!) a lot fresher. Last night our winds dropped to under 10 knots and backed around to the east, the direction we need to sail, so we didn't make much progress. This morning they veered back to the SE and are able to make 6.1 knots VMG (velocity made good) toward the Austral Islands.

I've left you in the dark about our exceptional crew up until now, so here they are:

Mariusz Koper, 37 of Poland moved to Toronto seeking a better life and opportunity in '88. Eight years ago he started a textbook publishing company in Poland, to where he now commutes. Besides a busy family life with his wife and four daughters he plays tennis, golf built a log summer home on a lake and is planning on purchasing an HR 46 soon. How does he find the time for all this?

Michael Wolfe, 57 has a passion to live life first hand and is a professor of Fisheries & Wildlife at Utah State. Mike met his wife, Marieluise when in Germany as a Fulbright Scholar. They enjoy backcountry skiing and mountain biking.

Karl Gevecker, 54 belongs to Boston Hbr Sailing Club and works for Lotus Development. His pre-corporate background included a stints as director of a theater production company and as a screenwriter. Karl is looking forward to some outrageous scuba diving in Bora Bora after the expedition.

Rocky Plotnick, 47 is a native Alaskan with a background in health care education. She is mother of three teenagers and sails a Valiant 40 out of Juneau with her husband Mike. One of her best stories is of being chased by a bull moose recently while cross-country skiing with a girlfriend.

Roger Van Stelle, 48 lives in Port Townsend where he recently completed 2 years of training in boatbuilding. He owns an Atkins-designed 32′ cutter which he plans on sailing north as soon as he returns from Tahiti.

Quentin Rhoton, 54 is our resident character on Leg 1. His business is, in his own words, "blowing up stuff!" He recently spent 8 years in charge of all explosives and blasting for National Science Foundation's Antarctic Research Program. Now he is preparing to level Seattle's Kingdome, followed by tropical cruising adventures with his partner Peggy Herman who will be meeting him in Tahiti and sailing with us on Leg 2.

What a fun crew we ended up with on this leg. As all are interested in ocean voyaging on their own boats, we are covering a lot of material in our daily morning learning sessions. I think it is calm enough to tackle celestial navigation in the morning.


Final scrub down, Tahiti.


Moon setting over Moorea as the sun goes down.

For those of you interested in some real sailing and navigation experience aboard Mahina Tiare this summer, remember that as of 5/10/99 we still have
three berths open on Leg 6 – 1999, Sept. 20 – Oct. 4, 1999, Petersburg, Alaska to Queen Charlotte Islands.
We have changed the itinerary so that we now will have ocean experience coming down the Gulf of Alaska from Sitka to Hecate Straits on this leg. We also have
three berths on Leg 7, Oct 6-20, from the Queen Charlotte Islands to Friday Harbor, down Vancouver Island's rugged west coast.
For more details check out 1999 Sailing Schedule or contact Tracy in our Mahina Expeditions office: sailing@mahina.com or tel 360-378-6131.

Leg 1-99

May 12, 1999 2000 29.45S, 161.40W 761 mi SW of Tubuai Island

Log: 21,422 Baro: 1019 Air: 73F Water: 67.3

Winds SSE 25-30, seas 8′ to 10′. Closehauled.
cruuuunching into choppy & confused seas.

We still have plenty of wind and confused seas but we had some partial clearing today. The weatherfax chart from New Zealand today shows a deepening low pressure area just ahead of where we should be at midnight tonight.

May 13, 1999 1200 228.46S, 160.22W 677 mi SW of Tubuai

Log: 21,510 Baro 1017 Winds SSE 40 gusting 55

MAJOR DECISION TIME!!! Our latest forecast predicts sustained easterly winds of 45 with higher gusts as the low just north of us continues to deepen and a large 1037 stationary high south of us continues to build. If we continue toward the Austral Islands, at midnight tonight we should be right on top of a convergence zone AND a warm front with tightly-packed isobars and lots of wind. Unfortunately, both the high to the south and the low to the north are not moving, so winds and seas should continue to build, possibly for several days, resulting in sea conditions that would be difficult to make progress in. We have had a very rough night under deeply reefed headsail alone with several seas breaking over the boat.

After talking the situation over with Des at Russell Radio and with our crew, we made a decision to drastically alter course to Rarotonga, Cook Islands which is 454 miles north of us. This will mean the wind and seas will be off our stern quarter and we will no longer be pounding into them.

The only disadvantage of heading to Rarotonga is that we will then have 600 miles to windward to reach Papeete. The good news is that we will have 14 days to make that trip in stages with six islands to stop at along the way.

By 2000 seas had built so much that we dropped the storm staysail and were down to storm trysail again with large towering seas astern, streaked with foam and breaking crests. In order to slow the boat further and make steering easier, we towed our longest warp astern, 330′ of 3/4″ Megabraid, secured to the stern mooring cleats and drug astern in a bight. This is the first time we've ever towed warp in the past 100,000 miles, except for teaching purposes.

The warp slowed us slightly and seemed to help keep the stern lined up with the large breaking seas. I pulled our Galerider drogue out of storage under the floorboards and had it ready to set astern if we needed to slow the boat more.

May 14 0300 27.13S, 160.47W 365 miles S of Rarotonga

Log: 21,619 Baro: 1011 Winds: SSE 31 gusting 50 Seas: 30'+

It has been a night of torrential rains, lightning and large breaking seas which are impossible to see until the last minute when they tower over the cockpit. Most of the seas break before or astern of us, but every hour or so a large one breaks directly on the stern.

At 0700 Quentin and Roger who were on watch heard a roar and looked back to see a breaking sea much larger than the rest roaring toward us. Quentin who was seated by the hatch saw the wave solidly break over the outboard motor on the stern rail AND over Roger's head.

Quentin enjoying surfing these liquid Himalayas near the roaring 40's.

Roger, who was standing and steering held on, kept the boat surfing down the face of the huge wave and watched Quentin wash from one side of the cockpit, bang his head on the inside of the dodger and swish back to the other side.

The noise and force of the breaking sea in the aft cabin was scary. In a second, I was out of my bunk and watching gallons of seawater squirt through the companionway, soaking the carpet and splashing the chart table. Roger and Quentin said they were fine, the only sign of change on deck was the stern light dangling from it's wire and quite a few gallons of water sloshing around in the cockpit.

This was one time that I was glad MTIII has a center cockpit. With an aft cockpit design, the cockpit would have been totally flooded by the breaking sea.

By 1000 the rains had stopped, patches of blue sky started to appear and Amanda and Mike pulled in the warp as the breaking seas subsided and by 1700 we finally had storm sails down and a triple-reefed main and jib hoisted.

Amanda and Mariusz rigging storm trysail in Southern Ocean.

May 16 0500 22.47S, 159.47W 92 mi S of Rarotonga

Log: 21,912 Baro: 1011 Air: 80F, Water: 76.5

Winds: NNW @ 2 knots Motoring at 7 knots

After a sunny warm day with the lifelines festooned with drying clothes and some excellent sailing, the wind died at 0200 this morning. Today's weatherfax shows a strong convergence zone just north of Rarotonga, 150 miles wide, with 25-35 knot easterly winds, poor visibility and rough seas. We had a spectacular sunset, and now have total overcast and a sloppy swell rolling in. We'll be receiving another fax this morning which should let us know if we'll be able to sneak into Raro before the front.

I carried all of my Cook Island charts home with me last December from Auckland, but just before we left Friday Harbor, Maptech gave us their very latest CD #77 which has about 60 of the highest quality New Zealand charts on one CD, covering the Cook Islands and much of the non-French South Pacific. I also purchased the latest Garmin 12XL on the recommendation of John Ness, the Maptech rep and this morning we hooked it all up and VOILA! THE AGE OF ELECTRONIC CHARTS HAS ARRIVED ON MAHINA TIARE! We tried running the charts on Maptech software which didn't recognize the GPS input, so switched to Nobeltec software which I purchased and had installed by Scotty at Seamation the morning before we left Auckland. I just wish I had spent longer learning the system, but since so many of our crew our computer whizzes, I know they'll help me learn the intricacies. Hopefully there is a tutorial buried somewhere in the program as well!


Rocky concentrating on steering and avoiding broaching between towering breaking seas.


Amanda retrieving flag halyard.


Rocky testing a flare.


May 22, 1999 0330 16.43S 152.08W 27 mi SW of Bora Bora
Log: 22,556 Baro: 1010 Air: 84F Water: 82F
Winds WNW@14kts Seas: 2′ Beam reaching at 7.2 kts

Sunset after storms in Southern Ocean.

We sighted Rarotonga around noon and were off Avatiu Harbor entrance by 2000. We don't normally enter harbors in the dark, but since Amanda and I have both snorkeled and windsurfed the harbor entrance many times in recent years and as the wind was calm, range lights on and visibility excellent, we chose to slowly creep into the harbor using binoculars, radar, night vision scope and the new Maptech chart-GPS combo which was excellent.


Rarotonga Harbor entrance range markers to left of building.

Rarotonga Radio had earlier suggested we side-tie to the rough concrete wall where the freighters normally berth, but instead we dropped our main anchor in the middle of the tiny harbor and took a stern line ashore to keep us from swinging.


Leg 1-99 crew all smiles after Southern Ocean gales.

The harbor seemed quite empty with only one small inter-island freighter and four yachts tied up. Minutes after we had the boat secure, the heavens opened up and it rained a record 100 mm in 4 hours, flooding parts of the island and overflowing all the rain guages. We were glad to be snug in the harbor!

We had arrived Sunday night, and by 0600 Monday morning I had started transferring fuel and by 0830 had cleared customs.

The rest of the day was a blur with shopping for black pearls once the crew realized they were half the price of Tahiti, hiking, laundry, phone calls home and exploring. Amanda and I reprovisioned, refueled, and even managed a trip around the island by jeep while looking for fresh veggies.


Drying our sails in Rarotonga.

The day was further complicated by our needing to move the boat at noon to allow a freighter to dock and the patrol boat to leave, but in the end we were able to back up close enough for our hose to reach shore, so first thing Tues. morning we washed and dried our storm sails and foul weather gear which were crusty with salt.


Sunset colors matching Mariusz's t-shirt

By 1320 Tuesday we were underway for Bora Bora, 524 miles to windward. The predominant fresh tradewinds of 15-25 knots were missing, so we motored along comfortably at 7 knots, right on course. Just a couple miles out we passed Ocean Jaywalker, an Oyster 435 sailed by the parents of Jeni Mundy whom Amanda sailed the Whitbread Around the World Race with. The Mundy's home in Surrey was home away from home where Jeni took Amanda for Sunday lunches while they were preparing Maiden for the Whitbread.

Amanda was called Mandi Swan during her time on Maiden.


Ocean Jaywalker Oyster 435, John and Janet Mundy.

Janet and John Mundy are taking part in a 24 month Tradewinds Cruising Rally around the world and told us that besides 25 boats in their fleet, there are 35 more in Jimmy Cornell's Millenium Rally that we would be crossing tacks with shortly. Over the next three days we passed a total of six yachts, each headed to Raro, a record for us!

On Wednesday our course took us right by Mauke Island, the southeasternmost of the Southern Cook Islands, and although there is officially no anchorage or harbor, we found a little ledge to temporarily anchor on in 30′ of water, long enough for me to change the engine oil and for everyone to enjoy a refreshing swim and snorkel in the crystal-clear water.

First fish of the year being filleted by Amnada and Karl.

Amanda had been clearing out and organizing her fishing tackle locker so after raising anchor, we motored by the single dugout outrigger canoe and passed a bag of lures, hooks, and fishing gear to the fisherman.

Clem was ecstatic! He invited us to come back and visit his island one day and gave us gifts of seabird pendants he had made from exhaust cowling at the island generator shack. He told us there were about 700 people on Mauke and that they received 3-4 flights a week from Raro.

Wednesday night we had 10-15 knot headwinds, making our motor sailing bumpy, by Thursday the wind had backed so we shut off the engine and sailed a direct course!

A fluke in the weather pattern has given us N, NW and now W winds, enabling us to broad reach while the boats we pass sailing the traditional route are complaining of headwinds!

Maupiti, just 25 miles W of Bora Bora is a smudge on our radar screen and a faint glow on the port bow. The island must have installed some street lights and a bigger generator since our last visit! Bora Bora has been showing a good radar return for an hour and is now at 16 miles. Our winds have lightened in the past few hours so we should arrive at the pass after dawn.


Bora Bora. Landfall.


Bora Bora from the air. Phot 2 is Karl anticipating fresh watermelon.

Our crew have been pouring through their Lonely Planet guide books and the chart of Bora, planning shore side expeditions. This morning they all reduced their first latitude by noonsight which was only six miles off, not bad for their first effort!

This crew has been diligent in the learning department, asking every morning, "What's the topic for class this morning?" We are 80% through our learning goals and will focus on anchoring techniques and going aloft when not ashore enjoying French Polynesia.

Log 4

May 30, 1999 0500 17.28S, 149.49W At anchor, Moorea

Log: 22,781 Air: 81 Water: 78F

Just eight days ago we made landfall in Bora Bora. Time has flown by since then, now with just one day left on Leg 1, I had better catch you up with our adventures!


Bora Bora sailing canoe.

We're presently anchored in one of our all time favorite spots, just inside the pass at the entrance of Cooks Bay, Moorea.

View of Oponohu Bay and Cook's Bay from the Belvedere.

Last night the moon was full, and rose over the mountain just as the sun was setting. Now the moon is still high over Mt. Rotui, and the sun is just starting to rise over the outline of Tahiti, 17 miles to the east. The moon has been so bright that we can see the fish swimming around the bottom, just 1′ below the keel. The roosters ashore are really going for it, though the roar of the breakers on the reef is more dominant.

Bird's eye view of Moorea with Tahiti in backgoround.

Last night after we came back from watching some Tahitian dancing ashore no one wanted to go below – crew took cushions on deck and sprawled out, watching the moonlight illuminate the rugged mountains ashore and the stars dance around the palm trees.


Dancing show in Moorea. Second Photo: Tahitian dancers getting ready for July G=Fete dance competition.

In just a couple of minutes we'll start the engine and be underway on our final leg of the 2,900 mile passage from New Zealand. Although we have just 17 miles to go to Tahiti, the passage is best done at first light before the tradewinds which funnel and intensify between the two islands really get cranking.

Carolyn Aaronson from leg 1 98 now first mate on Meg Yacht Raitea.

Here are some musings of our expedition members:
Mariusz Koper on Bora Bora:

If anyone asked me to make a wish list of the most exotic places on earth which I would have liked to visit, Bora Bora would find a top spot.

As a child raised in Poland I could only dream about this Pacific island. And now here I am due to the gales we encountered on the way from Auckland to the Austral Islands which made us change course.

The island combines all the elements one would use to describe Paradise – palms, long white sandy beaches, a dramatic and lush volcano, turquoise water in the lagoon, huge waves breaking on the outer reef and flowers everywhere you go.

We spent an unforgettable two days here – snorkeling, biking around the island, tasting excellent food in the Hotel Bora Bora (a blend of French and Tahitian cuisine) and admiring the beauty of Tahitian women.

We reached the top of the mast to check the rigging and see the breathtaking sunset over the motus. I wish we stayed longer. It will happen next time with my family aboard. (Mariusz plans on having a sistership of MTIII built and sailing to the South Pacific with his wife Peggy and their daughters)

Quentin Rhoton on Raiatea:

From Bora Bora, the trades and sun conspire, giving us a slowly swinging hammock ride on the swells to the turn at the pass to enter Tahaa and Raiatea's shared lagoon. The Apooiti Marina is our connection to Raiatea and it's cultural heritage of the Polynesian navigators. Yesterday we got an anthropologist to take us to the Taputaputea Marae, the most sacred site in Polynesia where the navigators worshipped their sea-god Kanaloa before setting sail on their 100′ catamarans for New Zealand. Confidence and commitment have grown over the past four weeks to where I can see and almost feel Peggy and I making these passages and setting our anchor in these bays on our own 48′ cutter, Pearl.

Karl Gevecker on Huahine:

We entered Avamoa pass off the main village of Fare at 1715 with the sun setting over Raiatea and Bora Bora to our stern. Ahead of us the hills and mountains of Huahine reflected brilliant hues of greens behind the blue-green lagoon with the white clouds perched over the jagged volcanic peaks. A stiff breeze kept us cool as we anchored in the bay off the tranquil little town of Fare.

Huahine is a quiet island and biking around it became the crew challenge for the following day. We all made it around and had a chance to see a close-up view of this unspoiled part of French Polynesia. The island is just as attractive close-up as it was from the pass during our approach.

Mike Wolfe, general observations:

For many years as a professor I have taught about the process of vulcanism and reef-building that formed these islands. Now I have had the opportunity to observe the end product first hand and understand the islands better.

I am also deeply impressed by the archeological and anthropological aspects of these islands. These include the way these islands were populated, the theology and amazing navigational skills of the early Polynesians and the influence of European development.

This has been a great learning experience from several points of view: sailing, natural history and culture.

For more details check out our Sailing Schedule or contact Tracy in our Mahina Expeditions office: sailing@mahina.com or tel 360-378-6131.