Day 3, Jan 13, 2002 0600 6.17N, 84.30W,
Log: 53,959, Baro: 1010 Cabin Temp: 83F
Close hauled @ 6.5 kts in 10 kt WSW winds.
157 miles to Cocos Island
Our free week in Panama between legs passed in a blur of boat projects, provisioning for 8 people for 34 days, answering mail and emails and taking a day off visiting a rain forest park to view exotic tropical birds and animals.
After meeting crew on Thursday afternoon, Jan 10, to collect passports and start orientation, we then welcomed them aboard at noon on Friday. Once a series of tropical downpours passed and we completed orientation plus a trip to the fuel dock to top up water tanks, we shot out of Fuerte Amador Marina in winds that peaked that night at 32 knots. We started out with a single reef in main and jib and ended up surfing at 9 knots even after we reduced the headsail by 60%. Nearly all the time since leaving we have had .5 to 1.2 knots of current behind us, speeding us towards Cocos Island, 500 miles WSW of Panama.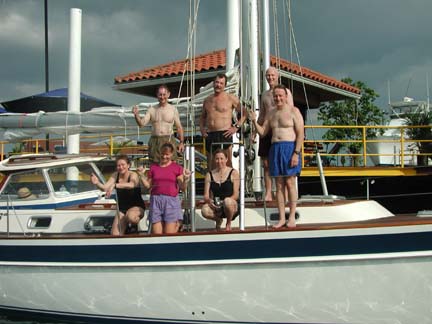 Leg 1 crew drying out between rain showers
Sunrise Saturday morning (Day 2) revealed a scene of sea and hills. When we sailed on the Atlantic side of Panama from Portobello to the canal entrance we were in thick, muddy water, dodging tree trunks and rubbish, looking up at a dark, foreboding jungle shrouded in fog and rain. Now in the Pacific, the water is a clear deep turquoise-blue that greets a dry, sunny-green mountainous coastline. This contrast felt like we'd achieved a major transition and I felt happy to be sailing back in the Pacific and headed for Hawaii.
We were surprised to find such strong and consistent winds for the first few days as all predictions were for NE winds, less than 10 kts. But on Day 2 the winds lightened and since then we've motor awhile, then sail awhile, however over the past 12 hrs we have had some great sailing, with our VMG (Velocity Made Good) often above 7 knots.
We expect to arrive at Cocos at dawn on Day 4, Tuesday. It is a little out of the direct 4600-mile course from Panama to Hilo, but we don't want to miss a repeat opportunity of visiting this small, tropical rainforest island that mesmerized us 20 months ago. On continuing our course line from Cocos to Hilo, it passes Clipperton Atoll, a French possession 700 miles SW of Acapulco. Sea conditions permitting, we hope to anchor off and if the surf is modest, even land on this uninhabited island with a rich history of pirates and buried treasure.
We hand picked the best possible crew for this 34 day expedition, knowing that temperament and personality would be critical to an enjoyable voyage. Here they are:
Lore Haack-Voersmann, 47 is a psychologist from Hamburg, Germany specializing in drug prevention with youth. She has about 35,000 miles sailing experience, much of it on square-riggers and her second book on seamanship for square-riggers is due out in March. She and her husband Peter have enjoyed sharing summer sailing adventures in Scotland, Norway and Ireland with their four college aged children on their 53′ steel Van Dam ketch which is presently moored in Scotland's Caledonian Canal.
Jim Barbee, 56 just retired after 29 years as an engineer with Bechtel and sails his Islander 36 out of Alameda on San Francisco Bay. He is volunteer teaching part-time in his wife Mary Ann's classroom and is thinking about going cruising in a couple of years when she retires.
Ralph Imlay, 45 is an ER MD from Wichita who learned to sail on small boats in Kansas in 1990 after med school. He still has his first boat, a Sweet 16 and in 196 added an O' Day 25 on Cheney Lake thru Ninnescah Sailing Assoc. He's looking forward to exploring the Big Island.
Brent Blair, 56 is a former Bering Sea king crab fisherman who lives in Salem, Oregon and works as a geographer for Bureau of Land Management. Brent and Sue's daughter and son have flown the coop. Brent and Sue enjoy sailing the San Juan's aboard their Cape Dory 25D.
Larry Donahoo, 65 first joined us in Fiji in 1993, flying in with his wife Donna from Saudi Arabia where he worked as an engineer. After seeing our pictures of the San Juan Islands of Washington State, they bought a home overlooking the Straits of Juan de Fuca, just a couple miles from Friday Harbor and moved there from Dhahran. Larry and Donna sailed in the ARC last summer and sail their Nor'Sea 27 out of Friday Harbor. Donna is studying museology at the University of Washington, but it would be awesome if she cuts class and flew to Hilo to meet us.
Lisa Hinson, 46 has been exploring the world for the past 2.5 years, but before that she lived in Austin, Texas. Lisa has little sailing experience and her aim of this long an expedition is to make her a more well-rounded and competent sailor for chartering adventures. Her partner, Frank Kunc, met Larry and Donna on one of our Fiji expeditions and is off on a 2-week bicycle trip in Cuba before flying to Hilo to meet us.
Day 7, Jan. 17, 2002 0730 6.18N, 90.17W, Log: 54,369, Baro: 1010, Cabin Temp: 84F
Close-reaching, motorsailing @ 6kts in 8kt NNE winds, 1150 miles to Clipperton Is, 3849 to Hilo
On Tuesday, Day 5, through clouds and drizzle we only sighted Cocos Island when 4 miles off at 0800. By 0900 we anchored in Chatham Bay, but had missed a sandy spot we were aiming for and in the swirling current and bouncing swell the chain wrapped around some giant coral heads. After getting everything stowed, Amanda donned mask and fins and directing us where to power to unwind the chain. Then I hopped in and together we searched the bay for the sandy spot we had found last visit. Once reanchored, two park rangers came by in a skiff and asked us to tie to one of their two shaky looking moorings. The mooring consisted of two cement-filled 55-gallon drums chained together amongst nasty coral heads and a worn line going to the surface in 15′ of water. Not far away were breakers and a rocky shoreline, so we knew Amanda or I would always have to remain aboard and that overnighting could prove unsafe.

Cocos Island park ranger coming to visit

Isaiah and Hugo, the park rangers, came aboard to check our last port clearance zarpe and to collect the U.S $15 per person per day park fee. They said we were welcome to go hiking and snorkeling and before they headed back around the corner to their base in Wafer Bay they pointed out a buoyed water hose. In minutes everyone was in the water admiring the myriad of fish under MT.

Any more laundry?

Laundry rated high on the request list so we all leaped in the dinghy with buckets and soap then motored over to the water mooring near a waterfall to scrub clothes in the firehose-forced water. After the mornings rain the water was fairly brown, so we were delighted our PUR watermaker had MT's watertanks overflowing.

Cocos Island logo

After lunch and with the tide in, the crashing surf had subsided somewhat ashore. Amanda and Larry volunteered for anchor watch so we chanced the beach landing. Our timing was perfect between the breakers and we got the dinghy pulled up the beach and tied to a tree. Ashore we found a new shower, restroom and garbage drum for visitors, plus the third park ranger, living alone with a cat in the hut a few feet from the surf line. He pointed us up the trail and went back to trying to contact park headquarters in Costa Rica on his radio.

Greetings from Cocos Island

Brent set a blistering pace up the 1000′ steep and sometimes slippery trail, but along the way rewarding views of the bay and valleys, birds and strange tropical vegetation halted progress.

The Birdwatchers – Brent, Lore, Lisa and Jim

After 40 minutes we reached the mirador (viewpoint) overlooking Wafer Bay.

We slipped and slided back down the hill and the ranger gave us a hefty bag of ripe bananas of which half was devoured before we returned to the boat.

Lore contemplates the downhill slide

Between the waves we went charging into the sea carrying the 180lb Avon RIB, and all but Brent scrambled in as I started the motor. Brent pushed until the water was up to his chest and several crew grabbed and helped him over the dinghy side as we cleared the surf before an impressive set pounded the beach. Whew!

We enjoyed a quiet afternoon, I did a couple of minor boat projects, Amanda made a fabulous taco dinner, then at 2000 hrs we slipped the mooring and set sail for Clipperton Atoll, 1350 miles away. With winds less than 6 knots and the equatorial counter current against us at .5 to 1.5 knots we've been motorsailing since leaving except for our afternoon swim stops. The seas have been calm and the nights cool, starry and clear with the Southern Cross appearing in the early morning sky. We've seen little of the ITCZ but a heavy afternoon shower yesterday was very welcome.

Last night the winds increased slowly and the current lessened, so we hope to shut the engine off soon. According to the Pilot Charts we expected little or no wind for the passage from Panama to Cocos and for 300 miles out of Cocos. I purchased 6 additional 5-gallon fuel jugs and we'd hoped to buy fuel from the dive boat at Cocos. When we delivered our empty jugs to the skipper he said he would call the company office in Costa Rica to find the price. We were sad when after our hike he told us that his office had said because of park policy he wasn't allowed to sell fuel. Now we have enough fuel supply for about 1100 miles. Although I hate burning it so early in the trip, if the weather follows the averages of the Pilot Charts, we shall soon be broad-reaching in 11-16kt NE winds with a .5kt current with us the entire way to Hilo.
Jan. 17, 2002 1530 6.38N, 91.01W Log:54,416
Close-reaching at 5.5 kts in 12 kt NE winds, ENGINE OFF
Not long after writing the previous entry the wind clocked and slowly increased, allowing us to turn the engine off. Since then we have had gorgeous smooth sailing conditions with winds above 8kts. Finally we are out of the equatorial counter current and actually have .2 kt current with us. Hooray, trade winds here we come!
January 26, 2002 1200 11.56N, 115.43 Log: 55,703 Baro: 1011 Cabin Temp: 89F
Broadreaching at 8kts in 24kt NE winds. 2350 miles to Hilo
Zooming in the Trades!

Since the last log entry the winds have rarely dropped below 12 knots and have often been around 20 knots, with highest winds of 34 knots sending M.T on record runs of over 200 miles per day. We should pass the halfway point this afternoon as we calculate the total distance, Panama to Cocos, Clipperton and Hilo at 4600 miles.

Day 14, January 24th was an exciting day. It started with dozens of dolphins playing in our bow wave for hours, while to the north a huge flock of booby birds passed, dive bombing into a ball of fish that tuna had herded. We watched tuna leaping out of the water like dolphins as they chased smaller fish. Just after crew assembled below decks around the table for class, Amanda, who steers while I'm teaching class, called down from the cockpit, "I need help!" After fruitlessly towing two fishing lines for 2,000 miles, Amanda's new lures had snagged two matching 40lb wahoo, which had soon become entangled. It took steady hands and fancywork with the gaff to land both fish, nearly as tall as Amanda.

Two-timing fishing

Not long after the fish had packed the freezer and fridge, Brent sighted the palm trees of Clipperton Island, www.melchizedek.com/clipperton_island.htm. Measuring 3 x 5 miles with only 7 square miles of land, Clipperton is the only coral atoll in the Eastern Pacific. Located 1630 miles SSE of San Diego, Clipperton was originally discovered by Magellan in 1521, but was later named after an English pirate rumored to have buried treasure on the islet. Mexico and France both clamed the island, and both stationed people here for brief periods. Franklin Roosevelt twice visited the island in the '30's, quietly ordering the US Navy to occupy it as a secret US airbase. These days the only people visiting are Mexican-based sport fishing boats and very occasional amateur radio expeditions.

As we sailed closer, Clipperton Rock, a 70′ tall, bird inhabited upthrust coral outcropping came into view.

At the southern tip we passed a recent shipwreck, a 60′ steel fish /shrimp boat, now high on the coarse coral sand.

We gazed at several clumps of green palm trees, a marker cairn of white-painted stones and a remaining mast from a radio expedition. A big surprise was an orange mooring float rising in the swells at the calmest spot, south of the largest palm grove. I was keen to anchor or even better, tie to the mooring, but Amanda reminded me that at 1630 we had already lost most underwater visibility, and that we wouldn't have much time before dark. With such an isolated and dicey place, any problems could quickly become very serious, so reluctantly we continued on our way. But it was a feast to watch this isolated, deserted and secretive island receding in the distance.

You may wonder what we do all day at sea, but time flies. I always cook breakfast at 0800, this morning it was ham and cheese scrambled eggs with Amanda's home made bread toasted on the side. After breakfast everyone does their boat cleanup chores (cockpit, head, vacuuming, etc) and at 1000 we gather for class. Class is either demonstrations on deck or theory in the main saloon. This morning we studied the latest weatherfax charts from San Francisco and Honolulu and covered communications; learning how to program and use the ICOM M710 SSB radio, as well as our INMARSAT Mini-M and C units. We discussed other communication options including SailMail, PocketMail, internet cafes and other satellite options.

Yesterday crew did an excellent job completing our new two-page written test.

It was time to start preparing lunch which featured hot bread (Krusteaz Bread Mix that Brent purchased at Costco in Oregon and brought down to Panama with him) and poisson cru, Tahitian marinated fish, plus ham, cheese, vegetables, sprouts and chilled fruit. Not bad for the middle of the ocean.

Now at 1300 our navigator has plotted our 1200 position and calculated our 24 hr noon to noon run as 203 miles, an all time record.

The afternoon is free time with people reading, sunning, and sleeping when not on watch steering. I have been fiberglass cleaning and waxing the cabin sides, trying to get rid of the grime of Panama, and Amanda has been touching up the varnish. Lately it's been too rough for swimming so we've been having seawater bucket showers followed by fresh water rinses on deck after the hottest part of the afternoon. The water and air temperature have dropped slightly since leaving Panama, and it's now cool and refreshing to tip a bucket of water over one's head.

Lisa enjoying the "Mahina Spa Deck"

Amanda aims to have dinner ready before dark so we can get everything cleaned up and stowed before night fall.

Tradewind "El Fresco" sunset dinning

I've started scanning the AM dial on Amanda's Walkman at night. It's BIG TIME wishful thinking, at 2300 miles, but I'm an island boy at heart and look forward to the night that KIPA-Hilo slides in with its aloha country-Hawaiian music.
February 1, 2002 1700 15.52N, 134.57W Log: 56,776 Baro: 1013 Cabin: 80F Broad reaching at 8-9kts in 25kt NE winds. Only 1170 to Hilo
Day 22
As the NE Tradewinds blow relentlessly the days fly past. Today the winds and seas are down slightly from the 30-35 knots and 18-20′ seas of previous days. We've shaken out the sails from three reefs in the main and four in the headsail, to one reef in each. Occasionally adjusting sail trim to wind conditions we continue to rocket along through sun drenched blue seas, with puffy white tradewind clouds scudding by overhead. Crew has become skilled at piloting a 36,000 lbs projectile surfing down wave faces at speeds of 11 knots VMG.

The great news is that everyone is getting along famously, and this afternoon we all had a good laugh with Ralph about his alarm clock that, sounding like a bell in a fire station instantly wakes everyone aboard except him!

Ralph entertains us girls with his erotic tuna dance!

For the first time I've run out of things to teach. This morning I propped our Toshiba laptops on the saloon table and demonstrated Nobeltec Visual Nav Suite running Nobeltec, Softchart and Maptech charts of Europe, the South Pacific, Hawaii and San Francisco. Tomorrow we'll take turns plotting and inserting waypoints for Hilo.

It's too windy & rough to think about heaving to for swims and showers, so we are still doing saltwater bucket showers with a fresh water rinse every day or two.

We're now out of range of the Panama-Pacific but are enjoying checking in via SSB radio each evening with Ron DuBois aboard his Westsail 42, "Foxy II" in Honolulu. Ron and his wife Janice live aboard and coordinate several radio nets.
February 4, 2002 1400 18.57N, 143.27W Log: 57,261 Baro: 1019 Cabin: 82F Broad reaching at 7.2k in 18 kt NE winds. 657 to Hilo
Day 25
Tradewind conditions still rule the day, with temperatures and wind speeds dropping slightly as we sail north and closer to the North Pacific high pressure center. We've landed three 20+lb mahi in the past days and packed what we can't eat away in the freezer. The large NNE swell has subsided, so it's now safe to open the hatches. Surprisingly there has been little talk of landfall among crew. Soon we'll pull out the maps and books of the Island of Hawaii and point out our favorite places for hiking and relaxing. These include Volcanoes National Park, lush and scenic Onomea Bay, historic Hilo town and the dozens of great snorkeling and body surfing beaches. Since it looks like we'll arrive around Friday, Feb. 8, six days ahead of schedule (a first!) we plan on showing crew a bit of paradise before they take off exploring on their own.
February 12, 2002 2330 19.43 N, 155.03 W Log: 57,873 Baro: 1019 Cabin Temp: 72
Stern-to moored, Radio Bay, Hilo, Hawaii
Day 29

WE MADE IT!!! Our longest season came to a spectacular conclusion when we were escorted by breaching and spy-hopping humpback whales for the final two hours before entering Hilo's breakwater. Hilo's reputation as a rainy town was not confirmed as clear skies gave unlimited visibility to the top of Mauna Kea's snow-capped 13,600′ summit.

Raising M.T's battle flags on arrival

No sooner had we cleared customs, agriculture and immigration than the cold front we had been racing struck with gusts to 37 knots. We were very happy that Lore and Brent had helped me set a second anchor, our 45lb Delta with 150′ of line and 50′ of chain in preparation for the blow.

We enjoyed a fun evening out at Uncle Billy's, a Hawaiian-owned restaurant where the owners' nieces and nephews present a low-key dance show.

Ralph did a pretty good imitation of the hula, (not the tuna dance) helped out by a pretty Hawaiian girl.

Saturday was our last day together before crew scattered to the winds, and we started it by a long walk (the girls ran) along the Onomea Scenic Road followed by breakfast at a friend's place and a drive and hike to Akaka Falls.

Akaka Falls

Day 30 Still having fun

For the past four weeks crew had been hearing about Ocean Sushi, Amanda's all-time favorite restaurant located in downtown Hilo, so here we enjoyed a tasty lunch before heading 30 miles and 3,500′ up to Volcano National Park. Boy what luck! For the first time in months lava was flowing down the mountain instead of in underground tubes. We arrived at the parks coast an hour before dark, hiked out a ways on the old lava flows from 1990 to watch as the sun set and the mountain side came alive, with glowing and flowing lava headed seaward.

Lava looking

Orange lava glows on the mountainside

By Sunday the last crew left M.T to collect rental cars for more island exploring on their own. It seems strange to have the boat quiet. Amanda and I have been swimming at the town pool every day and enjoying catching up with many friends here finding it hard to believe our season is over.

Special thanks to the many people who helped create a smooth season for us: Tracy McClintock in our office, Roberta at Great Getaway Travel, the entire crew at Hallberg-Rassy for letting us leave MT with them last winter, Vickie Vance at HR Parts and Accessories for sending us new carpets, little bits and pieces and our first cruising spinnaker, Leon in Sweden for the great weather forecasts, Lars and Susanne in Gothenburg and Claus Berndtson at the Sjogarden Hotel in Ellos, plus Tina McBride and Hugo Garcia in Panama. A special thanks to Melonie at Rock Island, our ISP for stepping in and rescuing our wayward updates.

Most of all, a special to all 2001 and Leg 1 2002 expedition members with whom we shared unforgettable adventures and especially to those crew members who joyfully went the extra mile, always there eager to help lug out extra anchors in driving rain and snow, ready to tuck a reef in, or happy to do whatever is needed to be done. We'd also like to acknowledge the incredible cruising community and the wonderful new and old friends we met along the 15,000 miles we sailed this season.

Aloha
John and Amanda
If you're interested in joining us in 2002, we still have a few berths left. Our weekend Offshore Cruising Seminars (Seattle, San Francisco and Annapolis) have Nigel Calder as special guest presenter and will be even more organized and fun than ever.
We hope you've enjoyed following these log updates, and look forward to starting them up again around July 8th when we'll be re-launching Mahina Tiare and getting her spiffed up for the passages to Tahiti and through the South Pacific to New Zealand.