UPDATE 1
May 16, 2003 0200hrs 39.43S, 174.59W Log:65,567 miles Baro: 1029 Cabin: 65 F Beam reaching at 6.5 – 7.5 in 12-18kt S winds, on the edge of the Roaring Forties
This is our most difficult passage as we spend over 2,000 miles in or just above the Southern Ocean's Roaring Forties (40 degrees south latitude). It is also a challenge to have the most difficult, longest and coldest passage as our first of the season. Amanda and I have just returned

Auckland City
from four months of shore life to an always busy two week period of recommissioning and relaunching Mahina Tiare, provisioning for eight people for four weeks, and reconnecting then saying goodbye to family and friends in New Zealand.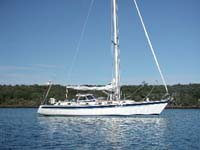 At anchor at Rangitoto Island
The recomissioning this year included painting the bottom, getting the liferaft repacked and bending on our new mainsail and recut 130% geona from Port Townsend Sails. Everything went very smoothly this year, so smoothly that we were able enjoy two nights anchored at Rangitoto Island and to take a day off and travel southwest from Auckland to Piha Beach, where we enjoyed a night in a little cabin above this surfing village and beach. Amanda had come to this beach as a girl with her family, and it was fun to explore it together. The beauty of the New Zealand countryside, bush and coastline, only 40 minutes from downtown Auckland was stunning.
Before we knew it, our final weekend was upon us. This is when we do our fresh goods provisioning, say goodbye to friends and stow the gear that arriving crew have kindly brought down for us.
On Friday I checked in with Bob McDavitt on MetService NZ and he told me that there had been steady easterly winds blowing since December, and to expect a difficult passage to Tahiti with persistent headwinds. We scheduled a weather briefing for Monday afternoon with our entire crew, and hoped for a change in the pattern.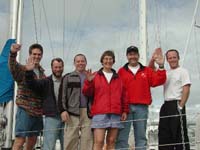 Leg 1 Crew – Blake, Peter, John, Elizabeth, Cam and Rick
Crew arrived Monday noon, and we launched right into orientation. It is always a highlight to introduce our crew to the weather briefers, and Monday afternoon was no exception. Bob McDavitt had drawn up a special forecast for us, suggesting we sail a direct course for Raivave, in the Austral Islands. This was a shocker for us, who have always planned to head south to pick up the Westerlies, just above the Roaring Forties on the last eight times of making this passage. Bob showed the start of a possible low pressure cell, coming down from Fiji, that he thought might just be a problem for us four days out. He thought that if we headed south, then east, as planned, we might be stuck in some very strong winds of a squash zone, between the low and an already present high pressure cell.
Leon Schulz, our German friend in Sweden that has helped us with weather ever since his wife Karolina sailed down the coast of Norway was as shocked as we were with McDavitt's advice. Leon said, "Head down to 40S and then sail east". Commanders' Weather in Nashua, NH concurred, so we decided to take the longer, southerly route, in hopes of following winds instead of headwinds.
| | | |
| --- | --- | --- |
| M.T at the downtown Customs dock | Customs officials visit onboard for outbound clearance | Liferaft orientation |
Tuesday morning we lined up for last shore showers in the dark, and were on the Customs dock to pick up our outbound clearance by 0900. We had a spectacular sail out of Auckland Harbor and the Hauraki Gulf, with following 20 knot breezes and lots of sun as we sailed past sheep-covered green islands where Amanda had grown up sailing, rounding the top of the Coromandel Peninsula, and sailing southeast along the coast toward East Cape, the easternmost tip of New Zealand. As we turned and sailed southeast along the Coromandel's east coast, we enjoyed smooth water, a fine breeze and spectacular moonrise. All the next day we sailed close along this rugged and spectacular coast, passing the occasional farm, but no cities and only one town, Hicks Bay, just before East Cape.
| | |
| --- | --- |
| Peter helms along the Coromandel coast | Rig check class – rigging the staysail stay |
As the coastline fell away to the SW after East Cape, the coastal shipping and fishing boats disappeared, and we were alone on the Southern Ocean. The large and impressive SW swell, the soaring albatross and dropping temperatures remind us that we aren't in the subtropics any more! Each night becomes colder, and hats and gloves are now essential for comfort on night watches. In order to save space and weight, I have a minimum of "winter" clothes on board. Now I am wearing and sleeping in all of them! Amanda, more practical, is enjoying a toasty mummy bag that one of our Cape Horn crew donated after an expedition.
This afternoon we reached 37.40 S, just 20 miles from 40 degrees south, and almost magically, the wind changed from SE to S, giving us a beam reach, as we turned to sail straight east. An enormous high-pressure cell stretching all the way to Tasmania with a center pressure of 1034 is the reason we have had to sail this far south to avoid headwinds. It has been stationary, and is now only moving at 5 knots, so we will sail as efficiently as possible to stay on the leading edge as long as possible. Surprisingly, we have had small mini-squalls fairly frequently, where the winds will increase from an average of 15 knots to as much as 33 knots, even though our barometer reads 1029. Our sturdy and eager crew has been getting a lot of practice at sail trim and helming in these changing conditions.
Speaking of crew, before I introduce them, I should let you know that these are a special and select crew. As this is by far our most difficult leg ever, more difficult than even our Cape Horn to Antarctica leg in 1996, we are extremely particular about whose applications we will select for four weeks of challenging sailing.
Peter Schmid, 35, spoke of applying for this leg when he was enjoying the difficult windward passage of Leg 4-2000 from Panama to Tortola, Virgin Islands. I will never forget the image of Peter hanging on to the bow pulpit for hours as Mahina Tiare charged north from St. Croix to Tortola, drenched with spray and blasted by salt, clad only in shorts and safety harness, with a huge grin on his face, yelling back to the cockpit, "Now this is REALLY sailing!" Peter, originally from Bavaria has been teaching mathematics at the University in Washington in Seattle and most recently in Paris at Ecole Polytechnique. His bride-to-be Donna Calhoun and Peter also shared the wild West coasts of Ireland and Scotland with us on Leg 7-2000, just before getting married in Paris.
Elizabeth Ells, 66, is another favorite of ours! She sailed with us last year on Leg 3-2002 and brings real joy, enthusiasm and determination with her. Elizabeth is originally from England, but came to work in Ontario as a biologist at Canada's nuclear research facility in the 50's. Recently, her daughters put an engagement notice for her in the local paper, and she beams when she talks about sharing cross-country skiing and traveling adventures with her new friend.
Cam Cambell, 46 is a cardiologist now living in Iowa City, Iowa who has an amazing thirst for adventure! Can you believe that he signed up for this passage after completing a similar passage from Wellington to Papeete aboard the powerful and capable 65 'ex-Whitbread Race winner, Flyer? On that passage, the Alaska Eagle, run by Orange Coast College and skippered by Richard and Sherry Crowe was close-hauled and beating for the entire 2400 miles. The headwinds were so consistent that they had to motorsail until nearly all of their fuel was exhausted, just to lay Raivavae. As they were short on time before the expedition was to end, they had to sail past Raivavae. One of Cam's overriding reasons for making the passage with us is to be able to explore this spectacular, rarely visited island. Learning that, I really hope the weather conditions will allow us to stop! Cam and his wife Kathy just climbed Mt. Kilimanjaro in January. I think they are celebrating their four boys all being off to college now!
Rick Johnson, 32 is an emergency room nurse who is so motivated to go cruising that he worked 12-16 hours a day for 15 months as a nurse while living in his Geo Metro (this is not a joke!) to save money to buy a boat to sail off into the sunset on. He just bought the boat, a Moody 37 in Florida, sailed her to Alabama, ran out of money while refitting her and will go back to work in San Francisco (but no longer living in the Geo) once he returns to the US.
John Merritt, 36 of Walnut Creek, Calif., has long dreamed of offshore cruising. John's lovely and capable wife Hanne, from Denmark sailed with us on Leg 6-2002 so we now get to hear more stories and see new pictures of their son Patrick, who at five speaks both English and Danish! John and Hanne sail their Catalina 36 on the San Francisco Bay, and John has sailed it offshore on singlehanded races. John who invented drugs for a biotech company that just shrunk is enjoying some time off work and more time with Hanne and Patrick before job hunting.
Blake Elder, 41 works for a software company in Silicone Valley, but maintains a healthy balance in his life, sharing a passion for surfing and mountain biking with his wife Dorothy who will be meeting him on Moorea at the end of this passage. Quietly confident and competent and always ready to lend a hand, Blake is a real asset to the expedition.
In fact, everyone onboard is a real asset. It's a joy to work with and teach this caliber of crew. I most appreciate that this crew are totally living in the moment, enjoying every watch and every day, not counting down the days of the passage.
If you'd like to get some offshore experience and instruction, we still have a few berths available some great South Pacific expeditions this year:
Leg 3: Rarotonga-Pago Pago – one berth
Leg 4: Pago Pago-Suva, Fiji
Leg 5: Suva-Lautoka, Fiji
Leg 7: Vanuatu-New Caledonia
Leg 8: Noumea-Auckland
Tracy McClintock our office manager can answer or relay any questions you have on 360-378-6131 or sailing@mahina.com regarding the legs, and I can call you once we are in Tahiti to speak with you directly.
---
UPDATE 2
May 18, 2003 0135 39.41S 168.50W Log: 68,582 Baro: 1030
Emergency Rigging Repairs While Surfing Through the Roaring Forties
A few minutes ago three firm knocks came from the cockpit, ahead of our aft cabin, alerting us that we were needed on deck. Winds were 25-30 knots and we had been charging through the night on a broad reach in swells that the Roaring Forties are famous for.
I assumed Cam and Blake had spotted a ship, but Amanda who was first to the cockpit rushed back to put her foul weather gear and boots on, said, "Something is wrong with the mainsail tack". I assumed the shackle that attaches the tack of the sail to the gooseneck fitting of the boom had come unshackled or broken, and climbed back into my bunk. Just a couple minutes later came the three firm knocks on the cabin side. Blake said, "Amanda needs help on deck, now!" so I hurried into my foulies and onto deck.
The solid stainless pin that acts as a swivel and attachment for the boom to the gooseneck had sheared its top cap where a U-shaped special shackle normally attached to the tack of the mainsail. Fortunately I found the sheared cap to windward on the deck. We were thankful that the pin hadn't dropped through, as that would have resulted in the boom becoming detached and damaging the sail.
Amanda disappeared below, returned with some Spectra line, slacked the main halyard, and made a lashing to the reefing hooks on either side to get the mainsail tack secured again. We were concerned with how to best prevent the pin from falling to the deck if it wiggled just right (or wrong!)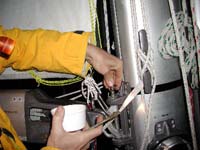 Epoxying the sheared gooseneck pin
and looking at the tight fit of the cap on the pin, where the weld had broken, I came up with the idea of trying to glue the cap back on with epoxy. It didn't take long to mix up some International Epi-Glue, warm it up in front of the furnace vent and to glue the cap on.
It was such a close fit that hydraulic action pushed the cap back off when I released pressure on it, so Amanda went ahead with an earlier idea of lashing a sail tie around the pin to prevent it from dropping, as a backup to the epoxy. That did the trick! As she tightened the lashing, epoxy oozed out between the pin and head. I used extra epoxy to glue the webbing in place, hopefully preventing it from slipping off or chafing.
| | |
| --- | --- |
| Checking the previous evenings repairs | Setting the epoxy with the heat gun |
In the morning we will email Vickie Vance at Hallberg-Rassy Parts and Accessories in Sweden to contact Selden in Gothenburg for a replacement part. Hopefully this repair will hold 2,000 miles till Tahiti! We will also look through our spares to see if we have a stainless bolt long enough to replace the pin until Tahiti, if necessary.
May 19, 2003 0945 38.32S 164.46 W Log: 66,036 Baro: 1033
Motoring just south of the high pressure center in calm winds and overcast skies.
The repair has held fine, in fact the pin hasn't dropped at all, so there is no pressure on the epoxied on piece of stainless. Vickie Vance and HR Parts & Accessories in Sweden has already ordered a replacement pin from Selden Mast in Gothenburg, and Blake generously offered to have the part UPS'd to his wife Dorothy who will meet us in Tahiti. If all goes well on timing, we hope the will join us for the passage across to Moorea where she and Blake are planning a week together.
The large (huge, actually!) high that has kept all the lows and fronts south of us has slowly caught up with us, and for the first time we have less than 2 knots of wind. No matter, we still have enough fuel for 1000 miles and crew are happy to learn that the extra powering has resulted in full water tanks which means hot showers this afternoon.
We have been doing well on our teaching program, and yesterday when we covered electrical systems upgrading, we used Richard's recently-purchased Moody 37 as an example. Richard has started upgrading the systems, but still has electrical gremlins to deal with. Today we will cover long range communications options for cruising boats, demonstrating SSB, INMARSAT C, INMARSAT-Mini M and Irdium systems.
Having never caught fish before in these high latitudes, we weren't even going to bother trying until we were closer to Raivavae, that is, until Cam told us they caught three tuna during the same passage he made aboard Alaska Eagle. Out went the fishing lines,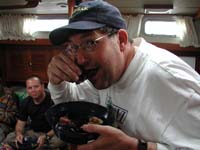 Cam sushi's on down
and in no time flat we landed a gorgeous 15 lb albacore tuna. Yesterday, just before class Richard spotted a huge commotion and splashing astern. We had hooked two more albacore, twice the size of the first! So far we have feasted on fresh tuna every meal but breakfast, and Amanda has just finished making Hawaiian poke marinated raw fish dish that is always a favorite. For lunch today we will have roll-your-own sushi rolls, complete with lots of wasabi!
Oops, it's nearly time for class, so I'd better quit salivating and get ready for teaching!
---
Update 3
May 26, 2003 2115 28.27S 149.02W Log: 67,119
Baro: 1007, down from 1034 282 miles to Raivavae
Close hauled in 18-30 kt NNW winds with triple reefed main and jib
Battling an Intense Tropical Cold Front
On deck it's pitch dark, pouring rain and blowing a near gale. Seas are rough and confused, and we're being launched into an old swell that sends the boat shuddering. "Feels like you're in a car wreck every few minutes" came a comment from Cam who's parked in the bow. It's been a long night with intense squalls that have peaked at nearly 40 knots. Even though we have been expecting this for the past two days it's still a challenge to the nerves.
| | |
| --- | --- |
| The John's set sail | Cruising Spinnaker Glory |
The huge 1036 millibar high that filled much of the South Pacific for the past ten days finally has been pushed aside. This high was moving at almost the same speed as us, so we have had light northerly headwinds for the past week. One day we had a fabulous beam reach, utilizing our gorgeous new cruising spinnaker for the first time, until the wind moved forward. Sometimes we sailed, sometimes motorsailed NE, other days NW, but only yesterday did the wind back slightly to the NNW allowing us to nearly steer our ideal course towards Raivavae, in the Austral Islands, 400 miles SSE of Tahiti.
Suddenly three days ago a small low showed up on the weatherfaxes; at first, just a closed-isobar low of moderate pressure. Then it bombed from 1010 to 990 and started heading our way. An intense cold front was shown hooking north from it, and that is what we are going through now. We will be glad when it has passed, as the winds are forecast to back to WNW, W and even around to SW. This will mean we will be able to sail a direct and fast course. Even now as I sit at the nav station writing and monitoring the radar, I see a strange wall of precipitation a mile ahead, stretching out 12 miles perpendicular to our course. Maybe this is the final edge of the front. Our barometer is now 1007, up one from the lowest reading of 1006.
Our crew has been phenomenal. Not once has anyone complained about too little or too much wind, and when there is a sail change or help needed on deck, they are practically tripping over themselves to help. When we suggested a swim yesterday, they were lined up and doing crazy dives into the water as soon as we hove to. We're right on track with our teaching plan, and the heavy weather experience they are gaining tonight is invaluable. Some crews on long passages become fixated on arrival. This crew is content to enjoy every moment of the passage. I must say, Amanda and I are really looking forward to landfall, and having this, our most difficult passage of the year behind us. What a treat to have such an isolated and exotic tropical island as Raivavae to look forward to!
2330
That wall of precipitation that showed on the radar was a nightmare! Before it winds dropped to 14 knots so that with triple-reefed main and jib we were totally undercanvassed and being tossed around uncomfortably. Richard and Amanda shook all but one reef, and we were sailing along slowly, but more comfortably, then it hit! Winds went to a steady 38 knots, the rain was torrential, and the seas built quickly. If we were sailing off the wind, it would have been an E-ticket ride, but on the wind it was a handful. Fall off too much and the speed quickly built to 7.5 knots where MT would go charging through the wave, then drop to the trough below. Head up into the wind too much and the sails and rigging would start shaking. It was a fine edge, and lasted what seemed like forever. Finally, dawn came, revealing confused, heaving seas, but also showing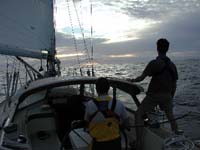 Blake admiring a peaceful sunset after a rough night
a new wind wave pattern on our beam, out of the WNW. Within a couple of hours we eased sheets onto a close reach, and out speed and comfort level quickly soared.
May 27, 2003 0500 25.45S, 148.33W Log: 67,302 Baro: 1012 120 miles to go Broad reaching at 5.6 knots in 14 knots of SW wind
For the first time of the passage, our crew is getting to focus on improving their downwind helming skills. What a delight to have the winds and seas from astern! Yesterday we had excellent conditions, surfing at up to 8.4 knots as the miles just melted away. Instead of class yesterday we had hot showers and naps, catching up on sleep from the night before.
---
Update 4
May 29. 2003 2030
Exotic tropical landfall.
Last night was magical. With only 6-9 knots of wind and extra hours to sail before we could enter Raivavae's pass, we ghosted along in smooth seas, a million stars overhead, and the knowledge that an exotic island waited just over the horizon. We hove-to for a couple hours when it looked like we would arrive before dawn, then started sailing again.
Sunrise was brilliant and vivid, with the rugged volcanic outline.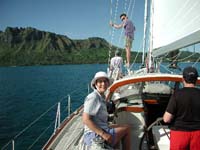 Entering the pass at Raivavae
The pass and the nav marks on the new French chart didn't quite agree, but we had no problem finding our way through the coral heads to the wharf.
Soon after we had tied to the dock, the mutoi, (Tahitian policeman) stopped by to ask if we had any extra fishing gear we wanted to sell, and to see if we would like to clear customs. As all the fish in the lagoon are affected by ciguatera, pelagic fishing is very important on this small island. We also swapped the mahi we had caught yesterday for banana's, limes and taro.
We were asked to move off the wharf and anchor out as the twice-monthly supply ship from Tahiti was due early the following morning. What a rush of activity it brought to the normally sedate island! Everyone, all 1000 people it seemed, came to see the ship, pick up supplies or see passengers on and off the ship.
Our rugged crew took off exploring the island on foot, just before a very persistent and slow-moving front settled the island into a steady drizzle that lasted the rest of our visit. Peter and I spent a very busy day working on the backstay radar mount that had split at the bottom and needed a new swing dampner installed while Amanda emptied and reorganized the fridge and freezer while making quiche for dinner.
The front didn't seem to be moving on the weatherfaxes and as we were drowned out by the rain which forced us below to scrabble tournaments we decided to sail to Tubuai, 100 miles WNW, which looked to have clear skies.
| | | |
| --- | --- | --- |
| Team Scrabble | Tubuai Island | Tubuai Island form a hill top view |
Sure enough, when we were about half way there, the skies cleared and we had a gorgeous landfall. First order of business was laundry, and my old friend Larry said we could again use the water tap at his little gas station by the wharf. Before long, Mahina Tiare was festooned with drying laundry and we all took off exploring. Amanda and I borrowed bikes from another friend to clear in with the Gendarme, but as it was Sunday lunch there was no one in sight at the Gendarmerie, so we decided that would have to wait.
Monday morning saw crew up early and ashore by 0700, headed for the Chinese store where they had heard rumors of pain chocolate and other French pastry items. We eventually found a Tahitian gendarme who said we didn't need to check in, so we headed off bicycling along the coast.
After receiving a forecast from our friend Leon in Sweden, we decided to depart Monday before noon to take advantage of fresh SSE winds, switching to SE, E, and hopefully, arriving in Tahiti before the winds backed around to the NE. As Tahiti is due north of Tubuai, NE winds are headwinds, but SSE mean a rollicking broad reach.
And rollicking broad reach we have had! We started with 20-25 knots, occasionally gusting to 30, and what a glorious sail we have had! An extra bonus was catching our second ever yellow fin tuna, and a bonita, the first day out from Tubuai.
June 4, 2003 0615 18.03S, 149.28W Log:67,863 Baro: 1012
Broadreaching at 7 knots in 20 knot E winds. 28 miles to Taapuna Pass, Tahiti
What a sunrise! Moorea is off the port bow, Tahiti is to starboard, and the colors are wild. Crew is snapping pictures in the cockpit, the winds are still fair, and we are scooting along nicely. I think it's time to shake a reef out, as our speed has dropped just below 7 knots.
| | |
| --- | --- |
| The Pro's – Cam and John – shake a reef | …later…working on the reef spaghetti |
As the weather window for the passage from Tubuai to Tahiti puts us in several days early, our plan is to clear customs, then give crew as long as they want exploring Tahiti (a couple of days is usually max) then sail to Moorea for great snorkeling, hiking, sailing, exploring. We will complete our teaching in the next couple of days with sail repair, celestial, going aloft to check rigging and storm tactics.
---
Update 5 – June 11, 2003 0530
16.43S, 151.02W Log: 68,025 Baro: 1012 Cabin Temp: 77F
At anchor, Huahine, 100 miles west of Tahiti
Our day in Papeete was intense and busy. We were anchored off Marina Taina around noon, and before long Amanda and I were on the bus, headed to town and Customs. We got most of the clearing in procedure done before offices shut for the day, then crew were able to take the bus and explore this bustling, growing city. We all met for dinner at Lou Pescadou's, a crazy and fun pizza joint with awesome food and a very eccentric and funny owner-chef. The following morning crew returned to town to check out the thriving public market and buy gifts, and by noon we were filling fuel and water and setting sail for Moorea.
Given the choice of bustling Tahiti or tranquil Moorea, crew said, "Let's set sail!". Moorea was the perfect place to practice Lifesling overboard procedures, heaving to, going aloft for rig check and sail repair, interspersed with hiking, biking and looking for pearls for spouses and children.
All too soon Monday morning rolled around, and it was really neat to see how crew looked after each other. Blake rented a car and shuttled people to the ferry and their hotels, and crew made plans to hike together, meet for dinners and stay with each other in Tahiti while waiting for early morning flights. It really feels like a successful expedition when this type of synergy occurs.
We did laundry in buckets in the little fishing harbor, waited out a torrential rainsquall, then set sail at nine Monday for Huahine, 85 miles west of Moorea. We had a picture-perfect passage, with winds never less than 11 or over 16 knots, and as we were making landfall, Amanda caught a perfect little yellowfin tuna, enough for four meals for the two of us.
Amanda started removing lifelines and hardware yesterday, in preparation for sanding and the first of five coats of varnish on the caprails today. The weatherfaxes look promising, and as soon as it starts getting light, we're headed ashore for a run while it's still cool.
John Merritt carried back the disk with the images of Leg 1 on it, and those should be posted into the text of Leg 1 updates within the next week.
We still have (hard to believe) one berth available on Leg 3, with fantastic sailing from Rarotonga, Cook Islands, to Pago Pago, Samoa. We have 3 berths on Leg 4, Samoa to Fiji (another favorite of ours, with great sailing and lots of wind!) as well as berths available on Legs 5, 7 & 8. If you're interested, give Tracy McClintock a call in our office, 360-378-6131 or email her on sailing@mahina.com for more details. If you have questions she can't answer, she'll relay them to me and I'll get right back to you.