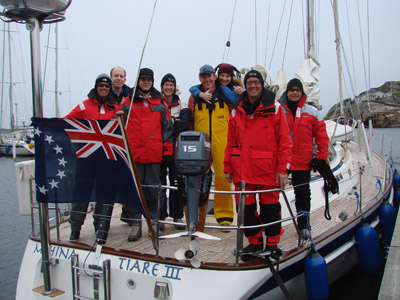 Leg 1 Crew : Katie, Will, David, Donna, AL and Jim
June 2, 2007, 1130 hrs, 68.09 N, 14.12 W, Log: 108,040 miles
Moored in Henningsvaer Harbor, Lofoten Islands, Norway
Baro: 1031.1, Cabin Temp: 64F, cockpit 74F
AS GOOD AS IT GETS!
Bergen was brilliant, and just after we tied up in the inner harbor, surrounded by the outdoor fish stalls selling everything from whale and reindeer meat to fresh shrimp and crabs, we noticed a line of black limos pulled off on the side of the street next to Mahina Tiare. Turns out Norway's king and queen and Bill Clinton were inside, coming to attend a three day music festival. Katie and Jim just missed seeing Bill in a hotel and the king and queen hopped out of the limo to greet the crowd where Donna was standing. Crew also checked out the local street market returning with caviar, marinated salmon and smoked whale.

Bergen waterfront

Bergen harbor

Local fish market – whale, salmon and caviar
With a forecast of Force 7 following winds, we decided that nothing was going to keep us from surfing north, so off we sailed, frequently surfing to over 9 kts while dodging ship traffic headed to the offshore oil rigs!
Our landfall was Fedje Island, the pilot station for ships entering the channels. We tied to an abandoned barge that night and the following morning watched a pilot boat come in and got to chat with Ole Hansson, the ship's pilot who invited us up to the vessel traffic control center and pilot station. What a view they had! Ole said that in the winter the seas sometimes exceed 24 meters at the oil platforms offshore, and that several times a year it is too rough for any ships to enter. For very large ships, a helicopter comes from Bergen to pick up the pilots and drop them on the ships; otherwise, they go out in their sturdy pilot boats.
| | |
| --- | --- |
| Fedje harbor | Pilot boat returning |
| Hilltop VTS and pilot station | John and Ole, a ship pilot |
Thursday, May 24th we had a rip-roaring run in winds gusting to 34 up to Floro, a small fishing and ship building town, followed by another fast, 82 mile run north to Alesund, an attractive city of 25,000 which straddles many small islands, connected by bridges. Alesund was rebuilt in an unmistakable Art Nouveau style in 1904 following a devastating fire. Kaiser Wilhelm of Germany who very was fond of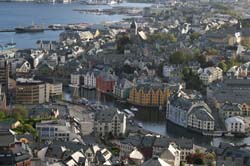 Alesund harbor
Alesund, sent ships with building supplies and craftsmen to help rebuild this city. All of our crew climbed the 484 steps to summit for a fabulous view of the harbor and town, but sadly found the little café had closed for the evening.
Tuesday, May 29 – Update by Donna
Finally, we are going to get to see the glaciers up close! On Saturday, May 26th the GRIB weather files showed gale force headwinds coming in 72 hours or so, so we took advantage of fresh southerly winds to sail 350 miles non-stop to Lovund Island.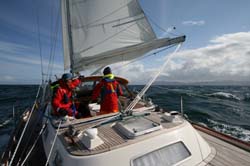 Rocketing north in near gale conditions
A short hike from the Mahina took us to a puffin nest "viewing site", a short distance up the western side of the 619 meter summit of Lovund. From the viewing site, we could watch the world's largest puffin conlony returning from their day at sea with beakfuls of herring to feed their young. Between April and August, they fly out to sea each day, sometimes as far as 70km to catch fish.
But while the small black dots of puffins were sometimes indistinguishable from clouds of mosquitos, several distant islands were rising dramatically on the horizon. Traena, Nesoya, Hestmona, and Luroy, each over 1000m of outcropping rock to the west and north of us. Tucked between Hestmona and Luroy is the second largest glacier in Norway and the lowest lying glacier on the European continent. Covering 140 square miles, the Svartisen glacier occupies a sizable chunk on the lacy thin section of Norway just north of the Arctic Circle. From Lovund, the snowy peaks between Hestmona and Luroy only hint at the vast expanse of the Svartisen.
| | |
| --- | --- |
| Lovund Island | View form puffin colony |
We next sailed north to the Holandsfjorden. Our course to the fjord and to the toe of the Svartisen took us on a meandering route through numerous islands and notably, across the Arctic Circle, at 66 degrees north. Finally, looming peaks came into view. For someone used to seeing such craggy glaciated peaks at much higher elevations, I had to remind myself that our northerly latitude accounted for the fact that these peaks were only 3000-5000 feet high. Arriving at the glacier, we stopped for a short photo shoot, docked and had another fabulous meal that Amanda miraculously conjured up in the tiny galley kitchen.
After dinner, we hiked up towards to the glacier to get a close-up view of the ice. The hike to the glacier proper took us past a hotel and tourist center (accessible only by boat), a large lake that formed in the 1950s when the glacier retreated, several sheep, and finally to a well marked path along the slabby rock striped and scarred by the retreating glacier. When the path ended, it looked like only more committing scrambling was going to get us to the actual toe. As it turned out, the scrambling was easy and the view of the toe of the glacier from up close was well worth the effort. What looked to be short steps when viewed from the dock a mile away, turned out to be impressive 30 foot vertical ice walls.

Svartisen glacier

Crew antics

Glaicer tongue
To top off this unforgettable adventure into the fjord, we awoke the next morning to a completely cloudless sky, 70 degree temperatures, and coffee waiting for us in the small hotel at the base of the glacier!
The gorgeous following winds switched on Wednesday, May 31st and we ended up motoring straight into 20 knot headwinds on the 65 mile passage to the city of Bodo, where we found a windy and very full harbor. We ended up rafting to a traditional wooden fishing boat for the night before leaving early the next morning.
With persistent headwinds, frequently narrow channels and fairly flat seas we motored north on Friday in order to shorten the passage the following day out to the Lofoten Islands. We didn't really know where we would end up, but when we passed a protected little bay with a white sandy beach, it was quickly decided that Vettoya Island would make a perfect and quiet anchorage. Surrounded by snow-capped peaks and glaciers on all sides, it seemed as if we were anchored in a mountain lake. Yesterday morning crew climbed to the top of the nearest hill for a fabulous view in many directions, followed by a swim off the stern. The water was the clearest we've seen outside the tropics – crystal clear and in 20' we could see the bottom perfectly.

Jim on Vettoya litter pickup

Idyllic Vettoya anchorage

"Ohhh! That's Chilly" – gasps Katie
Our passage out to the Lofoten Islands yesterday was calm, sunny and WARM! When we tied at the small guest float in Henningsvaer, an historic cod fishing and drying village, locals told us that it had been blowing and raining for months until three days earlier. Reveling in the great weather, people from nearby islands had brought their small cabin cruisers to Henningsvaer for the weekend. The women were all dressed up, and the crews from the five boats seemed to know each other and went out to dinner together. Sven, skipper of the closest boat told us that because of a change in ocean water temperature, the cod were returning to areas further north on the Norwegian coast. He said that the famous cod drying racks of the Lofoten Islands are still used, but now much of the cod arrives by ferry and truck. During February, March and April, thousands of tons of salted cod fish are hung on racks to air dry, their final destination being Spain, Portugal and North Africa.
| | |
| --- | --- |
| Massive cod drying racks | Gry, Amanda and Erling with cod |
For the past five days we have had brilliant cloudless days and nights. As we are over 100 miles north of the Arctic Circle, it is still clear, brilliant and bright at 0200 in the morning. The high pressure cells that normally move over southern Scandinavia this time of year have been diverted by the jet stream so that the lows are all passing to the south of us with rain and strong winds. It's been hard to convince crew to go bed before midnight as the sun shines so brightly, but it certainly makes for fun classes on deck.
| | |
| --- | --- |
| Destination planning | Crew go aloft in Henningvaer |
Here's our Leg 1 crew:
Donna Calhoun, 44
I am a computational scientist, working for the Commissariat a l'Energie Atomique in Paris. I don't have much sailing experience but have always wanted to see the Norwegian coast, and after a trip with Amanda and Jon up the west coast of Ireland a few years ago, I knew there was no better way to see Norway than this! Also, my husband is an avid sailor who is a MT veteran and will be joining Amanda and John shortly in Spitsbergen.
Katie Thomsen, 47
Life is great! I sold my store at Mamouth Mountain in 2000 and we moved to Belgium. When Jim brought up the idea of retiring and sailing around Europe aboard a sailboat I was excited but hesitant. I had no clue about sailing, only windsurfing, but I was game and started reading everything I could find. When our new sailboat arrived, I insisted on lots of private instruction and now we are planning to sail from Holland to Spain. This trip on Mahina is the perfect opportunity to see how my body and mind handle multi-day passages. I already know I love the idea of traveling aboard my home.
Jim Thomsen, 58
In 1972 I returned from my first sailing experience in Mexico with the plan to buy a boat and start cruising. But I started working instead. In 2000 we moved to Europe where I was president of an international division of a US company. Katie and I really enjoyed living in Europe and wanted to explore more. In 2006 my 35 year old dream finally became real. I retired; we purchased a new Hallberg-Rassy 40 in Holland and moved aboard. With little sailing experience we are learning as we go. After returning from this expedition we will start sailing south, to reach the Med by mid-summer.
David Kotecki, 47
I am an associate professor of electrical and computer engeneering at the Univesity of Maine. We sail our 32' sloop primarily along the coast of Maine. I joined this expedition to obtain experience in offshore and log distance passage making. (What David didn't say is that he left a hi-tech job in Baltimore, bought a 120 acre farm in rural Maine with a 150 year old farm house, got married and got into sailing. Sounds like a great life!)
Will Lee, 38
I am a financial manager for a fast-growing ten year old company in New York City. I live in Manhattan with my beautiful wife Stacy and gorgeous 2.5 year old daughter Lexi. We have been sailing our Catalina 36 in the waters between Long Island Sound and Nantucket for five years now, and I've wanted to try a longer trip on a bigger boat somewhere remote and scenic. One might say I've been pining for the fjords! (Will's father is Norwegian)
Al Canale, 49
I recently retired as an investment executive after living and working all over North America and most recently in London. I felt the need to slow down and de-stress from a busy work-based existence, and one of my dreams was to learn to sail well, and now I have the time! I recently found a slip near Vancouver, Canada and am now looking for a boat.
June 8, 2007, 1530 hrs, 69.39 N, 18.57 W, Log: 108,236 miles
Tromso Harbor
Baro: 1023, Cabin Temp: 63F, cockpit 62F
IT JUST KEPT GETTING BETTER!
Gry and Erling Baera, cruising friends that we had first met in Fiji, stopped by to visit us in Henningsvaer and invited to Solvear for a bacalao dinner and to sail to a friend's beach cottage on a nearby uninhabited island on Sunday. We did, and enjoyed a sunny day on the beach, plus hiking and exploring. That evening we motored 20 miles to one of Norway's most scenic spots, Trollfjorden, a very narrow, cliff-lined fjord surrounded by glaciers and waterfalls. The charts show over 100' of water at the head of the bay, so we weren't confident that we would find a place shallow enough to anchor, but we did. Surrounded by waterfalls, and glacier-capped mountains, we enjoyed a lovely night.
Early the following morning we came alongside the small wharf at the unattended hydroelectric power station. We all started hiking up the mountain toward the mountain lake we had read about, but only Donna and Will made it high enough up the trail to see the totally frozen mountain lake.
That night we sailed to Neshamn, a small bay with a couple houses where we enjoyed walks and hiking ashore. Yesterday we sailed to Harstad, a sizable town of 14,000 on Hinnoya, Norway's largest island. What a friendly place! We were the only boat in the small guest harbor and many local sailors dropped by with car or boat to say hello and to offer to show us a quieter inner harbor.
Wednesday morning under brilliantly clear skies we motored then sailed north, 53 miles to anchor inside of tiny Hestoy Island. Along the way we had a clear horizon and the perfect opportunity to teach celestial navigation. Within minutes of arrival Al had caught a nice cod for dinner on fishing gear borrowed from Gry and Erling. We took advantage of the sunny afternoon to catch up on double braid splicing, sail repair class and celestial navigation. Yesterday we had another sunny day and a fair following then beam wind, gusting to 26. Conditions were perfect, and with a full main, a double-reefed jib, flat seas and a fair current we touched 10.2 knots repeatedly. These conditions provided the perfect opportunity to practice towing warp and setting the Galerider drogue. What a great conclusion to an exceptional passage!

Katie takes a sight

Al's cod

David practicing towing warp
On arriving in Tromso were surprised to find the guest pontoon nearly empty, and after tidying MT up, headed ashore for an excellent Thai dinner together. For us, one sign of a successful expedition is if expedition members are still getting along after 2-3 weeks and after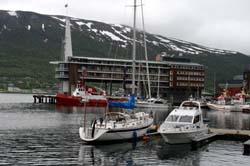 Tromso harbor
dinner our crew was up to the wee hours of the morning, exchanging addresses and plans to meet and sail together in each other's home waters.
We've just been handed an ice report and map from a powerboat headed to Spitsbergen. According to the report, there is no sea ice at all on the west coast of Spitsbergen so this should make landfall on Leg 2 much easier than during our last visit. I the meantime Amanda and I will be enjoying a few local scenic anchorages while we continue with boat projects and prepare for Spitsbergen.
We have one berth available on Leg 4-2007, Tromso, Norway to Ellos, Sweden, August 1-18th. Expect fabulous sailing conditions, non-stop daylight, several 2-4 day offshore passages and some of the most interesting coastal sailing anywhere in the world!
We also have three berths available on Leg 5-2007, from Ellos, Sweden to Southampton, England, via Denmark, Germany's Kiel Canal and a North Sea crossing. This leg provides great sailing, challenging navigation and a lot of neat stops in different countries.
If you have any questions about joining us for an expedition, just contact us: sailing@mahina.com or give Tracy in our office a ring on 360-378-6131.
Update 1
May 22, 2007, 0500 hrs, 59 30. N, 04.58 W, Log: 107,376 miles
Broadreaching at 7.8 – 10.1 kts in 22-34 kt wind, 6-9' E swell
Baro: 1012.7 (down 7 mb in 19 hrs), Cabin Temp: 66F, cockpit 50F
SURFING TOWARD BERGEN!
We're off on our 18th season of sail-training expeditions, and what a start we've had!
When our Leg 1 crew arrived last Friday, May 18, it was a relief – now we could focus on sailing! For 13 days, since we arrived back aboard Mahina Tiare in Sweden, Amanda and I had been working long hours, putting everything back together, unpacking gear we had brought with us, provisioning, and unloading gear we didn't want to take north to Spitsbergen and back.
After safety orientation, we set sail for Kristiansand, Norway, 90 miles to the west. We had been closely monitoring a large 987 low as it made it's way across the North Atlantic, and thought that we might be able to sneak across the Skagerrak before the winds changed from SSE (beam reach) to SW (headwinds). No sooner than we had passed the picturesque island village of Gullholmen did the winds increase to 40 kts with driving rain. Although triple reefed and prepared, we knew the seas in the middle would be horrendous, so we turned around and spent the night pinned to the dock in Gullholmen with strong winds and rain, as the leading edge of a very active cold front persisted.
The winds moderated to 10 kts, at the dock Saturday morning so we took a vote as to whether to go. The "ayes" were unanimous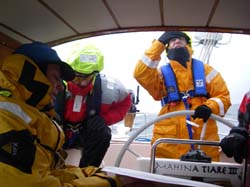 Crossing the Skagerrak in gale conditions
so we set sail! Once clear of land winds quickly built to a solid 27, gusting 34. We once again considered turning back but chose to set a course further off the wind north to Risor.
When underway for an hour, we received a paid update from www.commandersweather.com, the trusted weather service we use periodically, saying that our Skagerrak crossing would be rough but the following day would be smoother. We decided to keep going. Then the Navtex posted a weather warning for Force 7 occasionally Force 8 near-gale conditions.
With the wind forward of the beam and a solid 34, gusting 40 we did indeed have a rough passage, especially once we cleared the lee of Denmark. Large breaking rollers occasionally came roaring through and our helmsmen would need to turn slightly into them to avoid having them smack on the beam, sending cascades of icy water streaming over the boat.
| | |
| --- | --- |
| Donna and Katie hit the ice cream shop | Risor Harbor |
We made landfall at Risor's fairly narrow but well-marked channel at 2000 hours, well before dark, and found an empty berth on the guest dock. The huge bowl of hot soup disappeared quickly once our crew returned from hot showers ashore.
Early Sunday morning when Amanda and I went for our run we were surprised to find Orion tied in the inner harbor. Former expedition member Lore Haack-Voersmann had singlehanded from Germany, frequently in gale conditions, aboard her ketch-rigged Vim motorsailer and after her husband Peter had joined her in Ellos they had set sail the day before us for Norway. Peter showed us some excellent German weather sites he had downloaded from his mobile phone and we made plans to visit later in the summer in Norway's northern Lofoten Islands.
The forecast was clear, and all the different sources agreed for Sunday's conditions: near gale force headwinds, diminishing late afternoon or early evening. We took advantage of the time to continue our orientation, teach an introductory weather class and explore the very attractive seaport town of 4,000. Risor is famous for its classic wooden boat festival and the pride and joy of the town is a traditional gaff topsail Colin Archer designed volunteer coast guard sailing rescue boat, Risor II. Tied up in the middle of the inner harbor, a steady stream of volunteers were maintaining this classic boat. In our hike up to get a photo of the harbor and town we met a friendly guy who was preparing a classic varnished wooden clinker-build skiff for the start of lobster season. He explained that his father and uncle had used this boat for over 30 years of fishing, and that he really enjoyed working on and fishing it. His wife, maybe more practical, pointed to the modern fiberglass skiff next to it on the front lawn and told us she preferred it for taking the kids for picnics on the nearby skerries (islets) while her husband was tending his lobster pots.
Finally, after dinner, the winds in the harbor had dropped to 10-12 kts and we dropped dock lines and set sail at 2130. As the winds were right on the nose, we motorsailed into 15-18 kt headwinds which dropped to 10 kts by midnight.
Yesterday a high pressure cell parked itself over the southern tip of Norway, known as the Cape Horn of Norway. Where we had always passed Lindesnes in strong winds before, this time we motored past with clear skies, smooth seas and less than 5 kts of wind. When the wind picked up to 7 kts we sailed for several hours, enjoying the warmth of the sunshine.
Last night it never really got dark, going from several hours of spectacular sunset to moonrise to sunrise as we passed Stavanger harbor entrance, a busy offshore oil industry and shipping base, we were kept on our toes with a steady stream of ships of various sizes and types.
Early this morning the wind started filling in as forecasted, and now it is gusting 35 and we're hearing some whooping and hollering from the cockpit as our helmsman has Mahina Tiare surfing at up to 10.1 kts on the big swells. Our ETA for Bergen is this afternoon, so our navigator of the day is going to need to get busy plotting the frequently-changing course through the channels.