4/23/08
HOORAY – MAHINA TIARE IS SAFELY RELAUNCHED AND NOW BACK IN HORTA!
After a mamouth effort in the boatyard and marina on Terceira, we set sail yesterday at 0600, covering the 85 miles Horta, our Leg 1 starting port in 12 hours. We had planned on taking another day or two in preparation for the passage, but forecasted high swells and wind encouraged us to depart Tuesday. Horta Marina assigned us one of only three available slips, and the one with the least surge, so Amanda has already started removing lifelines, stanchions and rubstrakes getting ready for sanding and varnishing.
For our arriving Leg 1 crew members, Mahina Tiare is in Berth #4 not far from the ferry docks in the "old marina", the southern part.
You're welcome to drop by the boat once you arrive in Horta (particularly if you are bringing spare parts!) to let us know you made it safely.
Leg 1-20 08, Update 1
May 6, 2008, 0700 hrs, 45.16 N, 18.47 W, Log: 115,174 miles
Broad reaching  at  at 6.5 kts in 13 kt S winds, rolly seas
Baro: 1010.0, Cabin Temp: 67F, cockpit 60F
We're well on our way toward Ireland!
After a windy start on our first passage of the season, the several fronts have passed, the wind has settled down but a sloppy swell remains.
It was bittersweet leaving the Azores, a group of islands we've really come to love. With a few sunny days in the Horta marina we varnished the toerail and finished up our boat projects before renting a car to provision at Modelo, the only supermarket. We also enjoyed some side trips – exploring an old abandoned lighthouse on a northern headland one evening, then a drive and hike along the coast past the airport the following morning.
For this passage from the Azores to Ireland, we allow 5-6 extra days for waiting for the weather. This year it looked as if a 24 hour wait would put us in line for fresh following winds topping out in the low 40's for the first several days of the passage so I requested a custom weather forecast from www.commandersweather.com. Click HERE to read it.
Our six crew arrived in Horta at least two days before they joined us Thursday noon and were well rested. Rather than stating what our proposed sailing plans were, we laid out the weather information ranging from Commanders Weather five day forecast, Navtex forecasts, and the GRIB files, asking what they would do, based on their weather interpretation. Unanimously our crew agreed for a days wait to let the fairly active front, bringing wind and rain, pass through. We would then leave the next day on a forecast of fresh to strong following winds. After working hard on safety orientation Thursday afternoon we enjoyed dinner out together and getting to know a little about each other.
Our Leg 1 crew is the most international group we've ever had!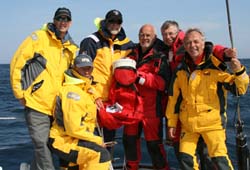 Leg 1 Crew – Anders, Thor, Scott, Neil and George
George Coyle, 65 hails from Connemara, County Galway, Ireland – one of the world's finest cruising areas, rich in culture and offshore islands. An international consultant on diversity and conflict resolution, he spends about 40% of his working time on offshore oil rigs in the North Sea. He recently crossed the Atlantic in the ARC (Atlantic Rally for Cruisers) and is interested in purchasing a boat, possibly a Regina of Vindo pilothouse 43 with the goal of spending more time sailing and less time working!
Neil Scott, 53 is originally from Durban, South Africa where he learned to sail, but has lived in Hong Kong and now lives in the San Francisco Bay area where he is an accountant for a Silicone Valley company. He recently purchased an Island Packet 440 with a partner and has been enjoying sharing sailing in Puget Sound where the boat is located with his wife and children.
Anders Vindenes, 65 is from Bergen, Norway and has Viking blood! He has sailed his entire life and his grandfather sailed worldwide working on sailing cargo ships. Anders worked for many years as a naval architect in shipyards but now is a physics professor at Bergen University. He keeps his Beneteau First 367 near his family farm south of Bergen.
Thor Sommerseth, 52 Is a neighbor of Anders in Bergen, and a minister in the Norwegian state church. He took delivery of a new HR 37 two years ago and enjoys sharing sailing with his wife, children and friends annually to Denmark and Sweden. Thor and Anders have enjoyed sailing across the North Sea together to visit the isolated Shetland Islands several times.
Ed Makauskas, 57 is a busy and successful architect from Toronto, Canada. His partner Peggy recently sailed her Jenneau 49 from Florida to Greece and now Ed is itching to buy a Hallberg-Rassy 43 to cruise part time on.
Scott Grubb, 51 retired from a career in sales management to purchase and run a small business which he recently sold. Scott and his wife Lynn live on Bainbridge Is., Washington and plan to sail more extensively on a new Trintella 50 sloop that is currently under construction in Italy. They visited the boatyard together before arriving in Horta bearing gifts of Parmesan cheese and Italian salami for MT.  While at the boatyard in Italy they met Ron Holland, the designer of their new boat who has invited Scott to visit him when we arrive in Kinsale, Ireland.
Early Friday morning Neil and I went to the port captain and immigration to clear out. I think this is one of the few places in the world where both offices final word was, "We hope you'll come back again next year".
By early afternoon skies were clearing as we set sail for Ireland. If the weather window had been a day or two later, we would have relished a stop at Graciosa Island, but we were content with the thought that the early start would allow us time to explore the SW coast of Ireland. Our forecasted fresh following winds filled in later Friday night and we were off on sleigh ride with boat speed touching the low 10's.
Saturday an expected frontal passage brought high-speed surfing conditions, intense squally weather with buckets of rain and gusts to 44 knots. We quickly reduced sail to three reefs in the main and 60% of the headsail furled. This crew had signed up for some heavy weather experience and handled the challenging conditions very well.
Consistent strong broadreaching conditions held through Monday night giving us 24 hour runs in excess of 175 miles but in the middle of one of the blackest squalls the high temperature alarm went off on the engine control panel under the wheel (we had been charging batteries in neutral). In the process of trying to figure out what the alarm was, the helmsman accidentally gybed. After we got back on course, I stuck my head in the engine room to find it warm, but not seriously overheated. I could tell by the discolored paint on the raw water pump that the nearly new (less than 20 hrs) pump must have failed. This was only the second time in 9100 hours that the engine had overheated, so I couldn't wait until to investigate to see what caused the problem.
Not wanting to deal with the engine problem on a dark rough night I managed to get some sleep until Amanda came off watch at 0500.  With Anders (the naval architect and physicist) help we set to work. Sure enough, the raw water impeller was severely damaged, but all the vanes were still attached so they hadn't been pushed into the heat exchanger – good news. I pulled off the raw water strainer lid and it was clean. Perhaps the problem was something sucked into the intake screen so I removed the raw water intake hose from the thru-hull fitting before opening the valve slightly to check that sea water come out, yes there was water flow. Then on Anders suggestion, I reattached the hose to the thru-hull fitting but removed it from the bottom of the strainer, put the hose end into a bucket and fully opened the thru-hull valve.
A modest amount of what looked like chopped up clear jellyfish came out with the water Ah ha.  I put the hose to my mouth, slowly opened the thru-hull valve and gave a series of mighty puffs, hearing bubbles go out under the hull and feeling less back pressure. Next I replaced the entire raw water pump assembly with a rebuilt pump containing a new impeller and we started the engine. No luck – no water flow out the exhaust. Anders, ever the quiet, thoughtful Viking suggested pulling the raw water hose off the strainer, placing it in a bucket of water, and briefly starting the engine to ensure the pump was pulling water. When we tried that, instead of the pump sucking water from the bucket, bubbles came from the hose. Anders stated that I'd installed the pump backwards. He was right. The bronze raw water pump is nearly symmetrical and can mount two ways. I removed and reversed the pump and everything worked well. The three hour saga over, it was time for me to clean up and make a late breakfast. What a relief to have the engine back at 100%!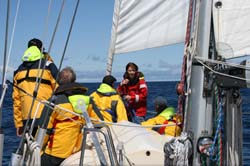 Amanda teaching rig check
Commanders forecast has proven, once again, uncannily accurate and by Tuesday the weather cleared and calmed enough for hot showers on deck but by afternoon it became slow going with the left over swell and only 10 knots of wind. In the late afternoon the swells had subsided enough for us to hoist the asymmetrical spinnaker and we enjoyed its pull for several sunny hours before the wind went extremely light and we opted out for the motor for a few hours until the wind returned.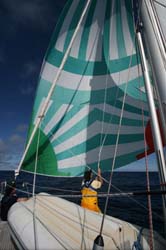 Hoisting the spinnaker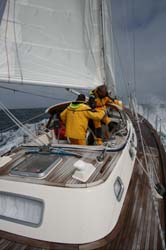 George trims sails after shaking out the final reefResting barn swallows
Today, Wednesday, has been a real hodge podge of weather providing real time weather analyzing practice for crew as our course parallels a fairly active warm front. We've experienced everything from nice beam reaching in 15 knots, sailing close hauled in 25 knots, to now, early Thursday morning, motorsailing in sloppy seas, light winds and drizzle. Our crew are gaining some valuable heavy weather reefing experience. With 252 miles to sail to Baltimore, Ireland, we need to keep our speed to 6 kts to ensure arrival before dark tomorrow.
As we approach landfall it's hard to believe how quickly the miles have clicked by. Other than passing ships, sail trim and class, small incidents pass the time like at sunset, when one, then another, and another small swallow swooped in and tried to land in the cockpit. Obviously exhausted and presumably blown out to sea by a storm these little birds were quite dazed and after a couple of landing attempts they settled in around the cockpit. Amanda caught each bird and placed them in plastic boxes covered with a lid for the night. Although we though they might want to be together, and even though they chirped away excitedly away when together, they were not friendly to one another and soon one would peck another. Two birds flew off in the morning but one didn't make it through the night, while another fourth swallow landed briefly at dawn. Speaking of wildlife throughout the trip we've had two sperm whale sightings, numerous dolphins, some turtles and today a couple of gannets but no luck on the fishing.
We've since discovered that these birdies migrate yearly 9,500 miles to and from South Africa across the Sahara and thorough Spain and France. The male returns to Ireland in the beginning of March, generally to his birth place, with the females following later.
May 9, 2008, 1430 hrs, 51.12 N, 009 55 W Log: 115,694 miles
Broad reaching at 6.2 kts in 16 kt S winds, fairly smooth seas
Baro: 1013.0, Cabin Temp: 68F, cockpit 72F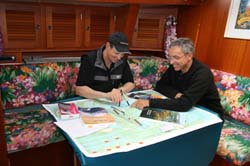 LAND HO! Ireland ahead.
A sunny day with a gorgeous steady breeze just abaft the beam has a speeding along in nearly flat waters to the mountainous green contours ahead, or for some of our Kiwis, Norwegians and Canadians hazy hilly things. We had an excellent diesel engine class this morning and everyone is feverishly studying charts, tide and current tables, cruising guides and guide books. Now several days ahead of schedule it's up to our eager crew to choose the next couple night's anchorage after Baltimore by talking with local sailors on the docks and more importantly the pub as well as checking in the cruising guides and charts.
Leg 1-2008, Update 2
Soon after passing Fastnet Rock lighthouse, a famous landmark of Ireland, Amanda spotted a sail, the first we had seen since the Azores, bearing down on us quickly. She called for a tack as she spotted the HR logo on the sail and wanted a closer look. To our surprise she smartly rounded the famous rock then hardened up, ending just upwind of us. Fastnet Dancer is a Hallberg-Rassy 45, the predecessor to the 46, so we set to trimming sails to try and pass her.
| | |
| --- | --- |
| George…a true Irishman! | HR Fastnet Dancer approaching the rock |
Try as we could, we just couldn't pull ahead. About that time, as Amanda was washing off the stern before flying our flag she noticed a trail of bright blue streaming behind. "We've got something caught underneath!" We quickly luffed up and with Thor's help and the boat hook Amanda managed to snag the blue pulling a net aboard. The other end appeared to be firmly stuck on the rudder or prop.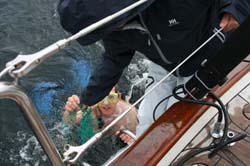 John clears the prop
There was no doubt the net needed to be cleared. We didn't want to sail into Baltimore which sports a very narrow, high cliff, rock-studded entrance, knowing that the rudder might be affected and the engine unusable. In just a minute we dropped sail. I grabbed a knife, donned mask and fins, and headed down the swim ladder. Hyperventilation (from the cold water) took about a half minute to get under control before I grabbed a big breath and ducked below the surface. The water was surprisingly clear and I instantly saw the net caught in one of the Max Prop blades and where it had rubbed against the rudder as the antifouling paint had worn off in a patch. In a few seconds I cut the line free clearing the prop. The hot shower on the swim step sure felt great but the swim sent me under the weather with a nasty cold that I'd all but avoided from the crew.
We rehoisted sail but as we neared Baltimore the wind dropped and we motorsailed the last mile or so through the narrow entrance which opened into a broad but shallow harbour and river estuary. Watching the depth and charts exceedingly carefully we crept in with very little water under the keel to anchor off Baltimore's town wharf around sunset. After dinner we headed ashore to see about clearing customs (as Baltimore is listed as a Port of Entry for Ireland). Well, actually, we headed to the pub, as it is here we were sent to enquire about customs. "Come back tomorrow and we'll ring Bantry Bay Customs and Excise" was the answer.
| | | |
| --- | --- | --- |
| Sunset at anchor | Baltimore waterfront | A welcome Guinness |
What we did discover, in this tiny seaside fishing and tourist village was that the sixth annual Baltimore Fiddle Fair, www.fiddlefair.com was on its second day and fiddle workshops, concerts and sessions, at numerous locations, would be occurring every couple hours for the rest of the weekend. We were particularly delighted to learn that the imposing Dun na Sead castle, perched above the village, was the site for a concert by two sisters the following noon.
We hit class right after breakfast then agreed to meet at noon at the castle for the concert which George had managed to secure tickets. The castle, built in 1250 and recently renovated to a private home had been kindly opened to the festival for concert events. The entrance stairwell is decorated with some "before" pictures depicting a roofless ruin complete with tumbling stone walls covered in ivy – a stark reminder to how many hours of restoration and rebuilding have gone into what is now an impressive home.
| | |
| --- | --- |
| Pretty Kerry musicians taking a break | The sisters leaving Dun na Sead castle |
With a backdrop of tapestry curtains, hunting and fighting weapons representing many centuries, fine furnishings, displays of china, crystal and silver, plus mounted trophy wildlife, the sisters Aoife and Deirdre Granville from County Kerry put on an excellent concert of traditional Celtic music with the full range form airs to reels played on Irish harp, fiddle, flute and tin whistle.
Afterwards we enjoyed a sunny, warm and windless hike out to "Lot's Wife" on the cliff at the entrance to Baltimore harbour. This tall white painted stone beacon was erected by order of the British government in 1798 after the rebellion. In the evening we cruised across the harbor to moor at Sherkin Island, a quieter spot allowing us to explore the ruins of the 15th century Franciscan Friary.
The next morning after class we set sail in light air and foggy conditions for Castle Haven, 11 miles to the east, which turned out to be a very sleepy English-influenced village. Well, it was Sunday… But true to village fashion the pub lit up after sixish and our crew went missing for dinner aboard.
| | | |
| --- | --- | --- |
| Crew enjoying the sunshine at Lot's Wife | Sailing by Lot's Wife | Castle Haven from our anchorage |
Our 32 mile passage Monday morning to Kinsale was in thick fog and windless conditions. We passed within 15 boat lengths of what we assumed from the radar to be a small fishing boat without seeing it. Just as we reached Old Head of Kinsale headland the fog lifted revealing the green fields of silage and the cliff-lined entrance to Kinsale Harbour.
We were pleased to find space on Kinsale Yacht Club's guest dock and it was a relief to finally be able to officially clear in. Well, kind of. Phil Devitt, the helpful and friendly harbourmaster had me fill out a sheet with our names and passport numbers which he promised to fax to Customs in Dublin – that was clearing in.
Kinsale, known as the "Gourmet Capital of Ireland", offers no shortage of places to dine out. We ended up at The Spaniard, up the hill, where they had live traditional music afterwards. Tuesday mornings the downtown merchants and farmers host a street fair with music and free tasting of all kinds of delicacies.
| | |
| --- | --- |
| Porter cheese tasting at the market | Anders, Neil and Scott sampling Irish brew…either Guinness or Tea? |
Finally, fresh winds returned and we had a vigorous beat up the coast towards Oyster Haven, pausing to practice storm tactics including heaving-to, towing warps and setting a drogue. About halfway up the coast a large schooner with a squaresail came roaring toward us so we tacked out and back to get a better look and some photos. Asgard II is Ireland's sail-training ship and she looked great with cadets heaving in unison to sheet in the sails before dancing a jig. We sailed along with her for a few minutes before coming back on the wind, tacking the 10 miles to Oyster Haven.
| | | |
| --- | --- | --- |
| Hoisting sail in the lee of Charles fort | Ed takes a few leprechaun turns out of the high lifeline | Stand by to tack. |
One of the smaller and most protected anchorages on the south coast, Oyster Haven has only a few houses and a windsurfing/sailing center. Every time we've anchored here it feels like we are in wind tunnel, and with winds gusting into the mid-20's, it took us a couple tries to get the anchor to set in the weedy bottom. Eager to continue our teaching schedule, our Leg 1 crew tackled storm tactics, sail repair, splicing, electrical power systems, communications, Turk's heads and monkey's fists – all in a row! Whew they deserved Amanda's rhubarb crumble pud after that.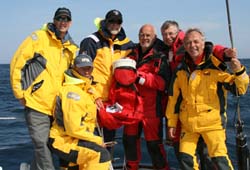 Crew strike a pose with the shark drogue
I had hoped for a little mellower conditions for our final 15 mile passage to Cork on Wednesday so we could practice Lifesling rescue, but instead we got more reefing and tacking practice as winds reached mid-20's again. The 1.5-2 kt current opposing the wind, coupled with the shallow offshore depths meant that the wave crests were less than one boat length apart, making for a choppy upwind sail. We tacked and tacked and tacked and by 1000 we cleared Roches Point lighthouse, eased sheets and zoomed through Cork harbour entrance. Finally, inside the harbor we found ideal conditions for Lifesling practice – 15 kts and calm seas. Each expedition member completed a rescue and were amazed at the simplicity of the system we've developed. We have taught Lifesling rescue in up to 38 knots of wind, but find that it's easier to grasp the procedure (and we have fewer complaints from Amanda about cracked mainsheet blocks) in lighter winds.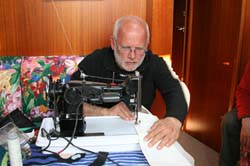 Nothing fazes this young Viking!
Royal Cork Yacht Club is the oldest (founded 1720) and one of the friendliest clubs we've visited. Chris, the harbormaster remembered us from our previous visits and pointed out an available berth. Long hot showers and walks to Crosshaven Village were first on our crew's list, followed by going aloft for rig inspection, cruising medicine and dealing with officialdom while cruising.
My, how fast two weeks have gone. There were no final farewells with this crew – they were all swapping contacts for future sailing visits before hopping on the bus to trains and planes – off to new adventures.
We're looking forward to some adventures of our own in our week off now. George from Leg 1 has invited us north to his home on the Connemara coast for a couple days to share some of his favorite coastal hikes along with some great Irish hospitality, an offer we certainly couldn't turn down! Amanda is also hoping to check out Ballymaloe Cookery School to the east of Cork.