September 9, 2020 1700 hrs, 48.24N, 124.36W Log: 1949 miles
Broad reaching under full sail at 6-7 kts
Baro: 1018, Cabin Temp: 70 F, Cockpit Temp: 65 F, Sea Water: Ch-ch-chilly!
Between Legs 0 and 1, Amanda and I spent time organizing provisions and supplies for the three upcoming back-to-back expeditions and enjoying our first summer on San Juan Island since 1996. We discovered the process to be easier the second time around and Amanda created three separate boxes of supplies for each expedition which we are lucky enough to be able to stash at a friend's home in Anacortes.
When we met our Leg 1 crew near San Juan Sailing's office at 8 pm Friday they were all chatting happily with each other and excited to be heading off on a sailing expedition.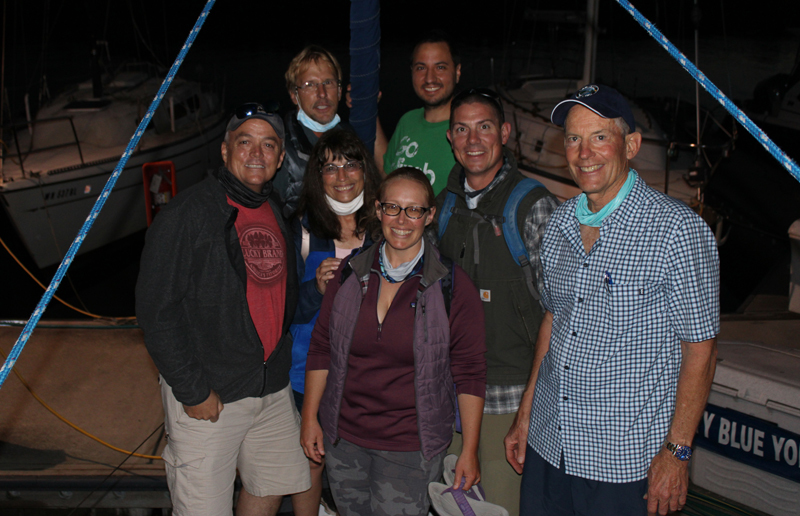 Leg 1 Crew – Bob, Chuck. Alice, Julie, Scott, Gi and John with Amanda taking the photo.
Together we studied the weeks wind predictions on www.windy.com and it quickly became apparent that following our published itinerary would have us motoring in light and variable winds the entire way from Henry Island to Neah Bay plus out into the broad Pacific. On the other hand, delaying our departure from Henry Island by 24 hours would see us sailing downwind in winds of 20-30 knots out the straits so that's the option our intrepid crew chose.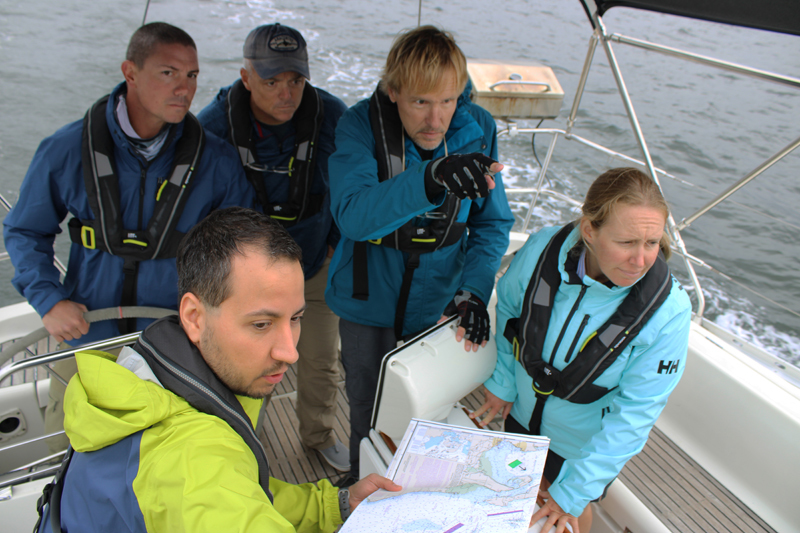 Scott, navigator of the day, crew our intended route.
From Bellingham's Squalicum Harbor we had quite good winds, sailing most of the way 36 miles to Reid Harbor on Stuart Island. Stuart Island is always mentioned in the top two or three must-visit anchorages in the San Juan Islands, featuring two state park docks and moorings on both Reid and Prevost harbors. Being Labor Day weekend, we expected a crowd, and sure enough, by sunset we counted 70 sail and power vessels spread evenly down the two-mile long Reid Harbor. This island was also my home for seven years, and it was different to be at anchor, looking ashore, rather than the other way around
The temps were in the high 70's, winds in the anchorage were light – perfect weather for Gio to barbecue the HUGE striped bass he had spearfished in Lake Mojave, frozen, and brought on ice on the 20 hour drive from Arizona to Bellingham. Once it started thawing out, he'd marinated the bass in olive oil, lime, garlic and parsley. It filled the double-stacked barbecue several times, but our hearty crew devoured nearly all of it.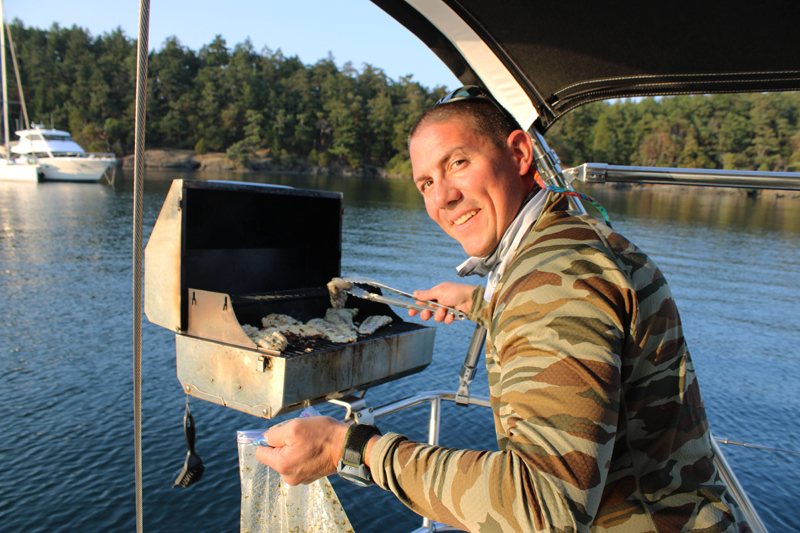 Gio, hard at work.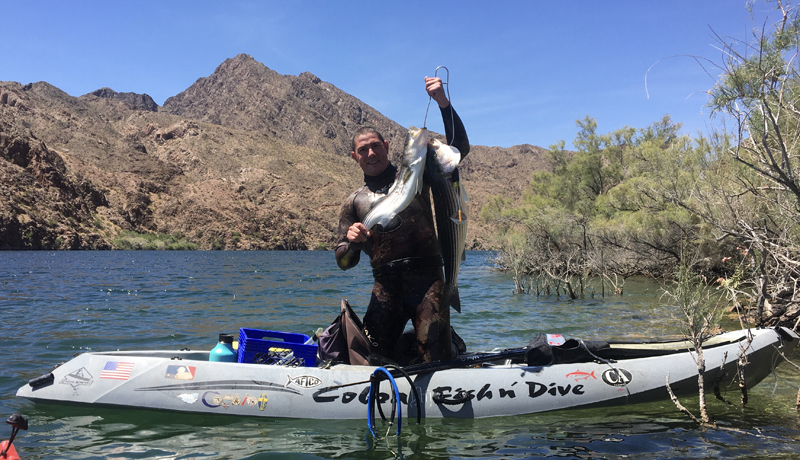 Gio displaying his spearfishing effort at Lake Mojave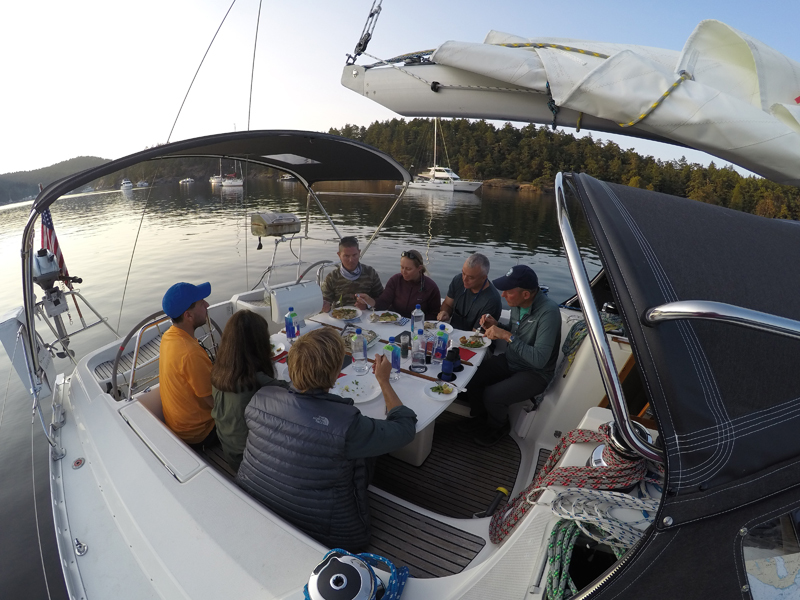 Now this is what cruising is about!
In the morning, with only seven miles to sail to our chosen anchorage of Open Bay, Henry Island, we focused on teaching at anchor. Amanda taught deck-level rig inspection plus going aloft. Alice had a slight fear of heights but with some gentle encouragement from the remaining crew she ascended to masthead and was chuffed she'd accomplished this.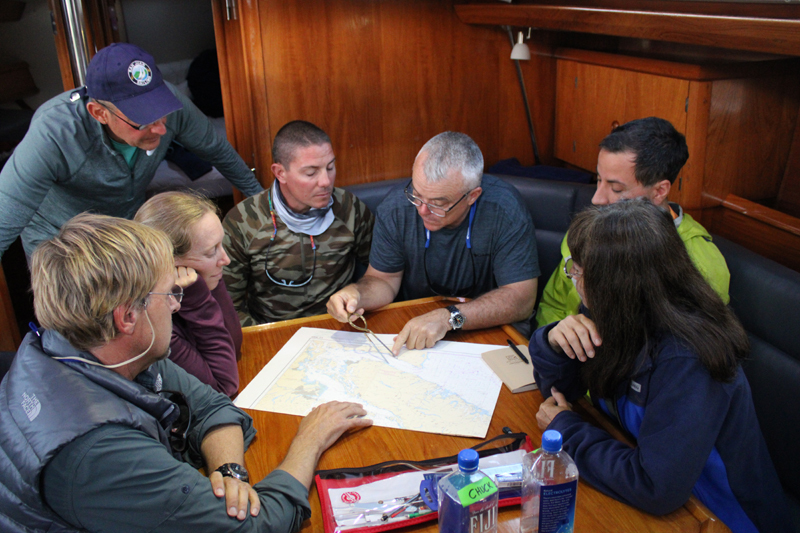 Weather rules onboard but navigation is a serious duty which requires all crew to become proficient at.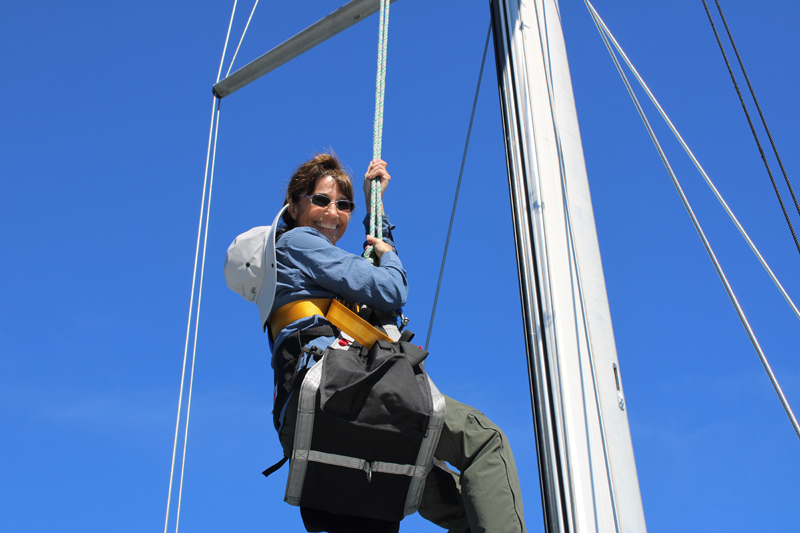 Alice returns to the deck happy to have conquered her apprehension of going aloft.
We had a brilliant sail to Henry Island in winds that started light and gradually filled in, with our crew getting faster and more proficient with every tack. We were amazed how close-winded Misty, the Jeanneau 45.1 that we've chartered from San Juan Sailing was. Her 7' draft likely has a lot to do with her excellent sailing performance!
Last time we shared Open Bay with five other pleasure boats, but this time we had this gorgeous bay to ourselves, and a spectacular sunset to boot! Much of evening was taken up with laying out courses on paper charts, calculating course and distance for each leg, then inputting the latitude and longitude into the Garmin MFD and our navigational laptop computer running C-Map charts of Rose Point Coastal Explorer.
We've not been impressed with Garmin's documentation, and after our Leg 0 crew scanned the confusing owner's manual, they wrote up much-simplified directions which Amanda printed and laminated.
At 0230 this morning various alarm clocks went off and by 0300 Misty's anchor was up and we were on our way under a sky ablaze with stars and the glow of Victoria's lights on our starboard beam. Slowly the wind filled in and we've enjoyed ideal downwind sailing conditions today, never needing to reef and with calm enough conditions to complete our Marine Weather II class.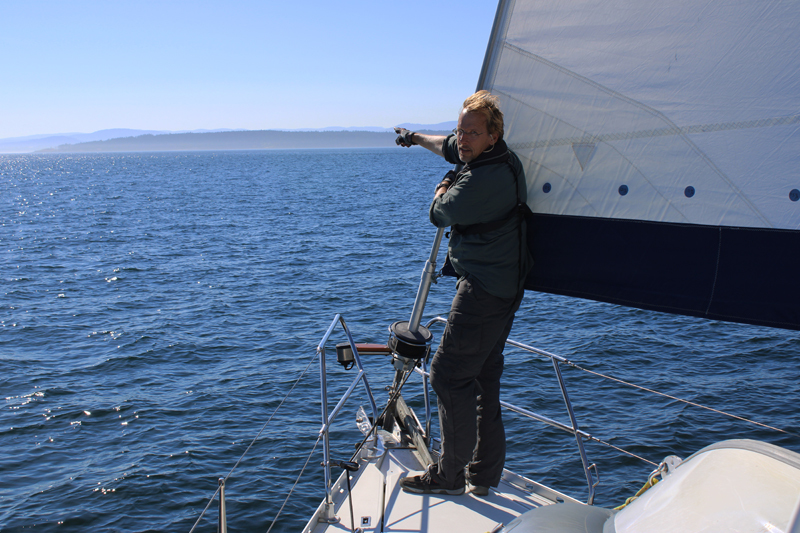 Chuck points out another log to the helmsman. With numerous logs in the Pacific NW vicinity it's imperative to have a bow lookout.
Currently we're just passing the entrance to Neah Bay, the Makah Indian village where we anchored on Leg 0. With a crew keen to experience ocean sailing, we're holding course for offshore!
---
September 10, 2020 1705 hrs, 48.45N, 122 30 W Log: 104 miles (has been reset)
Moored, Squalicum Marina, Bellingham
Passing Tatoosh Island lighthouse is a tiny bit like rounding Cape Horn light. It's rather monumental as Amanda and I always think about the many times we've made landfall here, and how grateful we've been to spot this iconic island and light.
Amanda related to crew the story of making landfall here in November 1980 after a horrendous wintertime passage. Having been booted out of Sausalito for overstaying their visas, they battled gale to storm force conditions as they made their way north. While on watch Amanda listened to a radio station account of a fishing boat capsizing that night at one of Oregon bar entrances, and the rescue Coast Guard helicopter attempting to rescue the fishermen crashed into the sea.
Long before electronic navigation, Amanda's father hadn't seen the sun for several days before making landfall so was going only by dead reckoning. When they started spotting logs a debris in the water, they surmised they must be at the entrance of the Straits of Juan de Fuca, and turned east into an outgoing tidal current. Amanda say the lighthouse stood stationary for her entire night watch but after going to bed in the early morning it was how glorious to be woken up in calm seas as they neared Victoria after a fast passage on the incoming tide.
Surprisingly, but consistent with www.windy.com forecast, a few miles past Tatoosh Island, our following winds dropped off completely. We continued motorsailing on out into the calm ocean with humpback whales blowing all around us until our crew made a unanimous decision on their own to turn around before forecasted fresh outflow winds would make retracing our route very difficult.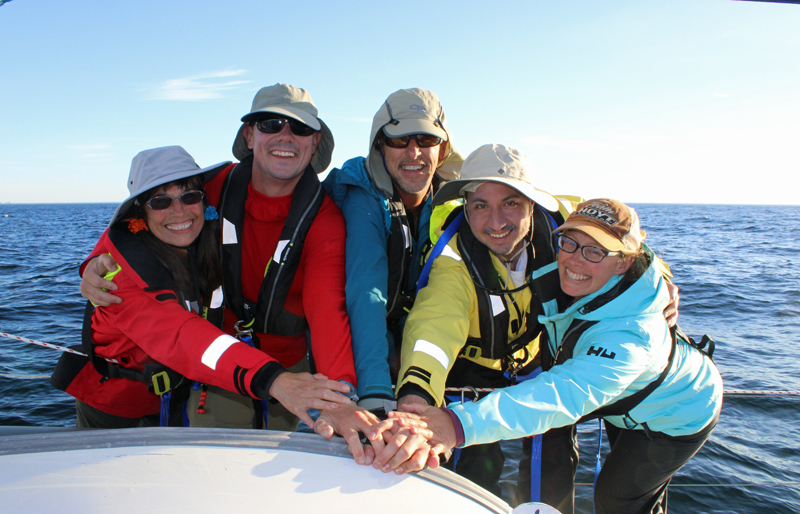 Team Enterprise – Alice, Gio, Chuck, Scott and Julie…. Tio Bob is MIA.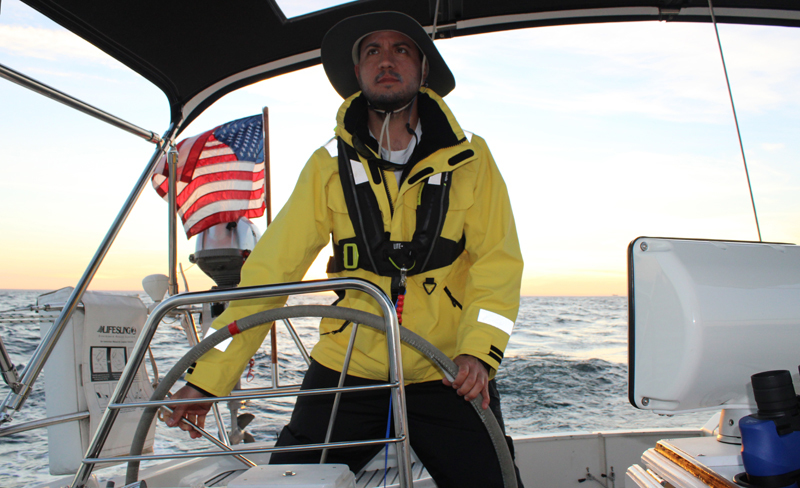 Scott masters his helming as we motorsail in chunky swells past Tatoosh Island.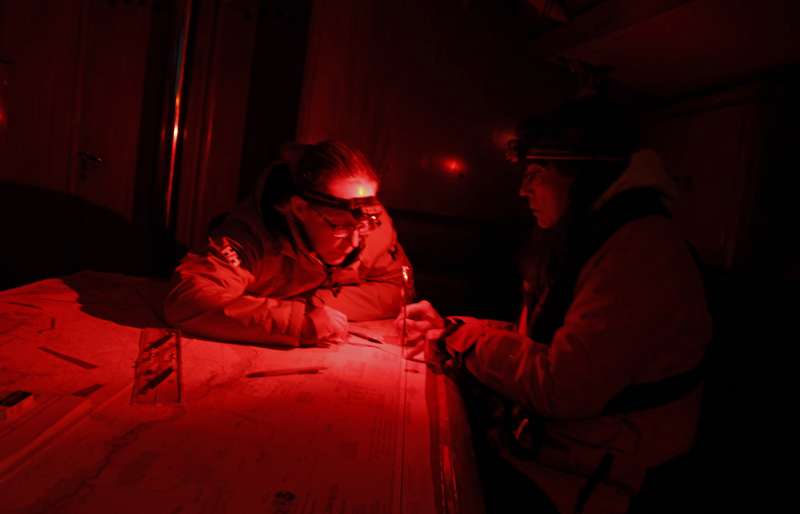 Julie and Alice find navigating down below no problem as we bounce and occasionally slam to windward.
We continued 55 miles ESE from Tatoosh Island, hugging the coastline, motorsailing against wind and current through the night to arrive after dawn off Ediz Hook, the spit that protects Port Angeles, to then moor at the visitor's float just before the marina office opened. The assistant harbormaster said they didn't expect any more arrivals that day and that we were welcome to stay without charge. After breakfast we headed to the showers then up town for exploration.
The forecast called for the fresh easterly winds to diminish at 1600 but by the time we all returned from town at 1400 and were ready to start class, the winds were light and Amanda suggested we set off for Dungeness Spit, halfway between Port Angeles and Port Townsend, so we did. Now that crew were more proficient at helming, we were able to set the autopilot while Amanda taught 3-strand splicing. Wildfires in central and eastern Washington provided a spectacular sunset while we anchored just off the picturesque lighthouse in very sheltered conditions.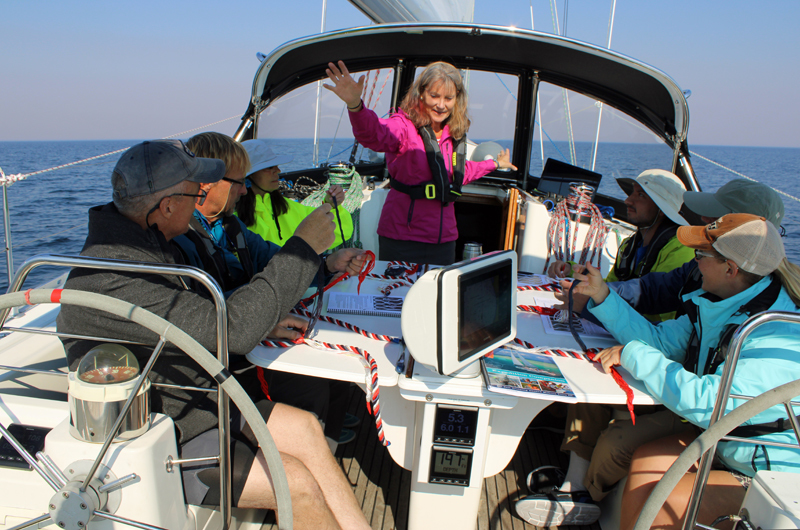 Three-strand splicing was mastered by all.
We had an early night and by 0700 everyone was up so we chose to raise the anchor and set sail for Lopez Island. Geo had very carefully plotted our course and entered waypoints for Watmaugh Bay on the SE tip of Lopez, but with very calm conditions and as an extra navigational exercise I suggested we instead explore Macaye Harbor, inside of the SW tip of Lopez.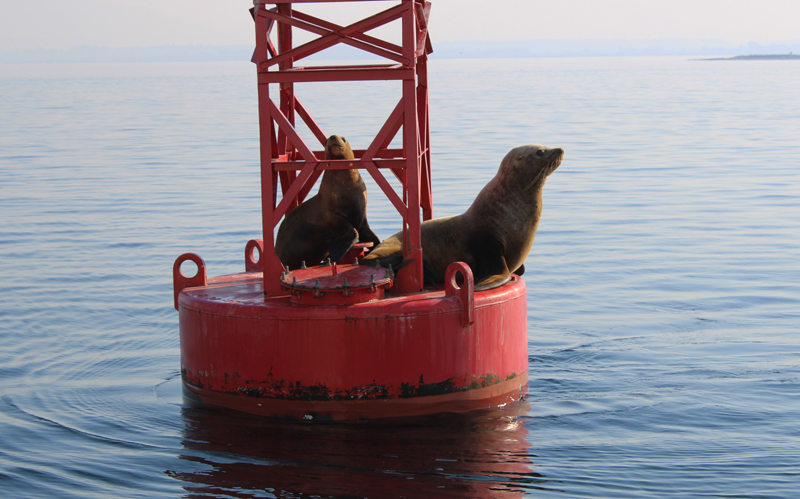 California sealions provide comic amusement as we pass a buoy. It was a treasure having Julie aboard as her extensive marine knowledge helped enlighten us. Do you know that elephant seals can dive down 2 miles in search of their favorite food which is giant squid? Oh, and they go to sleep on the way down to conserve energy.
We arrived at an excellent anchorage just off the county park and dock and I taught Anchoring Techniques Worldwide before we got underway for Anacortes. Wednesday was one of the warmest days of the year and we all kept peeling off layers as we go closer to Anacortes.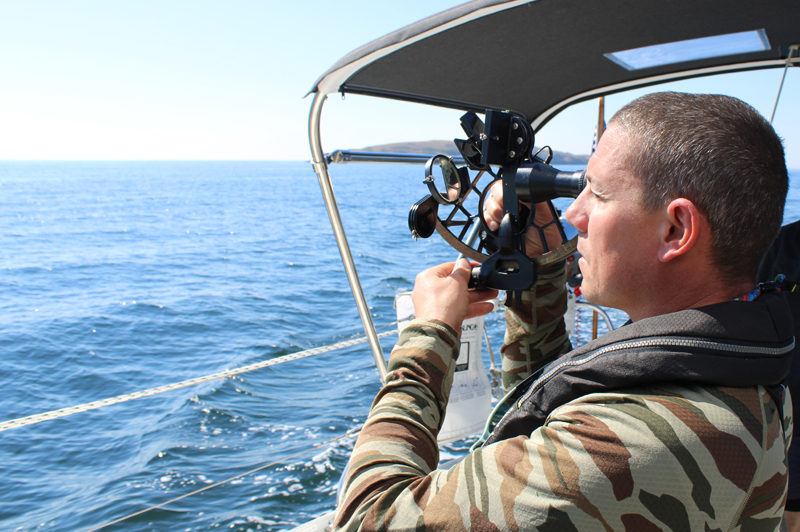 Gio takes a noon site on route to Anacortes
City-owned and immaculately kept Cap Sante Marina has an ever-changing assortment of interesting yachts and boats of all sizes, and this visit was no exception. Since every one of Leg 1 expedition members is looking for a cruising boat, they walked the docks with great enthusiasm, checking out several boat with FOR SALE signs.
Thursday morning was out half-day of instruction at Skagit Valley College's Marine Tech Center and director Mike Beemer was in top form as he detailed the latest and best in new electrical power storage and generation options before diving into a hands-on diesel engine demo. Mike was especially proud to show off the Westsail 39 the college had recently purchased as a rebuild and refit project for the marine training program. View their progress on YouTube: SVC Skallywags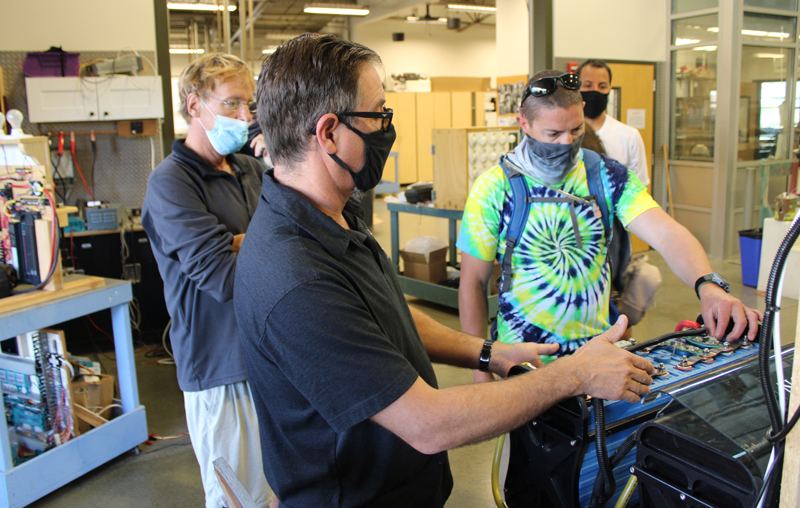 Mike explains the importance of battery monitoring.
Before we knew it, it was time to set sail for Bellingham, but not without some serious docking practice. Every EM practiced docking on the partially empty guest dock, with several even practicing backing into empty slips.
Bellingham Bay provided an excellent place to practice our modified Quick-Stop Lifesling overboard rescue procedures, with everyone acing the rescue.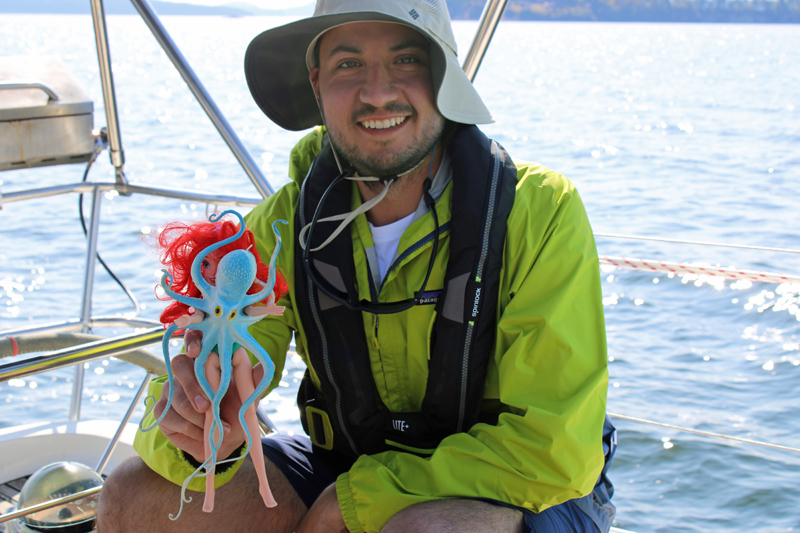 Scott was told by his three-year-old daughter to take one of her dolls with him. Here's Dolly with a new marine friend.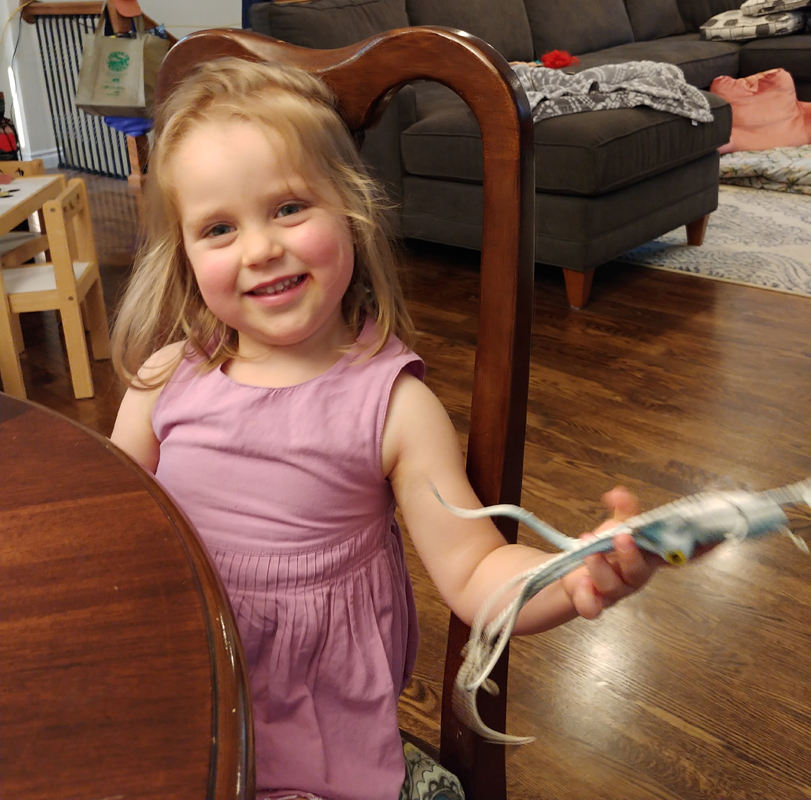 Upon his return home Scott sent us this image of Helen lovin' Dolly's friend.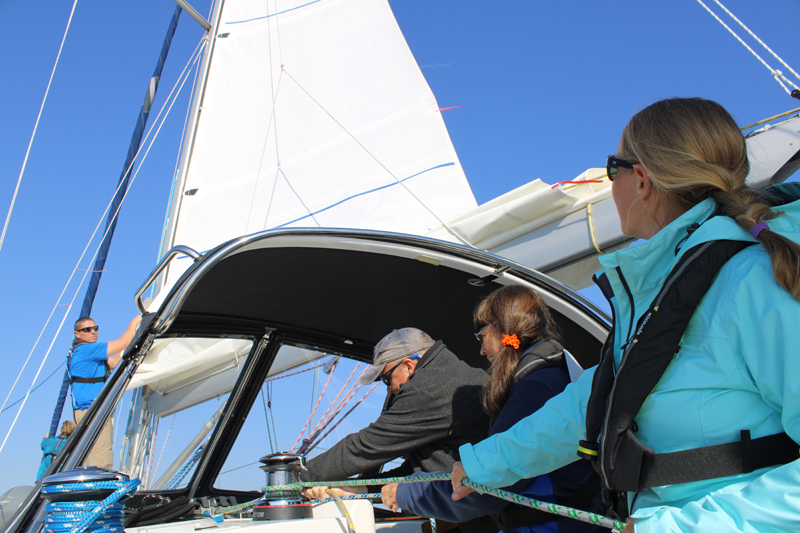 Tio Bob, "Capitán del Día", lends a hand as Team Enterprise crew members Gio, Alice and Julie lower the main for the final time,
And then…we were back in Misty's slip, ready to wash down, go through Selecting an Ocean Cruising Boat PowerPoint seminar and share a serious dock-walk through the marina, pointing out and discussing merits and detractions of dozens of different cruising boats.
Here is our awesome Enterprise Leg 1 crew:
Julie, 35
What better way to commence the transition from landlubber to mermaid than spending a week at sea! My husband Gio and I are starting our cruising adventure in the new year and arrived on this expedition excited to progress our sailing skills, learn navigation and gain offshore experience. In my non-mermaid life, I enjoy marine natural history, my chickens and tie-dye projects. (Julie is a scientist for National Park Service and has worked at a wide range of different parks. One of the nights when she was storyteller, she gave us a great briefing on the pinnipeds of the NW and how to distinguish between seals and sea lions)
Hello, my name is Gio. I'm 37 and have lived in the Mohave Desert of Arizona for the past 12 years. In that time, I've been a fish biologist for US Fish & Wildlife and a self-employed contractor. My passion is spearfishing and adventure and my wonderful wife. We both have a deep passion for the ocean and have decided to realize our goals of self-sufficiency as cruisers and dining in every ocean of the world.
Scott, 34
I'm a demographer living in Snohomish County, WA with my wife, daughter, and soon-to-be-born son. Before I left on this expedition my daughter wanted me to take one of her dolls with me. It was a highlight of the trip to take a selfie with her doll overlooking the Pacific Ocean. The view of the Milky Way seen from the cockpit as we were returning from the ocean was a close second. I can't wait to go sail the world with my family!
Bob, 52
I'm a desert rat from Arizona with limited sailing experience other than ASA training and desert lake sailing on my Hobie Cat. I've truly enjoyed this expedition as it's opened my eyes to the reality of cruising and sailing.
Alice
As a nurse I've always had a love for life. To see the whales, seals was exciting and viewing the Milky Way at midnight without city lights was truly spectacular.
Chuck, 59
I'm from Vancouver, WA on the Columbia River where I previously sailed my Cascade 29, out of Hood River, OR, usually triple-reefed with a storm jib in 35-45 kt winds. Right now, I sail with a friend and am planning on purchasing a 40' blue water sailboat within a year and leaving within three