Refit Success!
In May 2014 we set sail from Auckland, New Zealand for a 20 year, 200,000-mile refit in Sweden. We took our time enjoying the journey with stops in Tahiti, Rarotonga, Hawaii, Alaska before leaving our boat for the winter in Sidney, BC. Our next season included landfalls in San Diego, Mexico, Cocos Island, Panama, BVI's, Azores, Ireland, Scotland and Norway before leaving Mahina Tiare in a boatyard an hour north of Gothenburg.
That first winter Mahina Tiare spent at Adams Boatcare where she got new teak decks (2mm thicker than the original and vacuum-bagged without any fasteners), a new motor, shaft and prop, two (12 & 24 volt) new Mastervolt Chargemaster battery chargers plus all new thru-hulls and ball valves. All went well with the refit and a year ago we did a shakedown north to visit Oslo for the first time before setting sail on 8,000 miles of sail-training expeditions to Orkney, Tromso (northern Norway), Bear Island, Spitsbergen, Iceland, Faroe, Scotland and then back to Sweden last September for the final refit at Broderna Martinssons boatyard where we'd had our 10-year, 100,000 mile refit done.
This past winter's final refit was a lot easier on the budget, with only the fridge and freezer, all electronics including radar and autopilot replaced, rudder seals and bearings, steering gearbox, genoa plus standing rigging and lifelines.
Why Sweden when we could have had the same work done for a similar price in New Zealand, Sidney, BC, Seattle or San Francisco? Partly as a reason or excuse to sail back to Spitsbergen and to explore Iceland for the first time, and partly because we really enjoy working with Swedes. Their work ethic, sense of design, 10,000 years of boatbuilding tradition all counted. Also figuring into the scenario was the fact that this was where MT had been built and the source for the engine, rigging and some of the hardware we planned to replace.
The island of Orust, an hour's drive north of Gothenburg has long been a hotbed of boatbuilding excellence, but since the decline in new construction, many of the yards have turned into refit specialists, with owners sailing or shipping their boats from all over Europe and Scandinavia and even some from the US.
When I was shopping for new instruments, I asked boatyard owner Hakan Martinsson about the quality of the sub-contractor he used for installing electronics. Hakan simply answered, "They get it done. If there is a problem, they come at night or on the weekend, but they always get it right."
We just had cause to test that statement. Months ago I had asked the electronics installing company if they could send a tech out three days after we returned to test out the electronics which had been installed while the boat was in a huge, heated hall for the winter. They did, and on our shakedown, when the tech turned the new autopilot on, the boat veered hard to starboard. In seconds Per Martin dove below into the aft cabin, lifted up the mattress and switched out two wires on the pilot control unit. A couple minutes later, that was resolved and he went through the instruments, quickly calibrating and adjusting. We headed back to the yard and thanked him. A week later on a six-mile jaunt south to the yard where MT had been built, the depth sounder went blank after five minutes, and didn't start sounding again until we were moored. A call to Per Martin and he said it was most likely the junction box but to be certain, he ordered both that part and a new triducer. He arrived, installed the box, and it worked perfectly on a test run and he then installed the very latest update that had just been issued. Later that night we noticed that neither the chart table or aft cabin repeaters showed depth or speed. An emailed reply said that he thought when he installed the software update the two repeaters had lost their settings. He forwarded a PDF of the entire 115-page installation and operation manual, plus a note saying to read page 39 and follow the directions for resetting. That did the trick!
Here is a list of what we've replaced over the past two winters, why we chose the suppliers we did and how it has worked out.
Engine: Our original Volvo TMD31L 95 hp engine was still running perfectly after 14,000 hours, never broke down or used oil, but the cost of replacing it was within $2000 of the cost of rebuilding. The Volvo D2-75 has mechanical, not common-rail injection and is 260 lbs lighter. It has proven more economical, much quieter and has increased our top speed from 7.9 to 8.5 kts. In actual fact, the speed increase is likely due to a switch from Maxprop to a Flexofold propeller.
Prop: The stopping ability and non-spinning when sailing were great aspects of the Maxprop, however, after having to have it rebuilt three times over 200,000 miles at a cost of $1200 each time, the reports of the simplicity and improved efficiently I heard from several owners and the reports of two propeller tests tipped my choice to Flex-O-Fold. An added bonus is that the Flex-O-fold feathers with blades trailing aft, instead of sticking out to snag lines.
Instruments and Autopilot: Our 20-year-old Autohelm ST50 instruments had proved to be reliable, but it had become increasingly difficult to find parts and the Autohelm linear drive Type 2 autopilot had become occasionally erratic. We'd replaced the original R20X radar when it died at ten years, but chart cartridges were no longer available in the format required by the C80 that we replaced the original with.
Frigoboat Refrigeration and Freezer: Our keel-cooled fridge and freezer systems were working ok, but we'd had to have refrigerant added several times and they were no longer as efficient as when first installed. The cost of replacing both including labor was the equivalent of US$3400 and the replacements are using considerably fewer amps, only rarely coming on.
Aqua Signal LED Nav Lights: The original Aqua Signal lights were large, and occasionally filled with water, plus the red and green lenses would turn frosty white every seven years, so replacing them with much smaller, hopefully more watertight LED's will prove a good solution.
Mastervolt Chargemaster Battery Chargers: For the past 20 years we used a heavy portable step-down transformer to turn 220 volts into 110, temporarily perched under the dodger. It was a hassle to drag it out from bilge stowage, so many times I didn't plug us in when free shore power was available. Christer Verta at Adams Boatcare did an excellent job of installing two Mastervolt Chargemasters (one for each our 12 and 24 volt banks) and they have worked very well. We are surprised how many marinas and docks in Scandinavia and Europe have free shore power included with moorage. When we return (briefly) to the lands of 110 volts in Panama and Hawaii, we'll simply plug a 110 volt cord into the second power inlet. Simple!
---
Leg 1 – 2017
May 6, 2017, 0200 hrs, 58.45 N, 000.29 W, Log: 200,406 miles
Baro: 1024.7, Cabin Temp: 63 F, Cockpit: 59 F, Sea Water: 48.5F
Beam reaching at 8.1 kts with 15 kts NNE winds just abaft the beam
OFF ON A GRAND ADVENTURE!
After a 30 hrs of motoring at the start of our North Sea passage the winds have filled in and we're having a very smooth sail as we pass the pass the prime meridian, re-entering the western hemisphere. Yesterday we passed through the oil fields. Production platforms and their flares dotted the horizon and each platform had a rescue boats standing by. Traffic has been quiet since although twice tonight we've altered course a few degrees to ensure at least 1-2-mile separation as 200' bottom-dragging fishing boats passed by.
While Amanda and I enjoyed the winter based on San Juan Island interspersed with boat show seminars, Mahina Tiare got the second half of her 200,000-mile refit, this time at Broderna Martinssons boatyard, just 8 miles of the Hallberg-Rassy yard where she was built. The previous winter at Adams Boatcare she received new teak decks, a new engine, shaft and prop, all new through-hull fittings and new battery chargers. This winter's projects were less extensive and, thankfully, less expensive; replacing rigging and lifelines, Raymarine instruments including radar and autopilot, Lewmar/Whitlock steering gearbox, Andersen halyard winches, Elvstrom experimental 120% genoa, Aqua Signal LED running lights, Frigoboat refrigerator and freezer. All the gear we replaced still worked (although the autopilot, which we rarely use was getting erratic) but after 20 years and 200,000 miles of use, it was all well-worn. As we enjoy and plan to continue running expeditions for several more years, I felt it made sense to replace the gear where it was not only reasonably priced, but it could also be installed by skilled technicians who were daily involved in refitting HR's.
With 16 days from when we landed in Sweden until our Leg 1 crew arrived we had plenty of time to prepare, and for the first time in 28 years I was ready a day early. Inevitably we always experience some last-minute glitches, and this year the Iridium phone which I'd tested two days earlier refused to connect when I again tested it on the morning our crew arrived. After trying our spare computer and second Iridium phone I learned that the problem might be system-wide with Iridium. We reloaded the program and driver and appeared to get it working.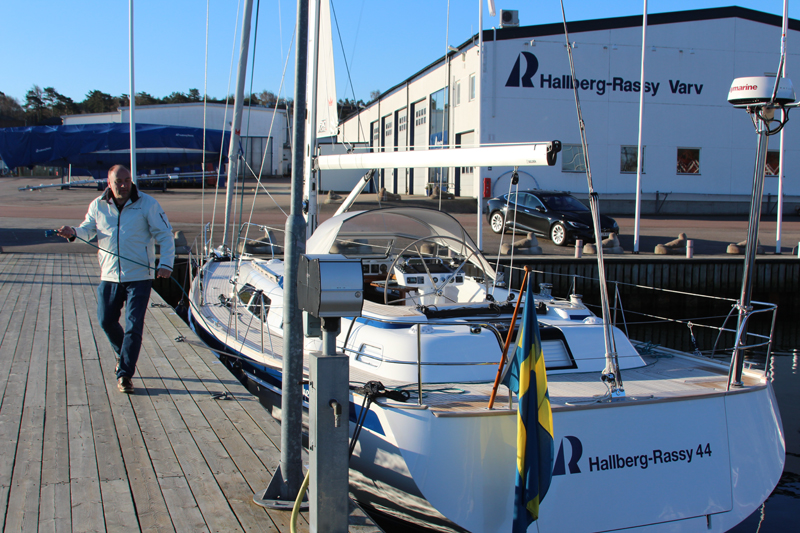 Magnus Rassy and the new HR 44
While we prepared for our expedition season we enjoyed catching up with Magnus Rassy who is passionate about the developments on the new HR 44. Last September we'd been aboard but there'd been no interior. Now the boat is complete (and was a big hit at the huge Dusseldorf Boat Show) and most weekend's and holiday's Magnus and frequently his wife Mellie plus their daughters are out sailing.
Also a big treat was to have Leg 2-2011 expedition members Per and Annika moored next to us aboard Albatross, their HR 48, as they prepared to sail for the Med. Annika made us all a wonderful traditional Swedish dinner and we enjoyed several sunset walks together with Charlie, their keen Labrador.
As several of our expedition members had expressed interest in touring the Hallberg-Rassy yard, and as Monday was a holiday, we spent Monday afternoon going over safety systems and reefing, spending the night at nearby Gullholmen, a quintessential Swedish west coast fishing village before returning to the HR yard Tuesday morning for the boatyard tour. Harvey had recently ordered a new HR 412 so was keen in learning more about how these boats are built and everyone enjoyed checking out HR 44 hull #1, a new twin-ruddered German Frers breakthrough design.
After lunch, we set sail for Mandal, Norway, 135 miles to the west. Tuesday was the warmest day of the year to date with a cloudless sky, following winds of 10-17 kts and flat seas, making for a very enjoyable overnight crossing of the Skagerrak. Our crew practiced rigging the preventer, gybing and we even needed to tuck a reef in at one point. As we approached Mandal the wind increased so we tucked a second reef in then furled the genoa, sailing through the channel and nearly to the guest harbor before dropping the double-reefed main.
Everyone took off to explore this small seaside town after lunch, and here's Tara's account:
We found lots of little shops and restaurants including Proviajen where a few of us had homemade Kambuchai beer and amazing baked goods including yummy cinnamon buns, apple muffins, bread and cookies. Evelyn, the owner and baker brought us an assortment of things to try and we had to bring back some fresh bread and chocolate chip cookies to the boat.
It seems like we're always early or late in the season when we visit Mandal and this time was no exception as we were the only visiting yacht in this harbor that we hear is totally packed during summer. As the harbor office and guest showers were locked, our adventuresome crew headed to the local community pool and sports complex for showers, and saunas. Harvey and Doug forgot to bring swim shorts and said the local boys in the locker room had a good laugh at them trying to be modest with only small towels as they headed to the sauna!
For the first seven hours after setting sail from Mandal we had 20 kts from astern, so we got more practice reefing, rigging the preventer and setting the whisker pole. By 1700 the wind went very light and for the first time ever crossing the North Sea, we had to motor 30 hours until midnight last night when a nice NNE breeze filled in.
May 10, 2017, 0200 hrs, 59.22 N, 002.22 W, Log: 200,529 miles
Baro: 1004.7, Cabin Temp: 58 F, Cockpit: 59 F, Sea Water: 48.0F
At anchor, North Ronaldsay Island, Orkney
We held our surprisingly fine broad reaching conditions all the way to Kirkwall Harbour entrance, dropping sail and entering to find two other cruising yachts on the visitor's pontoon. Our crew were keen for the convenient showers and to explore town. Doug joined Amanda and I at The Reel (outlasting us by several hours) for an enjoyable session of Orcadian Celtic fiddle music and singing.
Sunday was a free day and sadly three of our crew decided to head for warmer climes. Doug and Billy braved a blustery day finding a keen and knowledgeable taxi driver to show them several of the Neolithic and WWI historical sites while Amanda and I took the bus to Stromness to check out the museum's exhibit on Orkneyman John Rae's discovery of the NW Passage.
Monday was a fine day and we set sail for St. Catherine's Bay on Stronsay Island, population 300 which our crew figured would be well protected from the current northerly winds. We found a very secure anchorage surrounded by curious seals and launched the RIB to go hike or hitchhike to (I thought) nearby Whitehall Village. The tide was out miles and it was a chore to roll the dinghy over soft sand, hopefully far enough from the incoming tide. Before long Doug, Amanda and I hitched a ride with what we later learned was the island taxi. The owner informed us he was a fisherman and a crofter (small farmer) as well as using his car as a taxi. When we were at the turn off for Whitehall, Amanda and Doug said, "Let's go to the Vat of Kirbester which turned out to be at the other end of the island. We hiked some distance from the end of the road to the arch, but all the time I was concerned that the incoming tide might float the RIB away.
We started walking back and fortunately a woman on her way to the twice-daily ferry gave us a ride most of the way and Amanda sprinted the last mile or so, only to find the dinghy still well above the tide line.
Yesterday we had an excellent sail 20 miles to North Ronaldsay, an island we had long wanted to explore for the Stevenson lighthouse (tallest in the UK) and the ancient breed of seaweed-eating sheep. The forecasted 15 kt WNW winds made the anchorage in Linklet Bay, directly off the famous lighthouse a dream. Dropping our shiny new Ultra anchor in just 17' of water we let out 150' of chain and spent several minutes in reverse to ensure the anchor was well set as we planned to be away exploring much of the afternoon.
The long stone pier built in 1853 for the construction of the lighthouse was a perfect dinghy landing site and once ashore we were met by Mark, chairman of the island council who asked if we would like a tour of the wool mill and lighthouse.
The woolen mill is only 12 years old and came from Cape Breton Island, but allows the islanders to mechanically process the wool. There is a larger demand than supply, so this really helps provide jobs and income. Helen Galland, www.woolywally.com, the woman running the mill, never stopped moving from station to station. Helen also runs the visitor's center, café, bike rental, farms and is an airport firefighter!
The island council purchased the lighthouse and associated buildings and has turned it into a museum, café and several guest houses. Helen led us and a group of Scottish birder watchers up the 176 stairs to sweeping 360-degree view, which on a clear day stretches to Fair Isle, 27 miles ENE to Kirkwall, 30 miles south. We could see Mahina Tiare patiently waiting at anchor, but couldn't see the dinghy tied to the wharf.
We'd offered Mark afternoon tea aboard and he met us back at our dinghy bearing gifts of the island lamb sausages made in Kirkwall to his recipe. Oh No! not only was the dinghy high and dry on the kelp, it was 50 meters from the water! Amanda and I clambered into to it, put on our boots and stepped out onto the kelp only to quickly sink down to the tops of our boots. We considered lifting the motor and dinghy up onto the stone slipway and carrying it down to the water, but after testing the slipperiness of the stones on the water's edge, decided that waiting for the tidewaters to return would be a safer option.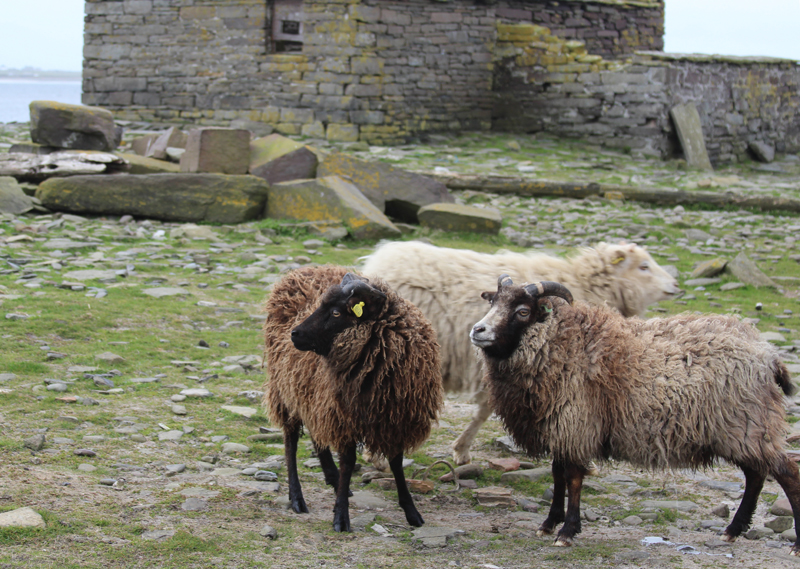 The unique seaweed eating sheep of Ronaldsay. They only like the fresh kelp!
Mark said, "Right, you guys want a tour of the island?" and off we sped, to see every corner of this very flat 1.5 x 3-mile rock, passing thousands of the ancient sheep, many with very small lambs. We saw the water purifying plant that Mark runs, the very old church slowly being repaired and the outside of the laird's (owner of the island) house before he dropped us back at the lighthouse museum where we enjoyed watching historical films about servicing the lighthouses until the tide refloated the dinghy at 7 pm.
Doug, our navigator for today plotted our course and waypoints for the 28-mile passage from North Ronaldsay to Fair Isle, and at 0700 this morning we set sail. The stronger winds and change of direction to headwinds brought on by the frontal passage haven't occurred yet, and hopefully we'll have the anchor down at Fair Isle before they do.
---
Leg 1, 2017, Update 2
May 17, 2017, 1300 hrs, 60.20 N, 001.01 W, Log: 200,628 miles
Baro: 1014.7, Cabin Temp: 63 F (no heater, hooray!), Cockpit: 68 F, Sea Water: 49.6F
Symbister Harbour, Whalsay Is., Shetland
Our 28-mile passage from North Ronaldsay Is., Orkney to Fair Isle was windless, and just as we rounded the spectacular Stevenson lighthouse on the southernmost tip of the island, we also passed Swan, a 70' traditional Shetland fishing ketch. On we entered Fair Isle's tiny North Haven, we noticed a puff of smoke when The Good Shepherd, the local sheep, cargo and passenger vessel started up her engine. We figured that rafting alongside would not be an option since they'd shortly be getting underway so we turned and prepared to anchor in the fairway. We then noticed a crew man motioning us to come alongside, and when we were within hailing distance Kenny, the engineer, wouldn't hear of us anchoring off and welcomed us to tie alongside until 0700 the following morning.
Kenny was only running Good Shepherd's generator as part of the routine servicing and happily gave us an engine room tour. He told us the ferry was built 30 years ago with the intention of only lasting 10 years, but was still going strong. North Haven is so rough in the winter that immediately after each of her three sailings per week to Shetland Mainland they must haul her out on her marine railway adjacent to the wharf.
Doug and Billy went off exploring and enjoyed visiting with the staff and birdwatchers at the Fair Isle Bird Observatory. Doug, not wanting to waste a chance to explore, then chose to battle the weather with a hike all the way to the south lighthouse while Amanda and I ventured off to the nearer north lighthouse.
Always thinking ahead, Amanda and I took our charts and cruising guides aboard Swan, the 1900 Shetland-built herring schooner (now a sail-training vessel). She'd been on a day sail around Fair Isle with the school children and was heading to Kirkwall to do the same there. Steve, a volunteer crew and active Shetland sailor, was most helpful in suggesting many interesting anchorages and harbors and some of the local sites we shouldn't miss.
Early Thursday morning we were up and anchored out in the fairway ready to be ashore in time to tag along on the warden's morning bird trap rounds. The traps are located at numerous sites that include a few stone fence runs, gulches and small patch of bushes nicknamed the plantation in which they keep a bird feeder. Richard collected two bramblings (similar to a chaffinch) plus a rock dove and upon our return to the bird observatory we watched him weigh, band and release them.
We'd plan to spend a second night at Fair Isle waiting for forecasted fresh NE headwinds to diminish, but by noon the wind was still SE and very favorable for a passage to Shetland, so following Diesel Engine Essentials class we set sail. The 11-14 kt SE winds gave us a very smooth broad reach for the 31-miles to Shetland's southernmost bay, Grutness Voe, located on the east coast just around the corner from the impressive Sumburgh Head lighthouse, yet another built by the family of Robert Louis Stevenson.
Following Customs & Immigration Worldwide class the next morning we launched the RIB and used the end of Good Shepherd's pier to land. We met Gordon, the farmer whose land borders the wharf as he was checking on his 30 Shetland ponies; seven of which had foaled within the week and another five that were just about to foal. It's a 4-hourly check on the pregnant ponies in case a foal gets stuck while being born and requires assistance.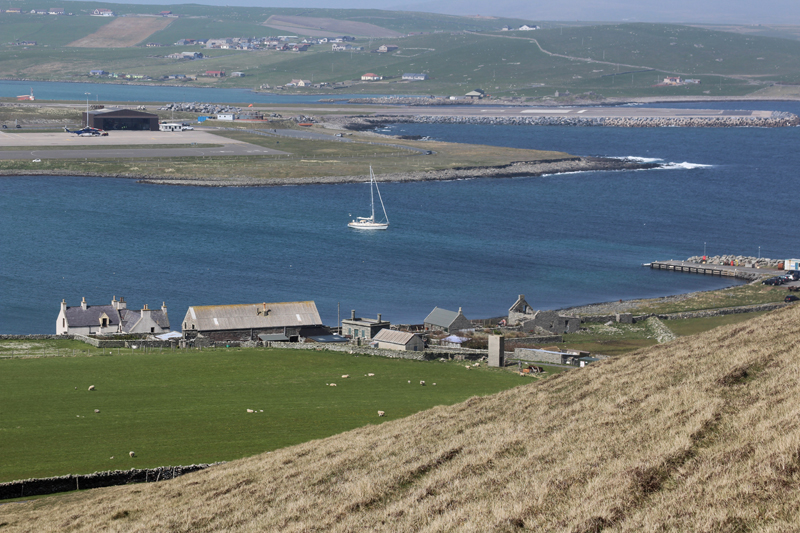 View across the anchorage at Grutness Voe to Sumburgh Airport
The 1.5-mile hike to the Sumburgh Head Lighthouse was windy but the sunshine offered stunning views. The lighthouse and surrounding buildings have been turned into an impressive visitor center and rental cottage and we fantasized about returning one day without MT and renting the light keepers cottage for a couple nights.
As the predicted frontal passage arrived with winds to 35kts the nine-mile passage north to Levenwick Bay provided very good reefing and heavy weather helming practice, resulting in keen competition between our helmsmen to see who could achieve the highest speed surfing down the impressive North Sea swells which reached 12' for a time. Doug was the likely winner with 9.6kts, but Billy was very close behind with 9.4 kts.
Going ashore at Levenwick, the only bay offering protection from the SE winds, was out of the question as surf pounded the beach all night and morning. Following breakfast Amanda pulled our now-spare Lewmar winch out of storage and taught how to dismantle, clean and lubricate it. Next was a review of necessary knots and the splicing three-strand line.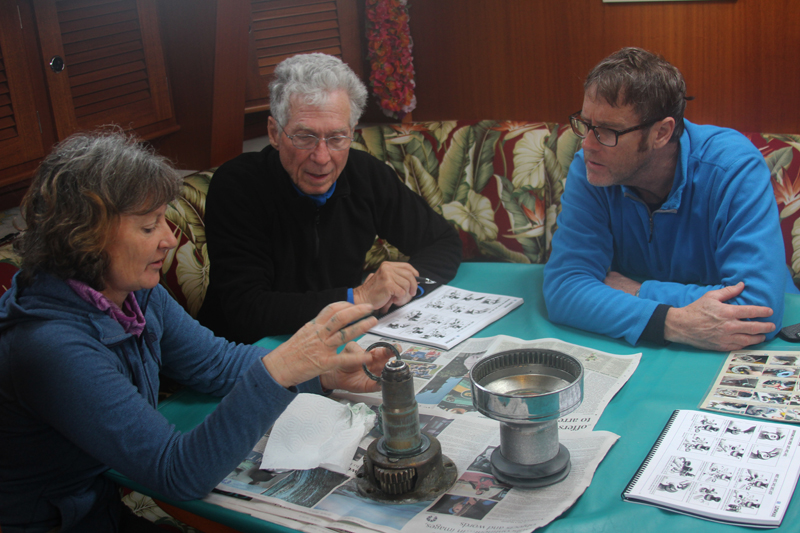 Winch servicing class is certainly easier below than a windy rainy rolling deck!
We'd planned to anchor off Mousa Is. to explore the Neolithic brough (fortress) but with wind gusting into the mid-30's and a wee bit of rain we reworked our navigation. Instead we carefully rounded several lee shore headlands before easing sheets and setting off on a very brisk broad reach for Lerwick. We'd arrived a day early but Lerwick was certainly a calmer spot for our final classes that included docking practice, going aloft for rig inspection and man overboard under sail.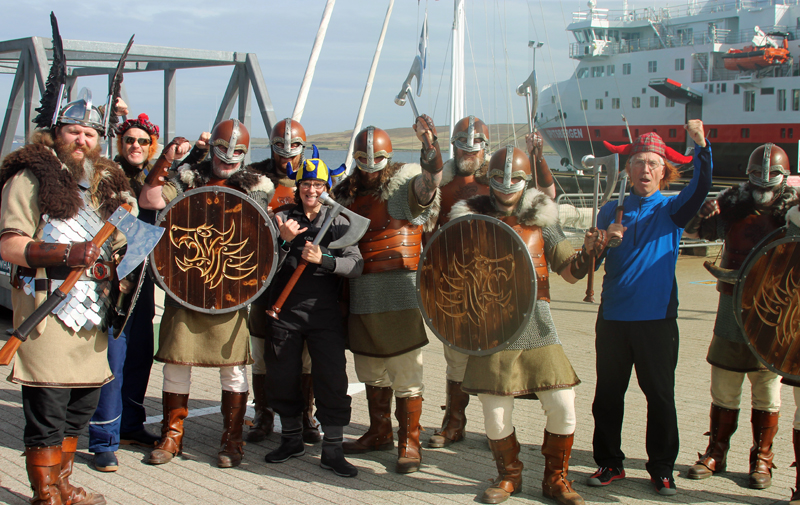 Lerwick waterfront in full swing with a Hutigruten cruise ship, MT's crew and Shetlands infamous Up-Helly-A lad's
Monday noon Billy and Doug caught the bus to the airport and were off on more adventures. Billy was heading to the boatyard in Scotland where he plans to store his Valiant 42, Eleanor this winter following a northern Atlantic Crossing from Cape Breton and Doug was off to look for a suitable boat for his Northwest Passage attempt.
Amanda and I enjoyed a few fun runs and hikes around Lerwick finding the community pool and Tesco supermarket (we'd missed both on our previous short visit here) plus clocked up numerous tips to the tourist office to gather info what's not to be missed. We were also delighted when KiwiRoa arrived as we'd met Peter Smith, the New Zealander who'd invented the iconic Rocna and just released Vulcan anchors, and his partner Marlyse last summer in Iceland. They were then deciding between sailing to Svalbard (80 degrees North) or heading off for the Northwest Passage but in the end another season in Portugal won. They're now setting sail for Svalbard and thinking about transiting the Northwest Passage next summer. These guys are true adventurers!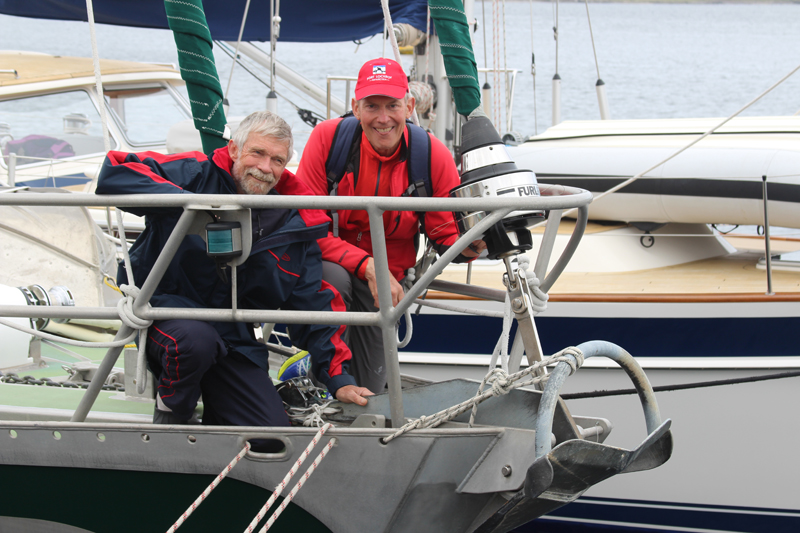 Peter Smith proudly singing the praises of the Rocna anchor. The poor bloke nearly keeled over upon sighting our shiny new Ultra anchor and went as far as offering us mates rates if we replaced it with an anchor of his design.
With the onset of summer Lerwick's waterfront is bustling with cruise ships, ferries, roadworks and visiting yachts. Amanda and I decided some quiet was in order so we set sail yesterday in a forecasted gale for Whalsay, an island 12 mi N of Lerwick. With winds gusting to 42 kts, we gybed downwind under partial genoa alone and were very pleased to reach this very well protected commercial fishing harbor.
We've already started reviewing charts for Leg 2 during which, weather permitting, we hope to visit several new ports in the Faroe Islands and the elusive St. Kilda in Scotland's Outer Hebrides.
Resources used for Leg 1, Ellos, Sweden to Lerwick, Shetland, Scotland
YR.NK NRK Met Institute – Excellent Norwegian government weather site
WINDYTY.COM: Worldwide GRIB forecasts utilizing both EU and US forecast models
www.northronaldsay.co.uk, www.northronaldsaytrust.com
Cruising Guides:
The Scottish Islands, Hamish Haswell-Smith
Clyde Cruising Club Shetland Islands
Charts:
British Admiralty: 1042, 2249, 2249, 1239, 3283, 1119, 3299
Norwegian: 1
Imray: C68
Electronic Charts:
C-Map running on Rose Point Coastal Explorer
Navionics Silver running on both our lovely new Raymarine MFD's (multi-function displays), one at the chart table, and for the first time, one in the cockpit under the hard dodger
---
Leg 1 Itinerary