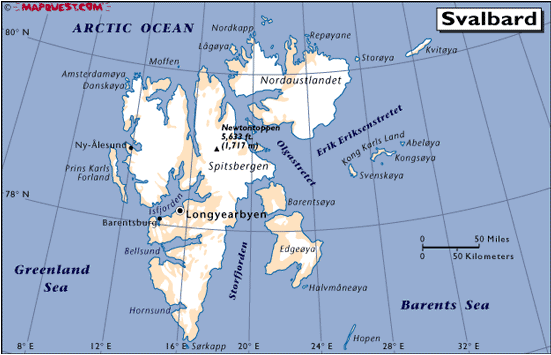 Leg 2-2007 Tromso to Longyearbyen
July 5, 2007, 1530 hrs, 78.14 N, 15.42 E, Log: 109,289 miles
Anchored across from Longyearbyen in Adventfjord, Spitsbergen
Baro: 1030.0, Cabin Temp: 65F, cockpit 52F
We had an excellent start to Leg 2. Crew joined at noon on Tuesday, June 19, and we soon sailed north for Spitsbergen. Ten miles north of Tromso we anchored for the night at Finnroken, 69.50 N, 19.26 E, a protected little bay flanked by jagged snow covered peaks with a few houses scattered along the shoreline. When the anchor hit bottom Amanda produced three sets of cod jigs and with in an hour, both from boat and dinghy, our crew and Amanda had landed ten fish, enough for a tasty dinner and next days lunch.
Our plan had been to spend Wednesday night at Torsvaag, a whaling and fishing village which is the last settlement and jumping off spot for Spitsbergen. However, with an excellent forecast we decided to head north. Winds were very light and the sea was unusually calm that night and the next morning, but slowly the wind filled in and we were off on a sweet, smooth broad reach making 5-6 knots in flat seas.
Bjornoya, or Bear Island lies at 74.30 N 18.59 E nearly on the direct course from Torsvaag to Spitsbergen, but few vessels visit due to its isolation, precarious anchorages and frequent lousy weather. The extension of the Gulf Stream splits around the island, and the Byornoya Current sets opposite at over a knot. When we passed the island in 2001, we encountered contrary currents of several knots, whirlpools and patches of very dense fog and to top that off with a large confused swell crashing into the foreboding cliffs. We didn't even contemplate anchoring.
What a different story this year! We closed on the island at 1000, broad-reaching at 6.5 kts in flat water. The island is approximately 10 x 10 miles and the south coastline is a combination of ragged-looking cliffs with caves while the north fans out in to an even plateau with the occasional white sand beach. As it looked calm, we sailed the full length of the island to check at the anchorage off the weather station in Herwighamna Bay on the north tip.
With a southerly wind the anchorage was protected with 18′ of depth, and in a minute had launched the dinghy and zipped ashore. Our first shore party was greeted by a chap with radio who asked why we hadn't radioed to ask permission to land as the met station were in the middle of a fire drill. If we to called them in three hours at 1730, we would be welcome ashore at 1800. Back onboard MT, we ate lunch, then Amanda taught rig check and spares. Everyone else crashed for some much-needed sleep while Alec gave me a hand changing the engine and transmission oil.
At 1745 Byornoya Radio called inviting us ashore. Eivend, a jolly meteorologist and fix-it man from Stavanger, Norway met us on the concrete landing and showed us around the beach area and station buildings. Nine people including 2 cooks are stationed on the island for six months rotation. Duties keep everyone busy; maintaining the buildings, generators, launching weather balloons twice daily and sending weather reports back to Oslo. Three years ago, when the ice was thick, over 238 polar bears were sighted so they never go anywhere unarmed and keep husky dogs as bear alarms. Five huts are scattered about the island and everyone enjoys year round exploring either by hiking or cross country skiing. During WWII the Germans set up a weather station and we hiked with Eivend to a German Junkers bomber wreck.
| | |
| --- | --- |
| Eivend with Mahina crew | Met staff taking bear protection husky for a hike |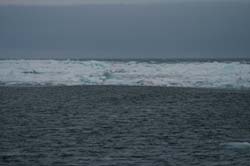 Dense ice at entrance to Hornsund
With continued fine weather, we set sail that evening with pleasant reaching conditions. Shipping activity supplied plenty of entertainment and we sighted the Polish research vessel Oceania, several Russian trawlers and two Norwegian coast guard ships, one towing a Russian trawler that they had arrested for illegal fishing.
At 1200 Alec yelled, "Land HO!" and sure enough, through the clouds and fog we saw a very rugged mountainside. Soon scattered bits of ice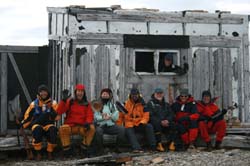 Crew at derelict trapper hut
become dense bands at times, forcing us further offshore. We didn't know if the entrance to Hornsund, 77 N, 16 E, our proposed first anchorage, would be free of ice. If it was ice-bound, we planned to try sailing north along the rugged coast until we found a relatively ice free anchorage. Thankfully we were soon clear of ice and broad reaching at 7 kts in 17 kts of wind! The patchy fog has lifted and we could see the stunningly rugged coastline, interspersed with huge glaciers on our beam and as we again closed on the coast a minke whale popped up close abeam, followed by several inquisitive seals.
John Anderson:
We entered Hornsund and had ice free water for the last seven miles before dropping anchor off the Polish Polar Research Station at Isbjornhamna on the north shore. The wind, as usual for Hornsund, was blowing over 20 knots and out of the east dictating one hour anchor watches through the night to fend off a couple of glacier growlers, but otherwise a generally quiet night. In the morning there was sufficient chop and adverse winds to make a trip ashore a rather wet affair. Instead we weighed anchor and headed across to Gaashamna on the south shore. The wind quickly piped up to 22 knots, but just as quickly dropped to 5 knots in the lee of Gaashamna. In short order the anchor was set, 

Pete – the ice water swimmer
dinghy launched, gun gathered and we headed off to the shore in bright and warm sunlight. As polar bears are in the area, bear pepper spray cans were distributed, as were small hand-launch flares. After testing the flares and with Ken on watch with the rifle, we headed off. A short walk from the beach an old and weathered wooden hut stands amidst the ruins of a brick structure that is completely flattened; remains of several past expeditions made by scientists, whalers, and trappers. Large whale bones lay bleached on the rocky ground along with rusty tools, wild flowers and mosses that are slowly taking over the site.
When we returned to Mahina Tiare, Pete suggested a swim! Alec and I were game, so one-by-one we took the plunge followed by hot showers on the swim platform. With an invigorated crew, we raised the anchor and set sail for Isfjorden 78 N 16 E.
Soon after exiting Hornsund and heading northward the wind fell dramatically and as a double whammy the pack ice quickly increased until we faced a large ice band and began constantly fending off growlers.
| | |
| --- | --- |
| Ice band as viewed on radar | Mahina trying to find a clear path through ice |
While looking from atop the mast pulpits, no safe way through the ice could be found. Amanda donned the bosons chair and was hoisted to the mast head for a better view. From there it was clear that the fastest path was to simply skirt the entire ice pack by heading out to sea for 2 miles. Once clear of the ice, we were back on course to Isfjorden. My visit to Hornsund will be certainly be remembered for its clearing skies, warm air, cold water, and close camaraderie.
John Neal:
Our 130 mile overnight passage to the main settlement of Longyearbyen was along a dramatic coast in brilliant round-the-clock sunshine. As we passed the entrance to the extensive Bellsund Fjord, steady outflow winds kept us reaching along at hull speed for several hours.
Image 08 John taking a rare turn at the helm
By 1100 on Monday, June 25th we anchored off the T-pier and harbormaster's office. The one small float had a couple of boats on it, so we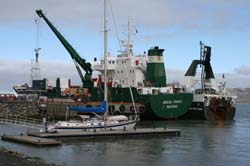 Longyearbyen yacht pontoon – ship wharf in background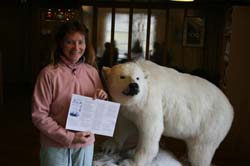 Amanda with landing permit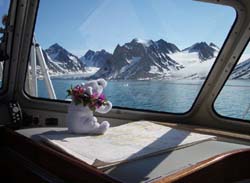 Sallyhamna – our newest crew – keeps watch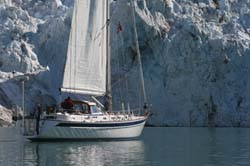 Looking for wind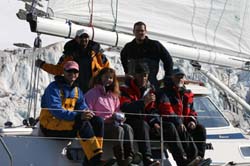 What a good looking crew
elected to anchor out. The harbormaster noted that one of the boats was soon leaving so we were soon able to tie to the float to top off water tanks and wash down. He also mentioned that we could fuel up in the morning when an expedition ship left the pier. This was a great surprise as in 2001 we dinghied jerry jugs to the gas station at the bottom of town, a very tedious process. The harbormaster's building offers showers and laundry facilities included in a daily fee of $35 US for either tying to pier/float or using the dinghy float. Pole Position, (www.pole-position.no) a new port agency offers shoreside services and logistics to private yachts and the 75 expedition ship visits during the short summer season. We learned that instead of the 15 private yachts that were visiting when we arrived in 2001, 50 are now expected over the next two months.
Our second town business was to check in with the Sysselmannen's (governors) office (www.sysselmannen.svalbard.no) letting them know we had arrived. Stein Tore Peterson from whom we had received permission to visit Spitsbergen offered us tea and made sure we understood the rules for landing ashore: always carry our rented 30.06 rifle and flares, don't disturb any graves or historical sites, plants, mammals or birds. We offered to take supplies to the Sysselmannen's personel stationed in Magdalene Bay, but he said they had only been dropped off at the hut a few days earlier and that would have plenty of supplies including a new bread machine but might appreciate our offers of hot showers aboard.
In Longyearbyen village center we found several new trendy outdoor supply shops, fur stores, a thriving supermarket, new housing plus loads of tourists from the recently docked cruise ship.
The following morning after fueling at the ships pier (diesel is US $4 per gallon) we set sail north, with the ultimate goal of reaching 80 degrees North, and hopefully sighting a polar bear or two. With headwinds of up to 20 knots we motorsailed, then sailed, finally dropping anchor in Engelsbukta at 2230. From the anchorage we watched reindeer grazing above the beach.
With brilliant, cloudless skies we got underway at 0600 on Wednesday, June 27th, stopping at Magdalene Fjord around noon. We had hoped to do a photo shoot of MT under sail in front of the glacier, but found the ice had receded dramatically from six years ago, plus there wasn't any wind.
Magdalene Fjord is one of the few places in Spitsbergen that cruise ships are allowed to anchor and land people ashore We dropped to anchor off the beach and went ashore to visit the Sysselmannen's hut where two personal are stationed for two-month in summer to make sure the bears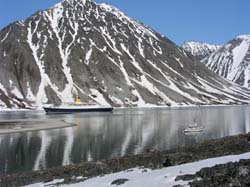 Anchored in Magdalene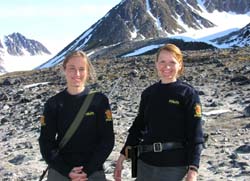 Policewomen Live and Cecilia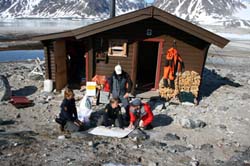 Live offering advice on anchorages
don't eat any more tourists, as happened here in 1977, and to keep the tourists from trampling the trappers graves and the tundra ashore. We met Live and Cecilia, city policewomen from Oslo, who were rather bright-eyed and fresh at their posting to one of Norway's most remote police locations. After being a little overwhelmed at the volume of visitors over the past two days they keen to take their open tender 35 miles north to the tiny trapper's hut at Sallyhamna which is their second base. Live spread a chart on the ground and showed us where polar bears had been recently sighted. We asked if they would like showers aboard but in true Norwegian fashion they exclaimed they preferred going for a swim in the 35 degree F water, as it was such a sunny day!
As we prepared to leave, the girls asked us if we would like some vegetables explaining that they had been left with more food than they could eat in two months plus the last cruise ship had just insisted they take a 25kg sack of potatoes. Our crew joked that they thought they would see those English Kent spuds hidden in every meal to come…perhaps they were proven right (he he!) – look for Amanda's "Spuds in Spitsbergen" Galley Essentials article to come.
We had planned to stay the night in Magdalene, but sunny skies, calm seas and word of recent polar bear sightings north beckoned so we spudded on to the magical anchorage of Sallyhamna on Spitsbergens NW corner.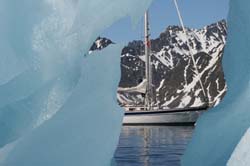 Heading north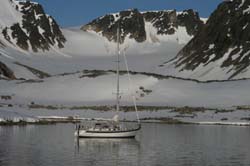 Anchored in Sallyhamna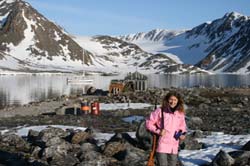 Amanda keeps bear watch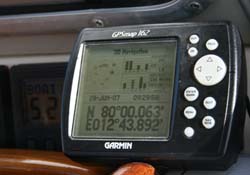 GPS at 80 north
It was 2015, sunny and clear when we anchored and headed ashore after quiche and…yep you guessed….baked taties. The tiny trapper's hut where we had enjoyed visiting the Sysselmannen guys six years earlier looked exactly the same, though cleverly boarded, from curious bears, with sawn driftwood. We explored the historic whaling sites and graves on the peninsula, all the time scanning the shoreline for bears as we saw many tracks through the snow.
Thursday, June 28, heralded another 0600 departure in calm and sunny conditions for Moffen Island, straddling 80 degrees North. NNE headwinds of 20-22 knots and very close headseas had built by 0900 and Alec suggested we give up Moffin directly to windward, and head straight north to cross 80 degrees latitude. After a quick celebration with Tiare Arctica flower leis (thanks to Ken!) we turned south discovering that two batten pockets ripped off the main. The choppy conditions demanded a combined crew effort to quickly drop the main and asses the problem. Amanda decided to remove the two offending battens and will set about repairing the damage in our week off. By tightening the spectra leechline a little more we could still sail with full main minus the two battens. – check out our next update for repair details.
Woodfjorden was our heading as over the radio that morning we'd heard the Zodiac drivers of two expedition ships exchanging of bear sighting information. It was slog to the entrance, and a fast reach down the fjord before tuning the corner to sail past a cruise ship and the Andoyane Islands. Amanda who had been intently scanning the shoreline with binoculars shouted, "There, on the far sound beach is a bear!" We motored in as close as we dared, dropping anchor in only 8′ with 22 knot gusty winds holding us off the beach. Ken thought he sighted the same bear further along the beach after lunch, but with the strong NE winds undoubtedly pushing the main ice pack closer to the fjord entrance I was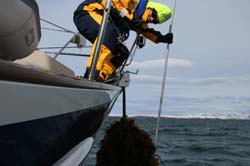 Ken frees kelp from the anchor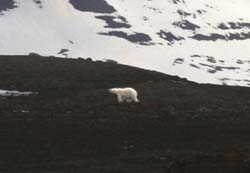 Polar Bear!
anxious to get back out to open water and headed south and NOT to get trapped. Upon pulling up the anchor the windlass lugged down heart wrenchingly then stopped and I suspected we might be getting into trouble. The potential was there as we had gathered huge bunch of kelp on the anchor. As Ken set about clearing the kelp, I checked the recently installed new windlass and discovered because it hadn't been tightened down properly when installed, it had pivoted on its bolts, pulling loose some wires. After ten minutes of work with an open-end wrench in the forepeak I had the windlass back in position and wires re-attached. We were sure glad to have it working again, and next time I will be more patient in clearing the anchor as soon as it breaks the surface.
In search of a polar bear we motored around another of the Andoyane Islands but gave up on the idea when we spotted tons of people strolling about on the island where we sighted bears in 2001. Upon leaving the islands we were keeping clear of 3 Zodiacs full of passengers returning to the Russian expedition ship when all of a sudden an Aussie voice came booming in on Channel 16 "Sailboat, if you want a bear mate, there's one here, it's all yours we're headed home." There it was….trudging quickly along the ridge before stopping to take look at us then pacing out of sight over the ridge. A few minutes later he popped up again, further down the island. WOW! Success!
Motorsailing into 24 knot winds for about 10 miles it was another slog to get clear of the entrance of Woodfjord but then we set sail on a powerful broad reach surfing along in winds gusting to 31 kts to arrive back at Sallhamna at 0300 totally exhausted. The anchor didn't hold in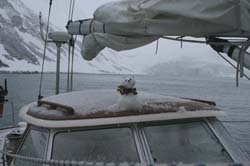 Snow bear keeps glacier watch
the gusty winds, picking up a huge clump of kelp, so we took Amanda's suggestion of trying the glacier-lined Holmiab Bay. We all got a surprise as we bumped the bottom near the glacier wall when the depth came up quickly from 50 feet and chose and anchorage in 26 feet on the bay's eastern shore.
Sleeping through a snowstorm that night we awoke to find the decks covered with several inches of snow. Amanda made a snow bear on the dodger top while Alec and Peter spent time trying to clear the decks of snow with buckets of nearly-freezing barely-salty glacial water.
Heavily snowing conditions persisted as when we raised anchor at 0950 back tracked to Ny Alesund, 45 miles south at 78.55 N, 11.57 E. As the whipped up to 30 knots out of the NNE and a twisting course was planned between several islands in poor visibility we didn't want to have to worry about repeated gybes and re rigging the preventer so we sailed the entire distance comfortably under headsail.
Throughout the afternoon the weather improved and by 2025 we were moored for the night to float at Ny Alesund, a research base for seven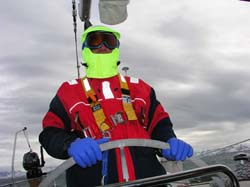 Alec steers course
nations. The museum and small shop were closed, but our crew met researchers from several countries at the different bases and was invited for a visit.
Saturday's, June 30, GRIB (grided bianary file) forecasts from saildocs.com showed the wind swinging to a southerly direction and increasing to 25+kts. Good reason to hurry south! As we cleared Daudmannsodden Point at the northern entrance to Isfjorden, the wind increased to 35-40 kts. We furled the headsail and continued toward our planned anchorage of Ymerbukta on the northern shore unsure if the deep glacially-carved bay would be tenable in the katabatic winds zooming off the mountains. Arriving at the entrance we sheeted the double-reefed main in tight to lessen the danger of gybing in the violent gusts when to windward.
"Smoke on the water" where violent downdrafts blow clouds of water in the air appeared before us, our first sighting since Cape Horn in 1996. A 47 kt gust hit Mahina Tiare quickly spinning us 180 degrees into the wind as Ken had the foresight to release his grip on the wheel. We'd been waiting to drop the main between gusts in the lee of the cliff planning to head to boat to wind but Amanda had enough antics and shouted, "Drop the mainsail, NOW!!!", setting crew to work to claw the main down in freezing conditions.
Seeking relief from the violent gusts we ventured far into the bay until we ran out of water, and ended up anchoring in 20′ with Pete quickly letting out all 250′ of chain. Nearly every time we have anchored in Spitsbergen the anchor comes up with huge clumps of kelp, so this time we had purposefully anchored directly in front of a glacial stream, hoping, as we found in Chile, that the freshwater would have kept the bottom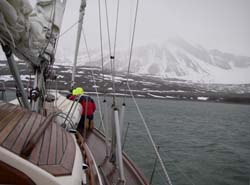 Crew setting the anchor in 45 knots
free of kelp providing good holding in sand-silt. Gusts to 31 kts and breaking waves on the shoals eight boat lengths to leeward meant it would be very close getting underway and the anchor up and if we were to drag. An active anchor watch was set requiring the watchman steer into the wind as MT veered back and forth in the gusts.
I knew we couldn't relax in this situation and by 2330 the winds had dropped to 15-20. We made the decision to raise anchor, hoisted sail and head to Longyearbyen arriving at 0330 exhausted.
We slept in the following morning and over breakfast Amanda suggested sailing 21 miles to Scansbukta; a secluded and dramatic bay and site of an abandoned gypsum mine. Here we could complete our teaching, spend some time relaxing plus shore side exploring. Our crew was unanimous; "Let's set sail now!" was their verdict, so we did. That afternoon Amanda brought out our new double-braid docklines for real hands-on splicing instruction and in the morning we explored the abandoned railway, mine and hut before sailing back toward Longyearbyen, stopping to practice Lifesling overboard rescue along the way.
| | |
| --- | --- |
| Old mine railway | Scansbukta southern shore |
The friendly harbormaster had earlier told us that if the inside of the commercial pier was ever free, we were welcome to squeeze alongside. The best thing about this spot was that his fueling hose would reach us, and he said there was water available, mentioning the hose was "a little large". Yes, it was a 4″ fire hose, and that was the first time we have washed MT down with so much water pressure!
Our crew booked our final dinner ashore at Huset, an ex-hospital turned into a restaurant and movie theatre. They sampled reindeer for dinner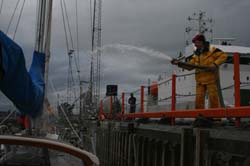 John enjoys washing down with the fire hose
and the waitress said whenever a bear has been shot (only in self-defense) it turns up here on the menu.
Tuesday morning crew all pitched in to clean MT and fuel up before departing, half for flights out that afternoon, and half for more exploring ashore.
Speaking of crew, here's the scoop on our great Leg 2 gang:
Peter Knowles, 22
Born near Chicago, Peter was bitten by the sailing bug early in life, sailing with his father, Alec on their Victoria 18. He has just completed a degree in economics in Boston and goes starts his first post-university job in Boston this fall. Full of enthusiasm and focus, we wish him the best in his new career!
Alec Knowles, 58
Although originally from Maine where he learned to sail at an early age on his families Hinckley Pilot 35, Alec and his family moved to the Chicago area for work at a major brokerage firm. The end is in sight! Alec and his wife are looking forward to moving to Newport, RI and having their Caliber 40 on a mooring within site of their new house. Alec is planning an Atlantic circumnavigation in the near future.
John Andersen, 50
"I am a physics professor in Rochester, NY where I cruise my Pearson 26 on Lake Ontario. I also enjoy crewing for club racing and recently Key West Race Week. Since I am planning to start high latitude cruising within the next five years, this expedition really made sense! It's been a fantastic learning experience accompanied by awe-inspiring majestic views."
Ken Appleton, 58 "This is my third expedition aboard MT, each a unique experience. Despite 26 years in the US Coast Guard and a master's license I always leave these expeditions with a hand full of new and reinforced knowledge. I enjoy delivering boats, crewing and watching other people pay for boat ownership.
Mark Bell, 39 (perennially)
Mark also joined us for the third time, joining us from Illinois and Sister Bay, Wisconsin, where he sails his 26′ S2. Once he sells his farm, he plans on purchasing a boat in Europe, possibly a new Malo 40, and crossing the Atlantic.
Wayne Smith, 70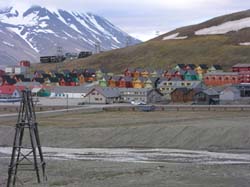 Image 29 Longyearbyen
"At 70, it was time to get focused on expanding my cruising envelope. Having taught automotive technology for the past 35 years at RVRHS in Mt. Holly, NJ it was time to capstone 60 years of messing about I small boats with a real hands-on expedition. "Wayne is fascinated with high latitude sailing and plans to apply to join Skip Novak's Pelagic Expeditions to sail to Cape Horn.
Amanda and I enjoy Longyearbyen – it reminds us so much of the great adventures and friends we made in Patagonia and Antarctica – there's is always something happening. Yesterday the square-rigged Polish Academy of Sciences research ship whose crew we met in Tromso, and whose course we crossed north of Bjornoya sailed in. There isn't another sailboat in town at the moment, but we're keeping an eye out for Joyant, the Apogee 50 that we met last year in Scotland and this year in Alesund. We'll probably set sail tomorrow for Scansbukta……it's a week off to catch up on chores and recharge.