May 27, 2008, 1400 hrs, 51.27 N, 009.21 W, Log: 115,864 miles
Broad reaching at 7.5 kts in 20 kt ENE winds (down from 38-42, gusting 44 earlier), moderate seas
Baro: 1011.1, Cabin Temp: 65F (furnace is on!), cockpit 55F
Fastnet (shipping area forecast): Force 9, Severe Gale, gusts over 50 knots was our morning forecast.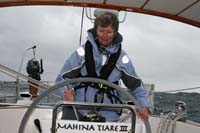 Kath concentrates on steering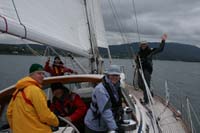 Sailing into Schull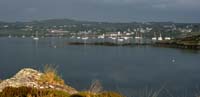 Anchored off Schull
When our crew arrived yesterday noon, a similar forecast helped us decide that our most prudent plan was to stay at the dock and spend the afternoon on safety orientation, and the evening on navigation overview. We're now putting to sea as the difference this morning is that the most severe wind conditions have passed and the forecast is (accurately) for diminishing winds from noon onwards. Another reason to set sail is that the forecasted wind direction should provide us with a broad reach.
Amanda and I are sad to be leaving Crosshaven as our time between Legs 1 & 2 was a real treat. We enjoyed long bike rides and runs exploring many of the back roads around Crosshaven while MT was safely and securely moored at the Royal Cork Yacht Club which has to be one of the friendliest clubs anywhere.
We sure couldn't turn down Leg 1 expedition member George Coyle's invitation to visit him in Connemara, an hour west of Galway, so last Monday we headed north in a rental car. George met us in Galway and showed us the oldest part of the city which had some Spanish arches dating back to the 1500's. Much of the neatest shopping part of downtown Galway has pedestrian-only access, plus amazingly restored interesting buildings.
We followed George out along the Connemara peninsula to his fascinating Irish bungalow which although it looked traditional is only ten years old. George proved an amazing cook and host. In exploring the sparsely-populated countryside we went for several long runs and walks plus drives along the scenic coast, rivers and lochs. In the local Rosmuc combination grocery and farm supply store-post office we were surprised to hear hardly a word of English spoken and realized we were in true Connemara, for it has the largest concentration of Gaelic speakers in Ireland. On Wednesday we explored an old lakeside castle that had been turned into a quintessential lodge featuring fly fishing on the river before making our way out to Clifden Sailing Club, where George sails and races.
On our way back to Cork we stopped at a giant new Tesco supermarket to the north of Limerick filling the small car with all kinds of goodies the smaller shops in Crosshaven didn't have.
As our car was not due back for another day we figured we could squeeze in one more adventure, so it was off to Ballymaloe School of Cookery (www.cookingisfun.ie) and Ballymaloe House (www.ballymaloe.ie) we headed, a half hour east of Cork. Amanda had seen their write up in a tourist guide and I'd enjoyed a look at The Ballymaloe Cookbook at George's. Amanda went online (wif-fi at the yacht club) to read more and we decided we couldn't miss seeing this amazing cooking school/hotel whose 84 year old co-founder Myrtle Allen still runs the hotel and is still full of energy and graciousness. We were only disappointed that we didn't have time to stay when we got invited to join a luncheon created by students and meet the schools founder. Next time!
So today it was a raucous early morning 0600 start, with a solid 38-42, gusts to 44 and seas forecast to 4 meters (13'!). We even had the cockpit partially filled with a rogue breaking wave that smacked us on the beam – that's a first in several years.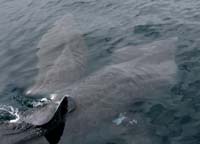 Basking shark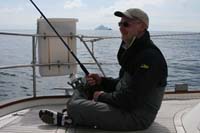 Barrie trolling for fish


The colourful Portmagee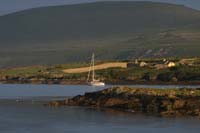 Evening anchorage at Portmagee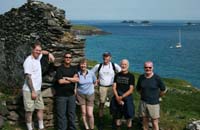 Leg 3 crew at the Blaskets
The seas gradually began easing by ten and our keen new crew just shook out three reefs in the main. We now have full main and just one reef in the genoa. Lot's Wife, the unmistakable tall white stone pillar marking the entrance of Baltimore Harbour, is abeam and from here we'll skirt Clear Island before hardening up, sheeting in sails and sailing into Schull Bay.
June 2, 2008, 21400 hrs, 54.33 N, 009.38 W, Log: 115,864 miles
Broad reaching at at 7.5 kts in 24 kt W winds, moderate seas
Baro: 1009, Cabin Temp: 65F , cockpit 58F
Ireland Abeam, Scotland Ahead!
The past week has passed quickly with sunny days and short clear nights containing mostly very moderate winds (until this evening) and occasional foggy patches. Tuesday afternoon we quietly dropped anchor off Schull, just N of Fastnet Rock and explored the small quaint village. Wednesday morning as we rounded Mizen Head, follwed by Dursey Island where Barrie spotted some strange fins in the water.  We changed course and had a clear and very close view of several large basking sharks.
Portmagee, a small fishing village was our Wednesday anchorage and the next day we sailed out to Great Blasket Island to hike around the deserted village and island, famous for its several Irish-speaking authors.
The following day we left Brandon Bay at the crack of dawn (actually, it never got very dark at all) and had covered the 65 miles for a landfall in the Aran Islands by early afternoon. Amanda taught rig check, emergency rigging repairs and provisioning while we sometimes sailed and sometimes motored in light winds.
It didn't take us long to rent bikes (even in the light rain) once we reached Inishmor, the largest of the Aran Islands. We were surprised to find that Dun Aengus fort (http://en.wikipedia.org/wiki/D%C3%BAn_Aengus) was open until 1900 and found it fascinating that the inhabitants in 500 BC chose to locate the site so close to a 300' cliff.
Friday night we dinned ashore and ended the evening with some great live, but not traditional, Irish music played on harp, accordion, guitar, and banjo. Bruce Springsteen and Johnny Cash figured heavily into the repertoire of musicians.
Saturday saw us doing more cycling and exploring, in what must have been the sunniest and warmest day of the year, before we set sail for Roundstone. With very light winds, we ended up motorsailing part of the way while Amanda taught splicing.
Roundstone, a very traditional small town/large village in the heart of Irish-speaking Connemara let us into her bay much easier than last time. Instead of tacking through rock piles and reefs in 30-35 knots of wind we sailed and motored in brilliant sunshine (it was actually HOT!!!), trading tacks with a very smart looking small Galway hooker named Theo.
The hookers are traditional workboat/fishboat and were the backbone of transportation for isolated places where few roads existed one hundred years ago. We took lots of pictures of the handsome small tar coated sloop and invited the owner to stop by on his way home.
Not long after we had the anchor down off Roundstone Barrie started fishing off the stern and before long we noticed the hooker approaching. Theo came alongside and we quizzed Michael Caine on his boat. Unlike some of the traditional boats, that are over 150 years old, Michael said he had built Theo 20 years ago. This was his first sail of the summer and he had been busy catching fish to give away to friends and neighbors. We couldn't turn down two pollack and Barrie put away his fishing pole and got straight into cleaning the fish.
| | | |
| --- | --- | --- |
| Blasket anchorage | Small hooker out fishing | The Cliffs at Dun Aengus |
Amanda and I made a quick dinghy run to town to ask if there would be any musicians performing that evening, and from a distance in Eldon's Hotel we spotted the "LIVE MUSIC TONIGHT" sign in the window. The waitress in the hotel pub said it would start at 10:30 or 11, or whenever the musicians felt like it, and yes, it would be traditional Irish music with accordion and banjo.
| | | |
| --- | --- | --- |
| The little hooker Theo | Theo alongside | Fresh fish for dinner |
We took naps after dinner before heading ashore in with plenty of daylight remaining at 2200. We found a table, relaxed, and waited. Around 2230 a big silver Mercedes parked in the middle of the street and a large man got out, carrying what looked to be a small accordion box. Paddy had a real presence when he entered the pub. He looked kind of like a large, friendly bear and went around greeting many of the pub patrons before sitting down right next to us and pulling out his accordion. Soon the banjo player arrived, followed by a young guy with Uilleann bagpipes and a collection of penny whistles.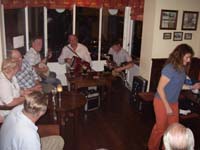 Music night at Eldon's
It turned out to be a night of traditional music and singing that we will never forget. Paddy and the boys played song after song, some fast, some slow and occasionally he would sing a traditional song, often a little risqué, followed by whoops of laughter from the audience. It took Amanda a few songs to get up the nerve to hit the floor with the traditional Irish step dancing called Sean Nos that she's been practicing, first in a workshop in Friday Harbor, followed by watching a few DVDs and You Tube. In seconds every eye in the pub was on her shoes. The older folks were pointing and commenting on footwork and between songs many people wanted to know where in Connemara she was from and who had taught her this traditional, nearly-lost dance style. Several hours into the evening an Irish-American guy originally from Wexford, now on holiday from Berkeley, California got up and danced the higher, flashier Riverdance style. Everyone cheered and whistled and asked him to dance more, but he explained that those few steps was all he remembered from his compulsorily Irish dance classes at elementary school. A couple of times when Amanda sat down to catch her breath Paddy roared out, "We want more Sean Nos dancing!" and at 1:30 when Amanda said goodbye to the musicians, they all clapped and cheered and thanked her.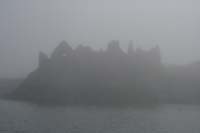 The Pirate Queen's castle in fog
Saturday morning after a sunny run along the coastline we set sail for Inishbofin, (www.inishbofin.com) a small offshore island with a rich history of pirates, smugglers, monks, invaders, prisoners, fisherman and music. Thick fog closed in on us when we were halfway there and the first thing we saw was the lighthouse on a pile of rocks just a few boat lengths off the bow. We are very pleased with our nearly-new Raymarine C80 radar and Nobeltec Visual Navigation Suite plotting software with Passport Charts work flawlessly. The accuracy of the Passport charts has been consistently incredible.
To avoid the ferries and traffic in the fog we anchored off Pirate Queen Grace O'Malley's castle and Amanda and I headed ashore while our crew slept. We found the island was extremely busy. 150 orienteer competitors and a 200 plus wedding party hugely outnumbering the local population of 190. Before long we discovered that John O'Halloran and friends would be "having a session" at the Dolphin restaurant. Johnny plays accordion on one of Amanda's Sean Nos DVDs and is a well known musician in Galway music scene.
It turned out to be an over-amplified evening with only a fragment of traditional music. The following morning we headed ashore to explore Grace O'Malley's castle in sunshine before we gingerly navigated our way out of Inishbofin's rocky shores and set a course for Scotland's Inner Hebrides.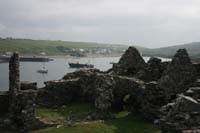 Innishbofin harbour from the castle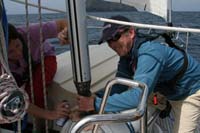 Amanda and Michael working on the pole beak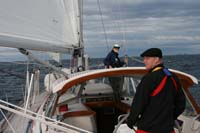 Chuck and Noah share the watch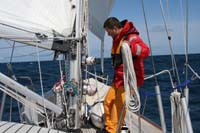 Alex shakes out a reef
Our timing couldn't have been better. With a series of powerful lows racing across the North Atlantic, we had a gap with relatively moderate conditions (less than 30 kts from astern) before the Tuesday night's Navtex forecast of, "WSW Force 5 to 7, Occasionally Gale Force 8, increasing to Force 7 to Severe Gale Force 9, perhaps Storm Force 10 later" The GRIB files showed strong SE gales early Wednesday morning after the frontal passage, making our two first choices, Barra Island (southernmost inhabited island of the Outer Hebrides) or Tiree (Inner Hebrides) unsuitable due to their southern exposure.
We pulled out the Imray charts and the best option for landfall looks (again) like Loch na Lathaich on Mull island, which we ran to a couple years ago with a similar forecast. We expect it might be dark by the time that we reach it but winds of 25 gusting to 34 have kept our speed between 7 and 10 knots all night with some spectacular surfing bursts, so our current ETA is well before dark.
June 6, 2008, 1800 hrs, 56 47 N, 005 50 W, Log: 116,418 miles
At anchor in the shadow of a very old castle, Loche Moidart, Scotland
Baro: 1017, Cabin Temp: 65F , cockpit 68F
We reached Scotland well before dark and anchored near Bunessan village in a windless Loch na Lathaich not far from Iona Island. It did blow that night, but with 200' of chain out in only 20' of water Mahina Tiare didn't budge. The system had blown through Wednesday morning and we awoke to brilliant sunshine. We tied to the town pier for a boat wash down and showers before hiking and exploring ashore. After studying storm tactics we set sail, cruising past Iona – an important religious place, then close by Fingal's Cave on Staffa Island with its huge basalt columns.
Muck, on of the three "small islands" of the Inner Hebrides was our evening destination and after weaving our way through numerous kelp topped reefs we finally dropped anchor on the north side of the island. In reading Lonely Planet Scotland and the Imray cruising guide we learned that the entire island is owned by one family who has run it as a farm for many years. Recently they built a small hotel/restaurant a tea shop in addition to renting out several of the farm cottages (www.isleofmuck.com) at very reasonable rates. That evening we visited with a group of Scottish sailor who gave us tons of tips on "must see" places in the area. Rob, the skipper, said we should visit Doune, only about 15 miles away where a cruising/boatbuilding family had built a restaurant and tiny hotel, easily accessible by boat or a 16 mile tramp through bog.
We never miss a 6:30 am morning run if there is a trail or road ashore and most mornings we were joined by Barrie (who secretly incorporates a Full Monty swim into his daily morning run), and few times by Michael and Alex. On Muck we found sheep lounging on the road, cows munching seaweed on the beach and horses galloping along the shoreline. Returning to our RIB at the beach, we were surprised to see a small, classic expedition cruise ship anchor astern of Mahina Tiare. The Hebridean Princess (www.hebridean.co.uk) launched large inflatables that landed a portable dock on the beach. Kath had us wondering if Queen Elizabeth was aboard as she mentioned that now Britannia is now longer in service the Queen had rented the entire ship (49 berths) two years earlier for her 80th birthday cruise of Scotland's west coast. When Amanda and I visited her ex-royal yacht Britannia in Edinburgh a couple years ago, we learned that her annual cruise of the Inner and Outer Hebrides was one of the things the Queen most enjoyed.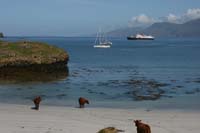 Cows on the beach at Muck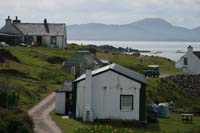 Port Mor at Muck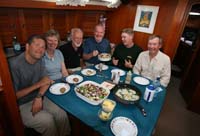 Morning Tea on the Lawn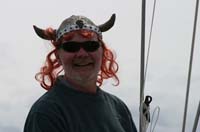 Barrie at his best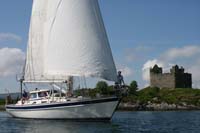 Sailing by Castle Tioran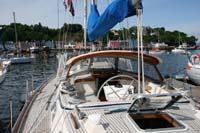 MT in Tobermory
Our hopes of seeing Queenie were dashed when the infaltables were loaded with assorted bodies (definitely ancient tourists) that got landed ashore. Knowing the island was going to be a zoo our crew weren't too keen to go ashore. But Amanda pointed out that at least the teahouse/gallery on the other side of the island would be open. She was right! And we were treated to a delicious morning tea on the lawn over looking the small harbour while chatting to the interesting passengers and lecturer/guides.
We later set sail for Rum (www.isleofrum.com ) but there was only bright sunshine and not a breath of wind, so we motored. Rum has a great fairly recent (1897) castle built for George Bullough, an eccentric English cavalry officer. Since 1957 the island has been owned by The Nature Conservancy and part of the castle is used as a B & B and restaurant. Unfortunately we missed the daily tour by half an hour, so we had to be content with peering in the windows.
Calm and sunny conditions still prevailed for our passage 20 mile passage to Doune (www.doune-knoydart.co.uk ) north of Mallaig on the Knoydart Pennisula. Kath had rung ahead and discovered they just had room for our eight in their family-style dining room that evening. What a treat we were in for! The small restaurant and tiny hotel were built by an amazing cruising family that turned an ancient derelict ruin into a home and boat building center later adding diving-sailing-hotel and restaurant business. A handful of cottages nestle around the tiny bay where two free moorings are provided for visiting yachts. Dinner was a stunner, and lots of fun! The two guys at the next table whose Bavaria 34 was on the other mooring provided us with even more anchorage information and stories of running search and rescue helicopters supporting the BP North Sea oil operations. The restaurant owner's wife heard Amanda was interested in traditional music and brought out her fiddle. Not only did she play a mean fiddle, she also managed to step dance at the same time.
This morning we covered electrical power systems and watermakers and once we arrived here in Loch Moidart Amanda spent more time on sail trim pulling out the sewing machine for sail repair class.
All of our new Scottish friends had told us Loch Moidart, with its very accessible abandoned 14th century Castle Tioran, shouldn't be missed – and they were right! After a narrow, long and tortuous entrance, we dropped anchor off the castle where fourteen successive chiefs of Clanranald had lived. Ashore, we climbed through the bars and into dungeons, great rooms, kitchens and high walkways. It was easy to see where the floor timbers had been set into the rocks for the second, third and in some cases fourth floors while all directions we could see different channels and islands while only a handful of isolated cottages dotted the lochs rim. It felt like we were on a mountain lake.
Our last night, before heading to Oban, found us enjoying Tobermory, (www.tobermory.co.uk) the colorful fishing/tourist small town on the Isle of Mull. The marina had just doubled in size to 40 berths and a new building with showers and a clubhouse is nearly ready to be opened. We delighted in chatting to skippers and crew from all over Scotland and picking up some additional charts at the excellent chandlery.
The winds finally came through for our Leg 2 crew and we had a great final sail from Tobermory to Oban Marina (www.obanmarina.com) on Kerrera Island with plenty more time to work on Lifesling overboard rescue.
Oops, I nearly forgot to introduce our Leg 2 crew. Here they are:
Barrie (53) and Kath (52) Stott are from Yorkshire, England and just five years ago they signed up for a "Learn to Sail" flotilla holiday in the Greek Islands. They were instantly hooked on sailing and have since spent two weeks each year progressing through the RYA training program. Last month they sold their 250 year old home (only on the market 1 week) that Barrie had spent years rebuilding and next year Kath plans to sell her optometry practice. Having downsized to a flat they're keen to purchase a HR 40 or Najad and plan to cruise NW Scotland before venturing further field. Barrie is a semi-retired mechanical engineer and looks forward to doing most of the maintenance on their yacht himself. Kath is keen for adventure.
Alex Diamantis, 37 lives in New York City and learned to sail after responding to an internet newsgroup posting for racing crew in the early '90's. He has spent the past 14 years racing a variety of boats in and around Long Island Sound. When not racing Alex works for a large investment bank as head of hedge fund tech support. Alex looks forward to expanding his sailing knowledge to include cruising and ocean passage making and plans to share his love of sailing with his wife Petra and soon-to-arrive son. One of many, Alex said he had read these expedition updates for many years before the timing worked for him to apply for this leg.
Michael Eden-Walker, 57 of Toronto has been reading and planning a cruising life, once he retires from his medical practice, for the past ten years. Mahina Expeditions has been part of that plan as this is his third passage – AND – he has already signed up to join us on the Tahiti-Raro leg in 2010!
Chuck Yingling, 65 says he failed retirement 101 but continues to enjoy sailing. He is selling his Baba 30 having just purchased a classic Monk-designed powerboat that he keeps moored in Sausalito, CA and which he will use as a second home and office. In his "other" life, Chuck has been a professor at UCSF teaching monitoring of brain function during neurological surgery. This is also his third expedition on MT but the first that he enjoyed sharing with his son Noah.
When Noah Lundling, 27, was 18, he moved out of his parents' house to live on an old wooden boat. From that point on his love of boats continued to grow, so he was delighted when his father Chuck invited him to come along on Leg 2. The expedition was a welcome change to the hustle and bustle of city life in San Francisco. Noah hopes to continue sailing the SF Bay and perhaps beyond, on any boat available while pursuing a career in criminal justice.