1September 17, 2020 1000 hrs, 48.30N, 122.36W Log: 351 miles
Moored, Cap Sante Marina, Anacortes
Baro: 1013, Cabin Temp: 68 F, Cockpit Temp: 65 F, Sea Water: Ch-ch-chilly!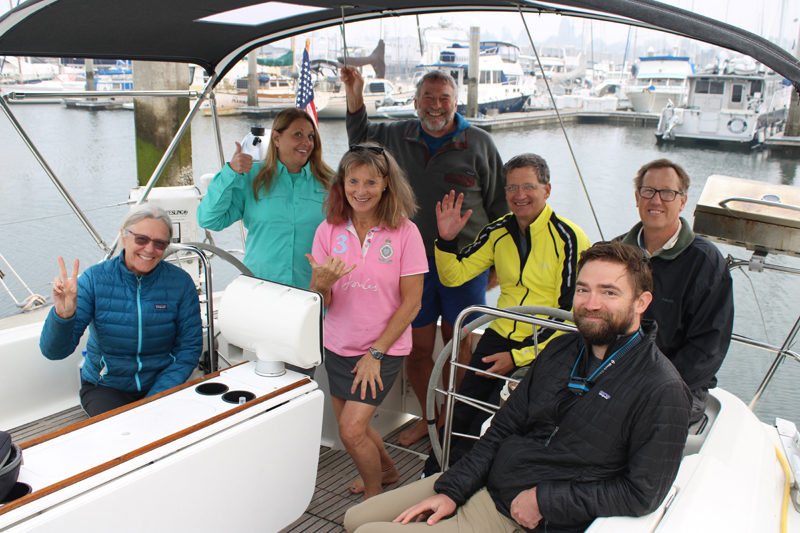 Leg 2 Crew: Lisa, Diana, Amanda, Jim, Yarden, Richard, and Alfonso with John taking the picture.
Leg 2 started on a smokey Friday September 11 and Saturday morning we motored and sailed 35 miles to Stuart Island's Prevost Harbor, pausing to check out the lighthouse on Patos Island through the fog and smoke. Smoke from intense wildfires in California, Oregon and Eastern Washington meant we would be running under continual radar watch for the entire week.
I'd been tipped off regarding an exciting book, The Light on the Island, written by 12 year old Helen Glidden, who lived on this tiny, isolated island located very near the US-Canada border with her lighthouse keeping father and family. She writes descriptively of immigrant smugglers, rumrunners, gun battles and what it was like to grow up isolated from society.
There is one tiny cove where we saw the remains of the coast guard wharf but the two state park mooring buoys were occupied and it didn't look like there was any simple place to anchor in the tiny bay. The lighthouse looked very sharp and is maintained by a group of dedicated volunteers. The light keeper's home was purposefully burned down a few years ago, but it would sure be fun to get ashore and explore the lighthouse and island. Maybe on Leg 3!
Once again, the www.windy.com forecast predicted light headwinds if we were to set sail as planned at 0200 Sunday for Neah Bay and the broad Pacific, so we chose to anchor in Prevost Harbor Saturday night.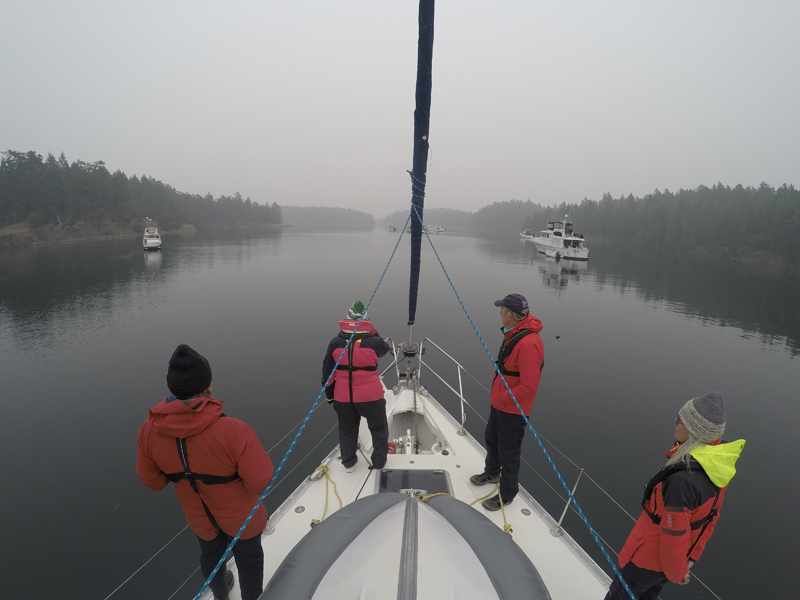 The small harbor was packed, and it took a couple tries before we were content with an anchorage that wouldn't be too close to other vessels or to the numerous rocks at low tide.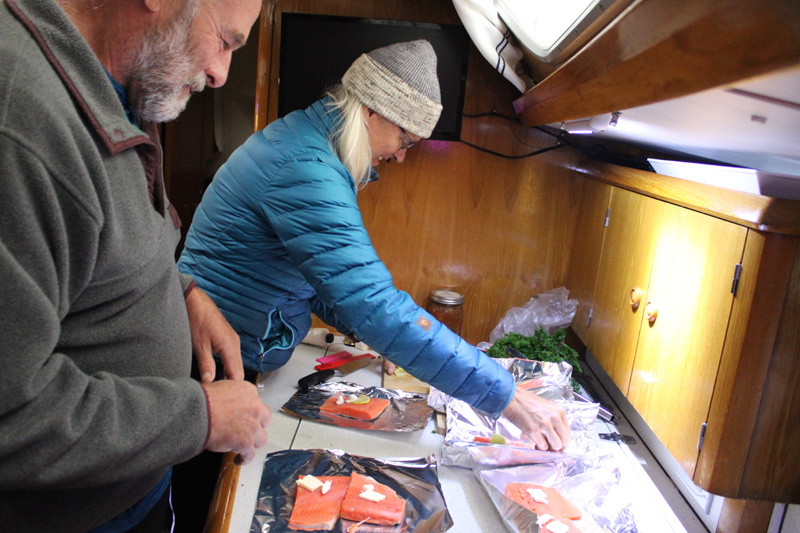 That evening, Lisa and Jim prepared wild-caught Alaskan salmon and cooked it to perfection on Misty's barbecue.
We had thick smoke and fog Sunday and Amanda taught Rig Inspection as I dodged lots of small salmon fishing boats as we approached Henry Island's Open Bay in the late afternoon. We all turned in early, in anticipation of our 0200 departure.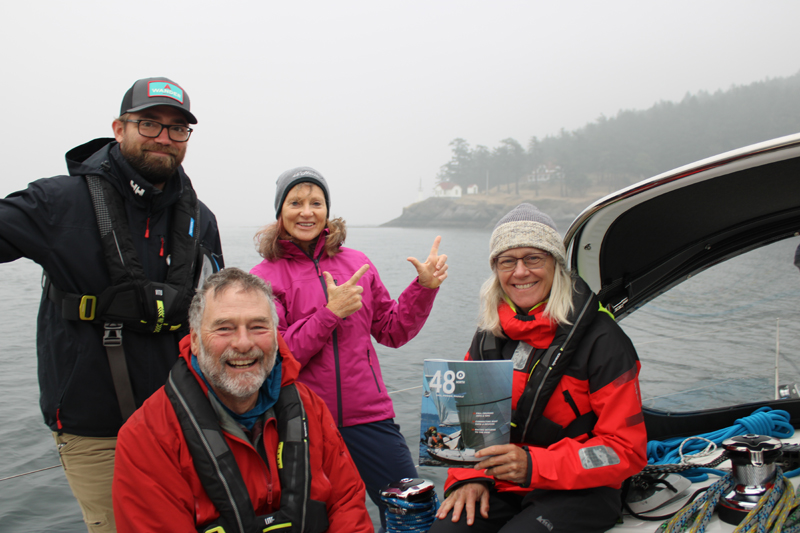 48 North magazine readers, sailors, and locals Richard, Jim and Lisa pose with Amanda and a 48 North Magazine at a smoked-in Turn Point Lighthouse.
Diana and Alfonso were on watch as we departed in the fog Monday morning. Once we were a mile or two down San Juan Island's west coast the fog lifted enough to see lights ashore and we had little traffic and a little wind as we crossed the Straits toward Port Angeles, then turned and followed the coast.
Just as forecasted, following outflow winds increased throughout the day and we all delighted to shut the engine down as we sailed toward the ocean. Just six miles from Neah Bay the winds lightened, and we started motorsailing again. As always, once we start up, I checked the volt meters at Misty's nav station. Instead of seeing13.6 volts (float voltage) the readout at the chart table read 12.5 volts. A quick check of the Xantrex Link 10 voltage monitor showed a minus 10.2 amps, indicating the alternator was no longer working. We shut the engine down, and Jim and I checked for loose wires. Finding none, I emailed Kurt, Misty's owner and was delighted to hear back there was a spare alternator under the forward port berth.
Almost too good to believe, we found a shiny new Balmar 120-amp high output alternator and our navigator adjusted our course to include an anchorage stop in Neah Bay to switch out alternators. The only slight issue was that the ring terminals on the wiring harness were too small for the beefier posts on the Balmar. Not finding a rat-tail file which would have allowed us to enlarge the ring terminals, Jim had the good idea of snipping the ring terminals with side cutter, spreading them apart, and then attaching them to the Balmar.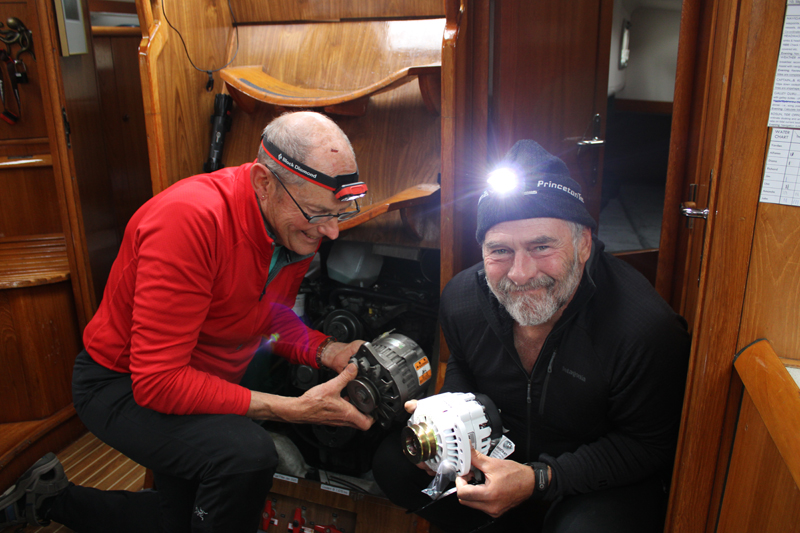 John and Jim start sorting out the Balmar wiring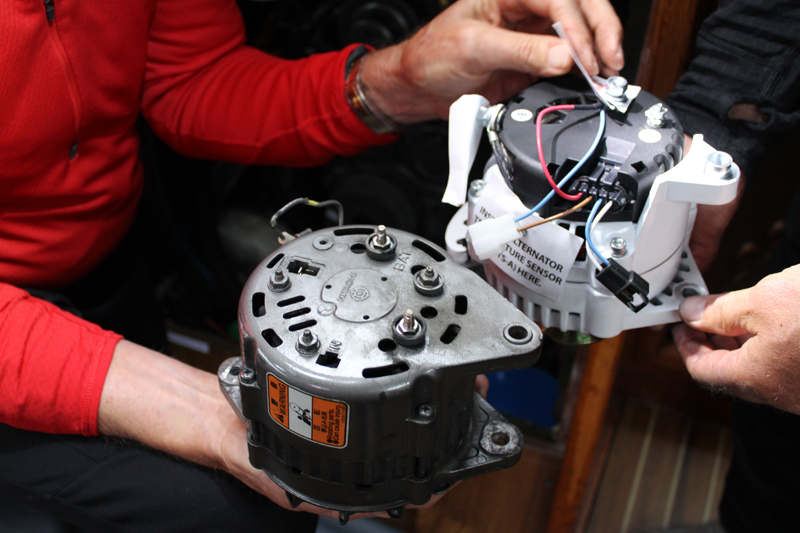 The new Balmar had not yet been fitted to the engine so it took a bit of improvising to get bolted on with correct belt tension
There were cheers all around when we re-started the engine and the Xantrex monitor showed the new alternator was charging at 40 amps, and in no time the anchor was up and we were sailing downwind for the gap between Tatoosh Island and Duncan & Duntze Rocks and out into the broad Pacific.  We held that course until our crew decided to turn around – next stop Port Angeles where we arrived at 0700 in thick smoke and fog.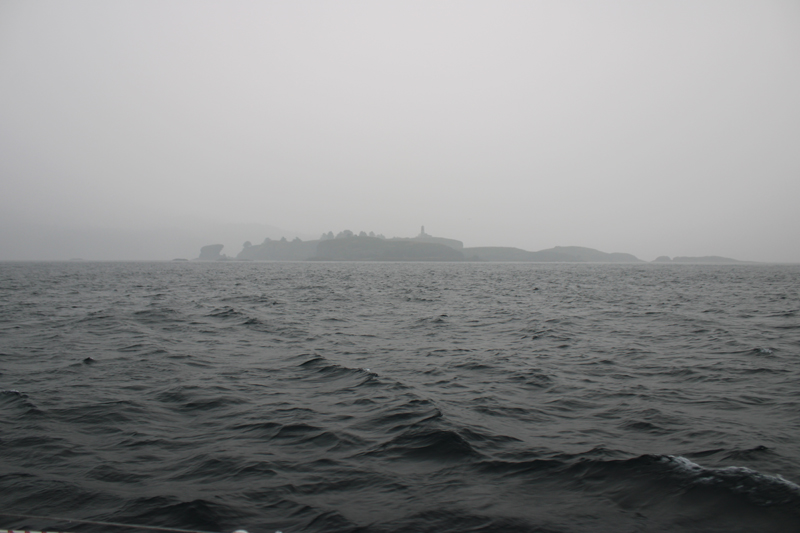 A smoggy Tatoosh Island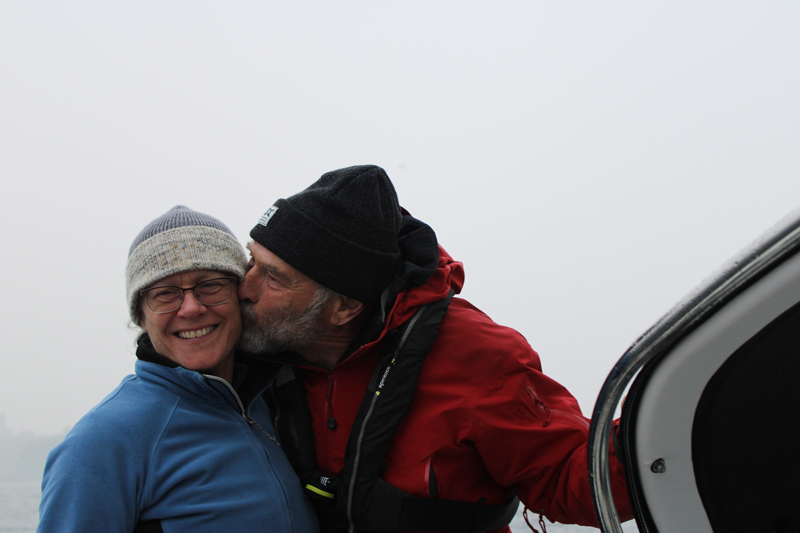 Jim shares a romantic happy kiss with Lisa as we reach our Ocean turn-around destination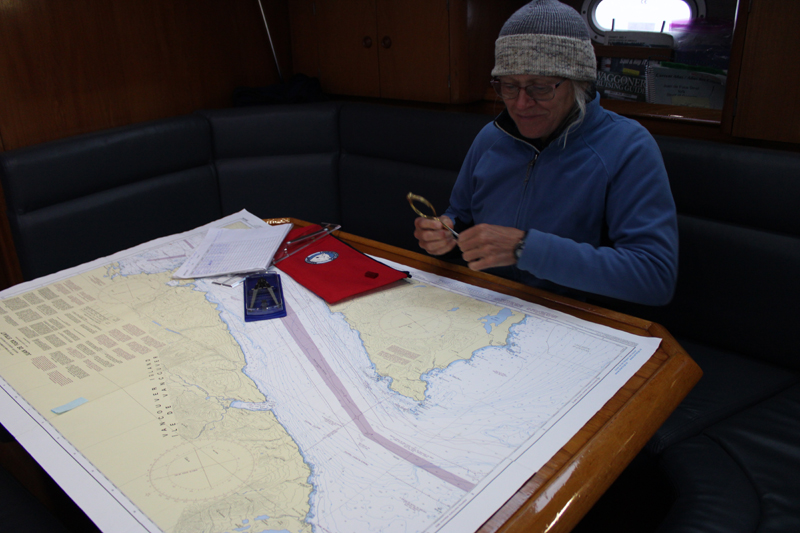 Lisa at work plotting our return route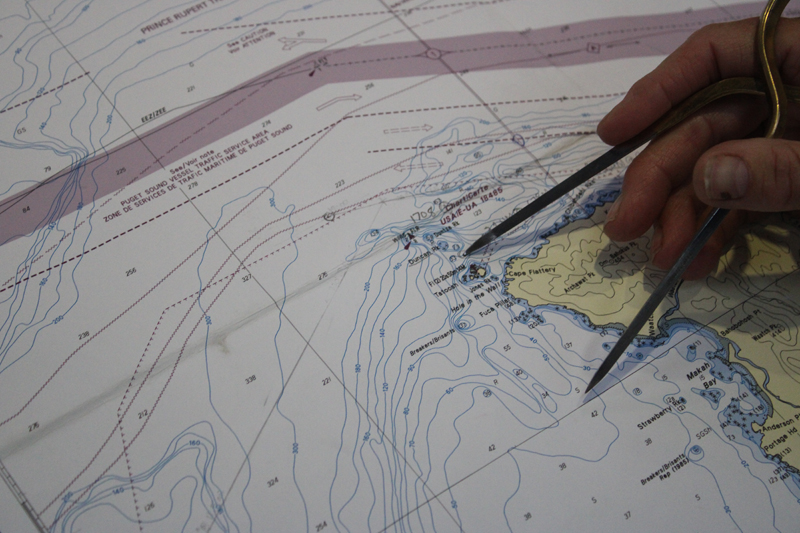 Tatoosh Island looks small on the chart but it's light is a big welcoming sight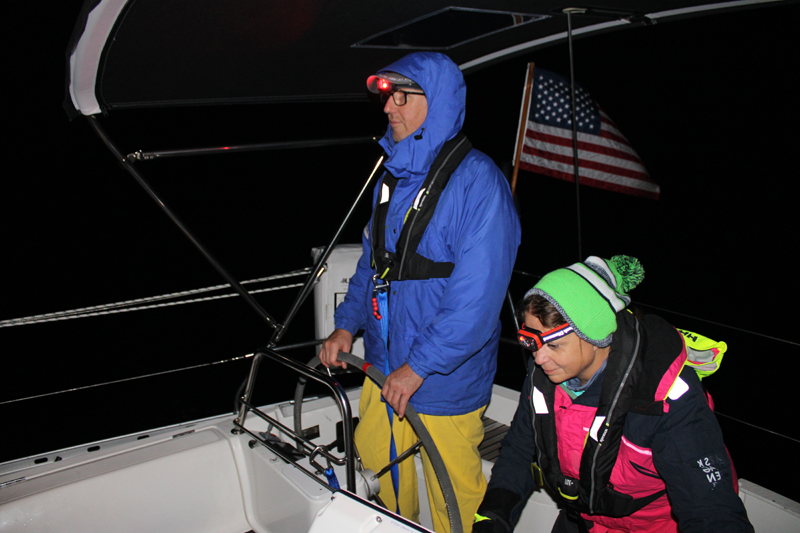 Alfonso and Diana have the watch at 0200
Early afternoon following showers and lunch ashore in Port Angeles, we set sail in occasionally thick smog for Dungeness Spit and undertook a reefing competition until we found a perfectly calm anchorage with a colorful sunset. Once we anchored, Amanda rigged up Misty's monitor so I could teach Storm Avoidance and Survival Techniques while Amanda made dinner.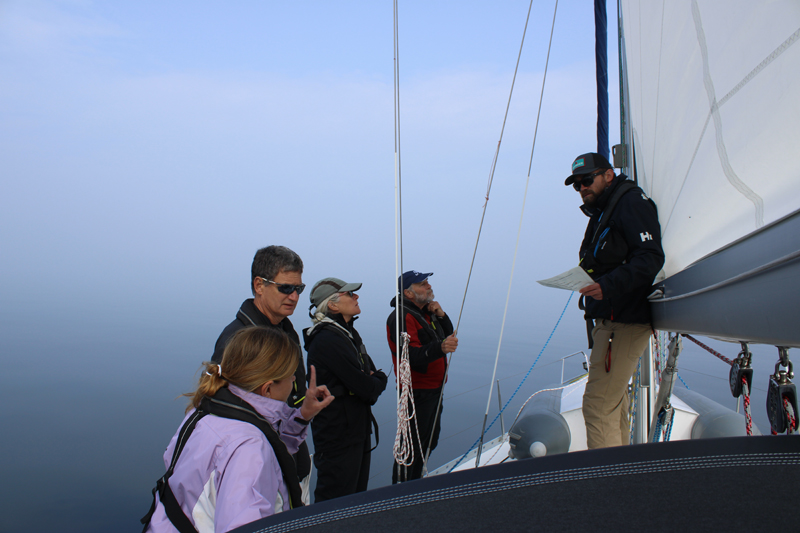 Richard, Captain of the Day, leads the reefing competition
An early morning departure Wednesday saw up crossing the Straits with light winds and mostly very thick fog. Richard, who lives on Lopez Island gave us some tips and directed us to Aleck Bay, on the south side of Lopez where we anchored for lunch before setting sail for Anacortes in patchy smoke and haze.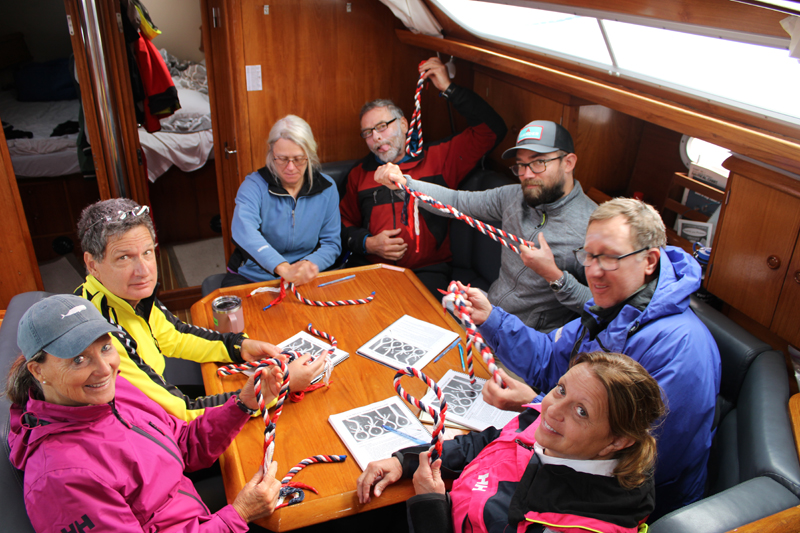 Crew master splicing underway to Anacortes
This crew were grateful for Mike Beemer's diesel and electric training at Skagit Valley College's Marine Tech Center Thursday morning, and several mentioned they now plan to sign up for extended courses at the college.
Our extensive docking practice just before exiting Cap Sante Marina proved a big hit, with each expedition member choosing a different docking maneuver and location before we set sail north for Bellingham. The windy extensive Bellingham Bay provided an excellent sail with the perfect spot to practice Lifesling Overboard Rescue before arriving at Squalicum Harbor where I presented Selecting and Purchasing an Ocean Cruising Boat PowerPoint before doing a dock walk with crew, pointing out good options for offshore cruising boats.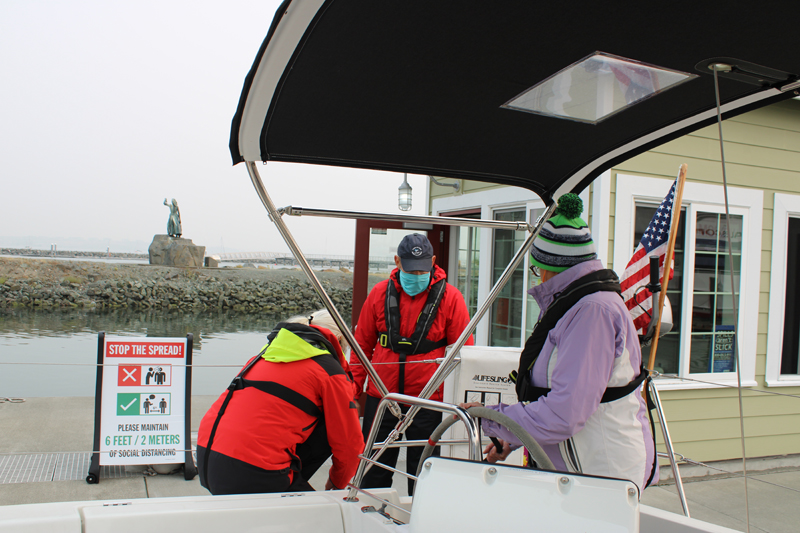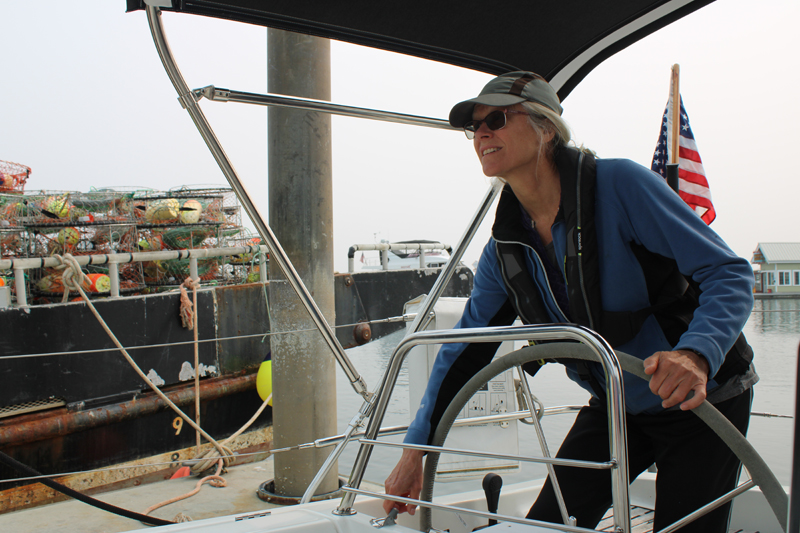 Diana takes up off the fuel dock then Lisa skillfully berths Misty amongst the fishing fleet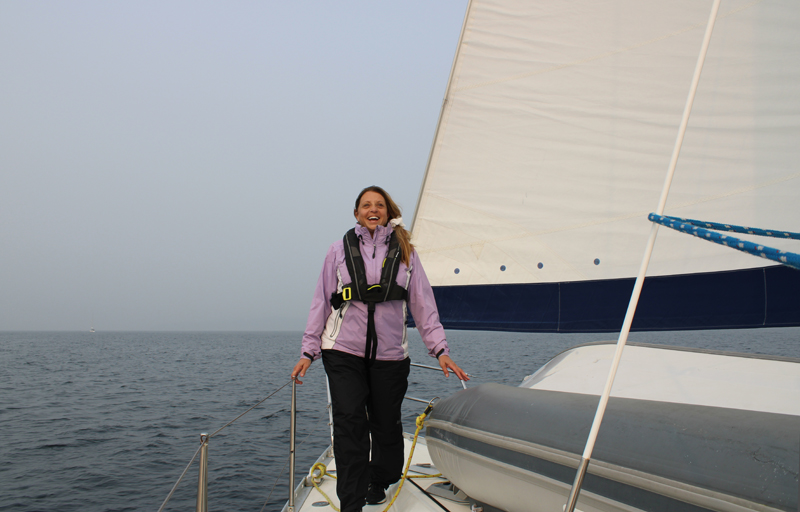 Diana displays a big smile now that were finally sailing with nearly blue skies.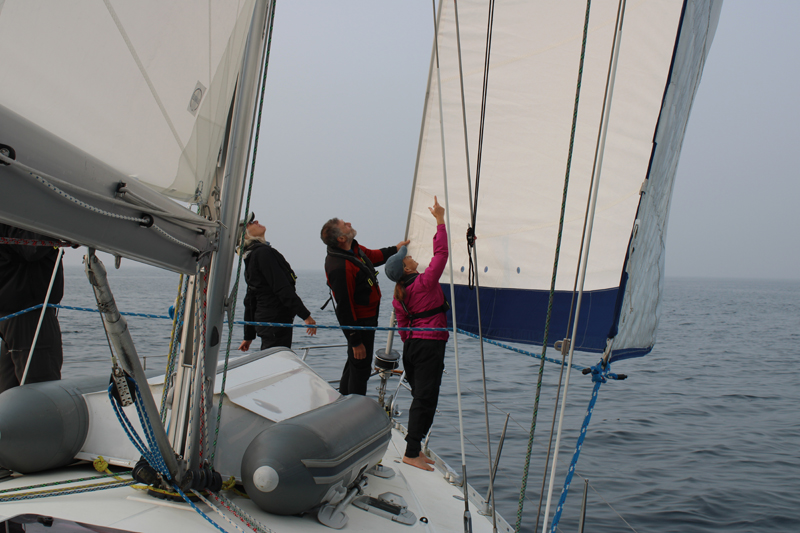 Jim and Lisa learning the finer points of sail design and trim from Amanda
Friday morning cam around quickly with and early breakfast, packing, washdown and celestial navigation class before crew bid farewell and headed to new adventures.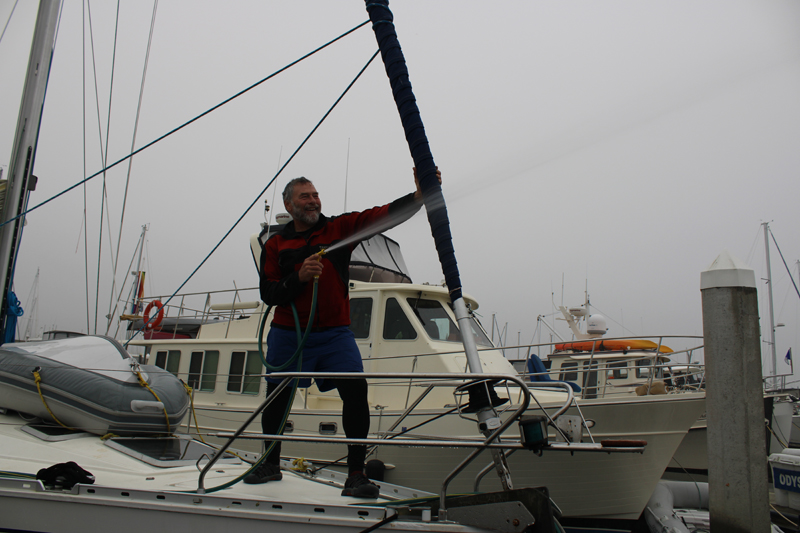 It's never a dull moment with Captain Action Man….even wash down is fun
Image08c ( NOTE  – image out of order on purpose)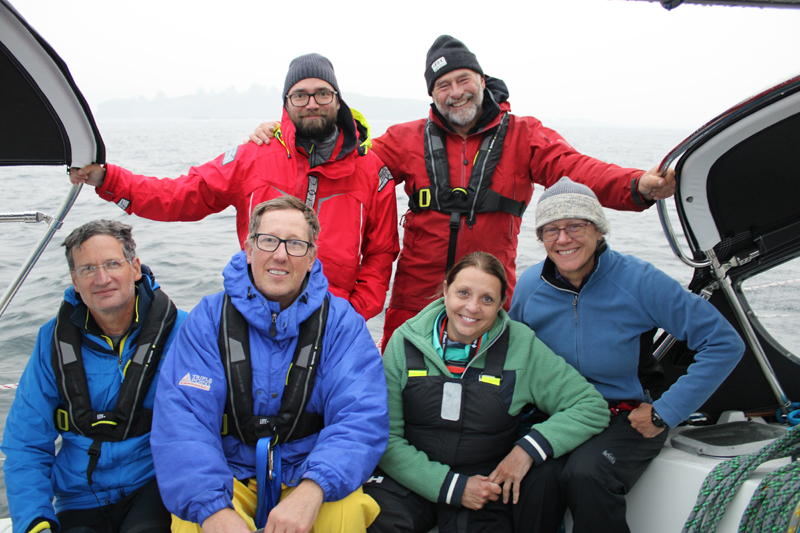 The fearless Tatoosh Alternator Expedition Crew at our Pacific turnaround point: Yarden, Alfonso, Richard, Jim, Diana, and Lisa
Richard, 39
I grew up around boats and the water, learning sailing from my father who was a sailmaker and a rigger. I now live on Lopez Island with my wife where we have an Olson 25 for local racing and gunkholing. I joined this expedition not only to gain more experience with ocean voyaging, but also to learn how to teach others. (Richard works remotely in IT which allows him and his wife to live in Paradise!)
Alfonso, 54
I'm originally from Spain but have been living in California for 25 years. I just sold my C&C 35 sloop with the idea of going towards a bluewater sailboat to increase passage range and to ultimately cruise worldwide. I'm interested in crewing for others, trying on different boats and helping with sailboat deliveries until I buy my next sailboat.
Diane, 66
I'm a retired RN, new to sailing and married to a passionate sailor. We have a Cal 35 that we sailed from Newport Beach, CA to Mexico and have enjoyed sailing all the Pacific coast of Mexico as well as the Sea of Cortez. It's now time to buy a larger boat and go wherever live leads under sail. I joined this adventure to gain knowledge and confidence. Mission accomplished!
Jim & Lisa Osse
Jim: I'm a retired ocean engineer and spent 30 years designing and building autonomous underwater instrumentation for the UW, NATO and NOAA. I've repeatedly dove at the North Pole for my work and have a special desire for all things cold and blue. I hope my wife and I can venture to the high latitudes with a sailboat and this expedition was a big step in that plan. (Jim and Lisa kayaked 1300 miles from Lake Washington (Seattle) to Ketchikan, Alaska in 117 days. Sounds like a beautiful and brutal experience!)
Yarden, 60
Living by snow peaks in the middle of the desert in Utah, I decided one day to retire early, sell my house and sail around the world. I packed my Miata and drove to Bellingham, camping along the way and passing wildfires in Eastern WA. Now that I've completed this expedition, I'll stop by Swiftsure Yachts in Seattle to order a new Allures 45 to sail from the Arctic to the tropics and down to Antarctica. Should be a wild ride, and you are welcome to join me.