Leg 2 – Update 1
May 31, 2017, 1720 hrs, 58.13 N, 006.15 W, Log: 201,186 miles
Baro: 1014.2, Cabin Temp: 65 F (no heater, hooray!), Cockpit: 64 F, Sea Water: 52.5
Nearing Stornoway Harbour, Isle of Lewis, Outer Hebrides, Scotland
Amanda and I enjoyed exploring a little of the Shetland Islands between Legs 1 & 2, first by sailing north to Whalsay Island, then to Vidlin village on Mainland where did a couple of hitchhiking excursions including one to visit Brae. Once we were back in Lerwick we hired a car to explore hikes in the west country, visit Scalloway and run errands. Everywhere we went we met very friendly, although somewhat shy, Shetlanders and the weather was amazingly cooperative. We saw only one other cruising yacht during our entire time in Shetland, other than in Lerwick, where there was often 5-10 yachts visiting yachts, mostly arriving and leaving for Norway, Iceland, Svalbard and Faroes.
We moored in front of a traditional Shetland/Viking longship and the skipper and former Jarl proudly explained the importance of keeping alive the Viking heritage in Shetland.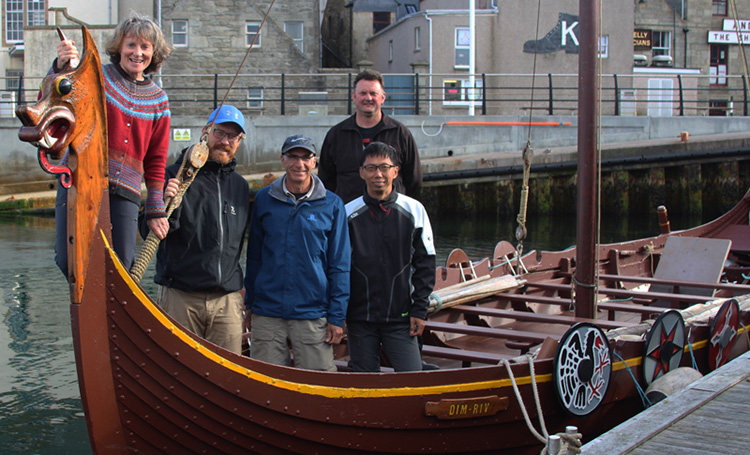 Our intrepid Leg 2-2017 crew, Helge, Andy, Wei with Gandal Nicolson aboard historic Viking Longship in Lewick Harbour, Shetland Islands
Wednesday morning tiny Lerwick town was nearly overrun with the film crew from "Shetland", the very popular BBC crime drama.
| | |
| --- | --- |
| Filming of series 4 of Shetland; a man with a gun frightens main street shoppers | Filming continues at Lerwick's famous Lodberries |
Our crew arrived at noon and after orientation we set sail, practicing Lifesling overboard rescue before anchoring in a very rural Aith Voe on nearby Bressay Island.
| | |
| --- | --- |
| John and crew test our three bilge pump system and two high water alarms | Wei and crew study the day's navigation |
Thursday, we had a crackin' 22-mile broad reach north to Burravoe, a small village and harbor at the south end of Yell Island. We enjoyed hiking the misty green hills and cliffs plus visiting the small museum with its baked treats and were surprised to find free showers and laundry (by donation) at the campground adjacent to the harbor.
| | |
| --- | --- |
| The cliffs behind our Burravoe anchorage | Amanda plays tug-of-war with a friendly Shetland pony |
Our navigators correctly calculated the Yell Sound tides which run up to 7 kts and we had clear skies and good sailing as we left Shetland for the Faroe Islands, 180 miles north. Overall our passage was a mixed bag – some very sweet broad reaching and preventer practice in 16 kt winds, and a little motoring at the end.
| | |
| --- | --- |
| Crew delighted to be on passage to Faroe | Calm seas as we make landfall in Faroe |
We stopped at Vagur, the southernmost harbor in the Faroe Islands, and found a place to tie in a fishing harbor where an old fisherman took our lines. In minutes the harbormaster arrived, followed by customs. Vagur is a deep bay, nearly splitting Sudroy Island in half, and after dinner Wei and Andy hiked to the top of a nearby mountain with spectacular views in all direction. Amanda and I hiked across the isthmus for a look at a very rugged old harbor that must have been used for unloading ships before the breakwater had been built in Vagur.
| | | |
| --- | --- | --- |
| Our fishing wharf berthage in Vagur | The township of Vagur | Andy enjoying a mountain top Zen moment |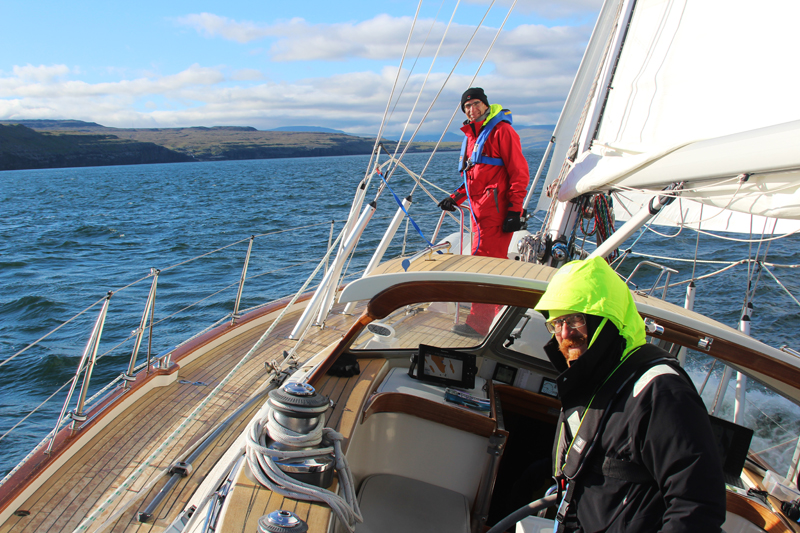 We had some sailing, some motoring but LOTS of contrary current on our passage to Torshavn
Sunday morning, we motored MT across the harbor to tie up next to the new community swimming pool, only to learn it had just closed for two hours. So we set sail to Torshavn, capital of the Faroes, 37 miles north.
As we pulled into Torshavn guest dock, we were surprised to see Hummingbird, the Rubicon 3 sail-training boat we'd read about in Yachting World and were even more surprised when Cruising World editor Herb McCormick greeted us, saying he'd just sailed up from Scotland aboard Hummingbird.
Monday morning, we were surprised by a fishermen's protest – dozens of huge (100-180') Faroese fishing boats blocked the departing ferry to Denmark tooting their horns and later their crew gave speeches in front of parliament. By 1400 we'd finished shopping and exploring and set sail for Sandur village on the Sandoy Island.
| | |
| --- | --- |
| Ready to leave Torshavn armed with tasty rhubarb cake | Dramatic cliffs of Sandoy Island |
We'd not met anyone who had sailed to Sandur and were pleasantly surprised to find a lovely little unused inner harbor. Overlooking the harbor was an older building with comfortable couches, dining area and a kitchen plus free showers and washing machine downstairs. There were numerous binders full of pictures of old fishing boats and fishermen and a local fisherman explained that the retired fishermen of the village met here every morning for coffee.
| | |
| --- | --- |
| Sandur harbor | A quaint turf roofed church near the village waterfront |

Winds are gusting to 41 knots
Tuesday morning we set sail south from Sandoy, with a goal of reaching St. Kilda, which inclement weather prevented us from visiting in 2001 and 2008. We had a barometer reading of 1003 and a forecast that included a frontal passage with winds of 18, gusting to 24 just aft of the beam but watched the barometer plummeting. By 1800 the barometer bottomed out at 989.9 and when it started rising, so did the winds which peaked out at 35 gusting to 41 kts at 2200. We had all three reefs in the main plus four in the genoa and still MT surged along at 7.5 – 8 kts in extremely confused seas. Several of our crew looked seriously green around the gills and I was the second to become seasick – first time in four years for me!
By 0600 Wednesday morning the wind speed dropped to 18-24, but the winds clocked around to the south, making it a challenge to lay our new course to Stornoway. We decided that tacking to St. Kilda would be challenging in the predicted near gale force winds, plus the anchorage was likely to be untenable so we instead chose to make landfall at Stornoway, the northernmost port of entry for Scotland's Outer Hebrides.
| | |
| --- | --- |
| John and Wei shake out the third reef | Still trucking nicely |
We found only three other cruising boats in Stornoway and after an excellent dinner aboard made plans for land exploring in the morning. Wei studied a travel guide and we got some additional tips from the tourist office before we set off on a circuit of Lewis Island which included standing stones, a Neolithic brogue (three-storied round fort/living structure) the sod-roofed black houses, and a very interesting independent weaver.
More and more we are getting expedition members to not just figure tides, courses and waypoints, but also to select anchorages, and Wei, our navigator on Thursday chose Loch Odhain which proved to be a bombproof and scenic anchorage.
Canna Island, one of the Small Isles was our crew's next choice and proved a favorite with excellent hiking, showers and a first-rate tea house/café. The island has only 26 inhabitants, but they are very friendly and serious about making a go out of their isolated homestead. Our next navigator Helge chose a 42-mile passage to Loch Dunvegan, the northwestern most anchorage on Isle of Skye. With an early start we arrived just after noon and our crew explored Dunvegan Castle and grounds before we anchored further up the loch off the village.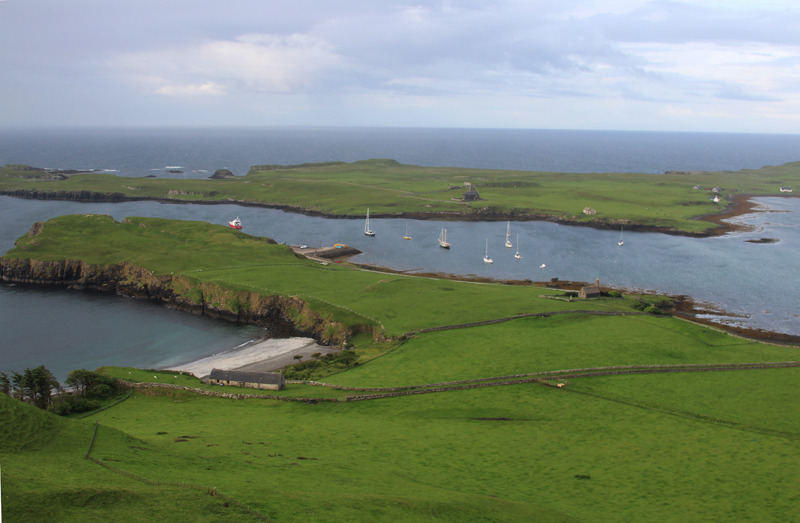 Hillside view of the anchorage at Canna
Sunday the sun favored us and it was hard to believe we were in Scotland as we sailed further south to Muck, an even smaller island owned by one family for 150 years.
Monday Tobermory was our goal. Long a tourist destination, this town really does a great job of still being an authentic Scottish fishing port, yet catering to visiting yachts with an excellent recently-enlarged marina. We enjoyed a sunny and warm evening dinner in the cockpit with a great view of the harbor and town.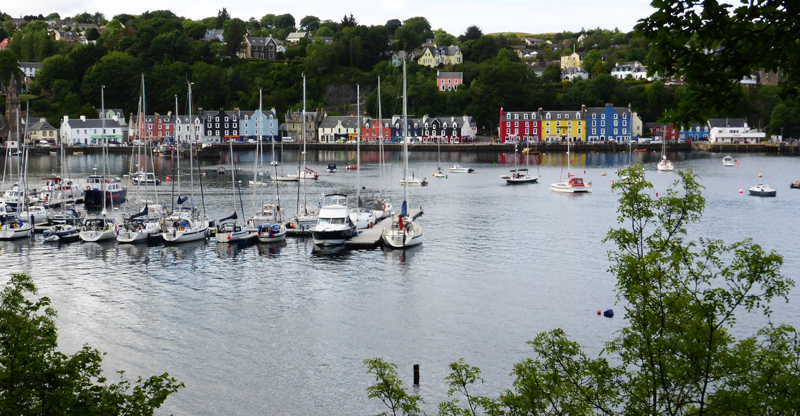 The ever-delightful small town on of Tobermory
On Tuesday navigator Helge said (to the groans of several of us!) we should set sail by 0830 to avoid strong contrary tidal currents, so that's what we did, and we ended up having a glorious downwind sail the 26 miles to Oban be it somewhat in drizzle. Strong winds were forecasted to arrive in early afternoon, and just as we were entering Oban Bay we got caught out by a blast. We were sailing deep downwind and quickly found ourselves running out of sea room as ferry traffic and cardinal markers quickly approached. In order or execute a safe gybe we were furiously sheeting in the main, when, with a great BANG we gybed! Andy was fortunately positioned aft of the mainsheet, but Amanda was not happy that the crash gybe destroyed one of the three mainsheet blocks! In hindsight, we should have done a 180 degree turn or dropped the main before entering the bay.
We found new owners and a much more positive attitude at Oban Marina on Kerrera Island across from downtown Oban and we all ferried over to town for an excellent curry dinner.
And with that, Leg 2 was complete! Helge headed home to Cascais, near Lisbon, Wei caught a series of flights home to Shanghai and Andy flew nearly non-stop home to Toronto. Amanda and I don't have any repairs to make (hooray!) and after catching up on office work and cleaning are looking forward to spending a week checking out new anchorages and marinas in the general area.
Here's our excellent and strong international Leg 2 crew:
Helge, 39 (originally from Norway, but has lived in Sweden and recently moved to Portugal)
My wife and I started sailing 4-5 years ago, sometimes with our three kids. We like coastal sailing, but I wanted to try an ocean passage. We don't own a boat, but have done a long-term charter of a boat in Cascais Marina very near our home, mostly daysailing while our kids have been at school. I'll be introducing our children to sailing in a few years. This has been an amazing learning experience!
Wei, 46 from Shanghai, China
Our first family sailing experience was three years ago when we (my wife and three children) chartered on the east coast of Australia. I wanted to try a longer voyage to learn more and most importantly to figure out whether this is something I'm able to do and will enjoy. The trip was awesome and now I will try and sail more in the East China Sea and charter in tropical destinations.
Andy, 63 from Toronto, Canada
I learned to sail from my father when I was a small child and have enjoyed sailing all my life. My wife and I have a Tartan 3400 on Lake Ontario and enjoy daysailing. I have always wanted to step up to a larger sailing adventure and have now learned so much and seen places I never would have sailed to. Now I'm thinking of more sailing adventures on my own!
---
Leg 2 Itinerary