Thursday, July 12, 2001, 0200 Madalene 79.34N, 11.02E
Log: 44,423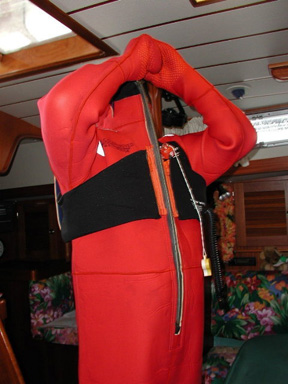 Tuesday, at noon leg 3 crew arrived and following orientation we sailed from Longyearbyen, into cold rain, west along Isfjorden spending night at glacial anchorage of Trygg at the north entrance of Isfjorden. We opted for an early start in the morning with the goal to push north 130 miles to 80 degrees. On leaving the protection of the 50-mile long Prins Karls Forland which flanks the NW coast of Spitsbergen like a spare rib, the 18-knot NW winds with opposing current weren't in our favor and as we motorsailed north several of our new crew quickly succumbed to seasickness. By midnight conditions all round weren't improving so we ducked on to Magdalene Fjord, at 2am to recover with a tranquil night at anchor.
Mac trying on survival suit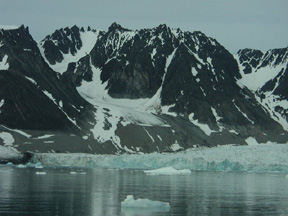 Magdalene Fjord, Spitsbergen
Thursday, Sallyhamna 79.49N, 11.15E, Log 44,448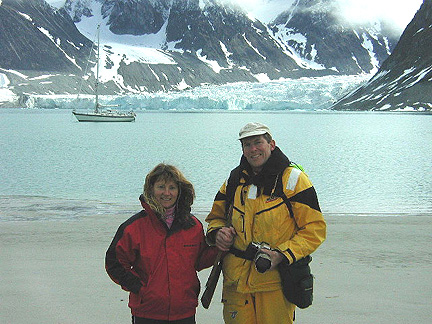 John and Amanda exploring ashore at
Magdalene Fjorden with the always-present rifle.
Hot showers and a pancake breakfast did wonders to restore crew spirits. Visiting ashore at Gravnesset we hiked to the Dutch whalers' graves from the 17th and 18th century and chatted with Hans and Jan the Sysselmannen Patrol while Mahina Tiare sat at anchor with the dramatic Waggonway glacier behind. Back onboard we started safety class until the Europa cruise ship arrived, assembled its landing wharf, proceed to tow it ashore (in the large bay) and then promptly crash it into us. Class dismissed!
When another cruise ship, Polar Star, crackled over the radio with it's announced arrival, we definitely decided to head north in search of walrus for Mac. After scouring the shoreline along Smeerenburg Fjord we ended up with a negative on the walrus hunt so opted to look for polar bears instead.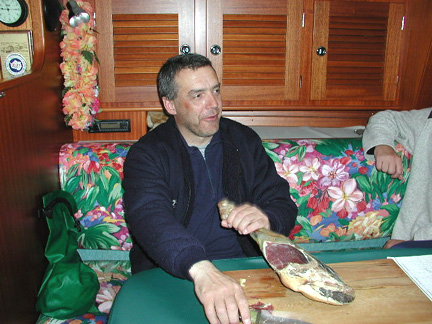 Sevin sharing smoked leg of lamb with MT's crew
Last week in Longyearbyen we heard from a Dutch steel schooner that they had seen polar bears feasting on a beached dead beluga whale a couple of miles from the old trapper's cabin at Sally Harbor, where our Patrol friends, Sevin and Arild were stationed. We decided we needed some latest news so arrived at Sally Harbor as the dinner quiche was ready and called Sevin and Arild on the radio to invite them for dinner. Good News! They were bursting with stories of their polar bear sightings, 64 since we had last visited them. As we demolished dinner we listened to their accounts of the numerous bear visits at their cabin, one particular young male was very inquisitive and they had to fire the signal pistol to scare it away. Another male proceeded to stand up and peer in the thin plexiglas window just as Sevin had been heading out the cabin door without a gun to answer a call of nature, Arild had been in talking by radio with Hans at Magdalene reporting on the day's events. Hans claimed that being at Magdalene has it's advantages as they get to have showers and meals aboard the visiting ships, and they even had strawberries aboard Europa. But Arild responded that their remote cabin with no cruise ships visits but 64 polar bears sightings amounts to more than the number of showers and dinners aboard cruise ships the Magdalene crew have had.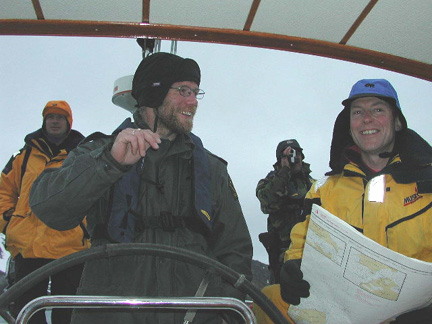 Arild piloting MT to polar bear feeding site.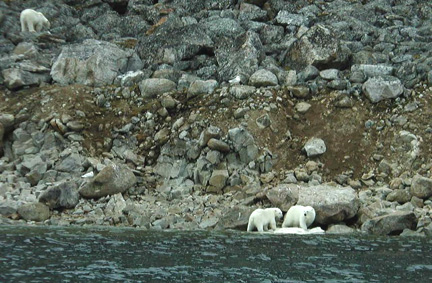 Polar bears feasting on dead Beluga Whale.
This time the guys were prepared for their visit to Mahina Tiare, and brought towels and soap and didn't hesitate for a second when we offered them hot showers. Afterwards, we asked if they would like to come with us aboard MT to look at the bears, and they eagerly said yes. Arild piloted MT through some shallow rocky spots and suggested how close we approach the whale before anchoring, so as not to stress the bears. We immediately spotted five very full and uninterested (in us) bears, too good to believe! Arild pointed out the bears they had been watching for the past week, an old female with two new cubs, a three year old male sleeping in a snow hole, and a mother (with a dirty neck) and her two-year old. There was not a lot of bear activity as they seemed more interested in sleeping than eating the whale that was almost under water in the high tide so we decided to return in the morning when the tide was low.
We were eagerly up at 0500am to go polar bear watching and our morning activity was worth the effort as mum and cubs were leaving the whale to a lonesome two year old who was busy tugging away at the white blubber that resembled a hunk of discarded chewing gum. When we were thinking about abandoning our viewing in lieu of breakfast two suave two-year olds boldly strolled down the rocky foreshore. Mother and cubs quickly moved from their sleeping spot to higher ground and one little cub stood on its hind legs to better view the passing procession. These two fellows wasted no time pushing out lonesome bear and proceeded to tear away at the stringy whale with playful shenanigans. We continued to watch the bears until the cold drove us into more activity so we decided to sail north to 80 degrees before returning to Sally for breakfast.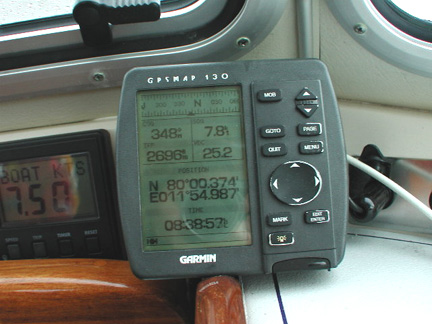 80 º North, again!
Friday July 13, 2001 0830 79.59 N, 11.54 East Log: 44,468 Baro: 1010 Close reaching at 8.1 knots in 15 kt easterly winds Check out this latitude! We crossed 80 degrees north, just 600 miles south of the North Pole, for the second and final time, and smartly gybed south, toward our final destination of Hilo, Hawaii. It seems like a long time ago that we left Victoria, Canada, although it was 16 months and 16,000 miles ago.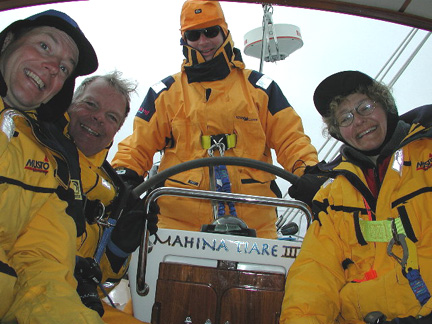 Ecstatic crew, mission accomplished and sailing South.

After a late celebration breakfast we departed the far north with a short stop in Magdalene and a Saturday night pub visit in Ny Alesund. We had interesting chats with the research base assistant director and some of the scientists who wandered down to the dock after seeing us arrive. Being Saturday afternoon, we weren't sure if we'd be able to purchase fuel, but the young harbormaster returned from a glacier hiking trip in his Zodiac just before a small local ship arrived, and we were able to top up our tanks.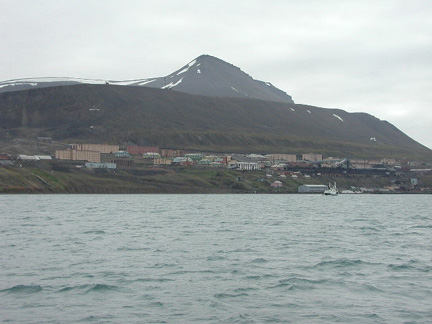 Barentsburg – Russian mining settlement.
Sunday Barentsburg Departing Ny Alesund at 0500 we continued south under a resplendent sun in flat slate-gray seas that shimmered and danced with ripples when little auks and guillemots took fright as we passed. In the afternoon a west breeze blew in allowing us to sail the last few hours across the mouth of Isfjord to Barentsburg, the last remaining Russian coal-mining town in Spitzbergen. Approximately 900 Russians live in this collective community with a shared canteen and wages paid in Russia on the day they return home after completing their two-year contracts. The view from the water of tumbledown buildings, huge piles of coal tailings cascading down the cliffs, black smoke belching from the power plant and piles of rusting, abandoned equipment is a stark contrast to the smart colorful Longyearbyen.
As we tied to a small jetty we were greeted by two guys who were eager to engage our attention and promptly asked if we had coins to exchange for ruples. We offered what foreign money we had and they swapped handfuls of notes, coins and tin commemorative pins.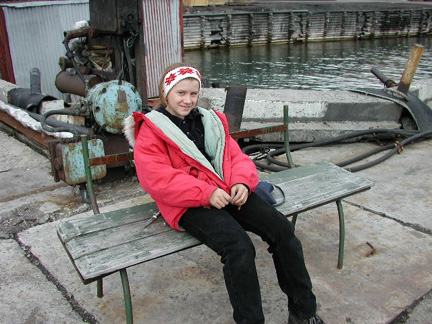 Jenny on Barentsburg Wharf.
We chatted with three children standing by who spoke good English. Jenny was 12 and had been living in Barentsburg for a year, her father was an engineer at the mine and her mother worked at the animal barns. Eager to explore town we set out with the intention to meet at the hotel for dinner. 0n the way up the numerous flights of wooden stairs to the top of the hill we passed Jenny playing in the grass lawn outside her wooden two storied house that she her family shares with 3 other families.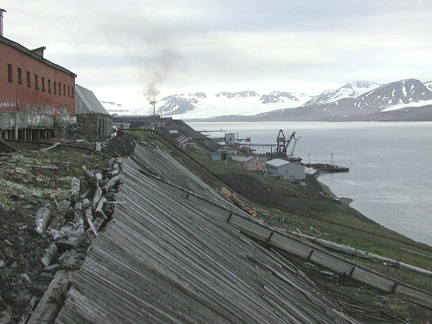 View of Barentsburg from the piggery.
Reaching the top of the stairs we strolled the concrete block roadway past the massive brick sports complex and along a row of a hodgepodge brick and ornamental wooden two-storied buildings that sprawled along the hilltop. Huge colorful propaganda billboards sporting smiling attractive workers dominated the building facades giving the town a distinctive Russian flavor along with the Lenin monument in the towns square.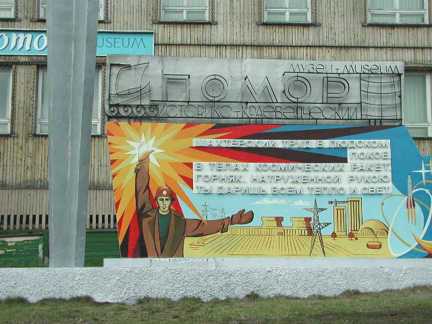 Forward, brave workers!
Gathering at the rustic hotel bar, also home of a Norwegian pay card telephone, we discovered there was no dinner menu that evening but we enjoyed a relaxing time sipping hot drinks and sampling the assorted Russian chocolate for sale. After a tasty fish taco dinner onboard we went in search of the animal barns and met Jenny who offered us a tour. The soft brown eyes of the lovely jersey cows peered quietly over stalls and the pigs, of which there were hundreds, were organized into age groups and sexes, and noisily pressed their noses at us. Jenny affectionately named the mother pigs as we passed noting which ones loved their piglets and which ones ignored them.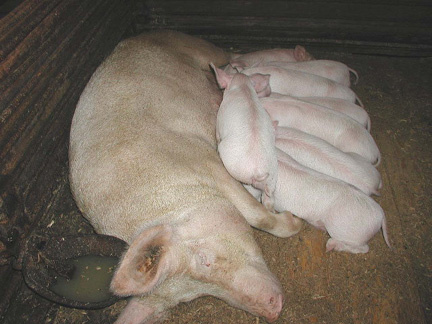 Barentsburg Piggery – the world's northern most!
We particularly liked the Babe piglets but the millions of cockroaches crawling about in the heated pig barns left us with an uneasy feeling.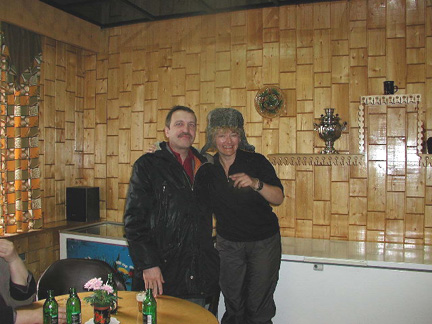 Lindsay trying on Russian hat at hotel.
For the evening we decided to anchor out in the bay rather than listen to the squeaking jetty and rumbling generator.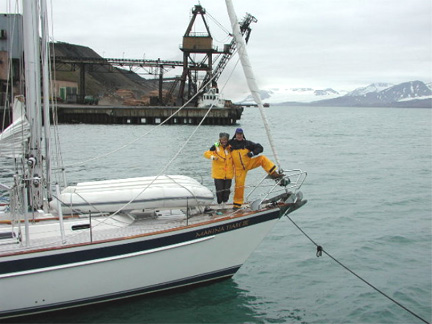 Lindsay and Paul clowning around.
Monday Bellsund We retied to the jetty in the morning and dashed about town to take pictures, phone home and visit the museum. It explained the history of Russian activity in Spitsbergen with early archaeological artifacts, details of the Pomor trade routes and a geological exhibit on coal mining.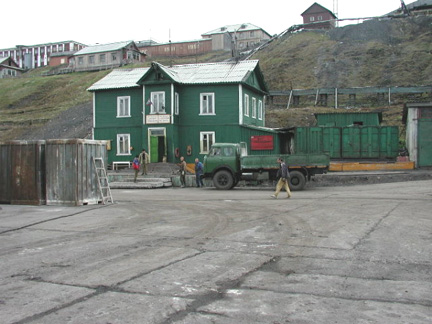 Barentsburg Harbormaster building.
There are rumors from the Norwegians that Barentsburg's coal operation is not profitable and that their equipment is falling into dangerous disrepair and many believe that the only reason Russia holds on to the decaying anachronistic community is solely for political and territorial purposes. However the people we spoke to including Jenny said that they much preferred living in Barentsburg to Russia or the Ukaraine.
Over the past few days we've been juggling weather reports to determine our departure date for Tromso. Unable to receive steady Inmarstat-C coverage due to the high latitude and mountains we've been playing information tag with Commanders' Weather who we've hired for the crossing to Norway. Conditions don't look promising for us to depart until Wednesday due to heavy wind conditions (gusts to 50 knots, seas 18′-20′) so we'll continue coast hopping south and hope for a report when we're clear of the mountains. In the afternoon we motored 65 miles south in calm seas to Bellsund and anchored in a retreating glacial bay on the south side where last week Taonui and Trait de Union were visited by a swimming bear that tried to climb into their cockpits.
July 17, 2001 Tuesday Calypsobyen 77.31N, 14.33E Log: 44,721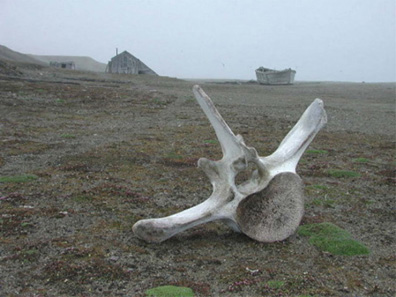 Whalebone on Calypsobyen Beach.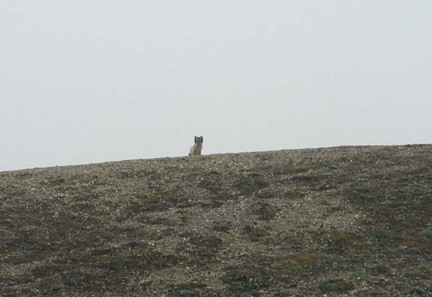 Lone arctic fox, Calypsobyen, Bellsand
Our morning was thrown into a bit of bother when the forward head became blocked so it was quickly decided to go for a crew trip ashore while John changed the oil and worked on the toilet. Yesterday on our way to the anchorage we'd seen a few shacks on the beach flying a Polish flag so we thought we'd go investigating. Ashore at Calypsobyen we met two welcoming Polish geology scientists who made us coffee and showed us their cabin and laboratory explaining that another two scientists were out studying the glacier. The Northern Exploration Company from London originally built the cabins for a coal mining operation in 1918, and gold miners, whalers and trappers later occupied them. Remnants of their exploitations were visible along the beach and made interesting viewing in the early morning fog. The polar bear that had visited our friends yachts had also paid a call to the scientists food storage cabin and although he was extremely selective in what he ate he had still made quite a mess. We were relived to not share the beach with a polar bear, but instead, two arctic foxes that came scampering about looking for food.
Back on MT John had changed the oil but the head was still blocked. After some twisting and turning of handles, pumping and grunting of pumps (we pressurized the holding tank with the dinghy pump) there was not an easy solution, so John pulled off the discharge hose and pried at the blockage with a long screwdriver. Sweet success!
In a thick fog we said farewell to Bell Sound and headed out to sea not knowing if we would be going 60 miles to Hornsund, or carrying on 450 miles to Tromso.
July 18, 2001 0930 78.45N, 16.24E Log: 44,857 Baro: 1022
Motorsailing south, 8 kts ESE winds, calm seas
On receiving a flurry of forecasts from Commanders' Weather (www.commandersweather.com) that forecasted 30-40 kt, gusts to 50 kts and 14′-20′ seas for our arrival at Vannoy Island, 40 miles north of Tromso, we decided to leave on the 460 mile passage yesterday (Tuesday) anyway. The good news was that the winds were forecasted to be NE or E, meaning a fast broad/beam reach, while waiting a few days to depart would result in strong SE to S winds when another intense low roared over the British Isles and pushed north.
As we left Spitsbergen behind, in mellow conditions, we could still see Sorkapp and the southernmost glacier on Spitsbergen, 50 miles off in the distance, 20 hrs after departing Bellsund. We all took turns catching up on sleep after our non-stop activity and shall never forget this amazing place, the people we've met, or our thrilling adventures.
Here's our adventuresome Leg 3 crew: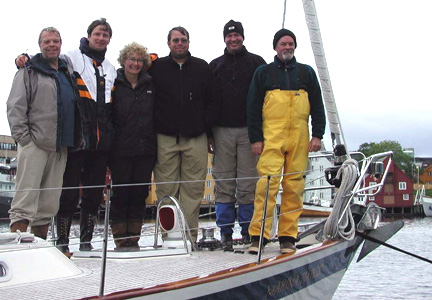 Leg 3 Spitsbergen hearty crew, on arrival in Tromso, Norway.
Mac Taylor, 53 is a vascular surgeon and prof at Oregon Health Sciences University in Portland. He and his lovely wife Catherine sailed with us in Alaska in 1999 and are considering buying a Sceptre 43 soon for some coastwise cruising.
Bob Franke, 48 sailed with us from Cape Horn to Antarctica and back in 1996, as well as from Tahiti to the Cook Islands in 1997. Bob is a telecommunications specialist working for the Salt Lake City Olympic committee who races his Capri 30 with Heidi on Great Salt Lake.
Mariusz Koper, 40 sailed with us from Auckland to Tahiti on a very rough passage in 1999, and that didn't put him off high-latitude, high-adventure passagemaking! Mariusz divides his time between Warsaw where he owns a textbook publishing company and Toronto where his family is. He will be ordering an Oyster 49 for long-distance cruising this Fall.
Lindsay Lessig, 49 is a CCU/ICU nurse who loves sailing and adventure and lives aboard a Saga 43 (which they purchased from Mike Locatell, one of our 1995 Cape Horn crew) with her husband,
Paul Lessig, 60, at Shilshole Marina in Seattle. Paul is a cardiologist and they are interested in cruising to lots of exciting places on their Saga. Paul and Lindsay met while working at an army hospital in San Francisco. They won the SF Big Boat Series on their J-35 in 1996.
Claude Richter, 47 divides his time between Luxembourg and Dunedin, N.Z. Claude is a retired translator who worked for the European Union and is now keen to gather sailing skills for his own future adventures.
July 19, 2001 2200 71.34N, 19.14E Log: 45,128 Baro: 1016, falling
Broad reaching in 25-30kt NE winds at 7.2-8kts under triple reefed main and triple reefed jib
We have 81 miles to Torsvaag, the closest harbor in Norway to Spitsbergen. Commanders' Weather has revised the wind speeds in their forecast, down slightly to 26-32 knots, gusting to 40 for 0200, four hours from now, and it's looking accurate. Our winds have built steadily during the day as the barometer has dropped from 1023 to 1016. The seas are confused, and will get rougher as we approah the shallower water close to land. Mahina Tiare is handling the seas like a champ, with continual sail reduction but we're looking forward to hot showers and relaxing once we make Torsvaag.
Preparation, Anticipation, Safety and Exhilaration
by Leg 3 expedition member Lindsay Lessig
The Commander's Weather forecast for our crossing of the Barent's Sea was detailed and accurate (as we proceeded to confirm with reality). There was a wonderful element of magic to me relating to their ability to be so precise for our planning purposes. With their frequent updates and
responses to our questions, it felt comforting that we had faraway friends looking out for our well being.
John and Amanda thoroughly discussed our situation with us and went over our various options. Taking everything into consideration, it was an easy decision to take off when we did!
Our journey of 150 miles to and past Bear Island was smooth sailing as anticipated and we continuously were happy to have been spared heavy weather till late in our passage. The true excitement came in the last 1/4 of the passage 100 miles from coastal Norway. Surfing the waves in winds from 25-35 knots was exhilarating! I was wishing for Beach Boys' music (or Victory at Sea) to blast from out of the stereo. We continuously talked over and executed methods to manage the winds (reefing the main, reducing headsail, etc.)
As the barometer dropped, the seas became more organized, steeper and higher. The heaviest weather I saw on my 0400 watch was gusts up to 49 knots in steep and breaking 15-20 foot seas. Steering became extremely challenging and exhausting! I felt fortunate that I evaded a small bout of seasickness (with the help of Dramamine and/or Compazine) till right after my dramatic turn at the helm. It was also good to be with two very experienced sailors who vigilantly guided our progress.
I honestly can say that I am extremely thankful for the experience, although I was tremendously glad when we were in safe harbor at Torsvag! The preparation, anticipation and vigilance for safety exhibited are forever "gifts" from the Barent's Sea for me. This was a crystal clear reminder of why we joined this wonderful sailing opportunity!
Thanks to you both, Amanda and John.
*************
In the last 15 miles before arrival at Torsvaag the seas moderated, and the wind dropped to 20-25 knots, possibly because we were out of the North Cape current which was up to 1 knot, directly against the wind. By 1030 we were safely (and happily!) anchored in Torsvaag. We saw no sign of whales being winched ashore for processing, in fact through the rain and wind we never saw any sign of life, other that one moving truck. After a huge late breakfast of huevos rancheros, and hot showers, we slept for most of the day, had dinner and then went back to sleep!
The following morning, Saturday, July 21st, we had a fast sail, gybing downwind in up to 25 knots to the small town of Hanses, where we stopped for lunch and exploring before sailing on to a favorite anchorage of ours, 8 miles from Tromso. Claude and Mac landed a bucket full of cod fish, we had a relaxing evening, then hit the teaching hard in the morning, with trips to the masthead to learn rigging inspection, instruction on sail repair and an anchoring seminar.
Yesterday, Sunday, we completed our expedition instruction before motoring in flat seas under brilliant skies into Tromso, where crew treated us to a fun dinner ashore. It's hard to believe we're now back after five weeks and 2,350 miles of fantastic adventures! Tromso is a changed town; snow has been replaced by trees sporting long leafy limbs (we don't recognize streets anymore) colorful and abundant street stalls line the sidewalks, plus all the University students are displaying buff belly buttons. Such feasts for ice weary eyes!