Leg 1-2001: Gothenburg, Sweden; Tromso, Norway
May 15, 2001 1145 57.42N, 11.57E Log:41,767 Baro: 1005
Moored in front of Gothenburg Opera House In just 15 minutes our first sailing leg of our 12th season starts! For the past 2.5 weeks we have been getting Mahina Tiare ready for her longest season ever, from May 15, 2001 here in Gothenburg, ending February 15th, 2002 in lovely Hilo, Hawaii.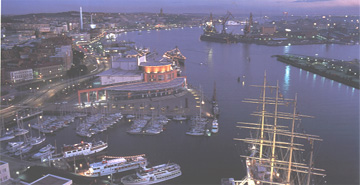 Gothenburg Harbor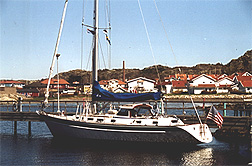 Varnish is done, the sun is out and Mahina Tiare is ready for more sailing fun!
We had excellent help from the busy crew at Hallberg-Rassy, and arrived back in Ellos to find MT already painted, waxed, rigged and launched. Vickie Vance (Leg 1-1991) owner of HR Parts and Accessories helped us track down the last little spare and replacement parts, and for that we owe her a big thanks!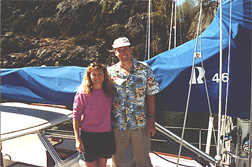 Our final day at the Hallberg Rassy boatyard in Ellos, Sweden.
Mahina Tiare is sparkling and ready for adventure.
We also want to thank Roland Olsson and Magnus Rassy for organizing our haulout and winter storage and Bo and his ever-friendly and helpful crew for helping us sort out our recommissioning.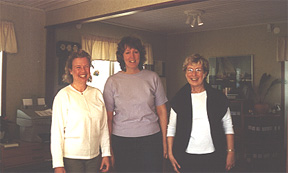 H-R Parts and Accessories crew: Anette, Vickie Vance and Eva helped us find parts for Mahina Tiare in Ellos.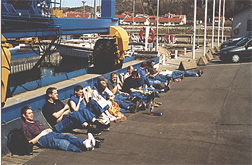 Some of Hallberg Rassy's crew enjoying a sunny lunch break after a long, cold winter.
The 45 mile sail south from Ellos to Gothenburg was in HOT sunny weather (hard to believe it snowed the week before we arrived!) past dozens of postcard-perfect little Swedish villages on coastal islands.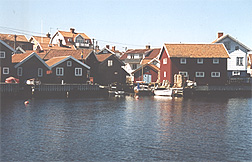 One of many picturesque Swedish villages we passed en route from Ellos to Gothenburg.
Lars and Susanne and their kids Elanor and Daniel (Leg 10-98) met us with their fishing charter boat at Marstrand and let us tie to their dock for the past few days in Hjuvik, downriver from Gothenburg.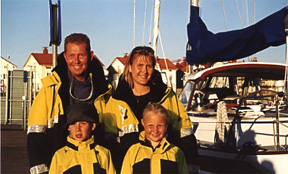 Lars, Susanne, Daniel and Elanor Johansson Leg 9-98 expedition members Hosting us at Gothenburg.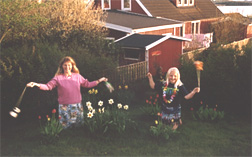 Amanda teaching Elanor a Maori Poi dance in Hjuvik.
It's been a little cool and hazy, but this morning the sun is beaming through and it looks like we have a great forecast to blast directly offshore to Norway.
I'd better go up and greet the crew as it's nearly noon and they are pacing the dock, eager to join us! We look forward to sharing this year of adventure with you.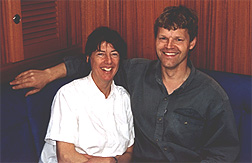 Tania and Marcel Legs 8-98 and 4-99 enjoying their first night aboard Alegria, their new HR 42.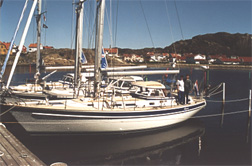 After many years of hard work in Oman, Tania and Marcel christened Alegria
and plan to cross the Atlantic the same time we do.
Leg 1 May 21,2001 0200 62.21N, 05.22E Log: 42317 Baro:1019
Winds: SW 30-39kts Depth: 150′ Seas: Impressive!
Tearing Through Twilight!
We are ripping along on a broad reach, two reefs in the main, three in the jib. Floro Radio keeps announcing gale warnings, as if we needed a reminder!
This morning we left the tiny bulletproof anchorage of Vikingsvagen with a cloudless sky and glass seas. Cliff worked from 2200 until 0400 charting a tortuous route with over 40 waypoints, sliding past some of Norway's spectacular fjords. However, when we crossed Sognfjord entrance we looked out to sea and saw wind. This sparked an idea to sail 140 miles along the coast to Alesund instead of motoring many twisting and turning miles inside the channels. Our goal is to utilize every sailing opportunity and the weatherfax charts from Germany showing following winds preceding a cold front cemented our decision.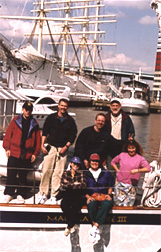 Leg 1 – 2001 crew ready to sail north from Gothenburg.
In the early afternoon we joked about in ideal sailing conditions, broad reaching in 15kts, but the wind kept increasing until grins and rain blew about in the 30's and twightlight was a steel grey at 0100.
The expedition has been flying by – we've already sailed 540 miles since leaving Gothenburg. We always ask our expedition members what skills they most want to work on, and 4 out of 6 Leg 1 crew mentioned heavy weather. They didn't have to wait long! We set sail Wed. morn from Hjuvik on a broad reach. By early afternoon we passed the northern tip of Denmark and the wind, seas and traffic kept building until by 2300 we had 32kts, steep short seas that the Kattegut is famous for, and 8 ships within the 3 mile range on radar.
With following winds we rounded the southern cape of Norway and sailed north, passing Stavanger, before stopping on Friday at Bergen, Norway's second largest city. We rafted to Bor, an 80′ traditional gaff schooner for two nights while crew explored town. The harbormaster came by to collect fees (only $8US equivalent for two nights) and spent an hour marking our charts. As we were missing a few charts, he dropped us at the chart agent in town who had every charts we needed in stock, at only $15US each!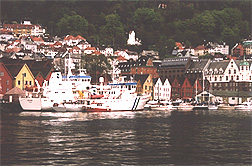 Bergen, Norway harbor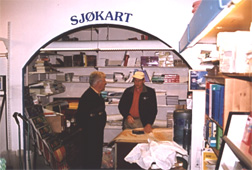 Buying the lasy of our charts in Bergen, Norway.
Hey, I've gotta run, we're now in a channel heading for Alesund and Elizabeth and Amanda are trying to identify lights of the bridge we have to sail under.
May 25, 2001 2020 63.30N, 09.07E Log: 42,470 Baro: 1020
We made Alesund by 0700 and enjoyed a quiet night tied up in the center of this attractive art-nouveau influenced city. We met a lively British couple on a Nauticat 35, also sailing to Spitsbergen and had a Dutch couple on an older Huisman sloop rafted up to us. It was exciting to be exchanging chart and weather info with boats headed the same way!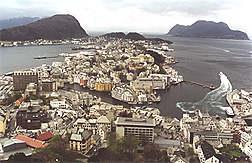 The delightful town of Alesund from Aksla Hill.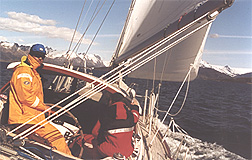 Sliding past Norway's spectacular fjords.
The following morning we had a blistering downwind sail, gybing our way down twisting fjords with winds touching 40kts, and just a bit of sleet! The weatherfax charts from Germany showed another cold front about to roar through, so we sailed hard, reaching the tiny fishing village of Bud at 1530. Like so many Norwegian villages, Bud has a visitors float with an honesty box, $7US equivalent for moorage, including water & garbage. Ashore we explored the remains of the German WWII fort and went for long walks and runs yesterday as we were stormbound with 45+ knot winds and breaking seas offshore.
This morning the winds and seas had diminished, so we sailed north, with a brief look around Kristiansted. We will have covered nearly 90 miles by the time we stop in Kongsvoll. Our goal is to get up to the Lofoten Islands relatively quickly so that we can have several days to explore this isolated and dramatic offshore group.
Here's our Leg 1 crew:
Elizabeth Peter, 51 is a doc who lives near Vancouver, BC where she and her husband David are preparing their Fast Passage 39 for a voyage to the South Pacific this fall.
Sheryl Howard, 46 is an engineer at Lockheed in San Jose, a pilot and sailed a new HR 39 from Sweden to Florida last summer. She sails her Cape Dory 30 on San Francisco Bay.
Tim Whitlock, 52 works for Timberjack, a division of John Deere in Ontario and sails his CS 22 on Lake Huron.
John Fink, 46 is a neurologist from Ann Arbor, Michigan and enjoys sharing sailing 470's with his 6, 10 and 12 year olds and his wife Cindy.
Henry Sharpe, 57 recently retired from being a strategic advisor for the mayor and city council of Seattle. He enjoys singlehanding his Alberg 30 out of Bainbridge Island and recently returned from a four month advisory position with the Vietnamese government.
Cliff Wood, 46 a software engineer from Caldwell, Idaho enjoys flying his Maule aircraft into backcountry mountain airstrips.
Leg 1 2001 May 3
Tromso 69.38N 18.47 E Baro 1003
We have arrived in the trendy university town of Tromso and Leg 1 is drawing to a close with crew members packing bags for further destinations and adventures to Spitsbergen, Finmark and warmer European cities before heading home. This 3 week 1,300 mile expedition has been a delight and the following is a summary of the highlights we experienced since leaving Bud and general cruising information.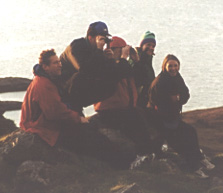 Louvund Island  May 28, 66.22N 12.22E The last 3 days we have sailed 240 miles, coastal and offshore ,to just below the Arctic Circle. Lovund's steep mountain is home to 200,000 puffins who return in the summer months to nest. We enjoyed a pleasant midnight sun evening high on the hill viewing hundreds of comic little puffins coming home for the night.
Puffin watching in the midnight sun on Louvund Island.

Svartisen Glacier  May 29, 66.42N  13.37E Svartisen is Norways second largest icecap and it seemed only fitting that we should celebrate our Arctic Circle crossing with a glacial evening hike up the ice tongue that licked the grassy lowland. The following morning saw arctic initiation swims in the shadow of the glacier from hardy crew and a showy photo opportunity.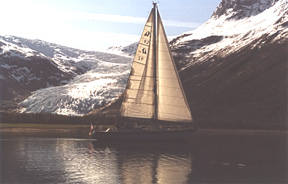 Ghosting past Svartisen Glacier.
Lofoten Islands  June 1, 68.13N 14.34E After a short supply stop in the working harbor town of Bodo we jumped off across the Vestfjorden for the Loften Wall, a 70 mile expanse of jagged glacier carved peaks stretching along the Lofoten archipelago. We spent a windless crossing practicing celestial navigation and rope work while watching the snowy wall loom closer and arrived to the sight of small fishing villages and grassy farms fringing the towering peaks like the brim of a sombrero.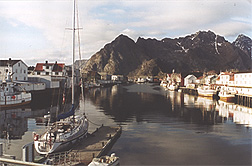 The fishing town of Henningsvaer nestled under the Lofoten wall
.
The trendy fishing town Hennsingsvaer was our first stop and interesting galleries and scenic walks alongside the harbor and open-air cod drying racks gave us a window into the islands charms. Time stands still and locals go about their traditional fishing, farming and home activities around the clock. Sailing a few miles further north to the main town of Svolvaer, the tempo changed to a town alive and bustling with its annual international blues festival, though entertainment was $25 a venue na dstarted at 11pm.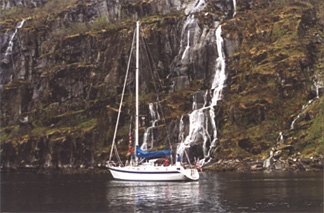 Troll searching in Trollfjorden, Lofotens.
As a farewell we cruised the Trollfjorden, dramatically narrow and deep with glistening snowy mountains and extensive waterfalls, before sailing the last 150 miles inside scenic Senja Island to Tromso.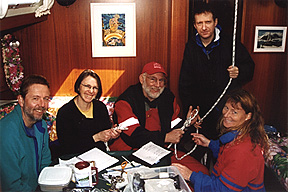 Leg 1 crew learn the ropes.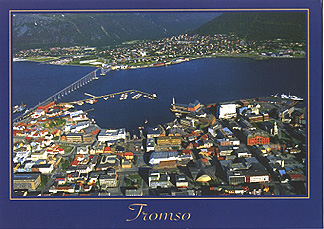 Tromso  June 11 We've enjoyed exploring this attractive Arctic city with it's accommodating guest harbor in the middle of town. If I were asked to give it a sister city I would say Hobart, Tasmania with a lot more snow. Cafe's galleries, outdoor markets, museums, pubs and parks spread along the waterfront and the tourist office is more then helpful for extra imquires for places to visit and boat projects to complete. As  a university town and leaping off spot for Spitsbergen, a 1 1/2 hour flight away, Tromso has an energy akin to Ushuaia in South America and people are out and about viewing the sights at all  hours. John and I have prepped Mahina Tiare and we are now enjoying a free week of museums, Spitsbergen education, fellow cruisiers, staying fit in the local pool ( though they only do breaststroke) and catching cod…I'm getting pretty good at it.   Weather Perfect…chilly but perfect. For the month of May the barometer has remained relatively steady in the mid 1004 range and weather systems have passed at a predictable pace. The best weatherfax information comes from Germany twice a day and is easily interpreted. We experienced no fog and have had light winds from the south since leaving Bud.
Charts and Cruising Guides  The Norwegian Cruising Guide by John Armitage provides invaluable advice information for over 500 anchorages and harbors. The Norwegian Pilot, Den Norske Los are available in 7 volumes, though 4-6 do not have English text, only Norwegian. These excellent publications with color areal photo's and harbor plans but cost $40 each. Norwegian Charts cost $15 each, are of  superb quality and available in most city bookstores. The 100 series provides terrific coverage at 1:50 000 and we have a total of 70 charts for coastal Norway with a few large scale charts for overall trip planning. Electronic Charting proved to be extremely limited and expensive and with coverage only in the south to Alesund.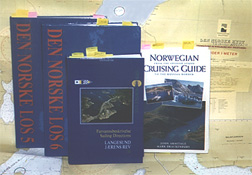 Norwegian Sailing Directions and Cruising Guides.
Navigation You need take a few minutes to familiarize yourself with the Norwegian buoyage system Towers or cairns, made of stones and rock piles, some containing pointing arms, are the oldest system of navigation aids while beacons, perches, sector lights, cardinal marks and buoys total 13,000 adding to at first an impossible confusing route in narrow channels. Bridges and power cables are numerous and heights are only noted on the charts.
Moorage We've been amazed at how populated Norway is and in our voyage north we have not spent one night where there has been fewer than 5 cabins ashore. Small harbors with guest pontoons are frequent in even the smallest town while cities have additional facilities. Dockside fees have averaged $8 per night while showers ($2 ) and laundry ($6 wash and dry) are available with a  key deposit. Be warned that washing machines and dryers tend to take 2 hours per session.
Provisioning and Fuel Grocery stores contain great supplies at about 25% more than the U.S and fuel at approximately $2.50 U.S is available in large towns. Foreign credit cards are often not accepted at many supermarkets and fueling stations but ATM machines abound.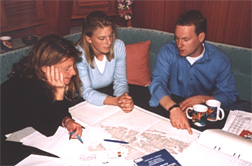 Katarina and Per Magnus of Polar Quest going over charts of Spitsbergen with us.