July 13, 2011, 0440 hrs, 19.12 S, 169.49 W, Log: 148,364 miles
Baro: 1017.4, Cabin Temp: 79 F cockpit 76 F, sea water 84.4 F
Broad reaching at 3.4 kts in 9.5 kt E winds, clear skies with nearly a full moon
NIUE ISLAND AHEAD!
Our 600 mile passage from Raro has been unusually light and mellow and deep downwind angles have meant lots of practice gybing the main, setting the preventer and poling out the headsail.
Refreshing mid-ocean afternoon swims are certainly a highlight although Mora and Amanda certainly were grooving at every available opportunity.
Niue is now just 4.2 miles ahead and the moonlight is bright but it's only with a good imagination that we can make out the pancake-flat outline of the two-tired limestone Niue Island ahead.
| | |
| --- | --- |
| Ed spotted a nice mahi-mahi which he and Fiona landed and in between the grooving Mora was keen to practice her reefing skills. | |
July 17, 2011, 0140 hrs, 18.38 S, 173.46 W, Log: 148,604 miles
Baro: 1015.6, Cabin Temp: 79 F cockpit 76 F, sea water 81.1 F
Broad reaching at 6.5 kts in 19-26 kt E winds, double reefed main and triple reefed genoa, occasional light rain squalls, the first in months!
With a nearly-full moon we're rocketing along towards Vavau, Tonga although with just 12 miles to go we're now trying to slow down.
Our time on Niue was terrific. Keith Vial, Niue Yacht Club commodore met us at the dock after we cleared customs and had offered to take our crew on a half-day tour of some of the most spectacular limestone chasms that our gang entered by climbing down a trail and then swam through and out into the sea.
| | | |
| --- | --- | --- |
| View of MT in the south mooring field as seen from the cliff top in Alofi town | Fiona, standing on the right after exiting a cave, appears rather tiny against Niue's rugged coast | Mora and Harry swimming in one of Niue's many pristine pools |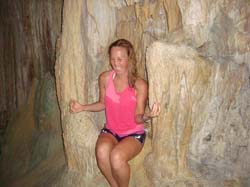 "Wow! A perfect limestone cave Zen seat" announces Fiona
On Thursday Michael and Fiona rented bikes and did a major five hour cycle around the S end of the island while the rest of our crew explored the coastline closer to town. Amanda and I rented bikes, hoping to make it to the hotel near the SW tip of the island but by the time we cleared out with immigration, customs and visited with friends we settled for a cycle down the coast to a spectacular blow hole.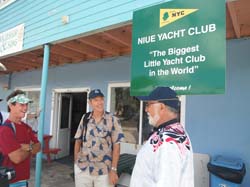 Verne and John get a tour from Commodore Keith of the new venue of "The biggest little Yacht Club in the world"
Our visit coincided with Niue Yacht Club's first Thursday night barbecue of the season – and what an eclectic group of people jammed the little club house! None of the local members were sailors, several have little outboard fishing skiffs, but their hospitality was incredible.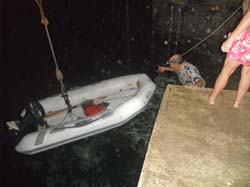 There is no easy shore access at Niue so a trip ashore for everyone means that the dinghy is hoisted via crane onto the wharf. This proves rather a challenge in the dark with a big swell running so all crew need to nimble and pay attention to avoid a douching by the swell.
In the early dark of Friday morning we went to town for morning market and again later for last-minute errands. We were amazed to see all the locals dressed up, plus tons of visiting VIP Kiwis; part of a government and trade delegation visiting each South Pacific nation before the South Pacific Forum heads of government meeting which coincides with the start of the rugby world cup in Auckland next month. Ed said that on a scale of 1 to 10, he'd rate Niue at least a 12.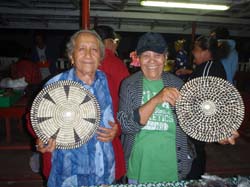 The ladies are proud to display their unique pandanus woven placemats for sale at the market
It's 250 miles from Niue to Vavau, so we didn't want to leave too early on Friday. In the lee of Niue it seemed like winds were very light but once we sailed clear we found steady 20 kt easterly trades. With a course of 265 degrees magnetic our crew has become quite adept at gybing both the main and the whisker pole. The mellow conditions have been great for class with Amanda teaching splicing and sail design this morning.
Currently we have a very interesting 146' neighbor, the vessel St. Theresa. She's 48 days out of Uruguay via Straits of Magellan; a small inter-island cargo ship just purchased by a group of Tongans. They have no chart for Tonga and have never entered Vavau from the east. The only waypoint they're steering for would take them directly, in the dark, over three consecutive reefs in an attempt to enter Vavau from the south. We first heard them on the VHF as they were trying to call a ship that did not reply. I answered back and discovered they were hoping to get more GPS waypoints to enter Vavau. They were currently steering to a waypoint from the diary of the Tongan first office, Kaveka. He'd written down the waypoint a number of years ago when he was on the inter-island ferry.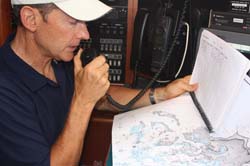 When I plotted their waypoint on our chart discovered it would take them directly over the very dangerous southern reefs as the waypoint was only really good if you were entering Vavau from the south, not the east as we both were. After a moment of thought I managed, at some length, to convince them to instead skirt the N coast of Vavau and enter in a direction that would be clear of reefs.
We chatted for a bit and Kaveka said he knows Esau, the new Tongan harbourmaster in Rarotonga. They'd now been at sea for 48 days and all they have left to eat for dinner is mince, or hamburger as it's know in the U.S. After they dropped their Strait of Magellan ship's pilot in Punta Arenas, Chile, they battled huge head seas for two days making no progress before seeking shelter for another day in the channels before again trying to head north around Cabo Froward again. Other than passing Easter Island 13 miles off, they haven't seen land since Patagonia. A few minutes ago I called them again on VHF and asked if they now had land on their radar, and they said yes, they were happy to see lights ahead.
July 21, 2011, 0040 hrs, 14.35 S, 171.35 W, Log: 148,936 miles
Baro: 1008.7, Cabin Temp: 82 F cockpit 81 F, sea water 84.1 F
Close reaching at 7.6 kts in 15 kt E winds, full main and single reefed genoa, clear, moonlit skies
WE'RE FLYING NOW WITH JUST 40 MILES TO UPOLU ISLAND, SAMOA!
Our landfall in Vavau, Tonga was perfect. We watched our timing closely, skirting the high, volcanic and reef-free northern coastline so that at first light of dawn we were on the range and headed for the commercial wharf to moor for customs clearance.
We end-tied on a bit of the towns rugged wharf with all of our fenders getting a workout, just to windward of St. Theresa, the just-purchased Tongan small cargo ship we had given waypoints to. The ship had all her flags flying and we watched as a steady stream of dignitaries including customs, immigration, quarantine, health inspectors along with the owners and several distinguished looking Tongans that must have been members of parliament visited.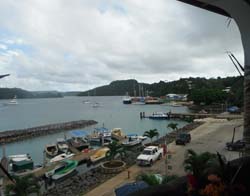 We had been told that Customs rarely started work officially before 9AM, so at 10:30 I ambled over to St. Theresa and struck up conversation with one of the owners, the captain, the chief engineer and a deckhand. All promised to ask the four officials to consider stopping by to clear us in after completing clearing the ship however it was noon when we saw our first official. Knowing that customs demands that vessels tie alongside the very busy and rough commercial wharf for in or outbound clearance, I patiently asked for both clearances at one time. Meanwhile there were six later arriving yachts including the brigantine Soren Larsen circling around the wharf literally all day, waiting for a place to tie on the wharf to clear in or out along with a sport fishing boat waiting to fuel.
Once we had completed inbound clearance our crew was free to explore Neiafu town while Amanda watched our fenders and lines and I waited for the immigration office to open so we could get our departure stamps in our passports.
Finally at 1:30 I was able to pay port fees and pick up our outbound customs clearance and we could leave the dock to pick up a mooring off The Aquarium restaurant.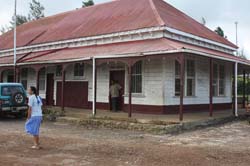 Neiafu post office
From the seaward Neiafu looks quite established and prosperous and since Amanda and I had last visited Neiafu 30 years ago (she with her family aboard the Roberts 50, Swanhaven they had built, and I aboard Mahina Tiare I, my HR 31) we were keen to check it out.
Once ashore discovered that several of the hotels were closed and that the basic services of town had changed rather slowly. Neiafu town was now rather interesting as many cruisers had moved ashore and opened businesses ranging from restaurants and bars to art galleries, t-shirt screening while you wait, dive shops and whale watching operations. Our crew found several internet cafes and one with rather delicious baked goods and fruit smoothies
| | | |
| --- | --- | --- |
| At the municipal market Mora and Amanda select lettuce from Nina | Town view of MT on her mooring in Neiafu | It's interesting to note that home owners use untethered pigs as lawn mowers! |
​
Phil Holland, Leg 1-2000 and his wife Judy were on the next mooring and joined us for dinner at the Dancing Rooster; an excellent waterfront restaurant started by an Swiss ex-cruiser. Phil and Judy have sailed their Hylas 46, Fetching Light, over 50,000 miles since taking delivery in 2003 and. The next morning a number of us went aboard for a tour and to view all of the cool custom features they had incorporated into the design. Ed's ears perked when they mentioned they are interested in selling her, upon returning to the States later this year, as he would like to upgrade from his current Catalina 42.
Having been cruising Tonga for 2 months and in preparation for their passage to Hawaii Phil had scheduled a maintenance haulout for later in the morning at the tidal railway. It proved to be rather rustic but successful.
Once the morning rain cleared we headed for Mariner's Cave, located six miles away on Nuapapu island. Last year on the chart we'd fortunately written the position (18 41.460 S, 174 04.496 W) of this very hard to locate underwater cave. As there's no possibility of anchoring off the cave Harry volunteered to keep MT in position offshore as the rest of us swam to the cliff.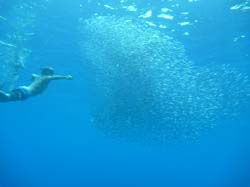 Verne and Amanda play with schooling fish at the mouth of Mariners Cave
Then one by one we held our breath and swam down 10' and in about 50'. I went into the cave first and held an underwater light to guide everyone through the challenging entrance.
Thankfully I'd remembered to tell everyone to quickly clear the entrance by swimming further into the cave after you surface. Last year we had quiet a pile up of bodies making it difficult for the next diver to surface. This time everyone rapidly rocketed through the underwater passage before smartly swimming off into the large cavern, complete with stalactites.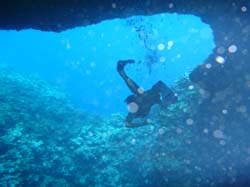 Verne swimming the passage from Mariners Cave
Earlier we'd read of the Tongan traditional story of how the young lover of a girl whose family had been condemned to death hid her in the cave for two weeks. Daily he swim in. to bring her food until he had built a sailing canoe and spirited her off to Fiji, later to return and live happily ever after.
After the cave excursion we headed for the shelter of Neiafu with the challenge of finding an anchorage that would be safe from all wind directions as a weak frontal passage with squalls and rain was forecast, but yet one that would allow us to depart safely in the dark for Samoa, as if we waited until sunrise Tuesday we would have to average 6.6 kts to reach Samoa before dark on the second day.
We found a passable anchorage .5 nm SW from Port Maurelle off tiny Kakautaumai village, but with some coral and shifting winds, although later it would prove to be less than ideal.
Amanda taught going aloft in between the afternoon showers and I taught diesel engine maintenance
As we finished dinner the wind slowly swung around to the west and increased to 16 kts, putting us in a lee shore situation. I had swum down and lifted the chain free of coral from the predominant easterly direction but now with westerly winds we could hear our chain grinding against coral. There was only one option; try and raise anchor in the dark squally night and get clear of the bay.
With the wind shift I could easily imagine the chain now having wrapped itself around any one of a number of coral heads, but it hadn't happened! Surprisingly, the anchor came up without a hitch. In driving rain we cautiously followed out the course Ed had patiently plotted, between several small and high volcanic islands, and set sail. Once clear of the islands we had a sloppy sea with modest winds. Later in the day the winds picked up and we've had some great sailing and slowly sailed clear of the stationary front that brought the weather. Catching a wahoo then mahi mahi were added bonuses.
We've been struggling to gain easting against a very strong west-setting current in order to round the windward, eastern end of Upolu Island. Apia is halfway (30 miles) along the northern shore of the island and now it looks like we should easily clear the eastern tip so we've slightly eased sheets. Mahina Tiare loves these conditions and is eating up the miles at 7.5 kts in just 15 kt winds and our crew is truly enjoying honing their sailing skills.
This morning we've done well on our teaching program covering sail trim, sail repair and storm tactics. All that remains tomorrow morning before arrival is communications, dealing with officialdom, watermakers and electrical power systems. On second thought, I think it is going to be a busy morning!
Apia is one of the very few places we visit in the South Pacific that has a protected, fairly safe marina where, unlike Tahiti, there always seems to be plenty of slips for visiting boats. With showers, laundry, restaurants and town all within walking distance, it really makes our job of getting MT prepared for the next leg much easier.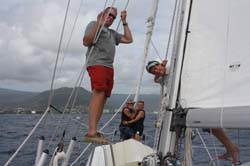 Ed, Harry, Mora and Verne are all smiles as we enter Apia Harbor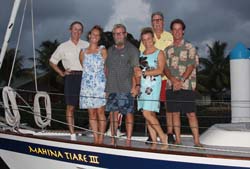 Here is our Leg 3 crew ready for a celebration Samoan dinner and dancing ashore at the historical Aggie Grey's Hotel
Michael Eden-Walker, 62 from Ottawa, Canada
This is my fourth adventure aboard Mahina Tiare and the most enjoyable ofor me as my daughter and sailing buddy Fiona is along for the ride. My plan is to purchase an HR 36 and keep it somewhere on the East Coast. (Michael and his wife Polly run and urgent care clinic)
Fiona Eden-Walker, from Toronto, Ontario
I'm an adventurous chef and rugby player back home and when the call came to join Dad for a Pacific sailing journey I happily agreed! Hiking, scuba, HHH in Raro, Amanda's cooking and landing a mahi on the aft deck were highlights.
Mora Thompson, 44
I'm a San Diego native who hadn't been on a sailboat until I was asked on a date which was a sea trial. He kept the boat and he kept me. We've had happy sailing (mostly) for the past ten years. I do web design and estimating in our landscape business.
Harry Thompson, 58
I'm a landscape designer/contractor and have been sailing since 1980. Currently we own a Westsail 39 which we keep in La Paz, Mexico. We sailed to Mexico from San Diego with the Baja-Haha five years ago and have been commuter cruisers ever since. We are thinking about sailing from Mexico to either the Marquesas or Hawaii and wanted to get some offshore experience first. We've been learning a lot and I now have a list of 50 things to improve our boat. I am grateful for this experience.
Ed Bessinger, 64
I learned to sail at a YMCA camp on a sunfish as a teenager and still love sailing. I owned a sailed a boat in Mexico for eight years and now have a Catalina 42 in Bellingham, Washington and want to do some offshore sailing in the South Pacific. I live in Union, Michigan where I have a construction business and I believe that you are no older than you feel and that my best sailing years are ahead of me.
Verne Wood, 57
I've been an avid boater since my father taught me to sail at age nine and have raced and cruised a variety of boats from dinghies to keelboats. Throughout many years I've maintained a dream of sailing the South Pacific. I live in Hilo, Hawaii and as surfing is one of my passions I operate an 80' liveaboard surf charter boat in Indonesia, www.surfinindonesia.com.