Leg 3 – 2016, Update 1
July 11, 2016, 1400 hrs, 75.26 N, 03.12 E, Log: 195,381 miles
Baro: 1010.1, Cabin Temp: 63 F (with a furnace on), Cockpit: 50 F, Sea Water: 45.7F
Broad reaching at 6.5 – 7.5 kts with 17-20 kt NW winds, no reefs, whisker pole set
315 miles from Jan Mayen
GOODBYE TO AN OLD FRIEND
The eight days between expeditions slipped by so fast, but Amanda and I found time for trail running around Longyearbyen and out to the Global Seed Vault (basically the only places one can run or hike without carrying a rifle). We also undertook numerous hikes up the valley, checked out the old coal miners' accommodation and dining hall that has now been turned into a hotel, the extensive local artist gallery and visited with a jeweler friend before setting sail for a place quieter than the frequently bustling port town.
Strong NE winds were forecast for Monday and owing to the thick kelp bottom conditions off town we searched the chart for an interesting anchorage that would provide a safer alternative. We came up with Kapp Wijk, 22 miles away, where we could anchor on a sandy glacial sill in moderate depths and set off sailing downwind under headsail smoothly and quietly with a cloudless sky. Upon arriving in the bay we anchored a mile past three huts, four snow machines and a skiff all located above the beach that held a seal meat structure, but saw no sign of life over the next 24 hours. We assumed this must be a fur trapper's hut, used only in winter.
Monday afternoon we'd completed our chores just as the wind moderated so we packed the rifle, flare gun, PLB and headed ashore. We had two concerns; meeting a bear on the beach or backing marshland and having the rising tide float the dinghy away. The beach was pea gravel rendering our dinghy beaching wheels useless so we used driftwood as rollers and slid the dinghy as high as we could, wishing we'd brought our dinghy anchor for even more security. It turned out to be considerably further than it looked to the cabins and when we were about halfway there, Amanda noticed a person walking between the huts.
When we arrived at the huts we went up to say hello and shake hands, meeting Harald, who said he'd lived there for 39 years. He seemed a little shy, but when I asked him if he knew what time high tide was, he eagerly invited me inside, (Amanda was busy studying the nesting eider ducks surrounding Harald's cabin), where he promptly turned on his computer, opened C-Map (the same electronic charts we use) from which he got the time of high tide.
Harald had been a microbiologist in Bergen and at the age of 36 decided to try a winter season on Svalbard, living off the land. At the end of the winter he'd a million things he wanted to do and so 39 years have now passed. He said his arctic fox trap area was 250 km long, and before snowmobiles were available, he used a sled and dog team, working all winter out of three additional huts in different bays, as well as his home base.
We asked when he'd last been to Longyearbyen for supplies, and he said it had been many months as his Suzuki outboard had repeatedly broken down but a new one was due any day. Harald said he really missed the dependability of his last motor; a Yamaha. While I was looking for a postcard with our website to give Harald, Amanda spied the banana I'd slipped into my knapsack and offered it to Harald. He not only ate the banana, but used his teeth to scrape clean the inside of the peel. We offered him a ride to Longyearbyen to buy supplies when we planned to return the following day, but he declined.
Last week when aboard the Greenpeace ship, Arctic Sunrise, we'd watched a stunning piano composition played by an Italian composer in front of an actively calving glacier that happened to be six miles away and very visible from Harald's front door. He mentioned that the Wahlenbergbreen glacier had been inactive for decades but had now suddenly and dramatically started to move and calve. This made us want to check it out more so we said goodbye, headed back up the beach grateful to find our dinghy still well above the tide line.
We motored across Nordfjorden into Yoldiabukta where we planned to anchor for the night. Our hope was to get close enough for Amanda to sail along the glacier face while I took pictures from the dinghy but the high concentration of brash ice and 20-25 kt winds quickly torpedoed this plan so we just motored up relatively close, enjoying the vast beauty, before turning away and trying to find a place to anchor. The two potential anchorages we'd earlier identified on the charts were both choked with ice and quite windy so we set sail back for Longyearbyen arriving at 2100 to happily find an empty berth on the visiting yacht dock.
Wednesday morning, we returned our rented rifle and flare gun, completed our main grocery shop for the next expedition, and just as the taxi dropped us off, noticed a massive cruise ship docking at the pier outside the yacht pontoon. Not wanting to be trapped again by cruise ship's mooring lines, we tossed the groceries aboard and signaled to the harbormaster boat that was towing the huge stern lines ashore, asking if we could quickly depart before they secured the lines. Initially the answer was no but after consulting with the pilot he motioned that we could depart if we could do it immediately. This we did and anchored off the pier in deep water with poor holding. When the winds started gusting to 25 kts that afternoon we moved closer to the harbor and picked up the only mooring, intended for small expedition ships.
Our crew joined us noon Friday and following orientation we set sail for a secure anchorage in Bellsund, 70 miles to the south where a polar bear and her two cubs had been recently sighted. They certainly take the cake in terms of eagerness for adventure as four out of six arrived up to a week early to have adventures ashore before joining us.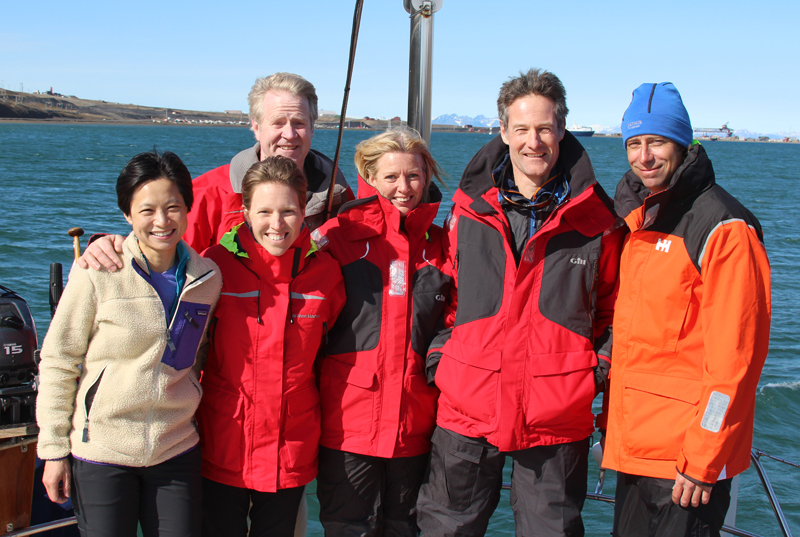 Leg 3 Crew: Carol, Abby, Bob, Dallis, Sean and Donnie
Carol, 44
I first learned to sail in Hong Kong, where I grew up. A career in engineering and construction meant 20+ years of non-stop adventures as I was sent around the world to build motorways, railroads and other infrastructure. I'm now looking forward to getting my own boat to continue exploring and adventuring!
AbbyLynn, 43
I'm a pastor from Maine who has always loved the ocean. My husband Bob and I have an HR 40 we sail on the Maine coast and are now planning on sailing up into Canada next summer.
Bob, 56
I have a construction company in Maine where I live with Abby and our four kids. During college I crewed for several summers on 100' classic schooners and now we're both gaining confidence and eager to expand our future cruising plans on our HR 40.
Sean, 46
I'm a freshwater scientist at the Cawthron Institute in Nelson, New Zealand and sailed Cherub class dinghies as a kid, as well as wooden Outward Bound cutters but have spent little time on keelboats. I joined this expedition to learn more about offshore sailing and to get a taste of passage making as my wife Dallis and I hope to head to sea sometime in the not too distant future with the eventual goal of high-latitude sailing/climbing adventures.
Dallis, 46
I'm a self-employed business consultant based in Nelson, but working all over New Zealand and in Antarctica. Joining this expedition is a step toward building our own experience.
Donnie, 38
I grew up in a beach town in Florida but now reside and practice medicine in North Carolina. I have always been drawn to the ocean and traveling and currently own a Cape Dory 25. Sailing will be the perfect way to travel the world and to reach remote islands for exciting surfing, climbing and hiking.
It was 0030 Saturday when we arrived in Fridtjovhamna, Bellsund anchoring in the lee of a sandbar in 30' of very sticky mud with MT's stern facing an impressive and actively calving tidewater Fridtjovbreen (Fridtjov glacier) two miles further in the bay. We all had a good look for bears from the cockpit before turning in.
Sunday morning, we completed galley, engine room, safety, liferaft, Lifesling and harness orientation, enjoyed lunch and then set sail up to the face of the glacier.
After cruising along the glacier in windy conditions we headed five miles away in the lee of Akseloya Island enjoying expansive views of Bellsund and its several stunning tributaries. After dinner we set our alarm clocks for an 0200 departure and before heading off to bed, I stood in the cockpit for some time, absorbing the wild and grand beauty of the glaciers and rugged mountains surrounding us.
It was so bright at 0200 we all had to wear sunglasses as we raised anchor, hoisted and reefed sails, set the preventer (hooray for downwind sailing!) and bore away for Jan Mayen, 550 miles SW with 20-25 kts of wind and smooth seas. Many times Amanda and I looked back at Svalbard, wondering if and when we will return. Amanda talks about spending more time on our next visit and perhaps circumnavigating the entire archipelago since the eastern side is now mostly ice free. As it was Abby and Amanda's watch, I headed back to bed, only to later learn that shortly after I'd crashed, they'd seen a blue whale blow numerous times. At up to 110' in length they are the largest mammals in the world and two were recently sighted off Longyearbyen.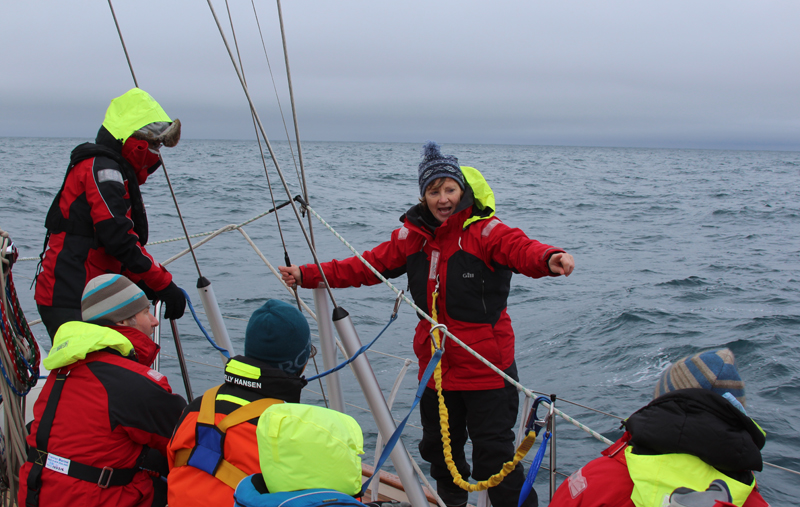 Amanda teaches rig check
We had to motor a few hours yesterday afternoon, but steady winds of 15-22 kts have given us speeds between 6.5 and 8.2 kts. Our teaching is on schedule and everyone is relishing the enjoyable downwind sailing.
July 15, 2016, 0700 hrs, 69.03 N, 10.36 W, Log: 195,855 miles
Baro: 1015.7, Cabin Temp: 58 F (with a furnace on), Cockpit: 44 F, Sea Water: 46.8F
Broad reaching at 7 kts in 15 kt ENE winds, calm seas
240 miles from Iceland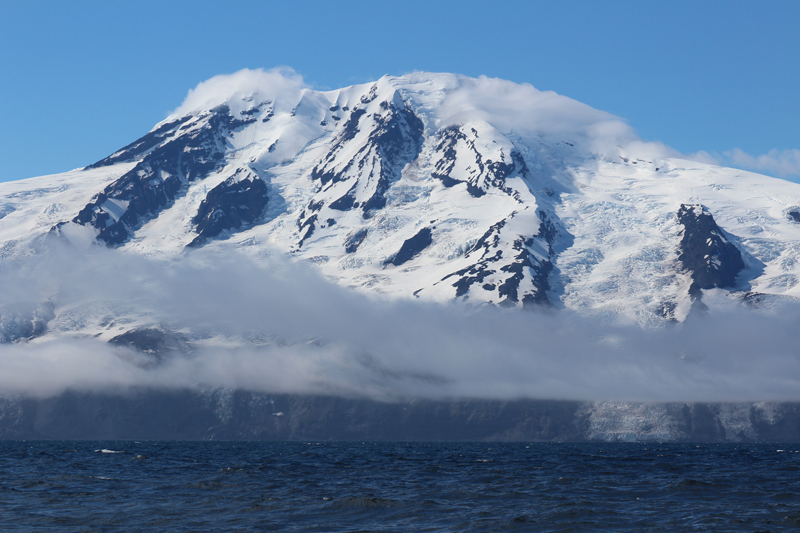 Our first view of Jan Mayen was of tall cliffs shored in fog but then the fog lifted and we had an amazing sunny view of the 6000' tall glacier-clad volcano Beerenberg.
For 3.5 days we broad reached under full main and poled-out genoa without once touching the sheets or reefing, in brilliant 24 hours a day sunshine to start with, but with increasing bands of fog as we approached Jan Mayen.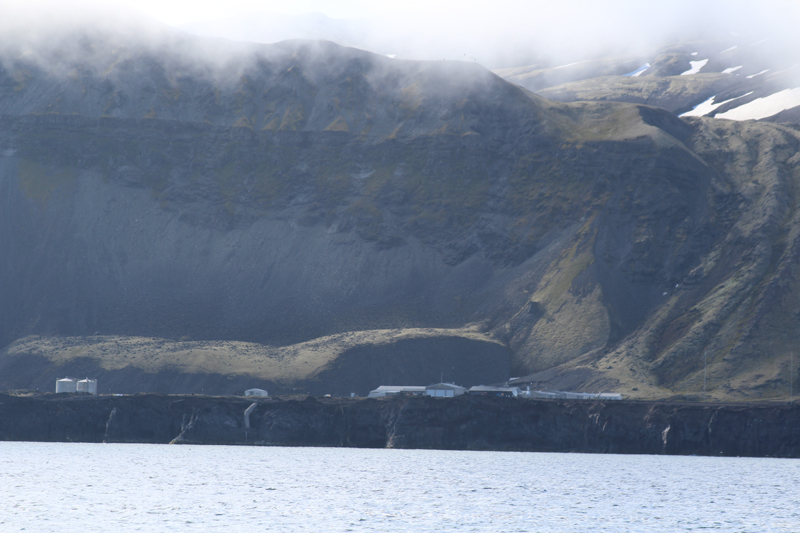 View of Jan Mayen Station from sea
As we sailed along Jan Mayen's impressive cliffs, glaciers and waterfalls we spotted one small trappers hut then the dirt airstrip, along with the LORAN and radio towers as we approached the meteorological station buildings located 2/3 of the way down the island. I hadn't received a reply to the email I'd sent to the Norwegian base commander but once I contacted Jan Mayen Radio on VHF I was able to speak with him. He approved our stopping for a maximum 24 hrs and said he'd meet us on the beach just south of their base.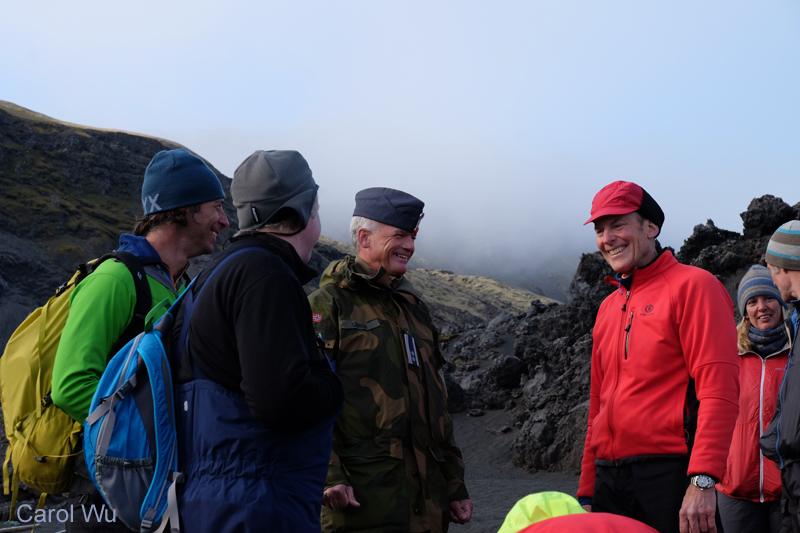 The base commander Lt. Col. Rune Leirvik, a handsome Norwegian air force officer, helped us carry our RIB up the beach and then filled us in on Jan Mayen's colorful history as we walked the short distance to the Norwegian base.
Batvika, the only approved anchorage on Jan Mayen's south coast is an open roadstead, but wasn't too rolly and the anchor felt like it set securely in the black volcanic sand. In no time flat we'd launched the RIB and headed ashore, uncertain if we'd be able to land our first group through the swell. The beach was gorgeous black volcanic sand that dropped off quickly allowing me to unload half our crew over the bow before quickly backing out of the surf line, returning with the second load of crew.
Rune is a climber and skier and a couple years ago he'd skied across Greenland with a group of friends. He'd only arrived for his one-year posting in March and by June had summited Mt. Beerenberg with five of his base staff in a massive 22-hour effort.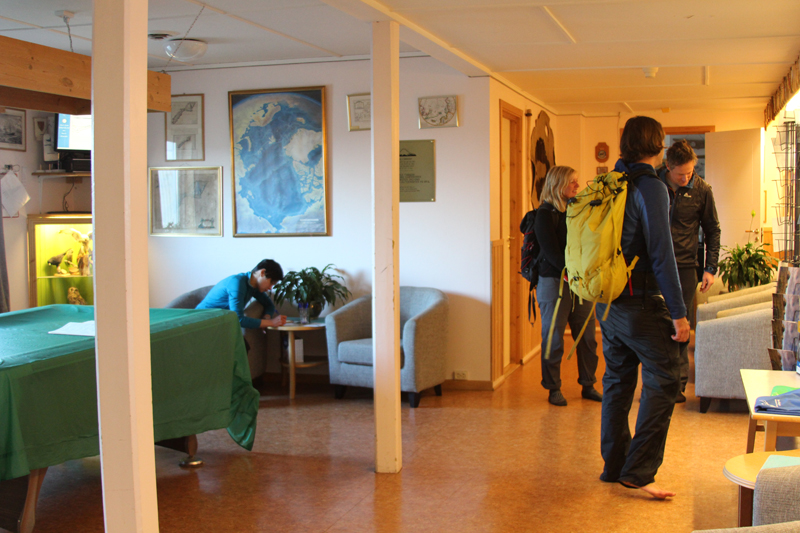 Crew checking out the station's memorabilia
Wednesday and Saturday nights are "social pub nights" at the base and most of the 19 staff were enjoying quizzes and libations when we arrived. Rune had Ellen, the nurse, open the shop which sold souvenirs, postcards and warm clothes and then introduced us to Elisabeth the assistant chef who served us homemade bread and excellent soup during which our crew enjoyed chatting with a few of the base members learning of their six-month job rotations on the island. We asked the head chef if they were short of food supplies she shyly mentioned they had run out of tomatoes and fruit which we promised to bring the morning.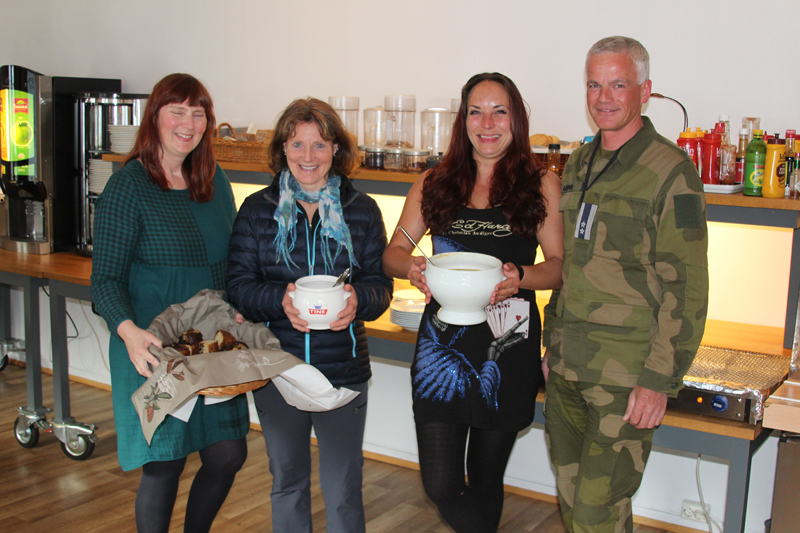 Ellen, Amanda, Elisabeth and Rune with our evening soup and olive bread supper
When we walked the five minutes back to the beach where we'd left our RIB, we were grateful to see MT calmly at anchor and easily got everyone back aboard. It was 2330 but with tranquil conditions Sean and Donnie dove in for a swim and we all enjoyed chocolate and tea, celebrating our safe arrival.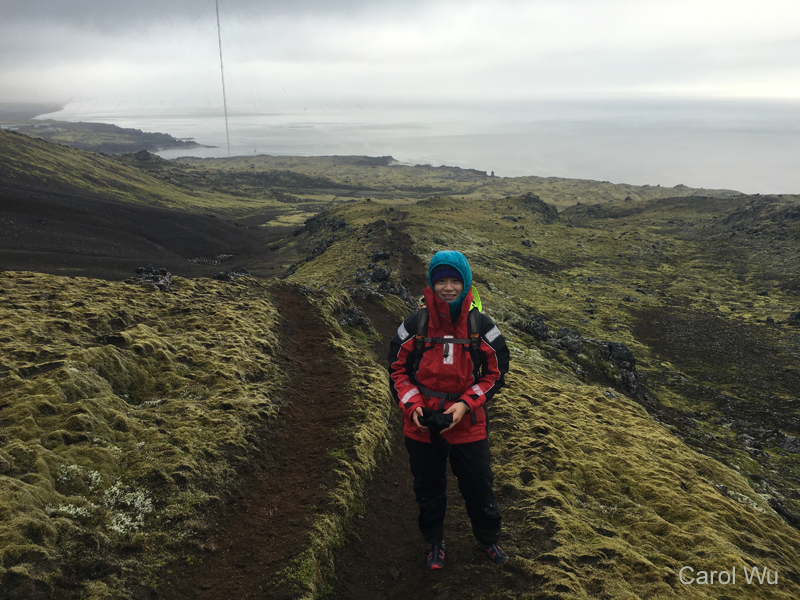 Carol hiking up a mountain ridge behind the anchorage
The base commander had asked that I return with our passports the following morning, so after breakfast we headed ashore. Crew took off on runs and hikes while Amanda and I chatted with Rune. When we came into his office, he had our application form up on his computer and was interested in possibly joining us on a future expedition.
Rune had mentioned that the weather on Jan Mayen is constantly changing – what might be a protected anchorage one moment could become a dangerous lee shore the next and by the time we got out to MT, winds were gusting to 30 kts making it temporarily impossible to retrieve the motor and RIB. Once we were ready to depart we used a temporary lull in the wind speed to quickly winch the motor, then the RIB on deck.
July 16, 2016, 0700 hrs, 66.34 N, 12.50 W, Log: 196,024 miles
Baro: 1007.1, Cabin Temp: 62 F (with a furnace on), Cockpit: 44 F, Sea Water: 50.0F (Gulf Stream influenced, no doubt!)
Broad reaching at 7 kts in 20 kt ENE winds under double reefed main and genoa
76 miles from Iceland – Rockin along at good speed!
A slow-moving low pressure cell has given us great sailing with 30-34 kt beam and now broad reaching conditions. As the low moves slowly towards Norway, our wind has been backing so what started out as a close reach is now a broad reach. This allows us to take the sometimes breaking confused seas on the quarter, giving us some good bursts of surfing speed. During orientation several of our crew specifically mentioned they were interested in gaining heavy weather experience so they're keenly enjoying these conditions which are forecasted to moderate this afternoon. We're all excited about landfall sometime after dinner tonight and everyone has been busy reading up about the east coast in Lonely Planet Iceland.
July 16, 2019, 1500 hrs, 66.34 N, 12.50 W, Log: 196,024 miles
Baro: 1007.1, Cabin Temp: 60 F (no furnace on, hooray!), Cockpit: 66 F, Sea Water: 50.0F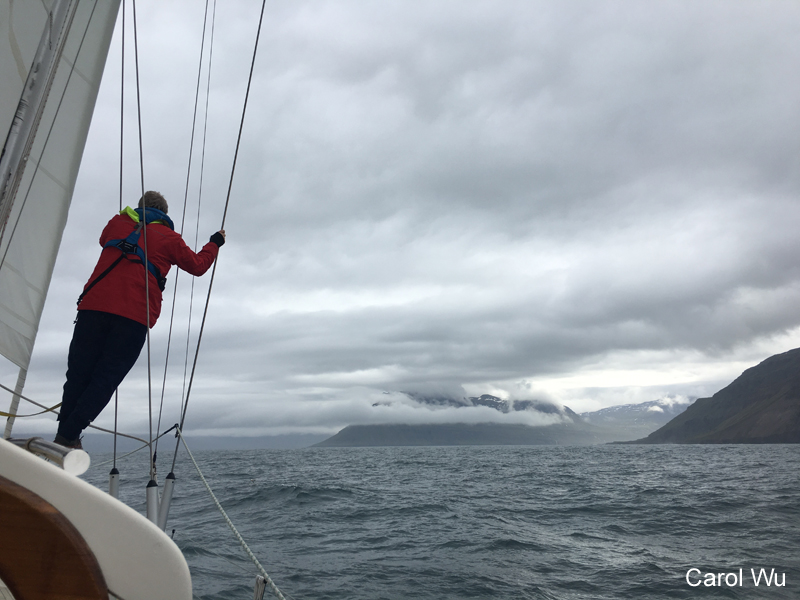 Bob keeps lookout as we make landfall
We had an easy arrival at Seydisfjordur and a Polish training yacht that we'd followed up the fjord was just completing clearing customs. We tied ahead of them and before we'd completed adjusting fenders and lines, I welcomed the very friendly customs officer aboard. He said he is always on call (it was a Saturday night) and there was no charge for customs. The harbormaster stopped by briefly, but when we mentioned we hadn't been able to purchase any Icelandic kroner, he said he wasn't set up for credit cards so, "Don't worry about paying, but let me know if you would like electricity".
We'd arrived during an annual rock concert and several thousand very chatty and slightly drunk young people were catching busses to the nearby concert venue. With a population of 650, it didn't take long to locate the one small supermarket and a gas station where we hoped to fill our propane tank the following morning. We all slept like the dead, never hearing Peter Smith (www.PeterSmith.net.nz), inventor of the Rocna Anchor (www.rocna.com) moor directly in front of us.
Sunday morning Amanda and I visited the service station. It is illegal to fill propane tanks in the EU and exchanging tanks is difficult as nearly every country has a different size and style. Fortunately, our US pipe fittings are similar to the older, non-current Swedish and Norwegian fittings so we've been able to refill tanks near Gothenburg and Tromso. One of our tanks was nearly empty (I'd resisted my urge to bake muffins) so when the owner said we could pay for exchanging tanks, but actually fill ours by gravity, I was ecstatic. I carry a gravity feed hose with assorted connectors so a 9 kg tank filled our 25 lb tank 2/3 full, and a 5 kg tank topped it off with a little left over.
Chores and exploring complete, we set sail at 1600, on what turned out to be a very rough upwind start to Faskrudsfjordur, arriving at 2200. We had excellent coverage on C-Map of the newly-expanded small boat harbor and could see a 42' Norwegian yacht inside but when the depth got down to 0.5' in the channel, we gingerly backed out.
Dallis, standing bow lookout, commented that there was a guy ashore watching us intensely and walking quickly towards the tiny harbor. Minutes later, a police car and another car rolled up and Bob called out, asking what the depth was in mid-channel. The reply was "Half a meter!", so Bob asked for mooring suggestions. The guy on shore pointed back out the way we'd come, and said, "In front of the yellow house", and then got in a waiting car and took off in that direction. Turns out the town had recently completed a handsome new guest pier in front of the old French fisherman's hospital which is now a very nice hotel/museum/restaurant.
Sigmar Hardarson was waiting when we arrived, as were several hotel guests, and took our lines accepting our invitation to come aboard. He said he crewed on the village rescue boat and had been watching our AIS signal on www.MarineTraffic.com before we ever entered the bay. We had a great chat. Sigmar was born in the village, has two kids and drives forklifts in the impressive cooperatively-owned fish processing plant directly off our bow. The operation employs over 200 people and owns three 180' fishing boats that work locally and off Greenland catching cod and haddock, much of which is exported to Belgium, Poland and the UK. He asked if we would like some frozen cod and said he would drop it by in the morning.
Monday morning Amanda taught sail repair and finishing splices before our crew went exploring town and visiting the French hospital museum, a tribute to 300 years of French sailors and fishermen working out of this village, losing over 400 boats and 4000 men.
As we were getting ready to cast off a waitress from the hotel restaurant came down the dock saying she'd would really like to sail with us next year and could another waitress possibly sail with us to Breiddalsvik, the next bay down the coast. Stefania arrived in a flash all smiles asking if her boyfriend Bjarni could come also. She crews on the lifeboat which her father Oscar is skipper of and happily answered all the questions we peppered her with about growing up in an isolated village including the pronunciation of the Icelandic language.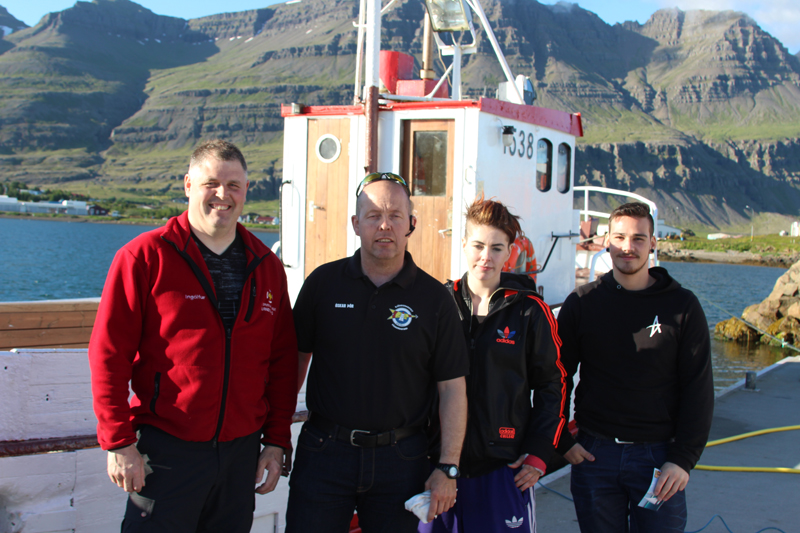 Ingolfur, Oscar, Stefania and Bjarni
When I asked if she thought there might be a place for us to moor in Breiddalsvik, Stefania said, "Just a minute", whipped out her phone and called Ingolfur, the volunteer captain of the lifeboat there who assured her there would be a berth for us. Stefania steered us into the tiny harbor as Oscar, who had just driven over the hill to collect her and her boyfriend, looked on proudly from shore. When we asked Ingolfur if we could pay for the moorage he got a quizzical look on his face and told us the woman who might collect moorage fees was out of town, and not to worry.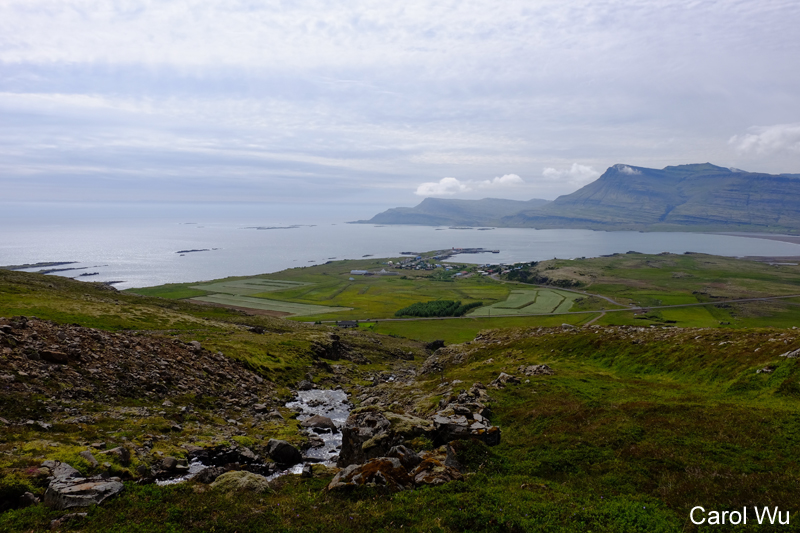 Carol's view mountainside view of Breiddalsvik
Breiddalsvik was a wide-open fjord, with lots of light and a very different feel to the narrow, deep and high-sided fjords we'd previously visited. Yesterday morning following going aloft for rig inspection class, some went swimming in the small community pool while others went hiking along the beach or up the valley. After lunch we set a course for Westman Islands, 210 miles south and then east.
We'd hoped to stop for dinner at one of the only two harbors, but the entrances looked a little dodgy with sandbars and the timing didn't work. Although we started out with light following winds, they've filled nicely with Carol hit 10.2 kts surfing under full main and poled out genoa.
We've been getting periodic glimpses of very impressive mountains and glaciers to shoreward through the clouds as we sail west along Iceland's southern coast.
July 25, 2016, 2015 hrs, 64.09 N, 21.56 W, Log: 196,531 miles
Baro: 1012.2, Cabin Temp: 62 F (no furnace!), Cockpit: 44 F, Sea Water: 57.2F (seriously!)
Moored at Brokey Yacht Club, Reykjavik, Iceland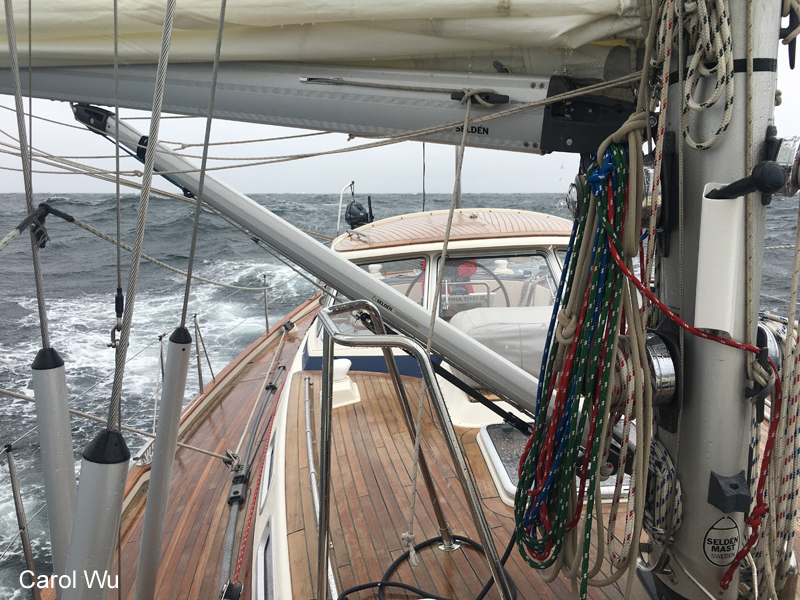 We've since tucked reefs in both sails and are trucking along nicely at 7-8 kts.
For the first time in months it got dark enough to require compass and nav lights as we carefully approached Vestmannaeyjar Island in occasional fog and drizzle at 2300. The Imray RCC Faroe-Iceland-Greenland cruising guide mentioned that the harbor had nearly been sealed off by the 1973 volcanic eruption and we were pleased to spot the red buoy marking the edge of the lava flow, squeezing in past impressive overhanging 300' cliffs into a harbor that was jammed with 200'-300' fishing vessels and even larger freighters.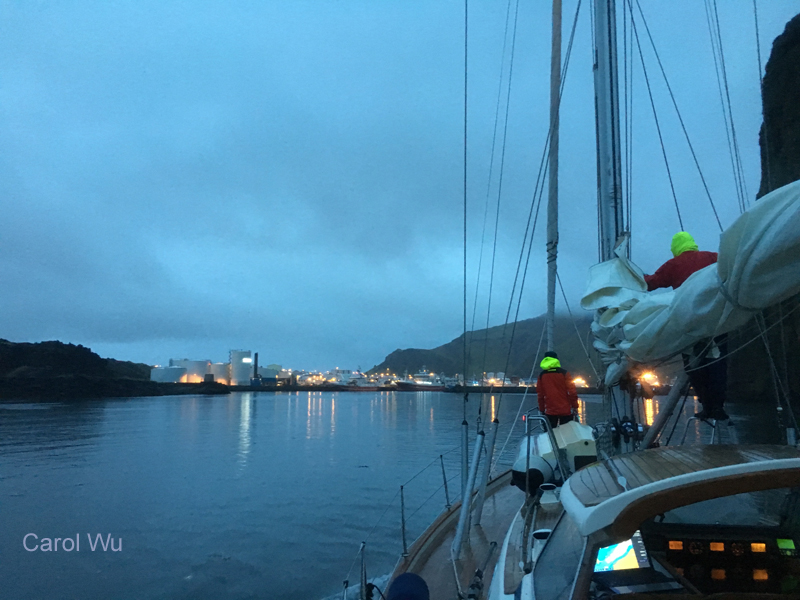 Approaching Vestmannaeyjar Island in fog and drizzle at 2300
We found the small boat harbor, but it was chokka with whale watch RIBs and local boats. The only empty spot was a small part of the fuel dock and we managed to secure about 1/3 of MT with the rest overhanging. At 0730 I found a harbor employee arriving at the port building, and explained where we were moored. She apologized for the lack of space and facilities and said there would be no need to pay because of this. When I mentioned I hadn't been able to get the self-service fuel pump to work with my credit card, she explained it wasn't working properly and that she'd call the fuel company. Shortly after, a guy showed up with a wireless credit card terminal and we were able to top up our tank.
Upon entering the harbor Donnie had pointed out two new concrete docks, without cleats, loosely lashed to the end of the wharf across from the fuel dock. As soon as we'd finished fueling, harbor employees towed one of the floats away, leaving a gorgeous new 60' long float beckoning us to tie alongside. The harbormaster called her colleagues and got an OK for us to moor alongside for a few hours. Amanda and Carol figured we could tie to the docks rub and soon we were all set just in the nick of time for the three-hour volcano summit and town walking tour that Carol had graciously organized.
We met Unnure and Edda of Viking Tours and were soon learning about the local economy (both had earlier worked in the fish processing plant we walked by) and the devastation and changes brought about by the 1973 eruption of Eldfel. Half of the homes in town were destroyed and the harbor nearly sealed shut by lava, but thanks to the gift of many large diesel-powered pumps from the US Army Corps of Engineers and weeks of dedication from the local firefighters, the lava flow didn't completely block the harbor entrance, instead it considerably narrowed it, providing much better protection in northerly winds.
Today Vestmannaeyjar is booming with the five fish procession plants and dozens of huge bottom trawlers coming and going at all hours of the day and night. Freighters anchored outside the harbor shuttle loads of frozen and dried/salted fish all over Europe and also to Africa. Tourism is also growing with whale and birdwatching plus hiking bringing many visitors.
Friday morning we all took off climbing before breakfast. After returning we covered cruising medicine and once we were underway we practiced towing warp and the Galerider drogue before hoisting the storm staysail and trysail. We had fairly light conditions for most of the 130-mile passage to Reykjavik, but managed some good sailing in the early morning hours. We arrived at Reykjavik harbor at 0800 and found a perfect, sheltered spot to moor at the Brokey Yacht Club directly in front of the very new and impressive Harpa Concert Hall. Our final class after breakfast was celestial navigation where we worked out a latitude by noonsite.
Our adventuresome crew took off on many different directions; Dallis and Sean were picking up rented bikes and a car for mountain biking, climbing and camping activities, Donny headed off to the Golden Circle and Blue Lagoon, Carol was off to experience everything from glacier climbing to diving while Abby and Bob planned to visit a few museums.
Amanda and I have an eight-hour Golden Circle mini-bus tour planned to see volcanoes, geysers, waterfalls and a national park then will set sail to a nearby small town.
Resources used for Leg 3, Longyearbyen, Svalbard to Reykjavik, Iceland:
Weather:
YR.NO: NRK Met Institute – Norwegian government weather site which we think must use the EC forecast model. Incredibly accurate and helpful with very detailed coverage of Svalbard!
WINDYTY.COM: Worldwide GRIB forecast charts utilizing US GFS computer model.
Special thanks to Ken Appleton for forwarding us analysis of yr.no forecasts when we were out of cell range to receive them.
Cruising Guides:
Norwegian Cruising Guide, 7th edition, Volume 3 covering from Kristiansund to Russian border, Phyllis Nickel & John Harries, Attainable Adventure Cruising, Ltd.
Norway – RCC Pilotage Foundation, Judy Lomax, 2nd edition.
Faroe Iceland Greenland, 3rd edition, Will Kerr, Imray – Royal Cruising Club Pilotage Foundation
Den Norske Los, Arctic Pilot – Svalbard and Jan Mayen (available free as a PDF from kartverket.no)
Charts:
British Admiralty: 2897, 2901, 2902, 2733
Norwegian:503, 523, 512, 300
Electronic Charts:
Navionics running on Raymarine MFD
C-Map running on Rose Point Coastal Explorer on PC
Rifle Rental (for polar bear protection in Svalbard:
Sportscenteret Svalbard AS
Leg 3 Itinerary