Leg 3, 2017
June 22, 2017, 0750 hrs, 52.30 N, 009.57 W, Log: 201,773 miles
Baro: 1010.6, Cabin Temp: 65 F (no heater, for several days!), Cockpit: 57 F, Sea Water: 52.5
Broad reaching at 8.1 kts in 14 kt WNW winds, slight seas
Sailing Down Ireland's Lovely Green Coastline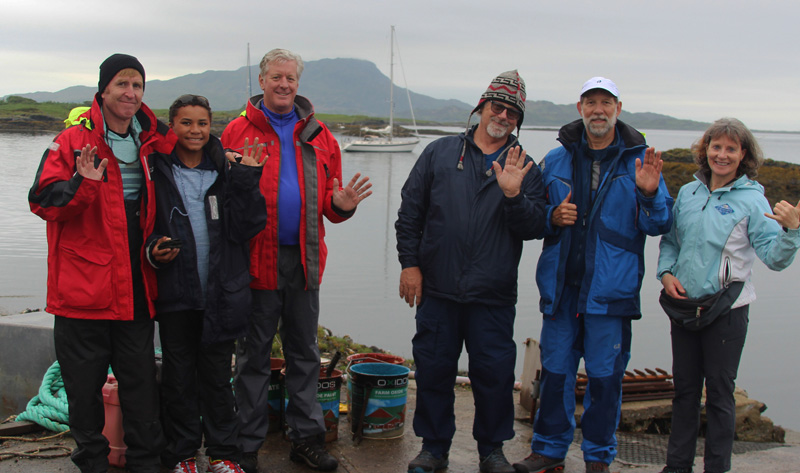 Our enthusiastic Leg 3 crew with Mahina Tiare in the background at Cullipool, one of Scotland's Slate Islands: Matthew and son Jonathan, John, Marty, Mark and Amanda
Between Legs 2 & 3 Amanda and I sailed south of Oban to a group of islands where slate had been quarried and exported for many years. We also spent a night Ardfern Marina where we moored across from Princess Anne's handsome new Rustler 44 and ran over the peninsula, through the woods, the following morning to check out Craobh Marina which was a much better organized operation.
Our Leg 3 crew joined us at Oban Marina on Kerrera Island on Saturday, June 17 and after lunch we set sail and practiced reefing enroute to Isle of Luing. We picked up a mooring off the village of Cullipool where Amanda and I had visited earlier and enjoyed exploring the village, slate quarries and café/museum before dinner.

The slate quarry worker's cottages
Sunday morning our focus was safety orientation and navigation before setting sail 250 miles for Inishbofin, a small island off Ireland's NW coast, home to Grace O'Malley, the pirate queen.


Mark, John and Jonathan on watch


John multitasking on MFD watch and weatherfax analysis


Anchored at Inshbofin
After weather class and a hike, we choose to take advantage of the somewhat-rare NW winds and set sail that afternoon for Roundstone, a protected anchorage on the south side of Connemara Peninsula, 28 miles further south. It was an early start the next morning for Inishmore, the main village in the offshore Aran Islands and with sunny warm skies we were all keen to rent bikes and cycle to Dun Aengus Fort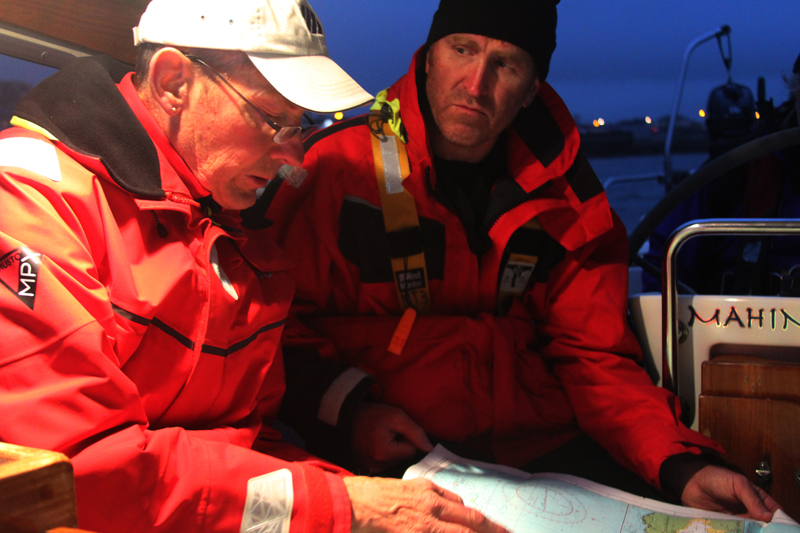 John and Matt discuss as to our next day's tactics on our arrival at More Bay
Today is another brilliant sail and we're currently between Loop and Kerry Heads, crossing the Shannon River estuary. Because of an impending 980 mb low, we sailed from Inishmore in the late afternoon to More Bay on the Kilkee peninsula, arriving at 1900.
After experiencing a night of serious pitching at anchor we were happy to be up and sailing by 0500 this morning. Fenit Harbour, one of the most secure in the area, should be a great location to ride out the predicted gale force winds that are to start ramping up this afternoon and evening. Our Leg 3 crew are certainly keen sailors who seem to relish a bit of weather, and sometimes we practically need to peel their hands off the wheel.
June 28, 2017, 1035 hrs, 50.09 N, 006.58 W, Log: 202,040 miles
Baro: 1000.3, Cabin Temp: 65F, Cockpit: 66F, Sea Water: 61.5F (thank you, Gulf Stream!)
Broad reaching at 7 kts in 15 kt NW winds under full sail with whisker pole on genoa
We made Fenit Harbour several hours before the forecasted gale and were surprised to find three end-tie docks available. We had time for hiking, showers and exploring before the strongest winds arrived. We were totally sheltered behind a 40' tall breakwater although Amanda said MT was substantially heeled over at the dock all night. I slept through the blow, content that we'd found the most protected harbor for many miles.
Friday morning, we cooled our heels waiting for the strong westerlies to die down with Amanda teaching Sail Design, Sail Trim and I taught Anchoring Worldwide. By 1500 the wind had moderated to 15 kts in the harbor, so we wound our way out Fenit's channel, motorsailing into headwinds and very sloppy large seas to Smerwick Harbour, on North tip of Dingle Peninsula. We found one fishing boat on a mooring in the entire large bay and spent a secure night anchored off the sandy beach.
Saturday morning dawned much clearer and by 0720 we were underway for Great Blasket Island, just west of the Dingle Peninsula. Formerly home to a hearty group of Gaelic speaking fishermen, shepherds and smugglers, the island was evacuated in 1953. After anchoring of the village in a white sandy bottom I managed to safely landed our eager crew through the surge onto a tiny landing. I chose to stand anchor watch and stopped by to chat with the skipper of a local 50' tourist launch who was tied to a mooring near the landing. He said he'd been hired to pick up the ship's pilot off the mega-yacht just appearing on the horizon which had been chartered by Elton John. Half an hour later the sleek 130' motor yacht stopped just outside the anchorage while the skipper I'd just spoken with ran out in an inflatable to retrieve the pilot. The mega yacht certainly looked out of place at the Blaskets as the only other traffic we've seen so far has been one sail boat yesterday (towing a dinghy!) and small local fishing boats.

Matt happy at the helm


Blasket anchorage


Lelia and Gwen; the two charming French girls who run the Blasket Café


Crew of to check out the seals on the beach


The seals are rather skittish and quickly scamper into the sea
Meanwhile our crew and Amanda explored the rebuilt cottages and ruins, visited a beach with hundreds of seals then hiked to a ridge for an outstanding view. Surprisingly they found a café/coffee shop in an ancient refurbished house on this isolated island. www.blasket.ie
Our destination Saturday night was Knight's Town, a historic town on Valentia Island. Always hoping to find Celtic music, we were disappointed when the information office said there was a singer/songwriter performing, but it was in the next village, 6 km away, and wasn't starting until 2230 – long past our bedtime. Our crew enjoyed exploring and a dinner ashore while Amanda and I found an unattended self-service greenhouse offering organic strawberries and lettuce.

Strawberries anyone?


Jonathan busy in the galley


John's mum would be proud of his flag repair
Sunday morning Jonathan helped me make smoked salmon and vegie scramble before Amanda taught sail repair. Our destination for the evening was Crookhaven Harbour, 57 miles around Mizen Head, the SW corner of Ireland and inside Fastnet Rock to the. We were greeted with a well-sheltered, sunny and warm inlet and visitor's moorings. Dozens of folks were soaking up sun and enjoying a Guinness with their fish and chips while of their kids played in the water and jumped off the wharf. What a welcome and delightful change from the drizzly, foggy weather that is so persistent in Scotland
| | |
| --- | --- |
| Hilltop view of Crookhaven Harbour | Crew lineup outside Sullivans: the most southern pint in Ireland |
Another front was passing through Monday morning, but that didn't stop most of our keen crew from heading ashore with Amanda and I at 6:30 for an hour of running, hiking and exploring. Monday morning was just that, drizzly and foggy with visibility was under .3 mile for most of the 15 miles as we motorsailed through narrow channels between rocky islands to Baltimore. By the time we anchored, visibility improved enough that we could just barely see the harbor quay a quarter mile away. Four of us made a quick dinghy run ashore finding everything but the pub and one restaurant buttoned up tight.
Yesterday morning the sun was out (occasionally) and we all enjoyed exploring the restored 800-year-old Dun Na Sead castle (now a private home, but open to the public) before setting sail at noon for the 160-mile passage to the Iles of Scilly, located 25 miles W of Land's End, the SW tip of Britain. We've had some of the best sailing of the year, with excellent and fast broad-reaching conditions plus whales, dolphins and surprisingly little traffic.
June 29, 2017, 0635 hrs, 49.55 N, 006.18 W, Log: 202,071 miles
Baro: 997.0, Cabin Temp: 63F, Cockpit: 66F, Sea Water: 59F
On a mooring, St. Mary's, Iles of Scilly. Wind NNW 20-25, occasional heavy rain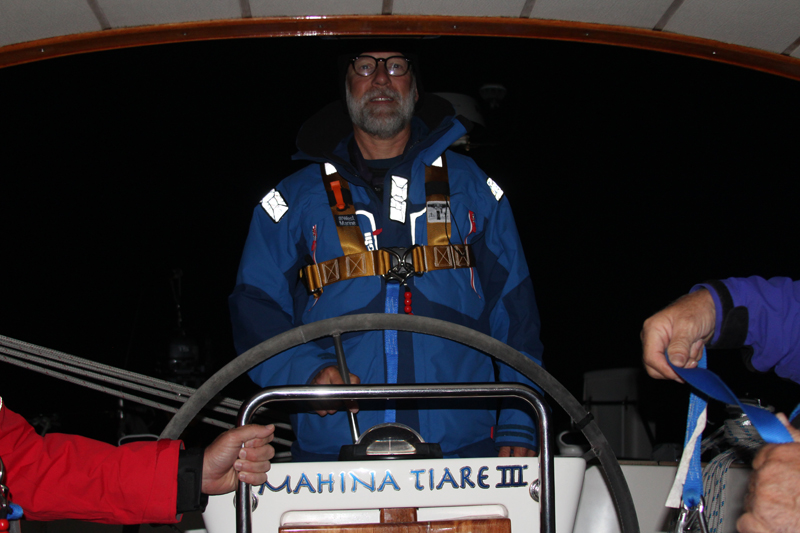 Mark on night watch
We had a good landfall at Iles of Scilly yesterday, picked up a mooring in St. Mary's Pool, and headed ashore to Hugh Town to check in with the harbourmaster. When I said we'd like to stay two nights so that we could explore nearby Tresco Island by shore boat, he said, "I don't think so, you won't want to be in this harbour tomorrow night and Friday as it's exposed to the forecasted northerly gale. Boats will be breaking loose in here given the forecasted wind speeds". He showed us an alternative bay on the chart, just a half-mile away on the south side of the harbour but mentioned the visitor moorings were all taken and there was little room for anchoring. He suggested we head to Falmouth first thing the following day so that's what we're planning.
We all delighted in a quick look around St. Mary's, a small and attractive island holiday town, and a pub-grub dinner at The Atlantic Hotel before returning to Mahina Tiare just as the wind and rain started. We had an uneventful night, other than one of our two mooring pennants chafing through (we should have rigged chafe hose) but this morning during breakfast another harbour master made the rounds of all the occupied cruising boats in the harbour, again strongly advising everyone to leave. He mentioned they'd already had several visiting yachts end up on the rocks this year so after breakfast we departed for Helford River, located just before the entrance to Falmouth. Today's passage should give our Leg 3 crew some valuable heavy-weather conditions with the addition of currents and overfalls created by the 15' tides in near gale conditions.

The waterfront at Hugh Town


Dinner at The Atlantic


It's a quick scramble for Amanda and Mark after chafing through main mooring line


Mike, St Mary's Harbourmaster with the weather forecast


John giving a weather briefing from Met Office website before departure
July 1, 2017, 1335 hrs, 50.09 N, 005.03 W, Log: 202,149 miles
Baro: 1023.0, Cabin Temp: 66F, Cockpit: 69F, Sea Water: 61F
Moored at Port Pendennis in front of the National Maritime Museum, Falmouth, Cornwall
Our passage from Iles of Scilly to Helford was a real duzey, with winds gusting into the low 30's, wind against tide for much of the time, and just to make it more challenging, fog and drizzle when we were crossing the busy Traffic Separating Zone. We had one cruise ship break through the fog to suddenly become VERY visible with a CPA (Closest Point of Approach) of as little as 100 meters, requiring a quick course change and a discussion resulting in a directive to always notify Amanda or me when seeing a CPA of under two miles. Fortunately, winds started slightly aft of the beam and moved further aft as we neared Land's End and passed The Lizard. We found the Helford River anchorage recommended by the cruising guide to be extremely protected without any swell.

Jonathan, John and Mark keeping watch while Matts stays focused on steering course


Never seasick Marty ensures we're on track to Falmouth


Yeah! We're romping now!
Friday morning, we practiced Lifesling Overboard Rescue in very gusty and difficult (but realistic) conditions before heading into Falmouth Harbour entrance to tie up at Port Pendennis Marina. Because of the squally weather the marina was packed with visiting yachts and we got the last berth. We all enjoyed looking at the classic yachts and our generous crew shouted us to dinner at a very tasty Thai restaurant.

Matt packs the Lifesling after a successful rescue


MT moored near the new Volvo Ocean 65, Team Akzo Nobel, the Dutch entry in the upcoming Volvo Ocean Race
Saturday morning the sun came out, temperatures shot up and Amanda taught going aloft for rig inspection and before breakfast. It's was then time to pack and cleaned cabins before heading for the maritime museum and sharing minivan to Newquay airport.
This crew received a real workout with navigation, having to deal with large tides and strong tidal currents and they all enjoyed the hours underway rarely going below except at night. Here they are:
Matthew, 44
I am a soon-to-be-retired Master Sergent of 26 years in the US Army, living in Okinawa, Japan. I currently sail in both Japan and Washington State and have chartered in the BI and Bahamas. After retirement, I plan on attending 1-2 years of intensive maritime training before purchasing a cruising boat.
Jonathan, 12 (Matt's son)
I am 12 years old, so right now I do not have a job, but one day I'd like to work for Microsoft. I live in Japan and sail with my dad at a place called Ginouan. When I get home, I want to tidy up our boat and apply the things I've learned on MT.
John, 57
I'm a retired software engineer now doing occasional consulting. I live in Satellite Beach, Florida and sail the local inland waters on my Catalina 30. I also race on a friend's J-30 at our yacht club. I joined Mahina Tiare to experience ocean cruising in a new area and see a part of the world I have been wanting to visit.
Marty, 67
I'm a semi-retired builder from Colorado and have been enjoying getting back on the water after being land bound for several years, having sailed most recently in the SF Bay area.
Mark, 59
I'm a just-retired financial services professional currently living in Illinois. My wife and I bought a Hallberg-Rassy 39 last year and are preparing to go blue water cruising. We've been upgrading our boat recently and are considering trucking it to the Pacific Northwest to start a cruising.
Amanda and I are looking forward to some warmer drier weather in our week off to allow us to re-seal MT's new teak decks with SEMCO, touch up the exterior varnish, and rent a car and go exploring!
Resources used on Leg 3, Oban, Scotland to Falmouth, England:
WWW.WINDY.COM
http://www.metoffice.gov.uk/public/weather/marine-inshore-waters/ – Government Met Office coastal weather reports and weatherfax charts. A VERY valuable website!
http://xcweather.co.uk/forecast/Falmouth – 3 hourly coastal graph forecasts for the UK, Ireland and much of Europe
Cruising Guides:
The Scottish Islands, Hamish Haswell-Smith
Imray: Isle of Mull and adjacent coasts
Irish Cruising Club: South & West Coasts of Ireland
Imray charts: C 65, 64, 53, 54, 55, 56, C7, Y58
US chart 35000
Electronic Charts:
C-Map running on Rose Point Coastal Explorer
Navionics Silver running on both our lovely new Raymarine MFD's (multi-function displays), one at the chart table, and for the first time, one in the cockpit under the hard dodger
---
Leg 3 Itinerary