Leg 4 – 2016
August 19, 2016, 1400 hrs, 56.25 N, 05.29 W, Log: 197,472 miles
Baro: 1021.1, Cabin Temp: 61 F, Cockpit: 66 F, Sea Water: 58.1F
Docked at Oban Marina, Kerrera Island
WHIRLWIND OF ADVENTURE!
Our Leg 4 crew joined us in Reykjavik, Iceland on Tuesday at noon and following lunch we set sail on a 120 mile overnighter for the Westman Islands, located right on the rumbline for the Faroe Islands. We arrived in time for breakfast and were able to again tie to an uncompleted new pontoon moored loosely alongside the main wharf as we did on the last leg. It took some fancy line work, but Amanda and Eirik managed to limit the movement of the float so that we wouldn't clunk into the 200' steel trawler close astern of us.
Originally we'd planned to spend Wednesday night in Vestmannjayer but it looked likely that a powerful, 980 mb low would beat us to the Faroe Islands if we did, so we enjoyed an intense day of adventures instead. These included climbing to the top of the mountain overlooking the harbor, swimming at the excellent community pool, visiting the volcano museum and lava flow and checking out the little town before setting sail at 1830. WHEW!
We had a spectacular departure as we sailed along Iceland's south coats with sun on the glaciers and smooth seas. Too smooth, in fact, as we had to motor for much of the 390 passage to Torshavn.
Torshavn bills itself as the world's smallest capital city, and with a population of 12,650, it really feels more like a friendly small town than a city. The very active boating club and the port have arranged guest moorage, showers and laundry in the inner harbor and we were moored near six very friendly ARC World yachts who were just completing their world circumnavigation.
Thankfully we'd just managed to beat the severe depression, which dropped down to 971 mb at one point and during dinner the wind started picking up, reaching well over 40 kts in the harbor several times over the next 36 hours. This system resulted in a nearby container ship having several containers washed overboard and an oil rig breaking its towline and grounding on Scotland's nearby Outer Hebrides. The locals in Torshavn seemed totally oblivious to the blow, with ferries to the outer islands and Denmark coming and going regularly, even though seas were forecast to 8 meters just offshore!
We made good use of a stormy Sunday, covering Storm Tactics and Communications Options before some of us and crew from the ARC boats headed up the hill to the local pool to swim laps.
Monday was a hit! Although it was still blowing and raining, out intrepid crew organized an excellent half day plus tour of two of the islands. Several of the Faroe Islands are connected by long undersea tunnels which is much simpler than ferries as several of the islands are quite close together. Tour guide Ula and driver Jon showed us several places where the updraft winds were so strong that the waterfalls were blowing up the sides of hills and mountains, plus several neat little seaside villages.
In the northern village of Gjogv we stopped for lunch and Ula pointed out the Danish prime minister's modest summer house. The prime minister is married to a girl from the village.
Monday evening, we presented our South Pacific PowerPoint talk to the boating club and all of the ARC World crews. It was great to see so many keen local boaters turn up, many of whom had very little knowledge of the South Pacific but seemed to find the concept of sailing there on their own boats quite intriguing.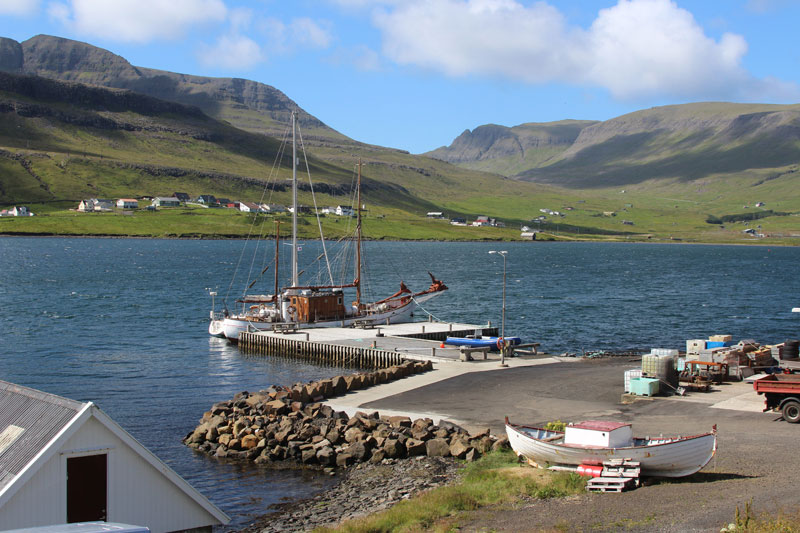 MT moored to a traditional sailing vessel in Tvoroyri
By Tuesday the blow had mostly gone through, leaving clear skies so at 0600 we set sail for Tvoroyri on Suduroy Island, 33 miles to the south. We had some great sailing conditions providing serious reefing practice before stopping for lunch and to explore the town.
That afternoon we set sail for North Rona, an uninhabited island north of Scotland's Outer Hebrides but when we received a forecast showing fresh southerlies we altered course directly for Stornoway, the northernmost harbor and port of entry on the Scottish island of Lewis.
We arrived at the harbor entrance at midnight, and as an afterthought called the harbormaster on VHF Ch 16, never expecting to receive a reply. What a shock when the night watch stander came right back giving us directions to a guest moorage pontoon and saying he would be there momentarily to take our lines and welcome us to Scotland! Although it was drizzly and foggy, several of us couldn't resist looking around the small harbor town which looked like a set for a Harry Potter film.
Thursday after clearing Customs we covered Clearing Customs and Anchoring Worldwide before setting off exploring. There was Lews Castle and museum across the river, shops with cool Harris Tweed knitwear, plus haggis to tempt one's taste buds.
Saturday we had an excellent 25 sail with time for celestial navigation and Lifesling Overboard practice before reaching South Rona. The Stornoway harbormaster's mother had been raised by her lighthouse-keeper parents on Rona and he recommended a fine anchorage.
Mallaig, the small but busy fishing/ferry port village that serves many of the Inner Hebrides beckoned on Sunday and as we arrived, we noticed a large cloud of smoke just up from the harbor. For years we have wanted to see The Jacobite; an ancient steam passenger train also known as the Hogwarts Express as seen in the Harry Potter films, and for the first time, we were in luck! The storm that we'd experienced in Torshavn had caused a landslide closing both the only road in and out of Mallaig and the rail line so the steam train was stuck in Mallaig. We had fun talking with the engineers and peeking into the ornate carriages. The locomotive seemed alive – hissing, smoking with occasionally jets of steam and water shooting down on the ground beside the tracks.
Monday we had a glorious sail to Muck, the smallest of the four Small Isles and long a favorite of ours. Several of our crew had enjoyed reading "A Drop in the Ocean" Polly Pullar's amazing story of how one exceptional family has struggled successfully to keep this tiny island a vibrant and welcoming community since 1896.
Sadly, we just missed the 1630 closing of the island's amazing tea house, but several of our crew enjoyed visiting the new lodge overlooking Gallanach Bay. With water temps around 60F, Eirik, Brad and Steve went swimming on the sunny afternoon.
Tuesday Amanda and I scrubbed MT's hull and prop before setting sail for Tobermory, the most touristy, but very fun little fishing port on the Isle of Mull. Calling the harbormaster ahead of time meant there was a place for us to dock and by dinner time the docks and moorings were all full with boats from all over Europe and even a NZ yacht.
Heather, 44
I'm a registered nurse from Canada although I've have been travel nursing in the US for the past year. I wanted to gain ocean sailing experience before purchasing an offshore boat with my husband and this expedition has been great to enhance sailing techniques, weather and navigation skill as well as meet many new people who share our same interest of sailing.
Sandy, 54 (Heather's husband)
I just retired after 30 years as a paramedic in Canada. This expedition is helping us gain the experience we felt we needed and we're now excited about purchasing a boat for our own sailing adventures!
Brad, 55
I'm a café owner from Calgary, Canada and sail my Jeanneau 439 out of Victoria, BC with my wife and two kids. My 13-year-old son and I joined this expedition to have a "Boy's Trip" and we're sharing a wonderful adventure which I will always cherish.
Eirik, 13
Me and one of my best friend's dream is to sail around the world. My father owns two boats, one big and one small. I have to do some touch-ups on both after this trip.
Steve, 54
I have dreamed about offshore sailing for a long time and although I currently don't own a boat, this expedition is a great learning opportunity and has been very helpful to start formulating plans.
Ken, 68
I'm a retired USCG officer living in Annapolis and actively race my sloop out of the Annapolis Yacht Club. I don't plan to buy a larger boat, but will continue to enjoy ocean passages on other people's boats. This is my fourth expedition aboard MT and I always learn something new or relearn things I'd forgotten.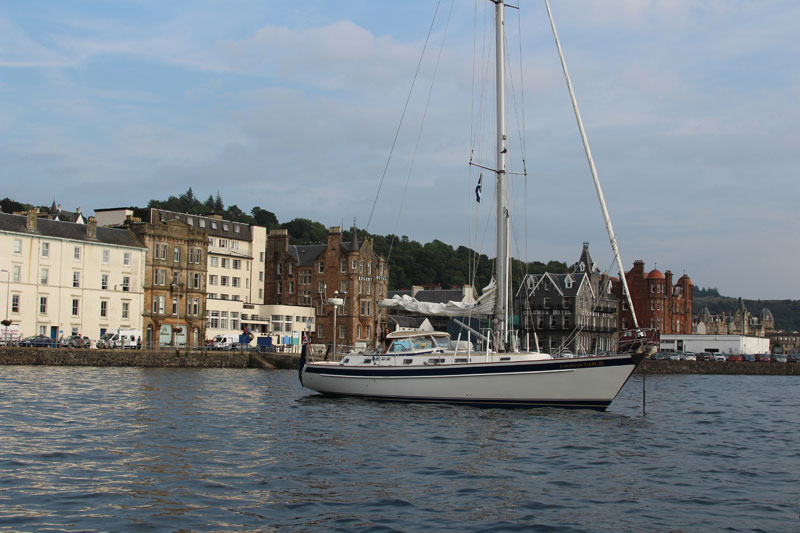 We anchored directly off the Regent Hotel where we'd enjoyed a farewell dinner with Amanda's parents last year and our crew treated us to an excellent dinner there.
Duart Castle, home of the Maclean clan on the eastern tip of Mull was impossible to sail past without stopping, and we enjoyed a visit there Wednesday before sailing to Oban.
All too soon it was Thursday morning and our crew were off to explore more of Scotland on their own, and we headed across the bay to Oban Marina on nearby Kerrera Island.
Resources used for Leg 4, Reykjavik, Iceland to Oban, Scotland:
Weather:
YR.NO: NRK Met Institute – Norwegian government weather site which we think must use the EC forecast model. Incredibly accurate and helpful with very detailed coverage of Svalbard!
WINDYTY.COM: Worldwide GRIB forecast charts utilizing US GFS computer model.
Cruising Guides:
Faroe Iceland Greenland, 3rd edition, Will Kerr, Imray – Royal Cruising Club Pilotage Foundation
Imray Yachtsman's Pilot: Skye and NW Scotland, Martin Lawrence
Imray Yachtsman's Pilot: Isle of Mull and adjacent coasts, Martin Lawrence
The Scottish Islands, Hamish Haswell-Smith (generous gift from EM Jon Fawcett of Brisbane)
Charts:
British Admiralty:2733, 3567, 3568
Norwegian: 300
NIMA: 35000
Imray: 65, 66
Electronic Charts:
Navionics running on Raymarine MFD
C-Map running on Rose Point Coastal Explorer on PC
---
Leg 4 Itinerary