September 1, 1999 1100 54.50N 130.57W
Log: 28,783 Baro: 1020 Air: 70F (Can you believe that?)
Winds SSE 3kts, broad reaching @ 2kts in gorgeous sunshine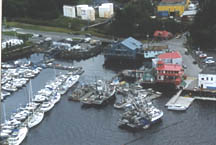 Prince Rupert Yacht Club (left) and Breakers Pub (center)
We were underway for our first anchorage just three hours after our crew joined us in Prince Rupert, in order to make it through Venn Passage before the 20′ tidal drop made the channel impassable. Last night we ghosted into uninhabited Brundige Inlet on Dundas Island, just a couple of miles from the B.C.-Alaska border. This morning is probably the sunniest and warmest of the year, from what the locals in PR and boats headed south have told us. The first two years I ran expeditions with Mahina Tiare II, 1990 & 91, we sailed Alaska and BC waters in September and early October and heard the same story everywhere we sailed, that summers are generally wet & foggy, but as soon as September rolls around, out comes the sun! We're hoping that holds true this year too.
We've got an interesting crew aboard:
Tarek Abdel-Hamid, 49 is originally from Cairo, Egypt, but is now a computer science prof at Stanford University, and living in the San Francisco area where he sails his gorgeous new Alden 45. He is considering sailing to Alaska in the next year or two and joins us to make sure this is good plan. His long term cruising plans are to sail to the Red Sea and Med with his wife, Nadia, who is also a keen sailor.
Melissa Lockard, 35, joins us from the Seattle area. Melissa and husband Eric's Hallberg-Rassy 53 is nearing completion now, and they look forward to 8 – 12 week shakedown cruise to Alaska next summer with their 3 and 4 yr old kids. Eric grew up sailing the NW waters with his family each summer and wants to share this with his children.
Keith Murphy, 55 is a sailor and fisherman from Seattle who is also an IBM consultant and just enjoys being on the water. We are really looking forward to his coaching in how to catch salmon, and I'll bet he and Amanda make a beeline for Tongass Trading Companies fishing department soon after we hit Ketchikan this afternoon.
Catherine Taylor, 51, a landscape designer and Mac Taylor, 51, a professor of vascular surgery at Oregon Health Sciences Univ. in Portland. They have enjoyed 13 years of chartering in the San Juan and Gulf Islands and are now looking for a pilothouse boat for cruising Northwest waters.
Weather permitting, we are looking forward to sailing outside into the Gulf of Alaska then 120 miles north to the former Russian town of Sitka. This will be new waters for all of us, and is totally dependent on weather conditions.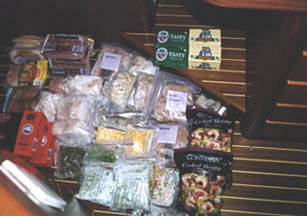 Packing freezer for leg 5.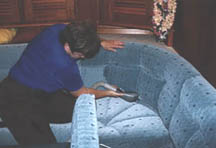 Anna steam-cleaning all cushions and carpets. Prince Rupert.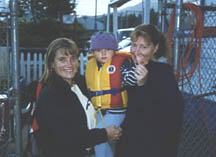 Amanda saying goodbye to Jenn, Sarah, Prince Rupert.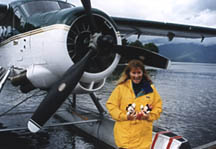 Amanda, Minnie and Mickey after a float plane ride on a REAL airplane, a DeHavilland Otter.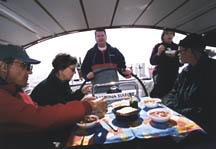 Leg 5-99 crew enjoying gourmet soup and sunny weather crossing the notorious Dixon Entrance.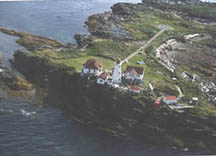 Green Island, between Prince Rupert and Ketchikan on a sunny day.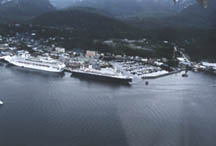 Kethcikan and Thomas Basin Harbor dwarfed by cruise ships.
The sunshine held on that passage from Dundas Is., B.C., to Ketchikan, Alaska but the wind never filled in. Feverishly we practiced celestial navigation with everyone shooting multiple sun sights and a sun LAN that was within 2 miles of the GPS position. Heck, maybe the GPS was off!

Dundas Island second night stop
Ketchikan Yacht Club found us a spot and town proved to be as rustic and brash as one hears of the Alaskan frontier but with enough charm and glitter to wooo the many cruise ships which dominate downtown. Our crew scoped out places for dinner and settled on Annabelle's restaurant, formerly an establishment for "ladies of the night". Here we shared our first wedding anniversary celebration – a long way from the warm sun and sand of Malolailai, Fiji, where were married.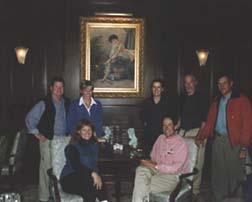 Anniversary Dinner at Annabels – Ketchikan
After a short passage the following day to Loring, north of Ketchikan we set out at 0300 on Sept.3rd, right into a US Navy submarine acoustic testing range. After we saw the flashing amber lights both ashore and in the middle of Behm Canal, I turned on Ch 16, VHF to hear the Navy quite excitedly calling us. They asked us to turn off our engine for several minutes every 15 minutes for the next hour until we were out of their testing range. I apologized profusely and they were actually very mellow and I think used to boats intruding into their test area.
With following winds reaching 42 knots we surfed up Clarence Strait, across Sumner Strait and didn't have headwinds until the last few miles into tiny Louise Cove on Kuiu Island, a day's run of 110 miles. We had everything but snow that day – sun, rain, fog, gale force winds and light air at the very end, and, we were within 30 miles of the ocean!
A 0400 start the following morning took us past Capes Decision and Ommaney and into the Gulf of Alaska by early morning. We had warned the crew that the Gulf is notoriously rough but today she was taking a nap and we ended up motoring in less than 5 knots of wind, all 94 miles to Goddard Bay. Along Baranof Is. we did experience large crossed ocean swells which forcefully crashed ashore as we scouted the coastal storm-swept land in search of otters.
In Ketchikan Don & Reanne Douglas, authors of "Exploring the Inside Passage to Alaska" told us that Goddard Bay was one of their favorite anchorages on Baranof Island. In the 1930's the Goddard Hot Springs Fishing Lodge burned down and recently the state has built two sturdy cabins each containing a huge cedar hot tub with adjusting valves from hot to very hot. We made the anchorage in late afternoon and hiked over the hill to find the tubs full of fishermen their rifles propped against the open window frame at the ready in case a chilly grizzly bear decided to join in the fun.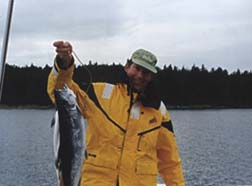 John shows off tonight's dinner.
While we were waiting for a tub, I got to talking with Stormin' Norman of the gillnetter "Chilkoot" from Haines, Alaska. A keen fisherman and diver, he offered us some "extra" salmon and invited me to come for a visit the next morning. These Alaskans are tough! Instead of launching the dinghy to get ashore, Norman and Louise (his lady friend) had donned their survival suits and swum ashore. He claimed that the sea was warmed by the Japanese current and was 50 degrees!
After a tub cleared out, we all hopped in, adjusted the temperature and watched the sun set over the small distant islands. Mac's comment of "What more could we ask for?" was appropriate.
On Sept. 4th we only had 23 miles to sail to reach Sitka, so we spent several hours practising Lifesling overboard procedures and heaving to. The passing fishing boats must have thought we were inventing a new fishing technique because of the way we were sailing around in circles for hours!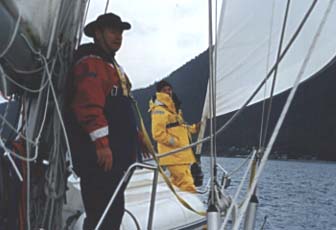 Sailing into Sitka
Sitka was a surprise – a bustling, thriving little town accessible only by water or air, 130 miles from Juneau, the nearest town. We were amazed to find a new breakwater and marina, not even on our new charts, and brilliant sunshine!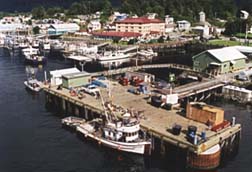 Sitka Harbor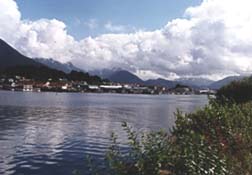 Sitka town from the University
As the temperature was in the mid-60's, we decided to have an extra day in town and several of us rented bikes and explored the Russian Orthodox church (Sitka was originally a Tlingit village site, then a Russian fur trading settlement) and excellent museums.
Amanda and I happened on a Tlingit traditional dance celebration and demonstration. Afterwards Amanda inquired from one of the tribal elders how she had sewn the intricate button blanket that she wore for dancing and ceremonies. It was encouraging to see that the tribe had built an extensive dancing center, complete with a fire ring in the centre, and still retained their language and customs. Many of the dancers were young people and two girls danced with their babies tied in leather carriers on their chests.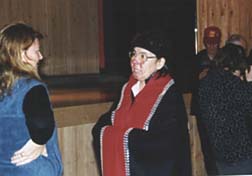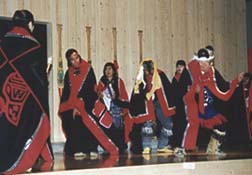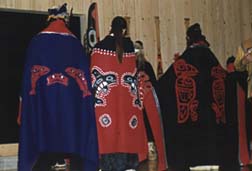 1.) Amanda and Tlingit Indian discuss the making of a blanket. 2.) Tlingit Indian dancing 3.) Tlingit Indian blankets
The following morning, Sept 7th, after Amanda taught winch maintenance we motored through the incredibly narrow Peril Straits, planning to sail south to Baranof village. Once we reached the south exposed section of the Straits we were hit with gale-force headwinds so we turned and tucked into Usht Bay while the winds continued to rage outside in the strait throughout the night.
For the first time in 2.5 years, we zipped up the cockpit enclosure. This makes the cockpit seem like a pilot house; a delightful extra "room with a view" and a welcome place to hang wet foulies to drip dry.
By the morning of the 8th, the storm had blown through and we enjoyed sunny conditions as we tacked south down Chatham Strait to Baranof. We had read of the Baranof Hot Springs and it was only minutes after tieing to the float that our crew were stomping up the winding boardwalk through the woods. They were chilly grizzlys on the prowl and discovered an exquisite stone hot tub perched beside a raging river gorge. We soaked to our hearts delight, our bodies slowly looking like prunes and it was only the darkness and thought of the real grizzlies that chased us home!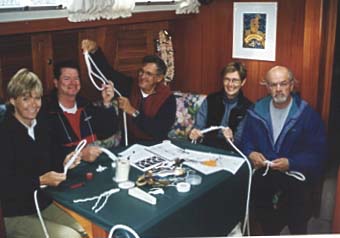 Eye splicing
Our next sail was another serious run, 76 miles, first tacking, double-reefed into head seas around Pt. Gardner, then flying, sometimes surfing in winds that topped 40 knots all of the way up Frederick Sound and Stephans Passage to "No Name Bay" (that's really the name!) at the entrance to Tracy Arm.
On Sept.10th we slept in until 0600, then motored up the ever-narrowing spectacular Tracy Arm. On both sides glimpses of distant glaciers and snow fields tempted us. After 24 miles when we rounded the corner to gasp in awe at the real thing…. South Sawyer glacier.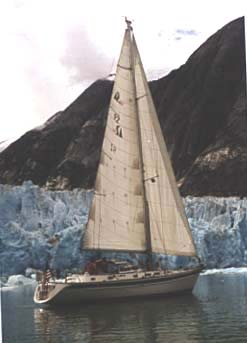 Sailing before South Sawyer Glacier
It was during expeditions to Tracy Arm aboard Mahina Tiare II in 1990 & 1991 that I first fell in love with ice and got the idea of sailing to Antarctica. For this present expedition it involved many miles in only 2 weeks to reach this point but I really wanted to share the powerful beauty of one of the world's most actively calving tidewater glaciers with Amanda and our crew.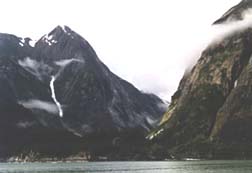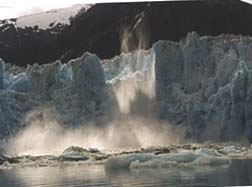 1.) The scenery heading up Tracy arm. 2.) Carving Glaciers
The intense blue glacier wall is several hundred meters high. We heard many a muffled cracks, like rifle shots, preceding an almighty roar before huge chunks of ice, some the size of several houses, broke off the face and came tumbling down. They crashed into the bay with enough force to send spray hundreds of meters into the sky. The air would be still for an instant but slowly the bay would come alive as an aftershock surge radiated across the bay, causing the icebergs to squeak and hiss as they rode the rolling waves.
We motored slowly through substantial amounts of brash ice to some clear water before the glacial wall where we hoisted sails and did a photo shoot with everyone's camera.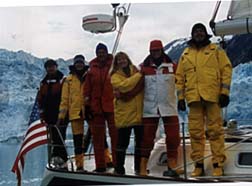 Leg 5 crew at Tracy Arm.
Amanda wasn't satisfied, she wanted to get closer to photograph the dozens of seals perched on ice floes. We asked if anyone was interested in joining us in the dinghy for a closer look but they all declined. We slowly wormed our way through the ice floes until we were close to the ice wall and surrounded by seals. To Amanda it was the ultimate experience, being in the dinghy brought it all to life or maybe it was the thrill of pushing nature's limit, what ever it was it was fantastic.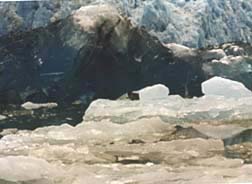 Young Harbor Seal
For the first time since leaving Auckland in May, we were headed south, toward home. Late that afternoon we were surrounded by feeding humpback whales, larger than Mahina Tiare. As the winds were calm, we shut the engine off and just drifted, mesmerized by the explosive sounds of the whales exhalation. Mac had been keeping track of our whale sightings to date and said there had been only two days of the expedition when we hadn't seen any.
We tied to an unattached float at Entrance Island, Hobart Bay that night. After dinner Mac was entering the next days waypoints into the cockpit GPS when he heard a commotion ashore. Melissa shined her light and it reflected off of three sets of red eyes! Momma bear and two cubs were foraging on the beach, only 50′ from the float we were tied to. This time we were glad there wasn't a gangway ashore!
Our final passage on the next morning to Petersburg proved the ultimate navigation test of our crew. Fog reduced visibility so that we could barely see the bow from the cockpit, and the entrance into Petersburg was jammed with a huge Alaska State ferry, a tug and barge, and dozens of fish boats comming and going from the canneries. With the radar, depth sounder, GPS, electronic charts and lookout crew we all navigated MT safely into the inner harbor just as the sun burned through the fog.
On a sunny day, Petersburg, nicknamed little Norway for the high percentage of Norwegians, sparkles. The massive Baird Glacier is visible from town and steep towering tree-lined ridges ring the town. The locals told us that we were experiencing the 18th sunny day of the year! Not wanting to waste the sunshine, we all took off in different directions with cameras, meeting for dinner at a local dive. We managed to include our final teaching sessions just before crew packed and headed for the airport.
Leg 5 crew were a special pleasure for us. Since they are each planning on visiting Alaska on their own boats they expressed an enthusiasm that never ended. As we journeyed continual note taking occurred on anchorages, charts and updating current cruising guide. Everyone was totally tuned in to learning everything possible about sailing, seamanship and the extra considerations needed to safely enjoy this spectacular cruising area. We wish them well.
Melissa left the following note which we just found, tucked away in a locker:
Thank you so much for this great experience. There aren't many people who can do what you do and enjoy it to boot! It was a pleasure to be with you on this adventure. You're natural teachers who instill confidence in those you teach. I would really like to thank you for the extra time in giving me pointers and ideas for things on our own new boat. It has been very valuable.