July 1, 2000 2130
26.06N, 62.14W Log: 37,195
Sailing Through Paradise!
We're well on our way to the Azores, 900 miles west of Portugal, having set sail from Jost Van Dyke in the British Virgin Islands three days ago. The winds have been awesome, allowing us to cover up to 170 miles per day with smooth seas.
An hour ago at sunset, everyone was in the cockpit, savoring gliding along effortlessly at 7.5 knots on a beam reach with the stars starting to twinkle overhead. A small rain squall on the beam was a contrast to an otherwise perfect tradewind sunset.
Since we arrived in the BVI's last month all of our windward sailing has been forgotten.
Last Sunday, Amanda and I sailed into Road Town by 0900 and spent the day provisioning, stowing food, doing laundry and getting ready for crew. Sunday afternoon we saw a large high-school steel drum band setting up in front of the new government buildings and the kids told us they were playing at an event celebrating the 20th anniversary of social security for the BVI's.
We walked by later, listening to the magical steel drum music that had even the old people dancing in the streets. What a handsome and proud group of people these BVIslanders are! With no unemployment (a shortage of workers, actually), low crime and a good school system, these folks really have a country to be proud of! We never felt one bit of hostility and found the locals were actually far more polite in the crowded supermarket than the bareboater tourists were.
Soon after our new crew joined us on Monday, we took them to the Caribbean Weather Center, www.caribwx.com, where David Jones explained generally how Caribbean and Atlantic weather patterns worked, then using a semi-classified connection to the US Navy, showed us on his computer what our weather would likely be for the next seven days. It was awesome! We all learned a lot, and all bought a copy of his excellent book,"The Concise Guide to Caribbean Weather", available from his website or from Armchair Sailor in Seattle. David charges $125 per year for custom weather reports over the SSB radio, one heck of a deal for storm avoidance in our opinion!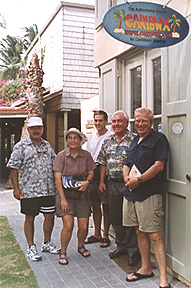 Leg 5 crew attending a weather briefing with
David Jones (2nd from right) at Caribwx.
After completing a few hours of orientation, we had a rip-roaring sail across to Little Harbor, then Tuesday, sailed down to Soper's Hole to top up fuel, buy ice creams and then to Great Harbor so we could introduce the crew to Foxy. (For more details on these locations, see leg 4.)
The next morning we covered a lot of our teaching topics, had one last luxurious swim, and after lunch set sail for the Azores, 2,300 miles away.
By the way, on the suggestion of Kent Williams at Armchair Sailor Bookstore in Seattle, armchair@wolfenet.com, we purchased and used extensively the new German-produced Caribbean Yachting Chart Kits of the Virgin Islands, 13 excellent color charts for $69, an excellent value!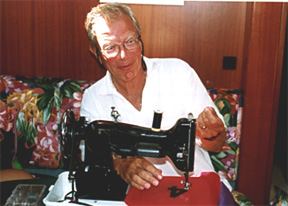 Keith Hamilton discovering the joys of machine sewing.
Once again we have a great crew, and one that enjoy lots of jokes and laughs:
Jim Novel, 53, born in Columbia, grew up in Peru, moved to California for college, now works for Intel in Portland, Oregon. His lovely wife Linda joins him in the Azores for 10 weeks of traveling and bicycling through Europe.
Miguel Praca, 43, born in Lisbon has lived in nearly every Portuguese colony in the world. Came to the US for university, now works in Silicon Valley and sails his Caliber 33 out of San Francisco, dreaming of ocean passages on his own boat.
Keith Hamilton, 49 and Rosemary Hamilton, 49 grew up in Hong Kong, were educated in England and moved to Halifax, Nova Scotia where Keith is an anesthesiologist and he and Rosemary have founded a half-way house for troubled youths. They fly on to England from the Azores for sea trials on their new Oyster 47.
Lambros Tterlikkis, 64 was born and educated in Lebanon of Greek parents, came to the US for university and never left. He is a professor of pharmaceutics at Florida A & M Univ. He and his wife
Donna Tterlikkis, 44 sail a Com-Pac 27 out of Carrabelle, FL. Donna is an Environmental Manager for the state of Florida and is one keen sailor! They plan to upgrade and retire to a life of ocean cruising in the near future.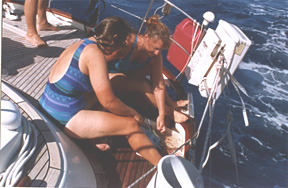 Amanda instructs Donna on filleting a yellowtail tuna, our 6th fish!
July 6, 2000 1900
34.09N, 51.37W, Log: 37,837
Motorsailing into light easterlies between squalls, 1030 miles to Flores, Azores
Halfway Party!
Our fantastic sailing cooled off yesterday and we have been alternating between sailing in light winds and motoring in no winds, dodging squalls. Today we had our half-way party, treats and surprises for all. Overall we've had excellent weather and really enjoyed David Jones' Caribbean Connection custom weather forecasts over the SSB radio each morning. We are forever comparing his forecasts to the weatherfax charts that keep popping out of our Furuno DFAX machine and to actual conditions and find that Jones is uncannily accurate!
We have changed our landfall from Horta, on the island a Faial, to Flores, a garden island 132 miles closer to us, also a Port of Entry. This crew have been so keen to learn everything possible for use on their own cruises that we will finish all of our instruction except for going aloft to check rigging and rebuilding winches before we arrive.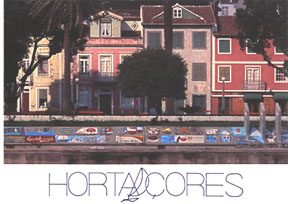 Murals at Horta-Acores
July 16, 2000 0300
38.44N, 29.08W Log: 38,993 Baro: 1015- Winds: SW 20-25
Close reaching @ 7.6 kts, Double reefed main, triple reefed jib
Racing a Cold Front to Horta
Horta is 20 miles ahead, now visible on radar. The barometer continues to drop, down 8 mb in the last 24hrs. Until we receive the next weatherfax chart, we don't really know when this cold front that is generating the first rain and squally weather of the year for us is going to pass, resulting in clearer skies and a distinct wind shift. The strong Azores high has been blocking the cold front with its gale force winds for the past 12 days, and now it has broken the high in two, forcing its way toward Europe.
When we made landfall on Thursday (only 15 days for the 2,300 mi passage from the BVI's!) we figured the NE winds would make the normal anchorage behind the breakwater at Lajes uncomfortable, so we anchored in the lee of Flores Island off the small town of Faja Grande.
Flores was breathtakingly dramatic on our approach. Verdant green 2,500′ cliffs with waterfalls, terraced paddocks extending up the hills, and small villages with white-washed buildings and red-tiled roofs made a stunning image.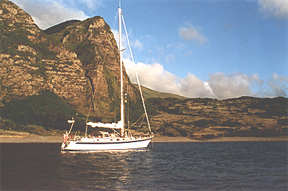 Mahina Tiare at anchor at Faja Grande, Flores Island.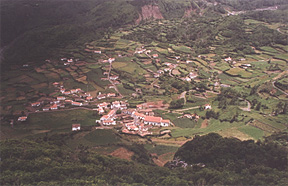 Picturesque village of Fajazinita, Flores
After anchoring off the small landing in 35′, rocky bottom, Miguel and I dinghied ashore where he called customs from the cafe overlooking the anchorage. I was thankful for Miguel's Portuguese language skills! Customs told him that there was no problem stopping at Faja Grande which is not a port of entry – they just asked that I go to Santa Cruz, a 20 minute taxi ride, the next day to clear in. No sooner had I landed our crew ashore than a Guardia Nationale jeep pulled up and the officers filled out some forms and confirmed that we needed to check in with the Policia Maritima (coast guard) the following day.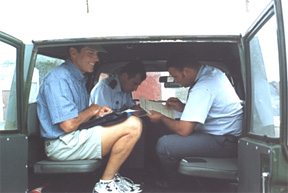 Clearing customs in the back of Guardia Nationale's jeep, Faja Grande
The cafe was part of a community-run campground, swimming pool, restaurant and free showers operation. We had a fun and excellent dinner there before exploring the historic village in the lingering evening light. Faja Grande was like nothing I've ever experienced! Small stone cottages nestle together lining narrow cobble stone lanes. Many houses proudly display dates of 1850 to 1880 and small gardens burst with flowers. Windows were open wide, people smiled and nodded as we glimpsed then, through billowing lace curtains, relaxing at home – it was like going back in time. We learned that the island's population has dropped from 12,000 to 4,000 since the mid-1850's when the skilled boatsmen were hired on whaling ships based in New Bedford, Massachusetts. When asked if many emigrated to Portugal, the answer was, "No, we always look to the West, to the US and Canada." In fact the Azores
people with their reputation as hard workers even migrated to Hawaii, first as whalers, then as immigrants working on the ranches and in the cane fields.
One of the first things we learned was that the Festival of the Emigrants, honoring those who had moved away then returned for the summer holidays would be the next three days in Lajes, starting with the arrival of a ferry with 750 people on Friday. Taking the taxi to Lajes it became clear that the anchorage was very rough, in fact 4 boats who had been anchored there joined us in the protection of Faja Grande.
The taxi ride past spectacular lakes, up into the clouds of the interior mountains and along the striking windward coastline was a rush! Santa Cruz was picturesque with narrow streets, a couple of huge cathedrals and a tiny harbor with ancient beautiful wooden fishing boats pulled up the landing. After clearing in with the coast guard, Amanda and I bought some fresh baguettes, tasty local cheese and ham and sat on the harborfront for a picnic. There were so many interesting sights!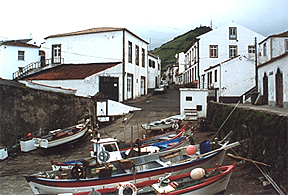 Boat Harbor, Santa Cruz, Flores.
Since our first date in 1994, Amanda has been telling me about the Azores, which she visited while on Maiden, getting ready for the Whitbread Around the World Race. I sure haven't been disappointed!
By Saturday the wind had started shifting to SW, so we moved around to Lajes and enjoyed the start of the festivities. The main road had been closed to cars, stalls selling food and drinks set up and a huge exhibition tent and restaurant tent erected. Pup tents with the ferry passengers were found in many public parks and marching bands representing several different islands and villages as well as traditional dancing groups performed down the street and on a stage. It seemed that all of Flores 4,000 inhabitants were enjoying the festival to the max! Amanda and I went back to the boat at 2230, and at midnight when the crew returned, they said things were really starting to take off.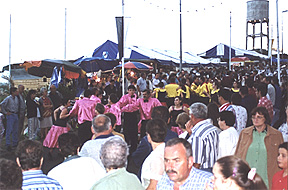 Festival of the Emigrant, Lajes, Flores
To give you an idea of how much Lajes values the visitors who arrive by sailboat, they have no charges for using the harbor, there is FREE laundry drop-off service, showers and clean heads at the wharf and free internet at town hall! The town is lobbying hard to have a marina so cruisers will be more comfortable and extend their visits. We were told that Horta has been jealously blocking funding attempts, afraid the yachties will choose to spend their time and money in Flores instead. But with the Horta marina jammed to overflowing (so we've read) that isn't really a big issue.
At noon today we set sail for Horta, on the island of Faial, 123 miles ESE. With strong winds and a good sea running we practiced towing warp and deploying the Galerider drogue, our last two teaching objectives. Upon reaching Horta, we just have winch rebuilding and going up the mast for rigging checks left!
This has been one of our most enjoyable crews of the season, with everyone singing songs and joking around in the cockpit this afternoon as we zoomed along under sail. Everytime I ask for volunteers to tuck a reef in the main, there are twice as many as needed – and that's a good sign!
July 25, 2000 1500 At Anchor off Horta, Faial Island, Azores
38.32N, 28.37W Log: 39,026 Baro: 1018- Air: 73F
Horta, crossroads of the Atlantic
Arrival in our final port is always a blur! Before long crew had taken off on ferries to explore other islands and Amanda was right into touching up Maiden's and Taitoa's (her folks boat) hand painted signs on the breakwater wall. Horta has long been famous for ship's and yachts painting their names and designs on the wall, and Amanda was delighted to find the 12 year old names still visible.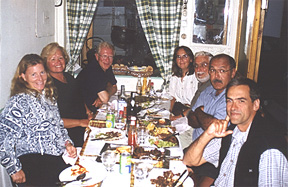 Farewell crew dinner in Horta.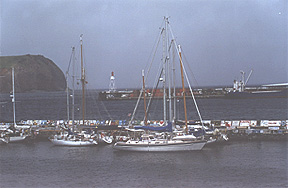 Mahina Tiare at Horta Marina.
The marina was packed with boats rafted three deep along the breakwater, but we had no problem in getting a secure spot after clearing in. A few days ago we rented a car for the day and explored the island, hiking up a recent volcano, walking along deserted beaches and having lunch at a little seaside cafe. For being the middle of summer, it sure is a quiet island!
This morning on our run we found a group of buildings in Puerto Pim, the next bay around, with a busy crew of 30 guys restoring and painting them. I didn't plan on going inside since there was a lot of work going on, but as soon as I peered in the huge front doors, an older man asked in broken English if I'd like to see the buildings. I motioned for Amanda to join me and he explained that this whale processing plant had been closed for 25 years but was being restored and would be opening in two months as a museum. He told us how much he enjoyed his life as a whaler, going far offshore in small seven-man open boats, and took us inside to see a fascinating collection of machinery used to extract the oil and turn the meat and bones into chicken feed. An old friend of his who worked in the factory for many years joined us and with our friend interpreting, explained how the machinery worked. These old guys were obviously proud and delighted this bit of history was being preserved.
We are anchored off town where we can see the lights going up for Mar Semana, or Sea Week, the festival which will be starting the day our crew arrive with sailing races, music and excitement. We are enjoying our extra week off and getting in lots of hikes, exploring and swimming before Leg 6 crew join us for the passage to Ireland.
Stay tuned for more exciting adventures!