Update 1
September 11, 2004 0000
Moored Stern-To in Avatiu Harbour, Rarotonga, Cook Islands
HANGING ON FOR DEAR LIFE IN RARO!
In our weather classes we state that although high pressure generally means clear weather, with central pressure over 1030 millibars, one should expect gale force winds somewhere on the perimeter. Right now we have a 1040 mb high south of us and a 999 mb low that should soon pass over Rarotonga. The combination has generated gale force northerly winds and seas to 6.8 meters (20′), a direction that tiny Avatiu Harbour offers no protection from.
As the weather (and forecasts) worsened over the past days, every longline fishing boat and rust bucket freighter headed for this tiny harbour. Yesterday afternoon we had tense moments as Mana Nui, a 150′ wrecker's yard freighter came into port just as a powerful squall struck the island. She managed to get a bowline ashore, but repeated tries at sending a monkey's fist ashore, with stern line attached, failed, and she started to blow down on us. Finally her skipper powered the bow into the wharf with a screeching of steel on concrete and her crew managed to get the stern line run ashore.
Last night the harbour was a continual surging beast exhibiting loud grinding noises as fenderless steel ships gnawed on each other and the concrete wharf. I had been occasionally catnapping between checking anchor, mooring and stern lines when at 0300 I heard the harbourmaster urgently and repeatedly calling four fishing boats (80′ – 60′ in length) that were rafted to one of the freighters. I looked out and saw every sailor's nightmare. The rafted boats had broken their bow line and were all pivoting away form the wharf towards a 40′ Canadian sloop against the wall. John Fallon, the ever-vigilant harbourmaster had the security guards climb onto the heaving freighter and yell at the fishing boats, trying to alert anyone. In the end, they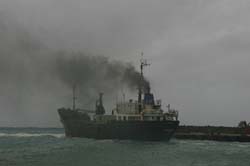 Miss Mat leaves the wharf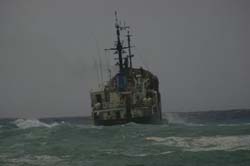 Heads out through the breakers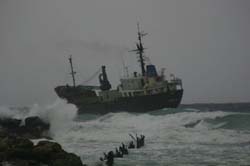 Will she survive?
threw rocks at the boats to awaken the crew and disaster was averted when the boats powered forward together and connected a new bowline
Soon after there was a huge explosion and this morning I was told that the large steel roller door of the Public Works workshop on the wharf had blown in. Their solution was to stick the door back in and park a truck up against it on the inside of the building. An hour later there was a tremendous roar and bright lights on deck and I again dashed up from the nav station to see an Air New Zealand 767 just above mast height. They had aborted their third attempt at landing and were struggling for altitude in the buffeting gale choosing instead to flew on to Tahiti. Aloha Airlines 737 also gave up landing and flew back to Pago Pago.
Early this morning when the forecast came through from Fiji, the harbourmaster ordered all ships and fishing boats out of the harbour by sunset until further notice. He later explained to me that with the forecasted northerly gale the ships wouldn't be safe from seas breaking in the harbour and that it would also not be possible for them to put to sea to avoid harm because of breakers across the entrance. One by one the boats and ships jostled lines, poured on the throttle and went crashing and rolling out into a very angry sea. The locals lined the shoreline and wharfs, watching to see if the ships would make it through the surf and for awhile it looked like Miss Mataura was going to founder in the crashing breakers.
I really feel for the ship's crews. Tonight the ships will either be cutting donuts or be anchored in very deep water off the outer reef in the lee of the island. We just had a powerful squall with a 150 degree windshift and solid winds well over 35 knots. If they don't move quickly, they could be driven ashore in these conditions.
| | |
| --- | --- |
| Three lone yachts in the harbor | The empty wharf |
We're lucky. When we anchored here a week ago Gary and I spent several hours in the water checking the anchor and surveying the bottom. We were able to find the old large mooring of the harbour tug, a huge hunk of concrete with ship's chain leading to shore, so chained and shackled M.T to it in two places. Although now we only have inches under the keel at low tide even after moving rocks and rubble away from under the keel and rudder. I also wish our 60lb. CQR was further than 100′ out (all chain), but it has dug in so well that the anchor has disappeared so I hate to disturb it. I looked at setting a second and third anchor, but when I daily dive to check set up it's all holding securely. Today the visibility was only 6″ and when I was snorkeling down to 9′, it's eerily dark because of all the stirred-up silt. I couldn't do much more down there if I wanted to.
On another note I'm thankful the engine is back to it's reliable 100% status. For the past year there's been a new rattley sound between 800-1000 rpm in slow forward or reverse. We thought it was the Max prop, but rebuilding it didn't help. Peter, owner of Ovlov Marine the main Volvo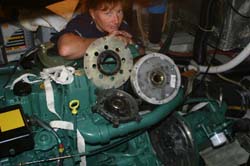 Amanda with the old and new damper plates
marine dealer in Auckland, suggested it might be the damper plate that transfers the engine torque to the transmission, and I remembered replacing that part on MT II at about the same number of engine hours, 6,500, so I had Peter DHL the part here to Raro.
Before the storm we removed the 62kg (110lb) transmission. Yes, it was a challenge, but with Amanda's clever rigger lashings and galley chopping boards as blocks, we slid it back to discover the damper drive had nearly sheered and was just hanging on by shreds of silicone rubber. The replacement part has been redesigned and should last for many more thousands of hours. Were we ever thrilled to get it all back together the same day and to hear a quiet and smooth engine when we shifted into gear. The other option that Peter had mentioned was that the entire gearbox might have to be replaced. It would have had to been airfreighted from Gothenburg to Auckland to Samoa and would have cost NZ$9600 excluding airfreight.
Now it is 0100, the winds have dropped to 15kts and the torrential gully-washing rains have tapered off to a drizzle. I think I can catch a nap now before the next squall. I hope the weather is better in the morning as Amanda has her heart set on competing in her second Rarotonga Half-Marathon at 0700. I was going to do the 10k run again that runs simultaneously, but it looks like I will be standing anchor watch instead.
Sept 15, 2004 1300 19.49 S, 161.25 W, Log: 82,033 miles, Baro: 1017, Cabin: 82, Cockpit: 82
Broadreaching at 6 knots with 15 kt SE winds and 140 miles to Palmerston Atoll
We survived yet another cold front and northerly wind blast, but it kept us aboard and Amanda missed her run Saturday morning. Instead we waited until a lull in the weather and headed ashore to fill six canvas tote bags with fantastic fresh vegetables, herbs and fruit. It seems that at least half of Rarotonga shows up for the market even on a stormy day and it was fun to see many old friends and view the Island dancing. We also succumbed to pearl fever! Tokerau Jim, a young, very successful pearl shell carver from Manihiki has really taken his art to the next level and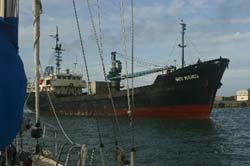 We hold our breath as Miss Mat returns to the harbor
this year his detail is incredible. We also visited Amanda's friends Temu and Lesley Okataki at their little Farm Direct pearl shop across from the harbour. We bought presents for everyone we could think of, plus extras for future expedition members to purchase. The prices are a fraction of Tahiti's and the settings that Lesley and Temu use are very high quality from imported from Germany.
As the seas and wind abated the harbor was reopened and the ships were allowed to return in a mooring pecking order throughout the day. Unfortunately all was not calm as two yachts lost anchors to props of maneuvering ships. In the storms wake Amanda and I worked flat out until late Sunday night and then until minutes before our new Leg 5 crew arrived at Monday noon. With nearly everything checked off our list and we settled into orientation with crew only to be advised that we would have to move by 1600hrs to allow Forum Rarotonga, the largest ship from New Zealand, to turn around and leave port.
As an introduction into being flexible, crew spent the next 3 hours learning the finer points of releasing and securing a vessels as we detached all our storm trussings and positioned ourselves next to the just-returned patrol boat, Te Kukupa. Phew, we sure enjoyed a fun last night dinner ashore at Trader Jack's on a base that wasn't surging around.
Yesterday (Tuesday) was a blur. Between downpours we had several Palmerston islanders coming down to ask us to take drums of fuel, bicycles, 6 stalks of bananas and dozens of boxes of groceries, toys, clothes and school supplies to their relatives on Palmerston. Both of MT's heads are now stacked to the overhead with boxes, but we drew the line on the bicycles, 55 gallon fuel drums and 6 huge banana stalks. Meanwhile, I was clearing out with customs, trying to sort out all of our mooring lines and help a German yacht find their anchor that turned out to be wrapped around the patrol boats prop plus finish our safety orientation. By 1330 Amanda had completed mainsail orientation and exhausted, we sailed out the narrow harbour entrance, destination: tiny Palmerston Atoll, population 60, 270 miles NW of Rarotonga.
Update 2 September 24, 2004
0600 14.28S, 171.13W, Log: 82,849, Baro: 1011, Cabin: 84F, Cockpit: 84F
Beam reaching at 7.3 knots in 19kt ESE winds, calm seas.
LAND HO!
Neil just sighted Upolu Island, 28 miles ahead on the port bow as the sun is rising spectacularly LAND HO!
Neil just sighted Upolu Island, 28 miles ahead on the port bow as the sun is rising spectacularly over Tutuila Island, American Samoa on our starboard beam. Most of the evening we've been enjoying the glow of Tutuila and now the rugged island is clearly visible, but just outside our 24 mile radar range.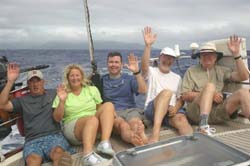 Meet our Leg 5 Crew – Tom, Debby, Neil, John and Tim
What a great expedition this has been! From leaving Rarotonga totally exhausted, we had an excellent 270 mile reach and run up to Palmerston. Bill Marsters met us offshore again, as he did last year, where he had been fishing, and guided us to an anchorage spot. Amanda dove into the crystal-clear water with 200'+ visibility and swam around until she found a spot free of deep coral chasms and told us to quickly drop the anchor in just 23′, only a few boat lengths from where the surf crashed on the reef. I jumped in the water with a mask and snorkel, checked the anchor and was serenaded by the songs of the humpback whales that we had spotted breaching as we approached the anchorage. I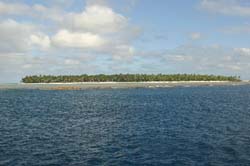 Palmerston Island
stayed aboard while crew went ashore and spent the entire day cleaning, drying and stowing the many lines we had used securing MT in Rarotonga plus sponging off the waterline slime that had accumulated while in Raro. Tom Hughes
Palmerston Island
Approaching Palmerston from the south meant we needed to skirt the reef areas around three of the six islands in the Palmerston group. The first impressions one receives from Palmerston include idyllic, beautiful, serene and welcoming. The colors were vivid and striking-blue of course (ocean), greens (palms, lagoon), and sparkling white (beaches). Our destination was the island farthest north; it's the only one that is inhabited.
Bill Marsters met us at our anchorage and six of us clambered aboard his skiff, carrying with us a dozen boxes containing clothing, books, school supplies, etc that John and Amanda had collected and brought with them to help fill needs that the islanders had expressed previously. Bill motored us through a complex maze of coral heads and stones that eventually put us on the beach.
| | |
| --- | --- |
| All ashore with Bill | Main Street |
| The boat park at the end of Main Street | Bill with his children Neb and Juliana One Girl |
We were met by two toddlers and a lifelong-island resident named Inona, who was a great source of information about Palmerston. Palmerston's history is virtually all built around the life of the original William Marsters (died 1899) who had three wives, dozens of children and scores of grandchildren. Virtually all of the island's current residents are Marsters, members of one of the three original families. We were served coffee, tea and hot chocolate under the canopy of the Palmerston Island Yacht Club, which was an open air meeting place for any one on the island. Bill also served us green coconuts from which we drank the very sweetest and refreshing water.
| | |
| --- | --- |
| Crew relax the Yacht Club | Bill drives off the collect the supplies |
As we sat enjoying our drinks, we were joined by Ned, a five-year-old boy who delighted in demonstrating his jumping, climbing and spelling skills. We asked Ned to show us the island's school, and he led us past very colorful homes, through a grove of palms, and past a fish processing facility to Palmerston Island school. Here we met Yvonne Marsters, teacher, principal and chief supply officer for the school. Yvonne, an New Zealand transplant to the island, teaches nineteen students aged five to fourteen in a one-room facility that has fifteen desks.She is an impressive person that obviously knows her business, but the school is continually in need of supplies. She had a wish list for paper, pencils, books, etc. and obviously desks.
Following John and Amanda's example, we five crew members agreed to send such supplies as soon as practical after our return to the USA. Readers of this article may also be interested in helping out; if so, send whatever school supplies that you can to Yvonne at Palmerston Island School, Palmerston Island, Cook Islands, South Pacific. We know every one of Palmerston's sixty-five residents will appreciate it.
| | |
| --- | --- |
| Palmerston Lucky School | Yvonne Marsters – the school teacher |
| Yvonne explaining the school procedures | Ned and Juliana standing before the map that displays homeports and pictures of the visiting yachts and crews. |
Palmerston and its people had a noticeable and beneficial impact on us visitors-we were glad we came, we were sorry to leave. If you have the chance to visit, don't pass it up. If you do make it there, please say hello to Bill, Ned, Inona, Vvonne and everyone else for us.
Hey thanks Tom, it's great to have help with these updates!
Bill brought our crew back in the late afternoon, everyone went for a snorkel, amazed at the water clarity and vibrancy of the reef, and we set sail for tiny Beveridge Reef, 300 miles to the west.
Here's the scoop on our excellent Leg 5 crew, in their own words:
Neil O'Rourke, 37
With three life changes this year, I decided to take a South Pacific adventure. My wife, Krystol, is almost five months pregnant with our first child. We don't know the sex yet, but between watches I dreamt that it is a boy. We'll find out in February. The other life changes were changing jobs from a private law practice to managing a real estate development company and building a house in Cary, North Carolina.
I joined Mahina Tiare as both of test of my seamanship skills and as a test of whether the cruising life would be for me. As of Day 4, things are looking great – I feel comfortable on the boat and am learning a lot.
Debby Platt, 45 I am a real estate developer in Denver, Colorado redeveloping the former Lowry Air Force Base and quickly working myself out of a job. I have been racing my J-80 locally at the Dillon Yacht Club and nationally for the past three years. I can't seem to get enough sailing! Two years ago I tried to complete my first blue water crossing from Bermuda to Charleston, SC. But the 60′ ketch had engine troubles and we never left port. I have joined Mahina Tiare III to build my confidence and skills in ocean crossings in order to do an extended offshore trip in the future. Upon my return I'll also be looking for new real estate on one of the coast, so I can sail more year around.
Tim Sullivan, 61
Vacation Quandry Solved!
I found myself sitting in the cockpit of a sailboat in San Diego harbor with a strange problem. Most of my fellow cockpit loungers had been with me on a recent Far West Ski Assoc. non-ski event when we had spent three weeks in September, 2003 on an African photo safari. The trip had been a smashing success. Hundreds of animals of all types were spotted and photographed. On the last day in the bottom of Ngorongoro Crater in Tanzania we witnessed five lioness stalk and take down a warthog.
Our common problem after such a fantastic trip was: what can we do for vacation next year that will even come close?
The answer: a Mahina Sailing Expedition in the South Pacific. Warm sun, cool breezes, ultra clear water, very friendly local people, honing our sailing skills while sailing through paradise. We are only getting started, and already we are having a blast! (Tim is an electronics tech for Motorola in Arizona and is thinking about introducing his wife to coastal cruising before trying offshore passages later.)
Tom Hughes, 61
Picture this if you can: I'm sitting in the cockpit at 1630, there are virtually no clouds in the sky, the Pacific is the deepest blue and I am among my crewmates, a more friendly and interesting group I couldn't hope to find.
And by the way, I've learned what blue water sailing means, and I love it! For days into the trip and I've gone from the low of being seasick to the high of being on Mahina Tiare as she does her stuff. This trip is all I expected and more.
John Wolf, 61
John forgot to write his bio, so here goes: he is an orthopedic surgeon from Cincinnati, Ohio who sails a Capri 18 on a nearby lake, sometimes with his college-aged kids, and sometimes singlehanded. He organizes a chartering trip annually to an exotic location with sailing friends and is excited that his wife will be joining him (hopefully) and friends on their next trip which will be a catamaran in the BVI's.
Our sixth expedition member, Bryan Hall, 31 wasn't able to join us because of a knee injury.
Winds stayed aft of the beam and consistent, so we arrived just after noon off the entrance to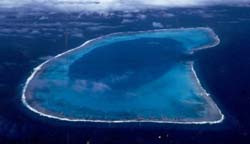 Aerial view of Beveridge Reef
Beveridge. The only chart we have (and I believe the only chart that exists!) was hand-drawn by a yachtie a few years ago and John Fallon, Raro's harbourmaster freely distributes it. Weatherfax charts from NZ had shown that a cold front would approach us and just as we entered the lagoon we could see a huge black wall closing in on us. We motored to the far windward end of the lagoon, dodging numerous large coral patches that reached to the surface, continued past the drop off to where the white sand was only 10′ deep, dropped the bow anchor with all the chain just as the heavens opened up. Winds gusted so hard that the rain felt like bullets as we rushed to get the second bow anchor, our trusty 44lb Delta, hooked up to chain and rode and set. We motored forward slowly at a 60 degree angle from the main anchor and dropped it also in the shallow, but when the wind blew us back, tightening the rode, it was wrapped around a huge coral patch. I jumped in the water, dove down 30′, but couldn't carry the chain over the coral, so crew pulled the rode in, motored forward again and succeeded in anchoring us free of coral. Our extra precautions turned out to be unnecessary as the winds dropped back to 15 knots after the squall, and the cold front passed slowly that night with the winds shifting back to SE by midnight.
Debby Platt:
20 01.295S, 167 46.547W
Beveridge Reef is a spectacular heart-shaped 4 by 5 mile reef in the middle of the Pacific Ocean. As we approached the reef with our fishing lines out, we caught a 50+ lb. wahoo that filled our fridge and freezer. At the top of this heart-shaped island is a 12′ deep pass. There is no land or reef breaking the surface of the water. We went inside and anchored on the white sandy bottom. As we anchored, the sky opened up with a warm, fresh downpour. As we swam and showered on the stern of the boat, we watched a black-tipped reef shark checking us out.
| | |
| --- | --- |
| John goes aloft for his own aerial view of Beveridge | An arty view from up the rig of our second anchor |
Beveridge was a great location for our training on going aloft to check the mast and rigging. We took turns hoisting each other to the top of the mast, producing some spectacular photos of the reef. After spending the night and doing our training the next day, we set sail in search of land.
Here's a parting verse from the poem
"A Shipmates Parting Toast",
by my friend J.R.
Aye" the ocean can be a grand place-
When you stand your watch at three;
and you watch as stars streak 'cross the night sky
and crash down in the sea.
Where they wake the lil' fishes-and light the coral reefs
and perhaps spawn those spiny starfish-
you see washed upon the beach.
Thanks Debby!
The 140 mile passage to Niue was a breeze and with following winds we again rigged the whisker pole, reeling off those miles quickly. We arrived by noon, and luckily Chamberlin, our young customs officer friend was just completing clearing in another yacht as we picked up the fourth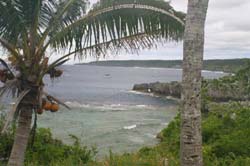 24 Yachts at anchor at Niu
and last available mooring. Last year there were 19 boats on moorings, plus several more anchored and the place was a beehive of cruiser's potlucks, dinners ashore and cruisers filling the local dive boat. This year there were only four other boats at anchor.
When Chamberlin came aboard, I asked what had happened to the other 15 moorings, and he said that they had totally disappeared after the cyclone. We had heard that Niue had sustained a direct hit in January from Cyclone Heta, but what we didn't know was that it was a Category 5 Super Cyclone (the highest rating) with winds over 300 kph (over 150 mph) and a storm surge over 50 meters (150′) that had crashed over the 100′ cliffs, completely obliterating much of the populated side of the island. Gone was the hospital, museum, most of the government buildings, hundreds of houses, even brick and concrete houses, the hotel, dive shop and on and on. Although the islanders have had help from Tahiti and New Zealand cleaning up, the place still looks like a war zone. It was sad going ashore, and we were amazed at the buoyant attitude of the people we spoke with. We enjoyed seeing our old friend Mary Saunders of Alofi Rentals, now assisted by her son Les from New Zealand. Amanda and I rented bikes for a couple days and had a blast cycling around the north end of the island, completing the circumnavigation of Niue we started last year. Our crew got an excellent nature tour from Misa, a local barefooted naturalist and on Wednesday, Debby, Neil and Tim went scuba diving with Annie from Dive Niue (they got to swim with whales) while Tom and John explored the island on motorcycles and Amanda and I enjoyed more cycling.

Misa passes out another bush delicacy

Time for a cool drink courtesy of Misa

Coconut crab
The grib files and weatherfax showed another front approaching, forecasting headwinds for the last day of the passage to Samoa if we waited until Thursday to depart as earlier planned. Faced with great sailing or headwinds, this crew said, "LET'S SAIL!" so we slipped the mooring and took off on a flying broad reach Wednesday afternoon. We just lowered to whisker pole this morning as for the first time the wind came forward of 150 degrees true. Now it's 0700, the sun is really up, we are zooming along at 8 knots and Upolu is getting larger by the minute! September 25, 2004 1600, 13.49S, 171.45W, Log: 82,902, Baro: 1016 Temperature: HOT! We're All Set in Apia!
By 1330 we had entered Apia harbor and side-tied to a harbor tug. Minutes later a young Port Authority employee came by and said had notifed Customs and Quarantine of our arrival. As we knew that many government offices close early on Fridays in the South Pacific, we were delighted when the Customs inspector showed up a few minutes later, and then walked me down and introduced me to the Quarantine officials. As soon as I had filled out some papers and paid a small fee for them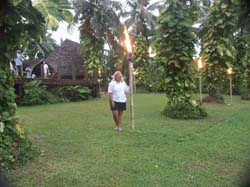 Debby strikes a pose the resorts lush tropical garden
to incinerate our rubbish and bananas, I hopped in a cab and headed downtown to immigration. As was the case last year, the waiting room was packed with 40 Samoans waiting for passports or ID cards. Just minutes before they closed for the weekend, a helpful young immigration officer motioned me to the counter and then helped me fill out the seven entry declarations and ship's declarations. We were then free to get off the boat, not having to wait until Monday morning! In minutes we had slipped our lines to the tug and were anchoring in the quietest, most distant part of the harbor. It didn't take our Leg 5 crew long to get organized and we headed ashore to explore bustling Apia before shops closed.
We enjoyed an excellent dinner at Sails Restaurant which was Robert Louis Stevenson's home while he was waiting for his estate at Vailima to be completed.
The next day crew rented a jeep and drove across the island to Coconuts Resort for dinner and an excellent Samoan dance show.
What a first class crew this was! Right on track till the very end, and always eager to learn and help with whatever needed to be done.