Leg 5 – 2015, Update 1
July 3, 2015, 0100 hrs, 22.08 N, 64.19 W, Log: 186,812 miles
Baro: 1022.1, Cabin Temp: 83 F, Cockpit: 82 F, Sea Water: 83.5F
Close reaching at 6.5 kts in 22 kt ESE trade winds with moderate sea conditions
Triple-reefed main and genoa
HANG ON – WE'RE ON OUR WAY TO THE AZORES!
After an enjoyable but busy time between expeditions mostly spent at a quiet anchorage just four miles from bustling little Road Town, it was time for Amanda and I to get ready for our next expeditions.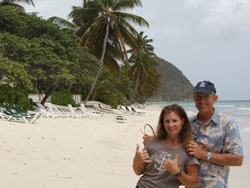 WE LOVE THE BVI's!
We will remember the BVI's for very friendly local people, nearly all of whom say "Good morning" or "Good afternoon" when we meet or pass on the colorful streets. The customs and immigration officers were also friendly, efficient and always enquired if we were enjoying their islands. The three pillars of the BVI economy, tourism, business and financial services all seem to be thriving and the country really feels like it is moving forward in a positive direction. They are keenly protective of their environment and culture with many parks and protected areas and no franchise business are allowed which is quite refreshing.
Leg 5 crew joined Monday noon and after clearing customs we set sail for Little Harbour on nearby Peter Island.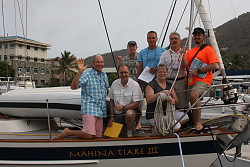 Leg 5 Crew – Left to Right – John, Tom, Ron, Dave, Anne, Jo and Pred
After anchoring Dave, a keen swimmer, tied our 180′ three strand line around his waist, dove in, swam it ashore, tying it around a tree. Keeping some tension on the stern line meant that our chain stayed in one place instead of dragging back and forth over the coral in the variable winds. '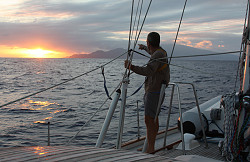 Ron and Pred take up on the stern line
With 83 F water temp and good visibility all of our crew were soon in the water snorkeling, several sighting an octopus and a spotted ray along with quite healthy coral and fish populations.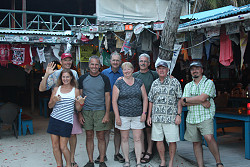 Crew at Foxy's: John Amanda, Dave, Tom, Anne, Jose, Ron and Pred
We completed our safety orientation that afternoon and Tuesday morning after some more snorkeling and engine room orientation we had an easy downwind sail under headsail alone to Soper's Hole, a colorful BVI marina-village in search of fresh fruit and bread. Next we made the four mile crossing to Great Harbour, Jost Van Dyke Island where we picked up a mooring and enjoyed checking out the Great Harbour beach village before a colorful and tasty dinner at Foxy's.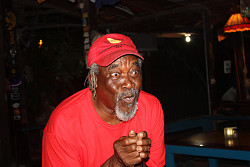 Foxy, now in his 70's is a West Indian icon, frequently appearing at the BVI booth in US boat shows and it was a treat to have him stop by our table entertaining us with his non-stop jokes and banter. His beach shack restaurant and bar chocka with memorabilia of signed articles of clothing, yacht club flags and number plates has been a real going concern for many years with a dinghy dock, sandy beach with hammocks strung between palm trees, beach bar- barbecue joint and gift shop. His daughter runs a second, smaller fine dining restaurant, Foxy's Taboo a couple miles east along the coast. Crew had the choice of either dinning at either and with no one wanting to make a decision a coin was flipped and Foxy's won,
After a last look around ashore Wednesday morning, in search of one last snorkeling experience we stopped off Little Jost Van Dyke before setting sail for the Azores.
Offshore we found fresh easterly trade winds blowing 22-28 kts so before long we had both the main and genoa triple-reefed and were off on a breezy, bumpy and very wet beam reach which caused half our crew to succumb, sometimes quite dramatically, to seasickness. We were a little surprised at the steady progression of traffic throughout the night as we frequently had multiple cruise ships and freighters on both radar and AIS.
Yesterday (Thursday, July 2) conditions gradually moderated, the wind, as predicted slowly shifted to the ESE allowing us to steer closer to the ideal course recommended by Commandersweather.com.
Click HERE to read our initial departure weather forecast from Commanders Weather.
With the moderating winds we shook out one of the reefs in the main and at 1600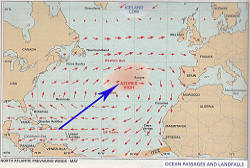 Predominant North Atlantic Summer Winds
we eased sheets, falling off on a smoother broad reach so everyone could take turns showering on the aft deck, resulting in smiles all around.
If we were to attempt to sail a direct course from the BVI to the Azores, we would pass directly through the windless North Atlantic high pressure cell so instead we are first aiming for 28N, 60W, a course that will take us over the northern edge of the high pressure, hopefully providing us with modest downwind sailing conditions.
---
Leg 5 – 2015, Update 2
July 14, 2015, 0600 hrs, 36.34 N, 39.38 W, Log: 188,548 miles
Baro: 1022.1, Cabin Temp: 80 F, Cockpit: 77 F, Sea Water: 77F
Broad reaching at 7-8.5 kts in 18-24 kt W winds with moderate sea conditions
Full main and poled-out genoa
435 miles to Flores, Azores Islands
SURFING ALONG, SINGING A SONG!
What an incredible Atlantic crossing this has been – far and away our best!
This morning as Amanda taught braid splicing I stood watch at the bow, mesmerized as MT's bow repeatedly lifted high out of the water on the start of a surf, then as she zoomed down the face of the wave the rushing water nearly reached the anchors. Numerous small flying fish zipped back and forth, startled by the roar of our bow wave. We zoomed close by an unconcerned green sea turtle who turned as watched as we surfed by.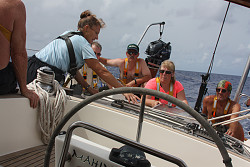 Amanda teaching rig check class
We've had some boisterous close and broad reaching with winds gusting to 35, but mainly excellent sailing, frequently hitting 8 and occasionally 9 kts with moderate sea conditions allowing us runs of 145-170 miles per day without breaking a sweat, even with an adverse current that at times has run close to 2 kts against us. In the first week at sea the winds went light so we did have a bit of motor sailing in a slight swell, but this allowed us to top up our water tank and fully charge the batteries.
We've had some boisterous close and broad reaching with winds gusting to 35, but mainly excellent sailing, frequently hitting 8 and occasionally 9 kts with moderate sea conditions allowing us runs of 145-170 miles per day without breaking a sweat, even with an adverse current that at times has run close to 2 kts against us. In the first week at sea the winds went light so we did have a bit of motor sailing in a slight swell, but this allowed us to top up our water tank and fully charge the batteries. Commanders Weather has confirmed my theory that the fairly active El Nino episode in the Pacific not only substantially reduces the number and severity of Atlantic-Caribbean hurricanes, it also reduces the amount of convection and squalls, overall improving the weather of the Atlantic and Caribbean basins.
Our only breakage has been the whisker pole's inboard end latch which slots onto the nozzle of the mast pole car control. On hoisting the pole this end came detached as we raised the pole's inboard end on the mast. Fortunately the pole landed gently enough on the high lifeline and no one was beneath it. Upon examination, we found bits of oxidized aluminum on deck, and it appears that after 19 years the internal latch has disintegrated. Amanda lashed the latch to the mast car so it shouldn't pop out and we've added replacing the latch to our list for Adam's Boat Care's refit this winter.
Last week our keen crew landed and demolished a mahi mahi, but since then we've been focused on generating power with our Ampair towed water generator which is nearly keeping up with our charging needs. Today we're try fishing with the water generator also deployed and hopefully we can keep the two apart by steering a very straight course. We've seen more than a dozen ships either on AIS, radar, or visually but haven't yet needed to change course to steer clear.
Yesterday we were twice visited by groups of Atlantic Spotted Dolphins and when we went to record it in our whale and dolphin book we were amazed to see we had made a note of spotting them on exactly the same day, in the same location in 2006, the last time we made this passage. Now we're on the lookout for sperm whale as we had many sightings of them in 2006 but none so far, although turtles are regularly spotted along with numerous flying fish landing aboard.
The moderate conditions have made our teaching schedule pleasant, and we've been able to utilize PowerPoint modules for many topics. This morning Amanda taught double-braid splicing, soft eyes and whipping line ends and I covered 12 volt power system options and watermakers. Our goal while at sea is to complete the majority of our teaching, except going aloft for rig inspection, before arrival so we can all maximize our exploring and adventures upon making landfall at Flores, the first and most dramatic of the Azores Islands.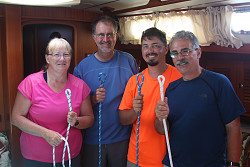 Anne, Tom, Pred and Joe proudly display their braided eye splices
Here's our relaxed and jovial Leg 5 crew:
Tom, 51
I recently moved just south of Boston where I work at Gillette on the next generation of razors. Last summer I sailed with Boston Sailing Club and this summer I'm thinking of buying my first boat so I can enjoy the prime sailing areas near Boston. This is my third expedition aboard MT and I enjoy the challenges associated with long ocean passages.
Jose, 58
Today I'm journeying home to the Azores in a very traditional way. I grew up on Terceira in the Azores and immigrated to Ontario, Canada with my family when I was 12. After this expedition my wife Anne and I will visit three of the islands for the first time before returning to Terceira for a wedding and to visit my relatives. At home in Ontario we sail a Contessa 26.
Anne, 57
I'm a housewife from Ontario who enjoys sailing. We joined this expedition to learn more about sailing and to gain a better understanding about our dream of going cruising. One thing I've learned is that we will have to upgrade our Contessa 26 to something more comfortable and faster!
Pred, 45
I'm an IT manager from Chicago and my ambition is to retire early in the southern coastal US, Caribbean or South Pacific and become a sailboat charter captain and sailing instructor. My boat is a Rhodes 19.
David, 57
My wife and I own Elm Brook Farm in Vermont that distils maple sugar into Literary Dog Vodka and Rail Dog Barrel Aged Maple Spirit, both made from 100% maple sugar. Prior to becoming a farmer, I worked in finance and banking in dozens and dozens of countries around the world. I'm interested in purchasing a catamaran to explore the Atlantic and South Pacific with my wife.
Ron, 65
I live in the desert near Palm Springs, CA but am hooked on the adventure of sailing to exotic destination, fresh air, stars and good camaraderie. This is my eighth expedition aboard Mahina Tiare.
---
Leg 5 – 2015, Update 3
July 20, 2015, 0730 hrs, 38.32 N, 28.53 W, Log: 189,140 miles
Baro: 1017.3, Cabin Temp: 77 F, Cockpit: 77 F, Sea Water: 74F
Broad reaching at 6.7 kts in 12.5 kt NNW winds
13 miles from Horta, Faial Island, Azores
WE LOVE FLORES – What a treasure!
Although it wasn't forecasted, our excellent broad reaching conditions remained until we were only hours from landfall at Flores Island. The last few hours of motor sailing meant that we arrived with fully charged batteries and plenty of water in our water tanks.
Just before departing on Leg 1 we downloaded the latest updates for C-Map charts and are delighted at the level of detail provided. Normally we're very reluctant to enter harbors in the dark but as we had excellent detail on the PC running C-Map charts on Rose Point Navigation software, the radar and AIS working along with twice previously anchoring here we decided to proceed to the anchorage.
At 0400 we dropped anchor in 20′ halfway between an anchored cruising yacht and breakwater which also serves as the commercial wharf and although we'd viewed internet images of the new small marina tucked into the bays corner we didn't attempt to enter it. We were pretty tired, but before crashing we rigged our second anchor light; a blue LED light suspended from the boom above the hardtop.
When I peeked through the aft cabin's curtains at first light I thought I was seeing a ghost ship as off in the distance, just occasionally visible through the misty early morning light, a frigate was steaming back and forth across the harbor entrance. I awoke again at 0730 and checking through the aft portlight I could see there was indeed a naval frigate, it was now bearing down on us, obviously heading toward the wharf. At once, still with the anchor down, we reversed away from the wharf to make more room for the frigate to maneuver alongside the wharf.
Eager to check out the new marina I went to scope it out by dinghy. I found an ideal situation – the end of one of the docks had a 60′ berth open, and a local motioned that it would be fine to moor MT there.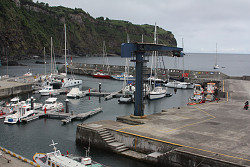 Mahina Tiare moored on the end pier at Lajes
Joe (who is originally from the Azores) came with me to the harbormaster who proved to be the most efficient I've met in 41 years. Harbourmaster Tiago Pimental, (email: marinaflores@portosdoacores.pt) acted like a one man island promoter. When I mentioned we were keen to check out the island, he quickly pulled up details on his computer of what he described as a spectacular hike down a cliff face to a wild and isolated beach within walking distance from the port. I also commentated on the tour guide sign located at the marina gangway of tour guide. Tiago said that Silvio Medina of Tours of Flores (www.toursofflores.com, email: toursofflores@gmail.com) does an excellent job of showing many of the visiting yachties around the island and that he has two nine passenger vans, either of which could accommodate our crew. He proceeded to call Silvio, passed me his phone and I made a tentative booking for a half-day tour the following day.
Tiago said that the annual Festival of the Immigrants which this year is celebrating the 500th anniversary of the town of Lajes was starting that night, and that we must see it. We'd seen this incredible celebration twice before and wouldn't miss it for anything.
As Joe (in Portugese) and I peppered him with questions, Tiago was filling entering all of our boat and passport information into his computer, and after a few minutes printed out and emailed us entrance and exit clearance forms, advising us that all of the information would also sbe available to the harbormaster in Horta, so entrance there should be quick and easy.
Tiago said the new marina was mostly paid for (like seemingly all the infrastructure in the Azores) by the EU and had proved very popular with over 150 boats per year visiting. Showers, internet, electricity and water are all included for the amazingly reasonable price of 18 euro per night, the least we've ever paid for moorage, anywhere!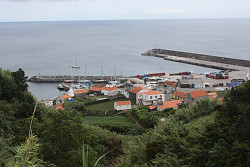 A view from town of Lajes Marina and harbour
When asked about the island's population, Tiago said that the current count of 3,600 included the many people who'd long ago immigrated to the States and those who'd also passed away. He said the young people (he looked to be around 40) continue to leave for brighter lights but we sensed his strong love and connection to the island as although his parents had immigrated to Lisbon he'd chosen to return.
Our crew were excited! After showers and with Joe using Tiago's directions they headed off on what turned out to be a very challenging cliff to sea hike while Amanda and I hitchhiked 15 km the opposite direction to check out the amazing new whaling museum in Santa Cruz, the island's largest town.
That afternoon in the harbor the two traditional Azorean whaling boats were boarded by a group of kids and adults who promptly got them ready for sailing. Long used for whaling, these historic boats are now used for racing under sail and oar. Whaling was an important part of the Azores economy until 1981. Whales were spotted by lookouts high on the island who fired signal rockets, alerting the farmers to head for the boat ramps.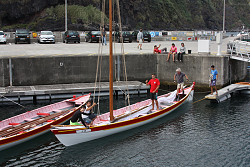 Azorean sailing whaling boat preparing for an afternoon sail
As whaling was only every done under sail or rowing, the number of whales never diminished. Powered launches were only used to tow the whale boats out and tow the whales back to the shore-based rendering plants.
We all met at restaurant overlooking the 1910 lighthouse and harbor for a typically HUGE Portuguese fish dinner. David had met the town mayor who invited us to the festival opening at the new civic hall where a classical music performance would follow the opening speeches, and not having a clue of what to expect, four of us went. After listening to many speeches in Portuguese, a musical group from Boston composed of seven string instruments, an accordion player plus three folk singers put on an amazing performance of mainly Portuguese folk songs.
Saturday morning Amanda and I took off running at dawn and got a bit lost in the hydrangea and rock hedged lanes between the corn and cow fields trying to find the start of the cliff hike. I'd anticipated the trail too soon but still enjoyed being out in nature and eventually Amanda figured out where to head to for the start of the hike. On our return to MT we stopped by the new cash and carry" supermarket, the harbormaster had proudly told us about, and bought some fresh pineapple and warm maize bread.
Silvio Medina (www.toursofflores.com, toursofflores@gmail.com) picked us up at the harbor at 1 pm and took us on an amazing tour of the very rugged island, checking out all anchorage and harbor options (very few!) and telling us the history of each village. The best of all was returning to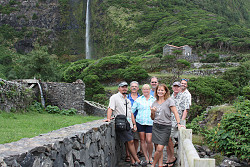 A group photo on the pathway to Poco do Bacalhau: Pred, Joe, Anne, Tom Amanda, Ron and Silvio
Faja Grande, literally at the end of the road on the west side, where stormy conditions in Lajes had forced us to seek anchorage several years ago. Now there is a stone-paved walkway past historic water-powered grain mills to a large pool underneath the island's tallest waterfall.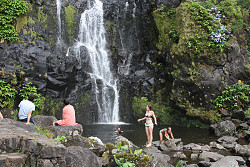 At the base of the waterfall the entire music group from previous night's concert and their families were swimming and frolicking in the pool.
Perched on the cliff to the right of the waterfall is an ancient stone mill house that has been restored and rents out for 60 euro a night, http://casasdacascata.com. What a treat it would be to stay there and hike the miles and miles of gorgeous trails on that side of the island!
Silvio saved another real treat for last. Just 2 km from Faja Grande, www.aldeiadacuada.com are 16 charming homes restored in a small-cobbled stoned village that was abandoned in the 1960's when its inhabitants emigrated to the New World. A local purchased the site and now runs the homes as guest houses. We looked into one of the homes that serves as the front desk/registration area, and it was like entering a farmhouse museum.
Our thanks goes to Silvio for showing us the wonders of Flores for five hours and answering our many questions all for the amazing price of 20 euro each!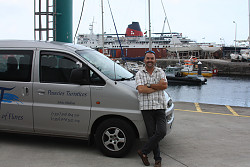 Silvio and one of his vans
Our crew had dinner at the festival food tents where Joe got them to try several local specialties. Earlier in the day the ferry from Horta arrived for the first time this year bringing several hundred visitors and it was obvious everyone was incredibly proud of their culture and tradition. At sunset the parade started down the long main street towards the harbor although it was short on numbers this year as there hadn't been enough funds to cover transportation of bands and dancers from other islands as in the past. So when the band from Fajainha finished providing the accompaniment for a very exuberant folk dancing group they rushed back to the top of the hill to accompany the dancers that followed school dancers and band.
It was interesting to watch the crowds. Out of at least a thousand people, no one appeared drunk or rude, there was no visible police presence, small children wandered about with everyone greeting them and keeping an eye on them and everyone was enjoying the evening. We were invited to a symphonic concert in the park but headed back exhausted. We were also repeatedly invited to a free lunch Sunday noon in the town hall.
Actually, in our early morning hike (we were too exhausted and the streets to hilly to run!) yesterday Amanda and I stumbled upon an industrial soup kitchen behind the church where seven 10 gallon pots had Portuguese Holy Ghost soup cooking and volunteers were preparing for the luncheon. We were again invited and the cooks explained the lunch was a way of saying thanks to the immigrants who had returned to the town from overseas for the celebration.
Not wanting to arrive before dawn in Horta, we waited until 1100 yesterday before setting sail on the 135 mile passage. As we sailed away, the sun came out on the rugged island and the string of red-roofed whitewashed stone houses stretching along the cliffs looked like doll houses. We could see waterfalls and mist covered the jagged peaks and it felt like we were leaving Shangri-La.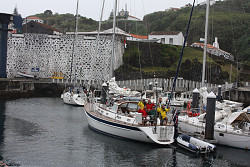 Crew and MT ready to depart Lajes
We've had a mixed bag of conditions, some sloppy seas left over from a little frontal passage, some good downwind sailing and some motoring.
Final Leg 5 Entry:
We had an excellent sunrise with the island of Faial in the background and when we entered Horta harbor there were tons of local kids in Optis and Lasers zipping around the harbor as part of the yacht club summer sailing program. Check-in at the harbor office was a cinch, thanks to Tiago's having already entered all of our info, and in no time we were assigned a berth rafted one out from a catamaran on the breakwater wall. Amanda was off and running once MT was secure, eager and pleased to find paintings she had made on the wall of Maiden (1989), Taitoa (her parent's boat visiting in 1988) and Mahina Tiare III (2000 & 2006) were still visible and hadn't been painted over.
Our crew chose dinner at Pousada do Santa Cruz, a 500 year old fort converted into a fine hotel and restaurant which we all enjoyed. Tuesday morning everyone pitched in to clean their cabins and then were soon off to explore the Azores and yesterday (Wednesday) Amanda and I set sail for 21 miles to a tiny new marina at Lajes do Pico for our own adventures.
---
Leg 5 – 2015, Itinerary