September 6, 2019, 0600 hrs, 16.37 S, 175.38, W, Log: 226,786 miles
Baro: 1011.9, Cabin Temp: 75 F, Cockpit: 76F, Sea Water: 82 F
Broad reaching at 7 kts in 16 kt SSE winds with moderate seas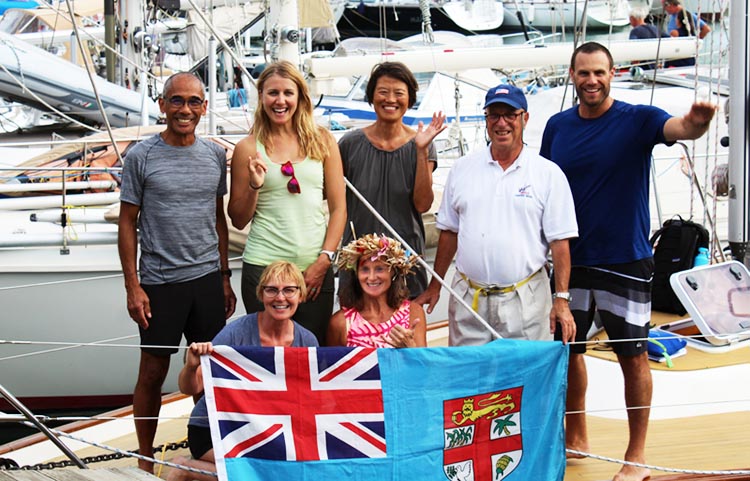 Rene, Ann, Carly, Helen, Jerry and Dan
We love Fiji, so our time off between expeditions here is something we look forward to all year. Amanda's parents, Lesley and Robert Swan flew in from NZ (between skiing sojourns) to join us aboard for a week and we all decided the best place to chill was at Musket Cove on Malololailai Island where we got married on the beach 22 years ago. With a turn in the weather we spent the last two nights of their visit at Denarau Marina, not far from the airport. Amanda and Lesley instantly headed into Nadi for tropical fabric shopping and I tagged along to replenish our fishing gear and medical kit. As a final hoorah we all attended an evening performance by VOU dance company and we were all extremely impressed with their dynamic story-telling of a Fijian legend through dance, drumming and songs.
Upon Lesley and Robert's return to the ski slopes we sailed back to Musket Cove and proceeded to catch up on boat projects. Amanda's fish hook wound was thankfully slowly healing and in an effort to keep her foot rested and out of the water she took up playing her ukelele with the Musket Cove musicians. Meanwhile I did my first-ever dive with a dive operator, and first scuba dive in many years.
Four days prior to the Leg 5 expedition start we returned to Vuda Marina to provision and prepare for our crew who joined us Wednesday, as a series of moisture-laden fronts brought gusty westerly winds (headwinds for our destination of Vanuatu) and buckets of much needed rain for this dry, leeward side of Fiji.
For the first time in years we delayed our departure by a day, although we kept busy with orientation, charting and plotting and then rounded out studies with a delightful beachside dinner at First Landing Resort, adjacent to Vuda Marina.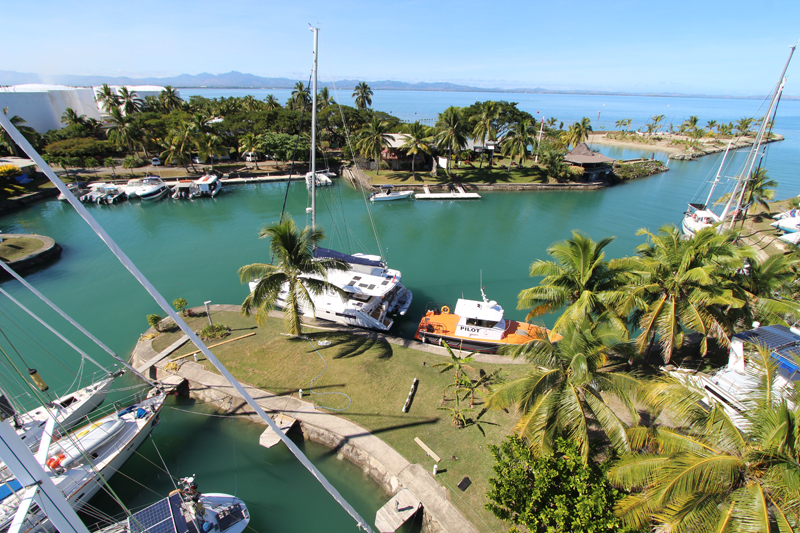 Rig top view of Vuda Marina entrance and The Boatshed Restaurant and Bar
Jazz and Shamron, the charming and always cheerful marina office staff, have not only all the blank Fiji customs and immigration forms on hand, they also have all inward forms for Vanuatu! I was shocked to see both customs and immigration officers hard at work in the marina café when I arrived 15 minutes earlier than the 1000 appointment Shamron had made the previous day.
When I expressed surprise at their being there early, Shamron replied, "I told them 8am instead of 10, and they were here by 9:30. This is Fiji time! If we're having a party, we tell everyone 5pm, and they start showing up at 7!"
As is there tradition, the boatyard and marina staff showed up with guitars and ukuleles to sing Isa Lei, the Fijian farewell song before they released our bow and stern lines and we set off at 1130. Yeah, the frontal passage had occurred, the skies were cloudless, but the wind was still fresh and from the SSW so we tucked two reefs in the main and only unfurled 70% of the genoa. Dan, our detail-oriented navigator had set waypoints that allowed us to skirt multiple unmarked reefs on either side of our course before getting to our "exit gate", a narrow passage between Eori and Navadra islands. We reached this point in good light at 1630 and were surprised to see two yachts anchored in the gorgeous, protected anchorage between the two small, uninhabited islets of Navadra and Vanua Levu. That's another thing we love about Fiji – dozens and dozens of incredibly perfect anchorages like this scattered amongst 330 islands.
Once clear of the reefs and protected waters the seas became a bit choppy and several of our crew dealt with seasickness – which now all but one has managed to get free of.
Our destination is Tikopia, one of the very remote Polynesian outlier islands where Polynesian voyager/settlers migrating eastward in their 70' catamarans stopped and settled in Melanesia. Last year we visited Rotuma, another Polynesian outlier, 300 miles north, but part of Fiji. Their physical appearance, language, culture, dance and DNA is markedly different to their Melanesian neighbors being more closely associated with Samoa and Tonga.
Tikopia's geographic isolation, smallness and lack of resources pretty much guarantees that it receives very few visitors. We've known of only two yachts that have anchored here, although there have been more. Jared Diamond brought the island to light in his excellent book, Collapse, How Societies Choose to Fail or Succeed when he wrote of the unique methods of population control.
We're also keen to explore Vanuatu's remote Banks Island group, which only recently gained a port of entry in the village of Sola on Vanua Lava island. There's very scant information for cruisers written about these islands, but our New Caledonia-based friends Richard and Frederique Cheshire, have produced an amazing digital cruising guide with excellent satellite images and anchoring and cultural information. www.rocket-guide-vanuatu.com
TIKOPIA – HERE WE COME!
September 9, 2019, 0630 hrs, 12.24 S, 169.08, W, Log: 227,223 miles
Baro: 1008.6, Cabin Temp: 79 F, Cockpit: 81F, Sea Water: 84.2 F
Running at 7 kts in 18 kt ESE under full main and 50% flat-sheeted genoa
Ann recently yelled LAND HO as she spotted Tikopia's dramatic cone-shaped 387-meter volcanic peak. We've had remarkably fine and steady sailing conditions – not a drop of rain or sign of squalls. With winds mostly directly astern, we've had to gybe a few times and for a day we rocketed along, wing-and-wing, surfing directly downwind and exactly on course. The steady winds (28 kts was our highest recorded gust) have allowed us to accomplish our teaching modules and we're on schedule, with Marine Weather, Anchoring, Position plotting, Reefing and survey of Abandon Ship packs completed.
| | |
| --- | --- |
| Dan switches out at the helming with Carly | With numerous gybes along with poling out the headsail kept us busy. |
For close to 24 hours two 30-meter Chinese long-line fishing boats shadowed us on either side visible only on AIS, and yesterday when they started calling each other on Ch 16, Helen, a native of Taiwan, answered them in Mandarin, totally surprising them.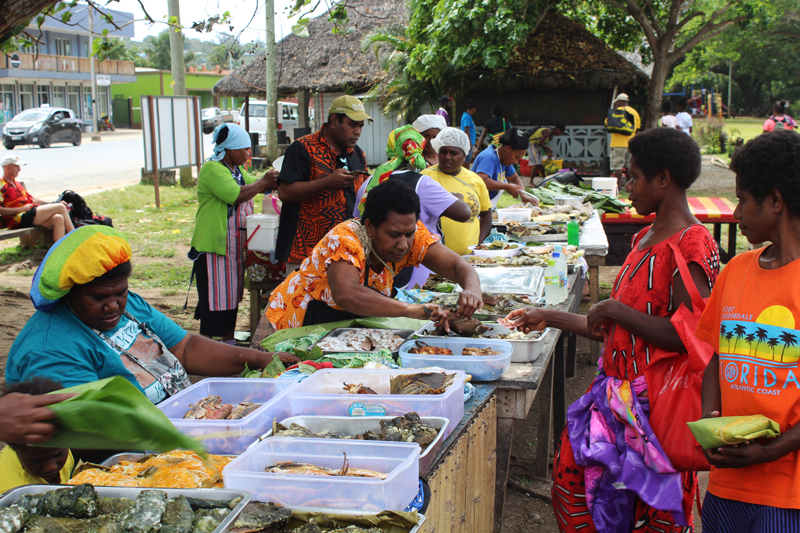 Helen's conversation with the fishing boats was entertaining
Here's Ann's account of her first few days aboard.
Our first lesson in passage making occurred at Vuda Marina in Fiji as our departure was delayed by a day while we waited for a favorable wind direction. Thursday morning the marina staff sang us Fiji's traditional farewell song, "Isa Lei" as we backed out of our tight Med-mooring space under sunny tropical skies.

Leaving the shelter of the marina, the aqua waters of the shoreline quickly changed to deep ocean blue. Standing on the mast pulpit for a better view into the water as we threaded our way through the just-submerged reefs and small islands in choppy seas was exhilarating.

Unfortunately, the choppy seas also meant that three of our crew became suddenly and violently seasick. Amanda and John were quick to respond with escalating medical treatment for the stricken crew and everyone recovered within a couple of days as we settled into the rhythm of life at sea.

We'd been assigned a rotating schedule of two-hour watches in pairs. Initially, my lack of steering skills had the boat swinging wildly down the waves, but with patient guidance, I was eventually able to keep the compass needle balanced momentarily on our desired heading and to react quickly when it danced off on the next wind gust or wave.

This was a 24 hour per day educational experience as Amanda and John guided us through reefing, sail trim and setting the pole for wing-on-wing downwind surfing in the rolling waves.
Life below was like living on a roller coaster. We lurched from handhold to handhold like drunken sailors as we made our way fore and aft. Climbing into my top bunk was an acrobatic feat, which generally ended in an ungainly belly flop.

On the third night, Amanda's keen eyes spotted a glow on the horizon, and two ships appeared on our AIS screens. We were never close enough to see the ships, but after hearing them chattering on Ch 16, Helen, who speaks Mandarin had a long chat with them, learning they were Chinese vessels and had been fishing in the area for over two months.
Late yesterday afternoon we covered Polynesian and Landfall Navigation, reviewing the entry in the latest Admiralty Sailing Directions, Pacific Islands, Vol. 2, the latest chart of Tikopia, BA #17, Google Earth images I printed off while we still had internet in Fiji, plus the images and blog entries from our former seminar grads Leslie and Phillips 2012 visit on SV Carina. We discussed village protocol; staying lower than the chief, listening more than talking, ladies wearing a sarong, and our policy of no cameras the first few moments ashore and asking before taking a photo.
Class ran right up until dinner (a very tasty Thai shrimp curry on brown and wild rice) and then instead of catching up on sleep before night watches, the entire crew hung out in the cockpit with Dan teaching another knot-of-the-day and everyone telling stories and laughing long after I hit the sack at 2030.
TIKOPIA – WHAT AN INCREDIBLE ISLAND!
September 11, 2019, 01000 hrs, 13.20 S, 168.02, W, Log: 227,322 miles
Baro: 1011.5, Cabin Temp: 79 F, Cockpit: 83F, Sea Water: 83.7 F
Beam reaching at 7 kts in 15 kt SE with single-reefed main and two reefs in genoa with moonlit seas and the Southern Cross overhead
Our remarkably fine sailing conditions held for a post-breakfast arrival at Tikopia's Ringdove Anchorage; a remarkably protected bight, well-sheltered from prevailing SE trades, but likely untenable with winds from NE through SW. As Amanda's wound was still keeping her out of the water, Dan, a very keen and capable master's swimmer and scuba diver took up the important role of bottom surveyor, finding us a fairly large area clear from the giant coral heads which reached the surface. We anchored in 60', all sand at 12 17.604 S, 168 49.145 E and had the RIB launched and rigged in record time.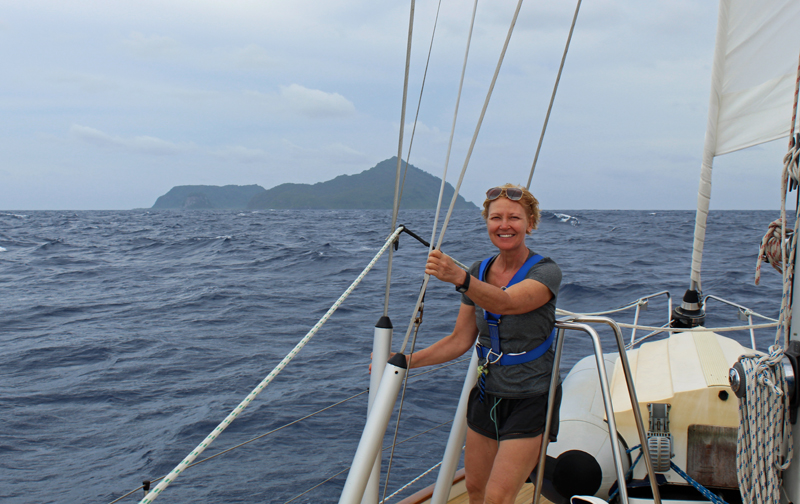 Ann is all smiles as we approach Tikopia
Normally at a traditional village Amanda and I go ashore first to ask for permission to anchor and visit but an impending and freshening wind shift to SSE meant that this would likely be to a two-day, one-night stop. In order to maximize time ashore I decided we'll all head ashore and it took two trips to ferry crew as I had to thread through shallow channels in the extensive coral banks to the sandy beach where dozens of very excited small children eagerly awaited our arrival and enthusiastically helped lift and carry the dinghy up the beach, clear of the rising tide.
We'd read that Carina's dinghy had been covered in sand by playful children so I asked one of the ladies who came by to greet us if she could ask the kids to not play in the dinghy which she did, and the kids all immediately stepped back. Upon asking directions to the chief we were instantly led along the beach as multiple very sweet shy kids delighted in holding our hands to show us the way.
We were distracted when a small sailing canoe appeared on the outer reef and everyone explained it was being sailed by Jessie, the chief's son. We waited until the canoe landed and under the guidance of Jessie we continued on to the Chief's house.
| | |
| --- | --- |
| Jessie sails across the reef to the beach | Greeting Jessie and showing Corina's pictures |
Jessie explained them much-beloved chief Edward, whom we'd read about in Leslie and Phillip's blog and when Googling Tikopia, had passed away two years prior and that next-in-line son Chief John was away at the Solomon Island capital, Honiara for medical treatment. At a large thatched house where we were welcomed inside by we were greeted by acting chief Danstan who apologized that chief John could not meet us. Danstan warmly welcomed us into his large thatched house and after accepting our gifts of rice, cooking oil and popcorn he introduced his wife Nina and young son. Danstan confirmed that Tikopia is still divided into four villages, each with a chief, who are numbered in order of ranking.
We were offered drinking coconuts, taken from the adjacent trees by small boys, and Danstan asked how long we could stay. We were only the second yacht in a year to visit and it had been several months since the last visit of the government supply boat although it was due to arrive once the weather looked a little more settled. He eagerly gave us the visiting yacht log started 15 years ago with chief #2 Edward in which we noted visits by several friends and a few impressive mega yachts.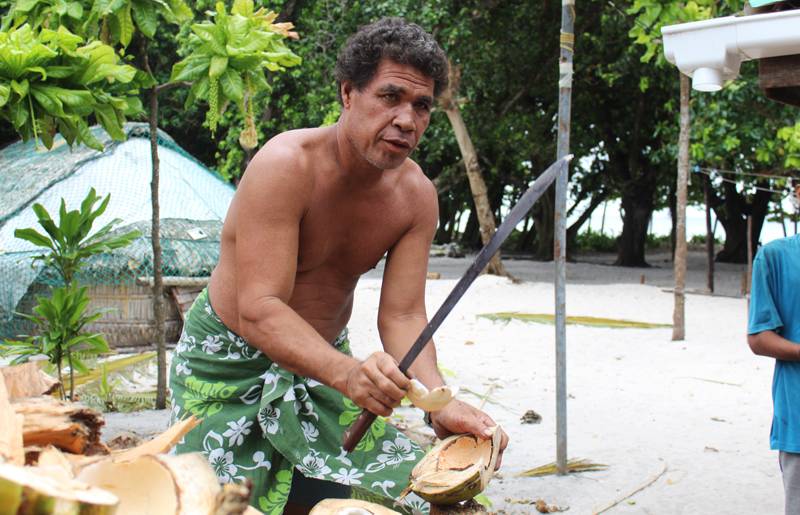 Chief Danstan extracting coconut meat for us to eat
When we mentioned that we had supplies for the clinic and school, Danstan said his son would show us the way. Amanda asked about visiting the villages on the south side of the islands south side and the other, bordering the substantial volcanic crater lake. Danstan was very clear that the following day would be the best time to visit, mentioning they would then be having a small occasion marking processing turmeric. Preparations were underway for a traditional dance on Thursday and turmeric is used for body painting.
We stopped by the school which had finished for the day and then met with the island's only nurse, Jenny Kapei, from Ontong Java (another Polynesian Outlier island to the north). She'd been told we were looking for her so she arrived at the clinic (in her uniform) to meet us. Jenny stated she'd welcome our supplies and upon asking if there was anything she specifically required she said she'd write a list. When asked Jenny said there was little sickness on the island due to the reliance on plentiful root crops and fruit and we saw no obesity that seems to plague most South Pacific Islands.
| | |
| --- | --- |
| Exploring team photo at the school | Jenny writes down her name for us |
We introduced ourselves to everyone we passed, who without exception were warm and welcoming. Roxy, who lived near the dinghy landing beach asked if we had any carving tools or hacksaw blades to trade and when I said I could bring him a hacksaw blade the following day he said he'd have bananas and papaya for us.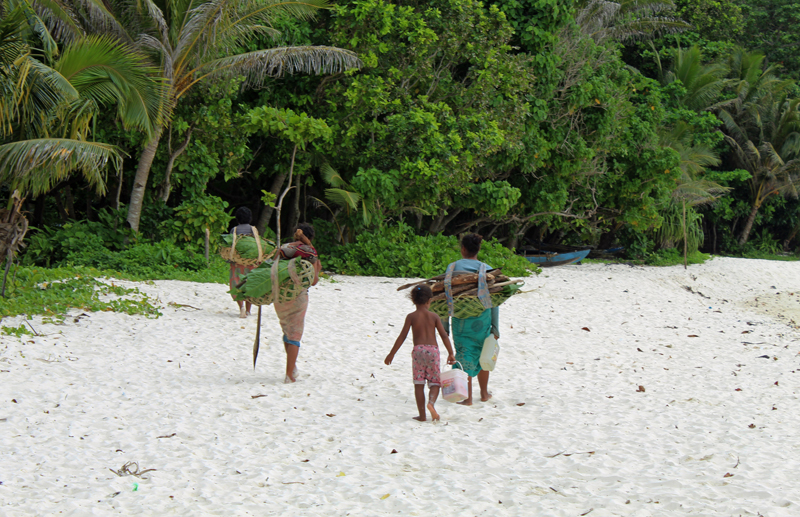 Women, carrying cooking wood and food, shyly pass us by on their way home from their gardens in the bush.
Once back aboard we all jumped in the crystal-clear 83F water where visibility exceeded 80' and the adjacent coral reef is vivid and healthy. Before lunch, a man and son in a primitive dugout canoe arrived to visit and trade. Besides a couple of war clubs used in dancing and an assortment of shells, he had a large coil of intricately square-braided coconut sennit traditionally used in lashing for canoe and house building. He said this represented two weeks of work, and that each sibling was required to provide a similar bundle as part of the price of a bride.
Following Rigging and Rigging Spares class and dinner, we were ready for a great night's sleep. Long after sunset we could hear the happy sounds of dozens of kids playing along the beach and the underwater lights of spear fishermen lit parts of the bay while flying fish fishermen with their pressure gas lamps spread patches of light offshore. With not a single generator, only individual solar panels and 12 volt interior lights, we didn't see any lights ashore – a first in many years.
Carly, our navigator for today had all the navigation done and waypoints in the GPS and MFD last night and advised that if we were to be underway by 1 pm, we should reach Sola, the port of entry for Vanuatu on Vanua Lava island, with daylight to spare even if headwinds required us to motorsail.
We had an early breakfast, distributed and packed the medical supplies, reading and sunglasses that Ann had brought, plus gifts for the other Chiefs before struggling ashore through the shallow water and coral on a rising tide.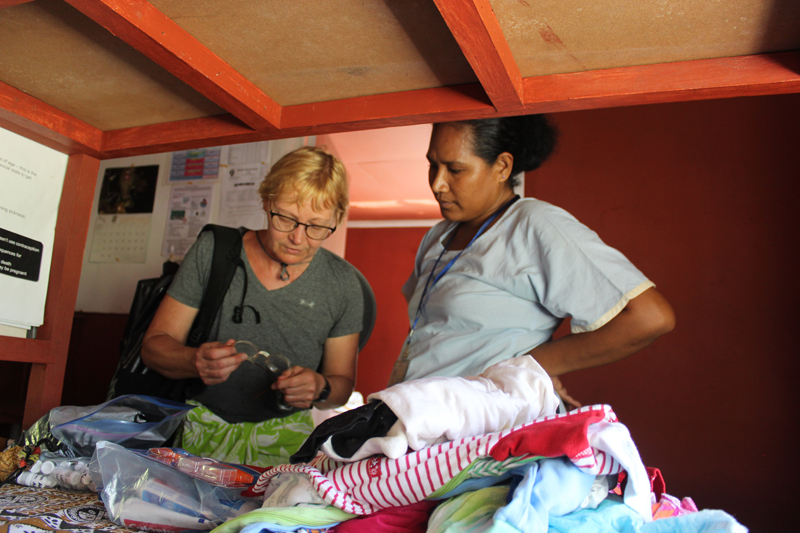 Ann, with children clothes donated by her staff, along with medical supplies explains the different eyeglasses prescriptions to Jenny
Jenny's clinic is simple and tidy, and she gratefully accepted our supplies giving us her needed equipment list. Two of the interesting items for me were a wristwatch and a clock.
The only timepiece we saw was Chief Danstan's watch and from the responses we received when asking how long the walk to the lake and when school started we gathered that the islander's sense of time was somewhat loose. School starts "very early" and it's "not that far" or "over 2 hours" to walk to the other side of the island.
Here's Jenny's list of supplies for the clinic – and please pass this on to anyone you might contact who plans on visiting Tikopia:
Duffel bag for carrying medical supplies, rubbish container, curtains, sheet, single foam mattress for exam table, watertight containers for storing gauze and dressings, clock, watch, paint of any color to repaint clinic, shoes (to wear while working on concrete floor), cupboard for medicine storage, torch, solar panel, batteries and light, blood pressure cuff, stethoscope, Doppler & KY jelly for pre-natal exams, methysalicylate ointment, antibiotics, Panadol100 & 500 mg, sunglasses, reading glasses, laptop and projector for community health awareness talks,
About 15 minutes into our cross island hike through bush, the odd house and small gardens we heard the surf before then seeing the ocean. The final trail to the other three villages and crater lake is along the beach then around a tidal headland. When Joshua pointed out the chief of the next village (the highest #1 chief of the island), sitting with his wife and cousin under a tree overlooking the beach, I asked if he'd introduce us. He declined, saying he wasn't allowed to and our accompanying party of children quietly waited at the headland while we proceeded.
Once given the all clear at the headland everyone gets to proceed
I introduced myself and our crew. The chief was open and friendly, welcoming us to the island and his village, while mentioning that he had been to Paris with a group from the island on invitation by a film maker for the premier of a film about Tikopia which I'd read about on the internet. His wife, Keren, was the only Solomon Islander (darker, and with frizzy hair) we met on the island. I asked if the four different villages got along and the chief said that the tribes (his word) intermarry and all work together in harmony.
The third village fronted Lake Te Rota and the 67-year old chief (who looked much older) was the father of one of our two guides, who introduced us to him. When I asked how old he was, he didn't know, but after some thought he told me he was born in 1952.
Tikopia's houses are constructed like no other we've seen in the South Pacific. The entrances are so low we had to remove our backpacks and crawl in. I noticed that the women exit the houses feet first are soon standing in an upright position on off on their way, this was certainly a more graceful method than our exit strategies. Each of the huts we visited had sand floors covered with mats and the household possessions and clothing piled in a corner. Cooking is done in an outside hut over firewood and toiletries are done in the ocean.
A house and cooking hut


Jerry discovers the Cat Cow yoga pose upon exiting the lake chiefs house.

Although similar in design each house has its own character being thatch holding timber, fish netting or entrance covering
Due to timing we decided to skip visiting the furthest village, opting to leave the appropriate gift bag with another chief to relay. Upon our return to Danstans' house we decided it was a brisk half hour walk across the island. Danstan had a large stalk of bananas plus several papaya waiting for us and thanked us for our visit.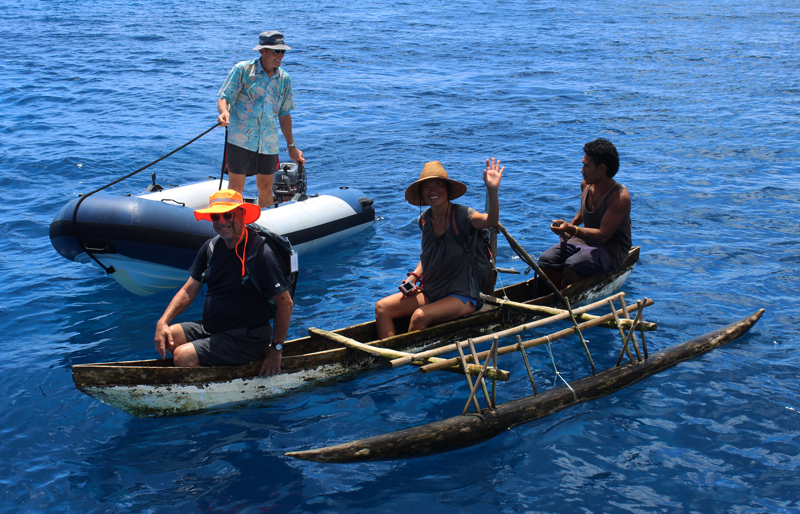 Walter delivering Jerry and Helen.
Walter, a handsome 16-year-old, met stopped us, asking if we would like to trade a large sack of grapefruit for a mask and snorkel. He (and a horde of very keen children) helped us launch the dinghy. I told him I'd return for Helen and Jerry with his mask and some additional supplies for the clinic and school, but by the time I'd located everything he'd delivered Helen and Jerry to MT by dugout canoe!
Walter said he'd soon be leaving for Honiara, the capital, to complete his education and that his goal was to be trained to work in public health. My concerns of whether he would be tempted to keep the headlight, clock, batteries and Betadine destined for Jenny in the clinic for himself quickly evaporated and we all wished him success in his studies.
As Carly guided us out the bay and around the windward side of the island, it seemed more rugged and exotic by the minute as the caldera wall and crater lake Te Poto came into view. In retrospect, Tikopia's happy, healthy, industrious and shy but friendly people seem a real treasure.
Here's Jerry's account of Tikopea:
Mid-afternoon, overcast. Fourth day of raucous and exciting downwind sailing. Ann calls out, 'I see the island!" And she adds, "It's just like John said, the cloud is gathering all around it." Sure enough, the faint outline of a diamond-shaped mountaintop looms through the dark clouds. What a relief, a point of land to steer toward, growing larger every minute! As we draw near to the island, the sun reappears, and the island reveals itself: surrounded by turquoise, enveloped in deep green mountainside, banded by brilliant white sand.

As we slowly feel our way toward the anchorage, a man in a tiny dugout outrigger canoe pushes off from the beach and paddles out to us, pointing the way to where we should anchor. Our very own First Encounter. Dan dons snorkel gear and dives into the water, circling the boat, scouting the bottom for a sandy area free of coral heads. In a minute, the anchor is down and we are at rest in Tikopia.

From all along the beach, emerging from the tree line, children are hastening toward our landing spot. As iron filings attracted by a magnet, the children of Tikopia are drawn to visitors. In pairs, in clusters, and all in high spirits, laughing and calling out. No sooner does the dinghy touch the shore and the first visitors wade through the shallows, the children swarm, grasping our hands, beaming smiles of intense welcome.


Children led us to wherever we wanted to go often with frangipani flowers in hand, worn as leis or head crowns.

After awaiting the arrival of a small sailing canoe sailed by Jessie, the chief's son, we are led through the village to meet chief Danstan. Children quietly and gently take our hands – two, sometime three at a time on each hand. Such tenderness. Such curiosity and happiness. Perhaps not experienced since our own children were small. This magnetic attraction continues the entire time we are on the island. Now little Jemma. Handsome little Neil later. And Tai Tai, and Luke, and Martin, and so many others. Each of us and our own accompanying clusters of pure joy.
Jessie leads us to the Big House and invites us to enter by crawling through a door barely three feet tall. No one is permitted to be taller than the Chief, and this architectural feature certainly ensures that! Under the dim coolness of the stitched palm leaf thatched roof we sit on mats woven from pandanas leaves. The chief, Danstan by name, reports that his father chief Edward, (pictured in a photo album from a visit by the yacht Carina, friends of Amanda and John seven years earlier) has since died. He is grateful for the photographs and explains that the main Chief is away on a medical issue but that Jessie the small boy in Carina's photos.

The gifts of rice, cooking oil, popcorn and corned beef we offer Chief Danstan are appreciated along with the items we have for the school and clinic. In return, he welcomes us to the island and presents us with an abundance of fruit. Upon an unseen gesture from the Chief small boys quickly scurry up the nearest trees, returning with fresh coconuts for each of us to drink. Welcome to Tikopia, indeed!

Chief Danstan told us there are approximately 1,500 people living on Tikopia. They are visited by two or three yachts annually and the supply ship appears periodically but there's no set schedule. They have a radio for medical emergencies. When we ask about crossing to the other side of the island to see the freshwater lake, the chief suggests that "tomorrow would be better". Other villages, other chiefs,.but we were welcome to visit the school, clinic and beachfront.


We all wondered if these leafy creatures were perhaps Tikopea's legend little folk such as the Hawaiian Menehune.

The next morning at 8:30 as we set out for the school and clinic clouds of children attached to each of us. Then it was off through the bush to see the other side. Children guide us through the dense greenery, carefully steering us as the paths diverge. We reach the windward shore, trekking along a coastline strewn with bleached and broken coral. A woman and her two children forage through the tidal shallows. We veer off from the shore into the bush again, and soon emerge on the shores of the freshwater lake, which we are told is filled with tilapia; a prime fishery for the island. A typhoon some years earlier had breached the land separating the lake from the sea, and the fish had almost all been washed away. A potential calamity. With international assistance, the breach was repaired, and enough fish had remained to restock it although they are still too small to harvest. Food supply ensured!


Getting ready to depart

Heading back to the beach, preparing to depart, swarms of children grow larger. Boys veer off the trail and disappear into the forest. Fantastical creatures cloaked in vines and leaves re-appear, cavorting and laughing down the path ahead. As we gather on the beach, ready to head back to Mahina Tiare, gently swinging at her anchor, the young people's chorus of Tikopia — small girls and boys, teenagers, a few young adults – begins singing a farewell song of indelible sweetness and harmony.
I will never forget the soft touch of the children's hands in mine, the smiles on their faces, and the music in their hearts. – Tikopia. Extraordinary.
Since departing Tikopia, we've had ideal sailing conditions with 16-18 kt beam winds and very modest seas.
A few minutes ago Ann spotted Mota Lava island in the moonlight, and our ETA gets earlier and earlier as we charge along on moonlit seas.
THERE ARE SO MANY REASONS WHY WE LOVE VANUATU!
September 12, 2019, 01000 hrs, 14.12 S, 167.27, W, Log: 227,378 miles
Baro: 1013.9, Cabin Temp: 79 F, Cockpit: 1F, Sea Water: 84.4 F
At anchor in 16', Matanda Bay, Gaua Island, Vanuatu
We carried our excellent reaching conditions right into Port Patteson, anchoring seaward of the broken down wharf seaward of Sola village, the largest on Vanua Lava Island by 0630. After breakfast we launched the dinghy and Amanda and I called in at the customs office located a few steps from where we'd landed on the black volcanic sand beach.
Here's our always keen and eager Leg 5 crew:
Carly, 32
I live in Carlsbad, CA, a little north of San Diego with my husband, Dan. We learned to sail in San Diego and now occasional beer can races in Oceanside. I don't have any major near term sailing plans, but enjoyed learning and experiencing so much aboard Mahina. Specifically, I enjoyed navigating and steering in different conditions.(Carly is an engineer currently involved in sales, and she and Dan are without a doubt the strongest, fittest EM's we've ever had – always up for adventure!
Dan, 35
I'd like to cruise with Carly and our kids (yet to arrive – we just got married) in 5 – 10 years. On this expedition I learned how to steer in over 25 kts, storm tactics, weather resources, sailboat repair and maintenance and reefing at night. (Dan spent several years working with the navy developing unmanned submersible vehicles and is working on bringing medical devices to production).
Helen, 54
I began sailing about 20 years ago when I met my husband, Marek. We have now been cruising on our Cape Vickers 34 on the Pacific coast of Mexico and the past six years we have been joined by our 11 yr old son, Isaiah and black cat, Skitty. We enjoy snorkeling and diving in the Sea of Cortez and the cultural life of the Mexican Riviera. Perhaps we will sail to Central America next season, or maybe across the Pacific…
Ann, 56
I'm an optometrist from Kamloops, BC who enjoys chartering sailboats with my husband, Rene. We are planning to sailing our retirement and this expedition has proven invaluable in improving my sailing skills, as well as an incredible opportunity to meet the warm people and experience the beauty of some of the small and remote islands of the Pacific.
Rene, 56
I've been interested in sailing all my adult life and started windsurfing in 1975, culminating in a 5th place in the Mistral Nationals in Ontario. Later I progressed to racing and chartering and this expedition was the next progression to gaining the skills needed to achieve our goals of cruising. (Rene is a retired mechanical engineer, and a very clever guy!)
Jerry, 73
I'm from North Andover, Mass. And have been sailing since I was a young boy. My previous blue water passages have been to Ireland, Bermuda and the Caribbean. I've enjoyed cruising the Maine coast, first on my Sabre 34, and now on my Sabre 36 and this expedition provided me the opportunity of sailing in the South Pacific and learning new skills. (Jerry helps inventors bring new medical devices to market).
THERE ARE SO MANY REASONS WHY WE LOVE VANUATU!
September 12, 2019, 01000 hrs, 14.12 S, 167.27, W, Log: 227,378 miles
Baro: 1013.9, Cabin Temp: 79 F, Cockpit: 1F, Sea Water: 84.4 F
At anchor in 16', Matanda Bay, Gaua Island, Vanuatu
We carried our excellent reaching conditions right into Port Patteson, anchoring by 0630 seaward of the broken down wharf seaward of Sola village, the largest on Vanua Lava Island. After breakfast we launched the dinghy and Amanda and I called in at the customs office located a few steps from where we'd landed on the black volcanic sand beach.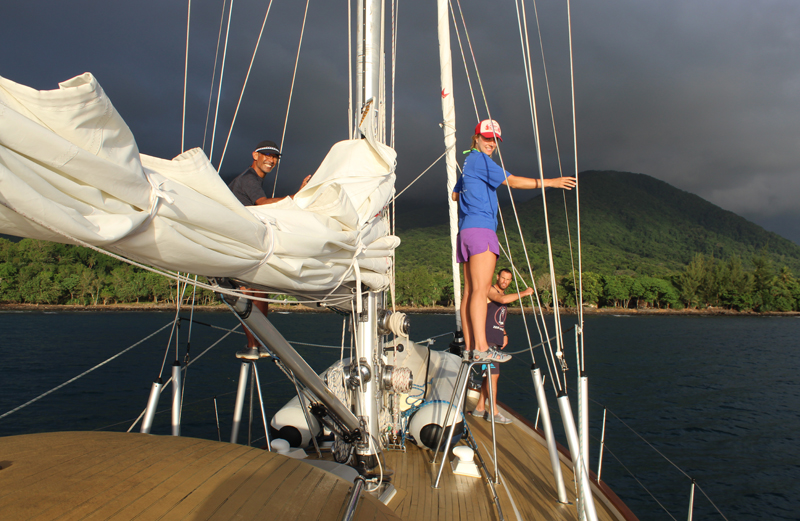 Arrival at Port Patteson
The sole customs and immigration officer answered our questions as he quickly completed our inward clearance, welcomed us to Vanuatu and recommended Hudson, for a tour and bread, who was to be found in a grocery store a five minute walk around the bay.
Not wanting to delay our crew's chance to get ashore and explore, we opted to check out the nearby "Sola Yacht Club" adjacent to the government buildings where we met Solomon and his lovely wife Stephanie who said they would be pleased to serve us a traditional Ni-Van dinner including the national dish of laplap at 1730, before they served their guest house guests.
On arriving back at the dinghy, a red Toyota truck pulled up and Hudson, the effervescent owner jokingly said the holy ghost had suggested he come and chat with us. Perfect! Hudson said he'd be delighted to give us a tour at 1400.
After lunch aboard crew were able to change money at the local bank and do some exploring around the small town before we all met at Hudson's store and piled into his truck. First stop was the grass airstrip where we'd seen two of the four or so weekly flights arrive and depart from the anchorage, followed by a drive and walk out to a sulfuric river coming from the active volcano. Hudson said skin ailments could be cured by soaking in the sulfur water while also pointing out the mangrove area where resident crocodiles hung out.
Next was Hudson's ridgetop plantation, started by his father and featuring a chicken farm, disused bread bakery, mahogany grove, extensive coconut planation and his latest project, a one-bedroom guesthouse with spectacular "million dollar" ocean view.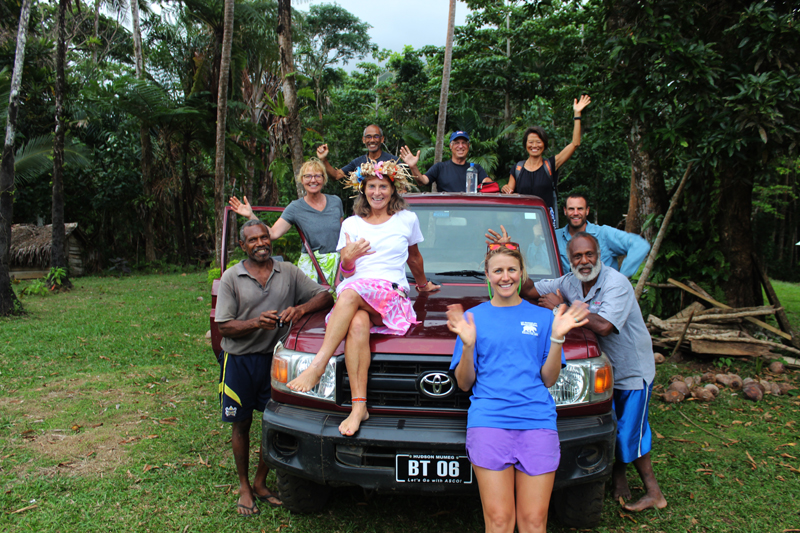 Tour time with Hudson on the right and his gardener on the left.
We took turns sitting in the cab and asking questions and learned that Hudson had worked on Chinese and American tuna clippers based in American Samoa for close to 25 years, saving money to build the store for his daughter and purchase his truck. He also pointed out his Seventh Day Adventist church, mentioning that he had given up drinking kava and felt better for it.
Our final stop was the sole bakery where we instantly demolished several loaves of delicious wood-fired bread, before heading back to the yacht club for an amazing dinner featuring spicy fish soup, laplap, green papaya salad, cassava rissoles, boiled pumpkin, sautéed local cabbage, drinking coconuts and lime infused cold water. Originally Stephanie asked if US$5 would be ok, but I told her we'd pay $6 each.
| | |
| --- | --- |
| Our private dining room at Sola Yacht Club | Our local dinner…watch out for the chilies! |
As we were eating in the little beachside hut, a precariously-heeling local trading boat came in an anchored inshore of us, shuttling loads of supplies to the beach in longboats, and a large local sport fishing boat, likely from Port Vila, anchored astern.
Concerned with forecasted fresh SSE headwinds for our 35-mile channel crossing south to Gaua Island, we set sail at 0600 this morning, first battling headwinds with gusts to 28kts before the wind shadow of Gaua started to moderate conditions.
Both C-Map and Navionics show very little details and few soundings for Gaua's coastline, but thankfully Richard and Frederique's Rocket Cruising Guide provided satellite images of Matanda Bay and a series of waypoints plus an anchorage.
We hadn't even gotten the anchor down before Michelle and his father Richard had greeted us from dugout canoes, welcoming us to their bay and inviting us to visit ashore. Michelle, son #2, explained that his father and older brother were chiefs, and additionally his father was the paramount chief of the island.
Upon swimming to check our anchorage, we discovered that we'd gone slightly too far into the bay…no worries…"Dan "the diver" dove down to 20', picked up the 77lb anchor, and ran (on the sandy bottom) with it repeatedly, in the direction we needed to move it. Once we figured the anchor was in a safer place, Helen, the only one still aboard, started the engine and pulled in reverse as the rest of us watched as the Ultra anchor dug deeper and deeper.
Mid-afternoon we headed ashore for a visit, finding a very small and tidy small three-family compound. Michelle's wife, Ennette, was from Malekula Island, 75 miles to the south and as she was slim and tall she looked different from the other Ni-Vans we'd met. Michelle explained his father and mother were at their mountainside garden, and we asked if it was possible to hike up hillside to visit.
We delighted in again meeting Richard and he introduced to his industrious and sturdy wife Madeline who was busy in the garden. We soon realized that growing a garden here is extremely demanding. First the bush has to be cleared then a variety of root crop grown in succession along with shade trees such as papaya. Once the soil is manageable more familiar and nurturing plants such as bell peppers, tomatoes, chili, spring onions, local cabbage (more like a large leaf hibiscus) and cucumbers, pumpkin can be grown although these require watering. Once the soil is exhausted more nearby bus is cleared and the garden cycle continues. We were offered a bounty of fruit and vegetables and although we only asked for enough for dinner we ended up with a more than ample supply.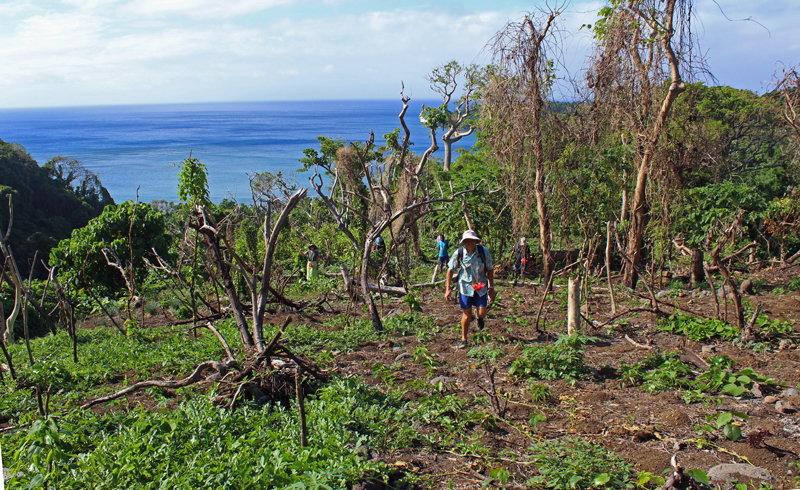 A garden tour with stunning views out to sea and also into the hinterland
While leafing through their very-treasured yacht visitors log, I noticed a photo from one yacht showing three people beating the water with their hands. Michelle explained that these were his wife, her sister and his cousin performing water music – Lonely Planet states that this is only performed by women of Gaua. In fact, it is the only music the women of Vanuatu create. So, at 0830 tomorrow, we'll meet on the family beach with the gently requested trading items of a white church shirt for Madeline and a blue sheet to create a church outfit for chief Nelson wife.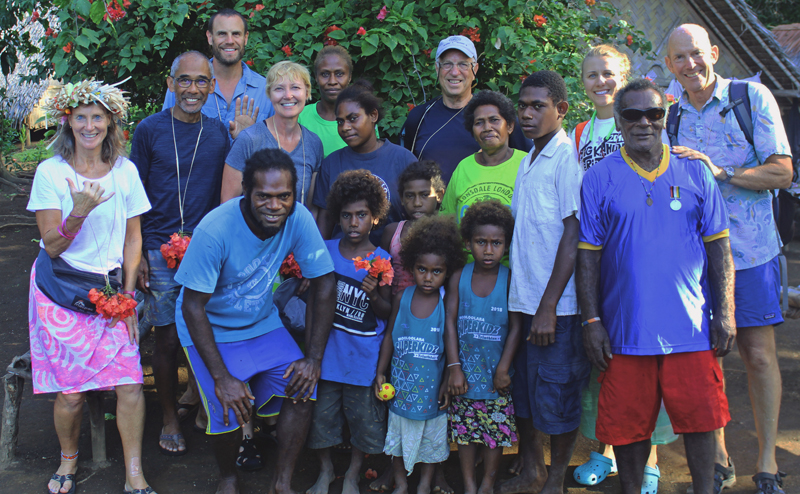 Group shot at Matanda Bay
Before heading back to Mahina Tiare, Amanda asked the family if they would like a family portrait, mentioning she could print off the picture on the boat. Everyone first looked horrified, then politely asked if they could change out of their gardening clothes. Chief Richard proudly pinned his presidential medals of independence on a clean shirt, explaining that this was awarded him by Vanuatu's president for many years of service to Gaua Island as paramount chief. He also asked if he could wear his newly acquired sunglasses from Ann.
After the family photo, the chief asked if they could have a photo of all of our crew with their family, which Amanda will include in their guest book.
September 19, 2019, 1530 hrs, 15.32 S, 167.10, W, Log: 227,486 miles
Baro: 1011.9, Cabin Temp: 83 F, Cockpit: 87F, Sea Water: 81.7 F
On a mooring, Aore Island Resort, Luganville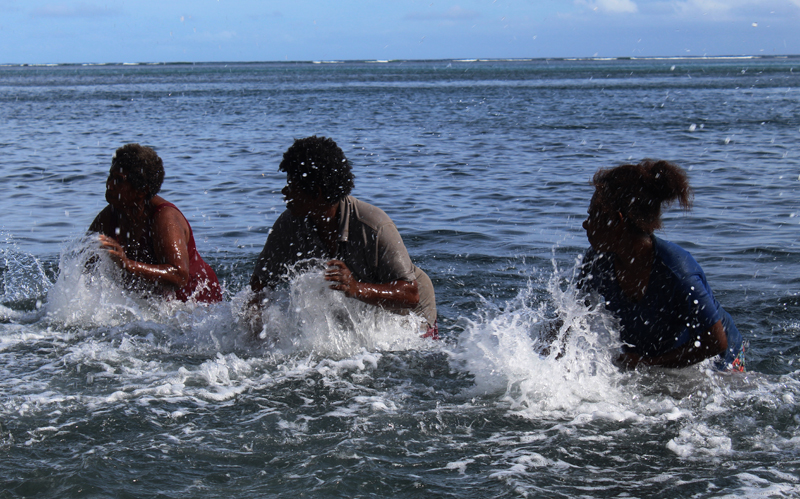 The ladies creating water music
The water music was incredible. The ladies and Michele stood waist deep in the ocean and struck the water with cupped hands in various positions to create a series unique rhythmic percussive melodies.
Our passage SSW to Hog Harbour on Santo Island the following morning was a rough one with headwinds gusting to 30 kts and breaking seas. Hog Harbour proved a protected and calm anchorage, but after lunch and a swim instead of our usual shore side exploration we instead focused on class with Amanda teaching sail design followed by Diesel Engine Maintenance and Electrical Power Systems.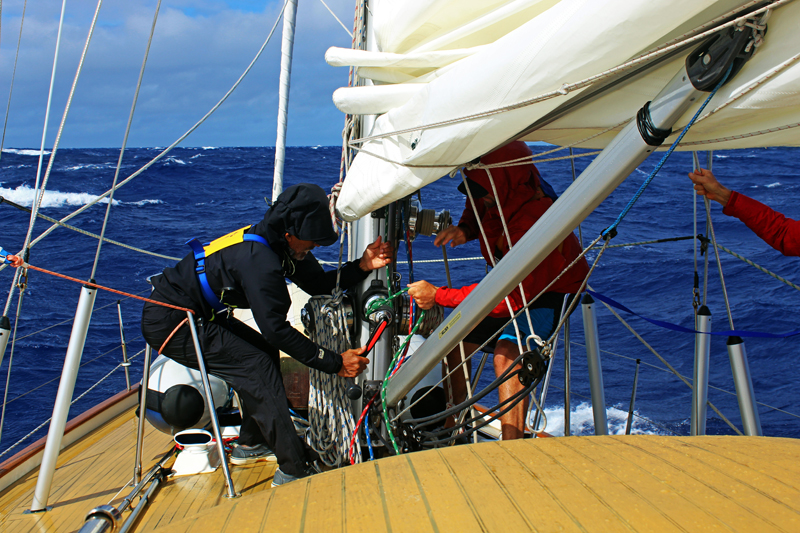 Rene and Dan hard at work tucking in the third reef.
Malapo and Malono islands on the outside of Oyster Bay Resort proved to be deeper anchorage.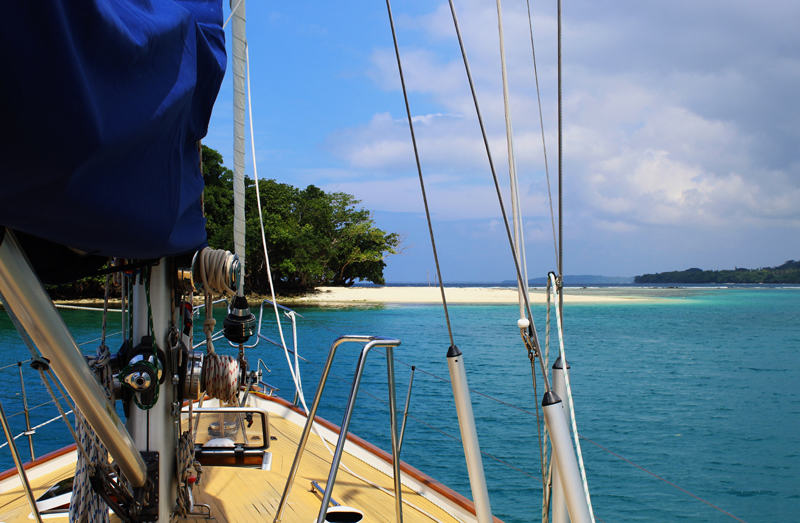 Ah…a quiet anchorage
Lonely Planet states that Oyster Bay Resort puts on a Sunday buffet extravaganza including local oysters, so while crew went for a snorkel, Helen and I threaded our way through the coral to see if we could attend. Sadly, the hotel has been bulldozed into a huge pile. The caretaker said that the Chinese had purchased the and resort form the French founder and soon to be building a "grand casino". Never mind, we all chipped in with the galley chopping to create another excellent lunch before Amanda taught splicing.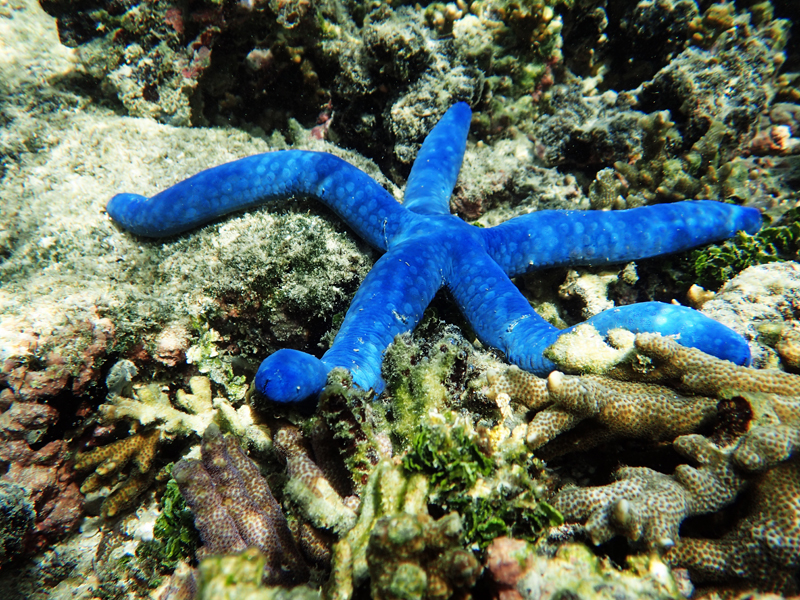 Helen reckons these starfish may be fake, they're just velvet beany bags.
In late afternoon we re-anchored near the dinghy channel to go upriver to the blue hole we'd read about in Richard Cheshire's Rocket Guide. Jerry had offered to stand anchor watch the following morning so to ensure he got to see the blue hole, after waiting for the tide, we did a test run up the channel, stopping at the S bank of the river entrance.
Here we met Phillip, whose family owned that side of the bank. Phillip showed us his collection of WWII bombs and aircraft bits and after chatting, we learned that another family who owns the N side and the river.
We would need to ask permiss on and pay a $5 per person fee to see the blue hole. So, up the channel we motored, stopping on the opposite bank when flagged down by Samu, whose grandfather is the traditional landowner. After explaining our intentions, he suggested I show Jerry the blue hole, stop by and pick him up on the return, go out to MT to pick up Jerry's fee, then drop him off on the beach near his home so…that's what we did.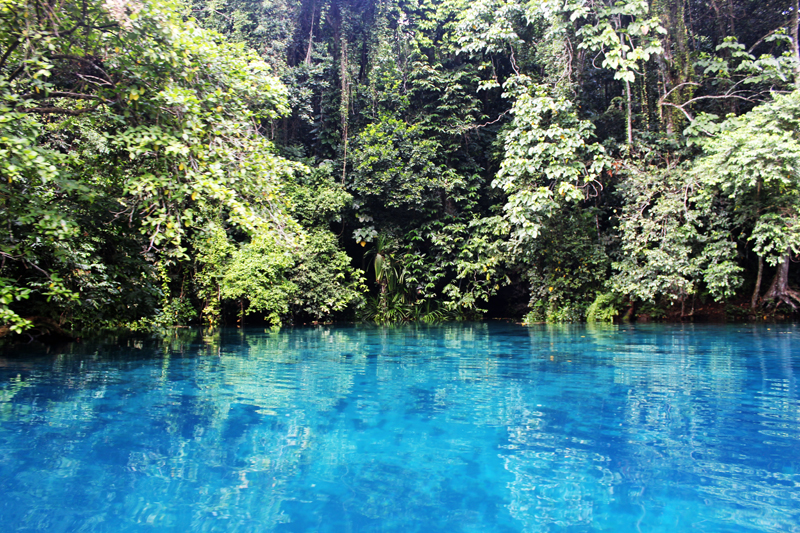 Oh soo blue!
Before breakfast we quickly piled into the dinghy and slowly quietly motored up the river. The river water was crystal clear and we were mesmerized by its exotic blue while ducking under fern-laden overhanging trees and listening to exotic bird calls. As soon as Dan and Carly spotted the rope swing, they were off.
A dive in the water, scramble up the tree roots and leaping launch to grab high on the rope saw them fly through the air in a brilliant Tarazan and Jane imitation. (oh…new nicknames!). We then all took turns… for an hour (humm…some of us wanted to perfect the feat…just ask Amanda and you'll get a half hour tutorial) – it was totally exhilarating.
Forever looking for morning exercise Amanda asked if she could swim downriver, which in reality sounded like a great idea especially when we realized that all you needed to do was drift with the current. Generally spring water is rather chilly except here toasty saltwater lies underneath the fresh so all you have to do is dive down to warm up. Oh sooo much fun! We all agreed this is a "Numba One" adventure.
| | |
| --- | --- |
| Oh look see Carly swing! | If Jane can do it how hard can this be? |
After a mammoth banana-blueberry pancake breakfast we motored south into a fresh breeze to Palikulo Bay, a super-secure anchorage 12 miles from Luganville where Amanda taught going aloft for rig inspection and Carly surprised herself and us by free-climbing 64' to the masthead. We landed ashore in the late afternoon to stretch our legs and chatted with the locals enjoying beach picnics and net fishing who explained that party of cautious Chinese floundering about in the shallows wearing full sun protection kit and snorkel gear were the hospital workers.
| | |
| --- | --- |
| Amanda instructs crew on safe going aloft procedures | Whose feet are these? |
Yesterday we covered Cruising Medicine, Three-Strand Splicing, Lifesling Overboard Rescue and Celestial Nav before sailing south 11 miles to Luganville. As we entered Segund Channel we passed Million Dollar Point where the Americans drove dozens of trucks, bulldozers and jeeps into shallow water after the local French and British planters refused to pay token amounts for them, and just to the west, we noticed the outline of the famous wreck of the luxury passenger liner, converted to WWII troop carrier, SS President Coolidge on our chart plotter, and spotted a dive boat tied to the wreck.

Tarzan checks that his splicing handiwork meets his namba specifications
The Coolidge is one of the most famous dive sites in the Pacific, it accidentally bumped a "friendly" mine and the captain ran it toward the beach, allowing all but two of the 5,340 aboard to safely make it to shore. About 20 years ago Amanda and I snorkeled down, touching one of the masts and having an amazing view of most of the ship. Keen divers on our Legs 5 & 6 will enjoy touring through the entire ship which rests in 60' to 240' of water, close to the shore.
We swung by Aore Island Resort, where we'd moored before, and had been in email contact with them in regards to a mooring, but their two moorings were occupied, however, Jerry spotted a free mooring further along the island off the dive operator's dock next door, and when the owner, Paul White, came by with a load of divers and said we could rent the mooring, we were delighted.
After sorting out the necessary arrival documents and finally having a few motionless hours with sunshine to take sextant sun sights, plus checking in with the Dave Cross at the cruiser-friendly Beach Front Resort near town, where our crews will to stay, we all appreciated our graduation dinner ashore at the Aore Resort where we were joined by Jerry's wife Louise who had just flown in.
"Wow"!!…what a fabulous two weeks. We sincerely thank our "Namba A1 Fruit Loop Crew" who keenly devoured 3 stalks of bananas, one huge sack of grapefruit, 9 giant pineapples, 12 kiwi's, 10 large parrot mangoes, 30 football-sized papaya, 7 oranges, 12 limes and their daily ration of 3 imported NZ apples.
---
Resources:
Rocket Guide to Vanuatu, Richard and Fredrique Cheshire: www.rocket-guide-vanuatu.com
Navionics charts running on Raymarine MFD's
C-Map charts running on a laptop with Rose Point Coastal Explorer
British Admiralty Sailing Directions: Pacific Islands Pilot Vol. 2, NP 61
Tide Tables, Central & Western Pacific
BA 4633 Solomon Is. to Fiji
BA 17 Plans in Santa Cruz & Adjacent Islands
BA 1575 Ile Pentecost to Torres Islands
BA 1638 Plans in Northern Vanuatu