Leg 5, 2013 Lautoka, Fiji to Port Vila, Vanuatu
Sept 3, 2013, 0700 hrs, 20.09 S, 170.06 E, Log: 167,171 miles, 12 miles to Anietyum Island, Vanuatu
Baro: 1016.5, Cabin Temp: 74.1F, cockpit: 73F, seawater: 78F
Broad reaching at 6 kts in 14-18 kt SE winds with moderate swells
During our time between expeditions Amanda and I enjoyed a road trip to Suva and a week and a bit at Musket Cove with Amanda's parents, Robert and Lesley who had earlier sailed up to meet us in Savusavu aboard Gracias, their Beneteau Oceanus 432. We returned to Vuda Marina a day earlier than planned to replace our house batteries which went died in just over two years. We found only one company (located in Suva, a 4 hr drive from Vuda) which stocked sealed (GEL or AGM) batteries and coordinated with a colleague of our taxi driver friend Abdul to pick them up. Installation was a little challenging and the size, terminal type and location was different than on our existing batteries, but I sorted it out and the results were brilliant.
Leg 4 crew met us Thursday afternoon for safety orientation and officially joined us at 10 am Friday to allow us time for the six mile sail to Lautoka's customs wharf. There was a line at customs and I'd forgotten that they closed from 1-2 PM for lunch, so it was 3 PM by the time I'd cleared us out and returned to MT which was anchored off the commercial wharf. We got underway immediately but as there wasn't time to navigate one of the several unlit, unmarked passes on the extensive fringing reef before dark we anchored off Malololailai Island for the night then set sail Saturday morning after completing engine room orientation.
| | |
| --- | --- |
| Jason is all smiles as we sail past the famous TavaruaIsland surf spot. | Craig, Dan and Jason quickly master reefing practice in preparation for our increased winds |
Forecasts called for 15-17 kt broad reaching conditions but once clear of Viti Levu's wind shadow the wind filled in at 28-36 kts, so our crew got reefing practice early, and we sailed with three reefs in the main until yesterday. We've never even had to motor as the AeroGen towing generator has kept our new batteries nearly topped up.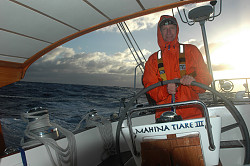 Tom keeping MT nicely trucking along on his dawn watch
An hour ago just before first light Craig and Perry could see the cloudy outline of rugged Aneityum, the southernmost island and recently-designated Port of Entry in Vanuatu.
Sept 7, 2013, 0530 hrs, 18.44 S, 169.12 E, Log: 167,969 miles, at anchor off Potnarvin, Erromango Island, Vanuatu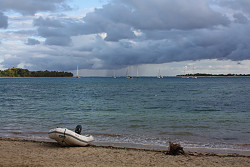 Yachts anchored in AnelghowhatBay
We had a good landfall at Anietyum and were surprised to find eight boats already anchored in the spacious and well-protected Anelghowhat Bay. Former seminar graduates aboard Blue Rodeo told us that we'd need to go ashore to track down customs and immigration so we dropped anchor, launched the dinghy and went ashore to ask about.
We met a very chatty Kenyan man, who was working with the village on tourism development, and he kindly led us to the immigration office. We were warmly welcomed to Vanuatu and given the forms to fill in and quickly cleared in. The policeman handles customs clearance but he wasn't in his new office, so we visited the elementary school where we renewed our friendship with Jonathan, the head teacher, and delivered several boxes of school books he had requested last year.
| | |
| --- | --- |
| Jason points out the pathway to the school | Jason, Tom and Craig delivering books to the school teachers |
The policeman returned and we were able to clear customs so we slowly headed down to the secondary school, meeting and chatting with villagers along the way. Half our gang took off exploring and half of us returned to MT, returning with a load of books for the secondary school.
We enjoyed a great dinner and a quiet night at anchor before heading ashore at first light for runs and hikes. Amanda and I ran a coast and beach trail some distance to the south, marveling out how tidy the track was – the sides of the pathway was artfully planted with a variety of tropical plants and every so often friendly cows were tethered in grassy groves. Upon our return to the village pick up our three loaves of bread, we'd ordered the night, and because they were only 50 cents a loaf we asked for an extra two.
The following winds and sunshine made the 55 mile passage to Tanna extremely pleasant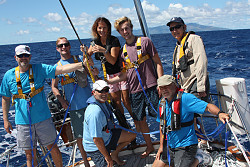 Amanda took the advantage of excellent sailing conditions to teach rig check and spares although all eyes were wandering the belching plumes erupting from Mt Yasur
In the early afternoon we arrived in the poorly-charted Port Resolution where Captain Cook had anchored in 1774 and as anchorage was not rolly Amanda taught three-strand splicing while I went ashore to look for Stanley, the young chief and a friend from many earlier visits. Stanley's sister said he was in his garden, some distance away, collecting yams for dinner, but a cousin was walking home she offered to show me the way.
Tanna, with a population of 25,000 has very few roads but is crisscrossed with hundreds of trails through the bush and now, in the late afternoon, we passed a steady stream of children carrying bundles of firewood home for the evening cooking and parents carrying woven palm frond baskets filled with yams, taro tapioca and bannas; the main diet of ni-Vans.
Stanley spotted me from a distance, calling out, "John – you're back!" and we chatted as we returned along the path home with food for dinner. I was told that Werry, a cousin and the yacht club manager, was away in the capital, Port Vila taking a six month tourism course, a new school building was nearing completion and a Save-the-Children community meeting of school teachers on child welfare was coming to an end. Stanley also said that more yachts than in previous years had called, with the ICA and Oyster rallies bumping up the numbers
Although the two village trucks that take visitors on the arduous climb to the volcano were out of commission Stanley was confident he could find a truck to take us to the very active Mt. Yasur volcano the following evening.
Thursday morning we had several early birds joining us as we headed ashore at first light for our morning run. For the first time we found a trail across the community central green that lead to the wild and exposed aptly named White Sand beach where high surf crashed. It was strange to find a wonderfully wild stretch of beach with no sign of people after travelling along bush paths where you pass frequently pass someone.
| | |
| --- | --- |
| We all admired the skilled craftsmanship of the numerous dugout canoes and paddles dotting the foreshore | Children gather at a viewpoint on the path to school to look at the new yachts anchored in the bay |
Surprisingly there were women at the modest village co-op market building and we were able to purchase bananas for 30 cents a hand and check out their baskets and carvings before checking in with Stanley. He said 10 am would be a good time to bring our school books ashore as that was morning break.
When we returned to MT, Amanda taught winch servicing after breakfast. Crew then gave lent a hand transporting boxes of books ashore and after visiting the yacht club Stanley introduced us to the headmaster who showed us the new library/meeting hall donated by Australian visitors, the new clinic donated by New Zealand cruisers and a new classroom. Ben, the headmaster said that the government provides funding for the teachers but not much else, so they are very grateful for the yachties who for many years have been bringing books, school supplies and who have been funding materials for the buildings. He also mentioned a group of Aussie Rotarians had just departed after helping build the new library.
| | |
| --- | --- |
| Crew check out the eclectic paraphernalia at the Port Resolution Yacht Club | Dan, Perry, Jason and Rick deliver books to the school books |
After lunch aboard MT we covered diesel engines and anchoring before packing up and returning to the village at 3pm for our volcano excursion. Stanley had earlier told me of a village on the way to the volcano that performs traditional custom dancing and he called the chief (although there is no electricity in the village everyone has cell phones) to give notice we'd be interested in seeing that. After a rugged 15 minute 4WD truck ride we arrived at a small and attractive village with no sign of visible life. Then after a few minutes Stanley said, "They're ready!" and led us down a path to a clearing in front of a huge banyon tree.
Then, through a gap in the roots of the banyan. a steady stream of villages emerged like football playing arriving onto a game field. But as the villages were about to present their custom dance their clothing was far less than that of padded football players as the men only wore grass nambas (penis wrappers) and the women and girls grass skirts. Without further ado the custom dancing began and it proved to be very different than the small namba dancers we'd seen years earlier on Malekula Island, to the north. The men stomped around in a circle in one direction clapping and chanting with the children middle of a circle while the women jumped up and down on the outside. Their stomping made the ground tremble and the men's voices boomed with their haunting primitive chant.
| | |
| --- | --- |
| Custom dancing before the banyan tree | After the dancing the chief demonstrated making a fire by rubbing two sticks together |
| Young children playing with the chief's fire | Crew in the ute for the second half of the journey |
The last 20 minutes to the volcano is rugged as the truck very slowly creeps up and along a deeply-rutted bush track in lowed 4WD gear. Finally you're the clear and quickly travelling up the steeply sloping ash covered rim of the volcano. It's then a short hike, from where the truck parks, up the last remaining sloop and although it's steep going there's an incentive to hurry for as you look up huge belches of smoke and ash are hurled skyward.
At the summit the strong southerly wind blew the smoke and ash away but made standing on the crater rim a challenge. As it got darker, the red glow of the lava shooting high into the sky grew even more spectacular. This time around I found watching the people nearly as interesting as watching the volcano. There were Japanese, many wearing face masks and white gloves, all carrying huge camera, Chinese, Europeans all smartly dressed and a good representation of young Aussie surfers wearing thongs, surf shorts and t-shirts while everyone else was bundled up against the cold wind. The ni-Vanuatu guides and drivers have built a lava rock wall and were all huddled behind it, laughing and joking among themselves.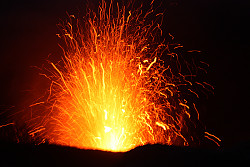 Mt Yasur at its best
When we reached Port Resolution and launched the dinghy in pitch darkness we were all looking forward to the warmth and coziness of Mahina Tiare where Amanda had a huge pot of Mexican bean-chicken casserole and hot chocolate brownies waiting.
Yesterday Tom and Jason joined us on our first light visit ashore and while Amanda and I ran and explored, Tom ran into Stanley. He asking him about the coastline just past the village marked TABU on the map and Stanley's had an interesting response:
He explained that the ancient story for why the eastern end of Tanna called Yewao Point is tabu arose when many many years ago one of the old chiefs' son had been chosen to succeed him. The son was grown up and named Narua and was much loved by the old chief and villagers who all awaited the day he would become chief. One day, however, he fell very ill and the vision man could do nothing to heal him. Sadly he died and all the village mourned his death for many days, but then a woman from the village had visions that the son was not gone so she walked through the trails toward the sea at Yewao Pt to find him. As she approached the sea she saw a village with many happy people and children playing, but it felt to her a strange place as there was plenty of food and shelter, no sickness and a kind of power or presence that she had never experienced before. She called out to the villages asking if they had seen a man named Narua. But the villagers had changed his name to Societal, so they said no, they had not seen Narua.
The woman searched and searched until she saw a boy running around playing a children's game and she was struck that the boy looked like Narua. As he ran past her, the woman reached out and grabbed the boy, but she grasped only air, yet felt the presence of a spirit. So she returned to her village and to the son who had lain dead and bent down to him. She opened her arms and released the spirit of the boy into the dead son. The son then woke up, coming back to life to eventually become the chief. Forever after the area around Yewao Point was tabu; the eastern gateway to spirit world. Even chief Stanley cannot go there by himself. Only one responsible man go there for he has special vision and magic which he uses to prevent very ill people's spirit from passing into the tabu. The name given to this coastline is Panglory which is both sacred and spiritual to the Ireupowow people.
John: Â I wonder if this special person is a relative of Werry Nerua, the absent Port Resolution Yacht Club manager, or if it is in fact him?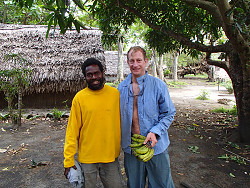 Stanley and Tom enjoying each other's companyl
After saying our farwells to Stanley and the village we set sail on the 55 mile passage to Erromango Island after breakfast. As soon as we cleared Port Resolution, Jason started putting out our fishing lines and before he had the first line cleated off, he started yelling, "WE"VE GOT A FISH ON!" In minutes he landed a perfect dinner-sized tuna.
With 15-27 kt following winds we started out with three reefs in the main, gradually shaking out reefs until we our crew had MT surfing at speeds close to 9 kts.
We still had some light as we anchored in Potnarvin, but were too tired to head ashore, instead enjoying dinner and our crew eagerly watched RESCUE SOUTH PACIFIC, the video detailing the Queen's Birthday Storm which we encountered in 1994.
| | |
| --- | --- |
| Perry trims the sails while Rick catches the swells | The village of Potnarvin |
Sept 8, 2013, 0530 hrs, 18.37 S, 169.02 E, Log: 167,986 miles, at anchor off Potnamlas Bay, Erromango Island, Vanuatu
Baro: 1016.5, Cabin Temp: 75F, cockpit: 75F, seawater: 77F
We skipped our normal sunrise run/explore yesterday as we hadn't been ashore the night before to ask permission, but while I was making pancakes, Craig said, "There's a guy in a dugout canoe coming alongside" so I popped on deck and Chief Joe whom we'd met last year. He introduced himself to our crew and warmly told us we were welcome to visit ashore. With the pancakes burning below, I quickly invited him aboard for breakfast and we very much enjoyed his company.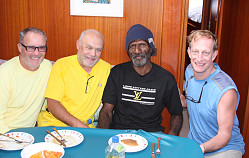 Perry, Dan and Tom share pancakes with Chief Joe
Joseph is 46 years old (but looks 70), has six children, the oldest of whom works as a mechanic in Vila, but knows he must return to be chief of the village once his father gets old. The village has had a lot of babies born recently and now has a population of around 160. Being an eight hour hike from Dillon's Bay, the main settlement on the leeward side of Erromango, they get very few visitors and live a very basic existence. When I gave Joe a banana pancake, he only ate half, wanting to save the other half for his wife and youngest daughter. I quickly told him to eat plenty and made extra pancakes for him to take home.
Once ashore, Mary, the headmistress and her assistant Mr. Dan Lifu were waiting at the school and eager to receive the several boxes of books and school supplies we were delivering. They showed us the start on a library they've made and said any books from yachts would be a big help. Mr. Don and Chief Joe led us up the valley to their waterfall and on the return we met an American couple from Oregon who are Peace Corps volunteers helping in the school and clinic. Tom was a hit with the villages and they begged him to stay behind and teach some guitar lessons.
| | |
| --- | --- |
| Don, Jason, Perry and Rick handing over school books to the teachers | The valley waterfall, a short hike from the village |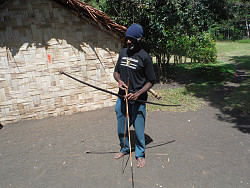 Chief Joe demonstrates his hunting bow and arrow. Funnily enough when Tom gave it a whirl he nearly speared Joe's pet black piglet when it ran before his aimed target
The water in the bay was crystal clear, so upon returning to MT crew were in the water with masks and fins checking out the coral reef and turtles. After lunch we set sail 12 miles for a very protected, isolated and uninhabited Potamlas Bay at the very northern tip of Erromango. The fresh trade winds gusting to 37 kts meant a triple reef in the main and only a little bit of genoa unrolled had us surfing at up to 8.7 kts.
Minutes after the anchor was set, ever keen Jason, age 18, said, "Hey that looks like an awesome beach for a campfire! Could you run us ashore, John?" Never one to dampen ideas of adventure, we gathered together a foil baking tray, a pile of bananas, a big bar of dark chocolate along with the honey jar and dropped everyone ashore for their adventure.
Within minutes we saw a roaring fire ashore and assumed all was well. But just before the designated pickup time we heard long heard many plaintive whistles, the signal for me to run ashore and pick them up.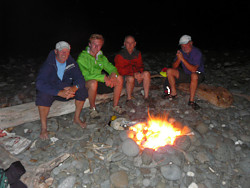 Perry, Jason, Rick and Dan enjoying the campfire before the growler sounded
Tom: We were discussing how eerie the sounds of foreign bush calls appear on a dark night such as this when suddenly all we heard was a low, low, throaty growl from beyond darkness bordering the beach. Instantly all of us sprang into action quickly assuming we were to be instantly attacked and ripped apart by something nasty. Myself? I reached for a rock to throw, Jason grabbed the pocket knife while trying to whistle one handed, Perry snatched for a big fire stick and Dan frantically searched the darkness with his headlight. When we heard the low growl again, and surmised that if wasn't a large, angry wild boar, it was something even worse. At that point we all used our prearranged whistle call with meaning hoping it translated to come quick, come Very Quick, QUICKLY!!
Sept 9, 2013, 0530 hrs, 17.52 S, 168.196 E, Log: 168,048 miles, 12 miles from Port Vila, Efate Island, Vanuatu
Baro: 1020.5, Cabin Temp: 76F, cockpit: 74F, seawater: 78F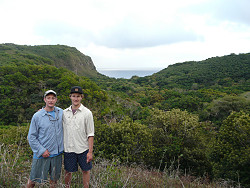 Tom and Jason on the hilltop above the Ponamlas anchorage
Running downwind under triple-reefed mainsail alone at 6 kts in 20 kt ESE winds
Yesterday was a relatively relaxed day. Most of our crew joined us for a sunrise hike up Ponamlas Valley that is until they again started hearing very loud wild boars growling in the nearby bush. Amanda and I were following the riverside trail and heard a lot of loud and strange noises coming from the ridge above us and figured it must be Tom and Jason playing around.
Amanda taught sail repair then sent everyone up the mast for rig inspection before I covered dealing with customs worldwide and demonstrated INMARSAT-C and how to request and download GRIB weather forecasts via Iridium satphone.
| | |
| --- | --- |
| Perry's lofty view of Mt | Masthead view of the southern end of the beach and river at Ponamlas |
On their afternoon snorkeling safari Perry spotted a turtle, Tom a shark and the rest of our gang told of lots of exotic tropical fish and amazing water clarity. For dinner Amanda pulled out all the stops and made an amazing Indian curry complete with raita, chutney and hot poppadum's following which we had naps before setting sail at 2000 hrs for Port Vila.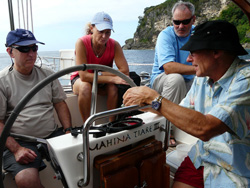 Rick, Amanda and Perry lend a hand for the tricky process of tracking down a malfunctioning starboard compass light. This time it was a pinched wire that had corroded
Once clear of Erromango Island, tradewinds filled in occasionally gusting to 35 so we were glad to have left three reefs in the main from the day before. Our winds held the entire way and we spent an hour once in the shelter of Pango Point practicing Lifesling Overboard Retrieval before heading on into Port Vila harbor where we found an excellent med mooring spot open along Yachting World's seawall. I quickly hopped in the dinghy with passports and papers, determined to reach Customs located at the commercial wharf and was able to quickly clear us in before returning to town to clear in with immigration. With official duties and ship chores completed, our crew took off exploring for lunch as we hooked up power and filled MT's water tanks.
Our graduation dinner ashore was at the amazing Iririki Island resort, just across the harbor from where we were moored. Formerly the British High Commissioner's office and residence, Iririki quite a tranquil oasis. We chose to have dinner above the boathouse overlooking the yachts and townfront at the second of their three restaurants, and it was a very special evening. Actually the evening ended up going well into the wee hours for some of our crew who ended up celebrating something (no one was sure what!) with a bunch of Aussie ex-pats, but that is another story.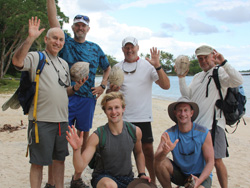 Rick, Craig, Jason, Perry, Tom and Dan
Here's our intrepid Leg 5 gang:
Rick, 60
I am a surgeon from Knoxville, TN and a retired Army officer. I have sailed the FL Keys, Caribbean, British Columbia, Newport RI, the Great Lakes and Tahiti and am now looking forward to a charter trip in the Greek Isles with my wife.
Craig, 43
I am a husband and father of two (7 & 9) and am an anesthesiologist living in Victoria, Canada. I grew up on the ocean in South Africa and when we moved to Victoria we bought a Catalina 34 which we sail in the Gulf Islands. I joined this expedition to broaden my sailing experience. My wife and I have dreams of one day sailing into the sunset!
Perry, 56
I live in Islamorada in the Florida Keys and enjoy fishing, snorkeling, stand-up paddle boarding and sailing my Bayfield 32 cutter. I also spend time on Isle of Palms, just outside Charleston, SC I have worked as a Field Clinical Engineer for several years conducting clinical trials seeking FDA approval for cardiovascular devices. I plan on cruising the Bahamas and Caribbean in the near future.
Tom, 55
I am a maritime lawyer in Vancouver where we sail a Catalina 34. I sailed on Leg 8-2012 from Brisbane, Australia to Auckland, NZ last year with Amanda and John. I decided this leg would be a great one to share with my son, Jason. The sailing and the remote villages have been awesome. One day we'll be back on our own boat!
Jason, 18, (Tom's son)
My dad and I have talked hypothetically about doing our own sailing adventure in the future, be he was always more for it than I was. The timing of this leg was perfect for me and fit right in before my backpack trip to Australia and SE Asia. After sailing this expedition I feel more confident and am on a similar page to my dad about cruising after or during my university degree. This experience also has inspired me to go the extra mile to see more rural places during my travels.
Dan, 63 from Phoenix, AZ
Crewing on Thistles at Lake Pleasant rekindled my interest in sailing. Current plans are to build more experience through charter sailing and expedition style educational sailing classes. This has been a blast!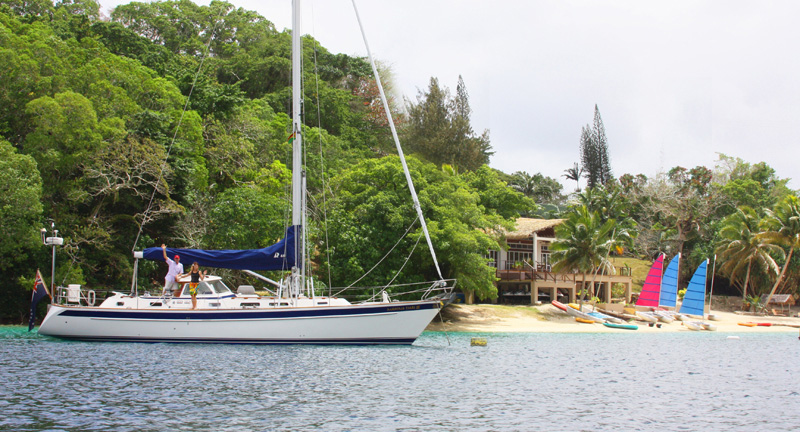 ---
Sailing Itinerary