Leg 5 – 2014, Update 1
September 11, 2014, 2100 hrs, 55.44 N, 132.15 W, Log: 179,734 miles
Baro: 1026.8, Cabin Temp: 68 F, Cockpit: 73 F, Sea Water: 61F
Moored alongside at Meyers Chuck, Cleveland Peninsula, Tongass National Park
SUNSHINE, SAILING, BEARS, WHALES AND NON-STOP ADVENTURES IN ALASKA!!!
We hit the ground running with Leg 5, asking our crew to come aboard at 10 am instead of noon so we could catch a strong favorable tide out of Prince Rupert and north toward Alaska.
Exiting Venn Passage we had a brilliant 25 mile downwind sail to Dundas Island, just a few miles south of the Alaskan border, passing the picturesque Green Island lighthouse in late afternoon.
| | |
| --- | --- |
| Donna enjoying smooth sailing conditions as we pass GreenIsland lighthouse | Brundidge Inlet provided a totally protected anchorage giving our crew the opportunity to learn how to lay out courses and input waypoints for the 54 mile passage the following morning to Ketchikan. |
Ketchikan harbor was still in late summer mode with three huge cruise ships tied up alongside town just outside of Thomas Basin and the nearby logging show drawing a large crowd that sent resounding whoops and cheers across town intermingled with the burst of chain sawing.
| | |
| --- | --- |
| Approaching Ketchikan | Larry is somewhere in the mist of yacht club children, plus Donna and Peter, reviewing a video of their summer cruising. |
We were delighted to find an empty slip at Ketchikan Yacht Club's dock and were instantly invited to a very fun member's potluck that evening after we'd cleared customs and all done some exploring and shopping. Ketchikan is home to Tongass Trading Company, the largest outdoor outfitting store we've ever seen outside REI's flagship Seattle store. I found some great Sorel slippers for cold mornings aboard and we already have a list going for when we return!
Amanda had scrupulously observed the list of fruit and vegetables supposedly excluded from entry into Alaska so at 6 am we ran with knapsacks and canvas grocery bags to the Northern end of town to shop at the gigantic re-vamped Safeway. After years of provisioning in challenging South Pacific countries, we were totally blown away by the quality, selection, very reasonable prices plus friendly, helpful service.
Soon after returning we set sail for Thorne Bay, http://www.thornebayalaska.net/ 36 miles north. Well, we set sail, but ended up motoring. After threading our way through Thorne Bay's narrow, twisting entrance, we noticed a very handsome cruising sloop at the public docks, but couldn't determine the builder. Before we had even tied up, Sheryl and Greg Kekof, who had taken our seminar in Seattle ten years earlier, popped their heads through the hatch and then came to take our dock lines. When we last chatted with ten years ago, they were just celebrating finally launching the 50′ sloop that they had spent the last 20 years completing from a bare hull. Now Toccata, their Skookum 50, is their Alaskan home, and what a home! They proudly showed us their amazing woodwork and welding and told us great stories of using the boat as a base for hunting, fishing and exploring Prince of Wales Island. It was wonderful to see two people still in love and living their dream!
| | | |
| --- | --- | --- |
| Sheryl and Greg Kekof | Toccata, Sheryl and Greg's Skookum 50 | A younger Sheryl and Greg laminating a beam for Taccata |
After carefully listening to the forecast, we decided to take advantage of unusually warm and fine weather and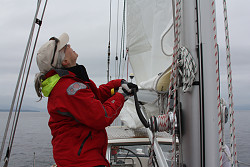 Donna practices reefing
set sail after breakfast for Anan Bay http://www.wrangell.com/visitorservices/anan-bear-and-wildlife-observatory where we knew we had the best chance of anywhere to see bears up close.
We could barely wait and the minute the anchor was down we started preparing to launch the RIB and headed ashore for the 20 minute boardwalk hike up to the waterfall where bears frequently wait for salmon trying to fight their way against the current to spawn. The forest service has built an open platform/shelter overlooking a bend in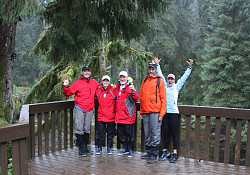 Bearing up well at the Anan bear observatory – John, Donna, Jerry, Peter and Amanda
the river and we spent an hour waiting for bears before giving up and heading back down.
Just as we started down, a young Australian family from a ketch anchored next to us came trudging up the track, so we stayed to chat with them a few minutes. Almost immediately they spotted a bear across the river, which had appeared from out behind a rock and was now patiently waiting for salmon to swim past. We stayed, enjoying watching it until nearly dusk, then headed back to the dinghy. The tide was now in so we enjoyed a tiki tour of the creek's wide estuary where seals popped up now and then to have a peek at us. In the fading light we also spotted a bear on the river bank and were able to get quite close while it gazed at us, then got bored and wandered off into the brambles.
| | |
| --- | --- |
| John and Larry on the bear viewing platform at the river's edge. There is a bear on the other side of the river inside the added red circle. | A close up view of our first black bear sighting |
Very early Friday morning we all headed ashore again, and this time we were very lucky, A female and her year-old cub were directly across the river from us, and totally unconcerned by our presence.
The mum would wait patiently, for up to ten minutes, for the perfect salmon, but her yearling was constantly on the move, pacing up and down the river. It was exciting to watch how effortlessly they ate the large salmon with the help of their huge front claws.
Friday early afternoon we set sail 30 miles with the current through narrow Eastern Passage for rough and ready port of Wrangell http://www.wrangell.com/. Our surprise was to find moorage in the busy harbor and to discover that there was a public pool next to the school; perfect for swimming laps and a decadent long hot shower.
| | |
| --- | --- |
| Hot soup lunch underway | Donna lends a hand in changing the engine water impeller |
Petersburg http://www.ci.petersburg.ak.us/ is at the narrow end of the tortuous, but extremely well-marked 22 mile Wrangell Narrows http://wrangellnarrows.com/ . Brilliant sunny weather prevailed and we had very little traffic, a big change from the last time we made that passage in thick fog and drizzle. We'd read in a regional newspaper that Petersburg was having a Rainforest Festival (www.tongassrainforestfestival.org) and eagerly attended an informative lecture by Kate Wynn at the new library titled, "Alaska's Pinnipeds: Biology and Behavior of Seals and Sea Lions".
| | |
| --- | --- |
| Several of the immaculately-maintained fishing boats were switching out seine nets to go crab fishing and we enjoyed watching net mending on a boat across the dock from us. | With its strong Norwegian heritage, we think Petersburg is the most attractive and friendliest town we've visited in Alaska, even in the rain. |
| Getting ready to depart Petersburg | Having attended Kate's lecture we were better informed on the traits of these hauled out Stellar sea lions |
Originally we'd planned to sail as far as Tracy Arm, another 85 miles north of Petersburg and home to the very active South Sawyer tidewater glacier but with a smaller crew, this would have meant long hours on the helm so we decided to check out Thomas Bay http://en.wikipedia.org/wiki/Thomas_Bay which also has several glaciers.
What we found was exquisite and although the glaciers have receded and no longer calve into the bay we were able to anchor right on the edge of the alluvial fan of Baird Glacier and take the dinghy up the river that was coming off the glacier face.
The current was strong and all was going well as we dodged floating ice chunks so we shut down the engine to enjoy the surroundings. Amanda then gave me a surprise wedding anniversary present (more hair in the form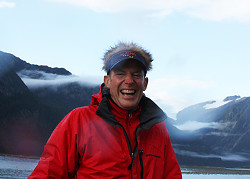 John's dressed in his anniversary present
of fur attached to an Alaskan Hat). We now on our way being swiftly swept back down river and when Peter made a polite mention that maybe he should paddle a little to steer us in main stream we were all rather sidetracked. By the time we paid heed to Peter's suggestion we'd been swept onto a gravel bank that divided the river.
We were now pinned sideways onto the shallow gravel by the icy current and push as we might with the oars we were unable to dislodge ourselves. Peter and I jumped out (with boots on) and were able to finally get the dinghy floating again. Peter offered to push us into motoring depths and didn't even complain when his boots filled with icy water. Thankfully he got a hot shower and a loan of dry socks from Jerry, plus we were able to dry his boots out overnight in the engine room. Perhaps next time crew make suggestions we should act on them a little quicker!
| | |
| --- | --- |
| Peter the privateer still smiling as he empties his boots of icy water | We anchored briefly in Scenery Cove (the view of yet another glacier was spectacular, but the only place with shallow enough depths to safely anchor was very narrow and tenuous, so we headed five miles south to a very protected and beautiful anchorage at the S end of Ruth Is. for the night). |
At first light the next morning Amanda and I dinghied over to a gravel mine dock for a very interesting run and explore before we set sail south, across Frederick Sound where a pod of orca whales put on a show and past Petersburg in brilliant sun, through Wrangell Narrows to another excellent, sunny anchorage at Deception Pt. Bay.
On Amanda's suggestion we inflated and rigged our Walker Bay Airis tandem kayak and Peter headed out to explore the bay. The following morning Amanda and I enjoyed a long kayak and walk on the beach before breakfast.

Peter guides past Petersburg and into WrangellNarrows

Donna's happily shinnies up the mast for rig inspections

Tuesday we had some sailing but more motoring on the 31 mile passage to Kindergarten Cove on EtolinIsland. What a perfect, protected anchorage. Soon after we anchored a small salmon troller joined us in the bay.
Wednesday we had our first headwinds and seas of the expedition enroute to McHenry anchorage on the S end of Etolin Island, another secure anchorage with great kayaking and beach hiking.
Yesterday we had an easy 18 mile passage to Meyers Chuck, a tiny (4 in winter, 50 in summer) community of very interesting beach cottages complete with a real post office. We tied to the public float just astern of Betsy, a salty looking salmon troller and when a couple came by skiff from across the bay I asked the woman if Cassie, the lady who used to advertise baked pies on the notice board still lived there. She replied, "Yes, I still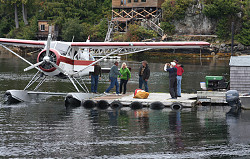 As we were talking, a DeHavilland Beaver float plane buzzed the bay and then landed and tied to the float astern of us.
live here, but I stopped baking pies years ago – now I bake cinnamon rolls to sell to the visiting boats". It had been almost exactly nine years since previous EM Sam Parker had bought a delicious cherry pie from Cassie for our desert, and we had a great time listening to Cassie's husband Steve who turned out to be the owner of Betsy, the boat we were moored behind, talk about fishing, his boat, and 53 years of living in the tiny cove.
A dozen people came running out of the trees and Cassie, who is also the post mistress greeted the pilot and exchanged mail bags. A group of very keen fishermen who were friends of one of the cabin owners had hitched a ride on the mail plane and within minutes they took off fishing. Later that evening we watched them fillet their many fresh caught salmon and this morning Donna, Jerry and Peter came across them smoking some of their catch.
Today we've had some brilliant broad reaching under genoa alone as a ridge of high pressure has brought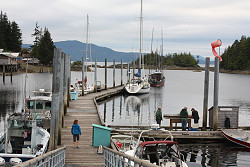 Tied to the dock at Meyers Chuck
sunny condition and following NW winds. We're now underway for Loring, site of an amazing reversing tidal rapids that the really brave can surf through on their kayaks or dinghies, plus an abandoned salmon cannery, plenty of bears and hiking trails with boardwalks. Should be lots of fun!
UPDATE! Just minutes ago as I was shutting this computer down having completed writing the above, Jerry who was at the helm motoring through a channel enroute to our night's anchorage drastically altered course to port, yelling, "A whale just hit us!" He and Donna had been watching two 50′ humpback whales feeding about ¼ of a mile away,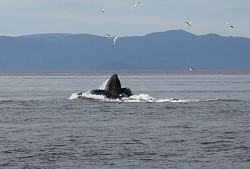 I asked Jerry to shut the engine off and we drifted for the next ten minutes as the whales continued to feed, slowing moving away. WOW!
then they sounded. A few minutes later Jerry saw hundreds of herring leaping out of the water off our bow then two seconds later a whale lurched out of the water and careened to our starboard side. Jerry quickly put the wheel hard over, all the while doing 7.5 kts, as another whale surfaced beside it. The two whales must have been engrossed in their chase of the herring ball. The closest whale quickly rolled over onto the second whale to avoid hitting us, and in doing so its 10′ long pectoral fin brushed our kayak lashed outside the lifelines. It didn't feel like the whale touched the boat at all – just the kayak.
September 15, 2014, 0615 hrs, 55.44 N, 132.15 W, Log: 179,799 miles
Baro: 1012.8, Cabin Temp: 60 F cockpit 53 F, sea water: 60F
Moored in Thomas Basin, Ketchikan
After our whale incident we enjoyed a very warm, sunny and quiet afternoon being the only boat tied to a small state park dock near Loring, Naha Bay, http://loringalaska.info/ site of a now abandoned cannery.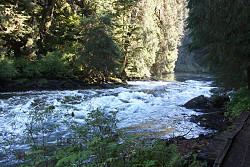 This place is very special as a short trail walk from the dock you can view a reversing 20′ tidal rapids and its planked small boat skid that allows you to skirt the rapids. Harbor seals play either side of the rapids waiting for a salmon meal and often play in the rapids.
Yesterday morning we went for an hour long run/hike up the boardwalks along the shore of Roosevelt Lake, hoping to reach a remote private ranch mentioned in the park signs but we didn't make it that far as Amanda kept stopping to chat to the noisy squirrels who were busy harvesting small pine cones. After breakfast we headed for Ketchikan were we found a berth at the always-friendly Ketchikan Yacht Club http://ketchikanyachtclub.com/blog/ and enjoyed a graduation dinner at the native-owned and operated Cape Fox Lodge with an amazing view of the harbor and departing cruise ships
Here's our Leg 5 crew:
Donna, 54
I'm a graphic artist from Grass Valley, CA and an illustrator of children's books. I began sailing six years ago and Jerry and I currently own a Pearson 38.5 moored in the Sea of Cortez. I signed up for this expedition seeking more experience and knowledge, but besides learning much-needed skills we discovered adventure awaiting around each corner from whales and bears to enchanted forests. Today we discovered Meyers Chuck; a gracious, welcoming community secluded in a tiny village where people shared their lifestyle with us, smoking freshly-caught salmon from their waters. I now realize that sailing provides a feast for your eyes, as well as for your soul.
Jerry, 68
Currently I'm in the restaurant business but I'm looking forward to spending more time on our Pearson 38.5 in Mexico. I've enjoyed my time aboard MT and increasing my skills, particularly in dealing with the 20′ tides and resulting currents.
Peter, 62 from Ontario
I've continued on from Leg 4 enjoying my time aboard MT and exploring the coastal passages in BC & Alaska. The navigation has been challenging and the beautiful weather and sites amazing!
---
Leg 5 – 2014, Itinerary