November 2, 2002 0200
18.27S, 177.27E, Log 63,548, Baro: 1011, Cabin: 83F
Broadreaching at 5.7 kts in 14kt E winds, calm seas. 45 miles to Malololailai Island
Day 1, October 28
We were tied stern-to in front of the Tradewinds Hotel, just outside of Suva when our crew joined us. Other than one visitors berth at the Royal Suva Yacht Club this is the only other place in Suva that yachts can tie up with services, and it was a treat for us to have the hose onboard to give the boat a thorough wash down after our varnishing while at anchor of the Yacht Club. Within an hour of our Leg 6 crew joining us we tossed our shore lines, raised anchor and motored a short distance to a totally protected anchorage off Nukumararika Island. Suva City Council has a live-in caretaker who maintains the island as a picnic and swim destination.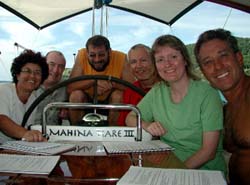 Leg 6 Crew: Ruth, Bob, Amir, Max, Hanne and Bryan
After several hours of safety and boat orientation we hit the beach and enjoyed playing beach volleyball with some kids from Suva.
Once again we're about to share another expedition with a first class crew:
Ruth and Amir Keren, 47 and 46 join us from Yaad, Israel. They are our first Israeli expedition members! Ruth is a computer programmer and Amir is a vulture capitalist (his words, not mine!) who has started and sold several companies. Amir is in love with Wharram catamarans and is thinking about building one. Ruth isn't so sure about that. They really enjoy spending school holidays sailing with their three children, most recently in Greece.
Bob Trenner, 56, has earned the nickname of "Kava Bob" and got along famously with every Fijian we met. They were always trying to get him to drink more kava, (elephant cups) partly egged on by Bryan! Bob and his wife Karen are considering a Cape Horn 70′ trawler yacht. We enjoy Bob's great sense of humor, hopefully he will be joining us for a Spitsbergen leg in 2007.
Max Lenker, 56 is an ex-military and private pilot, loves sailing and navigation, and lives in Atlanta. Max is considering buying a cruising boat and mooring it in the BVI's, since he can easily fly there from Atlanta. He enjoys sharing sailing with his teenage daughter, son and wife and manages many convenience stores when not sailing.
Hanne Merritt, 36 is a research scientist from Copenhagen, Denmark. She met her husband John at grad school in Chicago and they now live in the San Francisco area where they sail their Catalina 36 on the Bay and down the West Coast. She already really misses the two men in her life, Patrick, age four and John who will be on Leg 1-2003. Hanne also misses sailing in Scandinavia and has already committed for our Norway leg in 2007! We will certainly look forward to her gentle, sweet energy and love of sailing.
Day 2
A 0530 start to our passage to Kadavu, 55 miles south of Suva ensured us of a daylight arrival off the somewhat tricky entrance through numerous coral patches into the Daku Village anchorage. Winds and seas were perfect, giving us a broad reach at 7.5 knots and moderate seas.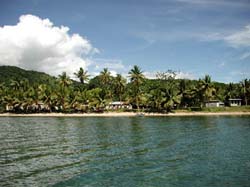 Daku Village
Threading our way into Daku Bay in less than ideal daylight was a challenge, but we found our way into the protected inner anchorage. With a sandy bottom and just two feet of clearance under the keel, sheltered by reefs to seaward and shoreline, this is one of our all-time favorite anchorages. The villagers didn't initially recognize Mahina Tiare, but they said that by the way we threaded our way into the bay, they knew we must have visited before. We met our good friend Kata Ravono coming down toward the beach, followed by hugs and tears. She said her husband, Epi, who she calls her "woodcutta" was helping out at the district school, but should be back soon. Kata invited all the crew to their home "for a bowl of grog".
In a flash we were back to MT to bring crew ashore and soon after sunset several of the village men gathered in Epi and Kata's house to grind and mix the kava, knowing that Kata would invite them to gather round the tanoa (kava bowl) for a bilo or two of grog. Joe, Epi's younger brother who is a real clown (and the minister, believe it or not!) sat next to Bob, and nicknamed him Kava Bob. Brian and Bob egged the villagers on to give larger and larger bowls of kava, known as "high tide". All our crew participated in the evening and everyone made us very welcome especially the village children who were eager to know more about us.

Village boys around the kava bowl

Amanda's new friends –
Emely, Lice and Jale
Kata told us that the formal sevusevu ceremony would be the following night with the village chief. This would be when we would present the bundle of kava I had purchased in Suva, make a short speech after a very special ceremony around the kava bowl in the chief's house. This may sound like a hassle, but it is a very special part of Fijian culture, and one that we love and respect. It reminds us in many ways of the ceremony in the San Blas Islands, where we would present the requisite bag of rice or sugar and ask permission of the village headman to anchor near his village and visit ashore.
Epi didn't make it home before we returned to Mahina Tiare for the night, so many jokes were made about how he must have drunk too much kava and ended up with some maiden. Kata laughed and laughed saying, "I know my preacher-man, and he is a good man. He will be home tonight!"
Sure enough, we just missed him by minutes, and early the following morning Epi came out to the boat, amid lots of joking and teasing. I kidded him about his hair turning white, and he said, "it's much cooler in the sun, and at least I have all my hair, John!" It was so wonderful to see this man who has been a close friend of mine for 18 years, even if we go four years as we just had between visits.
Epi asked if we would all like to hike up the mountain to see the village farm plots, so off we went! Epi and Kata's three kids are away at boarding school and his oldest, seventeen year old twins named Mariah and Senemeli hope to be able to attend college in Suva next year.
Recently the price paid for kava, Daku's only cash crop, plummeted after a European report that pills made from kava might cause liver damage. For the first time in their lives, Epi and Kata need to earn cash to pay school fees, so Epi showed us 2000 pineapples which will soon be ripe, and which he plans to sell at the market in Vunisea, the largest village and government station on Kadavu. He then told us of his ambitious plan to convince the 18 of village men to cooperatively clear garden plots and plant an acre of ginger each. In preparation, Epi planted a test plot with the help of the Agriculture Department last year, and has already harvested part of that crop. All 18 plots have been cleared, any many have already been planted. We wish Daku villagers a bumper crop of ginger and plenty of money for school fees!

Epi and his infectious smile

Epi explaining the new ginger gardens

Epi's pineapple garden
Coming back down the mountain to the village we then wandered over to a home where several of the village women were cooperatively weaving a room-sized mat for a visiting preacher after which we enjoyed a picnic lunch in the shade of a chestnut tree in the middle of the village. Later Kata showed us her latest masi (tapa) mats. A very small hotel has opened across the bay and they bring their guest by boat to see the Daku women's handicrafts so now that the women have a close market for their art they are really going to town and becoming very creative.

Ripe papaya from Epi's garden for breakfast

Ulita prepares pandanas leaves for weaving while her daughter Cheeky watches

Kata serves us green banana cake under the chestnut tree in the village common
We went back to Mahina Tiare for a swim and class, then returned for our sevusevu ceremony in the chief's home. Many of the men had heard about "Kava Bob" and "Hollywood Bryan" and there was good fun around the kava bowl after the serious introductions were done.
Thursday, Day 4, Epi led us on the 45-minute hike to Vunisei, the nearest elementary school.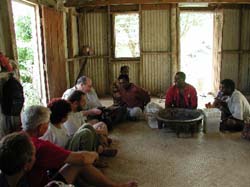 Kava ceremony with the five village chiefs who are supervising the schools building maintenance projects
Situated high on the knife-sharp mountain ridge, the school serves five villages, with children from the three most distant villages boarding during the week. The arrangement in Fiji is that the men of each village spend one week a month working on the school and grounds, and this was the week. Strong Fijian men were carrying bags of sand, gravel and cement up from the beach, and others were mixing cement and preparing the foundation for a new girl's dorm bathroom. The grounds looked immaculate. We were met by the headmaster who showed us around the buildings and took us to where the chiefs of each village were seated drinking kava. He explained that the chiefs would need to be there drinking kava all day, and it was there job to say "Well done" to their village members at the end of each day.
The headmaster had arranged for the children to sing for us, and afterwards we presented toothbrushes for most of the children and Ruth and Amir presented school supplies they had thoughtfully brought with them. We came away with a list of needed supplies: a dictionary, an encyclopedia, calculators, maps, a world atlas, crayons and volley and soccer balls. We will purchase and mail what we can find with funds left by Sam Parker, (legs 4,5,6 this year) and bring another load next year.

Vunisei school children sing for us

Ruth chats with the teachers

John presents toothbrushes to the headmaster
We were all pretty bushed by the time we got back to Mahina Tiare, so instead of packing up and going sailing to practice Lifesling and storm tactics, we covered electrical power systems and watermakers in the cockpit, under the awning.
Epi and Kata had prepared a real Fijian feast for us that evening, and Amanda contributed her famous Baboote (an incredible South African curry dish) and an enormous batch of brownies. The village generator (new last year) had run out of diesel, so instead of fluorescent lights, we had dinner by kerosene lamp, sitting cross-legged on a woven mat on the floor. After the dishes were cleared away the large kava bowl was placed at the head of the circle and the evening's kava drinking and talking story began. Slowly shadows slipped by the hurricane lamp and the circle of people sitting around the room on the floor began to expand as neighbors and friends joined in the ceremony. It took me right back to all the times I'd had dinner with Epi and Kata and our many evening of jokes and laughter.
Ladies Tea Party – Amanda
I'd bought our travel guest book-photo album ashore the night of the feast that shows our travels over the past 5 years and everyone had poured over the pages with delight and awe. They were thrilled to see pictures of themselves and crew from two earlier visits and scenes of what Mahina Tiare was like below. The fact that we had returned to Daku was special to quite a few people and they asked if other boats that had previously visited the village would also be returning one day.
After a few hours it was time to leave and the room emptied of the women and children as they escorted us to the beach for farewells. The tide was low so it required two dinghy trips to keep the boat light and thus avoid the coral heads. As the first dingy load left for Mahina Tiare the women stood around me on the beach and became bolder with their questions, maybe it was because of the darkness or perhaps it was the fact that we were sailing away in the morning.
A question that they eagerly asked was what M.T was like below and where everyone slept. I did a pantomime walk through of the boat and they giggled with interest as I explained each cabin, the beds and the galley layout. I suggested that next year when we visited perhaps the ladies would like to come to the boat for a visit, I'd be happy to bake a cake, "Oh yes, a ladies tea party" exclaimed Ulita in a clipped English voice.
On the way back to the boat I explained to John that the ladies were very interested in seeing the boat and perhaps next year we should invite them out to visit. John's reply was very enthusiastic and said why not just have the tea party in the morning. So seven the next morning we went ashore and announced to Kata that the ladies were invited to a tea party later in the morning. Kata suggested that around 9:30 would be a good time.
Throughout the morning we heard a lot of activity from shore, although M.T was equally in a morning bustle as I baked chocolate brownies, John did breakfast and crew completed their daily chores. By teatime John was off to shore to collect the ladies but when he arrived he was in for a surprise as the beach was full of children with beaming faces, they'd been to school in the morning but had been sent home, as the school had no water. All the women and girls of the village were now coming aboard for ladies tea party a total count of 32. We also had two males in the party, the chief's brother and Jale my little dancing friend, and the rest of the boys were left on the beach with some them crying.
Three dinghy loads later everyone was aboard and quickly settled into a sitting position. The sight was extremely colorful as even at such short notice the ladies and children had dressed in their Sunday best and were adorned with wonderful fresh flower leis that they'd obviously made that morning. There was definite ranking order as to who sat where, the wife of the chiefs brother sat below with the chiefs sons wife Ulita, my friend Kata, Jale's mother, Kata's sister-in-law Taina and two other ladies whom I'd become friends with. Jale, Emely and Lice were also allowed below while the rest were told to stay in the cockpit.
| | |
| --- | --- |
| School children happily saying hello | Ladies enjoying the Tea Party |
Time in the Pacific Islands moves at a slow place and everyone was just happy to sit and gaze about, all that is except the 12 children who were eager to explore the boat. There was a charged atmosphere in the air and expectation that something big was about to happen. All eyes appeared on me and I felt rather put on the spot not really knowing what they were anticipating. I'd been dancing in the village with the children and decided to play a video of the South Pacific Arts Festival that shows dances from 10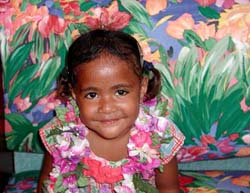 Two year old Siteri poses for a picture
Pacific nations. The New Zealand haka war dance was very popular along with the quick rhythmic hip swaying of the Tahitian tamure and everyone was glued to the T.V for a while.
It was then time for cake. Luckily I'd baked a double batch of brownies but as I pulled it out of the oven all eyes were upon me and I wondered how I was going to divide it into 34 pieces. The brownies were also of a very sticky, crumbly concoction and I didn't even have 34 plates to serve it on. I just held my breath sliced away and sent up a tray of 20 pieces for all the children and ladies on deck. Whomp…flying brownines with crumbs in all directions and 200 sticky fingers to prove it. Down below faired a little better but still required me to excuse myself to vacuum up the runaway pieces. The vacuum cleaner in itself was an amusement item. While I'd been down below entertaining my close friends, Hanne and Ruth had been chatting with the ladies and children in the cockpit and enjoyed getting the girls to write there names and draw pictures in there diaries.
For the entire tea party we'd been abandoned by the men of our crew who had gone off snorkeling and after a few hints from the ladies below I knew the party was coming to an end. Five blasts on the foghorn signaled the men to return and in short order they were back, ready to take the ladies ashore. But no one was really ready to leave and farewells were long and hearty as we all had so much more to share with one another.
As we slipped away from the anchorage a few hours later (it took a while to clean up wayward brownie crumbs and I'm still finding them days later) we sounded 5 long blast on the foghorn and watched with tears in our eyes as the children waved from the beach and signaled the boat with mirrors. Once we reached the bay entrance we tossed a few leis into the water with a promise to return to Daku.
Yeah, we were back sailing! We tucked a reef in the main and set sail on a gorgeous broad reach, skirting the reefs that protect this side of Kadavu Island. Our destination was a narrow, unmarked and reef-strewn channel to anchor in front of Dive Kadavu, www.divekadavu.com a small and very appropriate dive resort. We found that they only had two guests, a young kiwi honeymoon couple, so Julie, the manager welcomed us for drinks, songs and Fijian dinner.
| | |
| --- | --- |
| "Kava Bob" returning the ceremonial coconut bowl used for drinking kava | Max performs the hula |
Amanda brought her "Rise Up Singing" songbook (thanks to Tom Hall) so when the three Fijians that were singing asked us to sing, we were prepared! We even found a few songs that we all kind of knew, but what a fun evening and great sunset we enjoyed.
| | |
| --- | --- |
| John and Kava Bob get singing | All the boys joining in with the band |
The following morning Bryan, Amir and Max enjoyed an excellent two-tank dive before coming back for class and setting sail for Malololailai Island, 110 miles away. We managed to thread our way out through the reefs safely and set sail well before sunset. The wind started out dead astern, so crew gained experience setting the pole and preventer before it moved forward, allowing us an excellent reach, exactly on course.

Musket Cove
After sunrise the winds went light, so we motorsailed the last few miles, giving the batteries a good charge.
Musket Cove, www.musketcovefiji.com has long been one of our all-time favorite places. On our last trip here in 1998, we got married on the beach between expeditions, so this was a real homecoming for us. In no time flat crew had laundry and shore clothes organized and hit the beach running! We enjoyed a fun poolside dinner before heading back to MT, exhausted.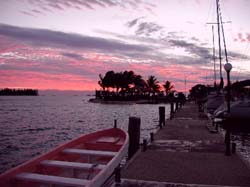 Sunset at the two dollar bar
Monday morning, Day 8, Max and Amir were off on another two-tank dive while the rest of our gang explored the island and lazed by the pool. After lunch on board, Amanda taught rigging and splicing before we headed ashore for dinner.
As soon as the light was good for coral piloting we set sail on Day 9, for Vanua Lailai, 28 miles away, through numerous occasionally correctly charted coral reefs. Along the way we used the sextant to shoot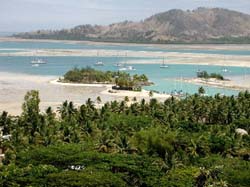 Low tide at Musket Cove
a noon latitude then had each expedition member repeatedly practice Lifesling overboard procedures until everyone felt very comfortable single-handedly executing the Quick-Stop maneuver and retrieving the Lifesling.
We found a nice sandy patch, surrounded by coral and anchored in 60′ of water. We had recently covered Storm Avoidance and Survival Tactics so figured that late afternoon would be the perfect time to show the video, Pacific Rescue, dealing with the Queen's Birthday Storm that we encountered. WRONG! The anchorage was a bit rolly, and by the end of the video, all but one crew were in the cockpit, looking green about the gills!
| | |
| --- | --- |
| Johns explains "Man Overboard" to Hanne | Hanne at the helm in the final stages of "Man Overboard" retrival |
Day 10, Wednesday morning, we piled in the dinghy and looked for an anchorage called Rainbow Lagoon, a notch in the coral between Vanua Levu and the next island, Navadra, which is connected by reef, but not land. We found the anchorage, but decided we would need very stable weather to consider it, plus a stern anchor quickly deployed. We anchored off a long white sand beach and swam ashore, ours the only footprints on this uninhabited tropical island.
Soon the sun was high enough for safe coral piloting, so we set sail for Vuda Point Marina, 25 miles away on Fiji's main island, Viti Levu. The winds filled in enough for us to practice deploying warps as well the Galerider drogue. Far too soon we arrived at Vuda Point Marina, (email: vudamarina@connect.com.fj) and before long we were moored stern-to and had a hose on board to scrub MT down.
We enjoyed our last evening next door at First Landing Resort www.firstlandingfiji.com where we were serenaded nearly continuously by the band. Our waiter occasionally borrowed one of the singer's guitars and launched into beautiful Fijian songs, explaining them afterwards. It was another special evening highlighted with lobsters, dancing and the sound of surf on the beach.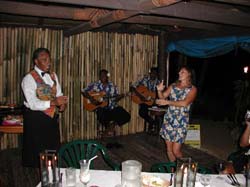 Our maitre de Keli and Amanda doing an impromptu performance
Check out Mahina Tiare's Current Weather Conditions!