Update 1
Leg 6 – 2003
September 27, 2003 17.49S, 176.11E Log: 71,187 Baro: 1014 Cabin Temp: 81F
Broadreaching at 8 kts in 25kt SE winds, double-reefed main and jib
540 miles to Luganville, Vanuatu
Surfing Through the Night!
What a flying start we've had to Leg 6! Soon after we sailed out of the wind shadow of Viti Levu, Fiji's largest island, the wind piped up to 35 with gusting 38 kts. The combination of shallowing depths and that much wind generated steep seas to 12′, providing our eager crew with some challenging surfing conditions. As it is often windier outside Malolo Pass, we had tucked in a reef before departure, and once we were into the heavier winds, Roger and I tucked in a second reef in the main. We also reduced the headsail by 50%, and still Mahina Tiare surged along, nearly touching 9 knots as she zoomed down the face of the large waves.
This is a type of passage that we find easy for crew to get the hang of ocean passage making. Very soon after they joined us at Vuda Point Marina, we set sail for a gorgeous uninhabited white sandy beach bay 12 miles away. With 18 knots of wind abaft the beam and flat water, we quickly covered the distance to the tricky entrance through coral. Once again Amanda surprised us with an unexpected overboard drill, this time she threw the rescue target (wadded up newspapers) through a port, completely surprising our crew.
The quiet, unnamed anchorage on Malolo Island gave us a chance to complete our safety and boat orientation in a cooler, quieter environment. Friday morning we covered watch standing, collision avoidance and galley orientation before crew headed ashore to explore the gorgeous beach and hike to the top of the hill for a view of all of the Mamanuca Islands. In the meantime I changed out the aft holding tank vent and pump out hoses for new ones that Len had brought down with him. No longer do we get ripe odors when the engine room warms the hoses. Whew!
| | |
| --- | --- |
| View of Musket Cove anchorage from the top of Malololailai Island | Ratu Nemani Island bar and barbeque |
We had a surprise in store for crew yesterday afternoon. We had only told them that we would be anchoring off a small island, so they were in for a treat when we anchored off Musket Cove Marina on Malololailai Island. Amanda had been marinating three chickens and cooked up some fresh green beans and pumpkin and we invited several other cruisers to join us for a barbecue ashore on Ratu Nemani Island, adjacent to the marina. With nearly 60 boats in the anchorage and another dozen or so in the marina, the barbecue island was jumping with great music and cruisers from many countries having a blast. Katie proved a great fire starter and Len a consummate barbecue expert, and before long we had a table filled with friends and food.
George and Julia Maynard, wooden boat builders sailing a Zulu, a 30′ gaff-rigged ketch from Port Townsend, Washington and Lisa and Eric, avid windsurfers sailing an classic Cal 40 from Hood River, Oregon joined us. We really like it when our crew can get to know cruisers during our expeditions. After dinner we all went to the main restaurant to listen to our Fijian friends playing guitar and singing. The tanoa (kava bowl) is always full when they are singing, and some of our crew accepted bilos of kava.
This morning we covered coastal navigation and plotted a safe course to the open sea, and to Vanuatu. We have an excellent forecast (thanks to Leon in Sweden and NZ Met Service) and should have following winds, gradually moderating, for the entire passage. It is a bit rough tonight, but crew have been attentive and there hasn't been a single gybe or roundup yet.
---
Leg 6 – 2003, Update 2
October 1, 2003 2145 15.31S, 167.11E Log: 71,752 Baro: 1013 Cabin Temp: 83F
All Surfed Out! At anchor off Customs Dock, Luganville, Vanuatu and Playing Scrabble
What a passage! Winds dropped only to 12-14 knots for a few hours and then kept building until we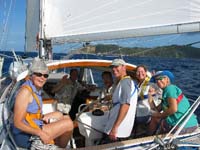 Landfall at Ambrim Island
were running downwind with full sail in winds 30, gusting to 35. Amanda hit 9.4 knots while we surfed through the gap between Pentecost and Ambrim Islands. We saw no signs of life, other than a couple of roofs peaking through the rows of coconut trees clinging to the hillsides.
Our crew have been first class, never gybing or rounding up as we pushed hard, trying to make it to port tonight before dark. As the winds increased, our ETA kept moving up and we had the anchor down off the customs wharf with nearly an hour of daylight to spare. Dinner tonight was seared wahoo (Spanish mackerel) caught this afternoon, mashed potatoes and kumera, and fresh green beans…not to mention brownies for desert.
We are exactly on track with our teaching schedule and look forward to exploring ashore tomorrow and Friday. Vanuatu is a primitive country, newly independent. Click here for a link to their national website, and here for the updates from our last visit Leg 6, 1998.
This will be our last update until October 19 as Melonie, our webmistress is headed to Paris and Rome with her husband Chris. We wish them a fabulous time! When they return you can hear about our visits (hopefully) with our Small Namba tribe friends in Banan Bay on isolated Malekula Island.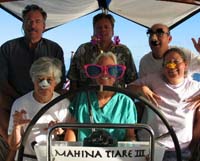 Leg 6 crew
Len, Tom, Roger, Katy, Sue, Debbie
Here's our Leg 6 crew, a winning combination, and the first time in 14 years we have had three couples:
Tom Zacher, 43 is a dentist from Wooster, Ohio who sailed with us on Leg 4-2002 and who met his lovely bride, Sue Grimm, 44 when they were doing their residency after dental school. Sue, now an orthodontist, sailed with us on Leg 5-2002 and she and Tom decided it was time to stop chasing after their kids, Heidi and Tim, and share an adventure together. Heidi, 14, is a keen soccer player and Tim, 12, is a competitive Optimus sailor and for family time they race their Beneteau First 40 on the Great Lakes. Debbie Campbell, 43 and Roger Campbell, 44 met when they were working at McDonalds, just out of high school. They went on to university, and then Debbie supported them and put Roger through dental school. Now Debbie runs the front office of their dental practice in Seattle, and they enjoy sailing their Catalina 320 out of Des Moines, south of Seattle. BB Katy Friedel, 55, recently retired as a school librarian in Chicago, and she and her husband Len Friedel, 57, a retired equity fund manager recently sold up in Chicago and moved to picturesque Port Townsend, just across the Straits from Victoria, Canada. They were looking for a seafront small town where they could have a boat moored near their house, and chose a gorgeous spot. They bought Magic, a nearly-new Hallberg-Rassy 42 that we spent time on during this past January Seattle Boat Show, and have already had a great time cruising the San Juan Islands. Len is already going over our charts of Alaska and the Queen Charlottes, making notes for their eight week cruise to Alaska next summer.
Once again, we have great synergy occurring. Lots of good times, laughs, jokes and people happy to help each other. We feel honored to share Mahina Tiare with new friends eager to discover the joys of the cruising life, from overcoming their fears of the high seas to embracing new adventures ashore.
---
Update 3
Leg 6 – 2003
September 8, 2003 0140 hrs 17.30S, 168.07E Log: 71,876 Baro: 1013 Cabin: 80F
Beam reaching at 8 kts in 25 kt easterly winds with only 24 miles to Port Vila, Vanuatu
Full Speed And Full Moon!
Well, once again, time has flown by. On our last update we had just arrived in Vanuatu. Quarantine, customs and immigration clearance went smoothly, and instantly brought back memories of why we enjoy the Ni-Vanuatu people so much. Initially they seem much shyer than the boisterous and self-confident Fijians, but once approached, they are sweet and lovely people with a great sense of humor.
After clearing customs, I was keen to see if we could line up Toto, a Ni-Van guy that had shown our Leg 6 1998 crew his village and around the island. I sat down with a group of local men at the gas station (there are only two) that I knew Toto used as a base, and started asking questions. Slowly I learned the story, Toto had a new van, his cousin Moses had brought their villagers in from Champagne Beach (where they live) that morning, and was somewhere around town. I told the guys that Toto was a friend of ours from five years earlier, and that we would like to arrange for him to show our crew around the island. I left a note with the name of the boat, and returned to the boat to take crew ashore.
Crew had hardly walked into town before Moses, with a policeman in tow, screeched his van to a halt in the middle of the street and asked if they were from Mahina Tiare. It wasn't hard to spot visitors; I hadn't seen one white fella (European) all morning! Quickly it was arranged that I should call Toto on his cell phone (totally new concept in Vanuatu) that evening to arrange for a tour the next morning.
As the quarantine anchorage became choppy in the daytime tradewinds, Amanda and I moved MT to an island anchorage off Aore Resort, www.aore.net a yachtie-friendly island resort across the harbor with eight moorings, dinghy dock, showers, water and great dinners. They have a ferryboat (just a large covered skiff) that goes back and forth two miles to Luganville, and our crew caught that back after exploring the small town for record nine hours.
Not long after we anchored, Kathy Seigismend and Ken Machtley on Felicity, www.svfelicity.com, a Tashiba 31 came by to say hello. Kathy sailed from Victoria to San Diego on Leg 1 – 2000 and then she and Ken left from Seattle on their own cruise just weeks after she returned. We instantly invited them to join our crew and us for dinner at Aore, eager to hear of their adventures.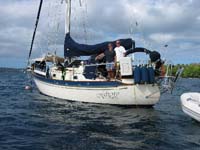 Cathy and Ken aboard Felicity
A couple mornings later Lois Crandell who with her husband Gunter Hofmann sailed from Raro to Pago with us on Leg 3-98 came up on the local SSB Net and said, "Remember us? We did it! We're out here cruising on our new Catana catamaran that we have sailed from France!" Their website is www.pacificbliss.com. We are going to start a new section called Expedition Graduates Websites under our Sailing Links page, so you, our readers can read of the adventures of our previous expedition members. There is nothing more exciting than meeting past expedition members out here having their own adventures!
We had a neat experience on our second day in Luganville. Crew had hooked up with Toto and were off on a grand adventure. First stop was a kastom village of the followers of the Jimmy Stevens independence movement and other sites through out the day included the blue water holes and traditional laplap lunch at Champagne Beach cooked by Toto's wife.
| | | |
| --- | --- | --- |
| Tour guide Toto and crew about to head out for a day's overland adventuring | Village house | Smiling children |
| Blue hole | Toto's wife preparing traditional laplap lunch | Champagne Beach |
Meanwhile Amanda and I finished up with outbound customs clearance and then went shopping in the market and the handful of Chinese grocery shops. As we walked by the little bamboo thatched Nambawan (number one) Cafe we heard 15 or so kastom (traditional) men dressed only belts with little bits of fabric playing guitars and slit drums and kind of marching and dancing back and forth. They had just started a lunchtime performance and we were only the second couple to sit down and soak up the atmosphere.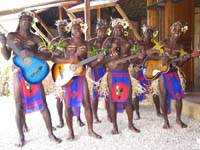 String band from Mavoonlefu village
We learned from Terry and Covina Sims that this was the first time this string band had ever performed in town. They were from a Mavoonlefu, a poor village 30 minutes truck ride away, and had come to Terry and Covina, who had just bought the tiny restaurant after visiting Vanuatu on holiday from New Zealand, asking if they could help them start eco-cultural tourism. In a number of months Terry and Covina had helped them print up flyers, organize their custom dancing (with as many as 200 dancers) and use the money already generated to pay for all the children's school fees for the year and build a new washing building for the ladies. The men were performing as thanks to the Sims, and their strange sing-song voices and rhythmic music was mesmerizing. Trucks stopped in the middle of the street, crowds of locals gathered on all sides of the little restaurant, locals and a few visitors came in to order lunch ($2.50US equivalent) and the place vibrated with energy and excitement.
While I was chatting with Terry and Covina, Amanda met the couple across the picnic table from us. Turns out they were Australians who also had recently come to Vanuatu on holiday, and fell in love with the people and the islands. They say a huge need for local shipping (there are very few ships) returned to Australia, bought a small trading ship and were now operating it as a business. So many times in the last week we heard about or met people who believed in making a difference. Hooray, not everyone in western society is just chasing money and status!
Banan Bay, 60 miles south of Luganville was the main reason we chose to return to Vanuatu. We set sail from Luganville at 0400, and after practicing storm tactics were anchored off Banan Bay by 1300. Not long after the anchor hit the water we saw a man launch a primitive, unpainted dugout canoe from a distance beach and slowly paddle our way. John Eddy, chief Saitol's eldest son came to greet us. We instantly invited him aboard for lunch and renewed our friendship of five years previous.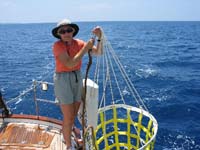 Katy launches the Galerider drogue
Amanda: Everyone gathered around the lunch table fascinated to chat with John Eddy until we realized the mainsail was still up…oops. As crew scrambled to drop the main I quietly chatted with John between the large mouthfuls of food he discretely ate. We talked politely about our last visit and how the village and the gardens were doing. I didn't want to appear too eager or pushy in asking about seeing their kastom dancing, we had to leave on in 2 days, and knew there was no dancing on Sunday so that left only Monday for them to perform for us. Then bingo, John quietly asked if we would be interested in kastom dancing I ecstatically said YES!!. "How would Monday suit us?" asked John…"Yippee, we're in for a treat "was my answer.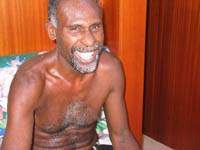 Welcoming smiles from Chief Saitol's son John Eady
Sue Grimm: On Sunday John Eddy met us on the beach at 0940 and led us all to church. Dressed in slacks, a golf shirt and sandals and carrying his Bislama Bible, he led us briskly down a long dirt road to the next village, about 20 minutes away.
The church was small inside with old pews on the right side for the men and bare benches on the left where women and children sat. The windows were all open, letting in a gentle breeze to cool the packed room. We were led inside and brought to the front rows to sit. The service and hymns were all in Bislama and we all sang using the Bislama hymnal. The young girls were dressed up with sparkles ion their faces and in their hair, and the men all wore long pants and a few even wore shoes.
After the service John Eddy organized us into a line outside the church where everyone who had attended filed by to shake our hands. We were then escorted back to "our" village where our new friends invited us back to the village at 1500 to visit, after they had eaten lunch.
When we returned, we sat on mats, sang songs and played string games, visiting and waiting for the others to return from afternoon Bible study. What a lovely day of getting to know these wonderful people!
Monday, October 6, 2003
Roger Campbell: Our third day at Banan Bay was dental clinic day. Our crew walked to the clinic in the next village, 20 minutes away, loaded with toothbrushes and toothpaste to distribute. When we arrived, there was already lineup as the message that we would be conducting a dental clinic had spread.
Peter, the first in line had a toothache so painful that he was willing to have it removed without anesthetic. By the end of the morning we had checked around 20 people.

Dental team extracting a tooth

Villages intrigued with the outdoor dental clinic

Teeth cleaning instructions

Crew donating toothbrushes and toothpaste to the clinic staff
Roger: Over the SSB Namba Net covering Vanuatu waters, John had put out the work that there would be a large kastum dance at 1530 Monday afternoon, inviting any boats in the area to join us. We hoped another boat or two would arrive, and were surprised when we returned to the village to see eight other boats and learn a total of 30 yachties would be attending the dances. At 1500 vatu ($12US) each, this would provide one of the few sources of cash income, to be shared amongst the villagers at the end of their financial year.
The kastom dances were amazing. Sixty men, dressed only in penis wrappers, paint, headdresses and feathers performed four traditional dances that shook the ground and filled the air with dust. The former sweet and gentle villagers that we had been chatting to only an hour earlier now danced fierce meaningful dances, swinging heavy wooden clubs, chanting, shouting and gyrating. Between the dances pride and happiness shown on their faces.

The kustom dance band

Ceremonial headresst dance

The Waverly Courtship Dance

The dancing heats up
The first dance was ceremonial dance that involved tall pointed headdresses. The second dance gained momentum, as it is preformed before the clubbing of a pig that then gives the chief higher status.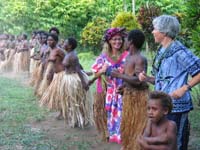 Amanda and Katy joining in the women's dancing
The third dance of courtship shook the ground but it was the fourth dance held in a sacred garden that was a masterpiece. Danced by the village men before the circumcision ceremony of 12 year old boys the dance also call the spirits that live in the recovery thatched house along side sacred tam tams (tikis).
The village women are not allowed into to enter the area or see the men dancing, and they performed there own dancing, a type of line dance including 60 women and children. On their second dance, they invited the yachtswoman to join in, and a few did.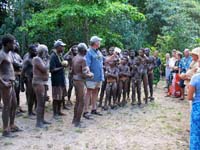 Len presenting Chief Saitol with a 2 year scholarship to the trade school
After the dance we were all presented with drinking coconuts and asked to introduce ourselves. Then Amanda led the kiwis (a majority of the yachties) in a Maori haka war dance, which the villagers loved.
Len presented Chief Saitol with a scholarship donation from entire crew of Mahina Tiare, providing school fees for two years for one student to the new vocational school being set up on Malekula to provide secondary education in business, carpentry and agriculture.
Next the men laid out woven mats inviting all the visitors to sit on the ground and sample laplap, a mixture of yams, taro and cassava that we dipped in coconut milk.
| | |
| --- | --- |
| Traditional laplap dinning | Crew and Small Nambas strike a pose |
Amanda, who was fondly remembered for her Tahitian dancing from our last visit, had been repeatedly asked over the past few days to dance again. This time better prepared, she had made a flower crown and borrowed a grass skirt from her dear village friend Jean. She performed dances from Hawaii, Tahiti and Fiji to the silent, watchful and appreciative village audience until the batteries in her boom box died. Crew even managed to join in with a funk number and chief Saitol also shook his booty on the dance floor.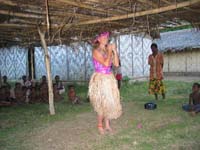 Amanda performing for the village
The children followed us back down the beach to the dinghy, proudly and enthusiastically singing their school and church songs. These warm and generous people will stay in our hearts always.
Early yesterday morning (Tuesday) we left our Banan Bay on Malekula for the short 28 mile jump to Epi Island, not expecting winds to 34 knots and steep head seas. The winds increased instead of decreased as we closed on Epi Island, and it was not much fun. In 1998 we sailed directly from Banan Bay to Port Vila, about 130 miles, but this time we heard of a very friendly dugong and dozens of sea turtles in Lamen Bay on Epi, so we decided to leave a little earlier (0500) and stop for the day.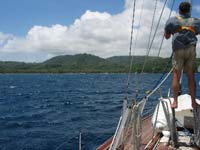 Arrival at Lamen Bay, Epi Island
What a great idea that proved! Lamen Bay is large and protected from all but the west, and is a prosperous looking village with a boarding high school, an airstrip, a small village-run guest house and restaurant and very friendly people.
After anchoring and lunch, we heard from another boat anchored nearby that the dugong had been feeding (they eat sea grass) along the far shore earlier in the morning, so we swam and drifted with the dinghy, hoping for a glance of this friendly 8′ long mammal that loves to have its back scratched. Instead we saw two sea turtles, myriads of brightly colored tropical fish and some very healthy coral.
| | |
| --- | --- |
| The elusive dugong | …who likes to be scratched |
Soon after swimming we piled in the dinghy to explore ashore. Crew walked the length of the village, found the only shop closed, and watched a Twin Otter land and pick up passengers. Amanda and I had only walked a short distance before she stopped to chat with a woman plaiting a basket. Bennington, an outgoing and chatty woman, admired Amanda's woven flower crown, having never seen anything like it. Amanda offered to show her how to make one, and she excitedly took Amanda in tow to her house and started collecting bougainvillea and brightly colored leaves. More women and several men gathered around, excitedly commenting that they could make these to sell when an Australian cruise ship visits the village every couple of months.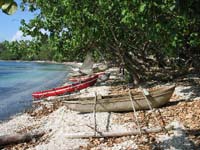 The canoe parking lot in Lamem Bay
I meandered down the beach to look at the village commuter parking lot. A dozen or more dugout canoes were pulled up on the beach. Only one had a mast and a Dacron sail. We had heard from yachties earlier that most of this village of 300 paddled two miles from Lamen Island where they lived to work in their gardens on Lamen Bay every morning and sailed back each evening. Other than the one canoe with a mast and sail, I couldn't figure how they would sail home, downwind. Just before sunset, I had the answer! Canoe after canoe sailed swiftly by us at anchor, powered by a couple of palm fronds amidships on the canoe, held up by branches and string. Amanda's friend Bennington had earlier explained that originally they slept on the island to avoid the mosquitoes and malaria at Lamen Bay. Now they have cleared much of the undergrowth and although mozzies are rare (at least during the cool winter dry season months) they still continue their commute.
After Amanda's birthday celebrations we departed with two reefs in the main and three in the headsail. We delayed leaving Lamen Bay on Epi Island until just before dark, planning that we would cover the 80 miles to our final destination on Leg 6 at a leisurely six knots. The winds didn't drop after dark as usual, and we have had one very fast sail! This time we were prepared, with hatch covers on all three deck hatches, high lifelines rigged, and a double reef in the main.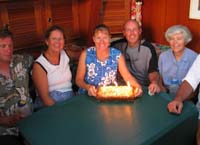 Amanda's birthday celebration
September 9, 2003
1300 17.44S, 168.18E Log: 71,898
On a mooring, Port Vila Harbor
Wow, another expedition finished in a blur!
Winds dropped once we were in the lee of Efate Island, and we motorsailed the last few miles, arriving just after dawn. We tied to Yachting World's fuel dock and washed down MT while waiting for them to open so crew could give them laundry and we could get fuel. While I hunted down customs and immigration offices, Amanda taught double-braid splicing, turks heads, sail repair, winch maintenance, rig check and going aloft…phew! One busy morning!
In the afternoon expedition members shopped for treasures before meeting back at the boat at four for the expedition test. That evening our graduation dinner, and more birthday celebrations for Amanda, were held at Rossi's a delightful waterfront restaurant. Over the past two weeks we completed our teaching goals and had had more land experiences than we thought possible!