Leg 6, Update 1
After our Leg 5 crew headed home, we worked like crazy on MT for a few days, preparing for our little getaway holiday; two nights at a small B & B owned by a lovely Swiss/French couple, at the far end of Pico Island. I wanted to rent a car so we could explore the mountain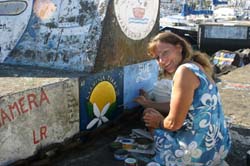 Amanda redesigning Mahina's wall painting
lakes as well as the bays and villages, but I gave into Amanda's idea of cycling. So 7:30 Sunday morning we were on the ferry with our little folding Dahon Helios bikes for the four mile crossing to the town of Madalena.
When we stopped for a drink at a lookout in the first village past Madalena, the old men who were chatting by the side of the road insisted on showing us their immaculate and ornate church. Every time Amanda stopped to admire something, a cow, a vineyard, a field of corn, salted fish drying in the sun, locals would show up and want to visit, no matter that we didn't speak much Portuguese and that many of them spoke little English. Once when Amanda was taking a picture of a corn field, a lovely couple appeared and insisted on giving her ears of corn. Everyone was eager chat and proud of their small villages, homes and farms.

John entering the village of Nesquim

Farmer milking his cow

Friendly locals
On our third day we found a two-story house with two additional outbuildings above a cove for sale for $40,000 US! It was tempting, especially when we met a guy down the street who had just opened a boat building museum in his families' wooden boat yard after returning from 38 years of working for Alden Yachts in Rhode Island. I bought a lovely half-model of a whaleboat from him.
| | |
| --- | --- |
| House for Sale | Azorean whaling boat |
I've long been fascinated with the graceful Azores whaleboats and on the smaller islands we learned of an intense rivalry of racing these classic boats under sail. This week they are having "Sea Week" in Horta, and the nearby islands are all sending multiple boats and crews for the races. They are using the same motorized launches that used to tow the boats out to the whaling grounds and then tow the whales back to shore to tow the boats to the races. Many of the villages have turned the boathouses into museums and in several cases the buildings that were used for processing the whales as recently as 1984 are now museums and bases for a growing whale watching industry. With more sperm whales here than anywhere in the world, plus tons of dolphins, you can't go a day in these waters without seeing whales and dolphins.
We had so much fun circumnavigating Pico in three days (120km) that when our neighbors on the boat next to us (Pluto from St. Barths) invited us to join them for a day trip to Sao Jorge, another island, we tossed our bikes on the ferry and cycled off to explore. Each island (we've visited five out of seven) has a totally different feel, different agriculture and architecture and often settled by people from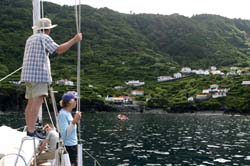 Approaching Ouvidor anchorage
different countries. Many new retirement and summer homes have recently been built by Azoreans who immigrated to the US (Boston or central valley of California) and are now returning after successful careers. The islands have a very prosperous feeling.
Monday, July 31st our Leg 6 crew joined us at noon, and we set an all-time record by being underway and out of the marina by 12:13! Our anchorage for the night was in Bay Almoxarife, a few miles around the corner from Horta, but out of town. We all enjoyed a swim in the surprisingly warm, crystal clear water midway through our safety orientation.
After completing our orientation Tuesday morning we had a great downwind sail 33 miles to Ouvidor, on Sao Jorge Island. I first read of Ouvidor in the small, out-of-print Azores Cruising Guide published by Jimmy Cornell in 1993. He said this was the only anchorage on the rugged and isolated, but leeward north coast of the island. After reading his description and notes in a recent email, I think he only visited by taxi. The bay is not shown on any charts, but Amanda and I had checked it out when on our day trip to the island the week before.
I'm always looking for new and unusual places to anchor, and when we sailed into the tiny bay, I wasn't sure it would work out. The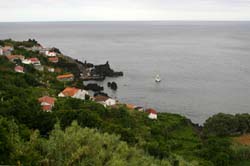 Mahina at anchor at Ouvidor
afternoon onshore breeze touching 15 knots, making it a lee shore and the large lava rocks looked menacing with breaking swells. Allison, a keen snorkeler and strong swimmer volunteered to dive in and check out the bottom and was off in a flash. She reported a rocky bottom with very few sandy patches. Soon after dropping the main anchor, we took a stern anchor shoreward, then snorkeled down and wedged both anchors as securely as possible between large rocks.
After a quick tidy-up, I landed our adventuresome crew on the small boat landing and they went off to explore the small and picturesque village perched at the base of the steep cliffs. We all enjoyed an excellent and very reasonable fresh fish dinner ashore at O Amilcar restaurant. Eva, the waitress and cook, explained that she had come from Madeira to work in the restaurant and after a year had returned to her family in Madeira. Amilcar, the restaurant owner, missed her so much he traveled to Madeira to meet her family and ask her parents for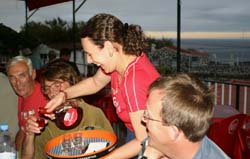 Eva serves us an after dinner drink
permission to marry their daughter. They have been married six months, are obviously in love, and really enjoy what they do. Eva said we were the first yacht anyone in the village could ever remember visit and they hope more boats will follow. Amilcar has put down a mooring for whale watching boats that frequently bring their clients for lunch or dinner.
We took turns standing one hour anchor watches that night, but the anchors didn't drag and we set sail before breakfast on Wednesday for Terceira Island, 38 miles away. Friends on Acquest and Spray Venture also sailing to Ireland and England were waiting for us to arrive and share weather forecasts with them.
We made landfall at the historic city of Angra do Heroismo on the island of Terceira. This stunning historic city was founded in 1474 and is a UNESCO World Heritage site. The new 260 slip marina was hosting 47 sailboats that were competing in a race from Lisbon to Horta with stops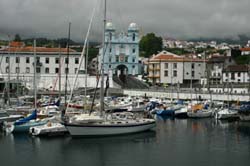 Mahina moored in Angra
in Ponta Delgada and Angra and was totally packed. We thought we would just scope it out and then anchor outside, but the harbormaster insisted that they never turned anyone away and shifted a couple boats around to create a slip for us for the night.
The new marina is amazing. The new modern glass-fronted building housing restaurants, showers, internet, jacuzzi and laundry looked like something out of a five star hotel. When I asked if the marina was self-supporting, the harbormaster laughed and showed me the price sheet – moorage for MT cost us 13.27 euros (about $16US). He explained that the marina was owned by the Camara, or town council, and that the business people said, "Let's build a marina that is the nicest one around and will attract lots of sailors to visit our town!" Not content with just a marina, they are nearing completion of a six million euro boatyard to complement their new 50 ton Travelift, services offered hope to include a sail loft, rigger plus fiberglass, diesel and electronics repair, and dry storage. Details on: www.aptg.pt.
When I mentioned that we had planned to leave MT for the winter of '07 at Ponta Delgada, www.apsm.pt/marina, he explained why Angra's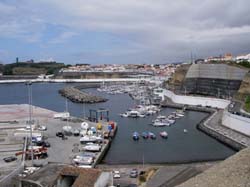 Angra Harbor
facility was better, and convinced me! I figured it out – in the 1700's and 1800's the different villages and towns used to compete to see who could build the biggest and most ornate Catholic churches. There are tons of them, even in tiny little villages. Now marinas are the showcase, especially because the towns can apply for matching EC funds for construction. Horta just expanded by 120 berths, Ponta Delgada is doing a major expansion, Praia do Vittoria just opened a new marina and boatyard and even Pico is building a new breakwater for a marina. The beneficiaries are adventuresome cruisers as well as the restaurants and businesses.
After exploring town Sam found a nice seafood café above the harbor where most of us enjoyed an excellent dinner. We generally split the bill between everyone and including drinks, dinner and desert we averaged $10 US per person per dinner for top notch seafood.
Madeline and Chris have a great hiking/alternative travel tour book and discovered an amazing historic tangerine farm turned into a museum/guest house/organic restaurant, www.quintadomartelo.com, run by a young local man. We can't wait to check it out next year!
Thursday morning we hiked and explored this beautiful and historic city, crew caught up on internet and I checked out the unfinished boatyard where we now hope to leave MT next November. We cleared out for Kinsale, Ireland, but planned to stop on the other side of the island at the new marina at Praia do Vittoria long enough to photograph the marina and boatyard and buy a final round of ice cream cones. We
Madeline questions the weather
found a totally packed small marina with a strong onshore wind. Although the marina manager and friends on a Valiant 42 said we could raft outside of them, it didn't look comfortable or safe, so we waved goodbye and set sail for miles for Ireland, 1150 miles away.
We've had brilliant sunny weather and winds consistently around 10 knots until this afternoon when it dropped to 6-7 knots, so we dropped the whisker pole, partially furled the headsail, sheeted in the main and are making tracks across the center of the high pressure cell that is dominating the area. Every day we have seen sperm whales, sometimes just a few boat lengths away, and three times we have been surrounded by leaping dolphins. But no fish.
We are now receiving excellent quality weatherfax charts many times a day from Northwood, near London, and between those charts and the excellent GRIB files (thank you Jim Corenman!) it looks like we should pick up some very welcome fresh (15-25) kt NW winds in a day or two that should give us a good ride into Ireland.
We are nearly caught up on our busy teaching schedule, and this crew are quick learners, every one of them having aced our weather test.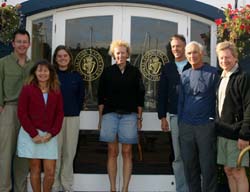 Jeremy, Allison, Madeline, Chris, Sam and Richard
Here they are:
Allison McGhee, 27 is a high school Spanish teacher in Louisville, Kentucky who just purchased a Harpoon 4.6 sloop on which she looks forward to introducing her 3.5 year old son to sailing. She hopes to spend next year in Argentina on a Fulbright Teacher Exchange, and after that, who knows? Maybe pharmacy school in Florida to be closer to the water, followed by a job in Puerto Rico where she and her son can sail every day, then perhaps take off and sail around to world!
Madeline Hutcheson, 44 grew up sailing on the Chesapeake Bay in Virginia and joins us with the goal of building confidence, honing skills and gaining more blue water experience. She and long time friend Chris Knapp sailed from Tahiti to Hawaii aboard Alaska Eagle in 2002. Friends since college, they both share a love of sailing and travel. When not on the high seas or scheming her next adventure, Madeline works as a free lance writer in Richmond, Virginia.
Chris Knapp, 43 of Houston, Texas has had a lifelong interest in sailing, particularly passage making. "I make these trips for the confidence they build and what they teach about self-sufficiency and teamwork." Chris is a master swimmer and involved with investments.
Jeremy Westerman, 38 is originally from England's Lake District, but nine years ago was recruited to work in the San Francisco Bay area software industry. He currently sails frequently on SF Bay by chartering and racing with Modern Sailing Academy and Spinnaker Sailing in Redwood City with the goal of combining extended cruising with living and working in Australia and NZ in the next five years.
Richard Baker, 54 joins us from Johannesburg, South Africa where he has sailed dinghies since childhood and always dreamt of bluewater and coastal sailing. He joins us to gain first hand experience of ocean sailing and to see whether his dream of acquiring an ocean going yacht is realistic. His wife Elaine will be joining him in Ireland for some exploring before he rejoins MT for Legs 7 & 8.
Sam Parker has the record! This is his ninth expedition aboard Mahina Tiare. He says his goal is to continue spending his kid's inheritance, but he doesn't have any kids!
His wife Sandy joins Sam in Ireland for some traveling and golf after the expedition.
August 7, 2006, 1530 hrs, 47.06 N, 21.48 W, Log: 105,150 miles, crossing the North Atlantic High Pressure
Beam reaching under full sail @ 6.3 with winds NW @ 13 kts
Baro: 1027, Cabin Temp: 76F
Our winds have held surprisingly constant, slowly coming around from S to SW and now to NW. Seas are calm and we are scooting along nicely with just about 550 miles to Baltimore, the first possible customs Port of Entry after Fastnet Rock.
We are now caught up on our teaching schedule and planning our halfway party for dinner time tonight.
August 10, 2006, 2210 hrs, 47.06 N, 21.48 W, Log: 105,150 miles
Beam reaching under full sail @ 6.3 with winds NW @ 13 kts Baro: 1023, Cabin Temp: 71F
Surfing Toward Fastnet Rock!
Today has been an unforgettable day. After a couple days of mostly motorsailing through the ridge of the high pressure winds increased very early this morning and started backing. Instead of ghosting along close-hauled in a sloppy swell, we have been surfing along with 20-24 knots abaft the beam. We could have reefed long ago, but when I asked if anyone wanted to slow down, NO WAY! was this crew's response.
We had a fabulous sunset, then not long after a deep red full moon rose and is now sparkling across the seas. Just a few minutes ago Madeline said she spotted a ship bearing 11 o'clock on the radar, and before long the ship started to get broader and broader. It turns out that its Mizen Head, Ireland. We're also only 26 miles to famous Fastnet Rock lighthouse and the light should be visible anytime now, as it's rated for 27 miles visibility.
Highlights of the past few days have been having our crew review weatherfax charts and GRIB weather files each morning, then present a weather briefing for Spray Venture of Victoria, a 40′ steel sloop we met in Horta. As Steve and Marilyn have no way of receiving weather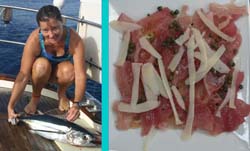 Fish and carpaccio
information, they are most appreciative, and this provides excellent weather training for our expedition members. Another high point was Sam catching our first and only fish of this passage, an excellent albacore tuna. Amanda fixed it three ways: sashimi with wasabi and soy, carpaccio (Italian style raw fish with capers and olive oil) and seared with Cajun spice. What a treat!
This morning Allison asked if we could double up on classes today so crew can have all day tomorrow to explore Kinsale, so we set a record, thoroughly covering cruising medicine, electrical power systems, refrigeration, watermakers, boat maintenance and the test for Storm Tactics.
August 11, 2006, 2345, 51.42N, 8.31 W, Log: 105,720
Tied up at Kinsale Yacht Club, County Cork, Ireland
Our winds increased last night until they were hitting 27 knots, so with full sails set Mahina surfed on like a freight train, frequently surging to nearly nine knots. We decided to reef just before dark to make steering a little easier.
What perfect conditions we had for landfall, nearly full moon, following wind and seas and minimal shipping. In the early morning hours we saw Fastnet Rock light followed by a whole string of coastal lights. At first light we could see the smooth, undulating coastline, as well as a few fishing boats. The favorable winds and current had us arriving at Kinsale Yacht Club much earlier than expected, the 1160 mile passage taking us a little over 7.5 days.
| | |
| --- | --- |
| Richard coaches Jeremy on sewing nuances | Madeline takes a sun sight |
Our first job when arriving in a new country is clearing customs and immigration. Phil, the Kinsale Harbourmaster explained that there isn't a customs or immigration office, and since Kinsale is listed as a Port of Entry, he would fax a list of names and passport numbers to customs in Cork, and "If they want to see you, they will come find you!" Definitely one of the most laid back check-in's we've experienced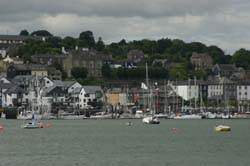 Kinsale marina
anywhere. Our #2 priority was to find which pubs would have traditional Irish music. After a great Indian dinner ashore, we checked out every place we could. The harbourmaster had recommended The Spaniard, a very old Irish pub.
Jeremy and Amanda led the way out of town, and what we found was what I always imagined. A traditional ancient pub with low beamed ceilings, small drinking sections and lots of interesting stuff scattered about on walls, shelves and ledges. We found happy and polite local people, no tourists at all, and big NO SMOKING signs, following the new law in Ireland. Three guys were seriously making music with accordion, guitar and a lovely voice. They sang sea chanteys and ballads while lots of the patrons sang along on the choruses. Jeremy got his Murphy's stout, a beer so dark, thick and creamy that he nearly had to scrape it out of the mug. What a delightful evening! On the way back to the harbour we sampled the music in several more pubs in town and were surprised to find the streets filled with people visiting and walking around at 11:30 at night.
| | |
| --- | --- |
| Musicians at the Spaniard | Jeremy and Murphy's |
Saturday morning we all went exploring in different directions to castles, forts, town and along the waterfront before setting sail. We spent quite a few hours practicing Lifesling overboard rescue and reefing in winds gusting to 23 knots before anchoring in the late afternoon in Oysterhaven, a quiet and protected bay just four miles east of Kinsale entrance.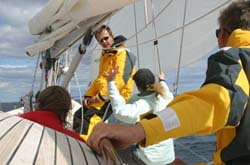 Crew practice reefing
While anchoring we noticed four people fishing and drifting with the wind from a classic open yawlboat named River Dance. A couple hours later they tacked back upwind to us, luffed up and asked us if we would like some mackerel, saying they had caught "too many". It was a lovely local family with two teenage boys who had just spent a Saturday afternoon fishing and sailing. They didn't want anything for the fish, and before we could invite them aboard they had hoisted sail zoomed across the bay. Amanda fixed it the way they had suggested, with a little olive oil in the fry pan, and baked a yummy apple and berry cobbler before surprising us with ice cream, something we don't normally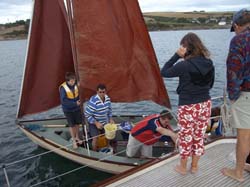 River Dance passing mackerel
have freezer space for.
August 13, 2006, 2210, 51.48N, 8.27 W, Log: 105,747
Tied up at Royal Cork Yacht Club, Crosshaven
Right after breakfast this morning Amanda got everyone exercised by sending all six expedition members up the mast for a rig inspection using our nifty new Spinlock climbing harness followed by winch servicing. By 1130 we were underway and the gusty 20-25 knot winds provided a realistic background for deploying warps followed by launching our Galerider drogue. We had a beautiful 15 mile sail along the coast from Oysterhaven to Cork with lots of wind off the land but flat seas, followed by some great short-tacking practice up to Cork harbor entrance.

Chris going aloft

Allison preparing to tow a warp

Madeline shakles on the Galerider
The friendly RCYC has plenty of visitor dock space available at fairly reasonable charges (for Europe) of 204 euros per week. After giving MT and ourselves a thorough cleaning we had a fun last crew dinner at a new trendy restaurant in the village and now this eager-to-learn crew are watching our Rescue South Pacific video to study more about storm tactics.
| | |
| --- | --- |
| Crosshaven and Owen River | Crosshaven Village |
Amanda and I are looking forward to catching up on a few boat chores this week, followed by some cycling and hopefully finding some live traditional Irish music.