Leg 6-2010
September 19, 2010, 1530 hrs, 15.37 S, 167.24 E, Log: 142,678 miles
Baro: 1013.4, Cabin Temp: 83 F cockpit 84 F, sea water 81.3 F
ESE winds 25-34 kts, 10'13' closely spaced breaking seas
Surfing along at 8-10.4 knots, straight downwind with a single reef in the main. HANG ON!
SURFING TOWARD LUGANVILLE, VANUATU!
Our two weeks between Legs 5 & 6 were a special treat. After tidying up Mahina Tiare we rented a car and made an overnight trip to Cost-U-Less (similar to Costco) staying ashore in the Novotel Hotel that we had anchored off a week earlier.
As soon as we had most of our provisioning done we set sail for Musket Cove Resort; 10 miles offshore on Malololailai Island. We celebrated our wedding anniversary on the exact palm treed beach spot where we'd gotten married 12 years earlier. Funnily enough Daryl and Lucy, good friends from Auckland, arrived to stay aboard their friend's boat and we were lucky to have another celebration, this time for Lucy's birthday. It was interesting to chat about corporate lifestyles as Lucy is public relations spokeswoman for Microsoft and Daryl just designed the re-vamp of Auckland's rugby stadium for the up coming world cup.
Each time between expeditions I expect one thing to break and need replacement. So when the forward Par Jabsco electric head's motor started making squealing sounds on our arrival at Musket Cove, I figured that the inner seal had worn out, allowing seawater into the pump motor. I was thrilled that the replacement motor and macerator assembly, ordered from Vickie at HR Parts in Sweden, fitted perfectly! It was nearly a full day's work and I was very pleased when it was all back together, working properly and not leaking. I quickly assumed that this was my normal between-expeditions repair. You see, normally the thing that is going to break or fail poops out just hours or even minutes before new expedition crew arrive.
A great example of a last minute failure was a few years ago in Tortola, BVI's. One hour before crew arrived I topped up the water tanks (at US$.30 per gallon!). The watermaker had of course been pickled a week earlier so when the water tank overflowed slightly it diverted water into the bilge through the watermaker's Y valve. So far so good except the bilge sump pump made a very strange noise! After nine years of flawless service (actually it rarely had to pump water) it had chosen this precise moment to fail. I had a spare fresh water pump so I quickly switched some fittings around, connected the wiring and hoses, only to find the pump ran backwards, blowing bubbles in the bilge and reversing the wiring didn't solve the problem. Now I was down to eight minutes before noon and I knew our crew was lined up on the dock waiting eagerly to come aboard. After removing and looking at the pump I figured that by removing and rotating the pump head 180 degrees it should suck water instead of blowing bubbles. That trick worked and with one minute to go I ran to our swim step for a quick shower and dry off, ready (exhausted!) to greet our eager crew.
So, would I get off with just the one early repair? No way! On Friday morning we savored our last sunrise trail run over Malolailai Island and headed back to MT for a quick swim. I then tackled my last tiny job before raising anchor and heading to Denarau Marina on "the mainland" for fresh fruit and vege. As I closed the ball valve to allow me to remove and clean the sea water strainer basket on the refer cooling water intake the valve closed with abnormal ease. When I went to open the ball valve it opened too easily as the handle snapped off inside with the valve in the closed position, thus allowing no water to pass. Unfortunately we now could not run the fridge or freezer, watermaker or use our aft head.
Initially I thought, "No problem, I'll just swim down, pop a wooden plug in the intake, and then we can unscrew and replace the ball valve without water rushing in". Then I remembered that this intake could not be plugged as it has a nifty bronze screen on the outside of the thru-hull fitting; a Volvo part identical to the engine water intake. To make matters worse I remembered that just before leaving New Zealand I stored the two spare fittings, which I had intended to replace when we were hauled out but had run out of time, in a friend's basement with our bikes and boat cover.
At this stage we decided to follow our original plan and headed to Denarau Marina where we knew there was at least one marine store. Two hours later we were tied up in one of their new finger-pier marina berths (last year there was only stern-to mooring on a long dock) with a plan. I unscrewed the ball valve as far as I dared using our largest pipe wrench, and then jumped in the murky water. I held a plastic bag over the raised bronze strainer intake while Amanda unscrewed the ball valve the last few turns and jamming a wooden plug into the intake fitting. I rinsed off and took the jammed ball valve up to the dock to the marine stores.
After trying a couple of marine operations I went to Baobab Marine (www.baobabmarine.com) a relatively new marine repair shop owned by a South African guy. I was totally surprised! Baobab Marine, started a few years ago as a small repair yard at Vuda Point Marina, has now expanded into a very impressive operation. An authorized Yanmar dealer they import engines from Australia and we learned that many cruisers are taking advantage of their reasonable prices and expertise to repower their boats here. Not only did they have the exact fitting they also sent me on my way with the new fitting smeared with Loctite thread cement to ensure a leak-proof fit.
Now came the fun part. As Amanda went underwater to hold the plastic bag over the raised fitting I pulled out the plug and quickly threaded the replacement valve on. IT FIT — HOORAY! In just minutes I had the plumbing all reconnected and the fridge and freezer turned back on (whew!). We quickly grabbed a taxi and headed to the supermarkets for our final round of provisioning. That evening we enjoyed walking around the Disneyland-like Denarau Center which sports a dozen eateries including, believe it or not, a Hard Rock Cafè! Several new shops had opened since we visited last year and it was fun to enjoy pizza and people watching.
Saturday morning we headed to the Nadi Market having heard that this was the best time for produce. Wow, best time if you want a mob scene! The market was teeming with people for when all the market tables are taken new vendors just lay out tablecloths on the pavement and pile high their produce. There was no room for the throngs of people to pass. Next time we will go to the much smaller and easily accessible Namaka Market down the road. In any case we filled the cab with our goods then piled it aboard before setting sail for Vuda Point Marina, six miles north where there was plenty of room as a total of 70 boats was enjoying the festivities of Musket Cover Race Week.
Sam and Ron, our Leg 5 & 6 expedition members had just returned from a ten day road trip around New Zealand's South Island even sleeping through the Christchurch earthquake which was a few miles south from where they stayed that night. That night over dinner at the adjacent First Landing Resort, where they were staying, they told us tales of their adventures. Monday noon they came aboard and we headed eight miles north to Lautoka. Last year Customs changed the rules; now cruisers clearing out of Fiji must physically take their boats to Lautoka instead of visiting by taxi. The office closes for lunch so by mid afternoon it was totally jammed and overflowing. Instead of waiting we decided to run some last minute shopping errands and showed up at 8 am the following morning to clear out for Vanuatu.
It was 10:30 by the time Customs located the one and only exit stamp and although we set sail at once there wasn't enough time to clear all the reefs into deep, clear water to the west. With no wind we decided to tuck into a spectacular little anchorage between Navandra and Vanua Levu Islands just before sunset. We've enjoyed this idyllic anchorage, inhabited only by a few goats, several times but were now totally blown away by the snorkeling in calm conditions. Even in late afternoon light the reefs were brilliant, thronged with many types of hard and soft coral, all showing strong new growth. For the first time in a long time we didn't see the ravages of crown-of-thorn starfish only verdant coral and zillions of colorful tropical fish.
| | |
| --- | --- |
| Google Earth view we captured using the program SnagIt to ensure we selected a sandy anchoring spot. Note the red X marking our perfect anchorage. | Sam and Ron preparing MT for departure. |
Wednesday morning the winds were still calm so we snorkeled the other direction before landing through the surf ashore embarking on a plastic beach litter clean up that filled a giant garbage bag. By noon the trades started so we set sail and for the next 600 miles we had following winds that slowly increased until they were in the low to mid-30's.
| | |
| --- | --- |
| Trimming to ensure a maximum power ride | Translation to Bislama of Kava Sam thoughts of Sportif Ron's catch – "Yu gat wan smol fis. Mi watem big wan laekem Ms Boss Lady's." |
Highlights of the passage were passing a sailboat from Port Townsend that was heading back to Baobab Marine in Fiji to repower and a very chatty Taiwanese owned long-line fishing boat. Not long after dawn on Thursday when I heard someone calling repeatedly in what I took to be Chinese on Channel 16. Only when the caller gave our position in English did I realize he was calling us. When I replied he said his name was Ricky, he was from Indonesia and that he had been running the Taiwanese boat, for a month at a time, out of Fiji. He had picked up our radar return five miles off (hey, our new radar reflector installed in Sweden must really work!) and was concerned that we might be another longline fishing boat. He explained that they were in the process of "shooting" or laying out 48 miles of line with 3500 hooks suspended by floats at a depth of 35 meters. As we were on converging courses, with an intercept speed of 15 knots, he really came up on us quickly. Ricky said fishing had not been real good but he would throw over a couple of yellow fin tuna if we came alongside! As we came closer we watched the bow of his 120′ long ship plowing into solid walls of green water and decided to decline his generous offer.
At dawn Saturday morning we passed between Pentecost and Ambrym islands and then sailed a straight course for the entrance to Luganville Harbor, about 60 miles further. Our goal was to reach the harbor before dark and with the reinforced trade winds gusting into the mid-30's that was easy. Oh, I should mention that after trolling Ron's Yellow Submarine lure all the way from Savusavu it finally brought home the bacon. Sadly Ron's catch of the month was quickly forgotten as Amanda landed a bigger mahi.
Upon entering the harbor which is a fairly open roadstead partially sheltered by Aore Island we found the quarantine anchorage off the somewhat broken down commercial wharf to be too rough and exposed. The four yachts anchored a mile further along off the Waterfront Hotel, a small, cruiser-friendly place, were pitching in the chop so we crossed over 1.5 miles and picked up one of several available moorings provided by Aore Island Resort, www.aoreresort.com.
For the equivalent of about US$16 the moorings provide a sheltered location easily accessible by the resort's small ferries. In 2003 all the moorings had been in use so we anchored in the 75-100ft of water only to hook an airplane or something so large that we had to get help from the local dive operator to untangle our anchor.
Monday morning it was even windier and as there was no response on Ch 16 from Luganville Port Control (we later learned their radio had been broken for some time). We decided to drop the mooring and motor across to the quarantine area to see if there was any possibility of safely anchoring there long enough to clear quarantine, customs and immigration. With breaking waves and a bottom that we imagined was foul with WWII wreckage we waved at the officers, pointed back to Aore Island, and returned to the mooring.
To enable us to check Sam, Ron and I hopped in our RIB and did what the local skiffs did. We snuck north along the lee of Aore Island, until well to windward of the commercial wharf, then surfed across the channel, tying up to the pilot launch for formalities. We had brought a bag with our prohibited items (fruit and vegetables that might bring in fruit flies) and what little galley rubbish we had so that Sam, the same quarantine officer who had cleared us in ten and seven years earlier, just smiled and said "tank u tu mus!", pigeon for thank you very much. We'd saved him a trip across to Aore to check the boat. After paying his fee we cleared in with customs and immigration. Sam and Ron then took off to explore bustling little Luganville while I returned to MT and Amanda. In the late afternoon we caught the ferry over to town to check it out and shop at the public market.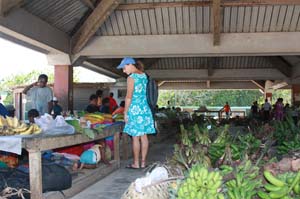 Amanda surveying the local produce. Note the pikinini under the table.
Luganville Market contained hundreds of people, many whom had traveled several hours by mini-van or caught rides on trucks to sell their yams, taro, bananas, tomatoes and firewood. It was obvious that many people were not returning home until all their good were sold and in the hot afternoon many of the ladies and children were sleeping on the ground under their display tables.
What a contrast it was when Sam treated us to dinner at Aore Resort; the view through waving moonlit palm trees and sparkling white sand beach across channel to twinkling lights of town was peaceful and romantic.
Tuesday the winds had slightly abated and the cruisers on a large cat next to us told us they had organized a boat to take two of them diving on the wreck of the President Coolidge and six of them snorkeling on Million Dollar Point. Their boat was full but we organized a similar boat to take us as well. Whoa, what a pounding ride! The point just north of the harbor entrance is a lee shore and the boatman picked up a mooring, tossed an anchor through the breakers to shore, before pointing out the direction for us to set off snorkeling. Million Dollar Point occurred when the local French planters refused to pay a few cents on the dollar for the surplus American equipment at the end of the war WWII. The Americans dumped tons of bulldozers, jeeps and trucks off the end of a wharf before then blowing up the wharf. What a snorkeler and divers dream they created! We saw all kinds of cool equipment in 10′-60′ of water even a small shipwreck.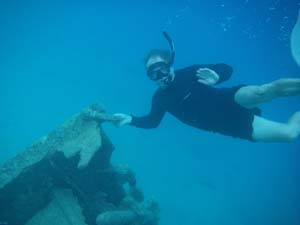 Ron inspecting yet another piece of awesome junk at Million Dollar Point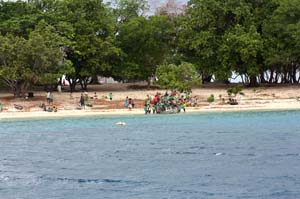 The loading and offloading of canoes and boats on Voa Island beachfront
Just a short distance down the coast the boatmen pointed out three buoys which marked the stern (closest to shore) midships and bow of one of the largest accessible shipwrecks, the President Coolidge. Â While carrying 5,000 troops she'd accidentally hit several US mines and sunk as the captain tried to save the ship by driving her up on the beach. We weren't set up for a scuba dive but asked the boatman if he could tie to one of the buoys. We were able to snorkel over and partially down to the stern which is in 60′ of water and with fairly good visibility we could look forward quite a ways at the huge former luxury liner.
Upon returning to MT we set sail for Malakula, one of Vanuatu's largest islands, 50 by 25 miles in size. What a bash! With winds nearly on the nose and gusting to the high 20's we chose to motorsail, tacking into the steep, short, tidal-current enhanced seas. They flattened out for the last bit and we had a nice sail, finally, before anchoring in the lee of tiny Vao Island, near Malakula's NE tip.
Amanda dove in the water to help us find an anchoring spot free of coral while we witnessed a continual parade of canoes going back and forth across the strait carrying school children (the elementary school is on the island with the secondary school on the mainland) plus many of the Vao residents returning from their gardens.
The locals also spied us and it was not long before we were surrounded by dugout canoes. One of the teachers came out with a very shy wood carver friend, from whom Ron bought a very primitive wooden mask from. Joe, the teacher, explained that the 1 square mile island was very densely-populated at least 1,300 people live in seven villages and equally that many living across the quarter mile strait on Malakula.
All night long we heard slit drums and traditional string band music from the mainland. It was so loud that even with the hatches and ports we could hear it. At 2am none of us were sleeping well so Amanda suggested we should put to sea. With full moonlight we raised anchor and headed SE, straight into the prevailing wind direction, hoping to knock off most of the 36 miles to Banam Bay before the trades picked up. We picked up a knot or more current as we slugged SE, anchoring in Banam Bay by 1000.
| | |
| --- | --- |
| Ron with the artist of his new mask | As we were anchoring I was shocked to see a little, very thin, gecko clinging to the deck genoa car control line. Where he came from and how did he ever managed to hang on through the seas cascading down the deck? We put him in a container and carefully placed him ashore on a log under a leaf. He was gone when we checked back so hopefully he was scurrying about catching dinner! |
Banam Bay has been a favorite of ours and of many cruisers over the years, due mainly to the efforts of custom Chief Saitol and his son John Eady. As the 50 or so "new" villagers had long since forgotten their traditional "custom" dances, Chief Saitol enlisted the help of two elders of another village. They taught the villagers the dances from the very recent days of cannibalism and showed them how to make the elaborate masks. As there is no tourism by land here yachties were the only possible market for the dances and as word got out the yachties came! During our last visit Chief Saitol and his son requested we get on the radio and announce that if six yachts anchored in the bay they would "makem big custom dance and feast!" We did and the yachts came. The dancing was incredible, like something just out of the pages of National Geographic. The women and children danced after the men in a separate compound and all of the yachties sat on the ground to sample laplap; the huge, pizza-like concoction of bananas, manioc, taro, yams, coconut milk and plantains roasted on hot rocks.
When ashore we asked after Chief Saitol or John Eady but sadly learned that the chief was very old and at times confused and that John Eady had left his wife and children and moved to Port Vila. The village was "taking a vacation" from dancing and that there was a new chief. The new chief turned out to be Sam, the husband of Jean, Amanda's ni-Vanuatu "sista" or best friend from previous visits. We'd been also in search of Jean and happened upon her in the next village where she was visiting Chief Saitol's daughter. The chiefs daughter had recognized Amanda as "she who dances" and eagerly connected her with Jean.
| | |
| --- | --- |
| The following day we hiked an hour along the coastal road passing several small villages to Alua village where the primary school was. | Sam donated school supplies he had purchased earlier and we passed on school supplies from Angela Anderson and toothbrushes from Sue Grimm both given to us form earlier expedition members. One of the teachers quickly nabbed Ron and had him give a talk about where he came from. |
| Amanda was all too quick to start a small riot in a classroom by teaching 100 or more kids how to dance the Hukilau (Hawaii) and Haka (NZ) war dance. | Saying farewell to the school children |
That evening we enjoyed kava with Chief Sam and the village elders followed by laplap that Jean and her daughter Rachel had made along with catching up on the latest news of the village. Copra fetches $20 per 120lb sack taking two sacks of fresh coconut meat to be roasted down to one. It takes one man a full day to make a sack. The going bride price in now $8,000 cash for wan fine daughter with pigs and cows on the side. This often equates to two years of strenuous back-breaking copra work as there are no vehicles or animals to transport the coconuts.
| | |
| --- | --- |
| Chatting with villages as we go to visit with Chief Sam | Sam downs his 3rd kava |
| Chief Sam, Jean, her dad and two of her four sons | Amanda chats with Jean as she slices up the families laplap |
On Friday we had another pre-dawn departure for the 30 mile windward passage to Lamen Bay on smaller Epi Island. What a treat to find two other boats in the bay, both boats we had seen earlier in Fiji. Lamen Bay village is lucky to have an well-protected anchorage from all but westerlies, a sandy bottom mostly free of coral, and a very famous and friendly group of dugongs; a relative of the manatee. We barely had the anchor down when one of the dugongs surfaced only a few feet from Mahina Tiare to check us out. Amanda was in the water in seconds swimming about with the fat fella for more than a half hour. She watched in fascination as the dugong snuffled about the bottom feeding on the short eel grass with the numerous turtles.
​

The locals told us the dugongs like to have their bellies scratched by snorkelers! Â Yeah Right!

School building mural of the scene at Lamen Bay
Ashore we found the small Paradise Sunset Bungalows and as Amanda helped Enneth pluck the chicken that was soon to be dinner. Ron surprised us by asking if he could make reservations for dinner. Totally local would be the best description for this charming rustic resort. The other diners were a kiwi couple, the crew of the Austrian catamaran next to us and Austrian snorkelers we'd invited aboard for a cuppa to warm up with as they were chilled from hours of watching the dugong and turtles. Dinner was… interesting (the chicken must have been really scrawny!), but the conversations were great and it was a pleasure to see locals being successful with small scale tourism.
Saturday we checked out the village market, held on the grass in the middle of the village, and in the afternoon had a glorious nine mile sail down the coast to Revolieu Bay which would then us a straight shot at our final 90 mile passage to Port Vila; the capital of Vanuatu located on Efate Island.
| | |
| --- | --- |
| A handsome youth paddled out a fair way to visit and we all got a surprise when a small curly head popped up from under his seat. It was his sister, whom he said was 8 years old. Let's hope big brother takes care of her for we doubted she could be eight or could even swim. Not to worry for they then paddled off beyond the reef. | Aerial view of Port Vila. The red X marks the yacht mooring area. |
With moderate ENE then E winds we had an excellent and smooth moonlit sail, slowly catching up with a couple yachts also making the passage. It was strange to look around and see the lights of other yachts. Sam did an excellent job of navigating and a first light we were close to Efate. By 0715 we had sails tidied up before picking up a mooring on the bow to then moor stern-to near the hopping Waterfront Restaurant. The treat of shore side life followed with easy boat wash down, laundry, full water tanks and batteries that welcomed a full charge, and an easy step ashore off MT's stern for Sam and Ron's fixes of pastries, cappuccinos and Tuskers beer.
We all enjoyed a final dinner at a quaint waterside French restaurant only steps from the boat and after I cleared in with customs and immigration Monday morning, Sam and Ron were off to the museum and then their hotel. Amanda and I picked up a harbour mooring, away from the bustling town, and have been busy varnishing with high expectations to smartly complete our work so we can experience some adventures.