GLIDING ALONG UNDER A STAR-FILLED SKY
September 29, 2019, 2115 hrs, 19.45 S, 167.03 E, Log: 226,786 miles
Baro: 1017.9, Cabin Temp: 75 F, Cockpit: 75F, Sea Water: 75.9 F
Close reaching at 5 kts in 7 kt ESE winds with flat seas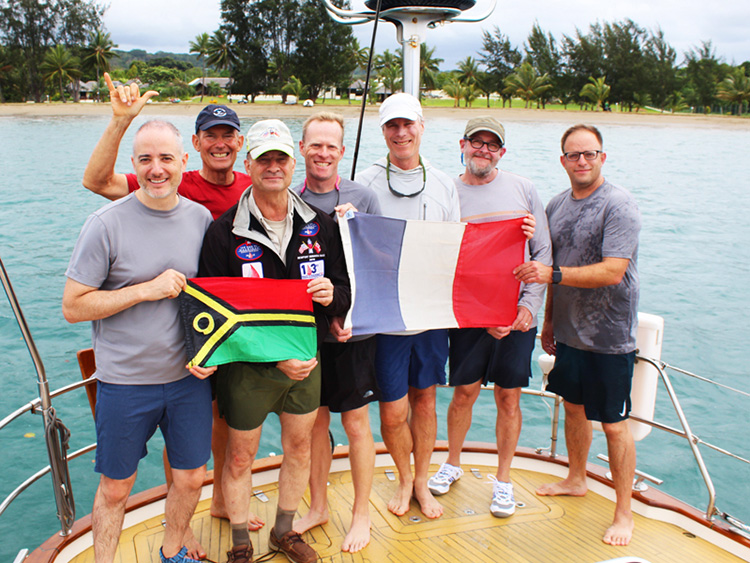 It's all about the sailing with these lads….Gottlieb, RJ, Mike, Paul, Rodney and Rob
Tonight seems the opposite of last night, when five of our six Leg 6 expedition members were noisily dry heaving with seasickness, brought on by 22kt, gusting 28 kt ESE winds and very rough, cross seas but…more on that later.
Between Legs 4 & 5 Amanda and I appreciated having MT on a protected (from blustery winds and seas) mooring at Aore Island Resort. We delighted in long morning runs, meeting locals and ex-pats, and a highlight was traveling to Freshwater Plantation for an incredible nouveau local lunch and a tour of their scary micro bat caves. For easy we moved MT across the channel to anchor off the Beachfront Resort the yachty-friendly small hotel on the site of the WWII US Navy's dry dock and repair facilities.
From Beachfront Resort it's a short taxi ride the town of Luganville which is certainly more vibrant than during our previous visits. Local produce abounds at the market and Laplap is the local version of fast food.

Crossing the swing bridge to the inner bat cave


It pays to wash all local fruit & veg.


Laplap anyone?
We'd started Leg 5 on Friday, setting sail from at noon from our anchorage off The Beachfront Resort. We experienced excellent downwind sailing as we sailed out past Aore and Malo islands for the 27-mile crossing to Malua. We found two yachts, a French family and a Kiwi couple anchored in this, the first protected bay on the leeward west coast of Malakula as we dropped the anchor on dusk.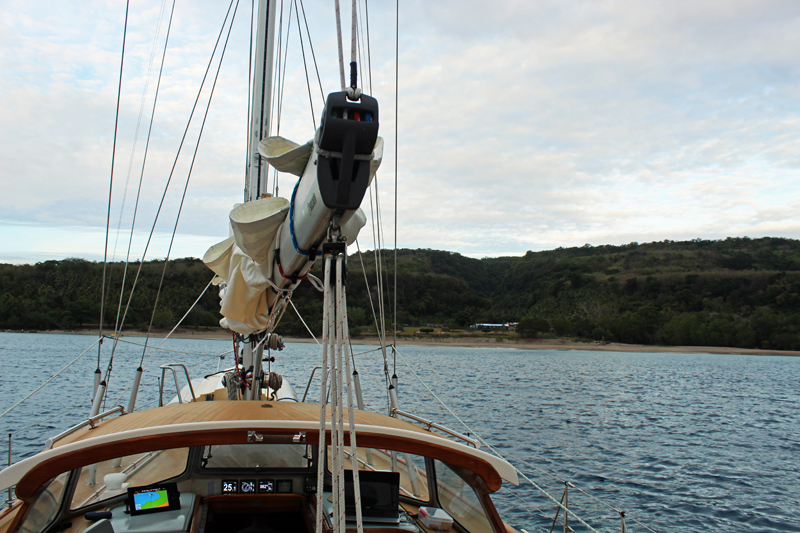 Evening anchorage at Malua
Everyone dove in to check out the bay and we found incredibly clear water with featureless gently sloping black sand bottom. Our crew had flown into Santo from as far away as Taiwan, Manila, Denver and Seattle, with several going for dives on the wreck of the SS President Coolidge and tours of the amazing WWII sites, so everyone crashed right after dinner sleeping deeply through the night.
For our three-day passage to New Caledonia we had an exceptional forecast of E and ESE winds of mostly less than 20 kts before the prevailing and soon-arriving conditions of stronger SE and SSE winds were predicted. Our plan was to get underway soon after breakfast, a final wrap-up of our safety orientation and a visit by Peter, the nearby village chief's son.
Peter had paddled out in a badly-leaking dugout canoe as we arrived on Friday night, promising he'd return the following morning with green bananas. True to his word he brought several hands of very green bananas. While he was standing on MT's swim step telling us about his village, Amanda took his ancient-looking dugout outrigger for a spin, alternating between paddling, laughing and bailing it out with half a coconut shell.
| | |
| --- | --- |
| Peter (on the transom) chatting with our crew | This is harder than it looks |
Initially we sailed south along Malakula's leeward coast with sometimes strongish gusts, but as we neared the southern tip of the island, the winds and seas increased as we kept rolling up more and more genoa and kept reefing the main until 0200 this morning when we ended up with three reefs in the main. Late yesterday afternoon before the seas got very rough, our new Rapala lure snagged a very tasty dogfish tuna.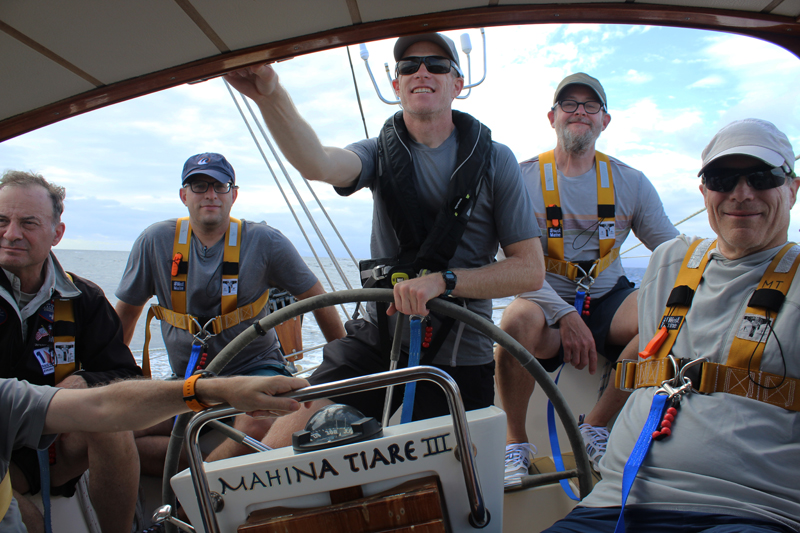 Yes! This sailing stuff is rather fun
Surprisingly, all but one of our crew succumbed to seasickness in the confused seas downwind of the channel between Malakula and Epi islands, even though we were 60 miles offshore. Our guys tried everything from Stugeron tablets to Compazine suppositories, but in the end, it was Transderm Scopalamine patches and diminishing sea conditions in the early morning that did the trick for them. Wind and sea conditions then became perfect, and this morning we completed our orientation with a survey of our two abandon ship containers.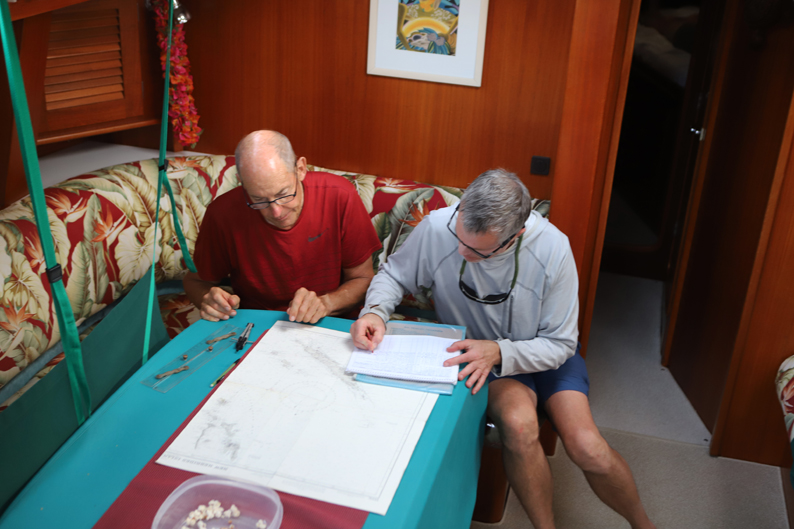 John and Paul working on navigation and the popcorn bowl
I asked MetBob.com for a super quick weather forecast for the passage to New Caledonia, and here it is: "Nice ESE until Monday, then squally conditions Monday night, followed by SE 10 kts Tuesday to Friday and likely to be squally again from Sat 5 Oct until Thurs 10 Oct."
As it looks now, we'll be passing Lifou in the Loyalty Islands soon after dawn tomorrow morning, then will be making landfall at the tricky Havannah Passage Monday night in squally conditions.
PredictWind.com agreed, and as expected our winds have become increasingly lighter, now averaging 8 kts. Mahina Tiare manages 5-6 knots in these conditions, thanks to a super clean bottom and very conscientious helming. Eventually we know the wind will go swing around to light headwinds, but we're enjoying the smooth conditions, sailing under a star-filled sky.
WHAT AN ADVENTURE!
October 7, 2019, 0815 hrs, 22.10 S, 166.19 E, Log: 227,966 miles
Baro: 1014.1, Cabin Temp: 74 F, Cockpit: 75F, Sea Water: 75.0 F
At anchor, 11 miles W of Noumea at Baie Papaye
Monday morning, we made landfall off Lifou in the Loyalty Islands at first light, and then reveled in excellent sailing conditions all day allowing Amanda to teach Rig Check and Spares, Provisioning and me to teach Marine Weather I. We had hoped to make it to the always challenging Havannah Pass entrance before dark, but as sailing were ideal and the scenery inspiring, we held off motorsailing as long as possible.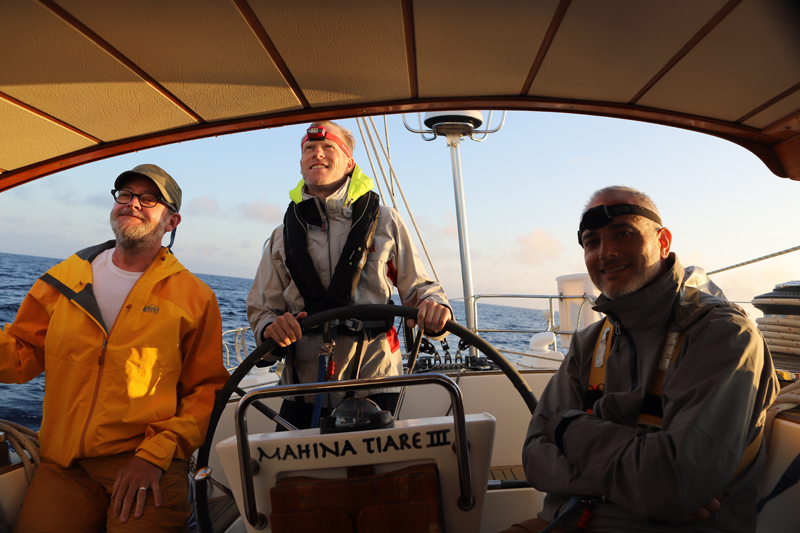 Rodney, Mike and Gottlieb enjoying the dawn watch
It was 2200 when we lined up on the excellent range lights for the pass entrance and for the first time in many visits, it wasn't a maelstrom, in fact, seas were flat and winds were below 5 kts! With RJ doing a diligent job of navigating, we threaded our way 13 miles through the twisting channels in the dark, always with at least one bow lookout and two cockpit lookouts, passing only two vessels, to anchor at Anse de Pilote, the old pilot boat anchorage on Ile Ouen. Sensibly, NewCal customs allows anchoring in the channels while waiting for daylight, as long as one is flying the Q flag.
It was 0100 by the time we anchored, and the smells of dry land and the sounds of birds and the calmness of the anchorage were overwhelming. We celebrated with dark chocolate and tea before having one of the soundest sleep in days.
Dawn occurs well before 0500 in NewCal, and everyone dove in for a dawn swim and shower before we got underway for Port du Sud marina in Noumea. I'd been emailing marina manager Marc for a week, and amazingly, he had one spot open on the outer visitor float. Moorage is always incredibly tight in Noumea, so we'd hoped to tie alongside vs. anchoring out, at least for clearing customs.
I was in the marina office minutes after Marc opened, and he said, "If you don't mind taking a taxi, I think you'll be able to complete everything by 1pm today!" I quickly completed customs forms which Marc faxed off with copies of our passport, then hopped in the taxi, arriving in time to complete immigration clearance before 11:30 am when they close for the day. Fortunately, I'd read in www.noonsite.com that Noumea now requires proof of travel and repatriation insurance for all arriving sailors, and having copies of each of our crews policies, outbound air tickets and passports speeded up the process.
Never one to waste a minute, Amanda taught sail design and trim to our keen crew before setting to make an early lunch with items that bio-security might take. They were our final official hurdle and the friendly bio-security officer appeared exactly on schedule at 1330, taking away popcorn plus our remaining fruit and veg.
Everyone then went hiking over the hill to explore Noumea town with the goal to meet at 1800 in the Latin Quarter for dinner. Only problem was, La Chaumerie, our favorite restaurant (and all restaurants) don't open until 1930, so Amanda led us on a walking tour that included , the best supermarket called Johnston, the colorfully lit Place des Cocotiers and on back to the Latin Quarter. We also spent considerable time at the back of town looking for an outrageously good Moroccan restaurant we'd once eaten at with past crew only to discover it was no longer there.
It was 1900 by the time we reached La Chaumerie, and the always-gracious Kanak women staff seated us and brought us drinks, even though we were half an hour early. La Chaumerie has a set menu and limited choices but it serves delightful French food with a Kanak twist.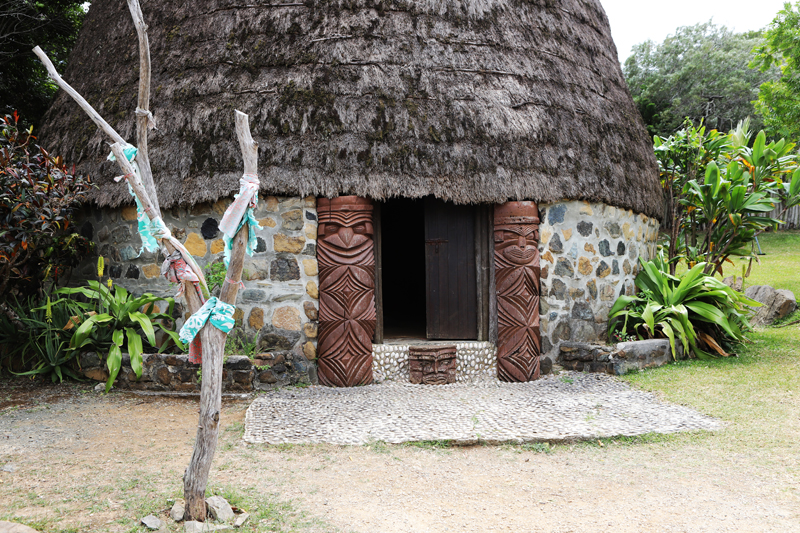 Traditional Kanak house – Tjibaou Cultural Centre
Wednesday morning while some crew showered and did laundry and others visited the iconic Tjibaou Cultural Centre. Meanwhile Amanda and I stocked up at a nearby Carrefour supermarket before we set sail for Baie Papaye. With following winds gusting to 25, we sailed under genoa only and upon arrival we realized the tide was too low for an easy dinghy landing so Amanda taught Sail Repair, followed by my teaching Anchoring Worldwide.
Our Leg 6 crew are from fascinating and varied backgrounds, one having been a high ranking army officer on loan to the White House as a policy advisor, another is a State Department diplomat with worldwide experience, another has lived in Bhutan training doctors, another has volunteered in Nepal, setting up communications systems. Many or all have hiked to Machu Pichu and explored Patagonia, one grew up in Switzerland and so on. Sure makes for interesting after dinner discussions!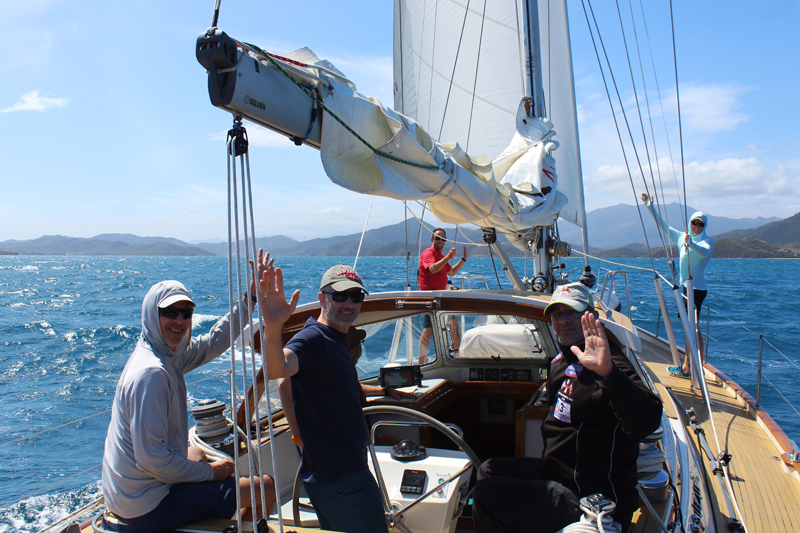 Here's "The Intrepid Six" – Paul, Gottlieb (Rodney is behind at the MFD), Rob, RJ and Mike.
Paul, 58
This is my first offshore sailing adventure. I'm an emergency medicine physician with years of wilderness experience. I arrived with a sense of trepidation and rapidly became debilitated by seasickness. Amanda and John got me through it with compassion, humor and experience helping me see the immense beauty of the ocean.
Gottlieb, 43
Diplomat, husband and father, originally from Switzerland whose work and love of the outdoors take him around the world. Currently stationed in the Philippines, he and his wife began their love of sailing with an anniversary date, later buying a HR 24 Misil which they sailed in the Baltic while working in Finland. Our family has since sailed in the Virgin Island and Greece.
Rodney, 52
I grew up in a small town in Texas, attending Texas A & M, after I built robotics for semiconductor fabrication. I always had the desire to cook so I quit tech to go to culinary school in NYC where I met my wife. We then moved to Portland, OR where we now have two BBQ restaurants, a brew pub and a 5 yr old boy. We spend as much of the summer as work allows on our Caliber 40 LRC in the San Juan Islands and hope to sail to Mexico and possibly beyond someday.
Rob, 43
I've been sailing San Francisco Bay with my wife and two kids (5 & 6) for several years now and we're dreaming of taking a year off to sail the Med and Pacific. In 2015 we bought a Beneteau 41 to enable us to sail and explore the California coast more. Next year we'll enroll our oldest in sailing classes on Treasure Island and hopefully over the next few years we'll build up enough confidence to sail the open blue!
RJ, 64
I'm a SVP for an information management company, based in the Washington DC area, retired Army lieutenant colonel and a graduate and professor at West Point. I've been married to my wife Miki for over 41 years and we have three grown children and one grandson. I've been sailing for over 20 years and have enjoyed completing the Newport-Bermuda race plus 7 Chicago-Mac races and have done several offshore deliveries
Mike, 42
Having married a circumnavigator, I was only recently introduced to cruising and have worked quickly to gain experience. I began in earnest in 2013 with the purchase of our first real boat, a Jeanneau 37. Now with the help of my wife, Pete McGonagle and John & Amanda, we're gearing up to take our two sets of young twins across the South Pacific. And, having just bought an Outremer 49 from Dr Spann, we're keeping it in the Mahina family as Dr. Spann himself is an expedition and consultation alumnus. Mike is a former physicist and he and his family currently divide time between Orcas Island and Seattle.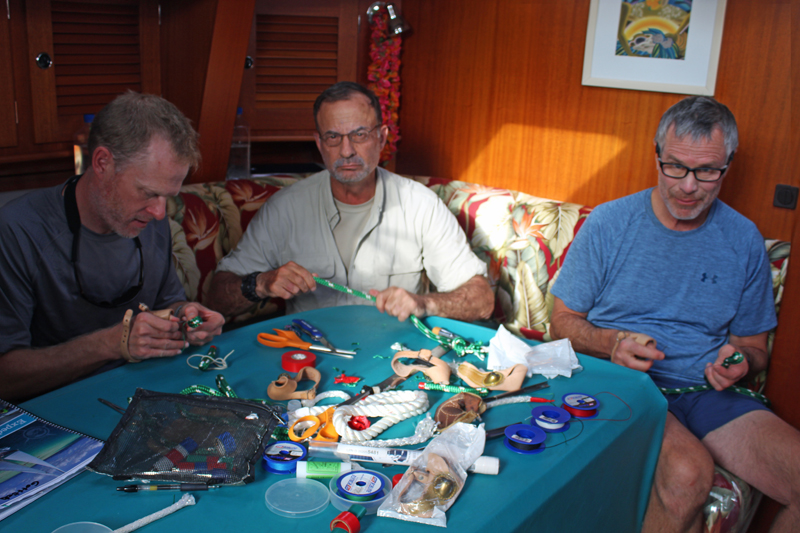 Whipping class
Unfortunately, on passage the locker in which we keep our dinghy gas tank had flooded so before going ashore we had to triple filter the dinghy fuel using Mr. Funnel Filter but Leg 6 crew will go down as one of our keenest and most helpful crew. Daily duties are completed quietly and efficiently and whenever we ask for the Galley Helper to chop vegies or fruit, inevitably a second volunteer jumps in to help.
Our mid-morning hike was superb. We landed on the beach and headed up the ridge which overlooks the bay and very active cattle ranch. On our way down, we crossed paths with a Kanak farm hand riding a shiny tractor. Along the western coast, in the lee of NewCal's central mountain ridge, wide dry scrubby plains occur and the farm hand had been clearing fire breaks along the fence lines with the tractor mower and a weed wacker. We were unsure if we'd be reprimanded for hiking on private land, but he stopped and chatted with us, happily showing us his young companion puppy then suggested we hike the taller ridge in the middle of the bay that he'd been working on.
We had a dawn 0500 departure, hoping to avoid having to buck the normally heavy seas to return to Noumea, and it worked! We motorsailed into modest seas until in the lee of Ilot Maitre which proved an excellent location for having each EM demonstrate our modified Quick Stop Lifesling rescue maneuver.
NewCal's famed ranching land
We picked up a free park mooring buoy, had breakfast, then Amanda taught Going Aloft for Rig Inspection before we headed ashore to hike around the small resort island, view the impressive skills of the kite surfing instructors and then brave the slightly chilly waters for a scenic coral snorkel back.
| | |
| --- | --- |
| Rob in MOB command at central control station | |
| Gottlieb's masthead view of Ilot Maitre and Noumea beyond | Setting off for a charming beach walk around Ilot Maitre |
Marina du Sud, three miles away in the next bay south from downtown Noumea, was totally packed, but Marc allowed us to tie to the unused fuel dock. Amanda taught splicing and whipping then we all met back aboard at 1700 for a 45-minute hike along the tourist beaches to L'Edzen restaurant which Gottlieb had found online. What an incredible dinner we had, with lots of interesting local ingredients.
Before we knew it, it was noon Saturday, MT was spotless (thanks guys!) and our keen intrepid Leg 6 crew were off on more adventures. Amanda and I went and enjoyed a visit to the New Caledonia Maritime Museum which had recently re-opened and was celebrating their 20th anniversary. For the occasion Le Vendemiaire, a French frigate based in Noumea, was open for tours. We were surprised to learn the warship annually goes to Auckland for dry docking and at 27 years old she'll continue its work of territorial fisheries patrol and port visits to neighboring Pacific countries until retirement in ten years.
---