Leg 6

WE LOVE MOROCCO (and Cartagena and Gibraltar)!
September 7, 2017, 2030 hrs, 29.37 N, 012.56 W, Log: 204,876 miles
Baro: 1015.8, Cabin Temp: 77 F, Cockpit: 79 F, Sea Water: 72.1 F
Broad reaching at 7.5 kts in 17-22 kt NE winds with only 50 miles to Marina Lanzarote, Arricife
As soon as our Leg 6 crew came aboard we departed La Lonja Marina Charter for lunch at anchor on the waterfront in front to the huge 1250 AD Palma Cathedral.
It was then practiced Lifesling Overboard Rescue as we sailed to our evening anchorage, five miles to the west. Although it was Friday night we found a secure place to anchor at Las Illeas and the morning several of us went running along the waterfront.
After completing orientation, we set sail for tiny Isla Tagomago, 60 miles away and off the E coast of Ibiza where an evening snorkeling and a colorful sunset dinner rounded off a perfect day.
| | |
| --- | --- |
| Ready to depart our Isla anchorage | Marty tackles a few packing washers in the vang to solve our phantom clunking |
After completing Marine Weather I class the following morning, we set off on the 165-mile passage to Cartagena, which had been by far our favorite stop between Gibraltar and the Balearic Islands on our last leg. Perhaps it's the absence of tourists and party goers, or maybe it's just the location and super helpful marina staff but Amanda and I really wanted to show our new crew this beautiful city.
Even though rain threatened our crew were eager to explore and after visiting the outdoor Roman amphitheater they hiked all over the old town center. In the cool evening Amanda and I again enjoyed wandering though the pedestrian-only marbled boulevards; watching families and friends out socializing.
Morocco has held a fascination for many years with us, fueled by the pictures and stories from previous expedition member Jack Hoopes along with Vickie Vance and Roland Olsson aboard Bella Luna. Both recommended Port Marina Smir, just 30 mi. south of Gibraltar. When planning our 2017 expedition two years ago, getting to check out Morocco and Spain's Balearic Islands were two of the reasons for leaving the South Pacific.
The 165-mile passage from Ibiza to Morocco had some of the most intense and fast ship traffic we've ever seen. Upon landfall, we spotted Marina Smir's breakwater several miles off and after calling them on the VHF radio, we entered the channel and after making a 90 degree turn just inside the breakwater, we ended up at the fuel dock where an attendant motioned us to tie up. We were surprised at how few boats were in the large marina. Checking in was painless – first the marina office, then police/immigration who have a tiny office open 24 hrs per day within the marina building. The police/immigration officer knew I'd earlier emailed the marina office about hiring a minivan and driver to drive our crew up the mountain blue city of Chefchaouen and while I filled out passport entry cards he rang a friend of his whom I spoke with on the phone briefly.
By the time I'd completed clearance, our guide Rachid showed up, came aboard, learned exactly what we wanted to see. After we'd fueled two taxi vans with Rachid to take us to Tetouan, a large (330,000) city with a vibrant medina, or ancient walled inner city. For four hours Rachid guided us through the medina, stopping to point out various sites with a special focus on old doors. We viewed shops selling a wide assortment of items, purchased fresh fruit and nuts at very reasonable prices and never once did we see any non-locals or tourists.
Rachid took us into a carpet shop owned by friends where after fresh mint tea and a flamboyant display of many carpets Lisa and Tommy fell under their spell and purchased two.

Peixi and Amanda were cast a different spell and tried to go for a magic carpet ride while…


Matthais and Marty decide to fashion djellaba's; the traditional dress for men and women
Rachid told us that Tetouan and Chefchaouen were places where Muslims, Jews and Catholics had peacefully lived, worked and intermarried since 1494 when the Spanish in Granada had expelled both Muslims and Jews. It was the last shopping day before Eid, an important Muslim holiday, and many people were purchasing and were leading home sheep and goats to sacrifice the following morning.

Cats seem to rule to medina


Restaurant Palace Bouhal: A possible place for dinner tomorrow night


Akmed was very reluctant to come aboard as he was afraid of the water
We arrived back aboard MT elated but overwhelmed and exhausted and then Akmed, the camel arrived. Mohamed, the camel owner who asked if any of our crew wanted a camel ride, but we were very content with just bringing the camel aboard.
At 9am the following morning Rachid picked us up in a nine-passenger van in which we all just fit and we headed up the mountains for Chefchaouen. But even before we were out of the marina car park, we came on an assembly line of goats being sacrificed, hung up, inflated, de-skinned, gutted and parceled out – all in the marina car park!
The roads were nearly empty as we climbed up the Rif Mountains to Chefchaouen. Upon arrival Rachid parked just inside the medina and led us to the sign less Casa Hassan guest house. He had made reservations for us and introduced us to the owner.
The guest house was newly renovated and comprised of four towers with rooms surrounding the open courtyard on the ground floor. We saw only a couple other guests and after getting checked in, headed to Aladdin's Restaurant, also owned by a friend of Rachid's, for an excellent Moroccan lunch on the canopied roof-top terrace, with spectacular views in all directions.

Following lunch Rachid led us on a brisk walking tour of the wonderful narrow blue painted streets of the medina.


"Excuse me, look, look, blue door!" was an extremely extreme phase from Rachid
Several of us were exhausted and enjoyed siestas at the hotel, but Amanda headed back to one of the few shops open during the holiday. She had previously spotted some Moroccan jewelry and met an interesting guy named Fatah who is studying Sociology. After chatting for nearly an hour Fatah mentioned that he also offered to guide walks into the mountains. When Amanda returned to the hotel I suggested we make arrangements to meet him the following morning.
For sunset, we all headed up the mountain a short distance to the Spanish Mosque, built in 1920 during the Spanish occupation, but never used and perched on the mountainside overlooking the town. Here dozens of locals and tourists gathered nightly to visit while watching the sunset. Amanda spoke with Australian mother and daughter who had been traveling around the country for three weeks, organizing their own travel and enjoying seeing the Sahara and many different parts of the country. Their travels intrigued us.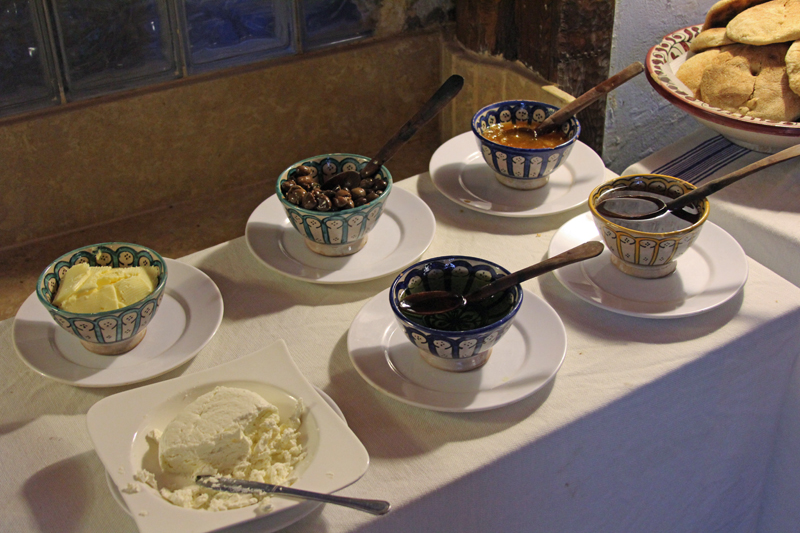 Butter, olives, peach jam, honey, olive oil and goats cheese accompany Moroccan breakfast pancakes
That evening we had an excellent dinner in Casa Hassan's restaurant, located across the street from the guest house. The interior, like the hotel was eccentric and very artistic, the kitchen had a glass wall and looked surprisingly modern and spotlessly clean and we were given our own little alcove. The food, service and prices were excellent.
We were all awoken by the 5 am call to prayer and I enjoyed yoga on a semi-private rooftop courtyard before wandering around the deserted streets. Breakfast was included and we all ate together in a lovely quiet and tranquil outdoor courtyard.
Upon meeting up with Fatah and his friend Assan they took us to the water source where artesian springs pumped an impressive amount of water out, some of which was piped for the town water supply, Some was sold as bottled water and some of which was funneled into two roofed public clothes washing buildings.
For yet another amazing panoramic vista we hiked up the back of the valley all the time asking questions about life in Morocco and their university courses.
Our tour ended at Fatah's mother's house where Amanda, Lisa and Peixi were invited upstairs to meet the women of Fatah's family and Islam, his 3-month-old nephew. Fatah was interrupter as his sister-in law Hajar hennaed Lisa and Amanda's hand while his mother served Moroccan mint tea, lamb kebabs and layered cream cake. Fatah family is Berber and Amanda, Lisa and Peixi really enjoyed their quiet time with the women and were surprised how friendly, relaxed and outgoing everyone was.
All to soon it was time to meet Rachid and head down the mountain to Marina Smir. As we approached the marina, we noticed multiple policemen and soldiers on every corner. Rachid explained that the king had just arrived at his summer palace, adjacent to the marina. There was a very impressive giant black power boat anchored offshore and Rachid said the king loved jet skis and fast cars!
We thoroughly washed down Mahina Tiare, did laundry in buckets and I cleared out with the marina and immigration so we'd be able to set sail for Gibraltar at first light. Amanda and I look forward to returning to Morocco at a later time and spending more time ashore exploring. We were impressed with how polite, kind and helpful everyone we met was and the country's rich history.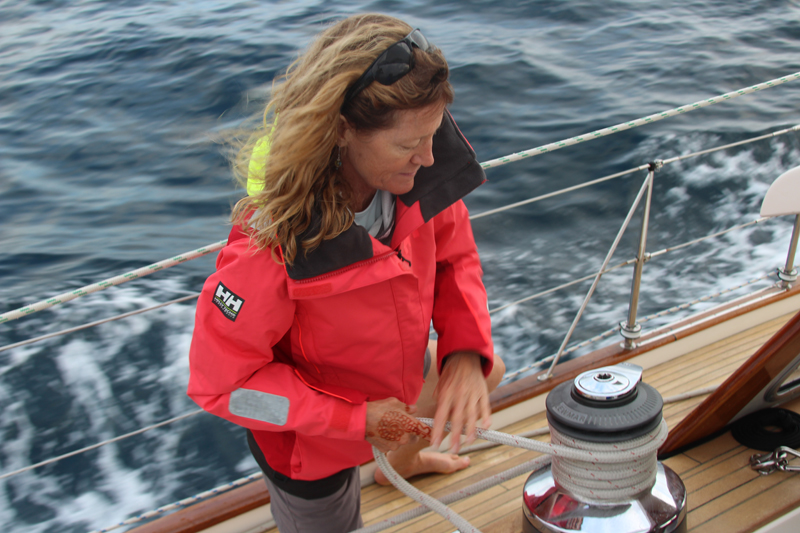 Eager to learn the nuances of sail trim, Lisa is keen to trim
The 30-mile crossing to Gibraltar was a fast beam reach with a volume of high-speed ferry and commercial traffic that had us tracking and avoiding up to six vessels simultaneously. What a great learning experience!
I'd earlier heard back that Ocean Village Marina, where we'd docked several weeks earlier, had no slips available, so the day before I'd emailed Queen's Quay Marina asking if they had space for us.
Another option would have been sailing a mile further north, on the other side of the airport that marks the boundary between Gibraltar and Spain to La Linea, the newish Spanish marina where Peixi had sailed many times, working toward her RYA Yachtmaster training and had several friends.
As our goal was mooring MT close to the mountain, whose summit our crew were keen to hike up to, and to the amazingly well-stocked Morrison's supermarket, we were pleased when, just as we entered the harbor, we got an email from Queen's Quay Marina saying they had room for us for one night only.
Once we'd gotten MT secured stern-to with the help of twin mooring lines, we had lunch aboard and our keen crew took off, hiking the 1,300 ft up the Mediterranean Steps to the top of the rock and then down the mountain, across the airport border (between flight landing and taking off) and over to the Spanish side to check out Peixi's favorite tapas restaurants. Meanwhile we headed to Morrison's for our final shop of amazing fresh fruit and veg.
After showers, most of our crew returned to the Spanish side (45-minute walk) for more tapas. Amanda and I enjoyed a late night hike around town, checking out several new areas. The architecture was interesting, with no signs of graffiti or rubbish and the town was festooned with banners celebrating the 50th anniversary of the referendum when Gibraltarians voted to remain British.
Interestingly, customs, port and immigration clearance are obtained electronically by the marinas, making the inward and outbound clearance process quick and easy. We left at first light Monday morning, dodging the intense traffic, motorsailing into fresh headwinds until we'd crossed the channel and were heading down the Moroccan coast. By early afternoon the winds clocked allowing us to unroll the genoa and head SW on a fast reach. The traffic was heavy and we sailed just inside along the coast with the destination of Lanzarote, Canary Islands, 600 miles away.
We've had brilliant downwind sailing and only last night did the winds peak at 30, gusting 34 kts with rambunctious seas. Even triple-reefed with only a sliver of genoa sheeted flat for stability our competitive crew hit low 10's always trying to out-do the previous watch. Currently Matthias holds the surfing record having hit an impressive 10.3 knots!
| | |
| --- | --- |
| | A happy Lisa and Tommy, 31 years after tying "the knot" in their log cabin in Sun Valley, Idaho |
Highlights were a full night moon that illuminated the towering seas, sunny warm skies during the day and helping Lisa and Tommy celebrate their 31st anniversary twice.
September 11, 2017, 180 hrs, 28.57 N, 012.56 W, Log: 204,876 miles
Baro: 1015.8, Cabin Temp: 77 F, Cockpit: 79 F, Sea Water: 72.1 F
Broad reaching at 7.5 kts in 17-22 kt NE winds with only 50 miles to Marina Lanzarote, Arricife
WHAT AMAZING ADVENTURES!
Our near-surfing brilliant wind conditions held the entire way to Arricife harbor entrance with Dan calculating that we averaged more than 165 miles per day for three straight days. We kept our speed up, hoping to reach the harbor entrance before dark which we nearly did. We could just make out the newly-extended outer breakwater and thanks to C-Map and Navionics updated electronic charts we very carefully and slowly motored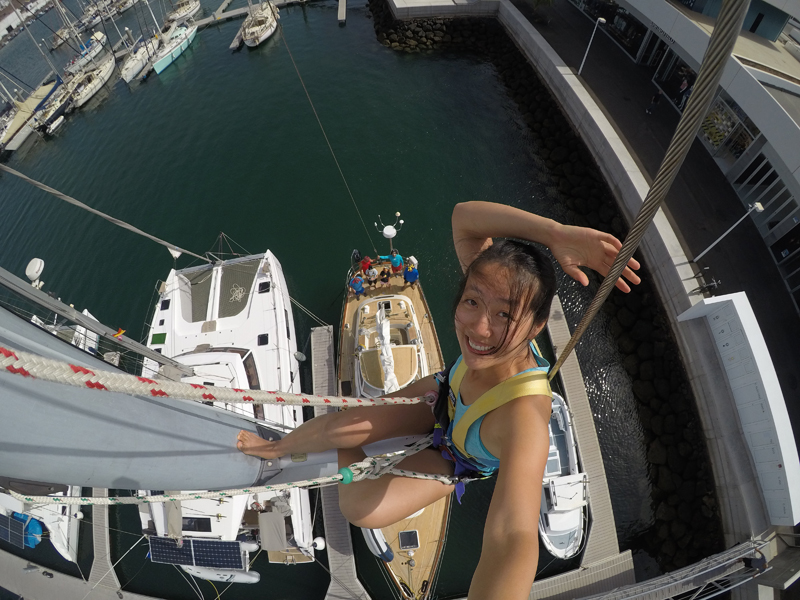 Peixi receiving her 28th birthday serenade during rig check class
down the well-marked fairway to the three-year old Marina Lanzarote. The very efficient marina office had a slip reserved and a marinero waiting to take our lines. What a surprise to be moored right in front of a fancy marina shopping center – directly in front of Sunglass Hut! It only took our crew minutes to find a superb gelato shop owned and run by a Spanish sailor who makes his fruit-infused gelato on site!
Since we were two days ahead of schedule, we had a birthday celebration for Peixi, who sadly had to leave Friday for a new job in Kazakhstan at the most amazing waterfront tapas restaurant in nearby Arricife before setting sail west to Playa Quemada, a semi-isolated fishing village where the goats and sheep vastly outnumbered the humans. We found clear cool (74F) water, a good anchorage, but persistent and irregular swell wrapping around the island.
Amanda and I (mostly Amanda) worked hard at scrubbing the failed International Ultra antifouling paint off MT's hull, readying to haulout and repaint Tuesday morning, just after the expedition ends.
Sunday we moved to Puerto Calero where we topped up fuel, filling all of our jerry jugs for the first time in years for our November Atlantic crossing and were delighted to discover moorage was free since we had pre-paid more than one month at Marina Lanzarote, owned by the same company.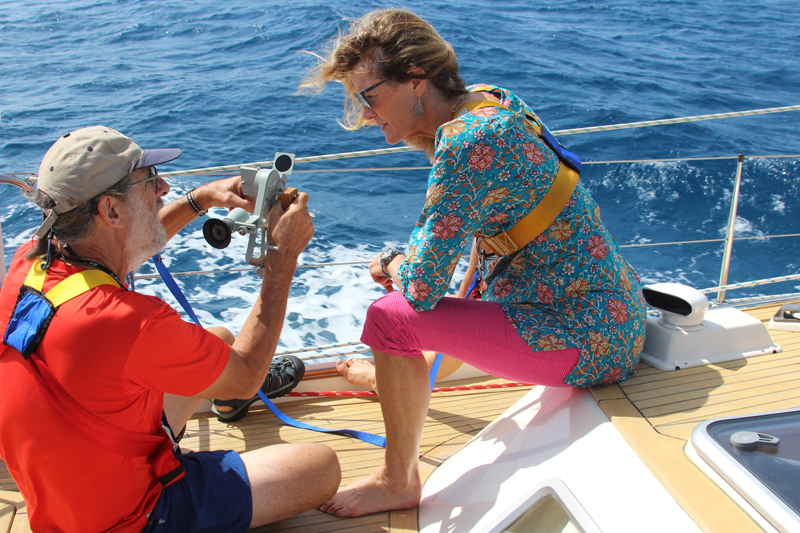 Dan demystifying the sextant for Lisa.
Changing oil and transmission oil was one of our several Sunday classes, along with Cruising Medicine, Clearing Customs Worldwide and Leaving Your Boat in a Foreign Port.
This morning we all enjoyed walking, running or exploring along the clifftop just west of the marina, marveling at the amazingly creative architecture of many of the homes.
After sextant navigation Amanda planned to test our crew with a real-life overboard incident on our sail back to Marina Lanzarote, so "fell" off the swim platform as she was showering, giving Lisa an excellent training opportunity.
Next Lisa decided she also wanted to be rescued, by her husband Tommy, but borrowed line to tie her bikini together after Amanda told her the drag was so strong once in the Lifesling that she might lose her swimsuit bottoms!
And, before we knew it, we were back in the same slip, with crew checking on hotel and flight reservations and Amanda and I checking in with the boatyard. We learned they had been able to source Micron 77 antifouling paint locally and needed to haul us tomorrow instead of Wednesday as previously scheduled, due to Friday being a holiday.
As we fly home Friday evening, these will be busy days between sanding, painting, cleaning and packing up charts and winter clothes to take home to San Juan Island.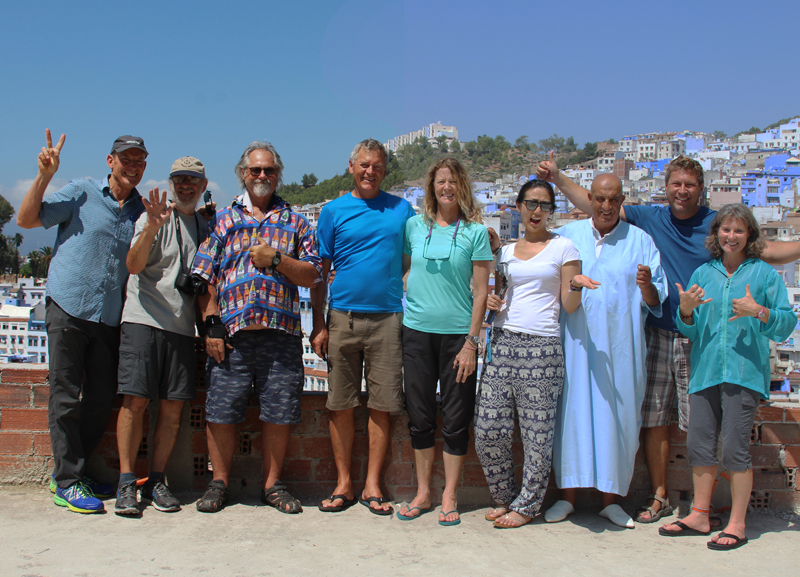 This morning we all enjoyed walking, running or exploring along the clifftop just west of the marina, marveling at the amazingly creative architecture of many of the homes.
Here's our truly extraordinary Leg 6 camel team: Dan, Marty, Tommy, Lisa, Peixi and Mattias
Dan, 64
I recently retired after 25 years in the software business (and 25 years before that as an architect) in Connecticut. My dad taught me to sail at an early age and enjoyed sailing dinghies until 2005 when we bought a 40-year old Pearson to sail on Long Island Sound. More recently we bought a 1983 Southern Cross 35 and have spent most of the last eight years upgrading all of her systems. This expedition has confirmed my love of the cruising life.
Marty, 62
I'm a builder from Colorado and have been sailing off and on for years, but didn't start taking sailing seriously until three years ago. I joined John & Amanda for Leg 3 and sailing on Leg 6 I learned so much more.
Tommy, 59
I work in our family propane business in Nevada and Lisa and I have dreamed of sailing for over 25 years. We are keen water skiers have two ski boats, a Mastercraft and a Ski Nautique plus a Hobie Cat and we love being on the water, but ocean sailing is new to us. I'll be retiring soon and doing this expedition has opened doors for us to be able to safely fulfill our dreams.
Lisa, 60
I am a yoga instructor in landlocked Elko, Nevada. Tommy and I want to discover exotic places in our own boat. We did this excursion to see if we are cracked up for blue water sailing. My experience is very limited: basic sailing course on Utah Lake (there really is such a place!), a BVI charter with friends and sailing our Hobie 16. We will now be buying our own boat to explore our wondrous world!
Peixi, 27
I'm an environmental engineer working in the energy industry. Originally from Tianjin, China, I moved to Montana when I was 16. Since graduation from university, I have been very fortunate to have worked in Texas, British Columbia, offshore Angola (where I was one of the only 10 females among 2000 people), and now Kazakhstan. My rotational work schedule has been flexible enough to allow me to travel the world on my time off. About two years ago, I started learning sailing in Gibraltar as a novice and immediately fell in love with the sailing lifestyle. I have since sailed 4000NM in Gibraltar region, Mediterranean, UK, and Antarctica. Currently I am preparing to obtain my RYA Offshore Yachtmaster with the hope of purchasing my own blue water boat in the next 3-5 years to continue exploring the world. This goal has led me to join Mahina Expeditions to learn more about practical sailing, various aspects of owning and maintaining a boat, and the true lifestyle of cruising around the world. John, Amanda, and Mahina Tiare III couldn't have been a more perfect combo to take me a step closer to realizing my goal.
Matthias, 47
I am a telecom manager for local governments in Silicon Valley, CA. I enjoy sailing on San Francisco and Monterey Bays and love introducing friends to the fun of sailing. I plan to buy a catamaran in three years for living aboard and circumnavigating. I've enjoyed the adventure of learning on an open ocean passage in the company of like-minded new friends.
---
Resources used on Leg 6, Palma de Mallorca to Morocco and Lanzarote, Canary Islands:
Cruising Guides: Imray Costas del Sol and Blanca, Islas Baleares, North Africa, Atlantic Islands (brilliant cruising guides, frequently updated),
Imray charts: M11, M12, M3, C20, E18
Electronic Charts: C-Map running on Rose Point Coastal Explorer
Navionics Silver running on both our lovely new Raymarine MFD's (multi-function displays), one at the chart table, and for the first time, one in the cockpit under the hard dodger
General Sailing Conditions: The passage from Palma de Mallorca to Morocco is subject to frequent changes in weather conditions. From Gibraltar to Canaries NE winds are generally predominant in late summer when many boats are heading to the Canaries in preparation for their Atlantic crossing.
General Anchoring Conditions: Morocco has some anchorages, but officials are very clear in expecting all visiting yachts to clear in first at a customs port of entry. The Canary Islands are frequently subject to strong winds and rolly anchorages. Marinas start filling up in mid to late September with sailors prepping for their Atlantic crossing. It is certainly worth emailing ahead of time for a berth reservation, even if your exact ETA is subject to the weather.
We're excited about presenting our 168th Offshore Cruising Seminar during the Annapolis Boat Show. It's a huge honor to have Nigel Calder, author of Boatowner's Mechanical and Electrical Handbook joining us again as a seminar co-presenter. We're also presenting four 90-minute seminars during Cruiser's University Oct. 9th:
8:15:    Shorthanded and Singlehanded Sailing Techniques
10:00:  Selecting an Ocean Cruising Sailboat (with Pete McGonagle)
12:30:  Storm Survival
2:15:    Diesel Engine Essentials with Amanda
FUTURE TRAINING EXPEDITIONS:
Although leg 7, our Atlantic crossing is filled, we currently have 2 berths open on Leg 8, Antigua to Panama (fabulous FAST downwind sailing with landfalls on Montserrat, in Columbia and the San Blas Islands), 1 berth on Leg 9, our Panama Canal Transit and jaunt out to Las Perlas islands, and just one berth on Leg 1-2019, the amazing 4,600 miles of downwind surfing rom Panama to Hawaii. Click HERE for details!
---
Leg 6 Itinerary