September 2, 2008, 0130 hrs, 33.07N, 016.12 W, Log: 119,863 miles
Beam reaching SW at 6.2 kts in WSW 12 kt winds, tons of stars!
Baro: 1021.0, Cabin Temp: 77F, cockpit  71F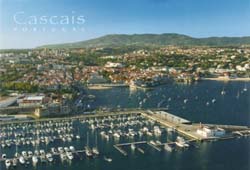 Marina de Cascais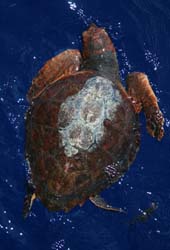 A passing turtle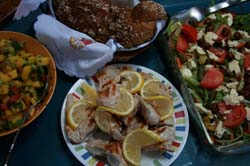 Fresh mahi for lunch anyone?
The Lights of Porto Santo are Ahead!
We were ready to set sail as soon as our Leg 6 crew joined us in Cascais, and anchored off Marina de Cascais for lunch and safety orientation.
It had been a busy and noisy week in Cascais, the last week of summer holidays for school children, a dramatic difference from arriving five weeks later than previous year. The beaches were now packed and a huge clear music stage overlooked the waterfront with live music resounding across town each night. Over 150 sailboats from many countries poured into the marina for a sailing regatta, 80 of which were immaculate Dragons (with complete support crews and vehicles) whose owners we met everywhere we went. Setting off to sea appeared restful after the non-stop noise and bustle.
To date our passage has been a quiet one. Instead of too much wind as we had on Leg 5, a large high pressure cell has meant very modest winds. We've had some sailing in spurts, but the strongest wind we've seen has been 12 knots. The past 36 hours have seen winds consistently under 5 kts, so we've been motoring along quietly in a flat sea at just 2000 RPM, giving us around 6.7 knots at a fuel burn of about 1.2 gph. Fortunately, the forecasts call for winds to increase soon!
The upside has been sighting dozens of turtles sunning themselves lazily on the surface and excellent swimming conditions with our entire crew enjoying relaxing swims for 30-40 minutes each afternoon. The International Cruiser Uno antifouling paint applied in the Azores in April has held up extremely well and after a mid-ocean sponge off looks like new.
Another bonus was catching our first fish in over a year, (finally! says Amanda) a mahi mahi that found it's way onto our lunch menu in very short order!
The amount of shipping traffic visible on our new Raymarine AIS receiver has been surprising! Except for today, we've had 4-6 ships AIS signals visible on the radar/plotter screen most of the time. A couple times we've needed to alter course slightly to pass astern of ships.
We hadn't intended to make landfall at Porto Santo Island (24 miles before Madeira) in the dark, but it looks like that will be the case again this year. Sam, our navigator of the day, has set a conservative course, taking us well clear of the end of the island and then to an easy anchorage inside the harbour breakwater.
September 9, 2008, 0430 hrs, 29.26 N, 013.50 W, Log: 120,149 miles
Broad reaching SW at 6.2 kts in WSW 14 kt winds, smooth seas, clear starlit skies
Baro: 1012.7, Cabin Temp: 78F , cockpit  73F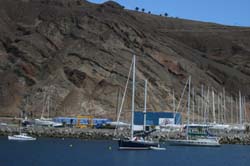 Porto Santo Boatyard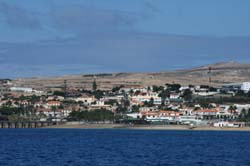 Porto Santo town and beach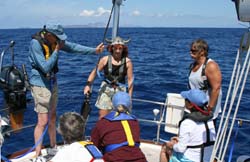 Amanda teaching rig construction
Our nighttime landfall worked out perfectly; we slowly crept into the well lit Porto Santo harbor anchorage, guided by the music and lights of the all-night disco on the harbor edge, before dropping anchor.
After clearing in the Wednesday morning our crew enjoyed exploring this vibrant little island, one time home to Christopher Columbus and famous for having the longest and best white sand beach in Portugal. The normally quiet little boatyard had over 100 boats ashore for winter storage. Sonja, the manager said that 150 boats arrived the previous week on a race from France. They were all wintering in Porto Santo or Madeira until January when the race would continue to Martinique. On top of that,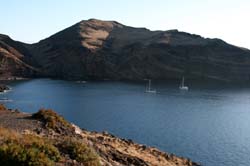 Ensenada de Abra anchorage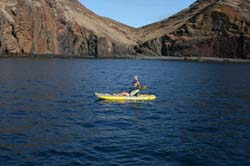 Sam paddling the Airis kayak
she said another 135 boats were due to start arriving in Funchal, Madeira the following day on a race from the Canary Islands. Any hope of us getting a spot in the small marina in Funchal, a couple days later, quickly went out the window.
Wednesday we sailed to Ensenada de Abra at the far eastern end of Madeira with rigging class on the way. We anchored in 20' depths in what looked like a half volcanic caldera, with one side having eroded out to sea. What a fabulous anchorage! The water was crystal clear, the bottom of the bay was totally flat with black volcanic sand and we were surrounded on three sides by spectacular cliffs. We shared the bay with a friendly Austrian couple who were on their final leg of a three year circumnavigation aboard their very handsome and well-maintained Najad 490.
Minutes after we anchored everyone was in or on the water. Sam and Sue took turns exploring the bay on our nifty new Walker Bay Airis 10 inflatable kayak and the rest of the crew snorkeled ashore to explore the beach. This was real cruising, complete with a spectacular sunset.
The following morning after a leisurely start and anchoring seminar, we headed a mile SW to Quinta do Lorde Marina, stopping to top up fuel and the fuel is still contaminated. This fairly new marina development now has around 30 new townhouse and hotel buildings under construction, all started within the last five months. There was a beehive of activity on the hills behind the marina, and the model of what the five-star development will end up looking like is impressive. There was still plenty of space in the marina, and Katia, the lovely manager, easily arranged for a van to pick us up the following morning for an all-day island tour. What a bargain this turned out to be!
| | |
| --- | --- |
| Quinta do Lorde Marina and construction site | Filling fuel |
At 0900 Friday morning, Leno, a bright young local guy picked us up in a shiny new van and gave us an incredible insightful tour of this island that he so loves. With tourism representing the largest share of local economy, Madeira believes in being well prepared. Leno had completed a college degree in tourism and spoke a mandatory fourth language, French, as well as Portuguese, Spanish and English. He said as far back as they can trace his family has lived here, previously on a small farm six hours walk from Funchal. As Funchal is in the midst of its 500th year anniversary of the founding of the city, that could be a long time! Leno took us to the summit of the third highest mountain along impossibly narrow cliff-hanging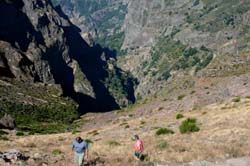 Marilyn and Mike hiking the mountain summit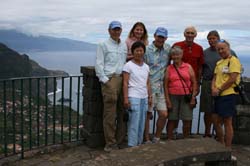 Leg 6 Crew
roads, to little villages nestled in the mountains, and to lunch at neat little indoor-outdoor restaurant nestled in an elaborate flower garden. Before returning to the Lorde marina we briefly stopped by Funchal so we could check if there was room to anchor off the town (since the 130 race boats were arriving) and talk with the marina office. All of this for less than 30 Euros per person, plus, none of us had to drive!
Here's our Leg 6 crew:
John Spurr, 70 (but looks and moves like he was 40!) was born in England, schooled in South Africa, Australia and California. As an iconoclastic mechanical engineer, he has worked on many interesting projects and managed to make an escape to Canada's Yukon Territories nearly 30 years ago where he an Alice hand built a log cabin 30 roadless miles from Tagish, a small village, and 75 miles from Whitehorse, a small town. They travel by snowmobile over a frozen lake in the winter and by canoe and motorboat once the ice has melted. Now they are considering sailing adventures in warmer climes.
Alice Spurr, 55 is originally from Korea, but met her husband John when they were both working at HP in the SF Bay area. Alice is a fine artist who has had displays and shows in San Francisco area as well as the Yukon Territories of Canada.
Sam Parker, 65 of Newport Beach, California was aboard for his 11th expedition. Sam has owned at least a dozen boats and currently has a nearly-new Island Packet 3700 on his dock.
Marilyn Jackson who turns 74 the day after the expedition earlier joined us on Leg 5-2006. A very keen sailor, Marilyn has done several passages aboard Alaska Eagle and has sailed extensively with her son, Michael, whom she works with. She lives on the banks of Hoods Canal in NW Washington State.
Mike Jackson, 54 was a crab fisherman in the Bering Straits waters between Alaska and Russia. Ever seen Most Dangerous Catch? That was what Mike used to do, and those are the fisherman he supplies with foul weather gear as owner of Grundens, USA, Mike has all kinds of plans for offshore cruising with his wife and son once his son finishes college.
Sue Grimm, 40 something from Ohio was aboard for her fourth expedition and has already signed up for her fifth and sixth expeditions! Sue just traded in her Beneteau 46 for a new Beneteau 37 which she enjoys sailing on a lake in Ohio. If her hot-shot sailor-son Tim is accepted into the Annapolis Naval Academy, she will move her boat to Annapolis to have a place to stay (and sail) when visiting him at school.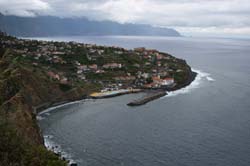 View of one of the many small villages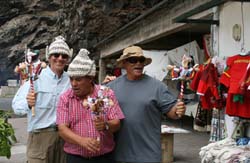 The Tres Amigos – John and Mike clowning around with a souvenir salesman in a coastal village
Saturday morning we got a 0500 start towards Funchal, arriving and anchoring around sunrise to allow us maximum time for exploring this exciting city. By 0900 we hit the beach running (well sort of!) and our entire crew took the gondola to the top of the mountain overlooking town. Mike and Marilyn hopped in one of the famous wicker basket toboggans, careening down the steep streets as two guys hung on the back, dragging their feet to keep from hitting cars, curbs, trees or pedestrians, and the rest of our gang checked out the botanical gardens. Amanda and I enjoyed exploring the vibrant and bustling public market and went looking for Madeiran lace and a few groceries.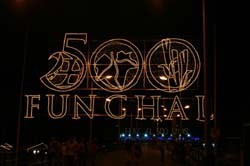 500th anniversary of Funchal sign in lights on the pier
After dinner aboard, several of us set off to explore the final night of music, festivities marking the end of the Madeira wine festival and part of the cities 500th year anniversary. The wine festival had free wine tasting along with two guys stomping grapes in a traditional method, with sampling of the freshly-stomped grape juice which was really tasty. We watched traditional Madeira folk dancing, danced by young and old, along with Belarus dancers who must have been sweltering in their traditional costume as well as a group of elaborate mimes doing a modern performance relating to wine (we think). There was so much to see and so many people were out enjoying the magical evening! There is something special about how Portuguese people love celebrations and festivities and go all out to make sure they are the best possible. At midnight there was a fireworks show off the end of the breakwater, the perfect capper for a perfect day of adventure!
| | | |
| --- | --- | --- |
| Stomping grapes | Amanda sampling juice | Traditional Madeira folk dancing |
As the passage to Graciosa Island, in the Canaries, is only 275 miles, we didn't want to leave too early so we left after noon on Sunday. As the wind had filled in many of the race boats were also starting their passages back to the Canaries. Just after we set sail inside the breakwater, we passed a racy looking X-50 Danish-built race boat. It took them hours to catch us, but when they did, Sue and Alice were competing for the binoculars to check out all the cute guys on the rail! AKA…"hotties" according to Sue!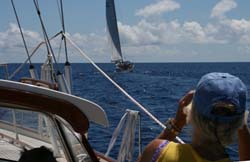 Sue with bisnos and X-50 "hotties" ahead
For the first time in over a week we had good steady winds but not the normal northeast trades. Instead we've had flat seas and steady west winds, no more than 14 knots and rarely less than 10, which have hardly caused us to adjust sail. It's the most enjoyable smoothest, easiest passage in recent years.
Yesterday we snuck under the southern tip of a weak cold front, motorsailing for a couple of hours to avoid the band of rain clouds, but since then it has been a picture-perfect, complete with Sam landing our second mahi mahi of the year. These conditions are great for utilizing our PowerPoint presentations on the saloon monitor, along with the Expedition Companion, to better illustrate the teaching topics. As John and Alice plus Mike are keen on purchasing their own cruising boats shortly, they are taking lots of notes during classes.
With the brilliant sailing we haven't wanted to stop for a swim and shower, so for the first time yesterday, we tried out our new deck seawater shower that Martinsson's Boatyard in Sweden recently installed. It works great with unlimited surprisingly warm water and loads of pressure. Our old method; me scooping up buckets of seawater and dumping them over crews heads, is now history. This saves approximately five gallons of fresh water per person, per shower which really adds up with eight of us showering nearly every day. Yep, you still do get a fresh water rinse to follow!
September 17, 2008
Somewhere over the Atlantic making 500 knots at 38,000'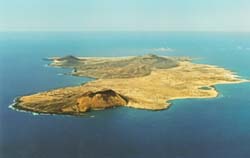 Graciosa Island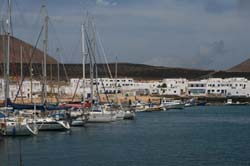 Graciosa town and marina
We had to slow down to arrive at Graciosa, (http://en.wikipedia.org/wiki/Graciosa,_Canary_Islands) in daylight. Being the smallest inhabited island (population 500) of the Canaries we were surprised to find a very substantial breakwater and harbor. Two marina piers are situated on east of the harbor while the west side contains a pier along with a handful of fishing boats and a couple of small ferry/tourist boats that shuttled between Lanzarote and Graciosa. There were several empty slips and after clearing in with the port captain and paying our mooring fee of 8 euro our crew headed for showers and a little beachfront restaurant.
Amanda and I went walking and were impressed by style and quality of the architecture which looked like a modern interpretation of North African style. We learned that Lanzarote-born artist/architect/civic planner Cesar Manrique (http://spain-travel.suite101.com/article.cfm/lanzarote_artist_cesar_manrique) had inspired or designed many of the homes and buildings and greatly influenced public land use planning, tourism development and protection of the environment on Lanzarote and Graciosa. We tried to rent mountain bikes but they were out and it turned out the soft sand on the trails and roads would have made cycling a challenge. Instead we circumnavigated half the island on foot. Not being desert people it felt strange and exhilarating to experience this wild, dusty and barren island. We stumbled upon a cactus farm, later learning that cactus has been farmed for food and more importantly, for of tiny bug that lives on the cactus, from which cochineal red dye has been made for hundreds of years.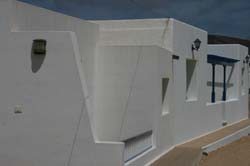 Typical architecture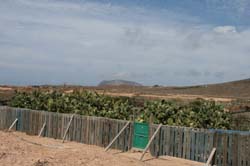 Cactus farm
On our hike we passed a gorgeous bay surrounded by a several mile long white sandy beach so when we gathered back aboard MT and found the marina hot and windless it didn't take any convincing to get our crew to switch marina dock lines for a sandy bay anchorage. As soon as Amanda completed splicing class, nearly everyone hit the water. Mike found gazillions of fish and some rays and we were just glad to be snorkeling in clear, clean, warm water.
Our best sail of the expedition (and one of the best of the season!) was Wednesday. With an early departure, we sailed 32 miles around the southern tip of Lanzarote, (http://www.lanzarote-guide.com/) always on a broad reach. It was strange; the wind angle just stayed the same as we kept rounding headlands.  The flat conditions enabled crew to practice celestial navigation and Alice and John to perfect reefing.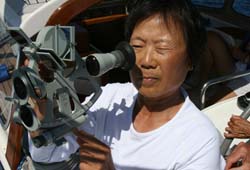 Alice concentrating on a sun sight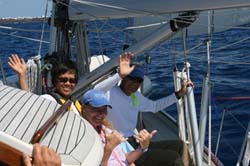 Alice and John – jubilant after a successful session of reefing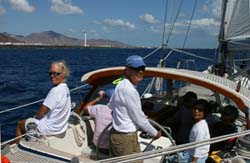 Final leg to Marina Rubicon
Mike had volunteered to jump in the water as a surprise man-overboard victim, but when we neared the semi-protected area of the coast just before Marina Rubicon, the wind piped up to 20-25 knots, so we resorted to using balled-up newspaper for heads instead.
Marina Rubicon was our second choice, after Puerto Calero. We'd left MT in Puerto Calero in 2002 but they now couldn't guarantee us both marina and dry storage space, something Marina Rubicon could so we decided to give it a try.
The impressive marina and development is very new and at least double the size of Puerto Calero. After clearing in and assigned a berth we were told us that since Monday was a holiday we would have to haul out either Friday afternoon, the final day of the expedition, or Tuesday, the day we were flying home.
Thursday morning we completed teaching and Sam rented a passenger van. We had all voted to spend the day touring this very interesting sounding island and Mike, navigator of the day, had done a great job researching places of interest and mapping out a route.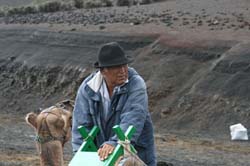 A local camel guide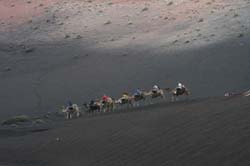 A camel train on the mountain side
The Parque Nacional de Timanfaya is stunning. From 1730-1736 the volcano claimed more than twenty villages and extensive farm land with a resulting volcanic landscape with over 20 peaks. The final eruption was in 1824, but the heat from the volcano is still so hot that the parks restaurant, designed by Cesar Manrique, barbeques meals on a grill over a vent. Surprised at a camel sign near the national park we stopped to visit. For 10 euro a camel, that can carry two adults, you can join a camel train for a raunchy half hour journey into the park's volcanic hills.
We also enjoyed an excellent lunch at a hillside restaurant called Lagomar, designed and built by Manrique for Omar Sharif. The story goes that Omar Sharif lost his home in a poker game. Since then Lagomar has been used in numerous movies and magazine fashion shoots.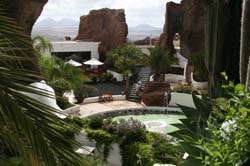 Lagomar restaurant and garden
 There were extensive pools, fountains, grottos – it looked like it must have been an incredible place to entertain!
Another intriguing must do highlight is Manrique's home/studio. Now an incredible museum and foundation much of his unusual home is built underground in lava tubes and caves which, where necessary, Manrique blasted to create connections.
| | |
| --- | --- |
| Manrique's underground white lounge | Manrique garden mosaic |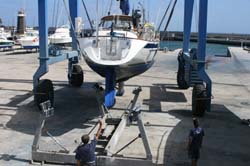 Mahina Tiare in the travel lift
After tidying MT up Friday morning and saying farewell to crew, we hauled in the afternoon and went to work getting her ready for two months of storage. We removed the sails, cleared the decks of lines,  winterized all systems (I guess it should be called "summerized" in the desert-like climate) did a thorough cleaning of the entire interior and galley cupboards and rigged the sun awning as a cover. Then, before we knew it, we were headed to the airport and home for two months until it's time to cross the Atlantic.