Leg 6 – 2014
October 1, 2014, 2100 hrs, 49.17 N, 124.08 W, Log: 180,444 miles
Baro: 1020.6, Cabin Temp: 68 F, Cockpit: 62 F, Sea Water: 59F
Moored at Schooner Cove, 15 mi N of Nanaimo, British Columbia
SUNSHINE, But what happened to the wind?
Leg 6 has provided us with some serious winds forecasts, frequently gale and occasionally storm force, but fortunately, other than our Dixon Entrance crossing from south of Ketchikan, Alaska to Dundas Island, BC, we've experienced quite modest conditions.
| | |
| --- | --- |
| Michelle and John take the watch as we cross Dixon Entrance | Crew research our next days passage and suitable anchorages |
Some very spectacular, clear days have helped make up for the lack of wind although we did get a few really great short sails with boat speeds nearing 8.5 kts and we've probably seen more whales on Leg 6 than all of our previous Alaska legs combined.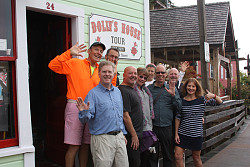 Leg 6 crew ready to depart from Dolly's Creek St Whore House in Ketchikan. John, Russ, Brad, Dolly, Michele, Stephen, John and Amanda
Let's introduce you to our first-class Leg 6 crew:
Hi! I'm Stephen. I'm 62 and live in the Toronto area where I'm a communications manager for an architecture and engineering firm. I sailed a C & C 25 for five years in Vancouver and now plan to purchase a 32-35' sailboat when I move back to Vancouver in 2015. (Stephen is also a published novelist: www.onegoodwriter.com)
My name is Brad and I'm a 52 year old restaurateur from Calgary. I sail with my 12 year old son Erik on our Bavaria 32 out of Sidney and will be joining Mahina Tiare for a 2016 coastal passage from Sweden to Norway and up to Bergen, where we have a lot of relatives.
Russell, 61
I'm a retired reinsurance executive from the Washington DC area and recently bought a sistership to Mahina Tiare. I found this expedition an excellent primer for my sailing days ahead as I plan to sail for the remainder of the year on the Chesapeake Bay, heading to Maine next summer and perhaps to the Med the year after.
John, 56
I live in the Bay Area and work as a software engineer for Google. My wife Michele and I are preparing to move our recently purchased Hans Christian Offshore Explorer 4750 from Florida to New York City. We've gained valuable insights and experience aboard Mahina Tiare II.
Michele, 55
I currently live in the San Francisco Bay area and work as a dietician. My husband John and I are planning on taking our boat up and down the East Coast then off to Europe if all goes well.
Peter, 62
I'm from Pembroke, Ontario and this third consecutive expedition has greatly assisted in improving my sailing skills, enjoyment and confidence.
(Peter's wife Joan will met us in Sidney. They are then setting off on a grand hiking/beach walking road trip down the Washington and Oregon coast. Sounds like a lot of fun!)
Here are some of our most memorable landfalls and events:
Cowpuccino's, Prince Rupert. It was fun to catch up with Jud, the café's owner, and see that the cozy eclectic cafe was still hopping with wonderful treats including their infamous "sex in a pan". Jud contributed this recipes and others to Amanda's Galley Essentials book and web articles. http://www.mahina.com/galleyessentials2.html
| | |
| --- | --- |
| Peter and Brad enjoy chatting with Jud and Rachel at Cowpuccino's | Brad surprised us underway with Cowpuccino's monster ginger cookies which were snatched up fast |
Bottleneck Inlet, Roderick Island, Finlayson Channel. After a mammoth non-stop 140 mile day and night passage south from Prince Rupert we entered one of the first all-weather anchorages in many miles, in the dark, a few hours before dawn. We could hear the waterfalls on either side of the narrow entrance and when we awoke a few hours later we gazed about in amazement for it was a beautiful tiny bay, surrounded by mountains and glaciers.
| | |
| --- | --- |
| Leaving Bottleneck Inlet | Stephen enjoying some sail trimming |
| Canadian lighthouses are very picturesque and as Surf Light at Ivory Island is no exception we take a moment for a staged photo shoot for 48 North Magazine | With strong winds still forecasted it's time to drill the crew with reefing procedures. You lose five seconds off your reefing time for every duck whistle Amanda blows |
Shearwater Resort & Marina http://shearwater.ca/ on Denny Island an ex-WWII RCAF flying boat base is a fishing & bear watching resort/marina and it was chokka with local fishermen who were between openings. It is one of the friendliest places on the coast.
Codville Lagoon provided a peaceful, nearly landlocked anchorage.
Ocean Falls Yacht Club maintains an impressive stretch of boardwalk that's a fun hike/climb to a lovely white sand beach bordering a large mountain lake.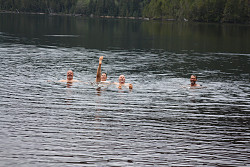 Michele, John and Peter and Brad dove into the lake and spent a fair amount of time splashing and swimming about.
Namu an abandoned cannery enroute from Codville Lagoon to Pruth had previously been an interesting stop for us as nine years ago the caretaker showed us around the buildings and setup.
There are no longer caretakers living on site and it's a little too precarious to step ashore as many more of the rooves and boardwalks have fallen in. It was rather sad to see the state of decay and we doubt it will ever be rebuilt. Here's an interesting video posted three weeks ago of the cannery and the ship we tied to by Grant Callegari taken from a helicopter. (http://vimeo.com/106036995) he also has another great video of our next stop (http://vimeo.com/76746121) Calvert Island which has always been another favorite place mainly for its easy pathway access to some wild, exposed West Coast beaches.
Finding no floating docks this time we gingerly rafted up to a funky derelict seriously-listing 200' fish processing ship.
Malcolm Island's Finnish utopian community of Sointula (www.sointula.ca) was as beautiful and peaceful as ever and our visit to the new bakery was extremely tasty!

Hakai Instiute: Calvert Island Field Lodge (www.hakai.org) is formerly a high-end salmon fishing lodge that has been purchased by a philanthropist and turned into a marine biology research facility capable of housing 100 grad students and scientists (www.tula.org).

We arrived the institute during their final stages of shutting down for the season but Keith, a friendly chap responsible for the fresh water plant, kindly gave us a tour of the solar/battery installation, generator and water treatment plant

We then hiked across to the wild west coast of Calvert Island in glorious sunshine where miles of white sandy beach are interspersed with spectacular rocky headlands.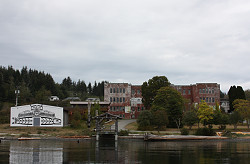 Umista Cultural Centre and former St Michael's Indian Residential School
Alert Bay, (www.alertbay.ca) on Cormorant Island is just south of Port Hardy and Malcolm Island It is home to the U'Mista Cultural Centre (www.umista.org) which houses a stunning collection of native masks and carvings that have been returned from museums around the world, having been seized and illegally sold off by authorities following a forbidden potlatch in 1921.
We'd heard that there was a wedding/potlatch going on that Saturday at "the BIG house" (the Indian band's longhouse) on the hill and we peaked in a side door to watch masked and traditionally-clothed dancers perform around an open fire in the middle of the huge cedar planked longhouse. The dancing and surroundings looked exactly what we'd seen playing in the museum and seemed like a window into the past.
Telegraph Cove (www.telegraphcoveresort.com) on Vancouver Island is the site of the first one-man telegraph station on Vancouver Island in 1912 and a historical sawmill and salmon saltery all located on a wide boardwalk
Many of the original buildings of Telegraph Cove have been restored and now provide cute resort accommodation, a café, pub and a whale museum. The docks were empty and the resort staff were having their end-of-season staff party with most getting ready to head to warmer climes.
Pierre's Echo Bay Resort is owned by an outrageous French-Canadian who hosts weekly pig roasts utilizing a giant steel oven donated by Des Moines YC. It was off season and the small float home village was nearly deserted, but Pierre gladly showed us around and our crew enjoyed his showers and laundry.
| | |
| --- | --- |
| After a hike over the hill to the next bay we were lucky enough to find Billy at home on his idyllic property. | Soon to turn 80 Billy has spent his entire life in this very small group of isolated islands fishing and hand logging. |
We certainly enjoyed listening to Billy's colorful stories, looking through his museum at the treasures he's collected and been.
That brings us to now!
| | |
| --- | --- |
| Yesterday we caught up on a lot of teaching while underway sailing in a light breeze including winches as Amanda is now quite proficient at it even with the boat moving. | We stopped for the night at Schooner Cove, a cozy marina inside in a picturesque rock-bound cove just 12 miles north of Nanaimo and this morning Amanda and crew completed our last official last class; going aloft for rig inspection. |
In a couple minutes we're going to practice docking before setting sail for Nanimo http://www.nanaimo.ca/ .
October 5, 2014, 1600 hrs, 49.17 N, 124.08 W, Log: 180,516 miles
Baro: 1019.2, Cabin Temp: 69 F, Cockpit: 67 F
Moored at Port Sidney Marina, 15 mi N of Victoria, British Columbia
It's all over, just like that!
We enjoyed being hosted by Nanaimo Yacht Club member Lorraine Willgress who arranged for a berth for MT and gave us all an orientation as what not to miss in Nanaimo, an attractive artsy town.
| | |
| --- | --- |
| We invited Lorraine to join us for dinner and ended the evening by sampling 3 batches of decadent Nanaimo bars courtesy of Lorraine, Stephen and myself. If you're wondering what Nanaimo bars check out Amanda's future galley columns as I'm sure she's going to write about them. | Friday we met friends at a small island just south of DoddsNarrows and enjoyed hiking (and getting lost) on their pristine 300 acre island plus viewing their progress at milling timber and starting construction on their cabin. |
They encouraged us not to miss Ganges, http://www.saltspringisland.org/ganges/ganges.htm the largest town in Canada's Gulf Islands, located on Saltspring Island. We hadn't counted on the HUGE Saturday market just across from the public marina and we were soon in awe of every type of craft, art and organically grown food you could imagine. It was tough to drag Amanda away and I can see we'll have to plan a return visit in the future.
For the final ten miles to Port Sidney Marina http://www.portsidney.com/ where the expedition ended Amanda held court with a double braid splicing demo which was then duly executed and completed by Russ. Expedition member Brad keeps his Bavaria 32 in Island Cruising's charter fleet and their manager had a vacant berth waiting for us front and center on the main dock. Peter's wife Joan and a friend were waiting on the dock and joined us for an excellent dinner ashore.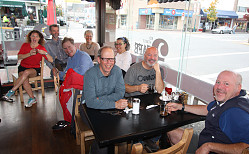 This crew have bonded so well that they went to Brad's favorite diner 3rd Street Café for breakfast and at noon today no one was in a hurry to leave.
Hard to believe our 24th season is done! It is extremely sunny, totally calm and very warm this afternoon and Amanda and I are about to run up town to check it out plus the West Marine store. MT will be wintering on the hard at a nearby boatyard so we'll need to see what supplies are available in town.
Tomorrow we'll check out the boatyard before heading home to Roche Harbor to start unloading and cleaning Mahina Tiare, getting her ready for her 18th (and Amanda's 50th) birthday party in Friday Harbor this Friday.
---