While waiting for our Leg 7 crew to arrive, we enjoyed getting to know Frederique Lesne and Richard Chesher, authors of the incredible Tusker Cruising Guide to Vanuatu (www.Cruising-Vanuatu.com) and a similar Cruising Guide to New Caledonia (www.Cruising-NewCaldonia.com). Both are on CDs and feature crystal-clear satellite images and detailed anchorage and cultural information.
| | |
| --- | --- |
| Frederique and Richard – Authors of Cruising Guides | The CD cruising guide to Vanuat |
They are also developing a CD guide to all the village guest houses and hotels for travel agents and asked us to stop at two smaller, rarely-visited islands to photograph to new village guest houses on Erromango and Anatom
Our eager crew came aboard at noon on Wednesday, October 15: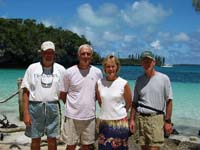 Frederique and Richard – Authors of Cruising Guides
Carl Nichols, 48 of Spokane, WA sailed with us last year on Leg 5-2002 and enjoys sailing his Columbia 36 in the waters of British Columbia and the San Juan Islands.
Sam Parker, 62 of Newport Beach, California is going for the record! He joined us for Leg 2-2000, and then sailed from Tahiti to Fiji with us on Legs 3, 4 & 5 2002. This year he signed up for both Legs 7 & 8. Now he will have seen every country and most of the islands between Tahiti and New Zealand!
Christine Webb, 51 of Auckland, New Zealand joined us on Leg 7-2003 and is now aboard for her first offshore passage. She and her husband Tony raced their Stewart 34 extensively, and Amanda crewed for Christine in women's racing series in Auckland MANY years ago.
Bob Lester, 57 is an OB-GYN doctor from North Carolina who is semi-retiring a week after he returns from this expedition. He is looking forward to more time on his boat, a Catalina 30 that he keeps on Lake Norman in the mountains of North Carolina. He would like nothing more than to purchase an Amel 53 and cruise the Caribbean.
| | |
| --- | --- |
| Port Vila market | Ladies at market |
| Amanda buying traditional laplap for lunch | The Waterfront Yacht Club – a popular for yachties |
Following orientation Wednesday afternoon and a trip to the colorful public market Thursday morning, we cleared out and set sail.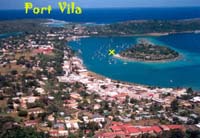 Port Vila – ariel view
The shelter of Vila Harbor provided us an excellent opportunity practicing the Lifesling overboard procedure before we hit the open seas. Our plan was to sail to Erromango and Anatom as well as Tanna to look up old friends from my first visit nearly 20 years ago, and to see the very active Mt. Yasur volcano, before setting sail to New Caledonia.
Prevailing SE winds usually make the passage to Erromango and Tanna a difficult one, but unforecasted winds gusting to 30 knots and the short, steep seas made it really uncomfortable. To make things more complicated, we received a GRIB-file forecast over the Iridium satellite system that forecasted 35 kt winds for the next three days. These would make all the anchorages difficult and would probably mean standing anchor watch.
With nearly everyone on board seasick, later that evening we held a discussion, asking if anyone would be overly disappointed if we fell off to leeward toward New Caledonia, skipping the southern islands of Vanuatu, and instead cruising from Noumea to the fabled Isle of Pines. Everyone agreed that this would be a good decision, so we eased sheets and set off on a fast close reach. The winds backed more to the SE, so we soon had to sheet the sails back in, still reefed down in winds of 25 knots and steep seas.
At 2100 we sailed through the narrow gaps in the Loyalty Islands, part of New Caledonia that cruisers aren't allowed to stop at until clearing customs in Noumea.
| | |
| --- | --- |
| Carl keeps watch while Bob takes the helm | Surfing through Havannah Passage |
Early Saturday morning we surfed through the entrance of Havannah Pass, still with a constant 25 knots astern, appreciating the superb new French charts, lighthouses and range markers. While pressing on to Noumea we passed lots of neat looking bays and anchorages, which we read more about in the cruising guide.
| | |
| --- | --- |
| Cruising Guide to New Caledonia | Noumea – ariel view |
At least six other yachts were in contact with Port Moselle Marina, asking for berths and custom clearance and we were surprised to see the Kanak (local Melanesian) dockmaster at the end of the visitors dock, directing boats with his handheld VHF and a clipboard.
We didn't really expect that we would be able to clear customs on a Saturday afternoon, but Quarantine, Customs, Immigration and the Harbour Office were all on the docks and we were totally cleared in within an hour! A nice surprise is that your first night's moorage is free (for visiting yachts) and clean showers are at the head of the guest dock. Our crew had bags of laundry for the fuel dock laundry-lady, and the harbormaster gave a voucher from the marina restaurant offering free drinks for the crew of every arriving yacht! No big surprise that we ended up having dinner there.
Sunday was a quiet day, except for the public market that is totally jamming from 0600 until noon, even in pouring rain, the first we'd seen since Leg 1. We all went different directions on long wet hikes and runs exploring the waterfront and hills behind town.
Monday morning I purchased an excellent new French chart of Isle de Pines, and we set sail, reaching Baie de Prony by late afternoon. The cruising guide talked of taking the dinghy up a river at Baie de Careenage to a hot pool and hiking to a waterfall, so we were off exploring soon after the anchor touched the bottom.
| | |
| --- | --- |
| Crossing the river on our Prony hike | Waterfall at old Prony mine |
Tuesday we were underway by 0530, and were pleased to find a following wind once we sailed outside the protected Baie de Prony. The winds kept building until they were 28, gusting to 34 and the seas were large enough to have us surfing along nicely, touching 9 knot occasionally. I was getting concerned that the main anchorage at Kuto Bay would be totally open to these near gale force winds, until Christine found an alternative anchorage across the peninsula in Kanumera Bay that proved very protected.
| | |
| --- | --- |
| Kuto peninsula, Isle of Pines – ariel view | Mahina Tiare at anchor in Kanumera Bay |
What a delight Isle of Pines proved! The powdery white sand beaches were magnificent, and the native dinosaur era pine trees vied with palm trees along the beaches, and impressive eroded coral formations. The air felt sub-tropical, cool and crisp, not heavy and humid. Every Kunie (local) person we passed smiled and waved. This is our kind of island.
| | |
| --- | --- |
| Scenic view of offshore isles | Kunie thatched house |
| Kunie children | Traditional Kunie sailing canoe |
We quickly determined that it was way to large of an island to explore only by bicycles that were available at the small guest houses and hotels near the beach, and booked an island tour for the following day. We saw incredible beaches, huge local Kunie sailing canoes and nets drying, the unusual looking thatch and stone houses of the local islanders, descendents of Tongans from Polynesia and remains of the political prison that France set up in the late 1800's. After returning for lunch aboard Bob and Carl set off snorkeling, exploring the caves, coral and fish, Christine worked on her tan and yoga, and Sam went exploring ashore. Amanda and I rented bikes and later hiked up to a little chapel overlooking one of the villages with a magnificent view of the lagoon.
The persistent strong winds had abated and backed 30 degrees by Thursday morning, and after motorsailing 5 miles on the initial course, we changed course, hoisted sails and had an excellent fish-catching beam reach 50 miles to a protected anchorage in Canal Woodin. There it was time to catch up on teaching, and in the afternoon we covered Sail Repair, Low Island Landfall, Cruising Medicine, Dealing with Officialdom, Communication and Storm Tactics.
Early this morning (0500 start again, as it gets light at 0430) we raised anchor and headed for Noumea, 25 miles away, in sunny, glassy conditions. Once we arrive we will tidy the boat before crew will take their tests and head off to explore town and beaches. It's now fun to look back on how varied, eventful, and not to forget relaxing, the last ten days have been.