August 25, 2006, 1510 hrs, 53.00 N, 09.42 W, Log: 105,996 miles
Broad reaching under double-reefed main and jib @ 6.3 – 7.8 kts with winds WNW @ 18-25 kts in squalls
Baro: 1006, Cabin Temp: 70F, cockpit 72F
ARAN ISLANDS AHEAD!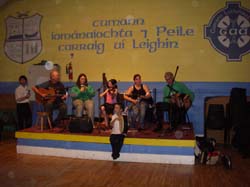 Owenabue Valley Traditional Irish Group performing a the Ceili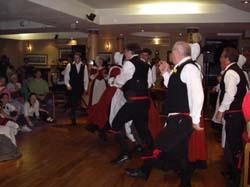 A Welsh set dance in full swing
We have a whole spread of islands and channels ahead, and with a fresh wind aft of the beam we've been zooming along all day. Small craft warnings have been posted for the last 24 hours for all of western Ireland as an active occluded front moves through bringing bands of rain, higher winds and reduced visibility. We're thankful the wind hasn't been from the north, as it was for the past 1.5 weeks, as this would have been a lot slower, wetter and bumpier trip.
Our Leg 7 crew joined us Monday noon at the Royal Cork Yacht Club, in Crosshaven, near Cork. For the previous week Amanda and I sailed back to Kinsale, once crew left, to complete boat projects including Amanda re-leathering the steering wheel. The highlight of the week was happening upon a fantastic evening of Welsh and Irish traditional music and dance at the Acton Hotel, just across from the Kinsale Yacht Club. The Irish dancers and musicians (www.ownenabue-valley.net) were part of an extended family that has traveled around Europe performing.
We were invited us to a ceili, (traditional Irish dance to live music), the Saturday before Leg 7 started. What a great time the Irish have with their music and dance! Amanda has long enjoyed Scottish Country dancing and even got me interested, but that is so restrained compared to Irish set dancing where everyone lets their hair down and enjoys themselves. Kids as young as six were playing instruments, singing and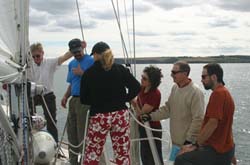 Amanda demonstrating reefing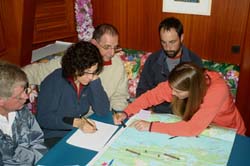 Anne and Christina chart our course north
dancing with people who must have been in their late 70's or early 80's. The Welsh group we'd watched in Kinsale was also at the hall so we heard more of their music and even got to try some Welsh set dances.
Oh, back to the expedition! Monday noon crew joined and after lunch and a start on safety orientation we set sail for Oysterhaven, a quiet bay between Cork and Kinsale. We wrapped up orientation that evening with navigation before raising anchor in the first hours of dawn a 0530 and setting sail for Baltimore, just before Mizen Head, the SW tip of Ireland. We had headwinds until we were nearly to the Head, then decided to keep sailing as those headwinds would translate into a glorious reach once we rounded the corner and set a course north. With winds gusting to 24 knots our crew got excellent practice at reefing and heavy weather steering as Mahina Tiare surfed north under a press of canvas.
Dunboy Castle at the entrance to Castletownbere was our planned anchorage for the evening but when we sailed into the bay a gigantic construction crane dominated the sky, the empty castle we had enjoyed walking through six years ago was undergoing major reconstruction. Not wanting to anchor in a construction zone we motored a couple miles into the small and busy fishing port of Castletownbere, where the harbourmaster allowed us to tie to the commercial fish boat wharf for an hour's look around town. We then choose and an anchorage in Lawrence's Cove nearby Bere Island for a quiet evening.
| | |
| --- | --- |
| Construction crane at Dunboy Castle | The waterfront at Calstletownbere |
Headwinds on Wednesday forced us to and motor at the first 20 miles of the passage and abandon a visit to the monastery on Skellig Michael,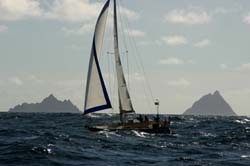 An Irish yacht sailing past the Skellig Islands
but once we rounded Valentia Island and the Kerry Peninsula and set a course for Ventry Bay, 40 miles away, the winds were aft and MT picked up her skirts and scooted along nicely. Ventry is large bay well protected from the north and faced with a curving sandy beach where we were surprised to see people horseback riding on such a cold windy evening.
Yesterday we had a civilized start, 0900 for a short passage of seven miles to the Blasket Islands. The Blaskets were abandoned in 1953, but these islands were home to several of Ireland's most beloved poets, and a repository for the Irish language. The little café-museum is no longer there, but our crew enjoyed hiking and a picnic on the cliffs as I stood a boisterous anchor watch in rip tides.
Smerwick Harbour, on the north of Dingle Peninsula provided a sheltered but windy anchorage last night and allowed us an early (dark) morning departure this morning for the 65 mile passage to the Aran Islands. As the entrance to Kilronan, the main village on the island of Inis Mor is tricky with a lot of tidal current, rocks and course changes, we wanted to be sure to arrive in good daylight. Well, that hasn't been a problem as with WNW winds to 27 knots in squalls we've made excellent time and the islands are just ahead.
| | |
| --- | --- |
| MT at anchor off the Blaskets | Anne and David hill top on the Blaskets |
August 28, 2006, 1840 hrs, 54.00 N, 010.18 W, Log: 106,092 miles
Broad reaching under double-reefed main and jib @ 7.3 – 7.8 kts with winds WNW @ 24-36 kts in squalls
Baro: 1010, Cabin Temp: 66F, cockpit 62F
CAPE HORN TO LEEWARD, or is it Achill Head?
We enjoyed an excellent time on Inis Mor (www.aranislands.com) sailing all the way into the inner harbor of Kilronan and heading ashore for a tasty dinner at a small pub/restaurant called the Aran Fisherman. Afterwards we were delighted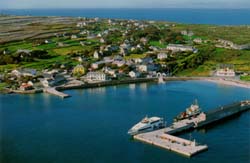 Kironan Harbour
to find live music and dancing at a nearby pub/hotel. A group of island teenagers dressed in black dance outfits were having a great time doing set dances before asking the audience, young and old, to join them on the floor. It was neat to see so many people excited and accomplished at their traditional dance, and to see their parents, grandparents, aunts and uncles clapping, cheering them on, plus joining in the dancing. This is what we love – isolated island communities thriving and cherishing their heritage.
The following morning we delayed class so we could explore the historic, sparsely populated (1300 pop.) Irish-speaking island on rented bicycles while the sunshine held. Amanda and I cycled along the coast with sand dunes and lagoons planning to explore 2000 BC stone cliff top fort, Dun Aengus.
| | |
| --- | --- |
| John pausing on his bike to take in the view and wait for a horse buggy | Dun Aengus Fort |
I had been fighting a cold, we had been cycling into headwinds and occasional drizzle and I had just said to Amanda how nice it would be to find a little café and have tea and scones once when we rounded a corner to find a collection of thatch and slate-roofed cottages. Amanda made a beeline for the cottage selling famous Aran knit sweaters and I checked out a little thatched-roofed tea house, Tigh Nan Phaidi. What a find! The girls inside were baking all kinds of goodies, there was a big fireplace with a peat fire burning away, plus an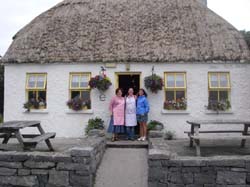 Tigh Nan Phaidi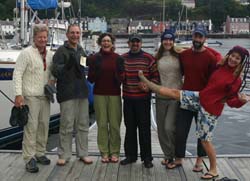 Richard, David, Anne, Mark, Christina, Eric and Amanda
enormous kettle of home made tomato soup. I quickly found Amanda and coaxed her into joining me for a cuppa. We enjoyed meeting the tea ladies Deidra and Correna, and Amanda collected a tasty recipe for scones along with images for her monthly galley column in 48 North magazine.
We never did make it to the fort – that will have to wait for next year, but when we returned to Kilronan, an historic Galway Hooker, a traditional 60′ sailing cutter had tied to the wharf creating a scene that could have been 100 years ago. In the meantime the Aran sweater shops on the pier, www.aransweatermarket.com, had done really well off our crew, some of whom did their Christmas shopping early!
Speaking of crew, here they are in their new woolly jumpers:
Richard Baker, 54 from Johannesburg, South Africa in a real quiet gem! Leg 7 is his second of three consecutive expeditions. Always early for his watches and a keen volunteer to help with whatever needs to be done he has become a very confident sailor and great crewman.
David Huber, 54 from Sydney (what is with being 54??) is "a doctor who needs to heal himself by doing a lot more cruising". David's current dream boat is an Amel 53 or 54, an excellent choice for a cruising boat. David is a vascular surgeon and one of Anne's star Pilates students.
Anne Wolfers, 54 claims she's "an Australian who might otherwise be happy at home on the verandah with a glass of red but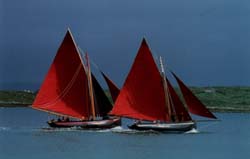 Galway Hookers under sail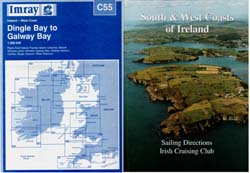 South & West Coasts of Ireland Sailing Directions published by the Irish Cruising Club plus Imray charts proved invaluable on Leg 7
has decided to poke herself in the eye with a blunt stick. So far it's more fun than I imagined". Anne brings a lovely sense of humor (where's your JOKE flag Anne?) and an incredible determination in joining David in his dream.
Mark Bell, 54, a just-retired dentist from Iowa dreams of sailing the seven seas on his own boat and brings an odd collection jokes each time he joins us. Having sailed with us in Tahiti and now , Mark plans on honing his skills on our passage to Spitsbergen, 80 degrees North in 2007.
Christina Thomson, 34 is an executive at a small pharmaceutical company in the Bay area who hopes to cruise high latitudes with her partner Eric. She is keeping her eyes open for a recent model Valiant 42 in a few years.
Eric Murphy, 34 is a mountain guide/climber who guides clients trying for the Seven Summits. He hopes to cruise with his love Christina. After the expedition Eric and Christina are camping, exploring and climbing on the Isle of Skye.
David had our most challenging navigating of the year, keeping us off the unmarked rocks as we short tacked to windward through Inner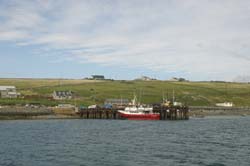 The ferry and town wharf at Inner Quarter, Inishbofin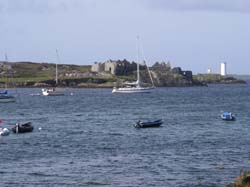 MT anchored before castle ruins
Passage to Big Sound before anchoring off Roundstone on the SW edge of Connemara Peninsula. We had heard that there were plenty of Galway Hookers in the bay plus traditional Irish music at the pubs, but found the music had been cancelled as some of the musicians were ill. Not to worry as our crew still enjoyed hoisting a Guinness in the packed little pub that evening.
INISHBOFIN, what a great name for an island! Amanda has been practicing a Sean Nos step named for this small island, home to some of Ireland's finest traditional musicians. From Roundstone we motorsailed the first 12 miles between the reefs and rocks, but once we cleared Slyne Head we eased sheets for a great sail north over the next 12 miles to Inishbofin. The weather was typically Irish; sunny and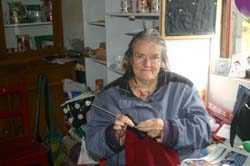 Ann Marie busy knitting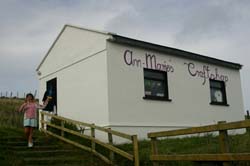 Ann Marie's shop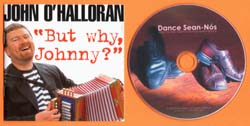 Dance Sean-Nos DVD and John's CD and is what keeps Amanda amused
gorgeous one minute, squally and rainy the next, then sunny again. The harbour was tiny, with just enough room for a handful of boats to anchor in the shadow of and impressive castle ruin that was used in the 16th Century by Grace O'Malley the pirate queen and then by Cromwell as a prison.
After class (I think it was Diesel Maintenance) we stepped ashore to check out the small museum and search for music. Amanda and I hiked up to a Ann Marie's Craft Shop overlooking the harbour where we enjoyed listening to Ann Marie's stories of her parent's sailing their Galway Hooker 50 miles up to Westport to buy supplies for their shop. It seems that the smaller the island, the friendlier the people, and the more they enjoy chatting. Amanda was thrilled to buy two CD's especially one from John O'Halloran whose old style melodeon playing contains great vitality perfect for stepping to. John is also the feature player on the "Dance Sean-Nos" DVD by Ronan Regan and Maldon Meehan that Amanda practices to. We had just missed the last major Inishbofin Ceili Band dance of the summer, but their CD allows a wee taste of their talents. We'll just have to go back in 2008! www.inishbofin.com
We have just rounded Achill Head, the easternmost point of Ireland and the island and sea conditions look strikingly like Cape Horn. Small craft warnings have been up for several days, and we have had two reefs set for many days now. The Irish weather forecast is for Force 6 (Beufort scale: 22-27 kts) and it has been accurate. It has been a rough day with very confused seas created by the dramatic 15′ tides and currents of up to 3 knots, compounded by swell refraction off the headlands. Early this afternoon we left on our longest leg of this expedition, 240 miles from Inisbofin Island in County Galway, Ireland, non-stop to Castlebay on Barra in Scotland's Outer Hebrides.
| | |
| --- | --- |
| Passing Achill Head | The weather doesn't faze these tough Donegal fishermen whom we passed before sighting Tiree Island |
September 1, 2006, 1245, 56.26N, 006.10W, Log: 106,324
At anchor, Soriby Bay, Loch Tuath, Ulva Island, off the Isle of Mull
Our winds increased in the early hours of Aug. 29th until they were gusting to 36 knots and clocked around to the NW instead of the forecasted WNW direction. Mahina Tiare was doing a great job, but the seas were crossed and confused so at 0200 we decided to fall off and set a course for Tiree which proved to be 17 degrees more off the wind, giving us a smoother ride. Wind and seas held and we were able to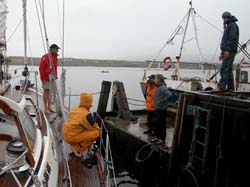 Tied to the wharf in Bunnessan
make landfall at dusk 29th in Hynish Bay. Tea, hot chocolate and ginger cake were rewards for a difficult passage well done. Later I read that Castlebay, our original destination on Barra in the Outer Hebrides has been the ancestral home of the MacNeils (my family) since 1030 and that the family's medieval fortress-castle-home of Kisimul which we anchored off in 2000 is now a historic attraction. Amanda tops that by learning that her family, the Maqueen's from which Swan hails, are from northern Skye and that their Donald clan chief's Armadale castle on the south tip of Skye is now the Clan Donald Centre. We must visit in 2008!
As near-gale force southerly winds were forecasted we looked on Imray chart C65 for an anchorage that would be totally protected from the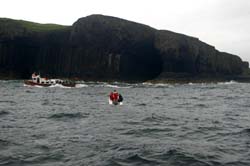 The dinghy approaching Fingal's Cave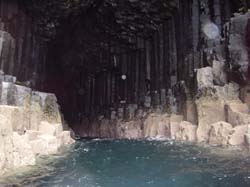 Inside Fingal's Cave
south. We chose Bunessan on the Ross of Mull and had an excellent sail, close-hauled then close reaching at 7.5 knots. We tried to anchor off Iona, often called the cradle of Christianity in Europe, but it was too windy, so we continued on to Bunessan.
That night it rained and blew like crazy, but the following morning (yesterday) the sun came out and after catching up with our teaching we temporarily tied MT to a fish boat wharf to top up water tanks. Minutes after we started filling the water, a fuel truck drove onto the dock to fill one of the fish boats and we were also able to get fuel. Crew went exploring the little two-shop village, Amanda went for a run and after lunch we se sail for Staffa.
Staffa Island, www.staffatrips.f9.co.uk, home of Fingal's Cave was the inspiration for Felix Mendelssohn's overture. With 18 knots making the entrance a serious lee shore, anchoring was out of the question. The attraction of the cave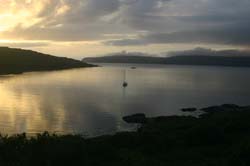 A quiet anchorage in Soriby Bay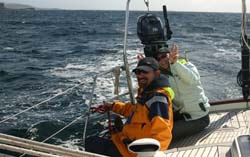 Mark practices his bowline "wabbit" after securing the preventer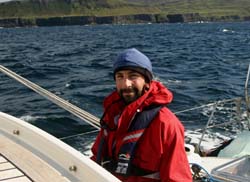 Eric relishes the downwind helming
is black, basaltic crystal-shaped stone shafts. Amanda volunteered to motor around slowly while I took our crew into the cave in two trips for a look. The surge pushed the dinghy in and out, and the 45′ tall cave was impressive.
Soriby Bay, small and uninhabited, off Ulva Island was our anchorage last night. Waterfalls line the opposite shore and only 16 people live on this fair-sized island. We went hiking (or squishing as the ground was very boggy) ashore before sunset yesterday and saw one house, lots of black faced sheep, heather, bracken, wildflowers, and magnificent views in all directions. With so many dramatic islands and picturesque anchorages we're continually shocked at how rarely we see another boat.
This morning we finished up storm tactics, completed the test for it, and Amanda has just packed away the sewing machine after teaching sail repair. We're now looking forward to a rip-snorter of a downwind sail around the corner of Mull to Tobermory, the quintessential Scottish fishing/tourist village.
September 3, 2006, 2245 hrs, 56.25N, 05.29W, Log: 106,378 miles
Alongside Oban Yacht Services, Kerrera Island, Oban
Baro: 1007, Cabin Temp: 70F, cockpit: 61F
SURROUNDED BY CASTLES!
We experienced a very pleasant evening and morning in Tobermory, including a fun dinner ashore plus hiking and poking around in the colorful old waterfront of this famous fishing village. The excellent little marine chandlery had the Imray Yachtman's Pilot books that we had been trying to locate and it was fun to study more about the places we had visited and where to go next.
Christina's treat's – A clean new hat from Tobermory Distillery and Guinness Dark Chocolate
We concentrated on class in the morning, then set sail to work seriously on Lifesling overboard rescue. While we were gyrating around in practice circles, a sleek traditional 45′ Alden-looking cutter flying the American flag went gliding past. When we entered the narrow,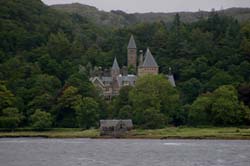 Ardornish Castle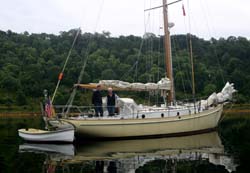 Gary and Beth aboard Anasazi
fjord-like Loch Aline, a rainbow formed over the end of the loch where two real castles guarded either side of the head of the loch and not long after we anchored, that lovely classic cutter anchored nearby. Anytime we see a classic-looking cruising boat, we expect to find interesting and fun sailors aboard, and I did. Beth and Gary Schwarzman aboard Anasazi, homeport Falmouth MA, had just sailed in from the Faroe Islands. I invited them to dinner to enchant us with images and stories of a magical place only a few hundred miles WNW of Scotland's Outer Hebrides. Perhaps we'll see if we can work them into our 2008 schedule as it's a group of isolated, remote, unusual and rarely visited islands, so naturally, we want to sail there!
Early this morning Amanda and I went for a run up the loch to check out the sizable Ardtornish Castle, of which we could find no mention in any of our books. All the gates were open and there weren't any No Trespassing signs, so we quietly walked up the expansive, curving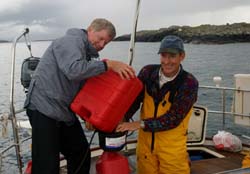 "Sir Richard the Ready" filters fuel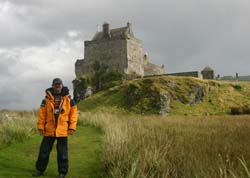 "Knight Mark the Mark" strikes a pose at Duart Castle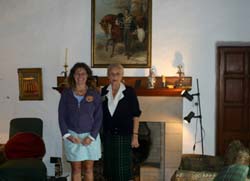 Amanda and Lady Maclean
driveway to get a glimpse of the castle close at hand. It was huge, and in very good condition. Lights were on, there were six sporty cars parked out front. We later read at the estate office that the owner, Faith Raven rents out the castle as four separate self-catering units. The gardens were a lovely profusion and confusion of color and texture, definitely not manicured and are open to the public with a two pound donation asked. The next castle was much smaller, but very tall, probably eight stories, it too looked very lived in with composting piles near the front door and farm tools scattered about.
Later in the morning crew visited with Beth and Gary to lean more about their Chuck Paine designed cold-molded wooden cutter. Cruisers since 1976, Beth and Gary helped build the boat and their low tech, self-maintenance set up intrigued our crew.
The best castle was Duart Castle, www.duartcastle.com, halfway to Oban, and located on the confluence of three important channels. The weather was squally with gusts to the mid-20's, and the charts and cruising guide showed no anchorage in the deep bay, but we found one in 20′, very close to boat ramp and trail leading to the castle. We could hear a piper playing the bagpipes from the anchorage, and the excitement started building. Unfortunately we had gotten water in the last batch of dinghy fuel but with "Sir Richard the Ready" helping we had the problem solved and were off ashore in a jiff.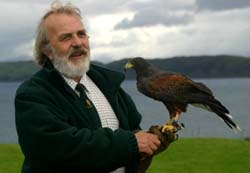 Richard and a harrier hawk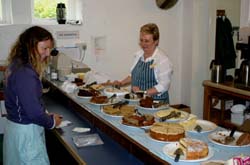 It's a wonderful thing that all the Castles seem to have Tea Rooms!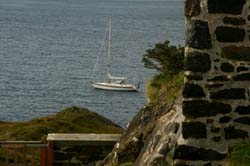 MT quietly at anchor off Duart Castle
Wow, were we in luck! It was the one day a year that the Orient Express special private train tour from London arrives in Oban. The passengers then board a luxury coach that brings them to the castle for an exclusive tour! This is a real genuine castle, complete with dungeons, extensive swords, battle gear, coustume and silver collections and AND a real Lady of the Castle! Lady Maclean, mother of the current 28th Chief of the Clan Maclean was up from London and greeting visitors in the family lounge. At 84 she has a great sense of humor and showed us around the room offering us tea, shortbread and whiskey.
Outside on the lawn we met Richard, a falconer from www.wingsovermull.com, a nearby birds of prey conservation centre. Richard was a fascinating chap and Amanda really enjoyed his flight demonstrations with several birds of prey plus chatting about the role of the birds as food hunters for the castle tables.
It was now only a five mile sail to Oban and with just the genoa unfurled MT touched 7.5 knots as we sailed past the town before furling sail and mooring at Oban Yachts marina, www.obanyachts.com, at Kerrera Island, across the harbor.
Wow, that's it! What an exciting two weeks! New places, new friends, and great attention to our teaching program from our Leg 7 crew made this an unforgettable expedition. As the last ferry for the day had crossed, we dinned aboard with lots of jokes and laughter. That's a sure sign of a successful expedition!
We will work like crazy tidying up MT over the next couple days before catching the train to explore Edinburgh later in the week.
WE LOVE IRELAND!!!
Some highlights of our time between Legs 6 & 7
*Watching hundreds of young sailors compete in the Mirror world championship at the Cork Yacht Club
*Seeing the entire bay of Oysterhaven (near Kinsale) filled daily with people of all ages, sailing traditional yawls, windsurfers, catamarans and dinghies of all sizes and shapes. No matter that it was freezing cold and blowing 25 kts. plus that boats were flipping on a regular basis, these people were having a blast!
*Watching 150 Optimist dinghies and their very young skippers prepare and compete in the Opti Nationals here in Kinsale. It looks like many of their parents have made this part of their summer holiday, bringing the campervan with the Opti's on trailers or lashed to the top of the campers. Their parents are so keen and proud of their little sailors!
*Discovering traditional Irish (and Welsh!) music and dance performances all over the place. Last night we went ashore at the yacht club with another cruising couple, looking for music and we hadn't gone more than 20 steps from the marina when a single bagpiper came out of the Acton Hotel, slowly walking out to the road while piping. He was like a magnet and was followed back inside the hotel pub/ballroom by quite a crowd. We were in for an amazing evening of free traditional music and dance, part of the Cork International Folk Dance Festival. The Owenabue Valley Traditional Group, www.owenabue-valley.net based very near the Cork Yacht Club is an expended family that has danced internationally for twenty years. Two of their dancers are world champions and kids as young as six and people who must be in their 70's were all dancing and instructing the audience on the dance floor. Amanda, who has been studying Scottish and Irish dance since age six was in seventh heaven. As if this wasn't enough, an incredible group of Welsh traditional dancers and musicians performed, sang, joked around and sword danced. The evening closed with everyone standing and singing the Irish national anthem with tremendous feeling. What an incredible night, and what inviting people and country. Even though they have faced tremendous adversity at times, they have never lost their culture or heritage and they are so connected and proud of it now.