Leg 8 – 2012, Update 1
November 2, 2012, 0500 hrs, 27.27 S, 153.11 W, Log: 160,553 miles
Baro: 1019.1, Cabin Temp: 74 F cockpit 76 F, sea water 77.0 F
Moored at Royal Queensland Yacht Squadron, Brisbane, Australia
A ROUGH AND DIFFICULT START FOR LEG 8!
We've really enjoyed our two weeks off between Legs 7 & 8 with a rental car trip as far north as Bundaberg, but now it's time to get serious about our final passage of the season from Brisbane to Auckland.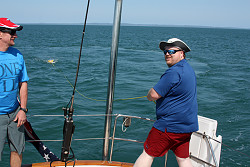 Our eager crew joined us at noon yesterday and within minutes of their coming aboard, we slipped mooring lines, headed to the fuel dock and then set sail to have each expedition member practice Lifesling overboard rescue maneuvers off nearby Green Island.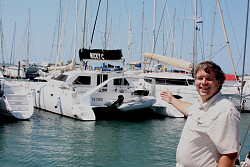 On our way out of the marina, Ian proudly pointed out his Schonning catamaran, Nicky C which he purchased only two weeks ago. It was great to have his local knowledge showing us the deeper parts of the shallow entrance channel to Manly Boat Harbour.
Customs is scheduled to come aboard for outbound clearance between 7 and 8 am this morning, then we will set sail directly for the 40 miles of channel to Brisbane's NE Channel entrance.
Just about the time we reach the relatively shallow entrance, we expect to have a frontal passage with a 180 degree wind shift from N to S and winds possibly gusting to 40 kts for a few hours.
Click HERE to view the forecast we've just received from Commanders Weather
Click HERE to see our weather first hand on PassageWeather.com
November 3, 2012, 0600 hrs, 27.10 S, 153.22 W, Log: 160,571 miles
Baro: 1011.2, Cabin Temp: 73 F cockpit 76 F, sea water 77.0 F
Anchored off Tangalooma, Moreton Island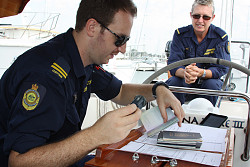 This was certainly one our fastest and friendliest Customs clearance.
We didn't get far yesterday, only 20 miles. Winds that had been forecasted by multiple sources to 21 kts at 1300 turned out to be 38 kts, gusting to 46. With the highest winds predicted to occur at 1600, the time that we planned to be rounding Cape Moreton into the Tasman Sea we decided that conditions for rounding the Cape and once we were offshore could be very untenable, so we looked for alternatives. Several people had mentioned the anchorage off Tangalooma, a small resort settlement near the middle of Moreton Island as a possible anchorage in all but SE winds. Our concern was whether it would provide enough shelter from the ESE winds and substantial chop we were experiencing. We dropped the triple-reefed main, surfing under only 6′ exposed of our nearly-furled genoa to allow us to quickly change course without worrying about gybing the main and Amanda called a small landing barge/ferry that we were on a converging course. The skipper of Rainbow Venture was super helpful, advising that there should be a protected anchorage just past the wharf. We tucked in close to the beach to allow him to pass and found a very good anchorage in 50′.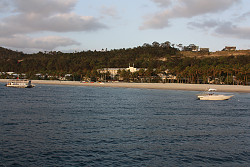 The view ashore to Tangalooma from our anchorage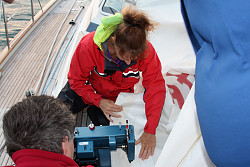 We had torn our now very-tired mainsail getting it down so we waited until 1700 when the wind was down to 20 in gusts, hauled our Sailrite sewing machine on deck and with the help of sticky-back Dacron sail repair tape, made the repair with many helpful hands keeping the sail from blowing away.
After a yummy dinner (Kitty Elton's Seafood Pasta) there was a chorus of groans when I pulled the test books out to test our crew on sailing terminology and safety procedures.
Last night was quiet and this morning I'm headed into the water to scrub the prop and waterline before breakfast and finally setting sail for NZ. The forecast for today is for 14 kts out of the SE. The wind direction is forecasted to slowly, very slowly back to the E then NE, so it looks like we will have a slow passage to windward for our start.
November 4, 2012, 0520 hrs, 28.17 S, 153.59 W, Log: 160,681 miles
Baro: 1011.2, Cabin Temp: 74 F cockpit 73 F, sea water 77.0 F
Close-hauled at 6.5 kts under double-reefed main and genoa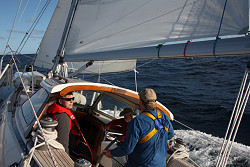 Ian keeps a watch lookout while Thor helms and Stan catches up on some off watch reading Surprisingly, no one has been seasick, even though it has been a bit bouncy going to windward. Thor brought down extra Transderm Scopalamine patches I'd requested and nearly everyone is trying them out with excellent results.
Yesterday morning we scrubbed the prop, sponged off harbour slime on the bottom and enjoyed a brief pre-breakfast swim before hoisting anchor and setting sail from Moreton Island. We had downwind conditions until we exited NE Channel and set a course S to clear Hutchison Bank. Motorsailing close-hauled for a few hours gave us a few miles of clearance off Moreton Island and conditions have remained remarkably similar since then.
Ship traffic has been sporadic; we'll have 2-4 ships passing, headed N or S, every half hour or so, but none close enough to cause us to change course. We've been making good time to windward, and although we are sailing well south of the direct course line to North Cape, New Zealand, we are getting south which should put us on the favorable side of the ridge that is forming in the Tasman and very slowly moving eastward. On the south side of the ridge (where we are trying to get) NW winds are forecast which would be downwind for us, but on the N side (where a direct course line would put us) we would have SE headwinds for nearly a week!
If you'd like to check our current position, go to the Google Earth map on the bottom of our homepage, www.mahina.com.
Leg 8 – 2012, Update 2
November 9, 2012, 0530 hrs, 33.20 S, 163.10 E, Log: 161,254 miles
Baro: 1019.1, Cabin Temp: 69 F cockpit 67 F, sea water 67.0 F
Close reaching at 6.5 kts in 18-22 kt under triple-reefed main and genoa
ALMOST PARADISE, HOW COULD WE ASK FOR MORE?
After two days of being close-hauled and not being able to steer a rumb line for North Cape, New Zealand we found ourselves closing in on Lord Howe Island; an island Amanda has twice raced to from Sydney 20 years ago and one that I have long dreamed of visiting. www.lordhoweisland.info.
| | |
| --- | --- |
| Although our winds were not favorable the East Australian Current was overall favorable for us sometimes up to 1.7 knots. | As we'd not planned on stopping, I hadn't faxed in a request to visit, required according to www.Noonsite.com which also states that because of Lord Howe's World Heritage and park status no anchoring outside the island is allowed. But as we closed on the island at about 4 miles I thought we'd give a call to try and co-ordinate a visit. "Lord Howe Maritime this is yacht Mahina Tiare on Channel 12" |
| When Clive, who answered, said we were welcome to visit and asked me to call again at two miles from the island the euphoria I felt spread infectiously amongst the crew. At two miles Clive advised to enter the lagoon through North Passage and pick up mooring #5, just slightly to starboard of the range and green inner channel marker. | Thor was calling depths which got down to 1.5′ exactly in the center of the channel with coral and rocks surrounding us. Once secured to the mooring we had 2.3′ of water between MT's keel and the gorgeous coral with the remains of an old shipwreck directly astern. Tom dove to check the mooring and reported it was like swimming in a tropical aquarium. |
Clive checked with the sole policeman and reported back that since our last port was in Australia we wouldn't need to complete any formalities other than to pay the island administration for the use of the mooring ($40 per night, two nights minimum plus $30 admin fee) and our landing fees of $37.50 each.
We headed ashore quickly as we'd heard on the VHF it was Melbourne Cup Race Day therefore the bowling club was where most of the island's population of 350 was celebrating. What a wild bunch – girls and ladies wore fancy dress accessorized with fab hats & shoes while the guys were wearing outrageous tux with tails!
We met a local couple who had for many years worked 4-5 months per year picking kentia palm seeds, the island's famous export, while cruising around the world in various boats the rest of the time. They'd followed us through Patagonia in the late 90's and were soon flying to Tasmania to continue cruising on their current 34′ S & S sloop.
As we walked by Wilson's Bike Rental and couldn't resist renting really good mountain bikes for just $8 per day. No bike locks required and with only a few cars on the island this is a cycler's dream!
| | |
| --- | --- |
| Fairy Tern sitting on an egg at Wilson's Bike Rental. They mate for life and this little fellow and its partner had been nesting on this branch for 5 years | The tranquil scene at The Pines Resort boat house |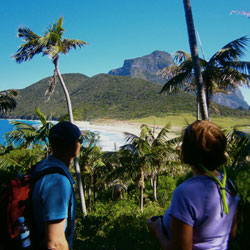 Meanwhile our adventuresome crew, well-organized by Linda, an irrepressibly happy and inquisitive Kiwi nurse, met many of the local colourful characters as they hitchhiked and trekked from one end of the island to another frequenting all the notable vistas such as Transit Hill and Binky Beach
Numerous surf boards and boggy board stored in the dune grass were just too irresistible for Tom and all in good humor Jamie ran to be on life guard duty to our wayward Canadian crewmember.
 

OLYMPUS DIGITAL CAMERA

We decided on The Anchorage restaurant for dinner, situated in the village center not far from the wharf, and what a surprise! I had expected typical Aussie fish & and beer battered chips but instead we enjoyed truly local gourmet fare of fish and beef with decadent treats for desert.
When paying our mooring fee I'd forgotten to ask for the key to the free showers and laundry on the wharf moorage fee but little did I know Linda had already shamelessly flirted with the Lord Mayor and talked him out of his own set of keys so crew enjoyed delicious hot showers to wash away their surf tumbling at Blinky Beach before we headed back to MT.
Anytime going ashore for a run, cycle or explore is an option, Amanda and I always invite any of our crew to join us at first light. We were both so excited about getting on our rented bikes and exploring the island that we awoke at 4 am before first light. By 0500 we were in the dinghy, joined by Ian and Tom and headed off on adventures. We were back aboard at 0800 so I could make breakfast, then everyone headed ashore to rent bikes and explore more of the island.
At the excellent museum we'd learned that this exotic, sub-tropical island had been uninhabited when discovered in 1788 by the RN ship, SUPPLY when on a supply run between Port Jackson and the penal colony on Norfolk Island. A few decades later three British whalers and their NZ Maori wives and children were the first settlers. They had been chased from their NZ land-based whaling station and set up farms on Lord Howe, selling provisions to passing whaling ships.
We met at the island co-op at noon, and every one had tales of adventure including how not to loose your shorts while body-boarding. None of us wanted to leave! In fact Ian called his wife Debra in Brisbane saying, "We've got to sail here" only to be told, "I've been telling you for years we should visit Lord Howe!"
We each made plans to return, some by yacht, others by air as we returned to MT to enjoy lunch and a snorkel. I found that Tom hadn't been exaggerating when he'd remarked earlier that the snorkeling was amazing. Seconds after I'd dropped into the crystal-clear water a huge ray somehow managed to glide between MT's keel and the bottom, and parrot fish the size of truck tires inquisitively swam up to inspect us. It's obvious that declaring the lagoon a marine park in 1999 has really paid off. While we were on the mooring, several groups of kayakers and two glass-bottomed boats glided by. Total number of tourists at any time is limited to 400 and as there are only small guest cottages and luxury lodges the island won't be overrun by tourists any time soon. In fact, there is no mobile phone service, only old fashioned-card phones like we still see in Tahiti.
​
So, sadly we set sail heading around the southern tip of the island which afforded a clear view of the stunning Balls Pyramid, the world's tallest sea stack at 1500′. Minutes after we cleared the limits of the marine park Tom had the fishing lines out instantly snagging a tiny toothy tuna but thankfully last night, just as Amanda was stretching the tiny fella into dinner, Thor who was helming, quietly suggested that Tom appear on deck and with the help of Stan landed to land the evenings catch: a much tubbier southern ocean tuna that was definitely a three-mealer. Amanda doesn't go by fish weight, just how many meals it will create.
This morning the sun is out and ever so slowly the wind is coming around from NE to N, allowing us to ease sheets and our speed to pick up. With 492 miles to North Cape, we should be rounding it sometime Monday and hopefully arrive in Opua on Tuesday.

Leg 8 – 2012, Update 3
November 16, 2012, 2230 hrs, 36.46 S, 174.53 E, Log: 161,944 miles
Baro: 1019.1, Cabin Temp: 71 F cockpit 67 F, sea water 65.7 F
At anchor, Islington Bay, Rangitoto Island, New Zealand
We've Saved the Best for Last!
Upon departing Lord Howe, our winds very, very backed around to the N, then NW, allowing us to ease sheet for the first time and we were tickled to watch our noon-to-noon daily runs climb from 150 to 160, 162 and then 175.
| | | |
| --- | --- | --- |
| Linda certainly enjoyed her trick at the helm although when our temperature started to plummet as we head south she wondered if we'd somehow over shot NZ and were headed for Antarctica! | We caught fish, thanks to Stan and Tom, taught class, got Mahina Tiare up and surfing and had a seemingly endless supply of stories and jokes from our crew, particularly Ian. |  Thankfully Jamie spotted a tear in our sail. This time it was the headsail and only a row of stitching near the head that had given up the ghost. |
For nearly a week we had been hearing of a low spinning up down near Sydney, which was supposed to trigger a fairly strong frontal passage just about the time we calculated we would be rounding the rugged northernmost tip of New Zealand.
Sure enough, just before sunset on Sunday, November 11th I looked astern at a fairly solid grey/black wall approaching and said, "There's our cold front!" I headed below to put on foulies and no sooner than I made it below to our aft cabin than there was a CABOOM! As an instant, 50 degree wind shift caused our helmsperson to gybe the mainsail. Fortunately the preventer was pulled tight and there was no damage. As quickly as possible we trimmed for our new tack, put in another reef and OFF WE SCOOTED!
It was dark by the time we passed Cape Reinga, the very NW tip of New Zealand, and we had to motorsail some across the top before making the turn at North Cape just after dawn on Monday and making a beeline for Opua, New Zealand's northernmost customs port of entry located in the Bay of Islands, 85 miles south. New Zealand Customs requires a 48 hour advance notification of arrival, and we'd done that by sending a fax before we left Brisbane. It was looking close as to whether or not we'd reach the customs wharf before they closed at 1630.
| | |
| --- | --- |
| At 1400, just as we were entering the Bay of Islands, Hawk, the NZ Customs launch zoomed up alongside saying, "Welcome to New Zealand" and asking if we had made any stops or had any contact with vessels since making landfall. | Robert and Lesley, Amanda's parents whom we last saw in Noumea motored out in Gracias to welcome us to Opua with cat Tigger aboard. They moor Gracias, their Beneteau 432, on a mooring directly off Opua Marina. |
We arrived at the customs/quarantine dock with 45 minutes to spare, thanks to a favorable current and within minutes an inflatable nudged up to the dock which is not attached to shore and customs and quarantine officers came aboard for a sleek and warm clearance. They told us they had cleared 60 incoming yachts in the past three days and were expecting over 100 more within the next three days, at least half with damage from an early tropical storm that had mowed right through the fleet of boats heading down from Tonga, Fiji, Vanuatu and New Cal. We learned that a couple, suffering from head injuries, had just been taken off a Beneteau 43 and that vessel was severely leaking after the forehatch was smashed by an adrift jerry jug.
As we knew Opua Marina must be busting at the seams with so many new arrivals we were delighted to learn they had a slip available for us, and moved in immediately, giving our crew access to the excellent showers, laundry and café directly ashore.
| | |
| --- | --- |
| Jamie, Linda and Tom test the waters in the whale blubber melting pots in Russell | At Roberton we hiked to the top of the hill, three of our nutty crew went swimming (Yes you guessed right Linda, Jamie & Tom) and Robert and Lesley kept everyone entertained with sailing stories over dinner.. |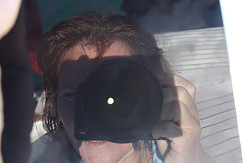 Reflective self image of Amanda viewing of the eclipse through the welder's glass
Our crew headed into nearby Paihia to a barbecue ribs joint and then explored the area Tuesday morning before we set sail from nearby Russell for Roberton Island, one of our all-time favorite anchorages.
Wednesday dawned clear and crisp until the sun started disappearing behind a near-total eclipse. Stan was well prepared, having brought two welder's glass plates, allowing us to watch the sun hiding behind the moon.
Our sail south to Tutukaka was brilliant! We had good winds as we sailed past Cape Brett (hole in the rock) and with winds gusting to the mid-20's, we got some more reefing practice.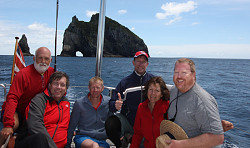 Here's our diverse Leg 8 crew gathered as we sail past Cape Brett Stan, Ian, Jamie, Tom, Linda and Thor
Stan, 60
I live in Scottsdale, Arizona but enjoy coastal sailing on my Hunter 27 out of San Diego. My wife Lynn has joined me for bareboating in the BVI's and Greece will be our next chartering adventure.
Ian, 44
Part time anesthetist, part time businessman in international freight forwarding, born in Tasmania but I've lived in Brisbane for the last 20 years. I very recently purchased a 14.3 Schonning catamaran which I'm currently enjoying sailing on Moreton Bay. I'm looking forward to exploring further offshore soon!
Linda and Jamie, 54 & 51
We are from Northern Victoria, Australia and have had all types of adventures from running a large irrigated dairy farm for 11 straight years to owning printing business but what we're really keen on doing is purchasing a sailboat and cruising the Pacific, Med or Caribbean.
Tom, 53
I live in North Vancouver with my wife Susan and sons Jason and Steve. We sail our Catalina 34 between the along the BC Coast and San Juan Islands. I've always looked forward to ocean passage making and crossing the Tasman Sea aboard Mahina Tiare was a fantastic experience.
Thor, 45
I am outfitting my Pacific Seacraft 34 for extended cruising and wanted some offshore passage making experience before taking off in a while on my own adventures.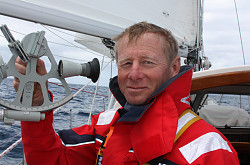 Jamie practicing celestial navigation in the calmer conditions
Thursday we had a 58 mile sail, this time with gusts into the mid-30's, but off the land, so seas were flat and MT was barreling along at up to 8.5 knots. It's always fun to watch our crew's helmsmanship improve from steering wobbly courses when they join us, to handling strong, gusty and frequently changing conditions with ease after a couple weeks.
Kawau Island was our destination, and was where Linda had spent many summers with her family, sailing, boating, fishing and having great adventures. She pointed out their family home which they had just recently sold and places they had sailed to as a kid.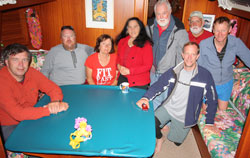 Lin and Larry Pardey, just back from a four month road and sailing trip to the US, joined us for dinner, Lin regaling us with great stories from all over.
This morning we anchored off Mansion House, the former governor general's home and all went hiking and exploring before breakfast and setting sail south towards Auckland. Once again we had great sailing conditions, lots of wind, but very modest seas.
Islington Bay on Rangitoto Island is always a starting and ending place for us. This is where Amanda and I sailed on our first sailing date in 1994, always our first stop after relaunching Mahina Tiare each May, and our last anchorage of many seasons. Last night after everyone went aloft for rig inspection in a fairly stiff breeze the skies cleared and the winds died so we all enjoyed a hike around the well-preserved historic "bach's" (beach cottages).
November 20, 2012





The morning of the 17th Amanda and I had hoped to take crew on our traditional Rangi Ramble up to the summit but a howling gale put a damper on our plans. Instead we focused on the finer points of cruising with a detailed engine room briefing and braid splicing.
​
The skies cleared long enough for us to steam up the Waitemata Harbour with a ticky tour of maritime museum and the swanky viaduct basin home stuffed with visiting mega yachts. Thankfully Westhaven Marina found a berth for us and we all enjoyed a final crew meal out at the Turkish Café in Ponsonby before everyone headed off home or on explorations of NZ.
Now, another season, our 22nd is winding down. Even before we were done cleaning Mahina Tiare we'd shifted into repair and refit mode. So far we've replaced a genoa winch base that had cracked, purchased replacement rope clutches for our mainsheet, purchased filters and impellers for our Volvo engine, repaired a cranky bilge pump, found a Lofrans windlass specialist to show us how to rebuild our leaking anchor windlass and removed our Force 10 stove/oven and taken it to the Force 10 importer to replace the burners. When I saw the shiny new and improved model, I took the leap and put a deposit on a new stove.
​
We've been fortunate to have sunny, dry days without the normal Auckland spring time gales. Today on our return across the harbour bridge from the stove place we saw both Team NZ and Prada out very cautiously sea trialing their massive new 72′ America's Cup catamarans.
Tomorrow we're hoping to get the main and genoa down and furled on the dock and rebuild the windlass. Friday we plan on sailing (oops, no sails – I mean motoring!) back to Rangitoto Island to work on varnish and decks before hauling out Monday morning. After a week in the boatyard working on the decks and general cleaning and sorting we hope to have even more projects completed. While we're beavering away over the next weeks we'll look forward to driving north to Whangarei to see Amanda's family, especially her 4 and 1 year old nieces, Mary Ann and Tessa. We've already been told we're got special tickets for a ballet performance of Snow White.
It's nearly Thanksgiving Day, and this is the time we express our gratitude to the special people in our lives; our families, the expedition members who join us, Tracy who runs our office so efficiently, Melonie and Chris who keep our website looking so smart, Carol Hasse – our sailmaker at Port Townsend Sails, and the dedicated crew at Hallberg-Rassy who built Mahina Tiare.
Last but not least, thanks to you, our readers who have followed our adventures, some of you since our first Antarctica update in 1996! Let's make a toast to a wonderful year, full of learning and adventures, and to next year when more adventures and islands await upon our completions of our voyages!
A Hui Hou!
John and Amanda,
Westhaven Marina
November 21, 2012
Leg 8 Itinerary