January 18, 2018, 0630 hrs, 06.35 N, 090.15 W, Log: 209,777 miles
Baro: 1013.7, Cabin Temp: 79 F, Cockpit: 79 F,
Sea Water: 78.4 F (really chilly?)
Broad reaching at 7.9 kts in 15 kt
HOORAY – WE'VE FOUND THE NE TRADEWINDS!!!
Our week off between Leg 9-2017 and Leg 1-2018 was the best time we've ever had in Panama, partly because we had secure moorage. On our last stay on the Pacific side of the canal in 2015, the only moorage option was La Playita Marina and the surge was so bad at the time that cleats were pulling out of the docks and lines were chafing no matter how much chafe gear we put on. What a difference we had this time.
Flamenco Marina (also called Amador Resort and Marina) located right at the Pacific entrance of the canal is one of the most expensive we've used anywhere at US$2.40 per foot per night. Thankfully it has improved over recent years (the previous time we stayed here there was no power on the docks and actively discouraged sailboats from mooring there) and currently has a very conscientious manager, Carlos Hernandez (chernandez@fuerteamador.com) and crew.
As we had a safe place for Mahina Tiare, Amanda agreed to a visit to Gamboa Rainforest Lodge which we'd briefly viewed after it's opening in 2000. Since then I'd been dreaming about a spending a night there; surrounded by jungle and incredible wildlife. We checked in to a large and comfortable room complete with balcony hammock and sweeping views of the Chagres River and surrounding jungle. Just before sunset we went for a boat ride with just the guide and us, looking for sloths, monkeys and alligators and that night went to sleep to the sounds of soft tropical rain, to be awakened in the morning by the roars of howler monkeys and songs of tropical birds. The staff were enthusiastic and professional, and the rates were surprisingly reasonable.
In the morning we took a gondola ride up through the rainforest canopy and then climbed up a 90' tall observation platform. There were just two other visitors plus Paulina, our very knowledgeable and enthusiastic naturalist and we all enjoyed the stunning views of the Panama Canal and Chagres River. During our stay we saw many exotic animals, birds, frogs, plants and insects – plus a crocodile! If we visit Panama again, a longer stay at the lodge will be high on my list as I'd also like to check out their jungle hiking trails and visit the sloth sanctuary.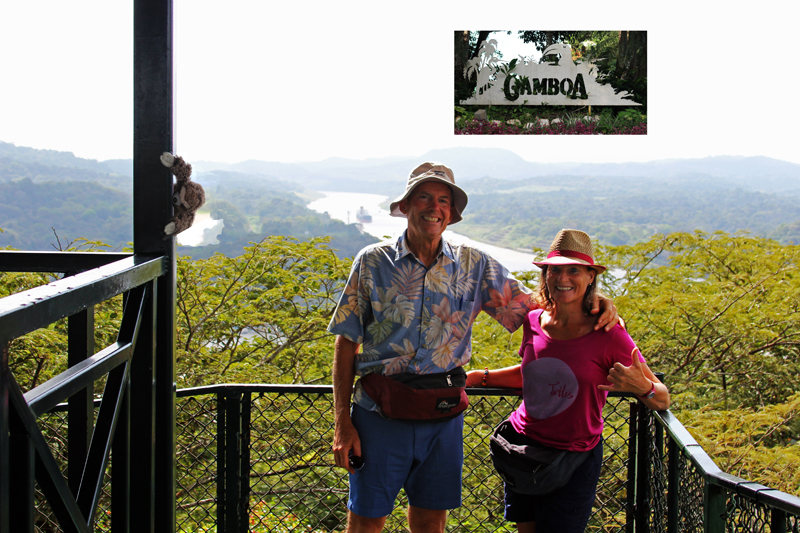 Chilling at the observation tower
Upon returning to Mahina Tiare, we really had to get to work; complete the general cleaning and laundry between afternoon downpours, undertake small repairs and make numerous provisioning runs for the longest expedition we ever run – 31 days. Trying to find, stow and maintain enough fresh vegetables and fruit for eight people in a very tropical climate for that long of a passage is a real challenge. Thankfully we had Elias Castillo, (eliassyrovi@gmail.com, +507 6140 1135) the very helpful driver and representative of our agent, Tina McBride.
Elias knows where all the best food and good values are and we managed to complete our entire provisioning in two trips – the first to Price Smart; the HUGE and excellent Costco-like warehouse and the second to Mercado de Abastos (the enormous public fruit and veg market) followed by a final top up at Rey, a nearly-new and first class supermarket located in nearby Albrook district.

Purchasing a used chocolate container to use for extra fuel from a sidewalk vender in Panama City


One $4.00 stalk of bananas or two?


Kevin's drone image of MT berthed in the middle of Flamenco Marina
Wednesday night met up with old friends Jessica and Richard from www.elcieexpeditions.com at the Cruisers Discount Pizza Night located at the waterfront pizza joint near where they were anchored off La Playita Marina. We first met in Fiji 21 years ago where Richard had been best man at our wedding at Musket Cove and later caught up in NZ. We again enjoyed a great visit along with Dennis and Cheryl, two of our Leg 1 expedition members who had just arrived from Singapore. Richard and Jessica have been involved in sail-training for over 35 years and take expense-sharing guests with them. They're on their second circumnavigation, this time on Elcie the 60' aluminum catamaran they built in New Zealand and sailed home to Annapolis with their two daughters. Marty, who had sailed with us on our Canal Transit Leg 9, is sailing with them to the Galapagos. We both needed to sponge the Panama slime and growth off the bottoms of our boats and made plans to anchor together off Taboga Island, just six miles away once we leave Panama.
Thursday morning Elias and I met our crew at Country Inn and Suites Hotel where our crew stayed to pick up passports before heading to immigration next door at Balboa Yacht Club. On most of our five previous visits the club's visiting moorings have been filled, but we dropped by their office on the end of the pier to ask if they had any moorings available and met General Manager Rex Jansen (marina@bycpty.com, +507 211 0827, cell +507 6670 7284). He said they currently had one mooring available and mentioned that the club is now allowing yachts to anchor just west of the mooring field while waiting for a mooring to become available. Rex goes all out to help cruisers and is now installing new washing machines and driers this season, complementing the services including fuel, showers, restaurant and bar.
Friday was a blur! Crew came aboard before noon (we'd had safety briefing for two hours Thursday afternoon) and we headed to the fuel dock to fill the extra 16-gallon plastic drum we'd purchased in town. After leaving the marina we crossed the canal entrance (with permission) and headed to Taboga where we dropped anchor and got everyone's help underwater with sponges and scrubbers, to ensure Mahina Tiare's bottom was in prime condition for a fast 4,700-mile passage to Hawaii. Our Micron 77, recently applied in Lanzarote, did great in the rich nutrient rich waters of the Caribbean and Panama. While anchored, Kevin flew his Mavic Pro drone, getting pictures of MT at anchor, and just as we were leaving, Elcie arrived and we all waved farewell.
In our two previous passages from Panama to Hawaii (2002 and 2008) we've had a rough start to the passage, with Punta Mala (bad headland in Spanish) living up to its name. This year was different, and we enjoyed smooth broad reaching conditions under clear night time skies as we worked to stay clear of the busy inbound shipping lane.
Click HERE for Mahina Tiare's passage weather forecast provided by WRI.com.
By morning the winds disappeared and while motoring under clear skies Cheryl spotted a turtle. We quickly turned the motor off, drifted nearby while our crew hopped in the water to get a closer look. Not long after getting underway, we hooked a HUGE mahi mahi and we'll enjoy having Kristi share that story:
My dad used to take me fishing as a kid, but as an adult I've rarely had the opportunity. As a future cruiser I hope to frequently catch fish, so it's important for me to learn the best methods of catching and filleting. On our third day at sea while we were preparing for class Amanda loudly shouted, "FISH ON!" and all of us anxiously headed for the stern to see what was thrashing about.

Matthew quickly went into action, reeling and fighting the 35 lb mahi that seemed determined not to be landed. It took four of us and the gaff hook, but we finally got the fish on deck where Amanda slipped a sail tie around its tail, cleating it off to the stern mooring cleat. The mahi continued to fight and it took three of us to hold it down while Amanda sliced it behind the gills. Amanda showed Matthew how to fillet one side and me the other side and maybe it was because I helped, but I think it was the best tasting mahi I've ever had!
We had a good stretch of beam reaching Monday morning, but much of the remaining miles to Cocos Island were spent motoring in occasionally drizzly conditions as the ITCZ (Inter-tropical convergence zone) showed its normal conditions. There is a sizable area between Acapulco, Cocos, the Galapagos and Panama where there is rarely wind, hence we'd taken the extra 16-gallon fuel jug on deck.
Cocos Island, just 3 x 5 miles was discovered by a Spanish navigator in 1526 and was used by pirates and corsairs preying on shipments of Spanish gold and silver for the next hundred years. Chatham and Wafer Bay attracted treasure hunters for many years but the island has been in possession of Costa Rica which proclaimed it a national park in 1978 and aside from park rangers, naturalists and volunteers (all totaling 20 currently) staying ashore is not allowed.
Tuesday morning dawned with modest headwinds, squalls and drizzle but by 0842 we picked up one of the four moorings in Chatham Bay. It's quite difficult to obtain permission to visit Cocos Island as a permit from Costa Rica is required. I'd twice tried calling Cocos Island on Ch 16, knowing that the national park rangers monitor the VHF, but didn't receive an answer. Our voltage regulator had again stopped working, (we'd replaced it with a spare in Panama) and our watermaker also required replacement of a corroded fuse holder so I was hoping for permission to stop.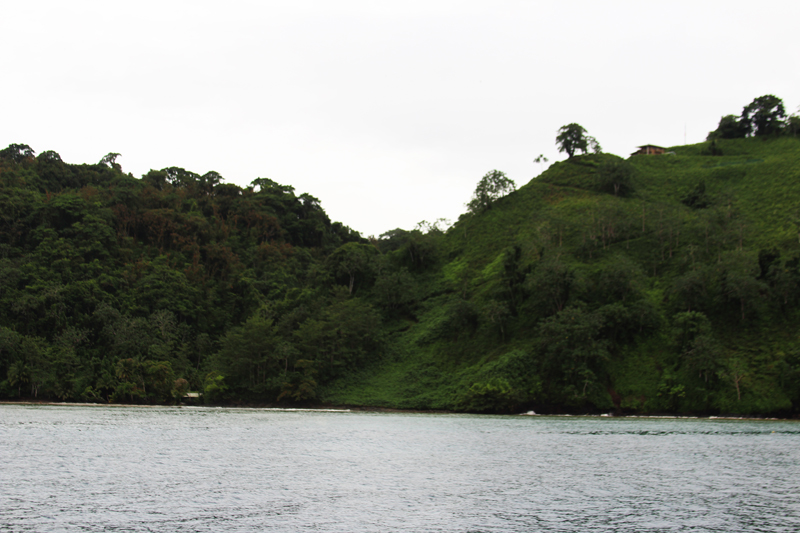 View of the two ranger dwellings at Chatham Bay
After making breakfast, with the help of Dennis, who is knowledgeable about marine electrical systems and had just rewired his HR 42E, we started going through the diagnostic steps provided in the Balmar owner's manual. By putting a jumper across two of the terminals on the voltage regulator we determined the alternator was fine (I had thought it was) and when re-checking all the connections, Dennis easily pulled out a loose wire in a crimp connector that had to be large enough diameter for two wires at one end, but only one wire at the other end. Fortunately, I had a step-down crimp connector that fitted perfectly and that seems to have solved the intermittent problem that has been bugging us for nearly a year! Fingers crossed!
In the midst of our work, an inflatable with the park ranger and naturalist stopped by while making their morning patrol around the island, looking for poachers. When we explained that we had only stopped to make repairs and knew we weren't allowed in the water, the ranger asked for copies of our Panama clearance papers, ships registry and passports. They said we were welcome to stay overnight if needed, asking that we call them on the VHF when departing. Pointing to a place alongside adjacent Manuelita Island they then warned us of a tiger shark that had tasted blood last month having mauled one diver who died, and taken a foot off the dive master who tried to rescue his client.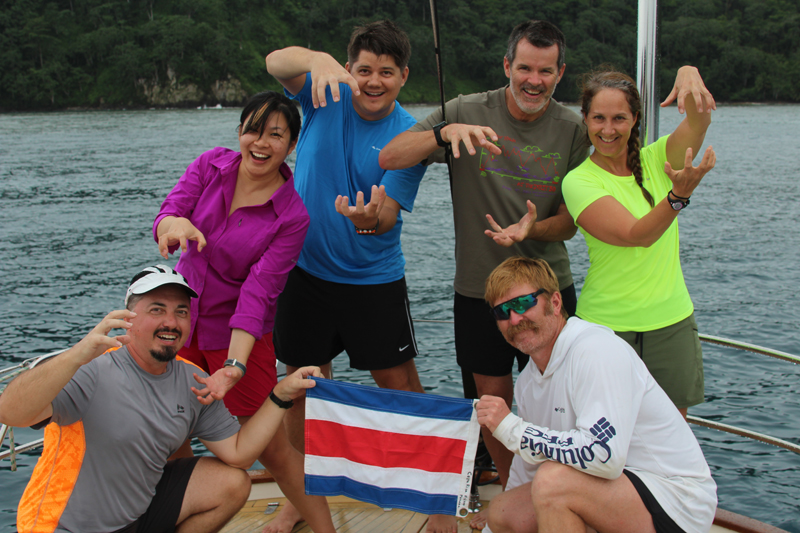 Pred, Cheryl, Dennis, Kevin, Matthew and Kristi shark about with the Costa Rico flag and Cocos Island backdrop.
Amanda asked if they'd had many visits from the two liveaboard dive boats that regularly visit the island from Costa Rica, and the ranger replied that after the shark attack the dive boat visits had dropped sharply. He also mentioned that now that word is out among cruisers about how difficult it is to get a permit to visit, they rarely have cruising yachts stopping.
Kevin:
As a professional photographer and amateur drone pilot, I'm always looking for opportunities to share the beauty of this planet through the lens of my camera, but flying a drone off a pitching and rolling sailboat is especially challenging during takeoff and landing. Once the drizzle stopped, I decided to try launching. I spent 10 minutes flying along the coast of Cocos, and knowing it could take some time to land, decided to bring the drone back with 50% power still left. Pred volunteered to help with the landing and since the aft deck area was so small, I asked him to catch the drone when I directed and he deftly reached up, grabbing it and holding on as I shut it down. Any landing boat landing where the drone doesn't crash or end up in the water is a good one, and I can't wait to view the footage!
With clearing skies, we enjoyed our scenic and productive stop at Cocos and as we'd expected from the GRIB files, we had a calm start to our 1350-mile passage to uninhabited Clipperton Island. Thankfully very early this morning the trades slowly started filling in and we gratefully turned the motor off.

The LOOONG Leg 1 crew: John, Pred, Kristi, Kevin, Dennis, Matthew with Amanda and Cheryl in front.
Pred, 48
I am from Chicago where I work as an IT manager at a university. This summer I began teaching Basic Keelboat to US Sailing standards at my community sailing center, www.SailChicago.org and professionally at www.Chicagosailing.com where I learned to sail. This is my second expedition aboard Mahina Tiare with the first being a BVI to Azores Atlantic crossing. I really enjoy long ocean passages and making new friends with whom I've stayed in touch and sailing with again.
Kristi, 47
I'm a retired US Marine currently live in Chantilly, Virginia. My husband Kevin and I are now under contract on a 50' catamaran which we plan on moving aboard within the next year. When not studying sailing and learning about the liveaboard life, I enjoy kickboxing, yoga and reading.
Kevin, 57
After retiring from the US Marine Corps in 2008, Kristi and I have enjoyed traveling to the Galapagos, Ecuador, Colorado and Montana and only started sailing boats larger than our Hobie Cat last year, helping a friend deliver a cat from Florida to Rhode. We have recently gotten the goal of circumnavigating the world on our own boat.
Dennis, 36 and originally from Germany
I work as a risk manager for a bank in Singapore and have enjoyed refitting and sailing our HR 42E over the past year while gathering knowledge and experience needed for our future adventures.
Cheryl, 30 (also known as Tiger Lily by the rest of the crew)
I left corporate banking life in Singapore a few years ago to pursue travel and business opportunities and have trained and received my RYA competent crew and Singapore-issued Powered Pleasure Craft license. I spend my weekends with Dennis on our HR 42E refitting and sailing in local waters and we have the dream of a possible world circumnavigation.
Matthew, 45
I am about to retire from the US Army Special Forces, and am currently stationed in Okinawa, Japan. This is my second expedition aboard Mahina Tiare as earlier this summer I joined John & Amanda on the Scotland to Falmouth expedition with my 12 yr old son, Jonathan. I hope to circumnavigate with my family one day.
January 21, 2018, 1330 hrs, 08.57 N, 099.09 W, Log: 210,316 miles
Baro: 1010.7, Cabin Temp: 84 F, Cockpit: 88 F, Sea Water: 79.3 F
Broad reaching at 7.9 kts in 15-19 kt ENE winds under full sail with genoa poled out
We've been making good progress and enjoying very pleasant sailing conditions. It's been mellow enough that we've been able to keep up with our ambitious teaching schedule, stop for one very enjoyable mid-ocean swim and enjoy on-deck showers every afternoon. Our best 24-hour run in several years was the 187 miles we sailed noon-to-noon two days ago and today we covered 161 miles. The air and water are very gradually cooling down but we're still enjoying the shelter from our Magma Boat-Umbrella at the helm most days.
| | |
| --- | --- |
| Class is a little tricky when we're rockin' along, but no one seems to notice now that we've been underway for so long. | |
Our 24 volt towed-turbine generator is quietly doing an excellent job replacing most of the power we're using. The only sign that it is working is a slight hum audible in the aft cabin.
---
January 28, 2018, 1730 hrs, 11.56 N, 118.38 W, Log: 211,432 miles
Baro: 1008.4, Cabin Temp: 83 F, Cockpit: 79 F, Sea Water: 79.7 F
Broad reaching at 8-9.5 kts in 22-30 ENE kt
LANDFALL, BIRTHDAY AND RECORD-SETTING 24 HR RUN!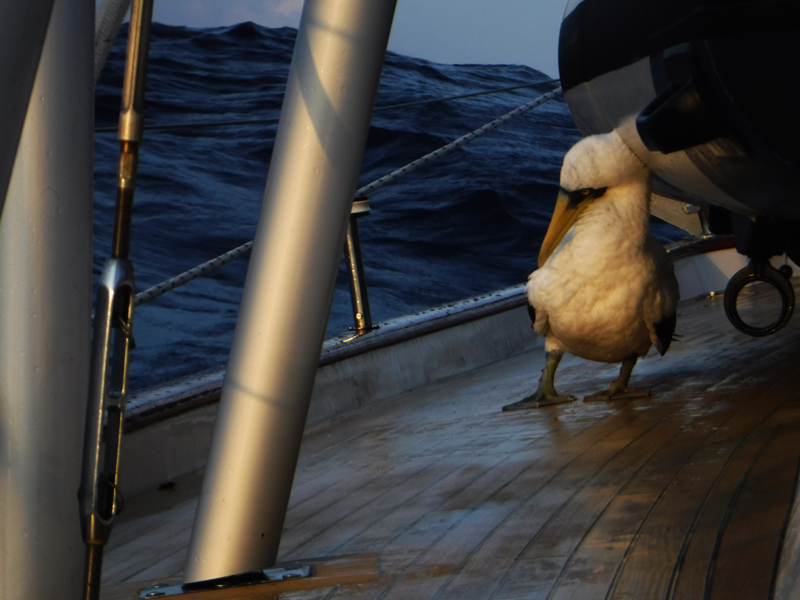 This hitchhiking booby never
really settled in
We made great time on Tuesday and Wednesday and had to put the brakes on by gybing south and reducing sail so we wouldn't run into Clipperton Atoll in the dark. Clipperton Rock, a rough 60' high promontory covered with nesting birds was visible not long after daybreak followed by palm trees and the slowly our rambunctious seas smoothed as we sailed into the narrow lee created by this 1.5 x 2-mile coral atoll.
Upon furling the headsail, we slowly sailed along the islands west side, with our navigator frequently calling depths, searching for a sandy spot to anchor. The chart shows an anchorage off the flagpole and monument but we tried slightly north of there, then after studying the swell pattern with the binoculars we re-anchored in a calmer place yet a little further north, dropping the anchor in 14' of water with a sand and coral bottom.
| | |
| --- | --- |
| Clipperton's prominent rock | The tight grove of coconut trees on the atoll's south shore |
After anchoring, our crew noticed large dark shapes cruising around MT, unsure if they were seeing rays or sharks, no one was keen to jump in the water. First order of business after breakfast, was getting the mainsail foot down through the hatch so that Amanda could make a class out of a sewing machine repair that would have been very difficult to make at sea. During reefing competition the previous day, Matthew had also noticed that the slider above second reef had also chafed through so we re-lashed that as well.

A rather sail repair that required many hands to make it easier;
A noon squall passed and we were grateful that it provided a substantial shower, allowing us to scrub off the bird dookie that two hitchhiking booby birds had left behind. After naps we set sail back south along the coast so those that those who were asleep when we first passed Clipperton Rock could get a good view of it. We then tacked, eased sheets, set the preventer and established a course for Hilo, Hawaii, 2750 miles to the WNW.
Crew photo time: Amanda, Dennis, Matthew, Pred, Kristi, Cheryl and Kevin
Just after we departing we received a surprising email from Tahiti:
French Maritime Interagency Center responsible for Pacific Ocean detected that your vessel is currently within Clipperton territorial sea. Please be advised that the territorial sea of Clipperton is a marine protected area and that anchorage, diving, introducing species, going ashore and to leave wastes are forbidden (see enclosed).

In addition, the provisions of United Nation Law of the Sea Convention (UNCLOS), and especially the conditions of exercising the right of innocent passage (continuous and expeditious) are applicable within Clipperton territorial sea. We request you to comply with the provisions of French Law and relevant international regulations. Please acknowledge.
We of course acknowledged, stating we had stopped briefly to make repairs and were already underway for Hawaii. We of course wouldn't have stopped (although we needed to, in order to properly repair our sail) had we known it wasn't allowed, but are unclear as to how we could have possibly known stopping was prohibited.
We had checked www.noonsite.com for any updates on Clipperton before departing Panama and had read the entry in Jimmy Cornell's World Cruising Destinations which states, "Even more remote and the subject of a long dispute with France, is Clipperton Atoll lying some 700 miles off the Mexican coast. The lagoon has no pass, but the few yachts that stop can shelter in the lee of the reef. Landing through the surf is sometimes difficult, but the diving on the surrounding reef makes up for it."
BIRTHDAY GIRL!!!
Friday was Cheryl's 31st birthday we celebrated with fresh baked Ghirardelli Triple Chocolate brownies following Mugee fish curry, a repeat of Cheryl's favorite dinner of the expedition so far. We'd all made Turks head bracelets in class and Amanda organized the gift of a spiffy zipped pouch from upcycled sail cloth which each of us will sew a seam on during sewing class…once these seas subside enough to bring the Sailrite machine out.
Crew photo time: Amanda, Dennis, Matthew, Pred, Kristi, Cheryl and Kevin
Yesterday was a record-setter, with our first noon-to-noon run of 200 miles since the same day on the same passage in 2002! Each watch boasted a higher top speed – I think Kristi's 11.4 kts on the GPS VMG was tops – with two reefs in main and poled-out headsail, Mahina Tiare surfed along like a freight train with winds frequently gusting into the 30's. Steering was challenging at times, and before dinner Pred and Matthew set the third reef, making steering (and perhaps everything!) a bit easier.
We've seen three ships but after dinner last night Pred spotted what he called a "ghost ship" on the Icom remote handset in the cockpit. A huge bonus of the new Icom M506 VHF radio we had installed in Sweden is that the RAM (remote access microphone) has a repeater of the AIS receiver that is built into the radio. This means that while on long passages when we are conserving battery power, we can turn off the Raymarine MFDs (multi-function displays). We always keep the VHF on while underway and every 20 minutes our on-watch crew check the cockpit mic screen for AIS returns and if they see anything they then turning on the Raymarine. Our Raymarine AIS is still transmitting, still has the alarm on and can be viewed in our instrument repeaters above the companionway. The minute we sight an AIS signature on the mic or repeater, we turn on the MFDs and radar.
Pred's "ghost ship" turned out to be a 60-meter-long Chinese fishing vessel as when we got close enough we could then receive the rest of its AIS signature. I gave a VHF call but heard nothing. A little later Cheryl's call in Mandarin elicited a very excited reply and a long chat with the watch stander. Cheryl relayed that the vessel was based in Panama, crewed by 18 as was out 8-10 months at a time catching fish.
Today's run was 195 miles and we've enjoyed slightly smoother seas and shaken out the third reef.
---
February 5, 2018, 0730 hrs, 17.48 N, 141.09 W, Log: 212,776 miles
Baro: 1015.1, Cabin Temp: 77 F, Cockpit: 79 F, Sea Water: 77.5 F (cooler every day!)
Deep broad reaching at 7-8 kts in 18-23 ENE kts, 799 miles to Hilo
ZOOMING DOWN TRADWIND SEAS TO HILO!
Amazingly, another week has passed, surfing along in tradewinds en route towards Hawaii. Our daily runs have been 190, 190, 198, 178, 184, 195, the current has been with us and we haven't encountered a single rain squall since Clipperton. This crew LOVE sailing fast, and if Amanda or I wonder out loud if it might be time to tuck in a reef, the standard helmsman reply is, "No, we're handling it just fine!" even with surfing spurts to 11 knots on the GPS!
Here's Pred to fill you in on the total lunar eclipse we enjoyed Friday morning:
Here are Kevin's comments about photographing this once in a lifetime event
In order to shoot the progression of the eclipse from a boat under sail in the middle of the night, I needed a fast shutter speed of 1/250th of a second or faster, an F-stop of 5 and an ISO of 1600. As the eclipse progressed, my F-stop opened up to 2.8 and my ISO increased to 2500 in order to keep a shutter speed fast enough to freeze the motion of the boat during shooting. I was using a Nikon D800E with a 70-200 mm f 2.8 lens with image stabilization.
After two weeks of anticipation and watching the moon wax ever larger each night, in the early hours of January 31st, we watched in wonder as the shadow of the earth fell over the bright face of the full moon.

It began at 0345 and would not end for five hours. We waited for the total phase as the shadow crept down over the moon like a theatre curtain.

It would not be fully eclipsed for two hours, but that's ok, since some of us (including Kristi and me) were on night watch.

Kevin photographed the progression to totality with a 200mm zoom lens with spectacular results. We were able to see orange-red totality before the moon sunk into the clouds near the horizon.

What a privilege to experience a total lunar eclipse from a sailboat in the middle of the Pacific Ocean!

But this was no mere eclipse – it was the trifecta of eclipses; simultaneously it was a super moon, a blood moon and a blue moon, a phenomenon not seen in 150 years! That night like many before it on this trip, we were roaring along at sometimes 10 knots, with just the moonlight and the stars illuminating our path.

We would put nearly 200 nautical miles under that keel that day – and remember it for the rest of our happy lives.
Our teaching schedule is easy accommodated on a four-week expedition, and the only topics we haven't been able to cover yet (because of the rambunctious sea state) are sail repair with the Sailrite sewing machine, Lifesling overboard rescue, winch servicing and going aloft The GRIB weather files have promised lighter winds for the past four days and in fact winds and seas are down slightly this morning. I believe we set a record, going one week without once touching the whisker pole, but very early this morning the wind backed more to the east, causing us to shift the pole forward.
| | |
| --- | --- |
| It's fun hearing Cheryl chat away in Mandarin to the passing Chinese vessels | |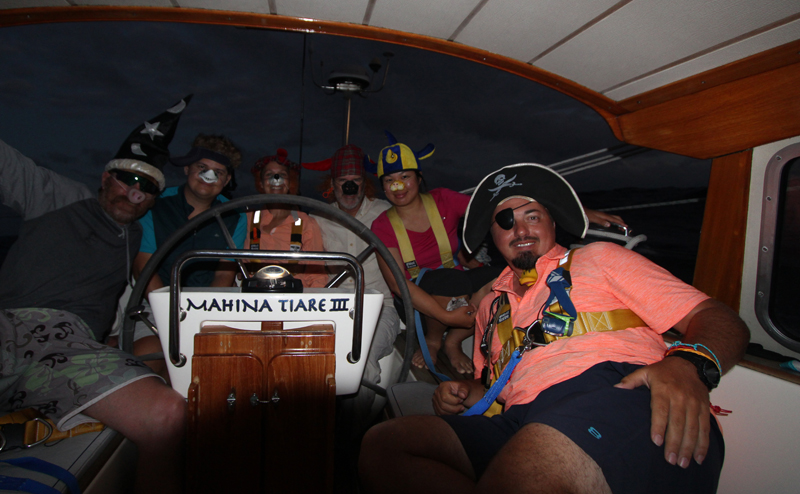 1/2 way party high jinks
Wednesday we celebrated Kristi and Kevin's 15th anniversary, the next night we pulled out our song sheets and enjoyed a very enthusiastic sing-along and last night we had our half way (of this final leg) party for which Amanda organized pass-the-parcel and presents of specially-knotted bracelets for all. This crew love curry and Amanda's served a global gauntlet from Thai green and red, Indian, Fijian last night party dish of babotie from South Africa which included Panamanian plantains. For desert we enjoyed Italian Panatone and sparkling cider.
As everyone enjoys a party and since we may still have a secret supply of treats tucked away, Amanda has challenged our crew to organize the 3/4 way party which shouldn't be too many days away. Kristi and Cheryl quickly become our party planner and spent hours yesterday scheming away. Cheryl's even been practicing guitar strings and chords (on her phone!!!) so I guess were in for another sing-along. Today the party planners posted our Midway to Midway Party announcement…the dress attire is toga.
Cheryl and Kristi busy party planning while…Pred refines his splicing and Kevin sews up a tear in his trousers for the second time
We continue to have brief visits every other day by dolphins and yesterday an immature red-footed booby spent much of the day aboard – first perched on the Lifesling case, and then in the afternoon perched on the top of the dodger, just in front of the helmsperson. When it first landed Pred threw it a large stiff flying fish and the instantly boobie lept to the deck and ate it. He had trouble swallowing it all the way down and flew away to sea only to return later.
Our run of spectacular weather appears to be changing, with the winds clocking from ENE to E and now forecasted to go to the SE. We're now close enough to Honolulu to have received our first coastal Navtex forecast and their light and variable winds with occasional rain makes sense on viewing a stationary front stalled over the island group. Thankfully a new high is forming over the islands, so hopefully after a day or two of unstable weather and rain, the NE trades will re-establish just about the time we arrive.
We've enjoyed an evening SSB radio schedule with Karina and Gary aboard Sea Rover II, their Oyster 43. They joined us on a Rarotonga to Samoa Leg a few years back and we've kept in touch over the years as they prepared to depart Vancouver for Patagonia. Currently they are enroute from the Galapagos to Easter Island, and then on down to Valdivia, Chile. We were able to hook them up via email with dear friends Mary Ann and Larry aboard Traversay III, (www.traversayiii.blogspot.com) who have just spent nearly a year living aboard and exploring around Valdivia and are now just about to set sail for Hawaii and home to Vancouver.
---
February 24, 2018, 1930 hrs, Back home at Roche Harbor,
San Juan Island, Washington
Baro: 1019, Home Temp: 67 F, Outside Temp: 37 F, Sea Water: Nippy! Part of our bay was frozen over this morning!
LEG 1 UPDATE 4 – FINALLY COMPLETED
It's never taken me this long for a final update but…we were slammed with chores (and FUN!) upon reaching Hilo. After crew left it then became a mission for Amanda and I to get Mahina Tiare around the island of Hawaii to Honokohau Harbor in Kona, hauled out, full boat cover rigged, shore side accommodation sorted and pack to return home, all amongst Presidents Day holiday weekend. A winter weather system bought flash flooding and lightning to Kona which shut down the airport the day before we flew home to Friday Harbor and drowned our rental car.
Anyway, enough with the excuses! Let's pick up where we left off with Update 3.
As we closed on the Hawaiian waters, more birds, whales and dolphins came visiting and we started picking up NOAA weather forecasts, first on the Furuno Navtex, and then, once within 150-200 miles, on the VHF radio. On February 4 we had our first slower day in weeks – 160 miles noon-to-noon, as we passed the 1,000 mile to go mark. The mellower conditions allowed some drone flying, and time to trim the ends off the genoa sheets where the whisker pole had chafed plus pull in the Aquagen towing generator and re-drill it's break-away coupling as due to it's continuous towing it's holes had become enlarged. On the 5th, we enjoyed the first of several movie nights: BBC's Horatio Hornblower series with dark chocolate treats!
| | | |
| --- | --- | --- |
| | Cheryl on early morning watch | Kristi and Cheryl rocking along in the early morning |
The mid-mid (3/4 way) party that Cheryl and Kristi had been planning for days was on Wednesday, Feb. 6th resulted in a masked Hawaiian toga party utilizing everyone's sheets with several intriguing games the girls had created involving Gibratler our mascot macaque. Needless to say, everyone had a great time.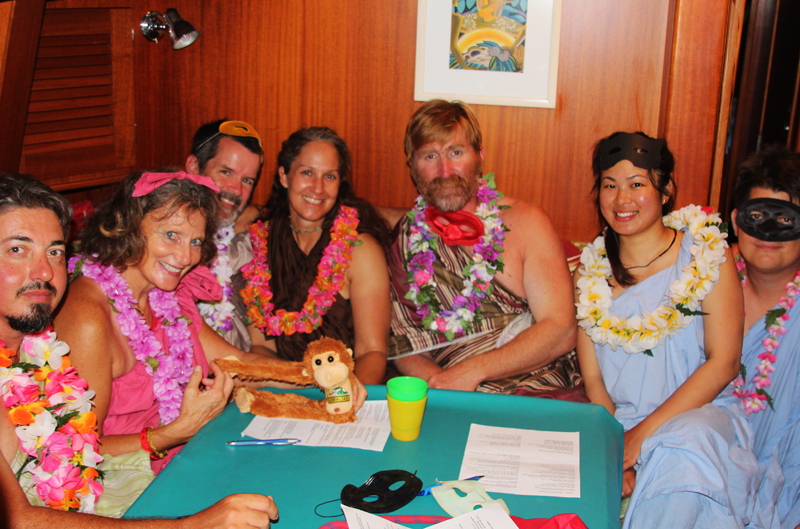 Toga party and game night to celebrate another milestone.
We'd been watching a large trough slowly move toward us for several days and by Thursday the wind switched from following (ESE) to headwinds (NNW). With the wind shift, we immediately encountered intense rain showers with gusts over 40 kts in squalls and recorded a gust of 94.7 kts, which we're not sure was accurate.
Our team got lots of practice tucking in and shaking reefs and steering in steep, large seas, while experiencing and adjusting to upwind life below decks. With not a lot of extra time to spare before the end of the expedition and predictions of continued headwinds we triple-reefed the main and genoa and motorsailed the final 338 miles to Hilo. It wasn't pretty, and our friends near Hilo said the strange NW wind blew the roof off the farm supply store, caused power outage and produced storm surf on the NW side of the island. Any hopes of the wind letting up a bit were crushed when the NOAA VHF forecasts continued calling for NW winds with gusts into the 30's.
| | |
| --- | --- |
| After waiting a week for calmer conditions Cheryl realized it was now or never if she was to ever finish her birthday sewing present. | |
By 0300 Saturday, February 10th, our watch standers reported the loom of Hilo's lights, 36 miles away
| | |
| --- | --- |
| HOORAY, at 0655 we had the first sighting of a snow-capped, 13,803′ Mauna Kea summit. | As we approached Hilo's breakwater at 0900, the wind dropped from mid-20's to 17kts, the skies were brilliantly clear, and all that was left was to drop the sails and head into tiny Radio Bay. |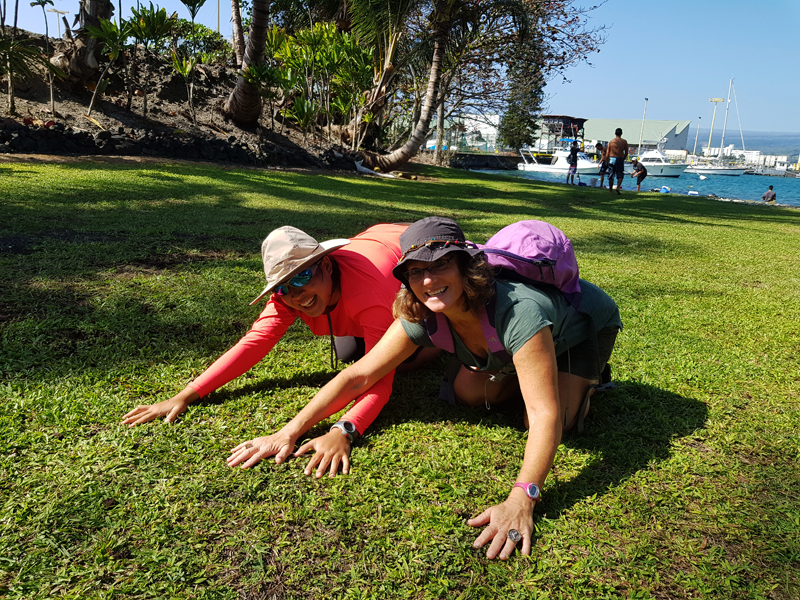 Cheryl and Amanda happily kiss the ground
In no time flat we'd anchored, backed stern-to and secured shore lines to the empty wharf, called US Customs nearby office, learning that we all needed to come to the office for inbound customs clearance. We all quickly packed a few things, launched the RIB, and headed ashore.
Once cleared, we picked up a rental van and headed to the famous Hilo Saturday morning farmers market for lunch after which we drove up the dramatic Hamakua coast to Akaka Falls State Park, enjoyed cookies, ice creams and a chat with Mr. Ed, Honomu's always-friendly baker extraordinaire who closes shop Sunday mornings to preach to his mostly-Hawaiian congregation in the Buddhist temple next door. Only in Hawaii!
One of the reasons each of our Leg 1 crew had chosen this leg was to have time to explore the absolutely amazing island of Hawaii (known as the BIG Island) so next on the agenda was stopping by Island Naturals, our favorite health food store in Hilo where we all boxed up hot entrees and salad goodies before driving 32 miles and 3000′ up to Hawaii Volcanoes National Park.
As the sun set, we watched minor lava eruptions in Kiluea's crater while enjoying our picnic and champagne (thanks to Dennis and Cheryl!) in the misty night.
On our late return to MT, the strong winds had died down, her anchor had held, and we all fell into a deep sleep.
Sunday morning was full tilt boogie! Trips to the masthead for rig inspection were first on the agenda followed by packing and cleaning. It was then all ashore to Ken's House of Pancakes, an iconic Hilo diner since 1971 where macadamia nut pancakes with lilikoi syrup held top billing for our awesome breakfasts. Then, all too soon, we were saying farewells to our crew after dropping them off at their Banyan Drive hotels.
What an expedition, and what a crew! Even before we said goodbye, they were busy making plans to see the island sights together. We love it when a crew bond together in work and play and it's sad to see them leave although we also know they'll reunite for more adventures.
…and true to form, the gang sent us this picture the following day of them on Mauna Kea's summit.
After hauling MT packing her up, we flew home to San Juan Island and candy floss snow under sunny skies. Such Fun!
Now we're gearing up for our 2018 Offshore Cruising Seminar Series with many new surprises and a return visit to the Pacific Boat Shows.
Offshore Cruising Seminars
March 24 with Nigel Calder in Vancouver for our good friends at Bluewater Cruising Association
April 7 Anacortes, WA (this seminar is special because there is an optional half-day rigging seminar Friday afternoon, followed by an all-day hands-on diesel engine and electrical systems seminar on Sunday. Location: Skagit Valley College's fabulous Marine Tech Center
April 21st with Nigel Calder at Pacific Boat Show in Richmond, CA
We're also excited to be sailing back to the South Pacific after 4.5 years away and we still have a few expedition berths open. If you'd like to experience the South Seas our expeditions sail to Tahiti, our homeport of Rarotonga, the Cook Islands, Niue, Samoa and Fiji before returning to New Zealand where we all get to share Amanda's homecoming with her family in Whangarei.
Thank you for following our updates! If you have questions about our seminars, expeditions or need help locating the best possible cruising boat for your own cruising adventures, don't hesitate to contact us: sailing@mahina.com.
Additionally, follow Amanda's creative and colorful postings on Facebook and Instagram: @mahinaexpeditions
---
Leg 1 Itinerary