September 23, 2020 0630 hrs, 48.27N, 122.51W Log: 625 miles
At anchor, Hunter Bay, Lopez Island
Baro: 1008, Cabin Temp: 65 F, Cockpit Temp: 65 F, Sea Water: COLD!
MASSIVE STORM SYSTEM HEADED OUR WAY!
Yesterday afternoon we received the following warning from San Juan Sailing, from whom we've chartered Misty:
Hi SJS team, I'm sure you're watching this but just wanted to call attention to the storm that is approaching the area this week, expected to hit the islands on Wednesday. The European model forecast sustained winds are in the 20-30 kt range with gusts to 35-40 kts from the S to SE. The North American model is forecasting even stronger winds. Models runs from last night say timing is for the strongest winds to hit early Wednesday morning through mid-day. Rain may be heavy at times. Perhaps a good time for the fleet to shelter in place wherever they may be! Anchorages protected from the south will be popular (e.g., Blind Bay). Marinas even more so. Below is a link to the NWS forecast discussion from early this morning. Gale warnings are expected for the coast and small craft advisories for inland waters are a pretty good bet if the forecast verifies. Plan to hunker down!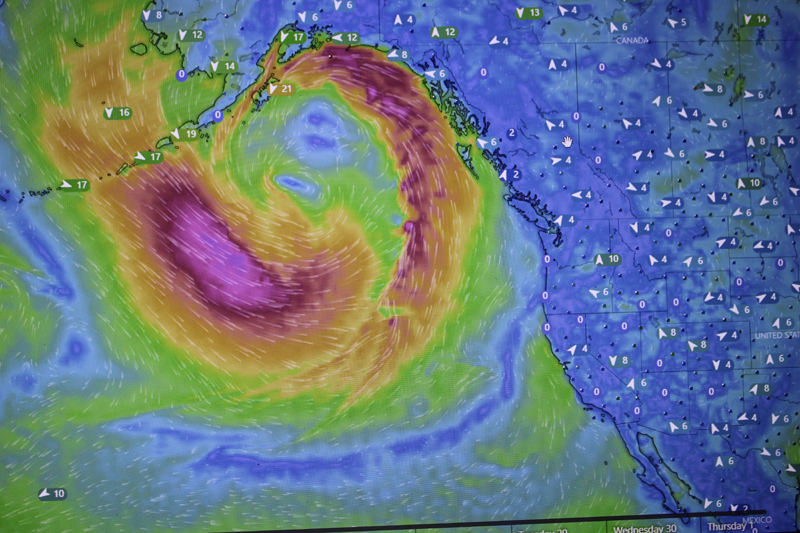 A Windy capture showing the massive low-pressure system about to make landfall
Our Leg 3 team have been very aware of the weather, checking www.windy.com on their phones several times a day, starting as soon as they're out of their bunks before breakfast. For the last four days they've been tracking a large storm system coming across the North Pacific from Japan has been expanding as it got closer, and the forecasted wind speeds for the Strait of Juan de Fuca and Rosario Strait have been holding steady as the system approaches, not diminishing as is normally the case.
Heavy weather experience is normally one of the learning topics we see on applications, and this crew is no exception. However, crossing the Strait of Juan de Fuca in gale conditions with possible wind against tide on a charter boat isn't on our list of prudent moves, so yesterday we crossed from Dungeness Spit to Hunter Bay on Lopez Island a day earlier than planned.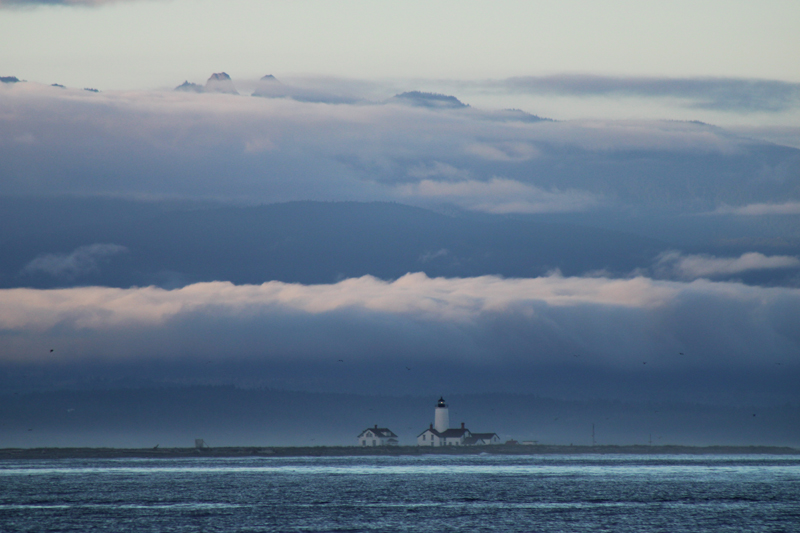 Tuesdays departing quiet view of Dungeness Spit Lighthouse with the Olympics towering behind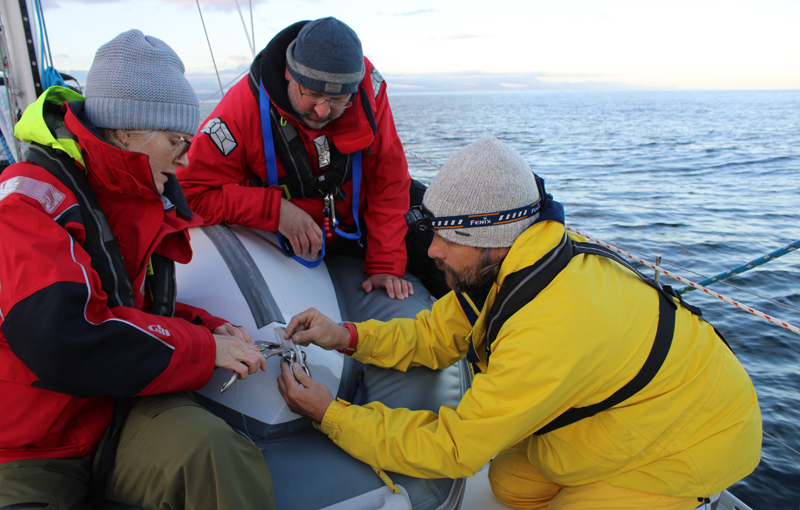 Shane taught Mary how to seize the dinghy shackle after teaching Lisa the same process on the anchor shackle
We scoured the charts looking for an anchorage sheltered from the forecasted SE winds and came up with the same two as Lothar Taylor at San Juan Sailing suggested, Watmaugh Bay on Lopez where we'd anchored for lunch on Leg 0 and Hunter Bay further around the SE corner of Lopez. The two moorings in the most protected, furthest in part of Watmaugh were both taken, so as our team continued reefing, practice as we motored into Hunter Bay which only had four boats anchored and plenty of room.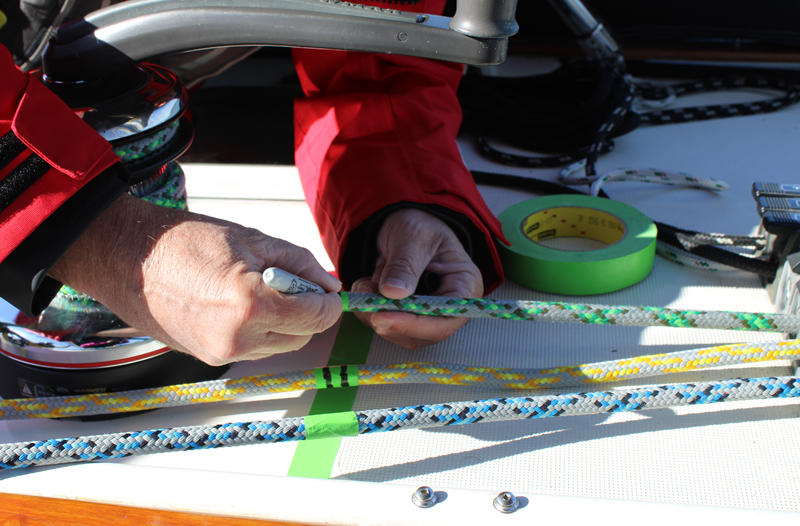 To simplify reefing, it was decided that we should tape the reefing lines and halyard with "Go To" marks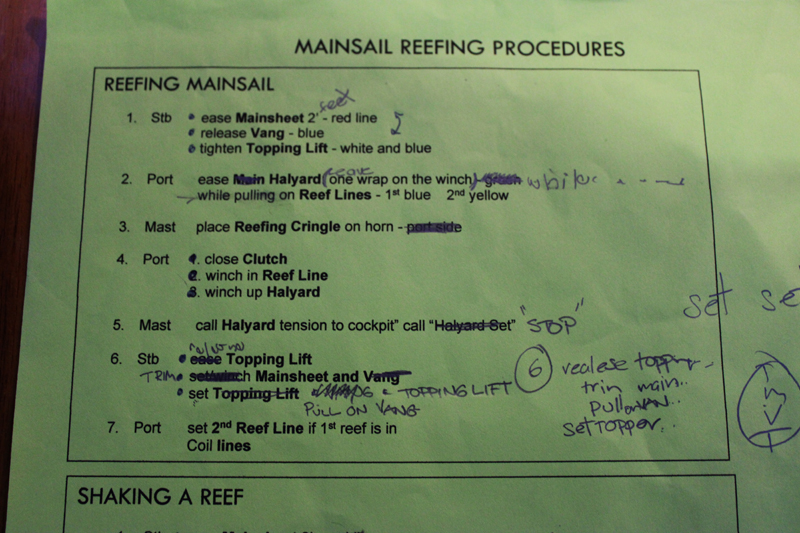 Instructions for hoisting, reefing and lowering the mainsail get refined daily
Heather Bansmer and Shawn Breeding's excellent San Juan Islands, A Boaters Guidebook provided a concise chartlet of Hunter Bay and mentioned a charming 1.5-mile walk to Southend Market. With a sunny afternoon and ice cream calling, we launched Misty's RIB and headed ashore, grateful for the county dock that provided easy shore access. Lopez Island is famously friendly and on our hike to the store and back every single driver that passed us waved.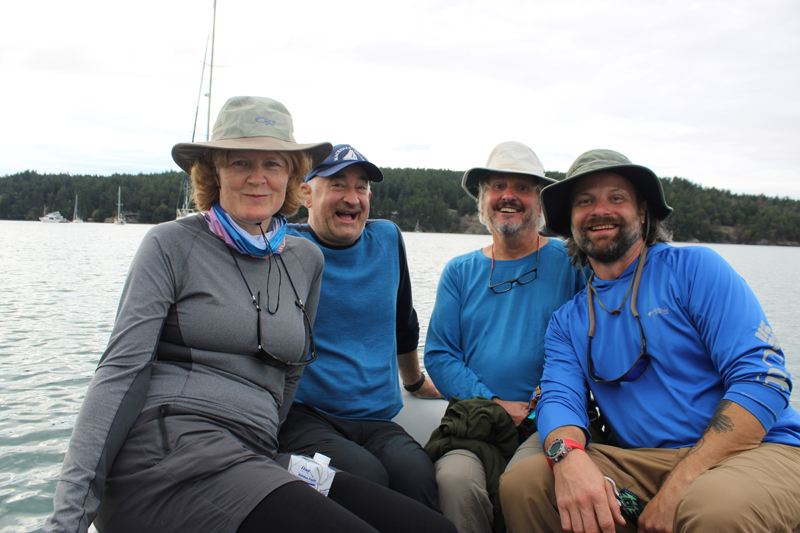 Smiles all round in the dinghy as we return from a jolly walk ashore
Back aboard, Amanda led Rig Check Aloft, with all expedition members going at least to the first spreader, if not to the masthead. As Rig Check was still going after sunset and Amanda made certain everyone got safely aloft I jumped in the galley to make Walu's Lentils. This recipe features in her new second edition of The Essential Galley Companion and it's always-favorite with expedition crew. Thankfully, Amanda had typed up the recipe for eight and prepared the spices, so it was super quick to make.
The breeze started cranking around 0300 and by dawn the now ten boats sheltering in the bay were dancing in different directions. Looking through the entrance with binoculars we can see lots of white water. Smith Island, located halfway from here to Dungeness Spit is reporting 31 knots.
Leg 3 started with the first clear skies we'd seen in a week, and after crew briefing Friday night we set sail Saturday morning the best sailing conditions yet as we gybed our way up Hale Passage and north of Orcas and Waldron toward tiny Patos Island.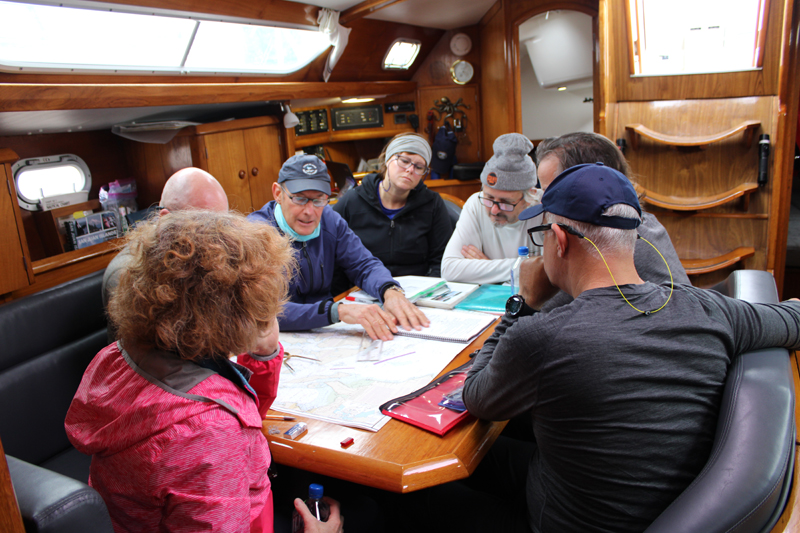 Before departing Bellingham, we review the the charts and overall expedition itinerary.
Just before reaching Patos our vigilant crew spotted several orca whales, our first sightings of year! Sadly, both state park moorings were occupied and looking carefully at the anchorage possibilities, we decided to carry on, anchoring at Prevost Harbor, Stuart Island. There were a third the number of boats in Prevost Harbor than we'd seen a week earlier, so finding a protected spot to anchor without crowding any already-anchored boats was a cinch. We fired up the barbie and enjoyed a salmon dinner before launching into navigation. The forecast suggested better sailing conditions if we set sail Sunday morning directly for the grand Pacific.
That is what we did, raising anchor at 0700 to take advantage of a favorable tide and enjoying some great sailing as we passed San Juan Island and headed across the Strait of Juan de Fuca.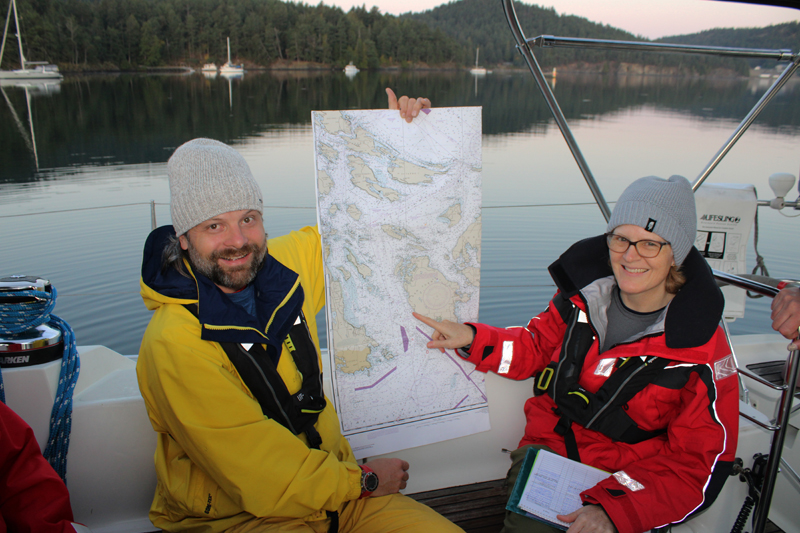 With navigation mastered Shane and Mary brief the crew on the Sunday's passage to the Straits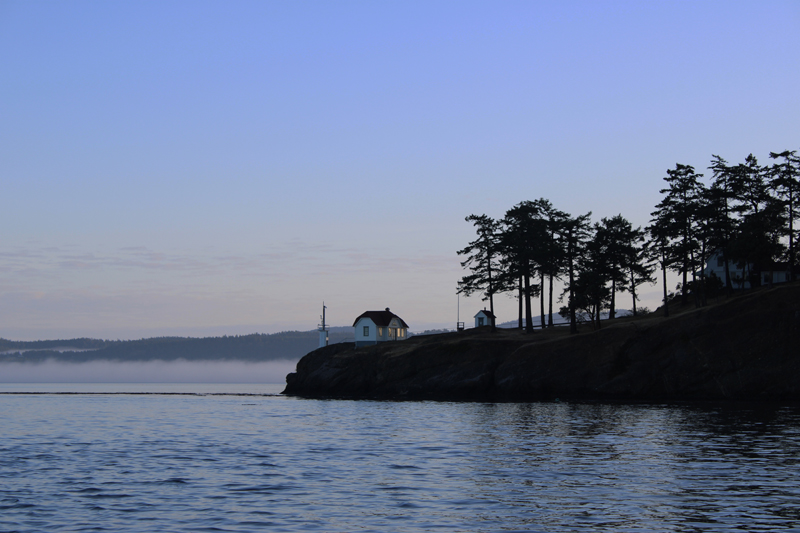 As the fog held off as we round Turn Point Lighthouse giving us a nice morning view of this iconic headland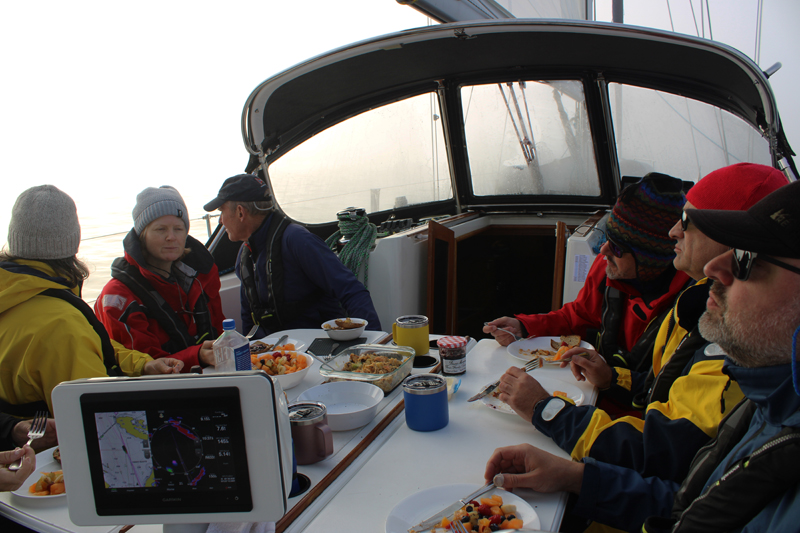 When we reached San Juan Island breakfast became a challenge as we suddenly entered thick fog with numerous ships paralleling our course
We then had a mixture of gorgeous clear skies with the rugged Olympic mountain bordering us to the south mixed with patches of dense fog as we sailed (when there was enough wind) and motored out the Straits.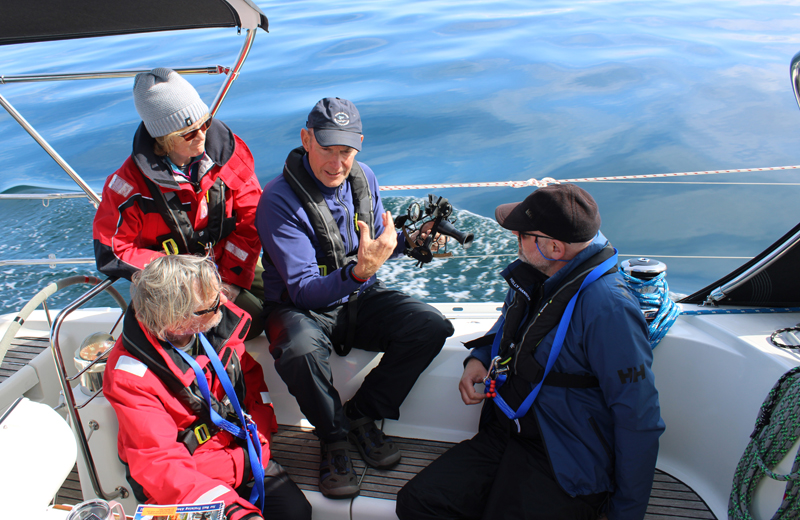 We were able to take sun sights thanks to a lovely long patch of sunshine
By midnight we were well out into the Pacific with a million stars overhead and a clear horizon, allowing us to see the Tatoosh Island light astern as well as steady stream of ships exiting and entering the shipping lanes which were a couple miles north and west of us. In the early hour of Tuesday morning our crew made the decision to turn around.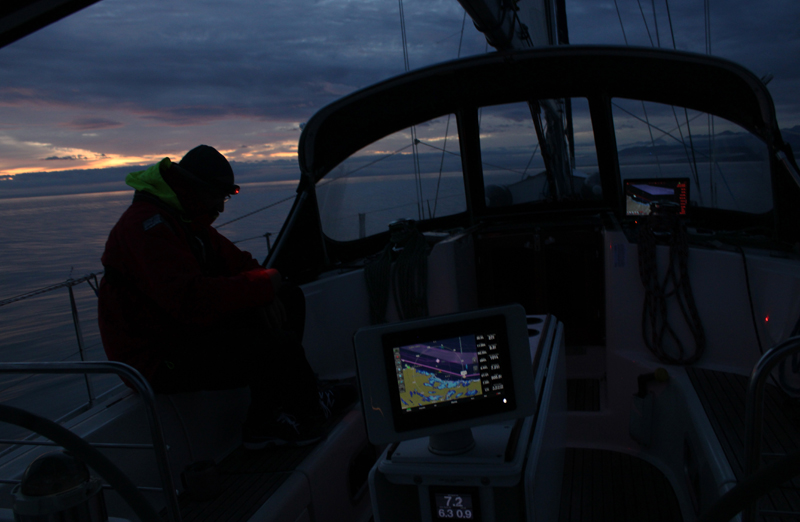 Simon completes the hourly log entry
By 1100 we arrived at Port Angeles Boat Haven with plenty of time for showers, lunch and exploring ashore before setting sail that afternoon for Dungeness Spit and a night at anchor. While enroute, Amanda taught sail design and sail trim.
September 24, 2020 1000 hrs, 48.45N, 122.30W Log: 658 miles
Bellingham Marina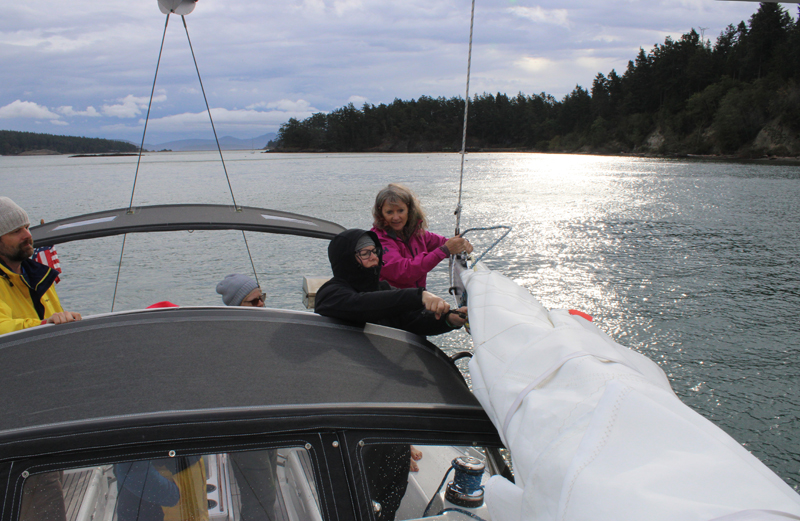 The forecast of gale warnings prompted Amanda and our hearty crew to re-reeve the reef lines on Misty's crisp new Bellingham Sails mainsail
By the time we exited Lopez Island's Hunter Bay we had the third reefs in and the second reef available. As with most current booms, there are only sheaves for two reef points, and Kurt, Misty's owner had spec'd the new main to have three reef points. We were slightly under-canvassed for a few minutes, then we saw the maelstrom ahead and fought to reduce the headsail to handkerchief-size as Misty heeled in gusts to 42 knots. We rotated crew through helm position, and it was great to see their excited grins as they guided Misty past Bird then Bell Rocks.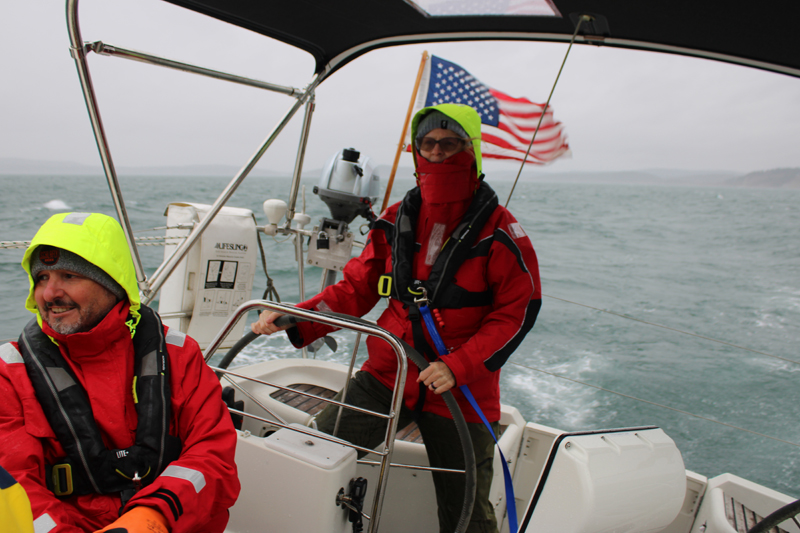 Mary takes a trick at the helm while Rick keeps lookout
Very curious to see how the Sun Odyssey would do with storm tactics, we completely furled the headsail and Lisa set the wheel brake to try fore-reaching, our favorite storm tactic.
The result was impressive – Misty kept on track without a headsail, autopilot or hand on the wheel. Lisa did have to make minor corrections when the wind occasionally dropped below 30 kts, but overall, fore-reaching proved successful.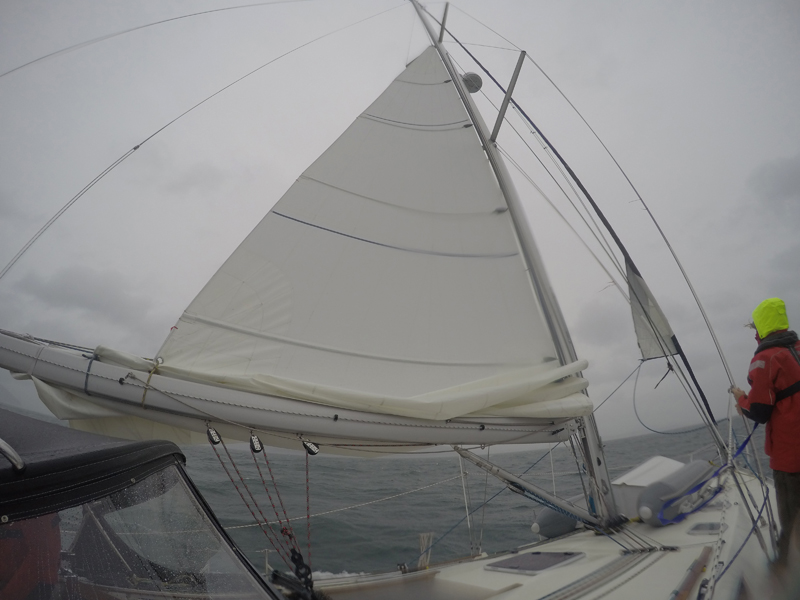 We were glad we'd run the third reef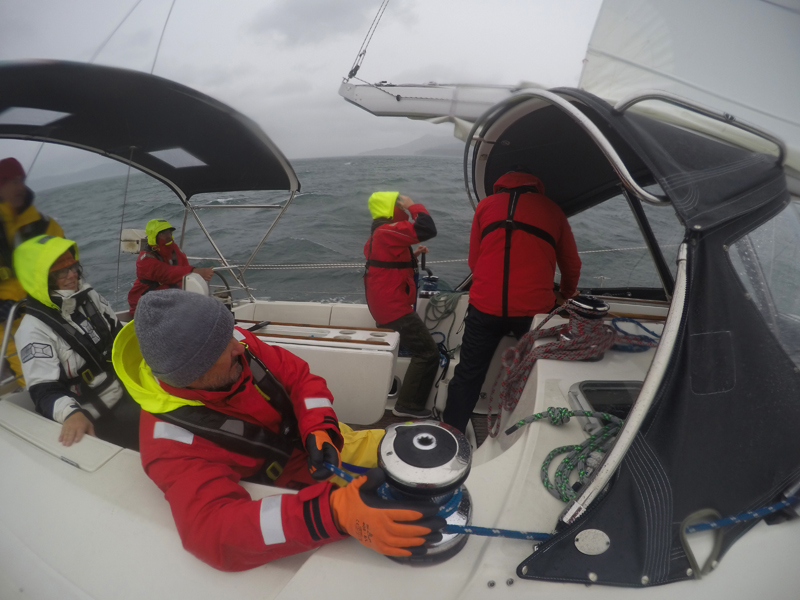 We were all kept busy as we put Misty through a few storm tactics
Wind eased briefly while we were in the lee of Fidalgo Island, but then returned with a vengeance as we rounded the NE corner of the island, with gusts over 40 kts as we motored into the entrance channel to Cap Sante Marina. After topping up Misty's fuel tanks, we cast off with gusts still in the 40's, choosing not to attempt the downwind landing at the berth we'd been assigned, instead opting for the open end of C dock. Hot showers and a "Team Awesome" crew dinner at Village Pizza were very welcome.
Thursday morning Mike Beemer taught Diesel Engines and Electrical Systems at the Marine Tech Center before Amanda had our eager crew stitching patches on sailcloth using the college's two new Sailrite sewing machines.
The eye of the huge storm provided clear and sunny skies and excellent broad-reaching conditions as we sailed the 20 miles from Anacortes to Bellingham stopping to allow each expedition member to perform our modified Fishtail-Quickstop Lifesling Rescue procedures.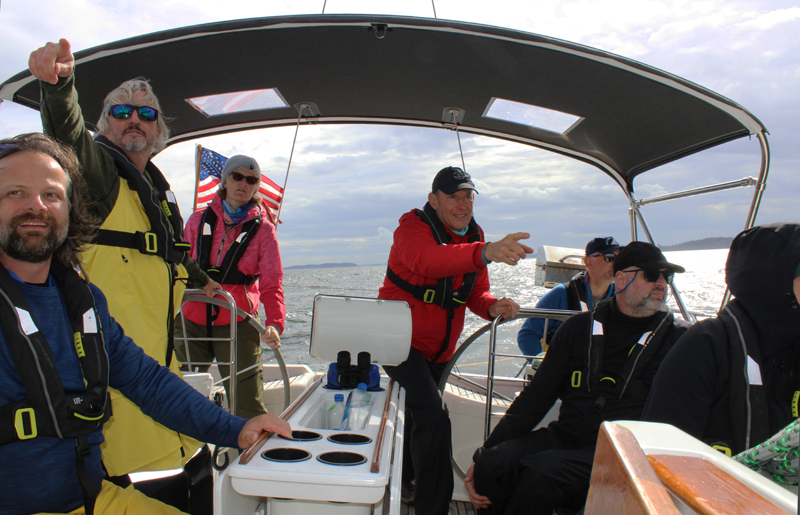 Fishtail-Quickstop Lifesling Rescue procedures in full swing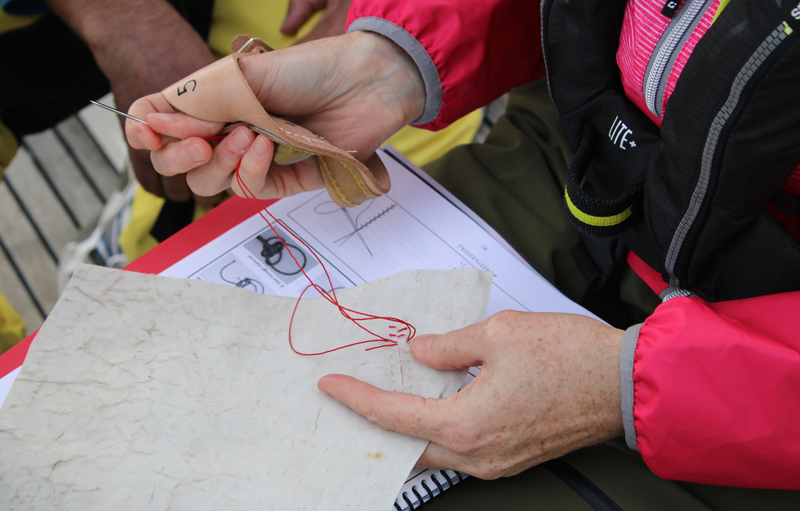 With calm waters and a spare hour Mary practices her sail repair baseball stitch with palm and needle
We were in for a treat Thursday night following our Selecting an Ocean Cruising Boat PowerPoint seminar. Mary's musician husband Tony showed up for dinner with his guitar. What a treat! Although it currently says, "No guitars, please" on our PNW Sea Bag Gear List, we are going to change that. The backside of the huge North Pacific storm arrived Friday morning, with gusts over 50 kts substantially heeling Misty over amid driving rain.
Our Team Awesome crew did an awesome job of tidying up Misty for the handover back to San Juan Sailing, and just like that, our 2020 expedition season was complete.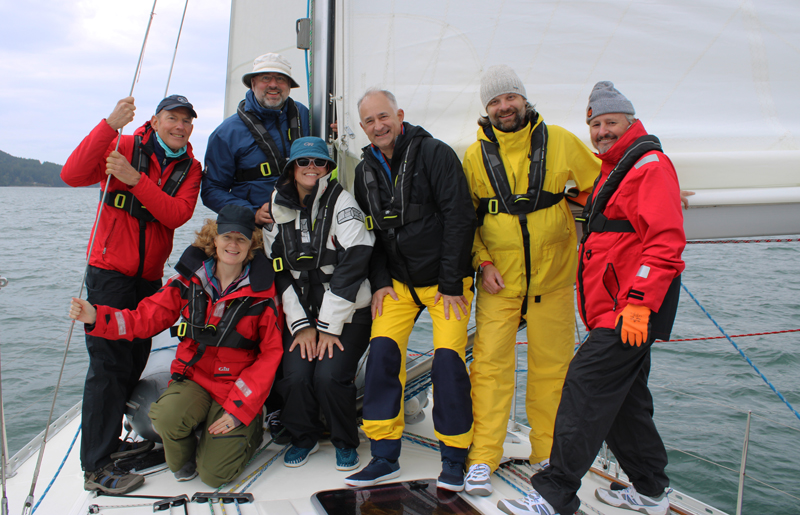 Introducing Leg 3-2020 aka Team AWESOME!  – Mary, Simon, Lisa, Mark, Shane, and Rick
Mary, 55
I'm originally from the Pacific Northwest and my husband Tony and I learned to sail when we moved to the SF Bay area. We've lived aboard our Cal 39 in Alameda for several years and this expedition has given me the confidence to begin thinking about the skills I'll need to sail our boat to Mexico. (Mary is a freelance copy editor).
Simon, 48
Originally from Manchester, UK, I've been a keelboat owner and coastal cruiser in Puget Sound for 15 years. I fell in love with cruising on a charter in Scotland as a teenager, and with my partner Lisa, I'm getting sucked ever deeper into the life. We're hoping to find our bluewater boat with John's help and if all goes well we'll be cutting the docklines and be Pacific bound before too long.
Lisa, 45
I'm half-mermaid and love the water and everything related. I love to sail with my partner, Simon, on our Catalina 30 and aspire to sail major passages and have a grand adventure once we find a larger boat. By day, I write software, knit, play piano and love to spend time with family, friends, dance, meet new people and rid my motorcycle.
Here's a limerick Lisa wrote for our crew:
On a sailboat called Misty Blue
Rick-Mark-Shane-Si Lis Mary too
'Manda-John taught us well
How to handle ocean swell
And we all became better crew
Mark, 55
I live in Seattle and spend my weekdays building young companies. On the weekends I've been chartering boats with Windworks and Seattle Sailing Club and taking out with my wife and 14-year-old son to enjoy sailing on Puget Sound. Someday I hope to sail off and see more of the world with my family.
Shane, 45
In my previous life I worked in corporate IT. I decided I'd had enough of cubicle life and quit my job, sold my house, and bought a camper. Now I ski in the winter and have been a campground host in Glacier National Park in the summer back home in Montana. My dream is to sail the far reaches and I'm now looking for a boat with hopes to find one soon. Learning with Amanda and John was a great experience and I feel like I'm now better prepared to start my sailing adventures.
Rick, 61
I'm from Lewiston, MD and just retied from corporate life. My wife and I are closing on an Outbound 44 in a week or so and are trying to get it home to the Chesapeake before the canals and bridges close for the winter. We're excited about cruising the Chesapeake and East Coast to start with.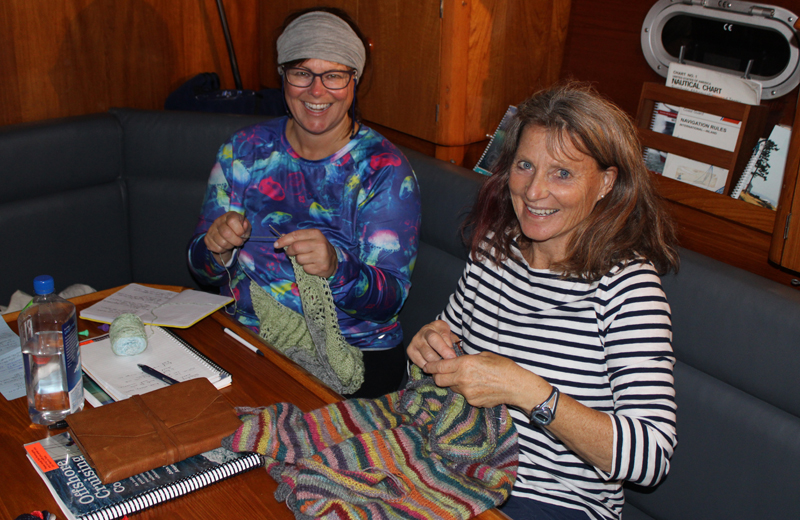 Yay, Lisa (aka Tiger) and Amanda finally get a knitting session together
***********************************
Before departing Bellingham Amanda and I met with Greg, the owner of Obelix, the Garcia Expedition 45 we'll be using starting April 28, 2021, assuming we're unable to return to Mahina Tiare III in Auckland, New Zealand.
On recommendation of our 2020 expedition members our 2021 Pacific NW expeditions will each be 9 days, instead of this year's 7 days, allowing us to add Medicine at Sea and Diesel Engine Overview to the curriculum. Assuming Canada/American border opens we'll sail 1/3 of the way up Vancouver Island to the spectacular Barkley Sound.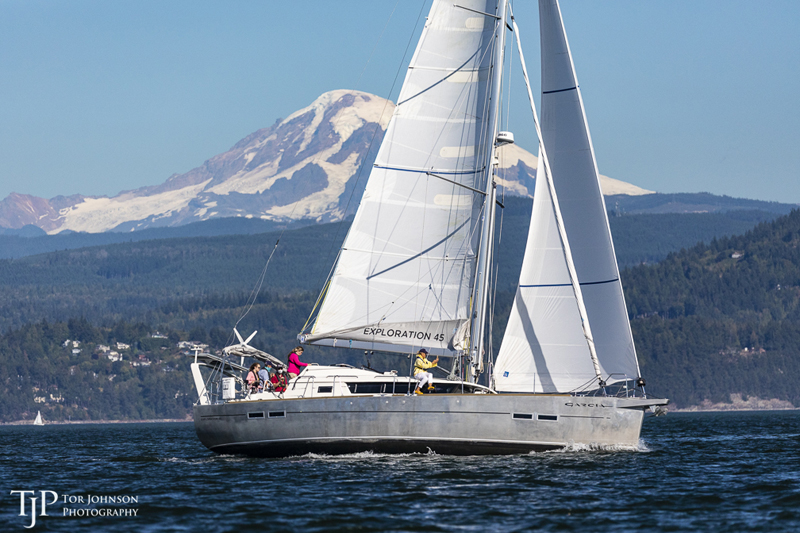 Obelix, the Garcia Expedition 45 we'll be using in our Mahina Ocean21 expeditions
Additionally, Leg 4 will sail 350 miles from Bellingham to the northern tip of Vancouver Island and out into the North Pacific before ending in Port Hardy, one of our favorite northern BC ports. Leg 5 will be a first for us, and a dream come true, sailing down the rugged west coast of Vancouver Island from Port Hardy, to end in Bellingham 12 days later.
Finally, we'd like to say a big THANK YOU!!! to the excellent and dedicated crew, from the three partners, Danelle, Mike and Lothar to the 60 boat cleaners and fixers at San Juan Sailing and to Kurt and Etjen, Misty's owners for their help and support which made our first of many series of Pacific Northwest training expeditions a total success.