Leg 2 – Update 1
June 15, 2014, 1200 hrs, 16.36 S, 151.32 W, Log: 172,650 miles
Baro: 1013.3, Cabin Temp: 84 F cockpit 86 F, sea water 85.1
At anchor, Tapuamu Bay, Tahaa Island, 20 mi E of Bora Bora
NON-STOP ADVENTURE!
The slow-moving front we'd been watching for a week lay right over Tahiti when our crew joined us at noon on Monday, six days ago, and they had to sprint from their taxi to the boat between tropical downpours. With winds gusting to 37 kts INSIDE Marina Taina we were particularly glad marina manager Philppe had found a secure berth for us as the radio was busy with calls to Philppe about yachts dragging moorings and one on the verge of sinking.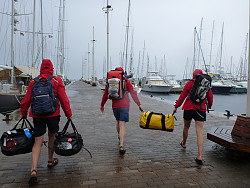 Crew, laden down with their gear bags, make their way to MT in the rain
Philippe even stopped by as crew were arriving and said we were welcome to stay another night without charges due to the rough conditions, but as the fuel dock was empty, while closed for lunch, we decided to see if we could safely maneuverer alongside. We did, thanks to the help from our able crew pre-stationed on the dock and our bow thruster. We had time for a quick lunch before the attendant returned at 1 PM and once fueled up we were faced with the decision of – what next?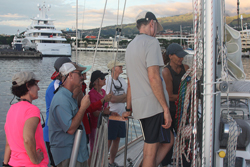 Mainsail briefing
Taapuna Pass, just a couple miles away is completely sheltered from the prevailing ESE tradewinds, but in the SW gale conditions it's a lee shore and, according to a local, would probably be breaking completely across, so this guy whom we'd met last year made a great suggestion; for our planned passage to Moorea. Why not sail downwind six miles past the airport and out Papeete's main pass to Moorea? Excellent suggestion, although as we sailed along the protected channel we could see the 180′ Moorea ferry taking spectacular water over the bow so decided to wait until the seas diminished a bit might be a better idea. Papeete main downtown harbor was nearly empty and my idea was to anchor off so we wouldn't be subject to the very common thefts of gear that nearly every boat mooring in Papeete reports, but Amanda said, "There are plenty of empty berths, if we tie up, then our crew can check out the Roulettes!", so that's what we did after Amanda had our new crew practice raising and reefing the mainsail.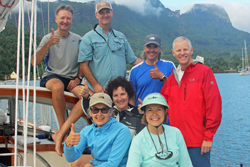 Our intrepid crew gather together in Cooks Bay – Brad, Stewart, Monty, Steve, Margy, Suellen and Denise
A port administration guard helped us tie up and when I explained that we had already cleared out for Moorea, showed him our clearance papers he said it would be fine if we waited a few hours before setting sail. We set a Port Watch schedule that would always have one person on watch in the cockpit and then took turns exploring ashore. The roulottes are food vans that have been a part of Papeete's evening waterfront for as long as we know. There were at least 20 vans and hundreds of Tahitian families enjoying barbecued, Chinese and French food. Kids were playing, everyone was happy and it was a very colorful scene.
At 0400 with a nearly full moon we set sail for Moorea. There was still a confused swell, but we made it to Cook's Bay without anyone losing their dinner.
We've always encourage our Leg 2 crews to make the three hour hike over the mountain from Cooks to Opunohu Bay where we meet them with Mahina Tiare. On this hike a stop at the agricultural schools fruit stand for homemade ice cream and fruit is the reward, but this crew were the first to hike all the way to the end of the Opunohu road to the ancient stone marae's (temple) and Belvedere lookout with a spectacular view of both bays.

Upon their return we motored out to the reef anchorage just inside the pass for snorkeling and dinner before setting sail for Huahine, 90 miles WNW.
With excellent and building winds our gang got reefing and gybing/preventer practice throughout the night and we sailed right to the pass entrance before dropping sail and threading our way five miles through the narrow coral passage to the southernmost Baie d'Avea anchorage. This is one of our all-time favorite anchorages as it offers a panoramic view of the lagoon, outer reef and ocean with great snorkeling, easy shore access and some of the friendliest people we've met anywhere. Hotel Mahana is small and quiet and they don't mind cruisers using their dock for shore access and our crew enjoyed sunset drinks there. The only other patrons at the beachside bar were from two other cruising boats.
At first light Wednesday morning our entire crew headed ashore when we went for our daily beach run, to explore the beach maraes. Amanda and I ran around the southern tip of Huahine to where we came upon a crop growing competition. Two sturdy-looking Tahitian farmers were in the open-sided community pavilion surrounded by piles of giant yams, taro and bunches of bananas. They explained that each of the villages on the island was in the competition to see who could grow the biggest and best produce and they proudly showed us theirs. Tidy houses and yards, extensive flower gardens portrayed a happy community with pride and everyone we passed smiled and said "Iaorana" or "Bonjour". A bit different than the busy folks on Tahiti and Moorea.
Thursday we sailed under headsail alone three miles north to a new (for us) reef anchorage where we all piled in our RIB and headed out nearly to the outer reef for some great snorkeling. We didn't realize it was Stewart's first time ever snorkeling, but he figured it out and had a great time. Port Bourayne, a huge, nearly landlocked bay was the perfect venue for Lifesling overboard practice which every one of our keen crew aced!
Friday everyone again surprised us by being in the dinghy at first light for a longish dinghy ride to the bridge connecting the two islands of Huahine Nui (large) and Iti (small). With four directions to choose from, we ran to a new village and found extensive preparation for the island-wide Tahitian tamure dance competition of Heiva that is just about to start. The dancer whom we met explained that most of the village works from 5-7 pm nightly preparing the materials, dying and weaving the natural fibers and shells used in their incredible headdresses and costumes.
We had breakfast underway and an hour later found a secure but deep (45′) anchorage off bustling little Fare town. This crew have to be among our keenest ever as they all rented bikes and cycled to Maeva village on the northern tip of Huahine, site of an extensive, partly restored royal village. After a quick tidy-up aboard, Amanda and I headed ashore for a restock and were surprised at the number of sidewalk fruit, vegetable and fish sellers. At least six people had large coolers offering just-caught tuna for 1000cfp per kilo (US$6 per pound!!!) so Amanda smartly bought enough for three meals. Shortly after noon we set sail on the 18 miles to Tahaa, the next island to the west, enjoying a good sail and arriving in Baie Haamene with enough light to anchor.
Saturday we had a sunrise start and a very nice sail around Tahaa's southern coast to Baie Hurepiti where we had arranged with our friend Alain for our gang to join him for his excellent ethno-botanist tour of Tahaa's vanilla plantation and rugged interior.
We'd hoped there might be Tahitian dance practice ashore that night as in some previous years, but no luck.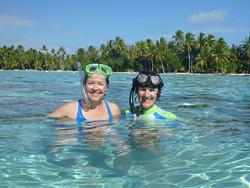 Denise and Suellen enjoying coral gardens
After class Sunday morning our crew walked to Tiva village's colorful lagoon-side church to hear some amazing Tahitian singing and then we motored a mile away to an anchorage off an outer motu or islet comprising part of the encircling barrier reef for an amazing snorkeling experience.
Dubbed "Coral Gardens", this is a cut in the reef where the ocean water flows through a narrow cut in the coral about .5 mile, into the lagoon. It is very shallow, but for the first time we had arrived close to high slack water (noon and midnight every day in this area of solar tides) so the current wasn't as strong and there was a few inches more clearance above the beautiful but sharp coral.
Coral gardens is like power snorkeling through a giant tropical aquarium with zillions of exotic fish and very healthy, colorful coral.
Our crew were so keen that they kept hiking up the beach, and drifting down until they were getting cold. We then headed back to Tapuamu for a quiet night's anchorage.
We enjoyed another early morning run on Monday before heading south through the coral maze called "Grand Banc Central" to Uturoa, Raiatea's capital and only fuel docks. Surprisingly the free community dock had only one boat where 6-8 would fit and we were easily able to get fuel and do some shopping. Our crew found a café with free internet access and enjoyed checking out the public market, handicrafts stalls and few art galleries. Steve and Denise navigated and drove Mahina Tiare around the north end of Raiatea to Marina Apooiti where Jean Michelle, the manager of Marina Apooiti had saved us his last of four visitor slips and we did an excellent job of turning MT into what looked like a Chinese laundry shortly after getting the water hose aboard.
Once inside Bora's encircling barrier reef Monty threaded us through the narrow channel to a very protected anchorage in the lee of Motu Topua. We inventoried our three abandon ship bags before diving in the 85F degree lagoon water.
While Amanda was teaching sail design yesterday morning I zipped 12 minutes in the dinghy to the commercial wharf in Vaitape village to pick up the check-out customs forms from the gendarmerie and was able to purchase tickets for the Friday night opening festival of the Heiva Competition – one month of nightly dancing on a huge white sand outdoor dance arena.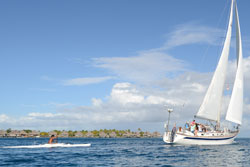 After lunch we had an excellent sail down the very narrow channel around the southern tip of Motu Topua where a handsome young Tahitian man chased us in his one-man outrigger racing canoe so that he could enjoy surfing in our quarter wave.
Each time we tacked or gybed for photos he was right there, paddling like crazy with a huge grin on his face. Once clear of the coral channel we then charged across and up and down the lagoon practicing tacking to the mainland where we anchored off the notorious Bloody Mary's restaurant where our crew enjoyed an amazing dinner last night.
We were quite surprised to find all seven of our crew lined up on the rail in the pre-dawn this morning, waiting for walk/run to Point Matira, the southernmost tip of Bora Bora. With an extra day on Bora Bora due to attending Heiva on Friday night we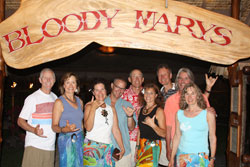 The gang outside Bloody Mary's – Steve – Denise, Suellen, Stewart, John, Amanda, Brad, Monty and Margy
really focused on teaching today with Amanda covering sail trim and three-strand splicing while I taught Polynesian Nav plus dealing with tides and currents.
In the afternoon we sailed up and down the lagoon, giving everyone the opportunity to reef and unreef in the nearly-always gusty, but flat lagoon before dropping anchor on the sand bank situated in the south of the lagoon.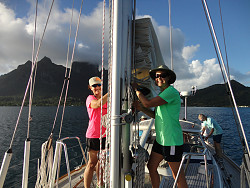 Suellen and Denise lower the mainsail
Tomorrow will be a busy day in town before Heiva and the gendarme has also requested sighting our entire crew before formally clearing us out of French Polynesia.
June 23, 2014, 0300 hrs, 16.47 S, 153.15 W, Log: 172,816 miles
Baro: 1012.4, Cabin Temp: 80 F cockpit 74 F, sea water 85.1
Broad reaching at 6.7 kts under full sail and poled out genoa in 18 kts ESE winds between Maupiti and Mopelia
Friday morning we found only one local boat anchored in our favorite corner near the largest Chinese grocery store and were all at the Gendarmerie by 10 am to clear out. With the exit papers all filled out and copies of each EM's passports inserted in the passport our clearance took just a few minutes, then our crew were off for a day of shoreside adventures. Steve and Stewart circumnavigated the island on scooters while the rest of the crew explored the town, yacht club and Mai Kai Marina. Amanda and I did a final reprovision at our favorite store and before long it was time to pick up crew, make dinner and head ashore again for the opening ceremony of the month long Heiva festival and dance competition.
Denise: And what a festival it was! Earlier in the day we could see up close the elaborate layout of huts "baraks" that were erected to house all the restaurants and carnival type games, which had been intricately decorated with plants and flowers. When we entered the sand floor stadium for the evening dance and himine (singing) competition there was definitely an excitement in the air.
The beautiful women were so flawless and graceful and the men so athletic.in this hour long segment that consisted of 3 costume changes. Including headdress, each getting more dramatic than the last. The accompanying musician team's rhythm and cadence was mesmerizing.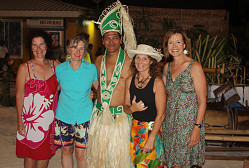 The girls with a dancer – Suellen, Margy, Amanda and Denise
Our balmy evening witnessing Heiva was such a treat and a true celebration of the Tahitian culture and a highlight of our trip we'll all remember.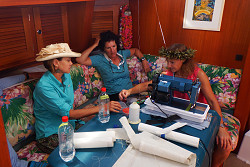 Denise and Suellen take notes from of the working of the Sailrite sewing machine
At first light Saturday morning we set sail for Maupiti, one of our favorite islands in the world with excellent easterly trade winds, arriving at the treacherous pass by 1100, an hour before slack water. We found the calmest conditions ever with less than two knots of outflow current and no breakers. Margie did an excellent job navigating us through the pass and to a sheltered anchorage off one of the two islets flanking the pass entrance where we enjoyed anchoring and snorkeling with manta and sting rays before threading our way to an anchorage off the village.
After Amanda taught sail repair using our Sailrite sewing machine we all headed ashore to explore – our entire crew hiking or running the 9 km distance around this spectacular small island. Meanwhile Amanda and I hunted for bananas, papaya and French bread, but came up empty on all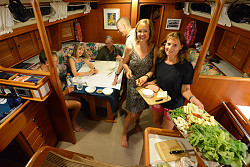 In the early evening everyone lends a hand either with navigation or dinner prep
counts. It has been a very dry year and although we found many stalks of bananas, none were ripe. Our baker friend reminded us he doesn't bake on Sunday, so we left a note inside the door of the Chinese bakery saying we'd like to order 12 loaves if they baked Sunday morning, only to return this morning at 0630 on our morning run to see both our card and a sign on the front door saying in French, "Sorry, no more bread until the supply ship brings more flour".
When the crew of an Island Packet anchored nearby stopped by to visit, Amanda had the idea of asking them if they were going to Mopelia, and if so, could they pick up 12 baguettes for us at the bakery and bring them to Mopelia. They agreed and we hope our baker friend gets our note and it all works out. On such a small island with a population of around 1000, the two bakers only bake bread to order.
Amanda and I made it around the island, but with more walking and visiting than running, enjoying the perfect day, beautiful island and lagoon and friendliest people anywhere.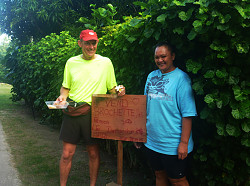 I stopped at a sign advertising fish and brouchettes and found a fisherman and his wife with a tiny deep fryer and electric grill making tasty lunches to go in front of their house.
I asked how much just a single brouchette (grilled chunks of fresh fish and vegetables on a skewer) would be and at the 150 franc (US $1.65) price couldn't resist. The woman also included fries and French bread, but when I didn't have any notes smaller than 1000 franc and she didn't have change, she insisted that I enjoy the brouchette without charge.
At another house Amanda spotted a tiny sign advertising fresh fruit and we finally found the bananas we'd been looking for. When we returned following our walk and started carrying the heavy stalk down the road to the dinghy, a truck instantly stopped, insisting that we toss the bananas in back and he drove us right to the post office dock where we'd left the dinghy. Every single person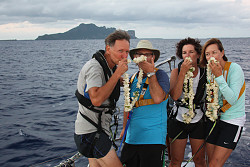 Brad, Stewart, Suellen and Denise kiss their magnificent tiare leis, from church farewell, before casting them into the sea. This ensures they'll return to this small island paradise.
we passed smiled and nodded or waved. We learned that the twice weekly ferry service had ended a year ago, and that the expensive Air Tahiti flights had curtailed a lot of travel. Maupiti has never had any hotels but does have several very attractive pensions (family-run guest houses) both on the mainland and on outer barrier islets.
Steve was our captain of the day and did a very organized job of getting our anchor and sails up and by 1700 yesterday we had cleared the pass and set sail for Mopelia, 103 miles to the west.
We've had steady following winds between 10 and 18 kts and with the whisker pole set are making very good time downwind and calm seas. As Mopelia is a low coral atoll with the tallest point of land being about 6′ we purposely left as late in the day as possible so as not to arrive before good light.
---
Leg 2 – 2014, Update 2
June 28, 2014, 0600 hrs, 19.40 S, 157.44 W, Log: 173,234 miles
Baro: 1013.2, Cabin Temp: 84 F cockpit 75 F, sea water 85.4
Close-hauled at 5 kts in 6.5 kt SSE winds, calm seas, clear skies, no moon
IT JUST GETS BETTER!
Our 109 mile overnight passage from Maupiti to Mopelia was perfect – a broad reach with the pole up, only and slight roll and not long after sighting Mopelia we landed the first fish of the season; a gorgeous mahimahi. Mopelia's pass fairly boiled with a non-stop ebb current that looked like a river and which we measured at 5.5 kts. As the pass is only 60′ wide for much of the quarter-mile distance, the turbulence is staggering, requiring a powerful engine and a deft touch on the wheel.
Once through the maelstrom we anchored off Motu Manu (bird island) and took the RIB ashore for a chance to quietly observe many nesting frigates and their chicks.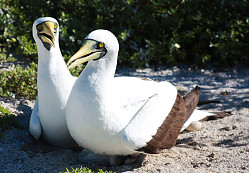 Two lonely masked boobies nesting on the sand looked rather out of place amongst the frigates who were nesting in the bushes
We then motored four miles to windward across the lagoon dodging pearl floats to anchor in the most sheltered (from prevailing trade winds) SE corner of the lagoon. As soon as the anchor was down curious black-tipped reef sharks surrounded Mahina Tiare and our crew jumped in with masks and cameras to photograph the sharks which apparently being camera shy promptly disappeared. With a calm anchorage we quickly got into teaching mode, Amanda covering sail design, going aloft followed by my teaching electrical power systems and watermakers.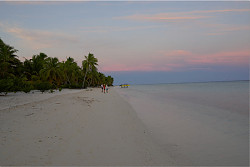 Crew walking to the windward beach from our dinghy landing
I briefly popped ashore to visit our long-time friend Hina, an attractive Tahitian girl from Maupiti who has lived alone cutting copra (dried coconut used for soaps and oil) for a living for the past 15 years and who enjoys frequently entertaining visiting yachties. I asked and she agreed to host a barbecue at her place the following night and her parting words were, "Be sure to bring another chocolate cake like last year!"
We'd told our keen crew about our all-time favorite beach run/hike along the wild windward coast around the tip of the island from Hina's beach and weren't surprised to see them all lined up for the dinghy ride ashore before dawn Tuesday morning.
We covered storm survival tactics and anchoring Tuesday before heading ashore late Tuesday for the potluck.
Stewart:
Last night the Mahina Tiare crew descended on the shore of Mopelia at the residence of Miss Hina, the legendary siren of the South Seas, for a potluck barbeque and soiree. We were joined in the festivities on this beautiful and remote island by the crew of the Iguana, an Island Packet 45 we'd met in Maupiti, who had kindly delivered a load of sorely needed fresh baguettes to us from there. In honor of the occasion, and as a gift to his old friend Hina, John baked a sheet of delicious chocolate brownies – chocolate being a rare treat here. And Hina's neighbor Edgar contributed a haul of freshly caught lobster, and a large (and to some, terrifying) coconut crab that we hauled in on a leash, which caused quite a stir. And was delicious.
The festivities began with fresh coconuts being hacked open with a machete for a sweet and refreshing beverage, which we enjoyed as the feast of lobster, tuna, and crab were being prepared over a fire of coconut husks. And what a feast it was: in addition to the multitude of fresh seafood, we also enjoyed a poisson cru, and delicious pasta and rice dishes, and of course the treat of brownies for dessert.
Much fun was had swapping stories with our fellow cruisers, and enjoying the hospitality of our gracious hosts Edgar and Hina. The party and fun went for hours as the guitar was passed back and forth between Hina and Stewart each sharing songs in a multicultural jam session, that left big smiles on everyone's faces, until the last coconut went bottoms up, and it was time to bid au revoire and head back to the Mahina Tiare.
The frontal passage that we'd been waiting for started cranking up Wednesday morning with the wind shifting to the N then NNW, increasing to 23 kts and making the anchorage off Hina's exposed, so we headed to the N corner of the lagoon, anchoring off Adrienne and Marcello's place where I'd first anchored and visited them 25 years earlier. Their little spot of paradise was busy with five pigs, lots of dogs, a new backhoe, a pearling boat being readied for paint, plus a very productive garden. Along with their son Hio, 25, and Faimano, 26, who we had met on our previous visits their daughter Puaiti was also on the island while Karina, 22, the youngest daughter was still on Maupiti. Adrienne and Amanda, best of friends had fun clowning around together, Marcello as always offered to cook us up a big pot of lobsters, but we were watching the approaching weather and after an hour sadly said our goodbyes and headed for the pass.
The plan had been to tow the dinghy and any keen snorkelers holding onto it out the pass, then anchor off the wreck of the WWI German raiding sailing ship outside the pass but this quickly went out the window with a good look at the pass. The 23 kt NW winds were colliding with the roiling continuous ebb current creating bar-like conditions at the ocean end of the pass so we quickly hauled the motor and dinghy aboard and in poor light with the sun's glare directly in our eyes headed out. It was a challenge maintaining control and Amanda had Brad trigger the bow thruster port or starboard in the critical moments. MT's bow plowed completely underwater several times as we went through very rough water and then, suddenly we were out of the channel and into calmer waters.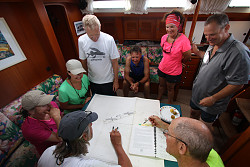 Everyone studies the upcoming weather and passage
Our keen crew tucked two reefs in the main, rigged the preventer, unrolled the genoa and we were off on a fast broad reach. Even before the sun had set we could see flashes of lightning in the frontal cloud band on our bow and we hoped the lightning wouldn't be striking the surface. By 0100 Thursday we'd cleared the front and the stars were out. Since then the wind has slowly clocked around until we were able to ease sheets a bit and although light and a little flukey, we've not had to motor.
Now it is 0630 and we are awaiting dawn and hopefully a good view of Mitiaro, one of the Southern Cook Islands that is only nine miles off on radar. Conditions permitting, we hope to anchor off Atiu, the next island for lunch and some snorkeling before setting sail for Rarotonga.
June 30, 2014, 1500 hrs, 21.12 S, 159.47 W, Log: 173,396 miles
Baro: 1012.3, Cabin Temp: 77 F cockpit 80 F, sea water 81.3
Moored Med-style, Avatiu Harbour, Rarotonga, Cook Islands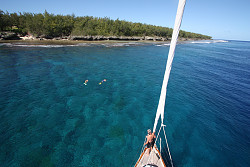 Meanwhile Brad and I snorkeled by Mangaroa II and into the tiny channel to watch the lighter being unloaded by a mobile crane ashore before checking out the shipwreck
Not long after we passed Mitiaro we started picking up the AIS signature of Mangaroa II, a 97′ Rarotonga-based trading boat skippered by David, a Fijian friend of ours. As we approached we noticed that although unloading cargo to Atiu's lighter (the island has only a tiny boat harbour and trading ships must anchor offshore) we noticed the ship was cutting donuts and wasn't anchored. We learned that David was in Raro and a relief captain was running the ship. They had lost their only anchor a week earlier and would be headed to Raro as soon as all their cargo was unloaded.
Overhearing our conversation on the VHF radio, the mayor of Atiu asked what our last port and next port was and said if we brought our passports and boat papers we could come ashore. That was a shocker as many times we've anchored off Atiu for lunch, always wondering what this rarely-visited island with only 400 inhabitants must be like. Initially I said, "Thank you, we'll be right in once we launch our tender", but once I started thinking about it, I knew going ashore before reaching a customs port of entry could cause problems when we went to clear in at Raro, so I called the mayor back, thanked him and asked for permission to anchor for lunch and a swim which he granted.
By 1400 we and our dinghy were back aboard and we set sail for Rarotonga, only to have the wind go very light, requiring us to motorsail much of the night as Mangaroa II slowly caught up and passed us.
For morning class our eager crew were keen to see our PowerPoint sequence titled, "Leaving your Boat in a Foreign Port" while Amanda stood watch, but by the time we finished, Amanda had us in on the leading marks lined up for the harbour entrance. We cut a couple of circles while our gang got the mainsail down, anchor and docklines ready and before we knew it, we were dropping anchor in a nearly-empty Avatiu Harbour and backing toward the wall.
Having arrived in Raro on the weekend in past years, we had zero expectation of clearing quarantine, health, customs and immigration before Monday so you can imagine our shock when the port watchman said he'd already called all the officials and that they'd be down as soon as they were done clearing in a flight nearby at the airport. Sure enough, we were soon all cleared in and Suellen could greet her husband Scott who had been waiting to take our stern lines and Brad got a great big smooch from his wife Laura who had come up a couple days earlier with her parents and friends.
We asked Laura and family and Scott to join us for what turned out to be an amazing Indian dinner for 13 at nearby Raviz restaurant.
Steve, 58
I'm a commercial real estate broker and investor based in LA. My wife, Denise grew up sailing and we needed a "together" adventure now that our kids are out of the nest. We really wanted to see if "commuter cruising" could work for us and this time aboard MT has given us realistic expectations to use evaluating our future sailing plans.
Denise, 55
I'm a fashion consultant from Manhattan Beach, California. Growing up in Newport Beach racing Lasers was a great intro to spending summers aboard my father's cutter at Catalina Island. Early in our marriage Steve and I sailed with my dad on his KP 46. Now we sail through Fair Winds Yacht Club in Marina del Rey but joined this expedition to see if cruising might be for us, and we are hooked!
Suellen, 53
Suellen and her sweetheart Scott live on Lake Macquarie, 90 minutes from Sydney, Australia where they keep their Jeanneau 43DS moored in front of their home. (lucky them!) They both worked in medical equipment sales and training in multiple countries, have just retired and are trying to decide if they should set off on grand adventures now on their Jeanneau or upgrade.
Brad, 56
I've sailed in Australia for several years, but my experience has mostly been racing Dragons as opposed to cruising. My experience aboard MT gave me some great experience to enjoy sailing in a new and more relaxed context and I'm looking forward to future sailing charters with Laura at the very least if not purchasing our own cruising boat. (Brad has lived all over Asia working as a project manager on large construction projects and brought his uniquely Aussie sense of humor with him)
Monty, 57
I am a financial advisor and keen skier from Vancouver. I was looking to experience some blue water sailing to compliment the coastal cruising Margy and I have done along the British Columbia coast. We have sold our house and have plans to purchase our own boat in the near future with the goal of adventuring under sail for several years.
Margy, 56
I recently retired as an accountant in Vancouver, BC and am ready for cruising adventures!
Stewart, 50
I am a filmmaker and editor working in LA. I've been sailing small boats since I was a kid growing up in Seattle. Since then I've gotten much more serious about sailing and cruising and am planning to buy a boat of my own in a few years. Sailing on MT gave me a unique opportunity to experience on an ocean passage and a taste of serious cruising, and brought me closer to my dream of sailing across an ocean on my own.
---
Leg 2 – Itinerary