Leg 4-2009, Update 1
September 17, 2009, 2300 hrs, 18.52 S, 162.25 W, Log: 132,766 miles
Broad reaching at 8.5 kts in 23 ENE winds, full main, double-reefed genoa
Baro: 1016.5, Cabin Temp: 81F, cockpit 79F, sea water 77.7F
Rocketing through the Star-Filled Night!
We've just double reefed the genoa, trying to slow MT down for a daylight landfall at tiny, mischarted Palmerston Atoll. This afternoon the wind dropped to below 8 kts for an hour, providing us the opportunity to motor and top off batteries and water tank. We were all hoping we wouldn't have to motor the last 90 miles to Palmerston when after an hour the winds filled back in. We've since continued on our course in picture-perfect sailing conditions with nearly flat seas and lots of wind from the right direction.
Both of MT's inside showers are stacked high with boxes containing food and items for the families and minister living on Palmerston while Jill, Elaine and Molly have brought school supplies and fishing gear to donate. Dr. Wolfgang Losacker, formerly of the Cook Islands Ministry of Health and a former MT expedition member, has sent toothbrushes for every person on the island. Wolfgang's toothbrush contribution  is part of an ongoing project he started nearly thirty years ago and one which we assisted him twice; 18 and 9 years ago.
Our time in Raro between expeditions always passes in a blur. This time we were there ten days though it never seems like there's enough time to catch up with all of our old friends and do and see everything we want to. For the only the second time in 35 years of visiting Raro the harbor remained calm and relatively dry with no northerly winds funneling in.
The island was all a-twitter and very excited to be hosting the bi-annual South Pacific Mini Games. They start in three days attracting something like 5,000 athletes, coaches and fans from around the South Pacific. On top of that, the annual Te Maeva Nui national traditional dance competition was delayed from July to last week so that the outer islands could attend both events. This allowed us and all of our Leg 4 crew to enjoy a week of incredible traditional dance performances held nightly at the national stadium.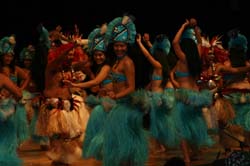 Dancers enjoying their last few moments on stage
AND, on top of that, the annual week of running competitions coincided with our arrival, so we HAD to take part in two of the fun runs, one a Hash House Harrier run which crew members Jill and Roy joined us for, and the other, the totally grueling Nutter's Cross-Island Race, which we survived, covered with mud, but were sore for several days after. Especially Amanda who was the second women to finish with time of 1:28. It almost felt like we needed to put to see to have a break from non-stop adventures!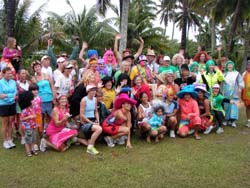 Jill, Amanda and John with HHH birthday runners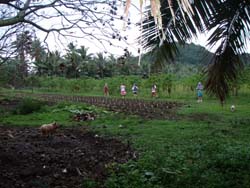 John on a typical trail search with Raro HHH….ON ON!
Our last day in Avatiu Harbour saw an increasing stream of former Palmerston Island residents stopping by to see if we could squeeze more boxes aboard for their relatives on Palmerston. It has been three months since a ship has stopped and another 3 months before one is scheduled. Just minutes before our crew were to board we were hailed by Arthur Neale, son of Suwarrow Island's famous hermit, Tom Neale (author of Island to Myself). Authur who hails from Manihiki in the Northern Cooks is distant cousin of mine and friend of nearly 30 years. Arthur's son and mother are on Palmerston and he asked if we could take some gifts for his son's 21st birthday next week.
We had sweet sailing conditions with 20-25 kts right out of the harbor yesterday other than the one little light air period. Half the crew experienced some seasickness in the choppy seas last night, but they all followed directions (hydrate, eat and use Compazine, Stugeron or Scopalamine) and in record time the've all came right. This morning we had just started class when we had a two-dinner sized mahi strike which we landed easily. This crew LOVES fish so much so that Amanda had to cook a second round of filets at dinner tonight.
September 21, 2009, 0300 hrs, 19.07 S, 169.13 W, Log: 133,133 miles
Broad reaching at 6 kts in 13 ESE winds
Baro: 1014.5, Cabin Temp: 80F, cockpit 79F, sea water 79.7F
Brakes Are On for Niue!
Again we are trying to slow Mahina Tiare down to wait for a dawn arrival, this time at Niue, the smallest country in the world (population around 900) with one of the friendliest yacht clubs anywhere.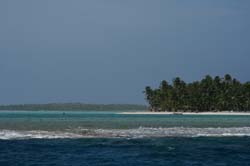 Sunny skies at Palmerston
Backing up a few days, we slowed down enough so that our landfall at Palmerston was comfortably an hour or so after sunrise. As we came in sight of the anchorage area off the single shallow lagoon entrance we noticed three boats including our Swiss friends on Kopernik rolling heavily on moorings. Bob Marsters came out in a aluminum skiff and when we enquired about the one available mooring located close to the reef, he said, "I'm not sure who that belongs to, or if it would be safe, but you could anchor just over there", pointing to a spot just off the channel entrance.
We know from several past visits that the bottom is totally covered with coral, not having even the hint of sand, and that there are several deep anchor-swallowing chasms. Amanda dove in with her Seal mask and fins and swam around checking out the spot Bob had indicated, getting Roy to drop the anchor in one very specific spot that turned out to work well. Bob returned to shore promising to tell the customs and immigrations officers (that was a bit of a surprise on this tiny island!) of our arrival and to ask them to come out and check our clearance papers from Rarotonga. He promised to return after the officials to give our crew a ride ashore with a mention that most of the island was preparing for the 21st birthday party and feast at 3:30 that afternoon which we were all invited to.
In minutes our entire crew were in the water with masks and fins on, watching turtles, numerous huge parrot fish and a couple of totally uninterested white-tipped sharks cruise by in crystal-clear water where visibility was more than 150'. They also grabbed sponges and started cleaning off the light slime on the anti-fouling paint that had accumulated in Raro.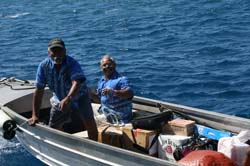 Customs and immigration departing with MT's cargo
Amanda and I swam aft to check out the mooring that an Amel 53 was secured to and forward to say hello to George and Eva and look at the mooring lines securing Kopernik, their 40' custom aluminum cutter. We weren't surprised to see very light lines that looked like discarded halyards from a passing yacht, frayed, chafed and tied together in bits, and secured to very light chain that had been passed around and through coral heads. Concerned, I asked George if he had swum down to inspect the mooring. He didn't understand my question so I didn't belabor the point. Unfortunately this was nearly to cost him and Eva their yacht as the line broke that night and they woke up drifting (thankfully and luckily) out to sea. They were lucky not to end up in the reef breakers that were very close astern.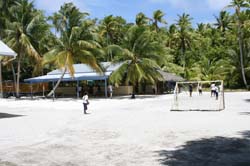 The new school house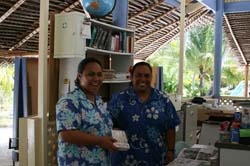 The school teachers, Marama and nano Marsters, happy to receive new teaching aids and toothbrushes
Before long the customs and immigration officers came aboard and with lots of joking and laughs glanced at our papers and welcomed us to Palmerston. Minutes later a skiff appeared and Simon Masters helped our crew scramble aboard his skiff in the difficult rolly conditions. I stayed aboard to stand anchor watch as neither Amanda nor I are comfortable leaving a boat in such an exposed position, even though we had checked the anchor.
Molly wrote the following:
We all caught a ride through the reef toward the island and the pass was outlined by shattered pieces of a Korean fishing boat that had drug ashore and was subsequently blown up to clear the only pass to the lagoon. Our host, Simon, led us to his house and then gave us a tour of the tiny island. Our first stop was the school with 22 children where we met the two sisters who are the teachers.
The children were delighted to get a break from a test in order to play soccer and visit with the visitors. Having brought a plentiful amount of toys and learning tools for the kids, they very quickly became my friends. The school looked like a normal one room classroom filled with books and hand-drawn art.
After the school, we stopped by the minister's house which seemed to be the nicest on the island. We were also taken by the phone booth located next to a satellite dish and solar panels that powered it. It cost $50 a minute to make a call which locals use to speak with family members in Raro or New Zealand.
William Marsters, the man who settled this formerly uninhabited island in 1863 with his three Cook Island wives had his grave amongst the others near the church.
| | |
| --- | --- |
| An idyllic scene on Palmerston. As we visited various homes we saw everyone preparing for the afternoon celebration. | A final fitting for party frocks |
It was to be the 21st birthday of a young man named Joshua. At this age they become adults in the eyes of their peers. We were welcomed like family to eat and join the festivities.
| | | |
| --- | --- | --- |
| Joshua's birthday party at the water catchment shed | Time flew, laughs were enjoyed, bellies were full and it wasn't long before we had to say goodbye. | Joshua's three Grandmothers – Sarah, Teinano and Akarotouna Marsters |
It was hard to say bye to the children with their playful energy, but we eventually did and Simon motored us back to Mahina Tiare. We all threw a flower in the water as we sailed away in hopes that someday we could find ourselves back on Palmerston again.
Here's our Leg 4 crew, one of our youngest ever!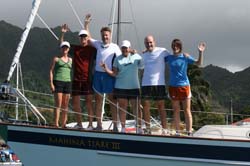 Customs and immigration departing with MT's cargo
Molly Massena, age 20
I am a business student at University of Washington in Seattle. Having grown enjoying many sorts of water sports, sailing is a naturally relaxing feeling for me. My father, Roy, being an avid sailor seriously introduced my siblings and  me to the sport about two years ago, starting in the Straits of Juan de Fuca and recently we chartered a boat in the Caribbean. I was unsure whether I would choose sailing as a hobby for myself, but after a few days at sea, I see myself doing a lot of sailing in the future!
Roy Massena, 58
I'm a self-employed and provide real-time document conversion services and patent licenses to internet recruitment companies. Having sailed with Mahina previously in Norway, I brought my girlfriend and daughter to see what ocean cruising in a warmer climate is like. The indications are good that this may be the prelude to cruising the South Pacific and beyond on our own boat.
Jill Josselyn, 55, but young at heart!
I had lots of dinghy sailing and racing experience in Nantucket Sound. My previous sea time was spent aboard a Woods Hole Oceanographic research ship all over the Atlantic, studying the mid-Atlantic ridge as a molecular biologist. I've found that sailing and oceanography translate well to the southern hemisphere and my objective is to learn as much as possible about weather and especially navigation while having a great time.
Eric Larson, 39
My wife encouraged me to take this trip, both for the sailing and the life experience. We have a Hans Christian 33 in Anacortes, WA which we hope to sail to Alaska or Hawaii one day. I also haven't had a vacation in 15 years where I didn't log in at least every few days so being in the middle of the Pacific is wonderful. Eric is a manager in financial services.
Bill Tobin, 40
I am from Harrison, NY and have a 14 yr old daughter and 13 yr old son and wife Darci who are aspiring sailors. I am in the orthopedic distribution business and grew up working on fishing boats. In the past ten years I've been learning to sail and I currently have a time share in a Jeanneau 38. I plan on purchasing a boat in the next two years and would like to take an extended cruise, possibly circumnavigating. They trip on Mahina was to confirm these aspirations were right for me and the answer is definitely yes.
Elaine Bryson, 50
I'm from Vida, Oregon, 125 miles east of Eugene where I am Director of Programs for the McKenzie School District. My husband and I own an Outbound 46 which we hope to sail to Mexico and the South Pacific, starting next years. I wanted to sail aboard MT to gain open ocean sailing experience to see if I would enjoy it. So far, so good!
Buns, age unknown, but still a fluffy bunny!
I am the McKenzie Elementary 1st grade class mascot and am a world traveler having been to Switzerland, China, Mexico and now the South Pacific. I can't wait to tell all my school friends about my sailing adventures!

Leg 4-2009, Update 2
September 24, 2009, 0530 hrs, 18.42 S, 171.20 W, Log: 133,254 miles
Broad reaching at 6.7 kts in 23 ENE winds, full sails – no reefs!
Baro: 1016.5, Cabin Temp: 77F, cockpit 78F, sea water 79.3F
Niue Island – What a Gem!
Eric writes:
At first light we were standing on the mast pulpits, straining for the first glimpse of the cliffs of Niue. Soon the jagged coast came into view, along with bursts of spray from waves breaking in the chasms. As we rounded the southern end, we quickly understood why Captain Cook failed to land here. We sailed into the anchorage early Monday morning while enjoying toast topped with peanut butter and bananas and saw seven boats already had quarantine flags flying, indicating many new arrivals. Despite this, customs quickly invited us ashore to clear in.
| | | |
| --- | --- | --- |
| Eric and Bill enjoying yet more bananas | Wharf and anchorage | It's necessary to hoist the dinghy each time we all go ashore |
Keith Vial, the Commodore to the Niue Yacht club, met us at the wharf with an offer to take us and the crew of two other yachts on a tour of the island. Once we'd finished clearing in we met at the Yacht Club enjoying a nice fish sandwich lunch and ice creams before joining David and Marcie Lynn of Nine of Cups from Colorado, and Rob and Teresa Sicade of Yohela from Washington for the tour. In our drive around the island Keith shared the history of the island, particularly around the 1994 storm, whose 27 meter swell wiped out many windward buildings, including a resort hotel, on to of the cliffs. He'd also put together a guide to the island, which highlighted the caves and snorkel spots we should be able to visit on our own during the next few days.
In addition to showing us the natural beauty, Keith gave us a tour well beyond any commercial offering. He introduced us to local business people and artists. He arranged a tour of islands noni farm and juicing facility. The small, nobly fruit is picked, lightly fermented, then extracted and shipped off to be used in health drinks. Jill's quick comment on tasting the pure juice was that "Anything that tastes like this must be good for you!" We also toured the studio of Mark Cross, a local but world renowned artist. Mark showed off his latest work in progress, as well as the photographic images that inspired it.
Later, Keith introduced crew member Molly to the island's power engineer for a tour of the islands solar facilities. The local Hash House Harriers (a drinking club with a running problem) hosted a bush run Monday night which the crew joined with enthusiasm. We worked up some thirst running a several kilometers through the jungle, and rendezvoused bay at a hotel with the largely Kiwi crowd for drinks and stories. Our hosts were particularly concerned that the supply ship was several months overdue and the island was starting to run out of flower, rice, and, worse, beer! Calculating the exact hour or the ships arrival the following Sunday was a popular pastime.
Tuesday we spent snorkeling, spelunking, and whale watching. The Limu pools were full of beautiful fish, coral and sea snakes! While the snakes made us nervous at first (we had been assured there were poisonous), they were not aggressive in the least. Later we found a sea cave near Liku only accessibly by swimming in, after a steep climb down a coral cliff.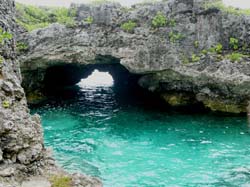 Eric and Bill enjoying yet more bananas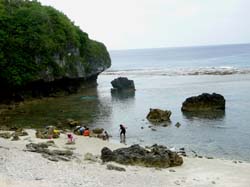 Locals enjoying a swim at one of the many beaches
After checking for snakes, we swam into a fairly narrow opening through a moderate surge. The cavern that opened around us looked like an excellent place to bury treasure. We finished our exploration in Avatele Bay, where we watched several humpback whales breaching and playing.
Keith hosted a wonderful barbeque at the yacht club Tuesday night in honor of Marcie for her work in helping Niue Yacht Club become the 130th Seven Seas Cruising Association cruising station.
SSCA (ssca.org) is an organization of cruisers founded in 1955 as a means of exchanging information through monthly bulletins which consists of timely information from cruisers "out there" all over the world. Their cruising stations around the world consist of ex-cruisers or locals who enjoy greeting arriving sailors and "showing them the ropes" of their port. They are some of the most generous and friendly people you could imagine.
The barbecue was a wonderful gathering of cruiser and ex-pats, with many familiar faces from the Hash House run. These people provided a wealth of information on other anchorages and cruising in general. An English cruiser shared that in the Marquesas, the propane station refuse to fill the newer fiberglass tanks, saving two of us future difficulties. We also received advice on diving equipment, routing, sewing machines and cruising with children.
John:
Yesterday we had a very full and exciting day, ashore in the dark at 0530 at Molly's urging to see the market and coconut crabs for sale, back aboard for breakfast and engine room orientation, then ashore by 0900 for crew to pick up the van they had rented for a full day's adventure of exploring.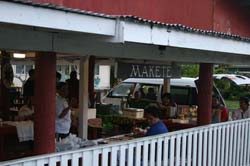 Morning market starts at 5am!
Amanda and I caught up on chores then went for a long snorkel in and out of the coral chasms along the mooring area, stunned by the 150'+ visibility and the profusion of brightly-colored tropical fish. Several times on our earlier swims we clearly heard the plaintive songs of humpback whales, but not this time. Just after we returned to MT and showered on the stern, two 60' humpback whales surfaced a short distance off. We grabbed masks and fins, jumped in the dinghy and quietly motored out, being sure to stay the prescribed 50 meters away from where we had seen the whales. Shutting down the outboard, we jumped in the water and waited. Nothing, so we motored a little further and I hopped in the water. Almost instantly I was shocked by the sight of two huge humpbacks slowly gliding toward me. Amanda jumped in the water with the camera and we watched as these two giant lovers glided under us, snuggled up to each other and touching fins. Wow!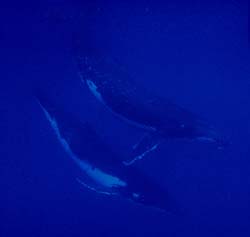 Amanda's arty whale image
Later that evening when we were back aboard we were startled by a loud "WHOOSH" very nearby. Someone yelled, "WHALES!" and instantly we were all in the cockpit listening to the whales breathing alongside us.
The humpbacks spend southern ocean winters in the waters around Niue calving and nursing the babies before heading south to feed. For some reason they seem fond of the moored yachts and often spend nights sleeping between the boats. Last time we were at Niue, I woke up startled, and told Amanda, "It's raining, quick close hatches and ports!" She told me to go back to sleep, it was just moisture coming through the open port from a whale breathing next to the boat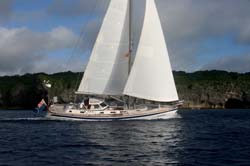 September 28, 2009, 0600 hrs, 14.17 S, 171.32 W, Log: 133,610 milesBefore we knew it, it was time to set sail for Niuatoputapu, one of Tonga's smallest inhabited islands, 290 miles to the west. It was a little hard to leave this very friendly and beautiful island, so we sailed back and forth along the coast, watching the whales as Amanda took pictures from the dinghy.
Beam reaching at 8.1 kts in 19 ESE winds, one reef in main and geona!
Baro: 1016.5, Cabin Temp: 80F, cockpit 79F, sea water 83.1F
SAMOAN LANDFALL AHEAD!
Our passage from Niue to Niuatoputapu, Tonga was downwind and smooth, so smooth that we had to motor the last bit to ensure sufficient daylight for the tricky coral pass entrance. Long before we sighted Niuatoputapu we sighted the perfectly shaped volcanic cone of Tafahi; four miles north, 4,000' high and rumored to be Robert Louis Stevenson's "Treasure Island". As we approached the islands in the distant we saw humpback whales breaching clear of the water and landing with huge splashes. Later I was steering while Amanda taught provisioning class below when a whale surfaced less than a boat length away with a huge "WHOOSH", giving me quite a surprise!
We weren't surprised to see seven other yachts, mostly European, anchored off this small island that has long been a favorite stop for cruisers sailing from Samoa to Vavau, Tonga. Bill and I dinghied over to an English yacht whose owner said that he doubted that we would be able to clear customs on a Saturday afternoon as one yacht had been calling customs all day on the radio without answer, so…we all piled in the dinghy and headed ashore to have a little look around.
Wharf and the bay at Falehau Falehau village Jill:
A "very sacred coconut" is the Tongan meaning of the oval shaped small jungle island of Niuatoputapu. This island has about 400 residents, all seemingly eager to welcome the few yachts and even fewer supply ships that venture into this locale on of the northern reaches of Tonga.
From our anchorage we could see bonfires ashore and hear the rhythmic drums from the nearby village of Falehau. After attracting the attention of the local Customs official, he promised to attempt to round up health, immigration and quarantine inspectors so that we could possibly clear in that evening which would mean we would be able to go ashore for church the next morning. They surprised us by all turning up on the wharf and we had a good visit with lots of joking as we filled out forms and they stamped our passports.
Tongan hass a very religious culture so we had few options for activities on Sunday other than going to church along with nearly all ashore. Half our crew going to the Methodist church and half to the Catholic. Though we didn't understand the Tongan sermon, we appreciated the energy and vibrancy of the melodic hymns. Dress is conservative here; not much skin is exposed though the climate is sultry. Women wear elaborate decorative belts over colorful long dresses and men wrap woven mats over their sulus or long pants.
| | | |
| --- | --- | --- |
| Children leaving church | Setting off on the road to Hihifo. After church we set off on the road to Hihifo and a circumnavigation the 11 km island. | Bill and Elaine cool off |
On the northern coast we went swimming and chatted with the locals. The guys of our crew were invited to join a "kava circle" of local men enjoying a post-church drink, but we learned that in Tonga women don't generally participate in this social ritual.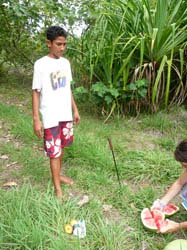 What's not to love? The island looks idyllic, situated amidst turquoise reefs, white fluffy clouds and lots of blue sky.We enjoyed a refreshing watermelon given to us by Mu, a proud and handsome young farmer who accompanied us on part of our walk. Mu cut us pieces of crispy green mango with a 2' cleaver that he carried on his bike and gave us another two melons to take with us.
John: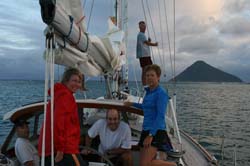 Leaving the pass at Niuatoputapu for Tafahi
After a lovely quiet afternoon of walking and visiting, we all met back on the wharf and moved MT to an anchorage closer to the pass for an early morning departure. We had 183 miles to sail to make it to Apia before dark and all of us were keen to see if we could anchor at Tafahi, the conical-shaped volcanic island just four miles away, said to have very friendly folks and rumored to have buried treasure. As we watched the sun set over the lagoon, we all gave thanks for a magical visit to a very special island before dinner. Little did we know that the island was soon to be hit by a 9 meter tsunami!
At first light the following morning I was surprised to see all our crew up, and ready to lift the dinghy on board and get underway. Tafahi looked lush, green and steep, but as we approached the cut through the reef where we would have to land we understood why the books said this was a high tide-only landing.
At nearly low tide a wall of breaking water roared across the landing channel every minute or so forcing us to abandon the idea of landing so we set sail on the 180 miles to Samoa passing by the village the hillside at the north end of the island.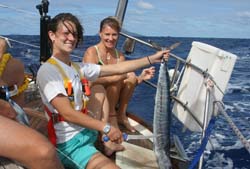 Fresh SE winds that enabled us to stay east of a direct line and make excellent time. ESE tradewinds normally blow here which would make a fairly bumpy close-hauled passage so we kept waiting for the winds to head us. Phew, they never did.As we cleared the island we landed a perfect sized wahoo for Molly to fillet for Elaine's second birthday dinner as we'd crossed back over the dateline. Happy Birthday Elaine…..and what about Buns birthday? Perhaps he celebrated it somewhere special…..search all the images to find out where.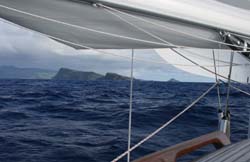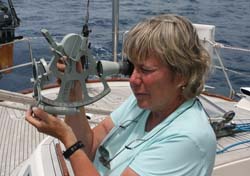 Elaine takes a noon sights
At first light Monday (Samoan time) morning we were making landfall and surfing past Aleipata Village on the extreme eastern end of Upolu Island.
Winds lightened slightly so we set the whisker pole. In the calm conditions Amanda taught sail and rig design which I followed up with sextant sights and Lifesling overboard practice. At 1400 we entered Apia's new 60 boat capacity marina and by 1600 we had been cleared by a host of officials including health, quarantine, immigration, customs and port authority. Now free to leave we all headed for the nearest ATM and then met at Aggie Grey's Hotel for poolside drinks.
Aggie Grey was a part Samoan woman who in 1942 opened a hamburger stand for American GI's which turned into the most famous hotel in the South Pacific. It was here that James Michener started writing "Tales of the South Pacific" and many people assumed that Bloody Mary in the book was modeled after Aggie Grey. Aggie died at 91 in 1988, but her gracious granddaughter, Marina Grey now runs the hotel.
We were all pretty pooped after an exciting day so I was surprised to see most of our crew awake and heading for the showers when Amanda and I left on a dawn run to re-explore Apia; a city that we visited five years earlier.
Amanda:
John and I had just left Farmer Joes supermarket with an armload of hot bread when the street started shaking. I looked around thinking a truck was passing by but saw no heavy equipment. I was a little behind John as I had been peering in a shop window so I ran to catch him as he was now standing in the middle of the street.
"Earthquake?!" we said to each other.
"Not a bad one" commented John as the ground continued to roll and shake.
"Hum" thought I, and then wondered how are crew are fairing back at the boat.
John and I quickly made the ten minute run back to Mahina Tiare, keeping clear of all tall buildings and power lines. My eyes were fixated on the harbour front watching for any signs of receding water. In 1977 I'd experienced a 7.7 earthquake whist in the small boat basin in Nukulofala, Tonga aboard our family cruising yacht Swanhaven. It was at 2am and all the cruisers had stood on deck in the dark discussing the possibility of a tsunami. I was now wondering the same as I ran back to the marina.
We arrived back at the boat to find our crew in good spirits. I chatted with Elaine who said as the quake struck she had awoken to a strange jiggling. After going to the cockpit she looked about as other cruisers appeared on deck. As the quick jiggling motion continued for several minutes every assumed it was an earthquake. I went off to collect my shower kit when suddenly loud civil defense sirens sounded. It took me a few moments to register what it meant, then only a few seconds to realize it was a tsunami alert.
"Grab your passports and run" I told our crew.
I set about shutting ports and hatches while John grabbed boat papers and our passports. I was still in my running gear and knew my sneakers were on deck. Marina staff was now yelling urgently for everyone to run for the hills and fire truck sirens were also joining in with the civil defense warning. John and I had to make a quick decision. Do we run or put to sea? We noticed the water in the marina had started to move about and had quickly dropped four feet. Sea water was surging up and down, dropping lower after each surge.
We watched across the dock as Ernie and Charlene on Lauren Grace, a Knysna 440 Catamaran, took off partly sideways out the marina with lots of current sweeping them out.
One of the ferries that goes to Pago Pago also cast lines and departed. On arriving the day before with knew that the marina entrance is very shallow, we only had a depth of 1.7 feet under the keel in places, plus there are also numerous large unmarked coral heads. Would we have enough depth to get out and what if we got stuck on a coral head? We decide to run. This meant running along the waterfront to reach the first road going inland.
The smart yachties headed for Aggie Grey's hotel, in the middle of the waterfront bay where hotel staff welcomed them and sent them to the top floors. Here they had a great view of the harbor going dry for several hundred yards out.
We soon joined a mass of people, cars and trucks all heading up the hills. Although the fire department kept directing everyone further inland John and I decided there was no way a tsunami would go further than where we were so we took shelter in the courtyard of a church. After half and hour we stopped a passing taxi heading back to the harbour to see if he had any news. He mentioned that the radio said a tsunami had struck the eastern end of the island and that a school had collapsed with at least three children dead and more were trapped in the wreckage. Little did we know that as the sirens went off an 18' tsunami hit the south side of the island causing 130+ deaths and massive destruction. John and I concluded that a tsunami can't hit both sides of an island and went back to Mahina Tiare.
Our crew had been offered rides inland and were not able to return until around noon due to police road blocks and no final all-clear given over the radio or sirens system. Relived to be safe we then spent a few hours calming our nerves while completing medical class, sewing and splicing.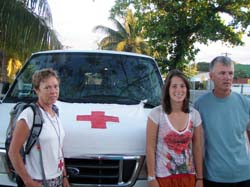 Jill, Molly and Roy decided to volunteer at Red Cross and headed off in their rental truck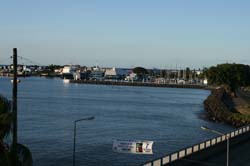 View of marina from Aggie Grey's
The rest of us choose to stay put though at around 6 pm the sirens went off again and the police and fire trucks came roaring down the harbour front yelling that everyone must leave immediately. This time we headed to Aggie Gray's Hotel where the staff welcomed us and said hurry up the stairs to one of the top floors. We met a nice couple from Auckland who let us stay on their balcony which had an excellent view of the marina and harbor. We switched on the TV but the local coverage of the tsunami was amateurish and rather disturbing and so we turned it off. This time three yachts headed out to sea. Thankfully after an hour of nothing much going on in the harbor the word of the "All Clear" filtered up to us.
As we returned to the marina Ernie on the catamaran Laura Grace said that he had just overheard the RNZ Air Force P-3 Orion aircraft that had been searching for bodies saying that another tsunami was expected in 20 minutes. We quickly returned to MT to grab some more things and overheard the NZAF pilot on the VHF asking Apia Port Control for an update on the now imminent tsunami. Port Control said that the last warning was for high waves on the village on the south side of the island that has been devastated and the alarm should not have been sounded again for this side. Whew! That night we slept with our knapsacks and running shoes in the cockpit ready to sprint back to Aggie Grey's Room 313 where our Kiwi friends have invited us to return if necessary.
Here's Molly's account of volunteering at Red Cross:
It's Thursday night and it's not easy to find the right words to describe what has happened here in Samoa. The first thing that comes to mind when thinking about the earthquake and tsunami is that I forever will be thankful to have survived the incident.
When the tsunami sirens sounded I fled Mahina Tiare along with Roy and Jill. We headed along the waterfront and soon hitched a ride on a truck that took us inland on the cross country road where waited out our time at a now rather busy neighborhood convenience store. They translated radio updates on the events that were unfolding on the south side of the island. When we heard that the south coast had been devastated by a tsunami we decided to help in any way possible. When the all clear was announced two hours later on the radio we returned to Mahina Tiare renting a large new van on the way.
All seemed quiet back in Apia Marina so Roy, Jill and I went to Red Cross in Apia to see how we could assist. They welcomed our offer to help and we loaded the van with water, blankets and relief supplies before taping a Red Cross flag on the front and back of the van. We then proceeded across the island with two local guys to the small hospital at the village of Lalomanu, the worst affected area.
When we reached the south coast it was instantly apparent that the situation was serious. The guys who were guiding us had a hard time determining where we were. There were no recognizable buildings, villages, resorts or even signs of life. Everyone had taken refuge on higher ground fearing another catastrophic wave. The 20 miles of coast road to the hospital was slow going and although it had be semi cleared, with many detours where parts had washed away we often just drove over debris including power lines. Nearly everything except the churches had been flattened with cars tumbled upside down and small fishing boats washed high up onto land. The round trip took four hours and we finished up with the evening with a thankful hot dinner at 11pm at Aggie Grey's.
We reported to Red Cross at 6am the next morning for another day of ferrying supplies and aid workers. The morning Samoan Observer newspaper reported the death toll at 47, with the number of people missing still a critical concern. The Samoans were doing a phenomenal job in providing aid and I was impressed by the deep rooted bond that showed between each and every fellow Samoan, even though they may have never set eyes upon each other before. While traveling to and from the hospital I witnessed and amazing display of community and teamwork as everyone worked together. As the blistering sun beat down teams were hard at work sorting through the wreckage in the hopes of finding people alive while others gathered up the pieces of destroyed homes, hauling them up the hill to those who were constructing on temporary shelters.
Today was another early start with a Red Cross supply drive to Lalomanu. NZ and Australian relief workers have arrived and as Red Cross now has a surplus of local volunteers they informed us that they are no longer in need of our assistance. Donations to the communities and families affected by the tsunami will be appreciated.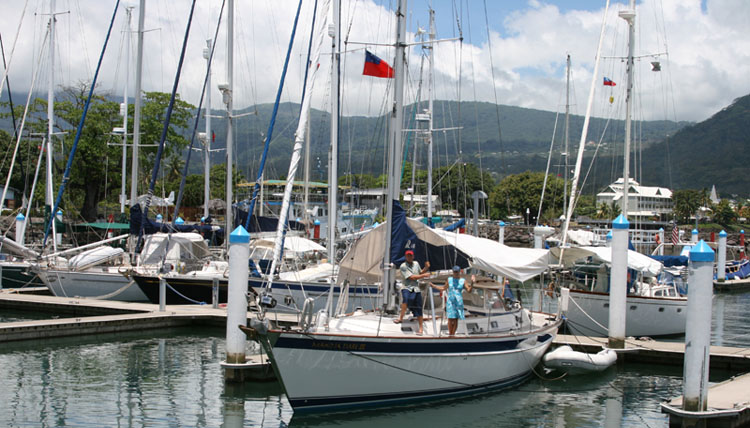 John and Amanda happy and thankfully safe in Apia Marina
Amanda:
Friday in Apia everything seemed rather normal, but fairly quiet with as there were no government offices open on Wednesday or Thursday. Other than the small local morning paper and radio news rebroadcast from Radio New Zealand once a day getting local news is difficult. It's hard to know what is happening if one doesn't speak Samoan so it's best to search the internet. The airport and flights are normal and there aren't any shortages of supplies. Outside aid is arriving on military flights, the Samoan prime mister has returned from overseas, and the New Zealand prime minister arrived aboard a RNAF 757 containing a portable desalinization plant, Samoan-speaking medical personnel, emergency supplies and rescue sniffer dogs.
Kalalau, a sloop from Seattle, left Thursday morning loaded to the gunnels with supplies for Niuatoputapu as the island was also hit badly and several other yachts plan on making the 180 mile passage there once it's learned what supplies are needed. The Tongan government patrol boat arrived there Friday with medical personnel and a French naval ship from Noumea should arrive tomorrow. We've been listening in on the morning SSB cruisers net to see how everyone fared especially the yachts anchored in Pago Pago and Niuatoputapu.
John and I are now anchored in small bay to the east of Apia for a few quiet days to work on Mahina Tiare. We've talked a lot about Tuesday's events and know we made the right decision to run although perhaps it should have been sooner and we learnt from Lauren Grace that you need to go to sea to a depth of 100 ft to be safe.
We're certainly on schedule for our Thursday October 8th, Leg 5 departure for Fiji via Wallis and Futuna although we may adjust our course for a quick stop to deliver supplies to Niuatoputapu.