Update 1
May 5, 2005, 1615, 33.33 S, 175.15 E, Log: 85,487 miles
Winds: 30kts ESE, down from 45 gusts 50 early this morning. Seas: 12-15′, down from 22′ earlier, Baro: 1023, Cabin Temp: 75F, Cockpit Temp: 67F
Start of a new season, second day at sea on passage to Rurutu, Iles Australs, south of Tahiti
We're out here on edge of the Roaring Forties again, but instead of heading east along 40 degrees south latitude, unusual weather patterns dictated sailing north. We are now 50 miles N of the North Cape, the northern tip of New Zealand, pointing toward Fiji, instead of Tahiti. Our plan is to sail around the northern edge of a low that just dropped down, to find S, SW, then NW winds to scoot us on our way toward Rurutu and later Tahiti.
Amanda and I arrived in Auckland April 18 to a gorgeous Indian summer without the ubiquitous winds and squalls that made any work on deck such a challenge a year ago and again in December when we were packing up to leave MT for the summer. The sunny weather meant Amanda could work on varnish prep and I was able to hire a guy from the local boatbuilder with a very powerful sander/vacuum machine to help lightly sand the decks after I trimmed the deck seams with a sharp chisel. As the bottom had already been painted and topsides cut and polished before our arrival, I concentrated on recommissioning the engine and Max prop. We launched a day early and motored to our favorite anchorage on Rangitoto Island, at the entrance to Auckland harbour to varnish and continue re-installing gear.
| | | |
| --- | --- | --- |
| M.T on our arrival back in N.Z | M.T ready to launch | John installing the refitted watermaker |
I had carried our PUR/Katadyn 160 watermaker membrane and motor back to the States for servicing, so I reinstalled the watermaker and tested it before we motored for Auckland. Strong, cold southerly winds with rain meant we weren't able to bend the mainsail on until several days later in Westhaven Marina.
On Tuesday, April 26, Gordy, my all-time favorite diesel mechanic from Ovlov Marine came to help with our annual engine service. Together we adjusted the valves, he checked the alignment, swapped out the 12 volt alternator that had just stopped working, for our spare, then rebuilt the old one. After 4000 hours since we last had the fuel injectors serviced in Norway, Gordy pulled them and sent them off to be rebuilt.
| | | |
| --- | --- | --- |
| Gordy our trusty mechanic gives the engine a thumbs up | Amanda and Grant assembling the new Furlex furler | Base of the forestay wire assembly |
Friday was a busy day. About the time Gordy showed up with the injectors to reinstall, Grant, a local rigger showed up with a new forestay and headfoil for our furler that had come from Selden in Sweden. Amanda and Grant assembled the Furlex furler with some great advice from Eddie, the local Selden rep, while I helped Gordy. Friday night was dry good provisioning, Saturday was frozen foods and Sunday was fresh fruit and veg provisioning. Monday we ran errands and Tuesday crew arrived. What a blur!
| | |
| --- | --- |
| Leg 1 Crew – Paul, Shawn, Merle, Carolyn, Amanda, Karen and Jim | Bob Mc Davit showing crew our departure possibility |
As always with expeditions starting or ending in Auckland, I scheduled a weather briefing at MetService New Zealand's Bob McDavitt. On Monday Bob (and Commanders Weather) had said that it looked like we might need to wait as long as six or seven days for a good departure window. Our crew put on a brave face as we outlined coastal hopping up the coast with a planned outbound customs clearance from either Whangarei or Opua. But when Bob in his Tuesday afternoon briefing showed us an alternative of sailing north from Auckland, around the newly established low, everyone (including us) was delighted.
After an excellent dinner ashore together Tuesday night, we topped up fuel and water and cleared outbound customs Wednesday morning, to set sail before noon. Our beam-to-broad reach winds filled in just north of Rangitoto Island and before long were in the 25-30 knot range scurrying through the Hauraki Gulf and past the northern tip of Great Barrier Island. The forecast called for gale force SE winds over the entire east coast, with very rough sea conditions, but as these were following seas, we charged on our way north. Surprisingly we didn't see any shipping or fishing boats, and by midnight we really had our hands full with the very rough sea conditions forecasted.
In our orientation we always record the reasons crew have chosen the leg they are on, and what their top learning goals are. With our Leg 1 crew, five out of six mentioned heavy weather experience, and we knew they wouldn't be disappointed! Only three succumbed breif seasickness, but even with very challenging conditions, everyone stood their watches without complaint. I tried an experiment for seasickness treatment, and as soon as anyone vomited, I asked them to take two Stugeron, even though each had either used Scopalamine transderm patches of Compazine suppositories. The results were stunning, and the seasickness (mine included) vanished, even though we were in appalling conditions. I said a quiet thank you to Vicky White from our Leg 8-04 crew who has kindly sent a ton of Stugeron purchased in London a few months ago.
May 6, 2005, 1600, 31.34 S, 176.05 E, Log: 85,626 miles
Winds: 6 kts NE,. Seas: 8′ – 10′, Baro: 1014, Cabin Temp: 76F, Cockpit Temp: 71F
From very rough conditions, winds started moderating, as forecasted in the early hours of Friday, and by noon, we had reached the center of the moderate (1014 mb) low where winds were less than five knots, so we started motorsailing. All our forecasts (GRIB files, Commanders and McDavitt) call for several days of light air as we move along the top of the low pressure in an area devoid of isobars on the charts. With calmer conditions we'll try our luck at fishing.
We had a great first swim stop today with everyone diving in to the surprising warm water, soaping up, and diving in again to rinse off before enjoying a warm fresh water rinse on the swim step. Not long after our swim when we were back underway, Jim spotted a MetService NZ yellow weather buoy, and when he slowed so that we could read the writing on it as we passed, we got a hit on one of our fishing lines. As Amanda pulled in a 20lb mahi mahi, it did some real fighting including a tail walking display, a dozen or more of its cohorts came right up to the boat, their bright colors flashing in the crystal clear water. It was a battle landing the mahi, with Amanda on the hand reel, Merle with a sail tie lassoing the tail, and me on the gaff. After several minutes struggle with blood splattered everywhere, we finally had the mahi on the deck, her tail secured with a sail tie to a cleat. But somehow she managed to slip out, beating a tattoo across the deck, she would have been back in the water if Merle, a very keen fisherman, hadn't tackled her! Merle happily filleted one side after Amanda showed him on the first side, and within minutes crew were tucking into sashimi. Merle had brought some special spices with him, so for dinner Amanda dipped each fillet lightly in olive oil, then in the seasoning before quickly searing it. What a dinner we had, complete with spuds and veggies! To top it off the night sky was ablaze with stars and the Southern Cross shown brightly overhead.
May 7, 2005, 115, 30.59 S, 178.41 E, Log: 85,780 miles
Winds: 20 kts NE,. Seas: 8′ – 10′, Baro: 1009, Cabin Temp: 79F, Cockpit Temp: 76F
After a night of quietly motorsailing along in winds averaging under 5 kts, we pulled out our cruising spinnaker after breakfast this morning when the following winds reached 10 kts. By the time we had the sock (with sail inside) laid out and ready to hoist the winds had increased to 18 knots, and we were sailing along at 5.5 kts with just the main held all the way with a preventer. So, we packed up the chute and unrolled our 130% genoa and rigged the downwind pole to hold it steady. Presto! Our speed jumped to 6.5 kts, and since then we have been sailing along on a broad reach at up to 8.5 kts. We can't figure where the wind is coming from as the NZ weatherfax shows three low pressure centers surrounding us, each with 1014, and no surrounding isobars. It should be really calm, according to the forecasts, but we are delighted to be scooting along, nearly exactly on course for Rurutu, now just 1660 miles away.
Leg 1-05, Update 2
May 16, 2005, 0640, 24.35 S, 156.47 W, Log: 87,269 miles
Broad reaching under full main and 130% genoa at 7.5 – 8.5 kts, Winds: 23kts SSW, seas: 8′ Baro: 1008, Cabin Temp: 77F, Cockpit Temp: 71F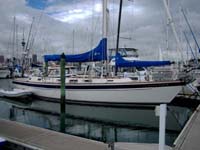 Mahina Tiare ready to set sail from Westhaven Marina
Surfing Toward Rurutu, 320 miles away!
No one familiar with this route would ever believe that for the past nine days we have had nothing but following SSW winds, consistently covering 140-174miles per day, but it's true! Normally we are battling easterly quadrant winds, trying to stay south as long as possible. This year is the exception, and our eager crew loves every minute.
To bring you up to date, after the last update we sailed past then circumnavigated Curtis Island, an uninhabited smoking volcanic island belonging to the Kermadec group. At first we were just going to sail by, but fascinated by the rugged, barren prehistoric-looking island, we rolled in the genoa and slowly motorsailed around the island. Part of a NZ nature reserve, no fishing or landing ashore is allowed and by the looks of the sheer cliffs and huge breakers, landing would be impossible in anything but settled weather.
The following day Merle and Amanda caught both a yellow fin tuna AND a mahi mahi, but those were the last fish we've landed.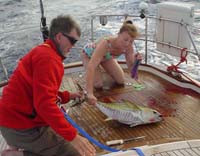 Merle and Amanda tackle a slippery yellowfin tuna
We also received a visitor! A little bird that looked like a finch landed on the lifeline in the afternoon, obviously exhausted, and struggling to balance. Amanda gently lifted her off the lifeline and set her under the dodger where she would periodically fly around the cockpit, alighting for a few minutes on Shawn's finger, before settling back down. It flew away but returned later, Karen commented that it looked skinnier and was not the same bird. Sure enough by sunset we had three little birds, one was quite tame, the other two more weary started the night out sleeping on the lifeline. When it started to rain Amanda checked on them only to find them snuggled together, one little feathery ball. She plucked them off the line and placed them in a plastic container lined with a cloth so they would have something to hang on to. The following morning they happily flew on their way!
| | |
| --- | --- |
| Mid ocean visitor alights on the high lifeline… | and Shawn's finger |
On Tuesday, April 10th we had our halfway party while closely monitoring a meteorological bomb (a surface depression that drops 14 milibars or more at 30 degrees latitude). The NZ MetService weather faxes showed a rapidly deepening low dropping in on top of us. As we were in the center of the depression, we had mild conditions as the barometer plunged to 999. With winds of only 5 knots, we shook out all the reefs, took bucket baths and were motorsailing slowly under full sail when the leading edge of a vicious cold front overtook us with solid 35kt winds and gusts to 50.
The on watch crew felt the cold, damp winds but failed to see the squall line approaching, so in seconds we were hove-to, VERY overpowered, and being pushed sideways, with the leeward deck awash. That was the first time this has happened! In minutes we carefully started easing the backwinded jib, furling it down to 10%, then gybed around and Amanda organized dropping the main into lazy jacks. We then surfed off downwind, under just the scrap of headsail. That evening the winds stabilized in the 25, gusting 38 knot range, and both Commanders Weather and Bob McDavitt at MetService NZ said, "GO NORTH, QUICKLY!", and that is what we did to avoid the still deepening serious depression. The confused seas fueled by the depression continued to build until they were in the 18′-22′ range, giving our crew some more valuable storm sailing experience. For what seemed days we had the main triple reefed and hardly any headsail out.
Slowly the conditions moderated, but we have kept zooming along, only occasionally needing to motor for an hour or two when the wind is sucked away by a passing squall. We've had virtually no rain. Our rebuilt watermaker is really cranking and our water tanks (and fuel tanks) are still ¾ full. We're nearly on track with our teaching, the only thing we are waiting for is a little calmer sea condition so crew can take sextant sights.
Amanda's rig check class took a very realistic turn when she had to go to the first spreaders to replace the deck light bulb that was not only burned out, but had somehow managed to slip out of it's holder and was swaying back and forth, miraculously, never shattering against the mast! Amanda has a new sail handling practice program where each day she gets the daily rig check duty person to tuck in and shake out a reef, as she accompanies them on their round-the-deck rig check.
| | |
| --- | --- |
| Amanda aloft to replace the deck light | Rig check class with Amanda |
Hey, we've got an excellent crew, and we haven't even told you about them!
Shawn Waldowski, 32, moved to San Francisco after finishing Michigan State University nine years ago. He lives in the Marina district and enjoys sailing, snowboarding and playing his guitar. Soon after moving to the Bay area he joined OCSC sailing club which he loves. He says they do an excellent job with lots of different classes and boats available. His sailing goal is to buy a boat, maybe a Pacific Seacraft 34 in a couple years and sail it to Hawaii with his Dad, maybe with the Pacific Cup. His dad sailed around the world on an aircraft carrier some years ago, and Shawn thinks sharing the passage to Hawaii would be cool.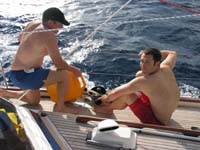 John and Shawn top up the main tank from jerry jugs
When not sailing, Shawn works as a global account exec for GE Capital, where he originates and structures large international corporate transactions.
Paul Christehsen, 59, is a semi-retired electrical engineer and laser jock who enjoys both mountains and sea. Although business has kept him in the Washington, DC area for quite a few years, he is originally from Colorado, he seeks lone wilderness trails and has back country hiked extensively in Montana, Wyoming, Colorado and Canada plus skied throughout the Rockies. Lately Paul has been spending most of his free time on sailboats on the US Eastern seaboard, Bahamas, Turks and Caicos, and Panama. He joined this leg to get his first experience in the wild and beautiful seas of the Southern Ocean. Paul's wife Ruth accompanied him to New Zealand and they enjoyed a week of touring and hiking before meeting us in Auckland.
Karen Foster, 49, lives in Anchorage, Alaska and has a passion for travel and adventure. It's hard to believe that she is a mother of four, step mom to three and grandmother of five! She came on board with incredible anxiety thinking she could never live without her six shots of espresso a day, but says it has been a piece of cake! She is a very successful realtor having previously been an ABC television news reporter. She enjoys sailing their Pacific Seacraft 37 out of Seward, Alaska with her husband Jim.
Jim Foster, 48, first visited Alaska with some buddies right out of high school. After moving back to Florida and being trained as a paramedic, he returned to Alaska and has since worked for the Anchorage Fire Department. Jim and Karen are keen divers, having recently returned from a diving expedition to the Galapagos Islands they are looking forward to diving in Bora Bora after the expedition. Jim, a history buff, has a plan to retrace Magellan's circumnavigation of the world which is approaching its 500 year anniversary. Jim and Karen are hoping to upgrade to a Pacific Seacraft 44 for their planned circumnavigation.
Merle Jadhe, 57 is a true renaissance man and is our first expedition member who owns horses, four tractors, hunts, processes his own deer and smokes his own fish. This guy is a true rugged sportsman and outdoorsman! Merle grew up on a family farm leased from a Native American community in Nebraska, attended a one-room school house, and has dreamed of sailing to Tahiti since he was nine years old. What a joy to be help him achieve this dream! Merle still does some farming, but his main focus is in doing award-winning environmentally-sound housing developments near Lincoln, Nebraska.
Carolyn Jadhe, 62 was a successful realtor in Florida when she met Merle, who persuaded her to move to Nebraska. She is a full-speed-ahead person, enjoying family, horseback riding,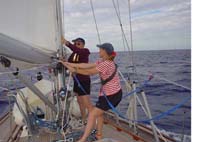 Amanda testing Carolyn on reffing procedures
photography, golf and interior decorating when not working like crazy selling real estate. She and Merle have really been bitten by the sailing bug and plan on extensive cruising somewhere in the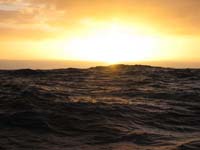 An attempt by Shawn to capture a green flash
next 2-3 years.
There you have it! A crew bonded by the common thread of the desire to broaden their sailing and seamanship skills, plus a love of adventure. What more could we ask for?
Leg 1-05, Update 3
May 23, 2005, 0140, 18.15 S, 151.00 W, Log: 87,865 miles
Broad reaching under full main and 130% genoa at 7.5 kts, Winds: 17kts SSE, seas: 5′
Baro: 1011, Cabin Temp: 79F, Cockpit Temp: 77F
Rurutu, What an Island!
Our incredible winds held until Rurutu, and sunrise on Wednesday revealed a verdant up thrust coral island. Unusually calm conditions along the windward (eastern) side of the island meant that we could sail along close to the shore, checking out the numerous limestone caves along the shoreline.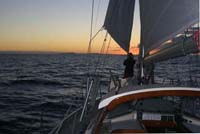 Dawn landfall at Rurutu
We drifted past the exposed and deep anchorage where nearly 30 years ago I had anchored briefly with Mahina Tiare I, my 31′ Hallberg-Rassy Monsun. No sooner had I gone ashore to clear in with the Gendarme than an easterly swell came up. I hurried back to MT, but just after I got aboard, there was a loud BANG as my anchor roller assembly snapped. The anchor chain had become wrapped around one of the numerous coral heads (there were no sandy patches to be found) and the swell had caused tremendous loading on the chain and roller assembly. I slowly retrieved the anchor, hand over hand, then set sail for Rimatara, the smallest and westernmost of the Austral Islands.
Over the past 30 years I made several visits all the other Austral Islands, except isolated Rapa. Occasionally I would hear some news of Rurutu. One year I met a school teacher in Papeete who said he spent a year living aboard his sailboat in the newly-built harbor, but last year was the clincher! On Moorea, Amanda met the crew of a kiwi yacht that had just stopped at Rurutu on their way up from NZ. Tales of being overwhelmed with kindness, offered tours of the island by a local teacher and receiving gifts of more fruit and vegies than they could use was the clincher for Amanda, so one year ago we decided to change our itinerary for Leg 1-05, skip Raivavae and Tubuai, and try for Rurutu then sail north to Huahine before heading for Moorea and Tahiti.
By 1130 we had arrived at the new harbor, complete with range lights and substantial breakwaters protecting either side of the entrance. Not knowing what we would find inside, we launched the RIB, and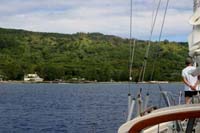 Approaching Moerai harbor
Paul and I zipped inside to find the attractive little basin totally empty – not even one canoe or speedboat visible.
With crew we discussed mooring options; we could drop a bow anchor and med-moor stern-to along the inner bulkhead, or for easier access, we could try and tie alongside the wharf, designed and fendered for the 150′ inter-island freighter, Tuhaa Pae II, that we seem to meet every year we visit the Australs. We chose the later, and because we had been warned the kiwi boat and Charlie's Charts of Polynesia of considerable surge in the harbor, we borrowed a trick we have frequently seen freighters use in small harbors. We came into the harbor, made a 180 degree turn, and slowly passed the wharf by two boat lengths, dropped the main anchor, then backed to tie beam-to along the wharf. Amanda was in the RIB, acting as our tugboat, and Shawn was on the dock catching and securing lines. The plan worked like a dream! Our spring lines in moderate tension against the bow anchor kept us close to, but not touching the rough concrete and large black ship's fenders.
Almost immediately a dozen kids were on the dock, chatting away in Tahitian. Before long one of them returned with a huge stalk of bananas and a couple more returned loaded with gifts of pamplemouse, the delicious sweet grapefruit that are irresistible. We asked if they would like to see the boat, but they shyly said no. The Gendarme had told Amanda I should come by with papers and passports at 1400, so we tidied up the boat and chatted with the kids on the dock until Jackie and Valentine came roaring up in a shiny new 4 x 4 pickup. Jackie told us he was an Airbus 340 pilot for Air Tahiti Nui, and Valentine, his attractive and vivacious wife told us she was originally from Rurutu, but they had been living in Bordeaux and Papeete, only recently starting to visit Rurutu where they were having a house built. Jackie dreams of cruising on his own boat one day, and they both eagerly jumped at the offer of a tour of MT.
Before long they had to catch a flight back to Papeete, and Amanda and I headed to the Gendarmerie to check in. The Gendarme said we were only the second boat to check in while he had been stationed there, and he used the papers from the kiwi boat a year ago as a guideline for what to ask us
When I asked about a place to rent bicycles, he said in French, "It's too far to walk, so I'll have my assistant drive you there!" So, we got the tour of town (didn't take long!) and were introduced to Laudry Chong, a Chinese-Tahitian mechanic who had recently opened an attractive eight-roomed pension and restaurant, complete with a gorgeous swimming pool a little ways out of town. Amanda and I rented the only two bikes he had, and headed back to the boat so our crew could go exploring. Karen and Jim had dinner at Laudry's and after their hearty recommendation; we all booked for dinner there the following night. What a great time we had! Terry, the Hinano beer rep from Tahiti was a pension guest and kept us entertained with jokes and introduced us to each of the pension guests while Laudry would come by and explain what each of the courses were. In the end, we all piled into Laudry's truck and he drove us back to the harbor. Drinks, the delicious dinner with wine and desert and transportation was $32 US per person.
| | | |
| --- | --- | --- |
| Tourist map of Rurutu | Moerai Bay, east coast | Terry serenades us with Tahitian songs at dinner |
Carolyn and Merle took off cycling, Paul and Shawn went hiking, and Karen and Jim checked out beaches the following day. While Amanda and I were doing boat chores, a woman came by and told us it was nice to have a yacht in the harbor, and that she hoped we enjoyed the island. We later learned that we were only the second yacht in 12 years to visit Rurutu!
Friday morning Tuhaa Pae was due, and at 0530, before first light, our crew spotted her, hove-to two miles off the island. We quickly got underway, and she ghosted past us just at dawn. We anchored offshore, and after breakfast and class, went on a snorkeling safari along the coast. Before noon we raised anchor and had an excellent opportunity to practice stern-to Med-mooring inside the harbor, but out of the way of the freighter.
| | | |
| --- | --- | --- |
| Waiting for the supply ship | Tuhaa Pae offloading supplies | M.T med morred in the Harbor |
That afternoon Merle and Carolyn, Karen and Jim had booked a tour and enjoyed circumnavigating the island with Laudry in his truck. Paul and Shawn set off to cycle the northern half of the island, and as Amanda and I cycled the entire island yesterday we were now eager to take a hike around the attractive village and enjoy visiting with the local children plus catching a few images of what seemed old style Polynesia.

Amanda pointing out our moring bike route

Main Street Moerai

28 Picturesque houses and gardens

28 Picturesque houses and gardens
In front of the mayor's office we found the huge stones, a 130 kg one for men, and a 90 kg stone for women, that are part of Rurutu history. The islanders have long held contests as to who can lift the heaviest stone, greased with coconut oil. We couldn't budge either stone.
| | |
| --- | --- |
| Gate post displaying the traditional sporting event of rock carrying | Amanda attempts to pick up the "carrying rock" |
When Laudry returned with our crew, his truck was piled high with gifts of fruit: bananas, soursops, papayas, limes, and MORE pamplemouse! Then a woman showed up on the harbor wall astern of us with yet more pamplemouse, and Saturday morning when we were hoisting the dinghy out, getting ready to set sail, a shy older couple hailed us from shore. They had brought a wheelbarrow overloaded with bananas and pamplemouse. None of these people wanted anything in return, they were just overflowing with kindness and generosity. We will never forget this island, the generous and friendly people and the attractive houses and gardens.
Leg 1-05, Update 4
June 4, 2005, 1340, 17.29 S, 149.52 W, Log: 88,137 miles
Broad reaching under full main and 130% genoa at 7.5 kts,
Winds: 17kts SSE, seas: 5′ Baro: 1011, Cabin Temp: 86F, Cockpit Temp: 97F
Setting sail from Rurutu the winds were light, in the 10-12 knot range, but as we murmured about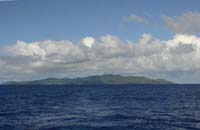 Rarewell to an enchanting island
setting the cruising spinnaker they jumped to 15-22 knots, and stayed there with occasional gusts into the mid-30's, until we sailed in the pass at Fare, Huahine.
The several stalks of bananas we had generously been given on Rurutu decided to ripen spontaneously and Shawn and Merle dreamt up all different ways to fix them. Their favorite was to slice them down the middle, filling them with Nutella (chocolate-hazelnut spread) and shredded coconut. What a treat!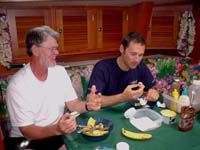 Merle and Shawn discover that banana's taste great with Nutella, coconut and peanuts
As we hadn't caught a fish in well over a week, and this crew loves fresh fish especially raw, Amanda held a lure design and construction class on Sunday. It worked! Karen had combined a wild assortment of octopus skirts on a resin head and within hours we were struggling mightily to land a large mahimahi. After we had landed the giant and had it secured with a sail tie slip-knotted over its tail and cleated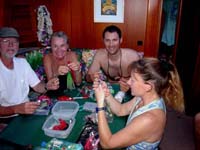 Everyone takes a trick at rigging a lure…today we'll catch fish
off, somehow it managed to slip loose. The mahi was headed toward the scuppers and freedom before Merle, ever the keen fisherman, tackled it!
As the wind was uncharacteristically out of the S and then SSE, we got practice steering downwind and gybing the pole as we rocketed along under a bright full moon. At sunrise on Monday we caught a glimpse of Maio, a sparsely inhabited island 100 or so miles south of Moorea as the wind freshened to 25, gusting 28. Our doubts of making Huahine's pass before dark vanished as our speed increased above 8 knots. By 1400 we had the breakers on the southern reef in sight and by 1530 we had sailed into the precarious anchorage that we favor, 1/2 mile off Fare town wharf.
| | | |
| --- | --- | --- |
| Jim keeps watch as we approach Huahine | Entering the main bay at Huahine | Lining up the range markers as we enter through the reef |
This anchorage is handy to town, yet out of the way of the inter-island freighters that arrive and depart at all hours. It took several attempts by Merle and I underwater before we got the main anchor hooked into a little crevice in a bottom which is as hard and flat as cement. The more convenient anchorage off the beach and snack bar just west of the wharf is often subject to violent gusts coming down the valley.
Tuesday Amanda and I stood anchor watch as one after another squall came roaring through the anchorage, while four out of our six crew bicycled the entire way around Huahine Nui, the larger northern half of the island. Late that afternoon I found an old abandoned mooring that I had seen over a period of several years, and with the help of Shawn and Merle we shackled our second anchor line to the huge rusty links of chain that were wrapped around a giant coral head many years earlier. We slept better because of that!
We enjoyed meeting two couples who had buddy-cruised all the way from Europe. The American couple were sailing a handsome Najad 49 on which they proudly pointed out many custom features included hydraulically retractable dinghy davits, and their Welsh friends, aboard Seren Wen were sailing a two-year old Hallberg-Rassy 43. As the 43 is on Merle and Carolyn's short list of cruising boats, they were delighted when we were all invited aboard for a tour. What an attractive and fast boat she was! With the same size rig as Mahina Tiare, nearly as long of a waterline, and a larger aft cabin, German Frers really came up with a winner with this design. Of extra interest were the mainsail handling systems. The Najad owners had chosen Leisurefurl, the NZ made in-the-boom furling system, and the HR owners had Selden's in-the-mast furling. We gathered that the Selden system was better as the Najad owner's said it took both of them to raise the main, and that the boat had to be pointed directly into the wind to raise, reef or strike the main. The HR owners said that with their hydraulic furling system either of them could raise, reef or strike the main on any point of sail. They said they hadn't had any problems with the hydraulic systems on the main, jib or staysail, other than the cap coming off the reservoir because someone forgot to properly tighten it when the boat was new.
| | | |
| --- | --- | --- |
| Niad 49, La Contenta | HR 43, Seren Wen | Ed and Ray welcome us aboard for a quick tour |
Wednesday we sailed south to the more sheltered and secure Port Bourayne. With depths of 60-90′ and thick, luscious vegetation ashore, this is not a usual yachtie hang-out, but we had a delightful sunset beach walk and enjoyed a very quiet night. It provided the perfect venue for Amanda to teach winch rebuilding Thursday morning.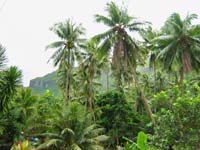 A lush tropical view of Huahine
Before long it was time to set sail for a last quick fresh bread stop at Fare, and then on to Moorea, 85 miles to windward. With reinforced tradewinds of 26, gusting 32, we tucked two reefs in the main, rolled the jib down and hung on! It was a rough night with several of us (including me for the first time this year) succumbing to mal de mer. Right in the middle of it (I have no idea what time it was-probably around eight) the forward head just decided to stop working. As it is an important stop for seasick crew below decks, I felt it was imperative to get it working as quickly as possible. When I pulled the pump off there was no signs of blockages, but plenty of scale build-up, so I just installed an entire new pump assembly. Boy, did I heave a sigh of relief when I got all the hoses hooked back up and it worked perfectly! Moorea's jagged, unmistakable outline was visible at dawn and by 1135 we dropped the anchor in front of the Club Bali Hai, a funky beachfront hotel-bar started in 1960 by three crazy guys from Newport Beach, the Bali Hai boys. To keep up with our teaching schedule, Amanda had crew learning how to safely hoist each other to the masthead to check the rigging (and to snap great pictures of this dramatic bay) soon after we had anchored. While Amanda taught, I found that pineapples ashore were still six for $5, so we had a tasty treat after class.
| | |
| --- | --- |
| Carolyn checks se ond spreaders | Nebraska farm boy Merle in Paradise, Cooks Bay Moorea |
After lunch crew went exploring ashore and the next morning it was sail repair class, followed by a competition between two teams to see who could hoist the storm staysail or storm trysail faster, without any instruction.
| | | |
| --- | --- | --- |
| Crew team up to compete in rigging storm sails | A tast of the past as the square rigger La Boudeuse glides by | Jim and Karen take the watch as we wait for wind |
Lifesling overboard practice followed, then we sailed out of Cook's Bay and into the tiny pass by the Pearl Resort, as we heard they would be having Tahitian dancing that evening. What a show! Tahitian tamure dancers on the beach, under the stars, with pulsating slit drum music.
| | | |
| --- | --- | --- |
| Tahitian Tamure dance | Tahitian Fire dance | Merle, Carolyn and dancers |
The following morning we set sail early for Tahiti, stopping to top up fuel at the only fuel dock in Tahiti located at Marina Taina. Normally we anchor out, but as there was space following a recent expansion, we decided to take a slip for the night. The cost was the equivalent to $1 US per foot per night, the same as we have paid at Roche Harbor, Puerto Vallarta and at Cowes, England.
| | |
| --- | --- |
| Paul keeps a look out as we approach Tahiti | Fueling at Marina Taina |
We caught the bus to town and were surprised to see Shepherd Moon, Joe Wilcox' Island Packet 350 tied up to the Papeete quay, Joe had sailed on a Samoa-Fiji leg several years ago. Joe is on his way around the world, interspersed with returning to teach astronomy at Highline College near Seattle. We had a great evening at "le roulettes", the open-sided restaurant-trucks that park at the Papeete quay each night. All kinds of home made pizza, cooked in a wood-fired oven plastered on the back of an old Renault van, tasty salads and wicked ice cream treats were our fare that evening.
| | | |
| --- | --- | --- |
| Shepherd Moon, Island Packet 350 | Joe and Robin Wilcox share desert | Crew graduation dinner at Le Trucks…Great Pizza! |
Monday morning it was time for crew to pack their bags and clean their cabins before heading off on more adventures. How can four weeks pass so quickly? Before leaving we all took a moment to say what we were thankful for. Karen was thankful for the new head pump that was easier to pump, Merle was thankful for all the fish we caught, Carolyn was thankful for all the things she had learned, Paul was thankful for the new friends and places he had seen, and I was thankful for the most amazing weather we have had on the ninth time making the passage north from NZ.