Leg 5, 2017, Update 1
August 6, 2017, 0530 hrs, 36.04 N, 006.00 W, Log: 203,257 miles
Baro: 1012.2, Cabin Temp: 77 F, Cockpit: 86 F, Sea Water: 81.5 F
Motorsailing in light and variable winds, calm seas
Straits of Gibraltar on the Bow!
Amanda and I had an excellent time in Cascais, Portugal between Legs 4 & 5 with perfect weather for varnishing the toerail and dodger trim, our first in a year and instead of renting a car or taking the train for explorations, we hiked and ran around Cascais. Leg 2 expedition member Helge lives near the marina and we enjoyed his company along with meeting his wife Susanne and 3 kids. Together we had lovely home visits, a fun outing to the market and a sail on MT down the coast to the entrance of the river to Lisbon.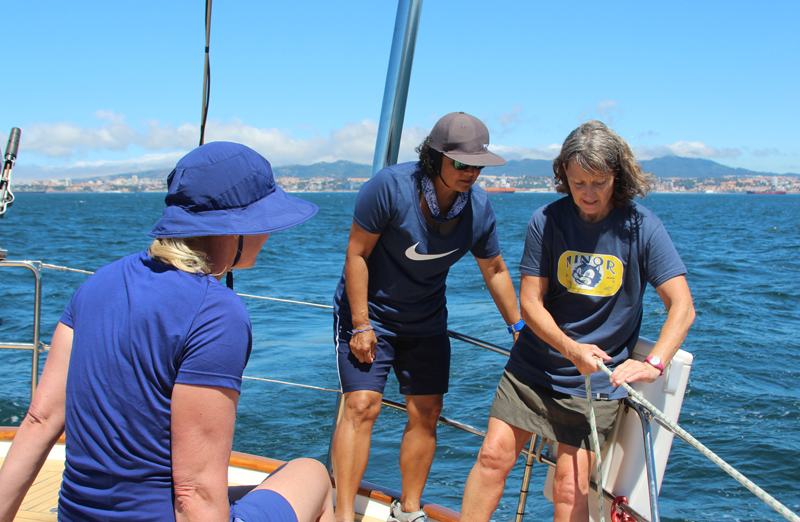 Amanda demonstrates the trucker's hitch that secures the high life line
Our Leg 5 crew came aboard Thursday and within an hour we were off on a fast broad reach 30 miles to anchor off the cliffs near Sesimbra for a swim and dinner before setting sail again.
Our 120-mile overnight sail to Portimao, Portugal was a powerful downwind sail and it was quick learning curve for crew as the got to reef and unreef, rig the whisker pole and set the preventer on numerous gybes. Once daylight arrived the wind increased to 27 kts and John K. hit our season high boat speed of 10.1 kts surfing down a roller. We were so intent on passing Scottish friends on their Island Packet 420 that we didn't think to lower the pole before rounding Cabo de Sao Vincent where our point of sail changed from a deep broad reach to a close reach. Caught off guard Amanda and I had to smartly wrestle down the pole and throw in a few reefs while MT charged off into the Atlantic.
Portimao Marina and surrounding condo, hotel and beachfront development is all relatively new, and we found the marina excellent and the staff very professional. They have a registration and fuel pontoon directly in front of the marina office where we easily topped up our fuel and slooooowly checked in.
Slowly because the customs/immigration officer was concerned that we didn't have inbound clearance into the Schengen area with our arrival in La Coruna, Spain from the UK. I explained that the marina had checked us in, made copies of all passports and ship's registry, saying they would forward these to the border control. According to this officer, we should have properly cleared in with a retaining clearance paper. Eventually he had me sign a statement stating the date and time we had arrived in Spain and I was relieved when he finally gave us outbound clearance to Gibraltar, our next landfall.
The temperature in Portmao was considerably warmer than in Cascais, and it felt like walking into an oven as we left the marina, looking for the adjacent beach. The beach was highly commercialized with areas roped off where beach goers pay €15 for access and more for beach clubs with pools to hear DJ's play loud music. Mindy and Nils went wading, while Amanda and I climbed a fort to a lookout with a view of thousands of party beachgoers for miles down the beach and as is not quite our scene so we soon all headed back to MT for dinner.
Early yesterday morning Amanda and I went ran along the river to the commercial harbor checking out views of the old fishing village, beaches and castle on the other side which the cruising guide and Lonely Planet say area highlights.
By 0800 we were underway, hoping to cover the 175 miles to the Straits of Gibraltar before a forecasted wind shift from favorable westerly to a fresh easterly outflow Levante occurred. We've found www.windy.com the most helpful site for wind forecasts and have been able to utilize wi-fi as far as 12 miles offshore for updates. Otherwise, we're receiving GRIB forecasts from www.saildocs.com over our Iridium satphone and frequent very accurate Navtex updates.
We had some brilliant downwind sailing in modest winds but winds have now become light and variable, making it prudent to motor to ensure we get past the narrowest part of the Straits before conditions deteriorate.
Highlights have been having a visit by a pod of dolphins, Eva spotting the first flying fish, a spectacular moonset and sunrise at the same time, seeing the lights of Morocco, Africa for the first time and passing a huge mid-channel parking lot of anchored super oil tankers lit up like a themed amusement park. We've been able to stay well out of the busy TSS traffic lanes but now we're just 10 miles W of Tarifa, Spain which is the southern-most tip of Europe and one of the narrowest and busiest points in the Straits. Fortunately, daylight is just about 30 minutes away.
August 8, 2017, 1630 hrs, 36.36 N, 003.33 W, Log: 203,392 miles
Baro: 1006.8, Cabin Temp: 85 F, Cockpit: 90 F, Sea Water: 78.6 F, (up 13 degrees in 48 hrs)
Broadreaching at 6.5-7.5 kts under double-reefed main and poled out genoa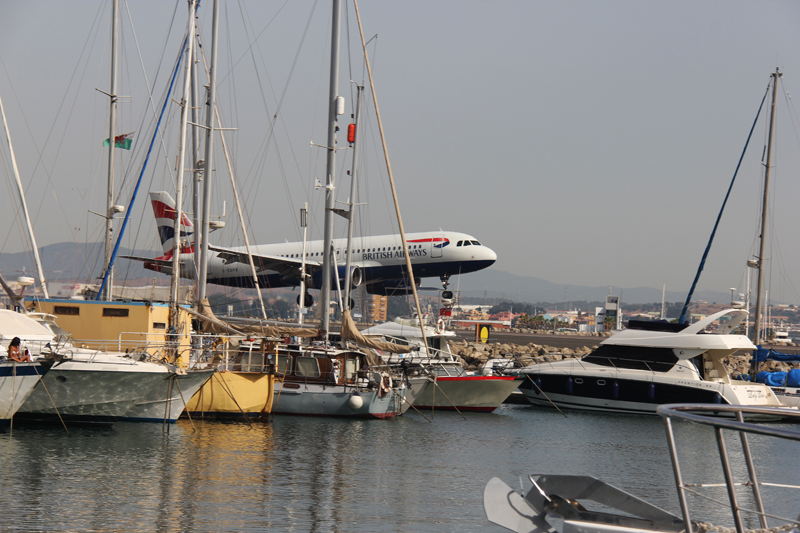 Our runway view kept us entertained with John K giving us the commentary on each aircraft type
Light conditions held and by 1045 we'd tied up and Ocean Village Marina, next to a swanky permanently-moored cruise ship hotel/casino with inbound customs clearance completed in a couple minutes by marina staff.
After tidying up we all headed to the cable car queue to get to the top of the Rock. The queue seemed long, but the ride up the mountain was spectacular, reminding us of Madeira. Even before the car reached the terminal, a monkey jumped on the front window, scaring the kids who had their noses pressed to the glass. Monkeys (technically macaques) hang about all over the mountaintop lookout, some sitting unconcernedly in the middle of footpaths nursing their tiny babies while others just wander and laze about although a few are rather cheeky and leap onto the half open windows of the tourists taxis.

Looking north from the Rock, MT is moored further around the Rock to the right
We all hiked down the mountain, stopping to visit St Micheal's Cave, an amazing huge grotto with many stalagmites and stalactites, that has been lit in technicolor and also functions as a concert venue. On the way down we visited a Moorish castle and various gun emplacements. The signage and maps were challenging and we all ended up seemingly hiking up and down the mountain several times in the blazing sun but with amazing spectacular views across to Morocco, Africa, and NE up along Spain's coast it was hard to complain.
| | |
| --- | --- |
| With strobing lights and pounding tunes at St Michael's Cave John quickly broke out his Dancing Queen moves | |
We were all exhausted by the time we returned down the mountain to town and MT and we'd hoped to go exploring following dinner, but after a sing-along all but Amanda (who checked out the swim deck and casino of the adjacent cruise ship) crept off to bed.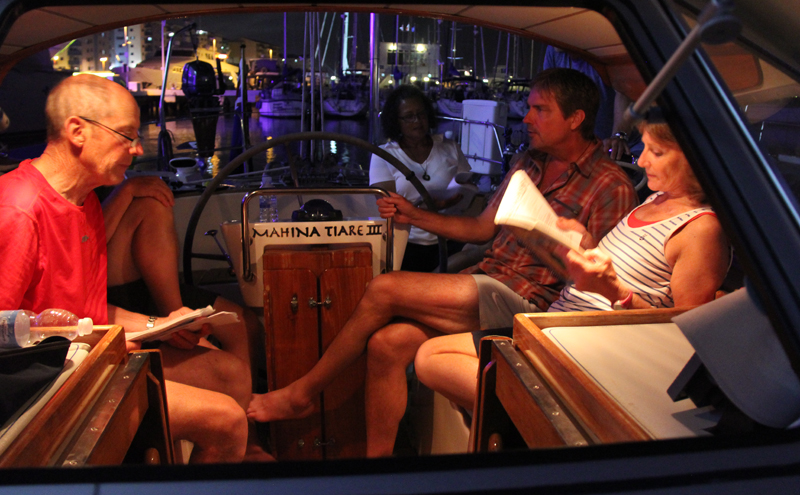 With ABBA still on John's mind it's time for a Sing-Along session
Monday morning Amanda and I were too exhausted to go for our normal hour run so instead hiked the waterfront for a fairly serious shop at Morrison's, a UK-chain supermarket that has a huge nearly-new store with excellent selection and prices.
We had hardly a breath of wind as we set sail at 1000 for Benalmadena, Spain, 50 miles up the coast but used the opportunity to complete our marine weather and rig check and spares classes while we motored in and out of numerous fog banks before arriving at our destination, a very densely-developed beachfront city with 1000-berth marina.
We tied to the registration/fuel dock, just inside the breakwater and in a couple minutes the marina had copied our Gibraltar outbound clearance, ship's registration and insurance papers, our passports and given us a berth assignment. One of the marina staff hopped in a marina car and met us at the slip, taking our bow lines and pointing out the tag line which was connected to the stern line he instructed us to haul up, pull in on, and secure to our aft mooring cleat. The whole operation was done in a couple minutes and from reading the cruising guide, this is the standard mooring arrangement for much of the Med.
After dinner, we tried walking to town, but never made it out of the absolutely packed marina/hotel/shopping development. Along the walkway industrious young African men and Asian women were selling purses, logo wear and flashing toys as thousands of locals and tourists wandered about, shopping, strolling, visiting and checking out the abundant restaurants.
Early this morning we went Amanda and I ran the part of the super long beachfront run but we never saw the end and it all began to blur to the sameness. Hundreds of people were out walking, running and cycling with hotels on the inland side of the wide pedestrian boulevard and beaches scattered with beach restaurants here and there on the seaward side. The apartments, condos and hotels stretched up the side of the hills as far as we could see. Amanda investigated the options for renting a beach chair with shared umbrella and prices ranged from five to six euro depending on how close to the water you were although most front rows were booked out for weeks in advance.
We'd all been frequently a monitoring www.windy.com and had noticed a break in the normal NE winds, with a forecast of following WSW winds for 60 hrs. Aha! We all got the same idea. Instead of daysailing along this very developed and not too interesting coast, why not take advantage of the fresh following winds and travel as far as possible before the wind changed to headwinds? Our goal is to now get to the Balearic Islands as quickly as possible, providing more time to explore the islands which we've all heard are much more attractive than this coast.
Small problem – the next time we checked the forecast, it showed that at midnight tonight instead of tomorrow, the winds will change to 24-35 kt headwinds. It seems that the weather is quite changeable. Since setting sail this morning we've been enjoying surfing up to 9.5 kts in following winds gusting to 30. We've had some excellent downwind reefing practice, set the whisker pole and before lunch Amanda taught provisioning and cooking at sea and now this afternoon she's teaching sail design and construction as we continue to surf along. Although it's toasty outside in the sun, under the dodger with the windscreen open or below with all hatches and ports open, it is lovely!
We're hoping to at least make it the 180 miles to Cartagena, which we read is a charming, historic city just three-minutes' walk from a first-class marina, but we may end up with strong headwinds tonight.
August 14, 2017, 1510 hrs, 39.06 N, 001.34 E, Log: 203,746 miles
Baro: 1017.8, Cabin Temp: 81 F, Cockpit: 90 F, Sea Water: 79.6 F
Close-hauled and tacking to windward at 6 kts under full sail in 11 kt ESE winds, up Ibiza's NW coast
WE MADE IT TO THE BALAERICS AND IT WAS WORTH IT!!!
We sailed and motorsailed 90 miles, stopping for a rolly six hours of sleep while anchored off Almerimar before continuing on another 90 miles, arriving at Cartagena at 2000, well before dark. Amanda, always planning ahead, served a delicious fish dinner at sea and after the very helpful marineros met us and gave us a hand squeezing into a berth we all took off in the full moonlight to explore this old, historical and very beautiful city. Just six blocks from the marina we were in the old city center – the streets were packed with local families and couples out walking, dining, chatting and just enjoying life. The historic buildings including the town hall were all lit up with colored lights and although we were exhausted, we didn't want to stop exploring. We all caught up at a cool waterfront street-side bistro, enjoying beer and ice cream.
Thursday our first-light run (7:15 in Spain) saw Amanda and I exploring the fishing district and fortified hills above before returning to check in with the marina, wash down and fill the water before touring the striking 1st century BC Roman amphitheater and one of the dozen or so museums. Our crew spent the day exploring and tasting tapas before we set sail in the late afternoon to anchor at Caleta Cortina, just outside the Cartagena harbor entrance. We all dived into the 80-degree water after Amanda taught Sail Trim and delighted in a few cool, calm, quiet hours at anchor.
At 0200 we departed Caleta Cortina to play dodgem through a chaotic fleet of active fishing boats for an hour. We then covered a boisterous 96 miles to windward before arriving at Morairo, a small town and marina located just 12 miles from Cabo de la Nao. We poked MT's nose into the small marina and two marineros (dock attendants) motioned us toward a slip, but Amanda shouted we were just having a look and would be anchoring outside the marina. We found sandy bottom and dramatic cliffs, enjoyed a swim and colorful sunset.
Saturday, we slept in until 0600 before setting sail for Formentera, the southern-most of Spain's Balearic Islands. We had an excellent beam reach for the first half of the 60-mile passage, but had to motorsail the second half in diminishing winds. Dozens of pleasure boats between 40 and 100' passed us, headed back to Spain, their vacations ended, but we were unprepared for the 100+ boats anchored off Cala Sahona, Formentera that included many very radical 50-120' motor yachts and a massive Wally 120' sloop. We ended up far from the madding crowd in a quiet anchorage with a view of Ibiza that looked like Bora Bora, clear water and an interesting cave to snorkel to. I taught Storm Survival before dinner and after sunset, masthead lights looked like a constantly-moving field of lights as the anchored yachts rolled back and forth in the swell.
Yesterday we swam and several of our gang did yoga on the back deck before we sailed and motorsailed 38 miles to Ibiza. Our first stop was San Antonio, the second largest city where we anchored for an hour, going ashore to buy groceries and explore before continuing, checking out each bay on Ibiza's west coast. We passed several stunning anchorages, all framed by rugged cliffs and one, Cala Portixol, was so tiny that we would have had to anchor bow and stern so we wouldn't bounce off the cliff walls.
Our crew chose Puerto de San Miguel which proved spectacular, if a little crowded. Early this morning four out of five of our crew joined us for a sunrise hike/run up the steep dirt roads and trails.
We had a relaxed departure at noon after Going Aloft class and spent considerable time demonstrating and learning Lifesling Rescue techniques. Everyone got it and since then we've been tacking our way up the windward coast in moderate winds, enjoying the sea and seeing the island from offshore.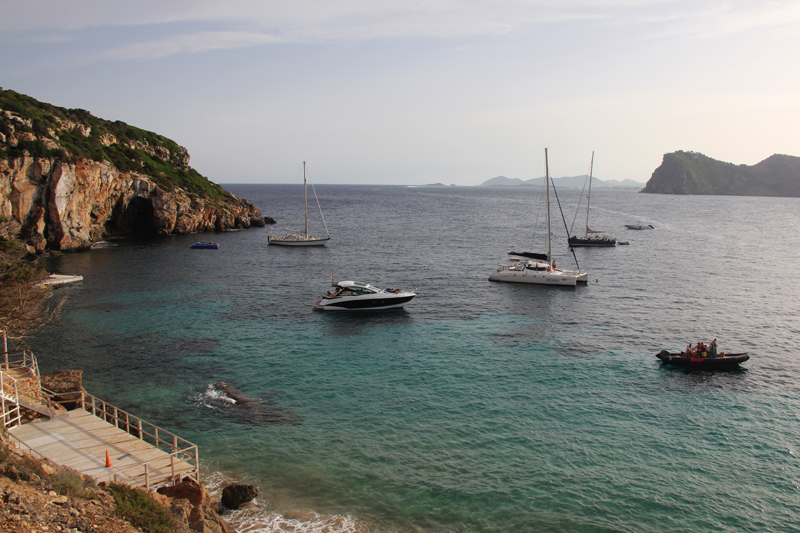 We had a less desirable anchoring spot here before securing this one, in the late evening, when the smaller boats had departed back to their marina's.
We've all been studying our Imray Balearic Islands cruising guide and several of us came up with the idea of anchoring in the lee of Isla Tagomago, a tiny island, one mile offshore the E side of Ibiza, with a trail to the lighthouse.
August 16, 2017, 1415 hrs
We arrived at Mallorca this afternoon, the Club de Velas (yacht club), Puerto de Andratx had the mooring we'd reserved and we enjoyed exploring town before meeting ashore for dinner. William, the marinero (yacht club boat man) recommended a restaurant that his mother cooks at, directly ashore of our mooring. We were seated on the edge of the water overlooking the bay and mountainside and the food was excellent. We had magical moments after dinner as we stood around listening to two street musicians, one playing the saxophone, the other the guitar plus singing. Behind them were the lights of homes going up the steep hills behind the Yacht Club.
August 16, 2017
WE MADE IT TO PALMA!
We had a fascinating morning including five of us running and exploring the waterfront and hills behind Puerto de Andratx followed by Clearing Customs Worldwide class and a viewing of Jim and Katie's Hallberg-Rassy 40 that White's International Yacht Brokerage has for sale. Jim and Katie were not sailors (Jim was a surfer and they were keen skiers and kayakers before joining us on Leg 1-2007. They took delivery of their lovely new boat in The Netherlands, where they lived, sailing several years through the Pacific to Philippines, from where the shipped Tenaya to Turkey, sailed to St. Petersburg in the Black Sea Rally and eventually to Palma where they left Tenaya in Dirk Jan Colgee's capable hands. Both Eva and Staffan and Mindy and Nils were very interested in checking out this turn-key 2006 bluewater cruiser now listed for only €199k. Here you'll find Jim & Katie's incredible story of sailing to 50 countries over eight years aboard Tenaya: http://www.tenayatravels.com/
This evening was very special, and a kind of a roast. Staffan, former cruise ship captain, gave a speech after desert (amazing Mallorcan almond torte and ice cream – thank you Mindy, Nils & John), giving me a hard time for temporarily misplacing the key to the dinghy (it has slipped behind our spare sails when I chucked it in the head window) awarding me a funny little fluffy yellow key chain doll.
Amanda was given a Gibraltar monkey, she's named Rocky, that screeches, but his main job will be to now keep Sallyhamna, our polar bear from Svalbard, company.
Our crew, keen to master the latitude by noonsite sweated away on calculations, even with all of our cabin fans on, until 22:30 tonight. It is rare that we see this level of dedication to learning, and it is exciting!
Our Crew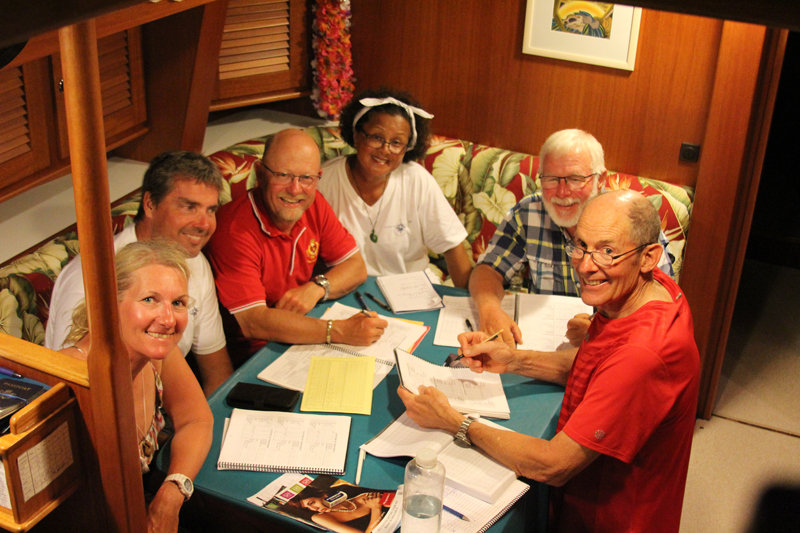 Here's our extremely dedicated Leg 5 crew at 11:30pm: Eva, Staffan, Nils, Mindy and John K
Nils, 50
I'm an American/Norwegian petroleum engineer that has lived in a variety of locations worldwide. Started sailing when I had a small sailboat while on assignment in Papua New Guinea. That led to some ocean passages and we joined this expedition to get a better understanding of ocean voyaging. We like it! Now we will need to start more detailed planning which we have a great foundation to expand upon.
Mindy, 62
Never in my life did I think I would be sailing at this age! Sailing entered our lives while we were living in PNG as Nils said "You have to do something while there". Of course, a bit reluctant, but he persisted, and here we are! (Mindy also was involved in setting up some schools in PNG and was an ER nurse before that. Currently they live in Abu Dhabi.
Eva, 49
I'm a Swede living in the Netherlands with my husband Staffan and our two teenage children. We've previously lived and worked in Germany and India. I am an engineer, seamstress, clothing designer and I have a line of skin care products which I make. We've owned two sailboats, a 40' steel Langedrag and a Rasmus 35.
Staffan, 51
I'm a merchant marine captain having mainly worked on cruise ships before I became a marine pilot in Sweden. I've been working at CSMART which is Carnival Cruise Corporation's simulator training center where I'm in charge of all training. Being part of a Mahina expedition will help me understand which sailboat to purchase and refresh my sailing skills.
John K, 62
I'm a retired airline captain from Scottsdale, Arizona who's been on numerous sailing adventures including recently sailing to Newport to Bermuda and back to see the Kiwi's win the America's Cup. On this expedition I've learned, done and eaten many new things. The challenges and accomplishments have been very rewarding!
August 20, 2017, 200 hrs, 39.31 N, 002.33 E, Log: 203,827 miles
Baro: 1017.3, Cabin Temp: 83 F, Cockpit: 90 F, Sea Water: 81.3 F
At anchor near Puerto Portals, Mallorca
That dedication to learning of our Leg 5 crew never diminished, even on the final morning! We still had a couple of requests to meet, so first off, they hoisted both the storm staysail and storm trysail, then we reviewed their 13-page test books and covered, for the first time, overall cost of ownership and maintenance in detail.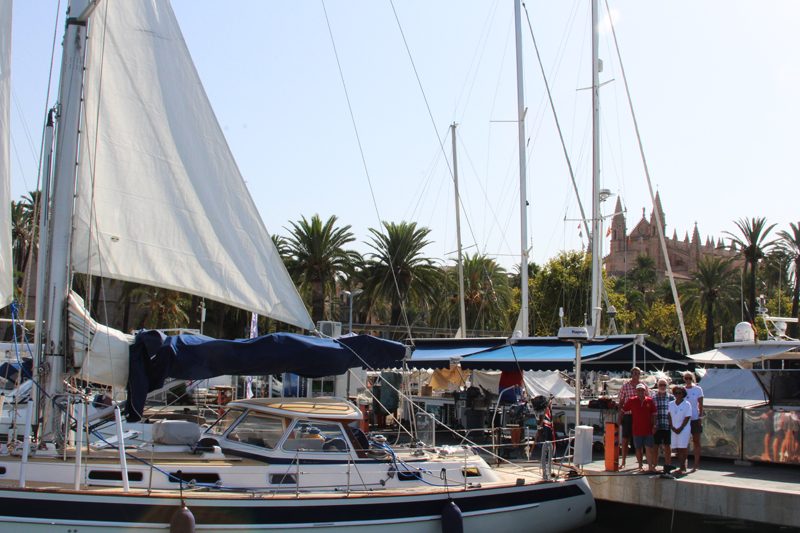 Trysail rigged and ready for wind!
Two weeks had flown by. Both couples went away with serious lists of attributes they would be looking for in their yet-to-be-purchased cruising boats and John K. went away considering purchasing a boat to put into charter or timeshare either in the Virgin Islands or San Diego.
We HAD to leave La Lonja Marina Charter Friday morning as 40 bareboat charter boats were due back, and as ALL marinas were full, we anchored off the iconic Palma cathedral. Since Amanda had visited the island 30 years earlier, when she was crew on the King of Spain s Fife yacht Tuiga, she volunteered to stand anchor watch so that I could accept Staffan and Eva's invitation to tour the island with them by rental car.
We traveled incredibly steep and windy roads to see cool, mountainside villages, isolated beaches and best of all, tour the Cartuja de Valldemossa, the former king's palace which had been turned into a monastery in 1399 and was actively used as such until the monk's expulsion in 1835. During the winter of 1838-39, Frederic Chopin and his lady friend, the French writer George Sand rented one of the monk's cells and she completed "A Winter in Mallorca" while Chopin composed many of his most important works. 15 minutes after we arrived, we were invited to a free 15-minute mini-concert in the chapel. The acoustics, piano and pianist were excellent and as we wandered the buildings, gardens and grounds we understood why this peaceful place could be such a catalyst for creativity.
| | |
| --- | --- |
| Eva and Staffan discovering Valldemossa's secrects | Chopin concert at Cartuja de Valldemossa |
Another highlight was a superb lunch at a Es Vergeret Restaurant, overlooking a handful of yachts anchored in tiny Cala Tuent.
This afternoon Amanda and I cruised along the coast west of Palma until we found a somewhat protected anchorage with clear water and a beach and marina ashore for landing the dinghy. It's fantastic to be away from the very busy port and delightful to swim when we get hot.
Resources used on Leg 5, Lisbon, Portugal to Palma de Mallorca:
WWW.WINDY.COM
http://xcweather.co.uk/  – 3 hourly coastal graph forecasts for the UK, Ireland and much of Europe.
Cruising Guides: Imray Atlantic Spain and Portugal, Costas del Sol and Blanca, Islas Baleares (brilliant cruising guides, frequently updated)
Imray charts: C-49, 50, 19, 11, 13, M-3
Electronic Charts:
C-Map running on Rose Point Coastal Explorer
Navionics Silver running on both our lovely new Raymarine MFD's (multi-function displays), one at the chart table, and for the first time, one in the cockpit under the hard dodger
General Sailing Conditions: coasts of Spain and Portugal and Balearics – On Portugal and Spain's Atlantic Coast N or NW winds prevail during summer months, dropping off after dark and frequently gusting to 25-35 during the afternoons. Finding a marina berth is easy, and average cost for Mahina Tiare (14 meters' length) is €45. Sailing N, from Gibraltar is a much more difficult story, and frequently knowledgeable skippers make time motorsailing north at night or whenever the winds are lighter. Having said this, we had some excellent downwind and reaching conditions. There are numerous marinas and a few semi-protected anchorages between Gibraltar and the Balearics and the closer one gets to the Balearics, the higher the cost and the more difficult to find marina berths or available moorings. Our highest price to date has been €54 for a mooring at Puerto de Andratx and €94.37 for a stern-to berth at Palma's La Lonja Marina Charter. In all but one instance, Portimao, Portugal, customs clearance has been handled by the marina offices who photocopy all passports and documents, forwarding them to the appropriate offices. Without exception, the marina staff have been very professional and helpful. Fuel is readily available at every marina at surprisingly reasonable rates. Water costs are GBPounds 1.75 PER LITER!!! At Ocean Village, Gibraltar and a flat fee of €8 at Cartagena and Andratx, otherwise, water has been included in moorage. Shore power has been included at all but two locations. We've not had any enquiries about how long MT has been in the VAT area of the EU, and Portimao is the only place where my length of stay in the Schengen area has been brought up. I've learned to document every time we leave and enter the Schengen area with passport or marina stamps, clearance papers and marina moorage bills.
General Anchoring Conditions: We soon learnt that most of the boats leave the rolly anchorages for their marina in the early evenings so it works well to be patient. Often, we'd drop anchor further down the coast for the bay or beach in a rolly spot and then reposition for the night at a more desirable spot once most of the other yachts departed.
All in all, our adventures south of Lisbon and into the Med have been fabulous, learning more every day! We now truly appreciate the deserted beaches and tranquil anchorages of the South Pacific and Skype Amanda's parent's, Lesley and Robert Swan aboard their latest yacht Julie to catch up on their current cruising season in Fiji, where we'll all cruise together next year.
---
Leg 5 Itinerary